Ski: 2020-2021 WNDR Alpine Vital 100 (cambered edition), 183 cm
Available Lengths: 169, 176, 183, 190 cm
Blister's Measured Tip-to-Tail Length: 182.4 cm
Stated Weight per Ski: 1840 grams
Blister's Measured Weight per Ski: 1839 & 1840 grams
Stated Dimensions: 126-100-118 mm
Blister's Measured Dimensions: 126.0-99.7-117.8 mm
Stated Sidecut Radius (183 cm): 24 meters
Measured Tip & Tail Splay (ski decambered): 55 mm / 29 mm
Measured Traditional Camber Underfoot: 4.5 mm
Core: aspen + algal-PU stringers + algal-PU sidewalls + fiberglass laminate
Factory Recommended Mount Point: -6.7 cm from center; 84.5 cm from tail

Intro
This year WNDR Alpine introduced a new ski to their lineup, the Vital 100.
You can listen below to our GEAR:30 conversation with WNDR's Matt Sterbenz, Pep Fujas, and Xan Marshland for the full story behind the Vital 100 (and all the new algae-derived materials it uses).
But to summarize, the Vital 100 is the lighter and narrower complement to WNDR's Intention 110, with the 100 being targeted more at shallower / firmer conditions, technical terrain, and longer days in the backcountry.
We just got a pair of the Vital 100 and personally, I'm quite excited about it. In the category of ~100mm-wide touring skis, there aren't a whole lot out there that seem really similar to the Vital 100, and I think that has the potential to be a good thing for certain skiers.
What WNDR Alpine says about the Vital 100
"The ALL-NEW Vital 100 is your ski for alpine conquests – a precision tool for situations where edge hold is paramount. Featuring our proprietary AlgalTech™ ski materials platform.
Impressively stable for its weight, this ski charges intuitively in any condition, while remaining easy to pivot for technical maneuverability. The secret of the Vital 100's unique performance characteristics lies in the integration of advanced biobased materials, which allow it to punch above its weight class in any terrain."
This seems like a sensible description, based on the Vital 100's design elements that we'll get into below. Like most brand's 100mm-wide skis, WNDR Alpine is emphasizing both the Vital 100's versatility and its edge hold on firmer conditions. And while we're always wary when any brand claims that their lightweight backcountry skis "charge in any condition," I think WNDR has reason to make the claim when comparing the Vital 100 to the rest of the touring-ski market.
As for their "AlgalTech" materials, that warrants some more explanation:
Construction & WNDR Alpine AlgalTech
Since they launched just a little over a year ago, WNDR Alpine set themselves apart from the rest of the competition by using materials derived from algae in their skis. In their first iteration of the Intention 110, this was in the form of Polyurethane stringers in the core that were created from oils made by microalgae, rather than fossil fuels.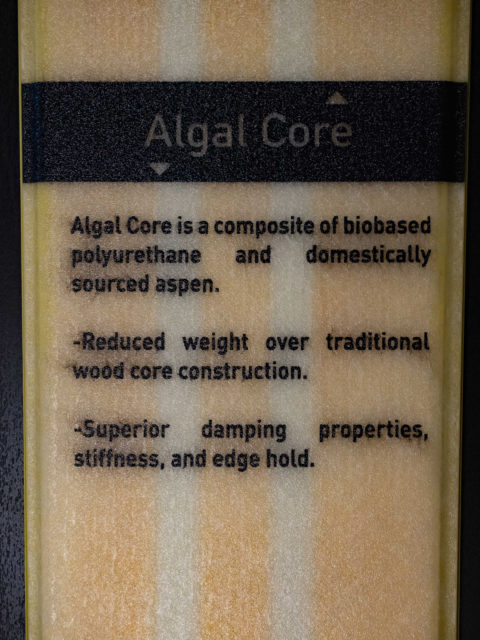 In their 20/21 lineup (Vital 100 & Intention 110), they've taken a few notable steps in terms of increasing the bio-based materials in their skis. The 20/21 Vital 100 and Intention 110 still feature a domestically sourced aspen wood core and those algal PU stringers, but they also now have liquid-poured, algal PU sidewalls.
In addition to being made from algae-derived oils, those PU sidewalls also reportedly bond to the wood core without any adhesive, and they also reduce waste since they can be poured into channels with little excess material needing to be trimmed away. (WNDR says they eliminate about 2 lbs / 907 g of waste per ski with their construction, relative to more traditional ski constructions.)
WNDR also started using a "bio-based resin" for the layup process. Dubbed "Super Sap" and produced by Entropy Resins, this resin has been used by some skateboard and surfboard companies, and it's cool to see it entering the ski world.
So, what does that actually translate to when you're out in the backcountry? Well, in addition to reducing the environmental impact of their skis, WNDR says their AlgalTech construction also improves their skis' strength-to-weight ratio, torsional rigidity, and damping characteristics. I.e., they're supposed to ski better than more traditional constructions.
Unique construction aside, let's get into the more basic design elements of the Vital 100.
Shape / Rocker Profile
The Vital 100 looks pretty similar to the Intention 110, but with a few tweaks that you'd expect when comparing skis of these different widths.
First, just like the Intention 110, you can get the Vital 100 with a rocker / camber / rocker profile, or with a fully reverse-camber profile. Apart from custom skis, I can't think of any current, stock skis on the market in this class that give you that option.
Right now we have the cambered version of the Vital 100, and unsurprisingly, it has slightly shallower tip and tail rocker lines than the cambered Intention 110. The Vital 100 also has slightly lower tip and tail splay than its wider sibling.
Compared to other touring skis in roughly the same class, the Vital 100 has a deeper tip rocker line and higher tail splay than most (e.g., K2 Wayback 96, Armada Tracer 98, G3 FINDr 102). While this has nothing to do with what WNDR is claiming about the Vital 100, its rocker profile does make me really curious about how playful it will feel, given that the Intention 110 was a ski that catered well to a more playful skiing style (while also working just fine when skied with a more directional approach).
As for shape, again, the Vital 100 looks pretty similar to the Intention 110, but the narrower ski features a bit less tip and tail taper. Give that WNDR is highlighting the Vital's edge hold, that makes sense.
I really like the look of the Vital 100's shape. It's not super tapered, which makes me think it should carve and hold and edge pretty well. But it also has some taper and doesn't look like a shape that will feel hooky in weird snow conditions (which you'll often encounter over the course of a full, spring touring day). We shall see…
Flex Pattern
Here's how we'd characterize the flex pattern of the 183 cm Vital 100:
Tips: 6
Shovels: 6-6.5
In Front of Toe Piece: 7-9.5
Underfoot: 10
Behind the Heel Piece: 10-8.5
Tails: 8-7
Overall, the 183 cm Vital 100's flex pattern feels very similar to the 185 cm Intention 110. The most notable difference is that the Vital 100's tips start slightly softer, and its flex doesn't ramp up quite as quickly as you move from the shovels to the middle of the ski. But this ski is still very strong around the bindings, and I love that its tail isn't drastically stiffer than its tips.
In the world of ~100mm-wide touring skis, it seems like most of them feature pretty directional flex patterns (i.e., soft tips and much stiffer tails). So, along with skis like the Line Vision 98 and Armada Tracer 98, this is another area where the Vital 100 stands out.
Overall, the Vital 100's flex pattern feels pretty moderate — I wouldn't call this ski particularly soft, and I also wouldn't call it super burly.
Mount Point
Like the Intention 110, the Vital 100 has a recommended mount point that's a bit closer to center compared to the rest of the market.
At -6.7 cm from true center, the Vital 100's mount point is fairly in line with skis like the Moment Wildcat Tour 108, Line Vision 98, and Atomic Bent Chetler 100, and notably closer to center than some more traditional skis like the G3 FINDr 102, Blizzard Zero G 105, and Line Sick Day 104. That said, the Vital 100's mount point is still farther back than most freestyle skis.
We found the Intention 110 to be versatile in terms of allowing you to ski it with a pretty forward stance, or a fairly centered one, and I'd expect the same of the Vital 100, given its similarities to the Intention 110.
Weight
WNDR Alpine makes skis for backcountry touring, so it makes sense that their skis are generally lighter than most inbounds-oriented options.
With that said, the Intention 110 and Vital 100 are not the lightest skis out there. In a rare occurrence, the measured weight for our pair of the 183 cm Vital 100 is within a gram of WNDR's stated weight: 1840 grams per ski.
So, looking at touring skis like the Salomon MTN Explore 95, G3 FINDr 102, and Armada Tracer 98, the Vital 100 is notably heavier. If you want the absolute lightest ski in this class, the Vital 100 isn't going to be for you.
But for those who want to ski hard on their ~100mm-wide touring skis — or who just appreciate a ski that doesn't feel super chattery and harsh on firm snow — I think the Vital 100's weight is going to be very appealing.
Its weight is fairly similar to the Line Sick Day 104, Atomic Bent Chetler 100, and Liberty Origin 96, all of which are skis that we think ski really, really well for their weight — to the point that we're happy using them for laps in the resort.
We also found that the 19/20 Intention 110 offered an excellent stability-to-weight ratio, and all of this makes WNDR's claims about the Vital 100 being about to "charge in any condition" more reasonable (at least when comparing it to the touring-ski market).
For reference, here are a number of our measured weights (per ski in grams) for some notable skis. Keep in mind the length differences to try to keep things apples-to-apples.
1446 & 1447 Line Vision 98, 179 cm (19/20–20/21)
1469 & 1477 K2 Wayback 96, 177 cm (18/19–20/21)
1477 & 1481 Majesty Superwolf, 178 cm (20/21)
1489 & 1545 G3 FINDr 102, 179 cm (19/20–20/21)
1512 & 1523 Dynastar Mythic 97, 184 cm (17/18–19/20)
1543 & 1565 Salomon MTN Explore 95, 184 cm (16/17–19/20)
1632 & 1637 Armada Tracer 98, 180 cm (19/20–20/21)
1787 & 1793 Fauna Pioneer, 184 cm
1800 & 1824 Luke Koppa's ROMP 100, 183 cm
1807 & 1840 Atomic Bent Chetler 100, 188 cm (18/19–20/21)
1839 & 1840 WNDR Alpine Vital 100, cambered, 183 cm (20/21)
1848 & 1903 Line Sick Day 104, 186 cm (17/18–20/21)
1883 & 1898 Rossignol BLACKOPS Sender, 178 cm (20/21)
1921 & 1968 Head Kore 99, 188 cm (18/19–20/21)
1925 & 1937 Liberty Helix 98, 186 cm (18/19–20/21)
1973 & 2005 WNDR Alpine Intention 110, cambered, 185 cm (20/21)
1976 & 2028 Parlor Cardinal Pro, 182 cm (19/20–20/21)
1985 & 2006 Parlor Cardinal 100, 185 cm (16/17–20/21)
1994 & 2011 Fischer Ranger 99 Ti, 181 cm (19/20–20/21)
1966 & 1973 Liberty Origin 96, 187 cm (18/19–20/21)
1998 & 2044 4FRNT MSP 99, 181 cm (17/18–20/21)
2006 & 2065 Head Kore 105, 189 cm (19/20–20/21)
2011 & 2028 Moment Wildcat 108, 184 cm (19/20)
2042 & 2062 Dynastar M-Pro 99, 186 cm (20/21)
2085 & 2096 Dynastar Menace 98, 181 cm (19/20–20/21)
2101 & 2104 Fischer Ranger 102 FR, 184 cm (18/19–20/21)
Some Questions / Things We're Curious About
(1) Given its construction and light-but-not-super-light weight, just how stable and damp will the Vital 100 feel?
(2) On that note, since so many inbounds-oriented skis are so light these days, could the Vital 100 serve as a 50/50 or even dedicated inbounds ski for folks who prefer a lighter setup in the resort?
(3) Most touring skis in this width are pretty directional, traditional designs, so will the Vital 100's more progressive mount point, round flex pattern, and / or deeper rocker lines make it work well for those who prefer something slightly more playful and / or forgiving?
(4) WNDR is highlighting the Vital 100's performance in steep, technical terrain. So just how well will it perform there compared to the competition, and how versatile will it feel outside of that particular end-use?
Bottom Line (For Now)
I'm itching to get on the new WNDR Alpine Vital 100. Its moderate shape, rocker profile, and flex pattern all make me think that this could be an intuitive, versatile ski. Add on its unique, algal-derived construction and slightly more progressive mount point, and it definitely stands out in the current touring-ski market.
We will be getting the Vital 100 mounted and on snow as soon as we can, so stay tuned for updates this season.
Rocker Pics (Cambered Vital 100):