Boot: 2021-2022 Lange XT3 130 LV
Stated Flex: 130
Available Sizes: 24.5–29.5
Stated Last (size 26.5): 97 mm
Stated Range of Motion: 53°
Stated Forward Lean: 12°
Stated Ramp Angle: 4°
Size Tested: 26.5
Stated Boot Sole Length: 303 mm
Blister's Measured Weight (size 26.5):
Shells, no Liners: 1407 & 1410 g
Liners, no Footbeds: 368 & 368 g
Shells + Liners = 1775 & 1778 g
Stock Insoles: 19 & 19 g
Buckles: 4 micro-adjustable
Powerstrap: 40 mm velcro
Shell Material:
Cuff: Lyftran Polypropelene
Shoe / Clog: Polyurethane
Soles: GripWalk w/ rubberized arch pad (Alpine Soles available for purchase)
Binding Compatibility: GripWalk-compatible bindings; tech / pin bindings
Tech Fittings: Dynafit Certified
[Note: our review was conducted on the 20/21 XT3 130, which was not changed for 21/22, apart from colors.]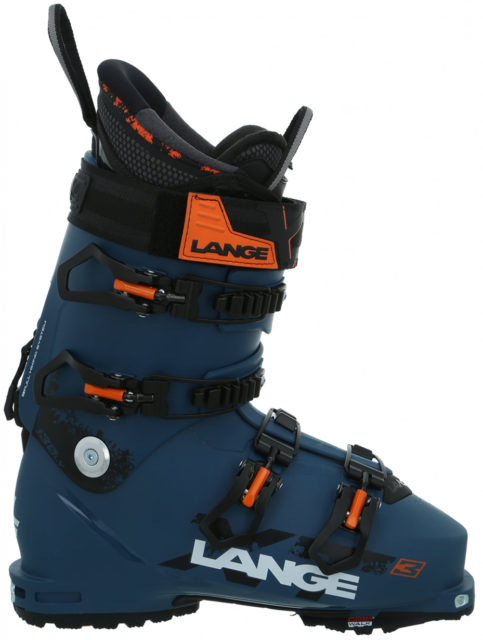 Intro
Since the first Lange XT alpine-touring boot was released back in 2012, they've been a reference point in the category of "freeride" boots designed to provide alpine-boot-like performance with added range of motion for walking and skinning uphill.
Since then, Lange's XT lineup has undergone many changes, and to get the whole story, you should definitely listen to our Blister Podcast conversation with Lange's Global Brand Director, Thor Verdonk. Thor goes over everything from the birth of the original XT, the various iterations since then, and the boot we're talking about today: the new 20/21 Lange XT3.
But the quick gist is that the XT3 range of boots is supposed to not only walk better than the previous XT Free boots, but also ski better while weighing less. It's rare that we see a boot both walk and ski better than its predecessor, so let's take a closer look at the XT3 130 to see how Lange is aiming to accomplish all of that.
2020-2021 Lange XT3 Lineup
The XT3 lineup will consist of 8 boots in total, covering a wide range of flex ratings and last widths. Many models (such as the XT3 130) are available in both a 97 mm and 100 mm last, but apart from the last width, the different-lasted versions of each boot are identical. Here's a quick breakdown of the line:
Men's (size 24.5–29.5)
XT3 140 Pro Model (97 mm last; PU Shell; Lyftran PP Cuff)
XT3 130 (97 & 100 mm last; PU Shell; Lyftran PP Cuff)
XT3 120 (97 & 100 mm last; PU Shell; Lyftran PP Cuff)
XT3 100 (100 mm last; Lyftran PP Shell; Polyolefin Cuff)
Women's (size 23.5–27.5):
XT3 110 W (97 & 100 mm last; PU Shell; Lyftran PP Cuff)
XT3 90 W (97 & 100 mm last; PU Shell; Lyftran PP Cuff)
XT3 80 W (97 & 100 mm last; Lyftran PP Shell; Polyolefin Cuff)
Youth (size 23.5–27.5):
XT3 80 SC (100 mm last; Polyolefin Shell; Polyolefin Cuff)
Weight
At an average weight of ~1776 grams per boot for a size 26.5, the XT3 130 falls around the middle of the pack when compared to other "freeride touring" boots. On one end, there are very lightweight boots like the Scarpa Maestrale RS & Tecnica Zero G Tour Pro, and on the other end, there are much heavier "50/50" or "crossover" boots like the Dalbello Lupo Pro HD and Tecnica Cochise 130.
The XT3 130 falls between the two, whereas the slightly heavier Lange XT Free 130 was a bit closer to the heavier end of the spectrum. So the XT3 130 isn't some super light boot, but it does now look more competitive in terms of weight vs. options like the Atomic Hawx Ultra / Prime XTD 130, Scarpa Maestrale XT, etc.
And it's worth noting that, while the plastics used in the XT3 are different vs. the XT Free (see below), Lange says one of the biggest areas where they saved weight was actually in the XT3's boot board, which is now reportedly 60% lighter — and also warmer and more shock absorbing.
Weight Comparisons
For reference, below are a number of our measured weights for some other notable boots (keep in mind the size differences). Our measured weights show the size of boot, then the weight of each boot + the weight of each liner, then the total weight for shells + liners, listed in grams:
Scarpa Maestrale RS (24.5 / 25.0): 1053 & 1057 + 244 & 245 = 1297 & 1302 g
Tecnica Zero G Tour Pro (26.5): 1099 & 1100 + 210 & 211 = 1309 & 1311 g
Atomic Hawx Ultra XTD 130, 19/20 (26.5): 1130 & 1132 + 276 & 282 = 1406 & 1414
Salomon MTN Explore (26.5): 1126 & 1135 + 281 & 281 = 1407 & 1416 g
Scarpa Maestrale XT (26.5 / 27.0): 1258 & 1258 + 247 & 252 = 1505 & 1510 g
Head Kore 1 (26.5): 1132 & 1136 + 392 & 393 = 1524 & 1527 g
Salomon S/Lab MTN (26.5): 1257 & 1246 + 288 & 303 = 1545 & 1549 g
Atomic Hawx Ultra XTD 130, 20/21 (26.5): 1147 & 1150 + 403 & 404 = 1550 & 1554
Fischer Ranger Free 130 (26.5): 1204 & 1204 + 348 & 351 = 1552 & 1555 g
Roxa R3 130 T.I. (27.5): 1319 & 1320 + 263 & 263 = 1582 & 1583 g
Atomic Hawx Prime XTD 130 (26.5): 1242 & 1249 + 408 & 410 = 1650 & 1659 g
Salomon QST Pro TR 130 (26.5): 1389 & 1391 + 273 & 274 = 1662 & 1665 g
K2 Mindbender 130 (26.5): 1428 & 1427 + 346 & 348 = 1774 & 1775 g
Lange XT3 130 LV (26.5): 1407 & 1410 + 368 & 368 = 1775 & 1778 g
Nordica Strider Pro 130 DYN (27.5): 1445 & 1440 + 363 & 373 = 1808 & 1813
Lange XT Free 130 LV (27.5): 1472 & 1473 + 376 & 376 = 1848 & 1849 g
Dalbello Lupo Pro HD w/o Tongues (26.5): 1589 & 1596 + 266 & 267 = 1855 & 1863 g
Full Tilt Ascendant (27.5): 1613 & 1615 & + 3018 & 311 = 1921 & 1962 g
Tecnica Cochise 130 DYN (25.5): 1493 & 1496 + 440 & 441 = 1933 & 1937 g
Dalbello Lupo Pro HD w/ Tongues (26.5): 1747 & 1754 + 266 & 267 = 2013 & 2021 g
Shell
The XT3 boots still use Lange's "Dual Core Light" construction, which essentially means that the boots feature plastics of different durometers. The softer plastic is sandwiched between harder plastics in an effort to make the boots easier to get on, while also increasing rebound when the boots are flexed.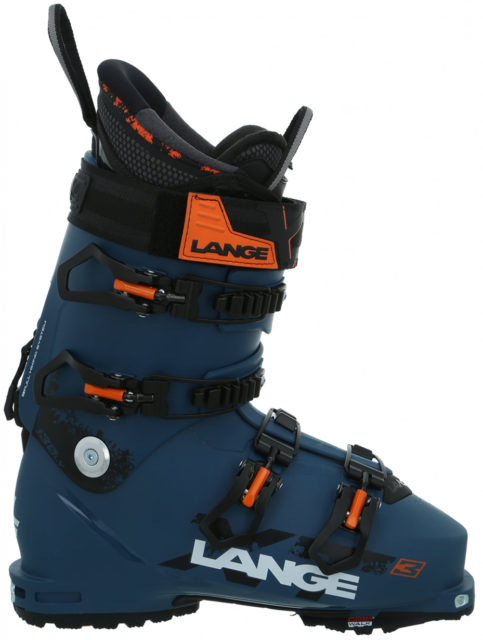 One of the big differences between the new XT3 130 and the previous XT Free 130 is that Lange says the XT3 130 uses a polyurethane (PU) shell and a polypropylene (PP) cuff, whereas Lange says the XT Free 130 used a Grilamid shell and a "polyolefin" cuff.
For more on boot plastics, we highly recommend listening to our GEAR:30 podcast on boot plastics and reading the accompanying show notes.
Liner
The XT3 130 features Lange's "Dual 3D Liner Full – Ultralon" liner, which is 100% heat-moldable and reportedly uses 3 different types of high-density foams throughout the liner. This liner is very similar to the liner in the XT Free 130.
The liner in the XT3 130 is thicker, heavier, and overall more substantial than the liners in the Tecnica Zero G Tour Pro and the 18/19–19/20 Atomic Hawx Ultra XTD 130, and seems fairly similar to the Mimic liner in the 20/21 Atomic Hawx XTD boots.
Walk Mechanism
The XT3 features what Lange calls their "Active Power V-Lock 3.0" walk mechanism. This is very similar to the walk mechanism in the previous XT and XT Free boots, but Lange has tweaked it to open up 2° more of rearward range of motion (aka, "ROM") and 11° in the front, creating a total stated range of motion of 53° (vs. the XT Free's 40°).

As we've noted in the past, we don't pay too much attention to small differences in stated ROM since the usable ROM can feel different between boots with identical stated ROM. But looking at the XT3 vs. XT Free, a 13° difference in ROM is definitely worth noting.
Other than stated ROM numbers, it's worth reiterating that the XT3's walk mechanism is mostly internal, consisting of a plastic slider that locks / releases the connection between the cuff and shell, and also a small metal latch on the exterior. The walk mechanism is actuated by pulling up or down on a small toggle on the exterior of the cuff of the boot. In terms of how it works, the walk mechanism in the XT3 is extremely similar to the walk mechanisms in the previous XT boots.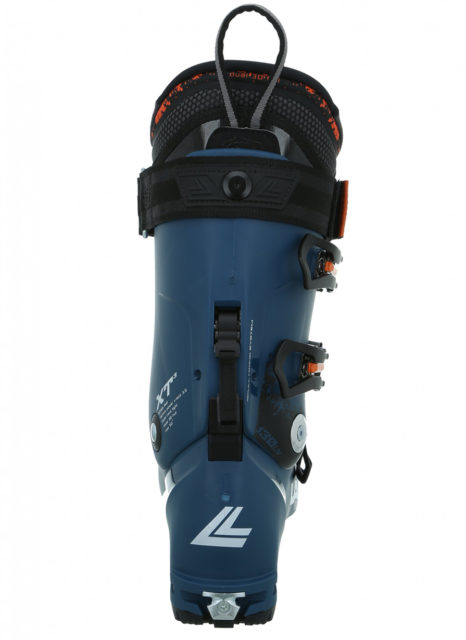 Forward Lean / Ramp Angle
The XT3 boots have a stated forward lean of 12° and a stated ramp angle of 4°. The XT3's forward lean is not adjustable via the walk mechanism like some other touring boots (e.g., the Atomic Hawx XTD, K2 Mindbender, & Tecnica Zero G series).
Buckles
The XT3 boots use a pretty standard buckle layout for an overlap boot, with two buckles on the lower shell and two buckles on the cuff. All are micro-adjustable and there's nothing really out of the ordinary with the buckles. They're nice. Simple. Nothing weird here.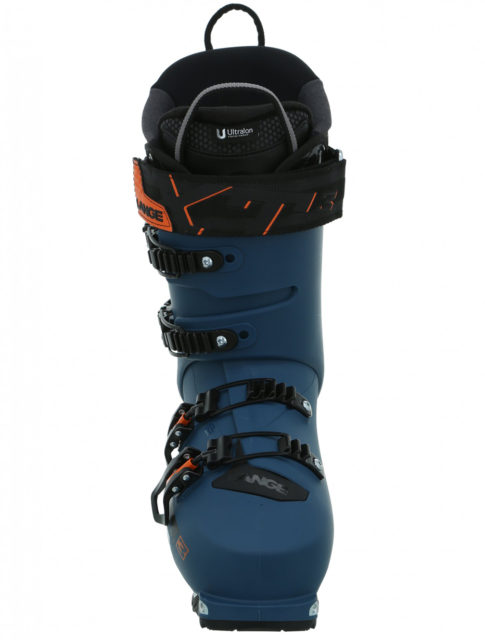 Power Strap
The XT3 130 features a 40mm-wide velcro power strap. This is pretty par for the course, though Lange has decided not to go with a cam-style power strap that we've seen on more and more boots (both alpine & touring) over the past couple of years.
Soles
All of the XT3 boots come standard with GripWalk soles, and Lange says that alpine soles will be available for purchase. The XT3's GripWalk soles are very similar to the soles on the Atomic Hawx Ultra XTD 130, Roxa R3 130 T.I., Tecnica Cochise 130, Dalbello Lupo Pro HD, and the old XT Free 130.
The XT3 boots do not have full-rubber, rockered soles like the Tecnica Zero G Tour Pro and Scarpa Maestrale series, but the XT3 does have some added rubber under the arch of the boot which should help a bit when clambering over rocks, snowmobile running boards, etc.
Fit
I've talked a lot about how my feet tend to get along pretty well with many companies' "LV" ski boots (i.e., around 97-98 mm last). So I can stick my foot into a size 26.5 Tecnica Zero G Tour Pro or Atomic Hawx Ultra XTD 130, and go tour without pain. (The same is true for "LV" dedicated alpine boots like the Lange RX 130 LV, Atomic Hawx Ultra 130, and HEAD Raptor 140 RS.) The Tecnica Mach 1 LV is a bit tighter / more intense on top of my "medial" tarsals (medial and intermediate cuneiform).
Point is — and I'll do a more detailed fit comparison in the future — nothing jumps out at me about the XT3 130 LV being significantly wider or narrower than these other boots. This is not to say that there are no differences, it's only to say that the differences — for my feet, at least — are relatively subtle.
Bottom Line (For Now)
While the Lange XT3 carries over several design features from the XT Free boots, the XT3 130 is a bit lighter, offers more range of motion, and according to Lange, still doesn't give up any skiing performance. We've been spending time in the XT3 130 LV and Blister Members can now check out our Flash Review for our initial on-snow impressions. We'll be logging many more days in this boot, so stay tuned for our full review.