The TWO winners of our Gear Giveaway this week will each get a pair of the new Ride Concepts Hellion Elite flat-pedal mountain bike shoes!
Just released a few weeks ago, the Hellion Elite is the first low-top shoe to feature Ride Concepts's grippiest rubber compound, Rubber Kinetics DST 4.0 MAX GRIP. The shoe also features a D30 insole for improved impact absorption and comfort, a water-resistant synthetic upper, an anti-microbial mesh lining, and a reinforced toe and heel.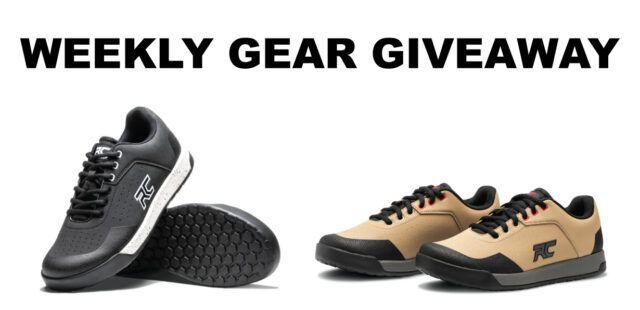 The Ride Concepts Powerline, which shares the same outsole and rubber compound has become my go-to flat-pedal shoe over the past two seasons primarily because of its balance of grip and ability to quickly reposition the shoe on pedal pins, and I love how smooth and damp the shoe feels thanks to its D30 insole. The Hellion Elite looks like it brings all of that in a lower-cut, more breathable package.
Enter before Friday, April 9th for your chance to win!
(Winners will be chosen at random and announced next Friday in our Blister Newsletter. Must be 18 or older. This particular giveaway is limited to the U.S. & Canada.)
By entering, you'll receive our bi-weekly Blister newsletter, where we'll (a) announce each week the winner of our previous Gear Giveaway, (b) provide a roundup of the news and our highest-profile reviews of the past few days, and (c) offer sneak peeks of the products we're currently reviewing. It's good times for sure, so don't miss out. You'll also be kept up to date on what's new at Ride Concepts.