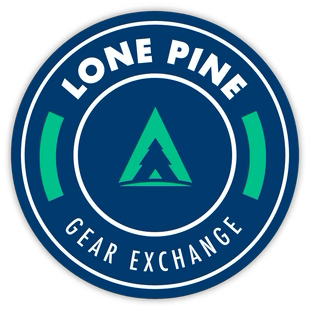 Lone Pine Gear Exchange is far from your average ski shop. In addition to their extensive collection of new gear, they have an incredible amount of used snowsports and outdoor gear on consignment, a coffee shop on site, a robust and specialized gear repair program, a place to refill household items in bulk to minimize single-use plastics, and a knowledgeable staff and service center, ready to get you equipped for the mountains. Plus, both the store itself and the repair department have been women-led since the beginning.
Lone Pine Gear Exchange was founded in 2020 by Ben Johnson and Katy Jackson after they successfully built, grew, and ultimately sold 2nd Tracks Sports. Lone Pine started because Katy and Ben were concerned with the waste generated in snowsports retail, and envisioned a path to building a more "circular economy of gear" while also working to break down barriers to entry regarding affordability and access to high-quality gear. They realized they could provide great consignment gear while also prioritizing corporate responsibility and minimizing environmental impact.
Lone Pine Gear Exchange exemplifies how a ski shop can be more than simply a place to buy gear, but also functions as a community and event space, a place that exemplifies values through actions, and a fun place to interact and hang out. They have a coffee shop open 7 days a week, so be sure to grab a cup of delicious coffee while you shop around or try on boots!
An impressive initiative that Lone Pine Gear Exchange has been committed to since the start is its pledge to plant a tree for every online or in-store purchase. Lone Pine has planted over 50,000 since opening in 2020. Additionally, they have kept close to 24,000 pieces of used gear in circulation, repaired over 2,600 items, and reduced over 5,500 single-use plastics through their refill station (as of August 17, 2023).
Brands
Lone Pine Gear Exchange offers a mix of current model year products plus a huge selection of used gear.
For new gear, they are carrying skis and ski boots from Atomic, Salomon, Blizzard & Tecnica, and Head. They also stock Niche Snowboards, which is a local woman-owned company, and Salomon Snowboard bindings and boots.
For apparel, Lone Pine Gear Exchange is carrying new gear from Smith, Helly Hanson, Strafe, and Dakine.
However, when it comes to shopping their consignment gear, there are no limits on what brands and treasures you might find. Lone Pine Gear Exchange also stocks closeout gear from a wide variety of brands to help expand their affordable softgoods offerings each season.
Lone Pine feels that offering used gear provides customers with several key benefits; more affordable and accessible gear minimizes barriers to entry to generally financially exclusive sports, and by giving gear a second life, the overall environmental waste and impact of skiing and snowboarding are reduced.
Services
Lone Pine Gear Exchange excels at specialty gear repair, with a full-time gear repair specialist on staff. Their Gear Repair program specializes in technical outdoor gear: shells, pants, jackets, backpacks, camping gear, tents, and anything else that a typical seamstress might not cover. Lone Pine's team is highly knowledgeable in the finer details of technical gear repair to keep a product safe and trustworthy while at the resort, in the backcountry, and anywhere else you use your gear.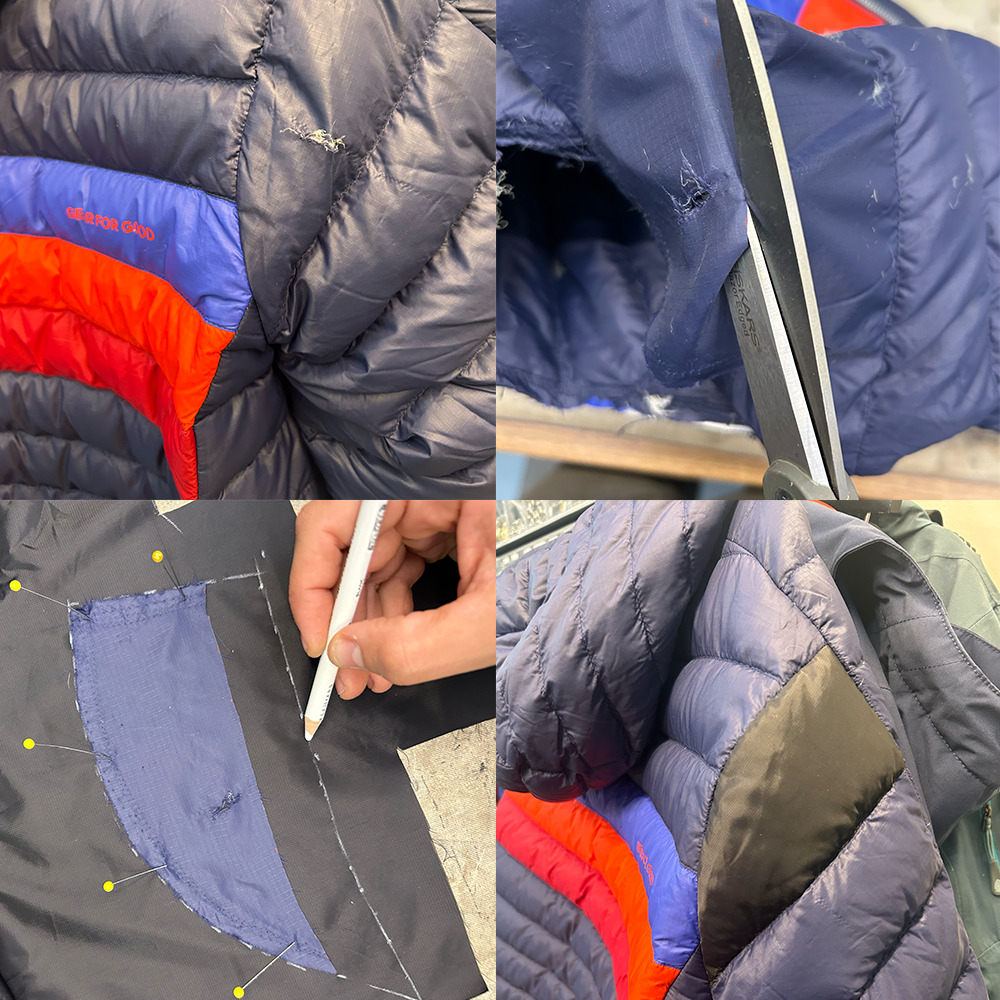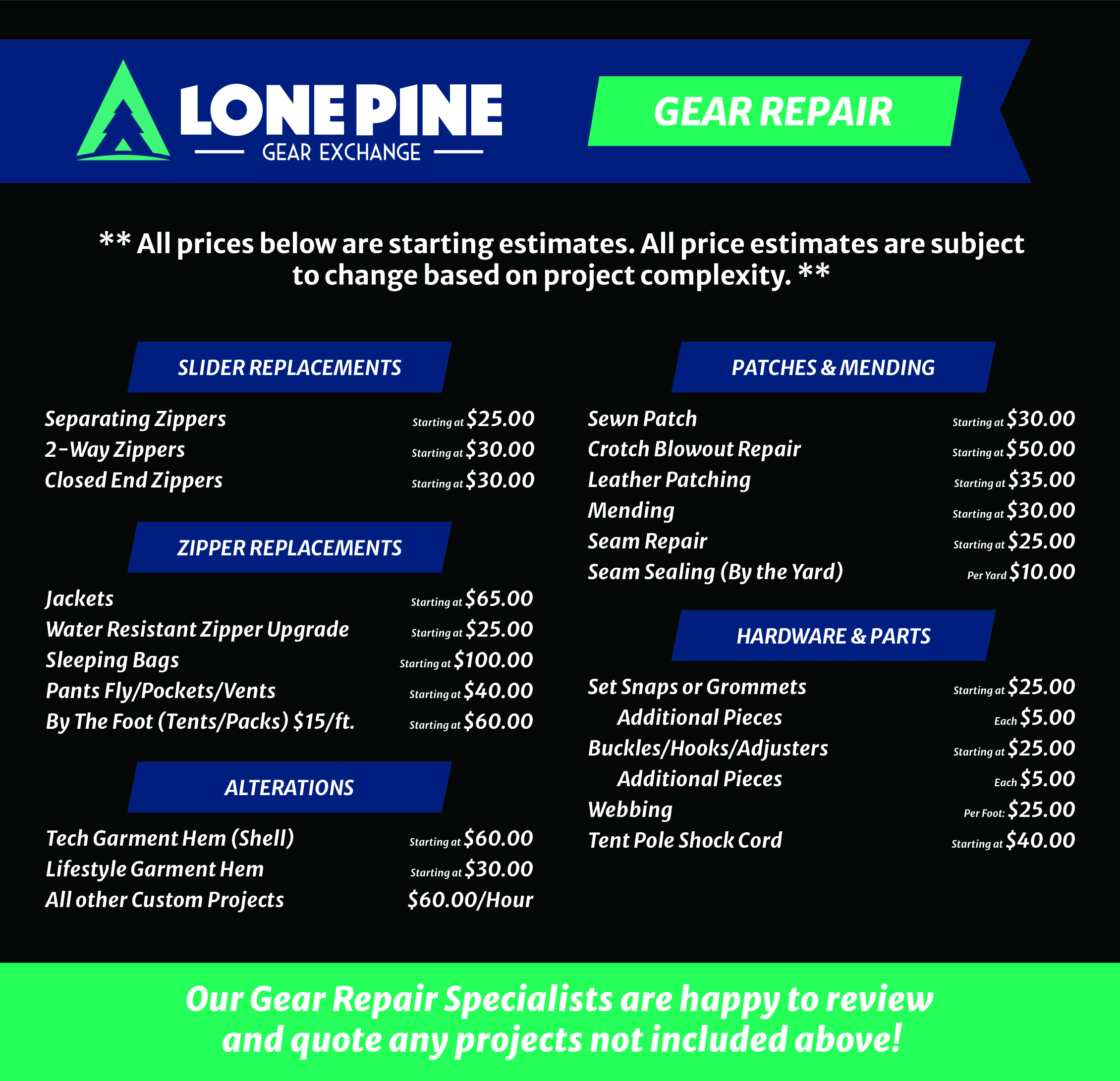 If you are interested in Lone Pine's gear repair program, here are a few things to keep in mind:
Repair will always be a fraction of the cost when compared to replacing damaged gear.
It's about more than just saving money; repairing your gear also coincides with minimizing environmental impacts.
The average turnaround is generally 3-6 weeks, depending on the season. Winter tends to be the busiest time.
It's good to plan ahead, so think about repairing gear in the off-season, when you don't need it.
Lone Pine offers starting price estimates for typical projects, but each project is different. Prices may vary depending on complexity and materials.
Lone Pine can also do obscure repairs on random things that are not necessarily outdoor-specific.
Lone Pine Gear Exchange also provides the more typical services you'd expect from a specialty shop, including ski and board tuning on state-of-the-art Wintersteiger machinery. This spans the full spectrum of ski and board services, from simple hot waxes to race-quality tunes. The turnaround is generally 24-48 hours (season-dependent), but they pride themselves on some of the quickest turnaround in the SLC area.
Lone Pine also features a full-service bootfitting department. They craft Sidas custom insoles, offer a full range of boot modifications, and do so year-round. Any purchase of a new, current model year boot includes a free liner or shell bake ($50 value).
Ski Demos
Lone Pine Gear Exchange is building its first demo fleet for the 23/24 season. This will be a small demo fleet representative of the brands they stock (current year product). You can expect that some cost of your demo days will go toward purchasing a new ski.
Rentals and demos aren't the primary focus of Lone Pine Gear Exchange, since they have so many other specialties. However, you can make an affordable purchase of consigned gear and then elect to re-consign this gear down the line, perhaps as you upgrade or outgrow the gear.
Online Presence
If you head over to Lone Pine's website you will find an impressive online store where you can shop their entire inventory of new and used gear, plus tons of information about their sustainability initiatives, store info, and more. Plus, if you consign with Lone Pine you can access your own account via the website at any time.
Bottom Line
Lone Pine Gear Exchange is so much more than just a ski shop. Having committed to their values and sustainability from the start, Katy and Ben have built an impressive operation where everybody feels welcome, and have helped foster a real sense of community.
Whether you are looking to get into skiing for the first time, or are a seasoned expert in search of some great gear, Lone Pine Gear Exchange is the place for you!