Vemdalen Ski Shop is located in central Sweden near several excellent ski resorts. Vemdalen Ski Shop is a reflection of what this small community has come to represent: a dedication to skiing. Vemdalen Ski Shop is an intimate, independent ski shop with decades of skiing and industry experience, a knowledgeable and passionate staff, and a selection of tailored gear.
The Ski Shop is best known for its excellent and professional bootfitting, led by bootfitters who have over 50 years of cumulative experience. The Ski Shop also carries a curated assortment of hard goods and apparel and runs a high-level ski tuning workshop. They provide year-round specialty service and a specialized collection of all that you need to be ready for an excellent day of skiing.
Beyond their dedication to skiing, Vemdalen Ski Shop also provides bike, kayak, and stand-up paddleboard rentals in the off-season.
Brands
Vemdalen Ski Shop stocks a curated selection of products that they believe in. For skis, they stock Stöckli, Van Deer, Black Crows, Extrem Skis, Armada, Line, Fischer, Völkl, Rossignol, Head, K2, Blizzard, Atomic, and more.
They also carry a wide selection of snowboard gear from brands such as Jones, ThirtyTwo, Capita, Union, and others.
To complement their excellent bootfitting, the Ski Shop carries a comprehensive and well-rounded selection of boots, as well as aftermarket liners from ZipFit.
They also have a great selection of backcountry touring gear including AT bindings, climbing skins, avalanche equipment, and touring-specific skis and boots. For touring gear, they stock brands such as ATK, Pomoca, Dynafit, and others.
And it doesn't stop there. Their apparel and accessories selection includes offerings from Patagonia, The Mountain Studio, Fjällräven, Orage, Moonlight headlamps, Black Diamond, IceBreaker, Hestra, POC, Sweet Protection, Giro, and more!
Services
Vemdalen Ski Shop's reputation for outstanding bootfitting stems from a team of highly experienced bootfitters, and mentorship to new bootfitters coming on. The team is led by Johan, who has over 20 years of bootfitting experience.
Vemdalen Ski Shop believes in selling gear intentionally and slowly, in contrast to operations that sell at a high volume. They are dedicated to finding you the right boot and will work with you to get the most precise fit. They offer bootfitting year-round, and their skills and techniques span the full spectrum, whether you are a recreational skier or beginner seeking a comfortable boot, or are a dedicated expert going the full-service route of stance balancing and alignment. They also help host race camps and spend lots of time fitting race boots.
And since they are conveniently located right next to the ski area, Vemdalsskalet, it's easy for them to make small, subtle adjustments and then have you gauge the changes while making a couple of runs. They believe in excellent communication and dialogue with their clients, and they won't stop working with you until the fit is right!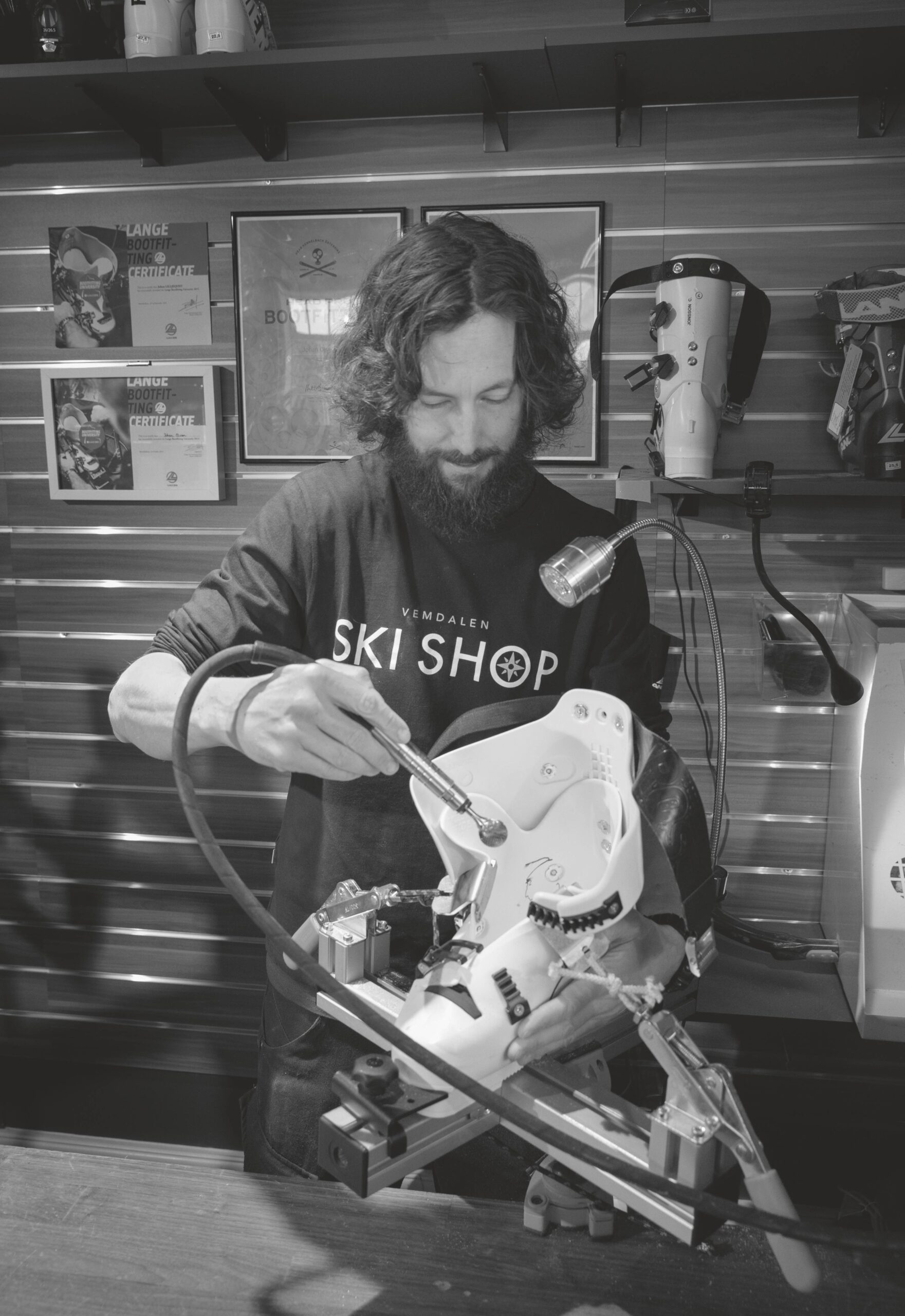 Aside from this robust bootfitting program, they also provide all levels of ski tuning, including race-level tunes via their Wintersteiger machine.
Ski Demos
The Ski Shop's ski demo program is comprised of nearly the skis that they sell, so you can easily spend some on the gear before you make your final purchasing decision.
Online Presence
Vemdalen Ski Shop's website is simple yet effective, providing information about the store, its staff, and the services it provides.
Bottom Line
Vemdalen Ski Shop is a dedicated, specialty ski shop right beside the ski area Vemdalsskalet, and several other Swedish resorts nearby. The shop was founded with a dedication to skiing, a belief in one-on-one service, and dialogue to get each person as dialed in their gear as possible.
At Vemdalen Ski Shop, you are guaranteed a great shopping experience with their staff full of experience and expertise, an authentic atmosphere, and excellent gear to suit your needs.