We Are One Convergence Wheels
Internal Widths:
Sector: 28 mm
Triad: 30 mm
Fuse: 33 mm
Sizes Available: 27.5'' (Triad only) and 29''
Material: Carbon Fiber
Stated weights:
Sector Rim: 495 g (29'')
Triad Rim: 505 g (29'')
Fuse Rim: 523 g (29'')
Blister's Measured Weights:
Triad Front Wheel: 873 g (29'', 28 spoke, 15 x 110 mm Boost)
Triad Rear Wheel: 1,028 g (29'', 32 spoke, 12 x 148 mm Boost)
Triad Wheelset: 1,901 g
MSRP:
Rim Only: $425
Wheelset w/ Industry Nine Hydra Hubs: $1,580
Test Duration: 7 months
Bolted To: BTR Ranger, Nicolai G1, Yeti SB160, Chromag Darco, Contra MC
Reviewer: David Golay (6', 170 lb / 183 cm, 77.1 kg)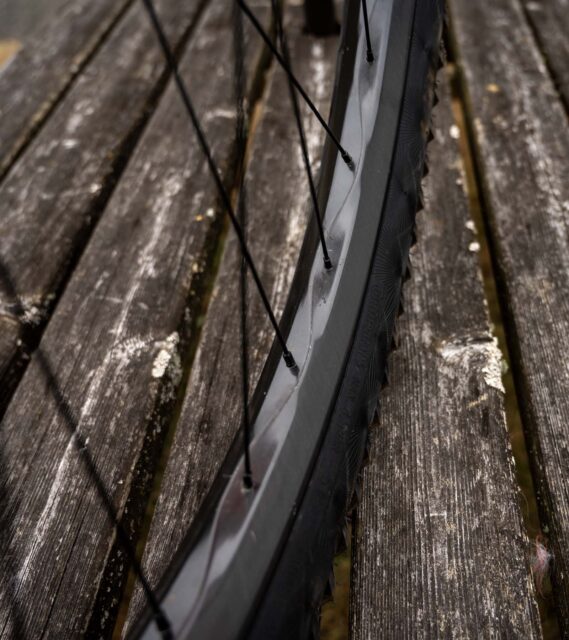 Intro
We Are One has been making excellent carbon wheels (and frames) in Kamloops BC for quite a while now, but their latest line of rims, the Convergence series, looks very different from anything they've made before. The changes aren't aesthetically driven, though — there are some interesting ideas going on here, and it turns out that the on-trail results are quite good, too.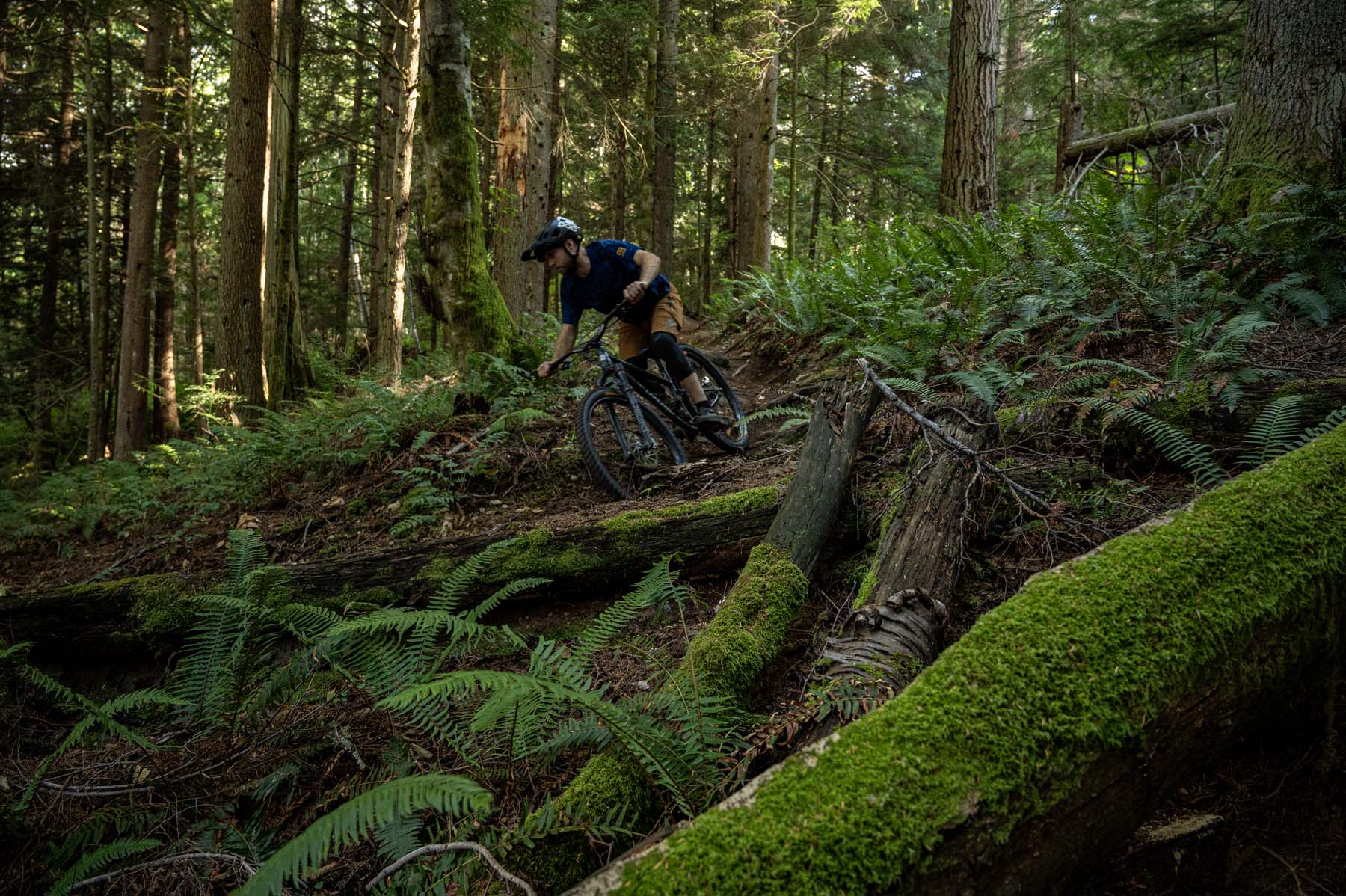 Design
The most obvious design element on the Convergence wheels is the wavy external profile. We Are One aren't the only folks doing something conceptually similar — NOBL has been at it for many years, and Forge+Bond has followed suit — but We Are One's implementation is especially pronounced and dramatic.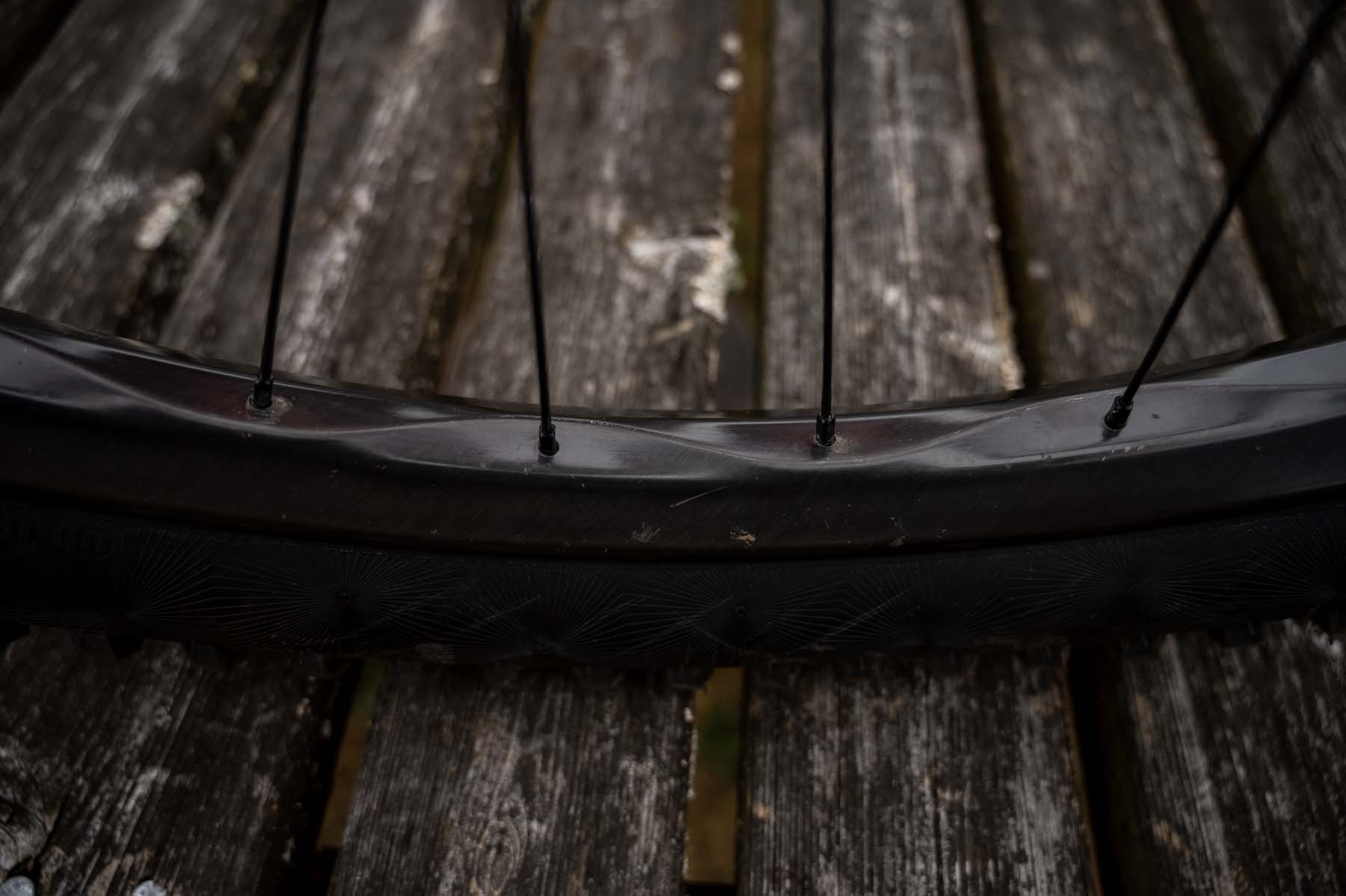 The goal of the design is principally to help the inner wall of the rim align more cleanly with the spoke bracing angle so that the nipple sits flatter against the rim, in order to reduce stress on the nipple and spoke. The scalloped faces of the inner rim wall are angled 7.5° in alternating orientations to better meet the spoke angle, and those angled faces drive the striking external profile of the Convergence rims. Due to the more complex profile, different molds and layups are needed for the 28 and 32-hole versions of the rims, but We Are One is offering seven different versions of the Convergence, spanning three different widths, two diameters, and two hole counts (more on those in a minute).
That revised profile also allowed We Are One to reduce the cross-sectional thickness of the Convergence rims down to just 18.5 mm (from 21 mm on their Union Enduro rim), with the goal of increasing vertical compliance and comfort. Between the new profile and a revised carbon layup, We Are One says that they've managed to make the Convergence rims ~30% stronger than the Unions while increasing vertical compliance and making the rim more damped.
Versions
We Are One offers three different versions of the Convergence rims but, interestingly, they're not coming in at substantially different weights, or meant for different sorts of riding. All three — the Sector, Triad, and Fuse — are meant to be all-around Trail / Enduro wheels, and simply differ in their inner widths, to provide options to dial in tire profile and overall width.
All three feature an 18.5 mm cross-section depth and the same overall profile, but the Sector is the narrowest version in the range, at a 28 mm inner width; the Triad bumps that up to 30 mm, and the Fuse to 33 mm. The Triad is available in 27.5'' and 29'' diameters, while the Sector and Fuse are 29er only. We Are One recommends the Sector for 2.2 to 2.4'' tires, the Triad for 2.4'' to 2.5'' ones, and the Fuse for 2.5'' to 2.6'' options.
The 29'' versions of all three rims are available in both 28 and 32-hole drilling, while the 27.5'' Triad is offered with 32 holes only. We Are One recommends running a 28-spoke front wheel paired with a 32-spoke rear to stiffen up the more heavily loaded rear wheel while making the front a little more compliant; they configure all their Convergence wheelsets as such (apart from a full 27.5'' Triad one, of course). We Are One offers Convergence wheelsets with your choice of rims, including mixed sets (e.g., a Fuse front with a Triad rear). You can get them with black Industry Nine Hydra hubs in either 6-bolt or Centerlock rotor mounting for $1,580, or individual rims for $425 each. Standard Convergence wheels come built with Sapim Race spokes, and We Are One says that Sapim Polyax nipples should be used on all Convergence wheel builds if you're inclined to go your own way there.

If you want something different from the standard wheelset options, including different hub options, CX-Ray bladed spokes, custom nipple colors, or whatever else, We Are One has a form on their website for custom wheel builds. Contact them for options and pricing.
As with all of We Are One's wheels, the Convergence line is built in Kamloops BC and comes with a lifetime warranty for damage incurred while riding. Vehicular damage and theft aren't covered (people have apparently tried both) but We Are One says "If you do, however, manage to make a mistake out there in the big world and it is not while riding, let us know your story. We can be more than fair if the story is good enough to warrant it. If not, we will offer 50% crash replacement and call it fair."
Weight (and Comparisons)
The differences in width across the Convergence line make for slight differences in weight, but they're better thought of as different widths of the same rim, and only differ by a few tens of grams across the whole range. Below are the listed weights for a variety of rims in both the lightweight Trail and burlier Enduro categories, as well as complete wheelset weights for reference; the wheelset weights are all as measured by Blister and are for a 29'' wheelset unless otherwise noted.
Rims:
408 g Enve M630 (carbon)
395 g front / 435 g rear NOBL TR35 (carbon)
425 g We Are One Faction (carbon)
436 g Revel RW27 (carbon)
440 g Reserve 30|SL (carbon)
480 g Revel RW30 (carbon)
480 g Reserve 30|HD (carbon)
495 g We Are One Union (carbon)
495 g We Are One Sector (carbon)
500 g Reserve 30|SL AL (aluminum)
505 g We Are One Triad (carbon)
523 g We Are One Fuse (carbon)
525 g DT Swiss XM 481 (aluminum)
525 g Race Face ARC30 (aluminum)
530 g Forge+Bond 30 EM (carbon)
570 g DT Swiss EX 511 (aluminum)
580 g Enve M730 (carbon)
580 g Reserve 30|HD AL (aluminum)
Wheelsets:
1,571 g NOBL TR35 + DT Swiss 240 EXP (carbon, measured)
1,576 g Reynolds Blacklabel 329 Trail Pro (carbon, measured)
1,639 g DT Swiss XMC 1501 (carbon, stated)
1,648 g Enve M630 + Industry Nine 1/1 (carbon, stated)
1,718 g Reserve 30|SL + Industry Nine 1/1 (carbon , measured)
1,740 g We Are One Faction + Industry Nine 1/1 (carbon, stated)
1,758 g Revel RW27 + Industry Nine 1/1 (carbon, stated)
1,803 g Chris King MTN30 (carbon, measured)
1,833 g Reynolds Blacklabel 309 Enduro Pro (carbon, measured)
1,840 g Revel RW30 + Industry Nine Hydra (carbon, measured)
1,840 g Reserve 30|SL AL (aluminum, stated)
1,848 g DT Swiss XM 1700 (aluminum, stated)
1,849 g Reserve 30|HD + Industry Nine Hydra (carbon, measured)
1,864 g Forge+Bond 30 EM 28h + Industry Nine Hydra (carbon, measured)
1,877 g We Are One Union + Industry Nine Hydra (carbon, 27.5'' diameter, measured)
1,901 g We Are One Triad + Industry Nine Hydra (carbon, measured)
1,985 g DT Swiss EX 1700 (aluminum, stated)
2,069 g Enve M730 / Chris King (carbon, measured)
2,104 g Reserve 30|HD AL (aluminum, measured)
On The Trail
I've been riding the same pair of Triad wheels on a whole bunch of different bikes for most of this year, from my personal BTR Ranger hardtail to several long-travel Enduro bikes, and the Chromag Darco (full review coming soon) in between. They've held up great to a ton of abuse, and I quite like the ride quality, too.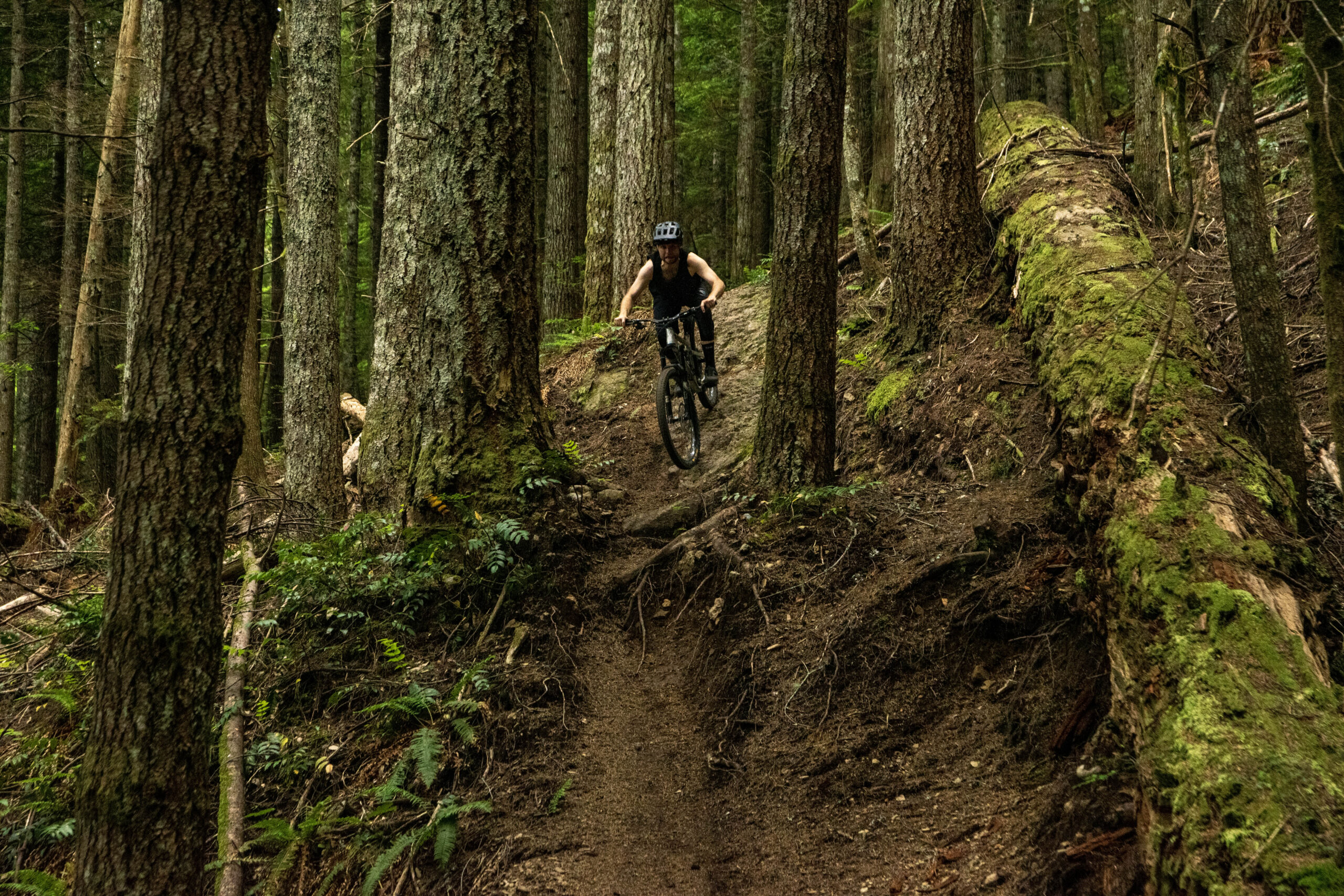 I've spent a ton of time on all three generations of We Are One's Trail / Enduro wheels — the Agent, the Union, and now the Triad — and they've consistently been some of the more precise-feeling carbon wheels out there that manage to do that while maintaining a good bit of compliance and comfort. The Triads carry over much of the lively, precise feel that I've appreciated from the Unions while being subtly (but noticeably) smoother-riding and transmitting just a little less feedback when riding both back-to-back on otherwise identical setups.
(It is worth noting that the pair of Unions I've been comparing against the Triads have 32 spokes at both ends, whereas the Triads are the standard 28-spoke front / 32-spoke rear combo.)
We Are One also claims that the Triads are a little bit laterally stiffer than the Unions, despite their reduced vertical stiffness. I don't have any reason to doubt them on that point, but that particular difference feels pretty subtle (though again, the difference in spoke count on the front wheels probably contributes there, too). Compared to the Forge+Bond 30 EMs I've also been spending a lot of time on, the Triads feel appreciably more precise in how they hold a line and track, but the 30 EMs feel like a significant step up in terms of smoothness, muting out more trail feedback than the Triads.
I'm plenty happy to run the Triads on my hardtail, but those combined traits make them feel like a better fit (at least for me, personally) on longer-travel Enduro bikes. On those bikes, I'm generally pushing the bike harder, particularly in faster, rougher sections of trail, and the differences in compliance and feedback feel less pronounced than they do on the hardtail, for obvious reasons. In those applications, the feel of the Triads is excellent. They track very well, both when cornering and especially in rough and off-camber bits, but they're far, far less harsh than the brutally stiff carbon wheels of not-so-long-ago. (In hindsight, my first pair of We Are One Agents were the first carbon mountain bike wheels I owned that I'd say really rode well.) The Triad's feel is fairly reminiscent of the still-excellent Unions that they sit alongside in We Are One's line, but the Triads feel like a further refined, slightly smoother-riding iteration on the same overall recipe — that's quite a nice place to be.
Industry Nine Hydra hubs feel like they've become the default hub choice for high-end mountain bike wheels, and we've had generally good results with them in a lot of different wheels over the years; this set has been no exception. I'm still generally of the opinion that their massive 690 points of hub engagement are overkill for most folks and they've generally got a tiny bit more drag than some other options, but they work well, are pretty light, and I appreciate that the freehub is a lot quieter than the earlier Torch hubs (at least if it's kept lubricated periodically).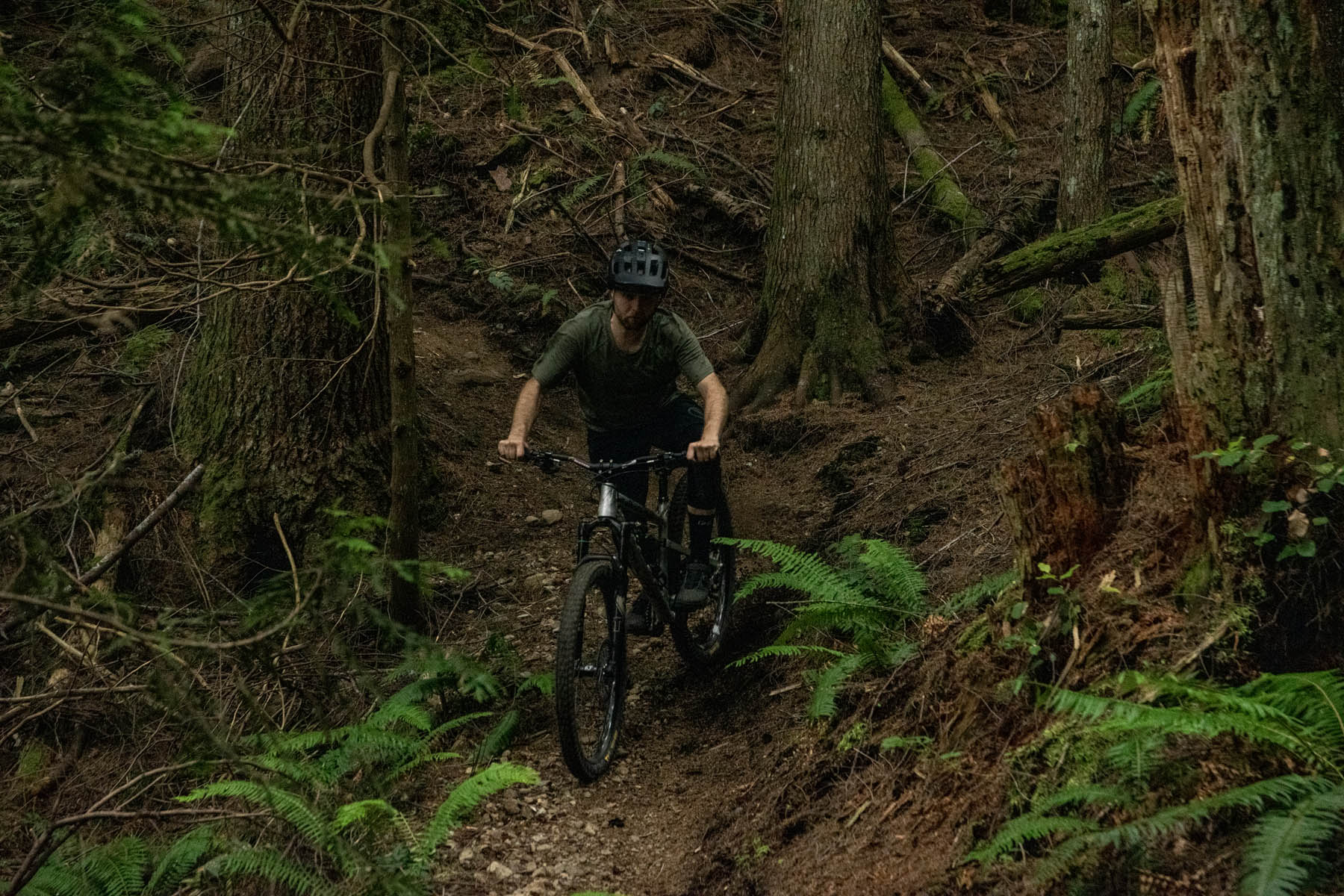 That said, I'm a big fan of the Hadley hubs that We Are One offers via their custom build form — they're an under-the-radar option (Hadley still doesn't even have a website, in 2023) but I've owned a bunch of sets over the years and am a big fan. They've been bulletproof, they're easy to work on, the freehubs are quiet (and offer plenty of points of engagement, at 72), and they feature the best combination of good secondary bearing sealing plus smooth rolling of anything I've tried to date (helped by their adjustable bearing preload). I'd be very tempted to go that route if I was putting together a Convergence wheelset — and did just that on my personal pair of Unions that I've been riding for the last couple of years.
It's also worth touching on tire mounting and setup with the Triads — though I don't have a ton to note here. I've found them to accept a variety of tires (including often tricky DH-casing Continental Kryptotals) without issue, and haven't had any issues with burping, rolling tires off, or anything like that. Honestly, most companies seem to have their rim profiles for modern tubeless tires sorted out pretty nicely these days; We Are One is no exception.
Bottom Line
The We Are One Triad wheels have done just about everything I can ask of an all-round carbon wheel. They've endured a ton of miles and at least a few big rim strikes without issue. And they offer a lot of the precision and liveliness that we've liked in the Union rims — which We Are One still offers as well — and pair that with a little extra compliance and smoothness. The Triads still feel like a relatively stiff, burly wheel that'll probably be best suited to heavier and / or more aggressive riders, but they're a great option for those folks and are also a notably good value for a high-end Canadian-made wheel.
Lastly, stay tuned for a whole lot more on mountain bike wheel properties coming very soon from Blister Labs.
DEALS FOR BLISTER MEMBERS
Become a Blister Member to get great deals on gear — including 15% off We Are One wheels and components.
(And as with all our discounts for Blister Members, we don't get any money when people use them, we just like hooking up our Blister Members with great deals.)