Reynolds Blacklabel 307 and 309 Enduro and DH Wheels
Internal Width: 30 mm
Sizes Available: 27.5'' (aka "307") and 29'' (aka "309")
Material: Carbon Fiber
Stated Weight:
Blacklabel 309 Enduro Pro Wheelset: 1,834 g
Blacklabel 309 Enduro Expert Wheelset: 1,870 g
TR 309 Enduro Wheelset: 1,943 g
Blacklabel 309 DH Expert Wheelset: n/a
MSRP:
Blacklabel 309 Enduro Pro Wheelset: $2,300
Blacklabel 309 Enduro Expert Wheelset: $1,900
TR 309 Enduro Wheelset: $1,450
Blacklabel 309 DH Expert Wheelset: $1,900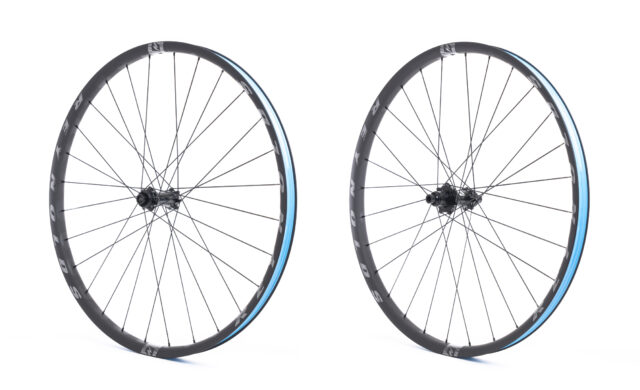 Intro
Reynolds has been making carbon-fiber bike wheels for a long time now, and today their gravity wheel line gets a big overhaul with new versions of their Enduro and DH offerings, spanning three new rim versions and multiple diameter options, for eight new wheels in total.
Reynolds is making a big deal about the improved vertical compliance of the new wheels and says that feedback and testing from Pivot Factory Racing led them to zero in on that compliance as a key goal for the new wheels to help make the wheels ride more smoothly and maintain traction. And after a season of testing and racing — which saw great race results from Ed Masters, Bernard Kerr's best season ever, and a set of World Champs stripes for Jenna Hastings — the new wheels are now available to the public.
Design
In keeping with Reynolds' typical naming conventions, the new Blacklabel 307 and 309 wheels feature a 30 mm internal width in 27.5'' and 29'' diameters, respectively, and are offered in Enduro and DH versions; the TR 307 and 309 wheels bring a less exotic, more affordable carbon fiber layup to the same rim profile, in an Enduro build only (no DH version).
To achieve their goals of increased vertical compliance, Reynolds has dramatically overhauled the profile of the new rims, bumping the internal width out to 30 mm (from 28 mm) and reducing the cross-section height to 20.5 mm (from 29 mm). The new, significantly shallower rims are said to be nearly 40% more compliant than the prior-generation 287 / 289 versions in the top-tier Blacklabel versions, and by about 30% for the less-expensive TR offering. Both the Enduro and DH versions of the rims share the same overall dimensions, including their 37 mm outer width, but the DH wheels use 32-hole drilling for additional strength and stiffness, while the Enduro versions drop down to 28 spokes to save a little weight and make the wheels a touch less stiff; Reynolds says that the Blacklabel Enduro and DH rims are essentially the same apart from spoke drilling.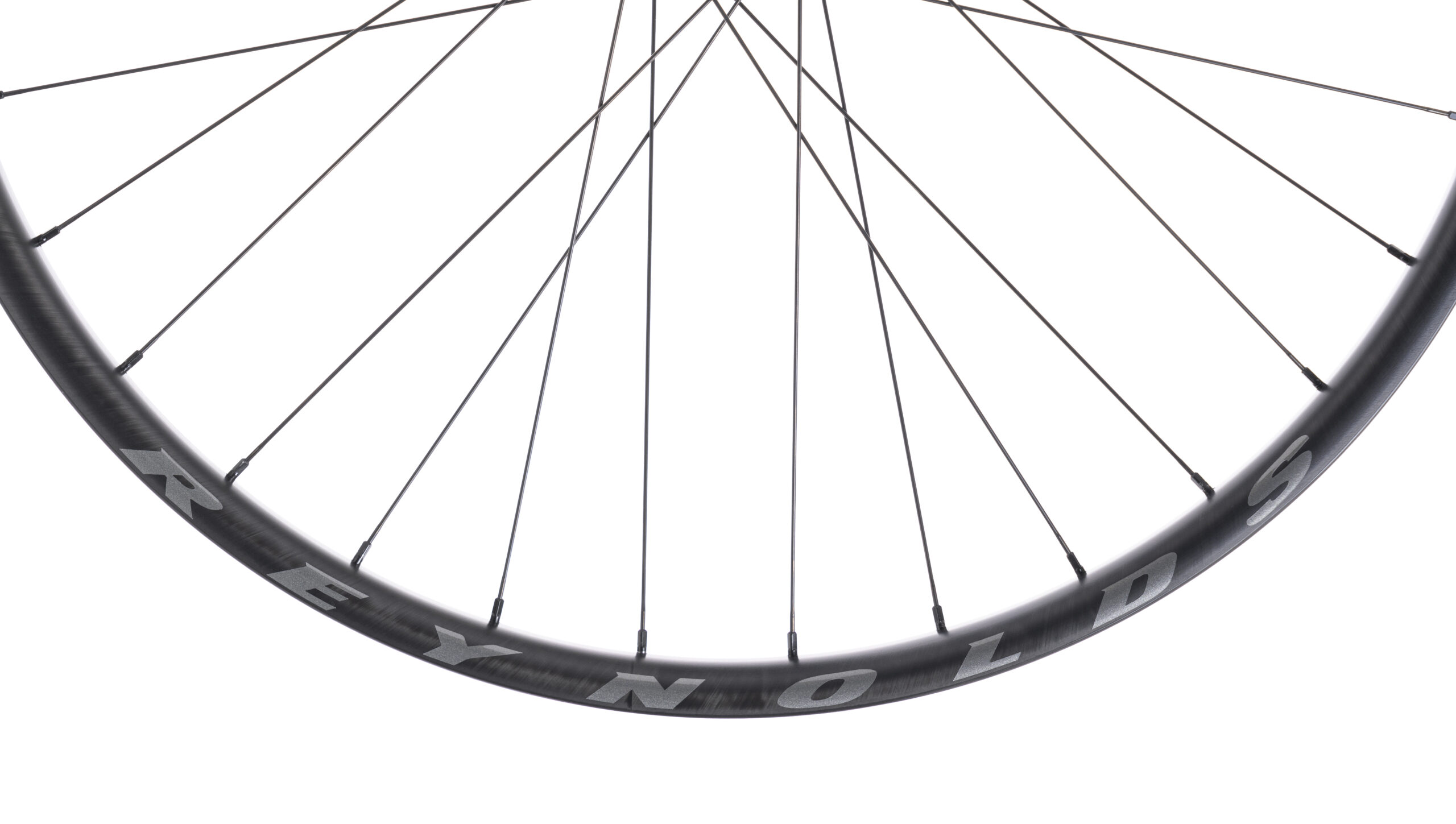 The rim profile is slightly asymmetric for more even spoke bracing angles, and mirrors that of the Blacklabel 329 Trail wheels that we reviewed last year, just in a slightly narrower package, and with a heavier, burlier construction for the rims. It's interesting that Reynolds has actually gone a little bit narrower on the rims meant for more aggressive use, but probably makes a certain amount of sense — while the plus-size tire trend has almost entirely died off, there are still folks running ~2.6'' tires on lighter-duty Trail bikes, whereas modern Enduro and DH tires are almost exclusively in the 2.4'' to 2.5'' range.
Versions
Reynolds is offering three different versions of the new 307 / 309 Enduro wheelsets (and again, the 307 is the 27.5'' version while the 309 is the 29er size), plus a single option for the DH wheels. The new rims are only available as part of complete wheelsets, as tends to be the norm for Reynolds. Mixed 309/307 Mullet wheelsets are also available.
Blacklabel Enduro Pro
The top-tier Blacklabel 307 / 309 Enduro Pro wheels use a Reynolds-designed straight-pull version of Industry Nine Hydra hubs, as found on the Blacklabel Trail Pro wheels as well. All the internals are standard Hydra, including those hubs' crazy 690 points of engagement driver, with the Reynolds-designed straight-pull shells setting them apart. They're offered in 28-hole drilling and with Centerlock rotor mounts only; front wheels are dedicated to a 110 x 15 mm Boost axle standard, but 148 x 12 mm Boost and 157 x 12 mm SuperBoost rears are available, with your choice of Hyperglide, XD, or Microspline drivers.
Sapim CX-Delta spokes with aluminum nipples are used to lace it all together, for a stated total weight of 1,728 g for the 27.5'' size, or 1,834 g for the 29ers.
Blacklabel Enduro Expert
The Blacklabel Enduro Expert wheels swap in a Sun Ringle Super Bubba X hubset in place of the Industry Nine Hydras used on the Pro version, still in a 28-spoke configuration, with Centerlock rotor mounts and the same options for axle spacing and freehubs (15 mm Boost front and Boost or SuperBoost rear with Hyperlide, XD, and Microspline drivers available). The Super Bubba X hubs use a six-pawl arrangement with alternating sets of three pawls giving 90 total points of engagement (4° between points). The hub swap adds a modest ~35 g to the claimed weights for the wheelsets (1,762 g and 1,870 g for the 27.5'' and 29'' versions, respectively).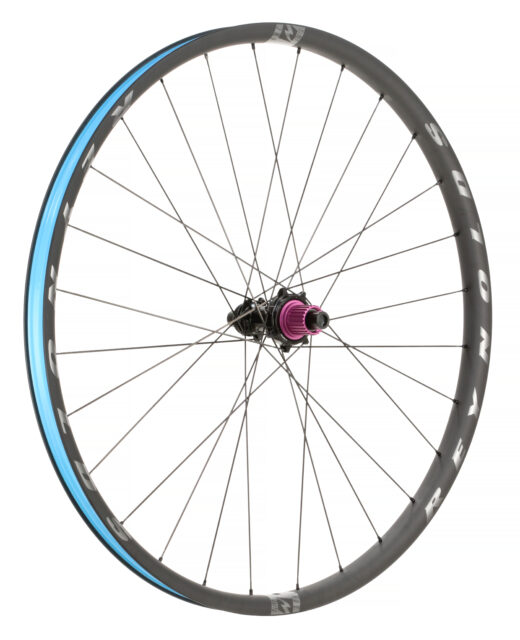 TR Enduro
The most affordable option in the new Enduro line gets a more basic carbon fiber layup for the rims (which Reynolds calls "PR3" as compared to the "MR5 IDM" version in the higher-end Blacklabel wheels), paired with a new version of the Sun Ringle SRX hubs with a three-pawl design that produces 30 points of engagement (12°). As with the higher-end Enduro wheels in the lineup, the TR Enduros use 28 spokes per wheel and Centerlock rotor mounts. The hub spacing and freehub body options are also the same, but Sapim Sprint spokes with brass nipples are used in place of the fancier options on the higher-end wheels. All that adds about 100 grams over the Blacklabel Enduro Expert wheels (1,861 g and 1,943 g for the 27.5'' and 29'' TR Enduros, respectively). Reynolds says that the less-exotic construction of the rims is also slightly less vertically compliant than the higher-end versions.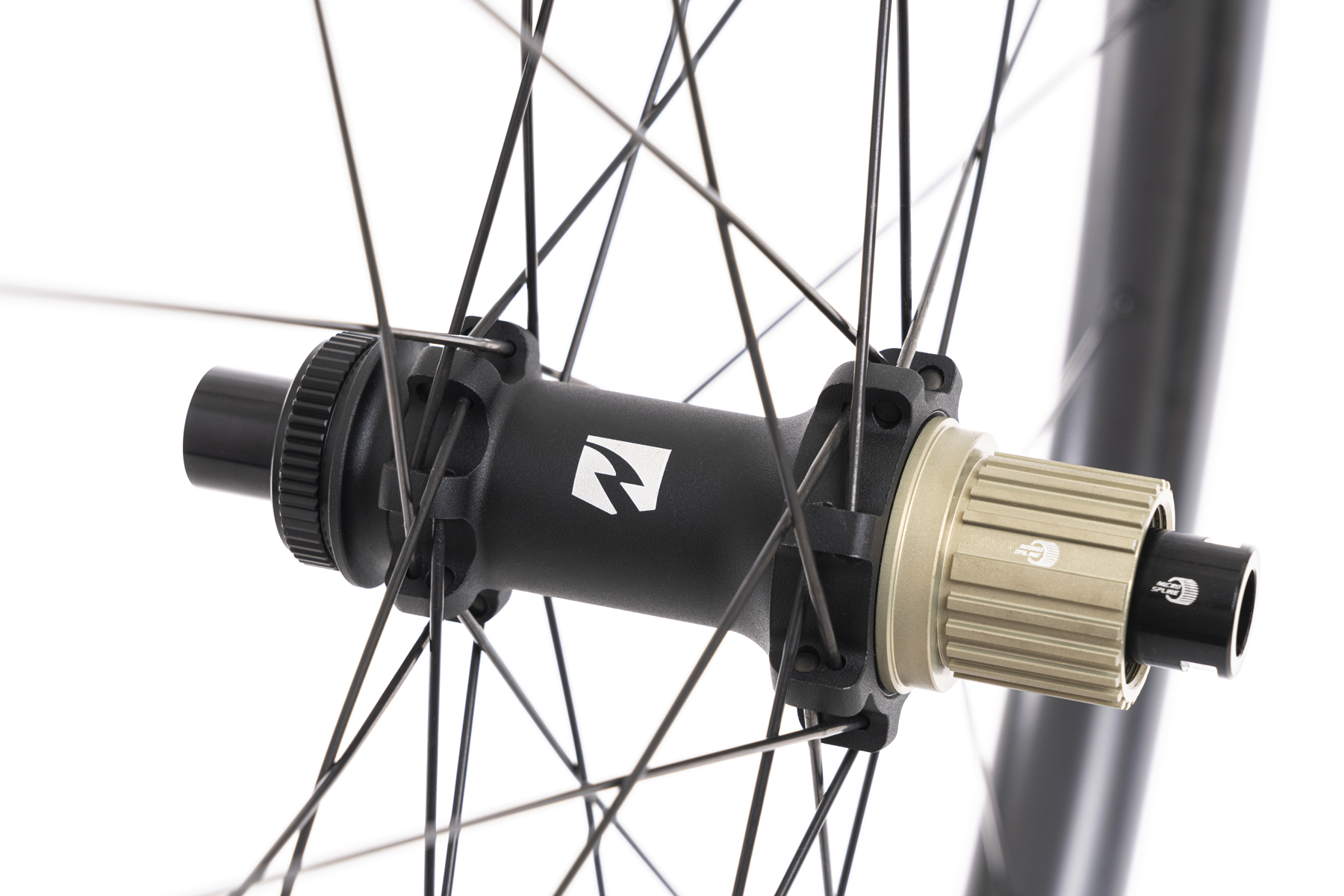 Blacklabel Downhill Expert
Finally, the Blacklabel Downhill wheels are offered in a single Expert version with Sun Ringle Super Bubba hubs and 32 Sapim Sprint spokes with brass nipples. As mentioned above, the rims are essentially the same as those used in the Blacklabel Enduro wheels, just tweaked to allow for 32-spoke drilling, and in keeping with their intended use case, the Blacklabel Downhill Expert wheels are offered with 20 x 110 mm Boost front hubs and 157 x 12 mm rear hubs only; Hyperglide, XD, and Microspline freehubs are all available, though I'm not aware of any Microspline narrow-range DH cassettes on the market at this point.
The Super Bubba hubs feature an interesting split ratchet ring design that can be set up to achieve 45 points of engagement with all six pawls engaging simultaneously, or in a staggered setup with two sets of three pawls each trading off power transmission duties, for 90 points of engagement. Check out our review of the Sun Ringle Duroc SD37 Pro wheels for more on that. And unlike the Enduro versions of the new wheels, the Blacklabel Downhill Expert wheels come with six-bolt rotor mounts; stated weights aren't available yet, but based on the hub, spoke, and spoke count changes, we'd expect them to be about 150 g heavier per set than the Blacklabel Enduro Expert wheels, for wheelset weights just over 1,900 and 2,000 g, depending on wheel size. But we'll update the post when we're able to get more exact numbers there.
Weight (and Comparisons)
Reynolds doesn't publish a rim-only weight for the new offerings and doesn't yet have a stated weight for the DH versions, but the claimed full wheelset weight for the top-tier Blacklabel 309 Enduro Pro is on the lighter side for an Enduro-oriented carbon wheelset, though not by a big margin over a lot of its competitors. Below are the weights for a variety of both aluminum and carbon fiber Enduro wheels, all as measured by Blister and in a 29'' diameter unless otherwise noted.
Wheelsets:
1,803 g Chris King MTN30 (carbon, measured)
1,834 g Reynolds Blacklabel 309 Enduro Pro (carbon, stated)
1,840 g Revel RW30 + Industry Nine Hydra (carbon, measured)
1,848 g DT Swiss XM 1700 (aluminum, stated)
1,849 g Reserve 30|HD + Industry Nine Hydra (carbon, measured)
1,864 g Forge+Bond 30 EM 28h + Industry Nine Hydra (carbon, measured)
1,877 g We Are One Union + Industry Nine Hydra (carbon, 27.5'' diameter, measured)
1,985 g DT Swiss EX 1700 (aluminum, stated)
2,069 g Enve M730 / Chris King (carbon, measured)
2,104 g Reserve 30|HD AL (aluminum, measured)
Reynolds offers a lifetime warranty for the original buyer on all of their carbon rims; hubs, spokes, and labor to rebuild a wheel are covered for the first two years.
Some Questions / Things We're Curious About
(1) Reynolds' prior-generation Blacklabel Enduro wheels were notably stiff compared to most modern offerings. The claimed 40% increase in vertical compliance sounds like a very big change on that front, but how do they feel on the trail?
(2) It's also interesting that Reynolds is using essentially the same rim for both their Enduro and DH wheels, just with different spoke counts. Are the Blacklabel Enduro wheels really as competitive weight-wise as the stated figures would suggest? And are they really up for DH abuse at that weight? Reynolds says they've raced full seasons of both the EWS and Downhill World Cup circuit on a single wheelset, which sounds promising, but we'll need to get on a set to find out.
Bottom Line (For Now)
Reynolds is talking a big game about their new gravity wheel lineup, saying that they've "reinvented the wheel" and claiming very big increases in vertical compliance while allegedly "lead[ing] the industry in impact resistance and durability." We're very curious to see how those claims are borne out, and have a set on the way for review, so stay tuned for more to come.