Enve AM30 Wheels
Internal Width: 30 mm
Sizes Available: 27.5'' and 29''
Material: Carbon Fiber
Stated Weights:
AM30 Rim (29''): 510 g
AM30 Wheelset (29''): 1,852 g
Blister's Measured Weights:
AM30 Front Wheel: 883 g (29'', 15 x 110 mm Boost)
AM30 Rear Wheel: 1,033 g (29'', 12 x 148 mm Boost)
AM30 Wheelset: 1,916 g
MSRP: Wheelset w/ Industry Nine 1/1 Hubs: $1,400
Test Duration: 11 months
Bolted To: BTR Ranger, Guerrilla Gravity Trail Pistol, Trek Slash, Nicolai G1, Contra MC
Reviewer: David Golay (6', 170 lb / 183 cm, 77.1 kg)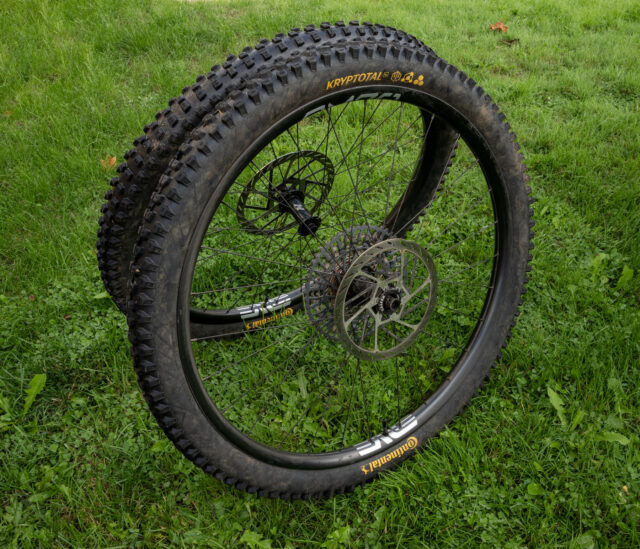 Intro
Enve was arguably the brand that brought carbon-fiber mountain bike wheels into the mainstream — and theirs were the first carbon wheels to win a World Cup DH race, back in 2010. But there have been a lot of new competitors that joined the fray in the decade-plus since, and Enve's wheels aren't nearly as ubiquitous as they once were.
Enve's AM30 wheels have been around for a few years now, but how do they stack up against their newer competitors? And how do their design and performance traits differ from earlier iterations of Enve's mountain bike wheels? Let's dive in.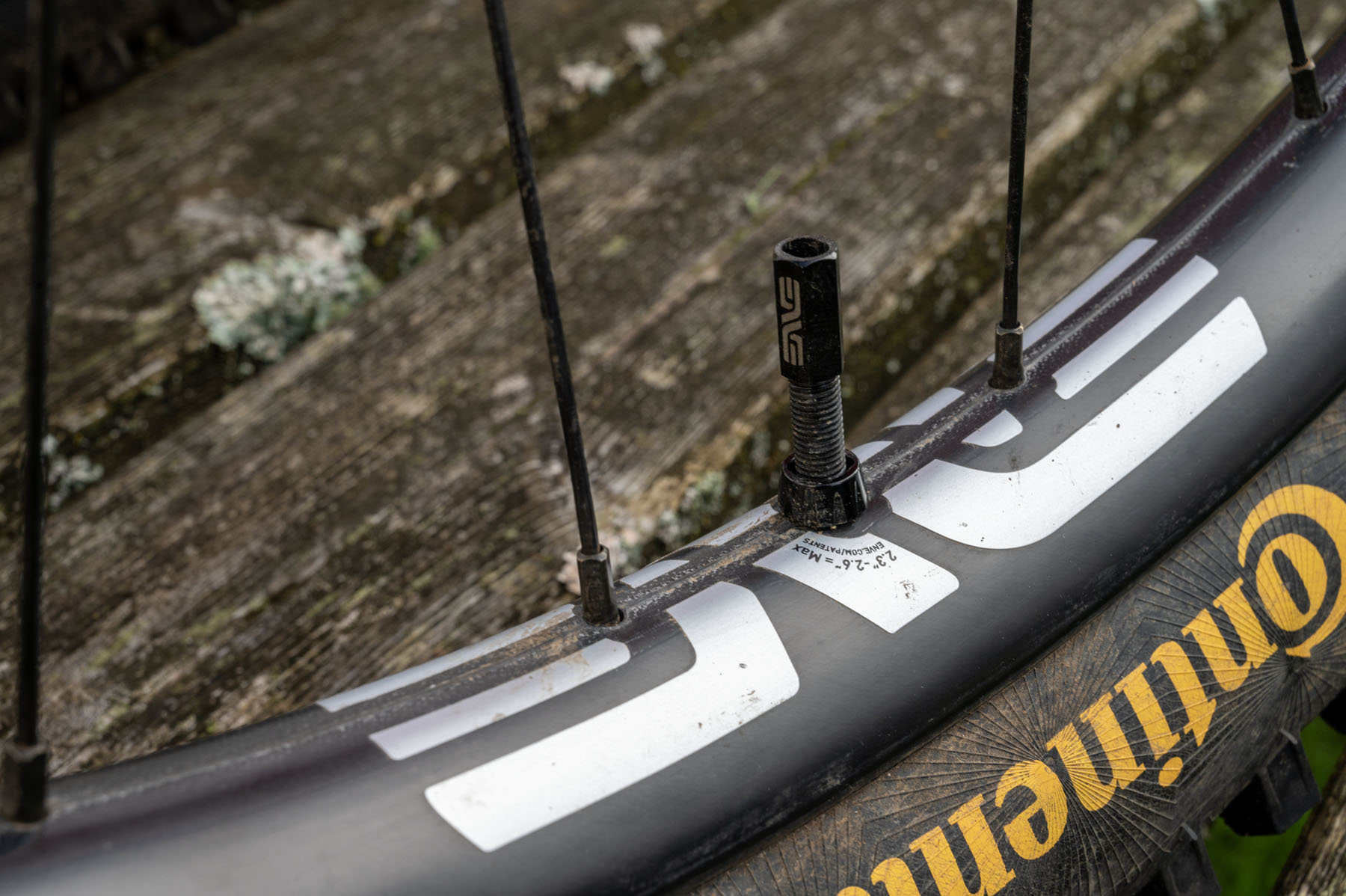 Design
The AM30 is the lone mountain bike offering (so far, anyway) in Enve's "Foundation" line of wheels. The Foundation series is consists of their newer, less-expensive offerings, which differ substantially from Enve's M-Series wheels, though those have stuck around in the lineup, too.
Enve describes the AM30 as being intended for "lunch laps, park laps, and backcountry epics" — that sounds like a little bit of everything, in contrast to Enve's M-Series wheels, which come in four different models (plus a fat-bike version) to cover the range of intended uses. The AM30 rims are still made in Utah using carbon fiber, but a lot of the details have changed from the M-Series offerings.
For starters, the AM30 rims have a much shallower cross-section than Enve's M-Series line of wheels; the AM30 comes in at 20 mm, vs 27 mm for the M7, which is the most directly comparable M-Series offering in terms of intended use. The goal there was to increase the vertical compliance of the AM30, an attribute that just about every carbon wheel manufacturer is touting these days. Reducing the cross-section height also necessitated a move to standard external nipples, whereas earlier Enve wheels have used internal ones — which meant that truing them required removing the tire and rim tape as well. The standard external arrangement on the AM30s is quite welcome in my book.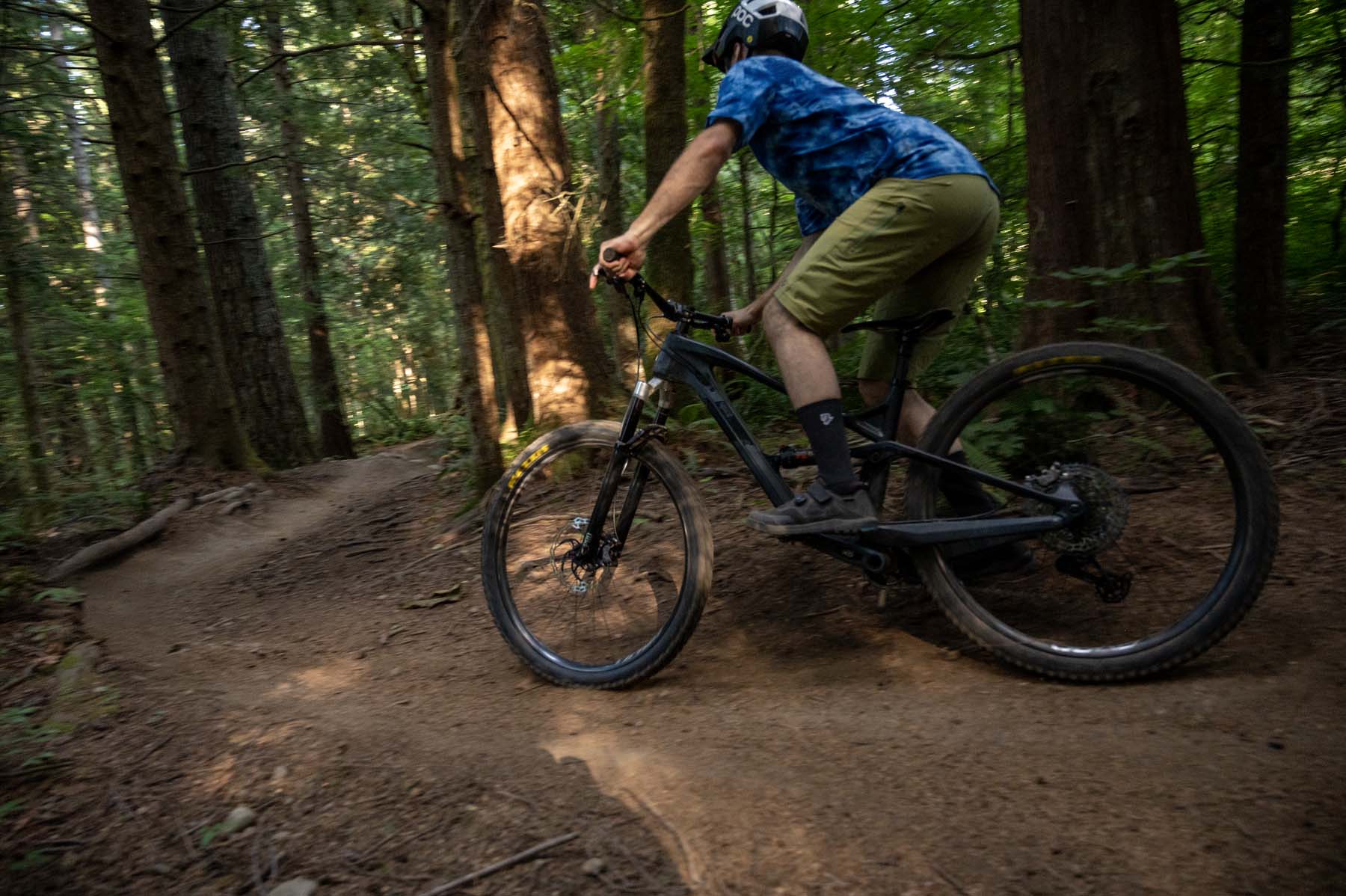 The AM30 also dispenses with the molded rim strip that Enve uses on the M7 (and M9 DH wheels), in favor of standard rim tape. The M-Series' rim strips are meant to both ease installation and, maybe more importantly, help protect the rim and tire, since they wrap over the top of the rim sidewall and offer some cushioning between the rim and tire, under the sorts of impacts that could lead to a pinch flat and/or broken wheel. Noah Bodman got along with the system pretty well when he reviewed the M730 wheels a few years back, and it's a little disappointing to see it not on offer here (installing rim tape is one of my very least favorite bike maintenance tasks), but I suppose it's no surprise that the much more affordable AM30s don't get all the features of their higher-end siblings.
Interestingly, Enve has a set of graded 1-10 scales to help folks choose between their various wheels, and the AM30s get the same "8" on descending and "5" on climbing as the M7s, but the AM30s rate higher on both impact toughness (at an "8" instead of a "7") and far outstrip the M7s on Enve's own assessment of compliance, with the AM30 getting a "9" and the M7 a "5." The AM30s are also over $1,000 cheaper for the pair (granted, with Industry Nine 1/1 hubs instead of Hydras on the M7s) and a little lighter according to both Enve's stated rim weights and our measured ones for complete wheelsets (with different hubs). Add that all up, and the AM30s sure seem like a more appealing prospect on paper.
Unsurprisingly, the AM30 has a 30 mm internal width, and that's the lone width option. In contrast, the M6 is offered in 30, 35, and 40 mm widths, and the M7 in 30 and 35 mm ones.
Enve offers a 5-year warranty on the AM30 wheels (from the purchase date for the original owner, or the date of manufacture for secondhand owners), and an incidental damage policy for damage that doesn't qualify as a defect of materials or workmanship. In short, under the incidental damage policy, Enve will replace a damaged rim for the cost of shipping, labor, and related parts (e.g. spokes and nipples) in the first three years of ownership and at a discounted rate thereafter; see Enve's website for the details.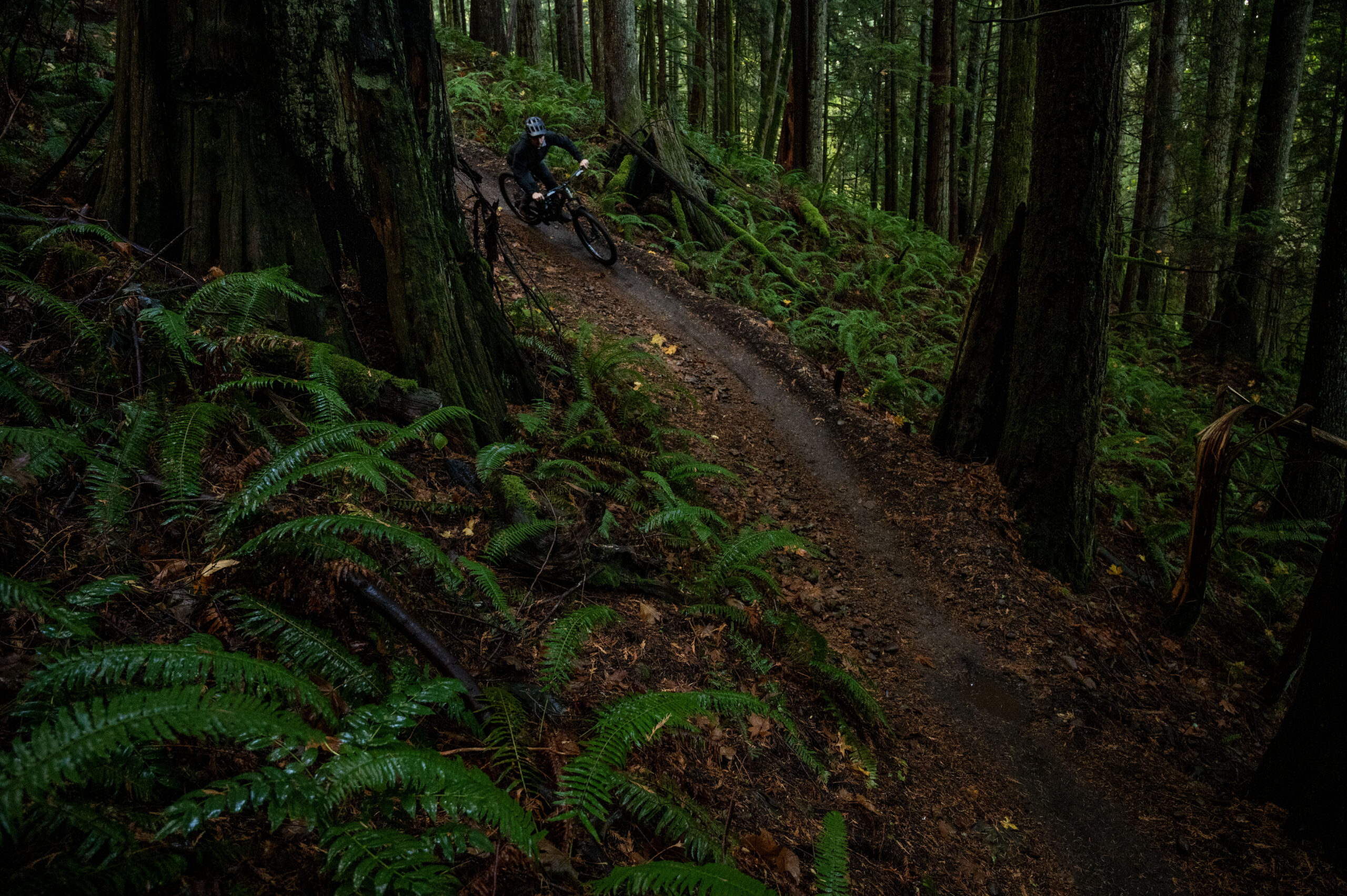 Versions
The AM30s are only available as a complete wheelset, in your choice of 27.5'', 29'', or mixed-wheel sizes, with Industry Nine 1/1 hubs in your choice of 148 mm Boost or 157 mm SuperBoost rear spacing; a 110 x 15 mm Boost front hub is the lone spacing option there. The Boost wheelset is offered with Centerlock rotors only, while the SuperBoost one is 6-bolt. Industry Nine doesn't make a Centerlock SuperBoost 1/1 hub, so that setup goes 6-bolt by default, but it'd be nice to see a 6-bolt option on the Boost wheels. No matter the hub configuration, you get 28 Sapim Race spokes in a two-cross pattern.
Weight (and Comparisons)
Enve describes the AM30 as being up for everything, from all-round Trail use to bike park laps, and they come in at a fairly average weight for that sort of carbon wheel. For reference, below are the listed weights for a variety of rims in both the lightweight Trail and burlier Enduro categories, as well as complete wheelset weights; the wheelset weights are all as measured by Blister and are for a 29'' wheelset unless otherwise noted.
Rims:
408 g Enve M630 (carbon)
395 g front / 435 g rear NOBL TR35 (carbon)
425 g We Are One Faction (carbon)
436 g Revel RW27 (carbon)
440 g Reserve 30|SL (carbon)
480 g Revel RW30 (carbon)
480 g Reserve 30|HD (carbon)
495 g We Are One Union (carbon)
495 g We Are One Sector (carbon)
500 g Reserve 30|SL AL (aluminum)
505 g We Are One Triad (carbon)
510 g Enve AM30 (carbon)
523 g We Are One Fuse (carbon)
525 g DT Swiss XM 481 (aluminum)
525 g Race Face ARC30 (aluminum)
530 g Forge+Bond 30 EM (carbon)
570 g DT Swiss EX 511 (aluminum)
580 g Enve M730 (carbon)
580 g Reserve 30|HD AL (aluminum)
Wheelsets:
1,571 g NOBL TR35 + DT Swiss 240 EXP (carbon, measured)
1,576 g Reynolds Blacklabel 329 Trail Pro (carbon, measured)
1,639 g DT Swiss XMC 1501 (carbon, stated)
1,648 g Enve M630 + Industry Nine 1/1 (carbon, stated)
1,718 g Reserve 30|SL + Industry Nine 1/1 (carbon , measured)
1,740 g We Are One Faction + Industry Nine 1/1 (carbon, stated)
1,758 g Revel RW27 + Industry Nine 1/1 (carbon, stated)
1,803 g Chris King MTN30 (carbon, measured)
1,833 g Reynolds Blacklabel 309 Enduro Pro (carbon, measured)
1,840 g Revel RW30 + Industry Nine Hydra (carbon, measured)
1,840 g Reserve 30|SL AL (aluminum, stated)
1,848 g DT Swiss XM 1700 (aluminum, stated)
1,849 g Reserve 30|HD + Industry Nine Hydra (carbon, measured)
1,864 g Forge+Bond 30 EM 28h + Industry Nine Hydra (carbon, measured)
1,877 g We Are One Union + Industry Nine Hydra (carbon, 27.5'' diameter, measured)
1,901 g We Are One Triad + Industry Nine Hydra (carbon, measured)
1,916 g Enve AM30 + Industry Nine 1/1 (carbon, measured)
1,985 g DT Swiss EX 1700 (aluminum, stated)
2,069 g Enve M730 / Chris King (carbon, measured)
2,104 g Reserve 30|HD AL (aluminum, measured)
On The Trail
I got off to a rough start with the AM30 wheels, though in hindsight, it mostly wasn't their fault. I'd originally planned to mount them with a pair of Continental Kryptotal DH tires — which I am still a huge fan of overall — but found myself unable to get them to mount. The bead on the DH-casing Kryptotals is decidedly tight, and I haven't had an easy time mounting them on any wheels, frankly, but I simply could not get them to go onto the AM30s at all.
It turns out that this was down to a combination of factors. The DH-casing Contis are just tough to mount, period. The AM30's center channel isn't super deep and leaves a little less room than many other wheels to drop the bead into and get things situated. And at the time of my initial effort, I'd only mounted the DH-casing Kryptotals a handful of times in total and hadn't fully internalized how much their bead can stretch if you really put some muscle into it.
So I gave up and mounted some Double Down casing Maxxis tires (which went on with no fuss) and hit the trail. We'll get to that in a moment, but I circled back and was able to mount some DH-casing Kryptotals down the line, once I'd gotten familiar with them and just how much stretch there is to be found in their beads if you really get aggressive with a couple of tire levers. Are the AM30s a little on the tighter side of average when it comes to mounting tires? Yep. But at the end of the day, the issue was mostly down to the very, very tight bead on the Kryptotals (especially out of the box — they do stretch out and get easier to mount the second time around) and me just not forcing them on aggressively enough.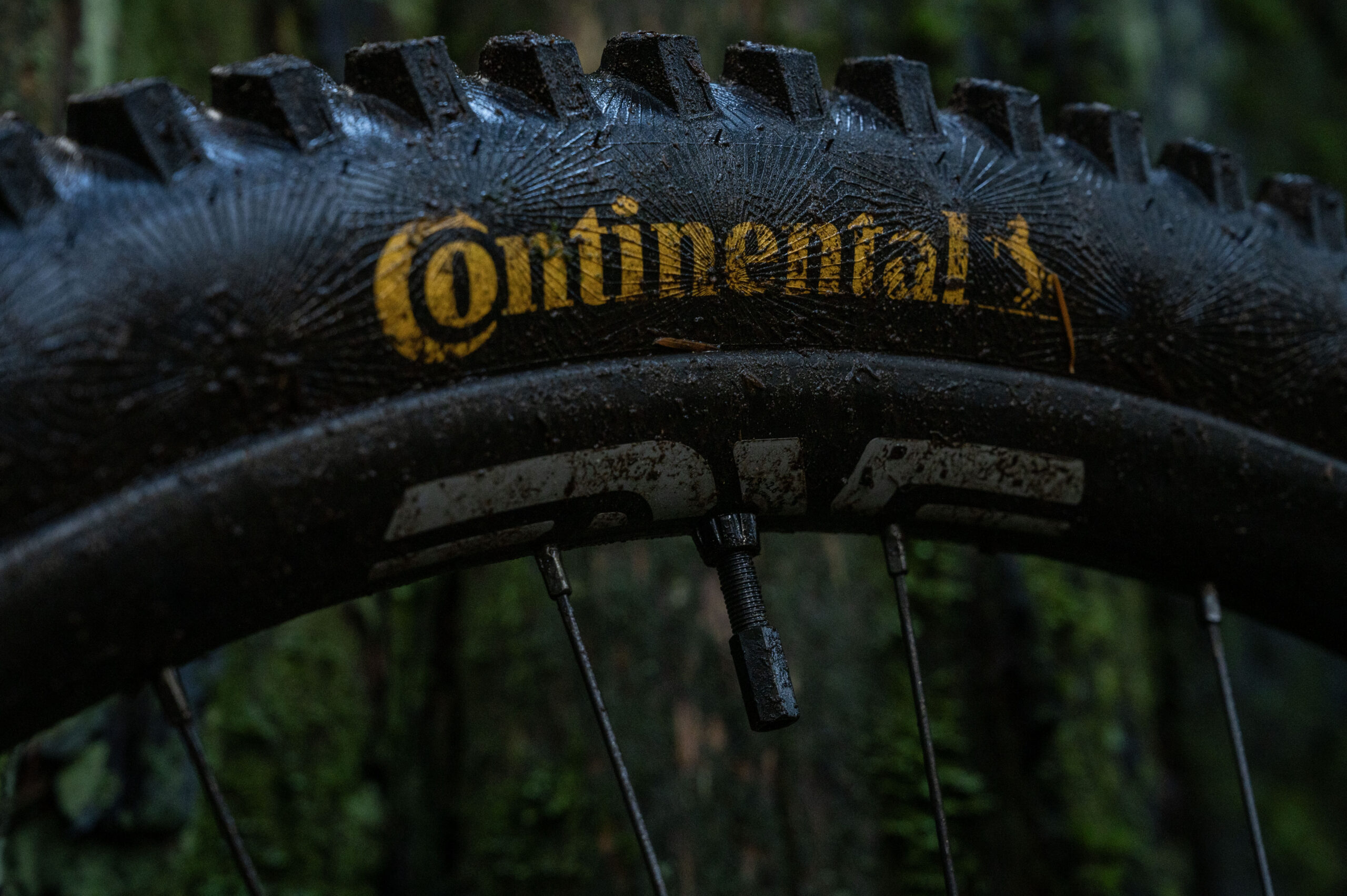 Anyway, once I got the AM30s mounted up and on the trail, I found them to ride quite nicely, especially if you're after a wheel on the stiffer, more precise-feeling end of the spectrum. I admittedly haven't ridden the current-generation M7s, the most direct comparison in Enve's M-Series line, but the AM30s are substantially more compliant feeling and less ultra-stiff than the prior-generation M7s and the current M6s that I've been on. The AM30s still aren't a wheel for folks who want the most muted-feeling option they can get their hands on, but the AM30s are appreciably more precise feeling in how they hold a line on rough, off-camber sections or when cornering hard than most options that feel like they're a big step up in compliance. And in contrast to some Enve wheels of old that I've ridden — maybe most notably the ultra stiff first-generation M7s — I think the AM30s hit a nice balance when it comes to ride quality, just one that's on the more stiff and precise end of the (modern-day) spectrum.
[When I'm describing a wheel as "precise" I'm mostly thinking about how directly it responds to rider input and how easy it is to feel where and how the wheel is tracking. A less precise wheel can feel vague and less predictable when heavily loaded and flexed substantially.]
The extent to which that is or isn't a good thing is going to hinge on what you're looking for in a wheel. Heavier and/or more aggressive riders who have found other wheels to feel vague and imprecise when cornering hard would be high on my list of folks to recommend the AM30s to. They might well be the stiffest-feeling wheel I've been on that I think still generally rides well — which is to say, isn't unduly harsh and overly stiff. Enve's rating of the AM30s as a 9 out of 10 on compliance is probably a bit generous, especially relative to some of the notably smooth, compliant-feeling carbon wheels that have cropped up recently (e.g., the Forge+Bond 30 EM and 30 AM). I'd rank the AM30 as a modest but appreciable step up in both stiffness/precision and the amount of feedback they transmit as compared to the We Are One Triad and (to a lesser extent) the Reynolds Blacklabel 309 Enduro Pros, for example.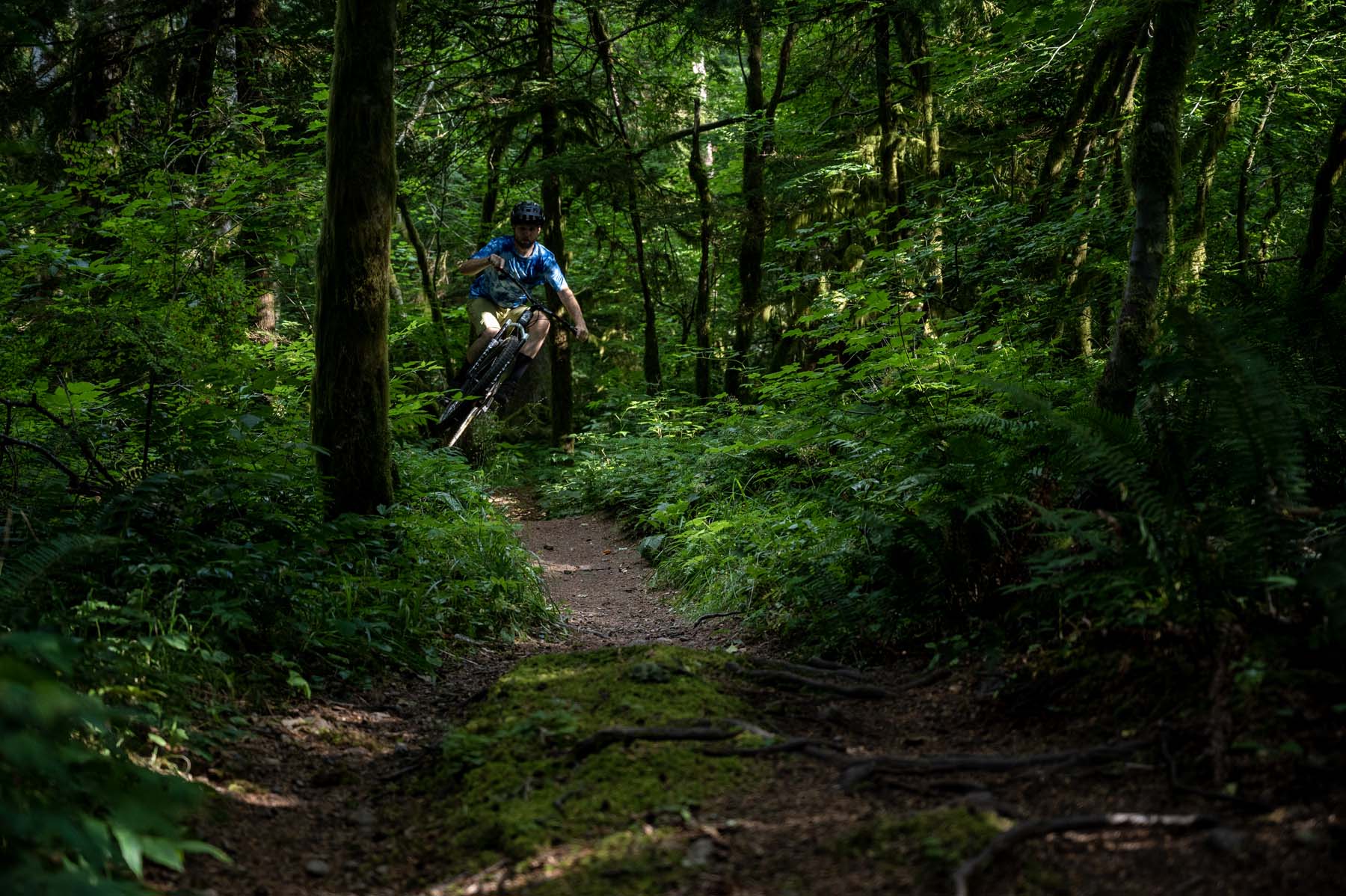 There are also marked differences in how compliant the AM30s feel, depending on the type of impact they're taking. Under more head-on chatter, they don't feel especially stiff, though under those circumstances, the bike's suspension is also well situated to take over and make differences in wheel stiffness harder to pick out. (That said, I rode the AM30s a fair bit on my hardtail, too, which makes differences in wheel stiffness a lot more stark than they are on a long-travel Enduro bike, which helped inform that take.)
But under more off-camber loads, the stiffness of the AM30s is more apparent, in ways both good and bad. They track and steer very precisely, but are also more prone to getting pinged off line than some of the more compliant wheels I've been testing alongside them.
I've been thinking a lot about bike frame stiffness of late, in part because I'm testing two high-pivot Enduro bikes (the Contra MC and Trek Slash) which actually have quite a bit in common in terms of geometry, suspension kinematics, and overall ride feel in some respects, but differ quite dramatically in terms of frame stiffness. Having swapped a bunch of different pairs of wheels, including the AM30s, between the two bikes, I've found that I prefer wheels with somewhat different ride qualities depending on the bike I have them bolted to.
On the quite-stiff Slash frame, the AM30s honestly feel a bit overkill in terms of stiffness. That combo is ultra-precise but gives up some grip on rougher off-camber sections in particular, and requires more fine bits of steering input to keep the bike on line. It's super responsive to those corrections, but also needs more of them because it feels like it's pinging around and getting deflected more easily than the Slash does with less stiff wheels, or the MC does in general. On the less stiff (though not super noodly) MC frame, the precision and stiffness of the AM30s feel more straightforwardly like a good thing since the frame does such a good job of ironing out smaller chatter and feedback on its own.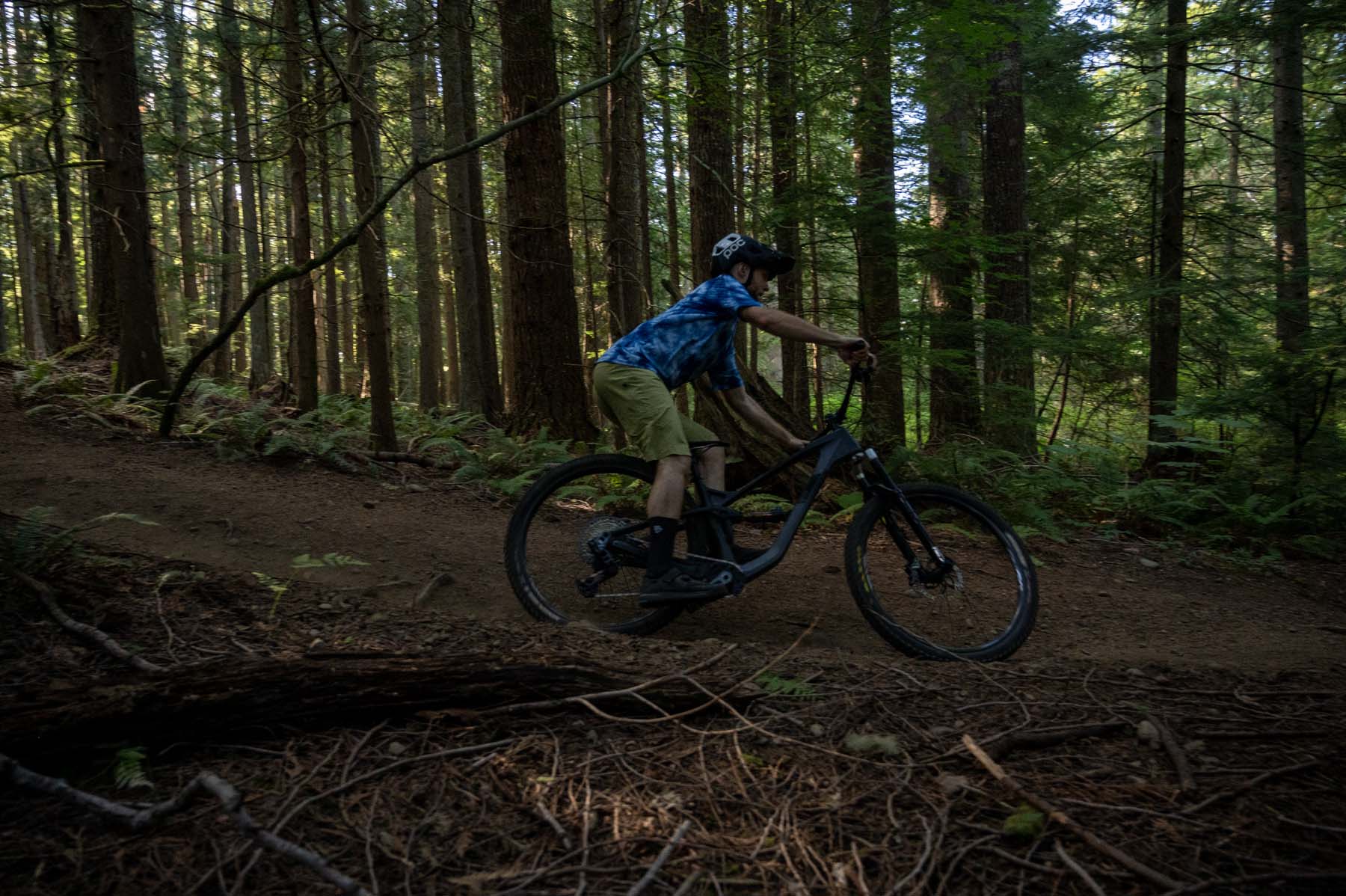 It all goes to show that there's no easy one-size-fits-all answer to what the "right" wheel properties are and that, even for the same rider on the same trails, the bike they're bolted to has a real impact on what feels best. But to bring it back around to the Enve AM30s, the throughline is that I think they ride really well if you're after a fairly stiff, precise-feeling wheel, but that some folks will definitely be better served by something softer-flexing and more compliant. So as we're fond of saying around here, it helps to know thyself and take honest stock of what you are (and aren't) after, because there's almost never such thing as an objective "best" anything. The AM30s are a very good wheelset on the stiffer end of the spectrum, for better or worse depending on what you want out of them.
Durability-wise, the AM30s have also fared quite well. They're still running true and round after nearly a full year of use without having needed any attention along the way. I have re-lubricated the freehub mechanism a couple of times, but just to quiet down the ratchet mechanism, not because it was causing a real problem. I'm plenty happy with the 90 points of engagement on the Industry Nine 1/1 hubs and haven't missed the colossal 690 points on their higher-end Hydra siblings at all.
Needing to source Centerlock rotor adapters was mildly inconvenient, but not the end of the world. I'm still a fan of 6-bolt ones because they're just far more common and offer more options for sizing, they've got some redundancy in their fastening arrangement (instead of a single lockring), and, most importantly, are secured with a tool that most people are actually carrying with them while riding. It didn't crop up on the AM30s specifically, but I have had a Centerlock rotor come loose mid-ride somewhat recently, and there wasn't much I could do beyond repeatedly snugging it finger-tight until it came loose again. I'd rather see a 6-bolt hub option on the standard Boost wheels.
Bottom Line
Enve made their name with some of the earliest (and most expensive) carbon fiber mountain bike wheels to gain widespread adoption, but their AM30 wheels are surprisingly affordable, frankly ride better than any other Enve wheel I've been on to date, and have held up very well to nearly a full year of regular use. They're on the stiffer, more precise feeling end of the spectrum when it comes to modern carbon wheels and wouldn't be my first choice for folks who place a smooth, muted ride feel at the top of their list of priorities, but the AM30s don't feel harsh or as if they transmit an undue amount of feedback. They're just stout, in a way that I think certain riders — myself included — will appreciate on the right bike.
Lastly, stay tuned for a whole lot more on mountain bike wheel properties coming very soon from Blister Labs.