2024 Trek Slash
Wheel Size:
Size Small: 27.5''
Sizes Medium through XL: 29'' front / 27.5'' rear (29'' compatible)
Travel: 170 mm rear / 170 mm front
Geometry Highlights:
Sizes offered: S, M, M/L, L, XL
Headtube angle: 63.3° (Default setting, adjustable)
Seat tube angle: ~77° (Varies by size and geometry setting)
Reach: 488 mm (size Large)
Chainstay length: 434 mm (size Large)
Frame Material: Aluminum and carbon fiber versions available
Price: Complete bikes: $4,400 to $11,500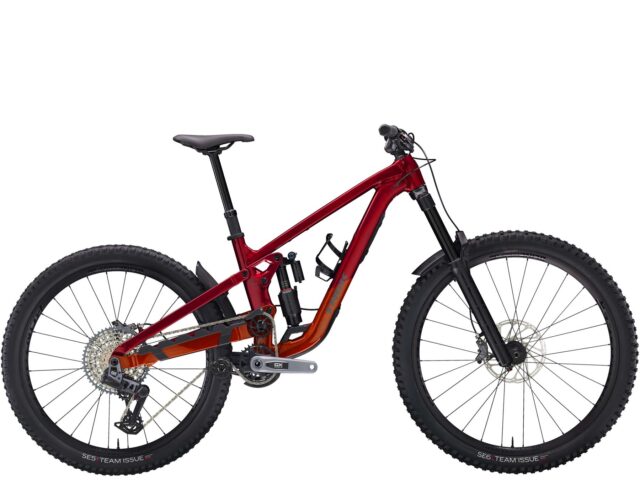 Intro
The Slash has been a longstanding part of Trek's lineup — dating back to the days of 26'' wheels — as their long-travel Trail model and eventually their Enduro race bike once that category emerged.
The fifth-generation Slash debuted a little over three years ago now, so it isn't a big surprise that a new version has now surfaced. However, some of the new design details suggest it's a more substantial update than simply "half a degree slacker here, a few millimeters longer there."
The prior-generation Slash was arguably a touch conservative in some aspects of its design and geometry even back when it launched, but you'd be hard-pressed to say the same about the new sixth-generation bike — it's gotten a big overhaul in just about every facet, and there's a lot of interesting stuff going on here.
The Slash is now a 170mm-travel bike with a high-pivot layout — clear indications that it's meant to be a big, gravity-oriented bike. But Trek makes it clear that they mean for the Slash to pedal well and climb efficiently, and say it's intended to be confidence-inspiring for all sorts of riders on rugged descents, not a super game-on bike for only the hardest chargers out there. But what has Trek done to make that happen? Let's check out the new Slash.
[And for a bunch more on the new Slash, including its design goals and how Trek went about achieving them, check out Ep.186 of our Bikes & Big Ideas Podcast with the lead engineer on the project, Matt Yerke.]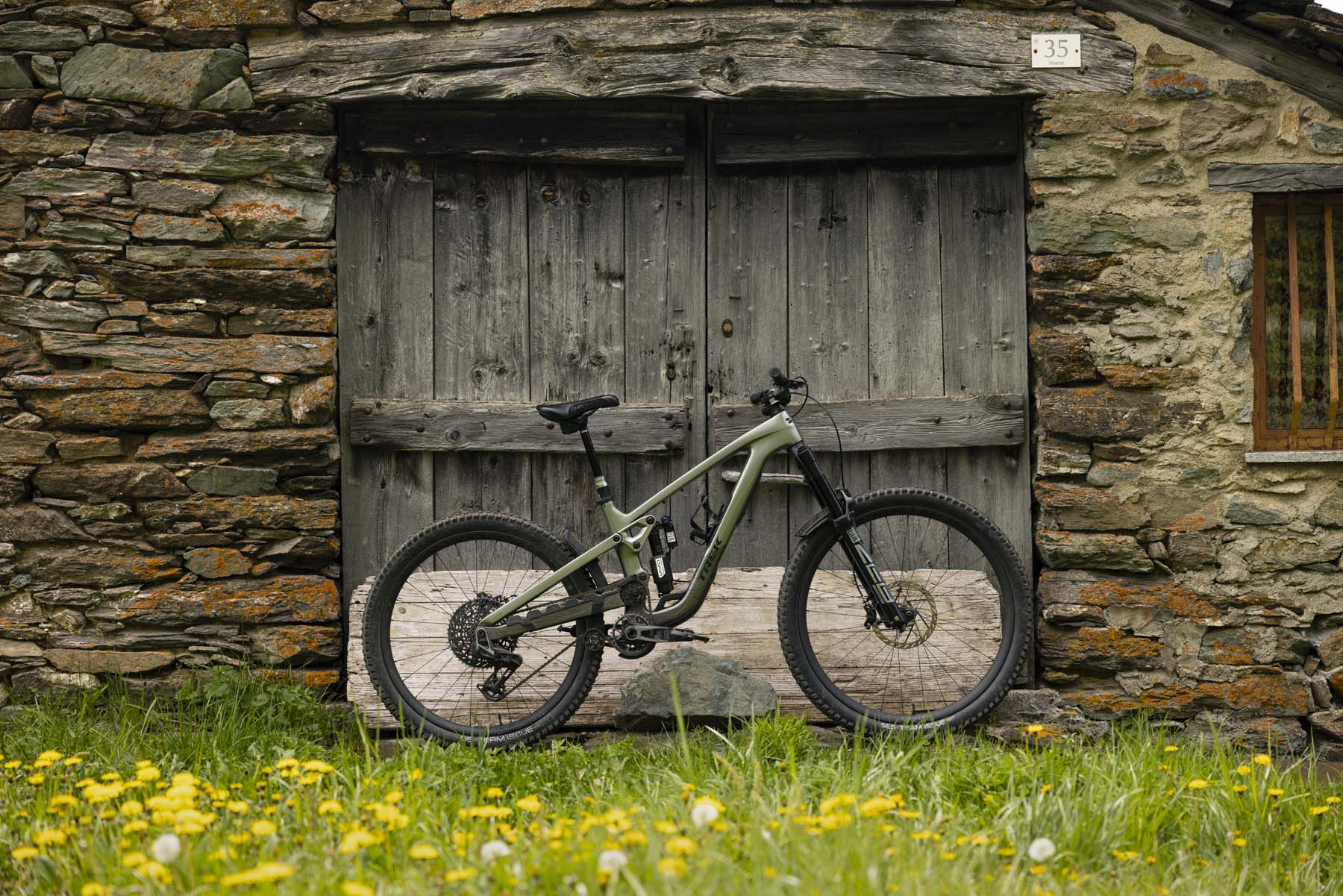 The Frame
Like the fifth-generation Slash, the sixth-gen one is offered in your choice of an aluminum or carbon fiber frame, in sizes ranging from Small through XL with an ML snuck in the middle. It uses Trek's longstanding ABP suspension layout — essentially a linkage-driven single pivot with a pivot between the chainstay and seatstay that's located concentric to the dropout, to give a floating brake mount akin to a Horst link bike.
The big visual change is that the suspension layout has been reconfigured to feature a much higher main pivot, necessitating the use of an idler pulley to reign in the interaction between the rear suspension and chain forces, both in terms of anti-squat and pedal kickback. That idler pulley is on the larger side for high-pivot bikes (19 teeth) and is mounted to the chainstay substantially offset from the main pivot. This is in contrast to Trek's Session DH bike, which mounts its idler concentric to the main pivot; that said, some of Trek's athletes have been spotted riding what looks to be a prototype chainstay on the Session that moves the idler to a more Slash-like spot below and behind the main pivot.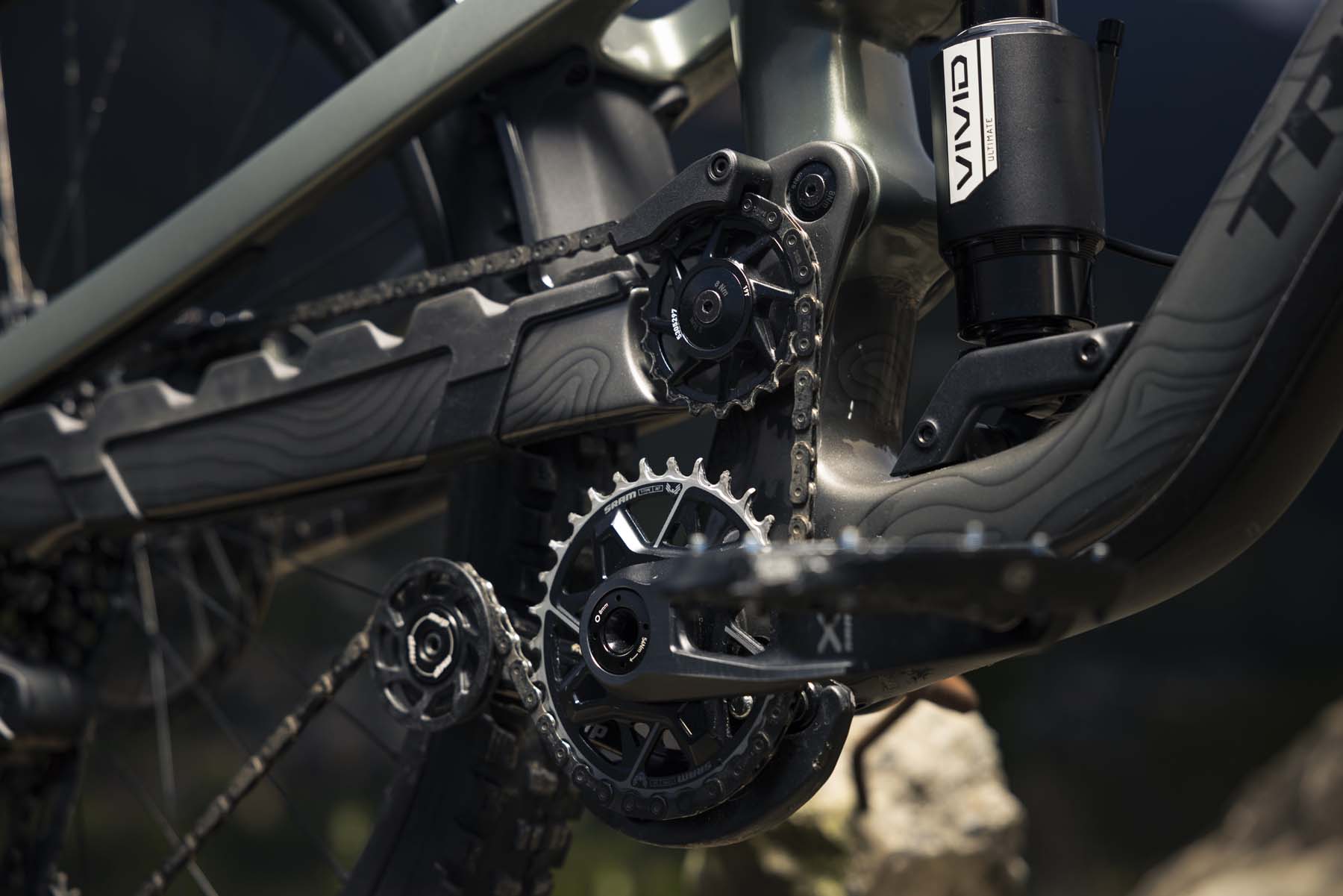 Trek co-developed a lower chain guide specifically for high-pivot bikes, in collaboration with MRP, in order to increase chain wrap around the chainring, improve chain retention, and mitigate derailleur clutch movement (and in doing so, improve small-bump sensitivity from the suspension). That guide actually came out a while ago as the "MXg" and is designed specifically for high-pivot bikes such as the Slash. It includes an integrated bash guard and features a larger-than-average 14-tooth roller to reduce how much the chain has to flex, thereby keeping drivetrain drag to a minimum. It bolts to the lower two mounts of a set of ISCG-05 tabs (the Slash includes all three, though it's not compatible with conventional upper chain guides due to the idler pulley); an integrated upper guide over the idler is included. The Slash is designed around a 55 mm chainline crank (as featured on SRAM's new Transmission groupsets) and uses a threaded bottom bracket shell. Despite the extra pair of pulleys, the Slash takes a standard 126-link chain in all sizes apart from the XL (which needs 128 links, due to its longer chainstays — more on those below).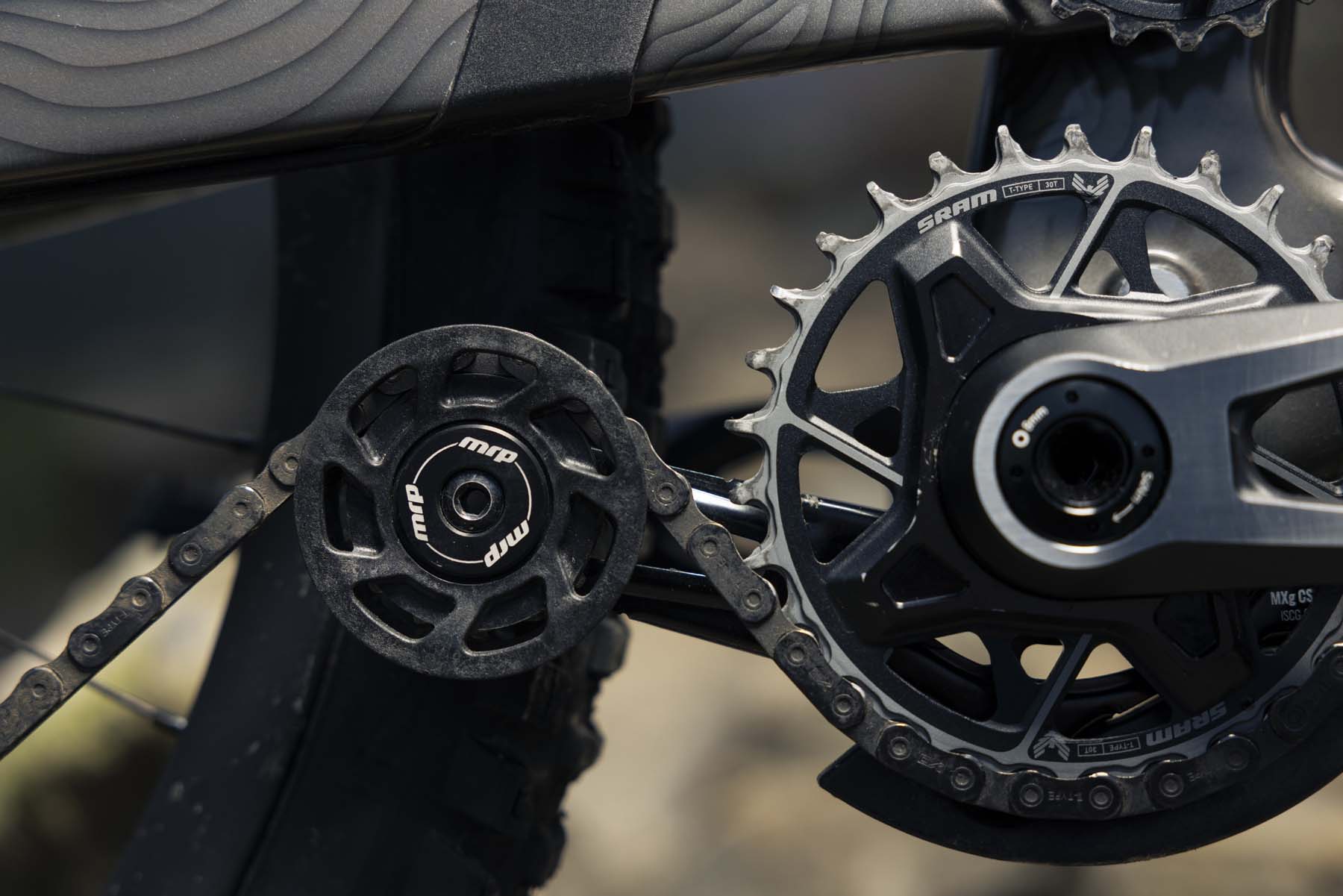 Trek says that one of the priorities for the new Slash was to maintain consistent and efficient pedaling performance across a wide range of scenarios. To that end, they've aimed to keep the anti-squat curve flat and right around 100% throughout the travel — not just at sag — which is quite similar to their short-travel Top Fuel bike, and considerably higher than the prior-gen Slash, especially deeper in the travel.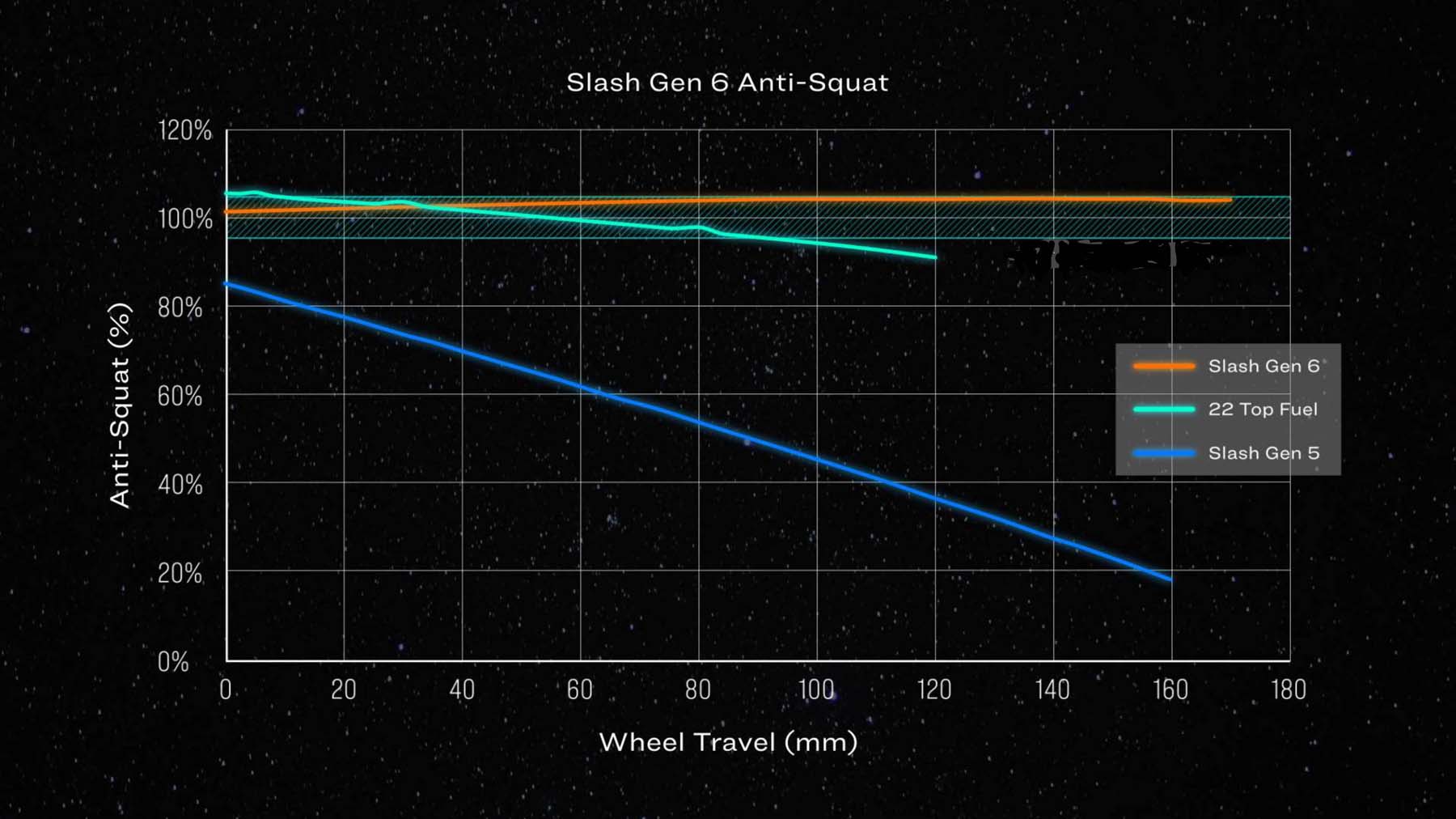 [It's not labeled in this graph, but Trek says that the published numbers are in a 30/21 gear ratio, with the center of gravity sitting 800 mm above the bottom bracket.]
A flip chip in the sixth-gen Slash's lower shock mount toggles between two different leverage curve settings, producing either ~20% or ~25% of progression in generally straight lines. A 230 x 65 mm shock produces 170 mm of rear wheel travel and the funky through-shaft shock used on the prior-generation Slash is no more, replaced by a standard RockShox Vivid on most of the complete builds (more on those below). Air shocks are spec'd throughout, but Trek says coils work just fine, too.
Speaking of the lower shock mount, it's a bolt-on part that can be swapped to toggle between a 27.5'' and 29'' rear wheel on the size Medium through XL frames, paired with a 29'' front wheel. The Small frame gets 27.5'' wheels at both ends to keep the stack height in check for shorter folks. Interestingly, all the builds and sizes (Small excepted) come in the mixed-wheel configuration, only, with the 29'' shock mounts sold separately for folks who want to make that conversion.
To round out the frame adjustability, Trek also offers offset angle-adjusting headset cups to toggle between three different headtube angle settings, as previously seen on the Fuel EX and Fuel EXe Al. Bikes ship with the neutral cups installed; the offset ones are available separately. The upper cup is a drop-in installation, but the lower one is a press-in affair.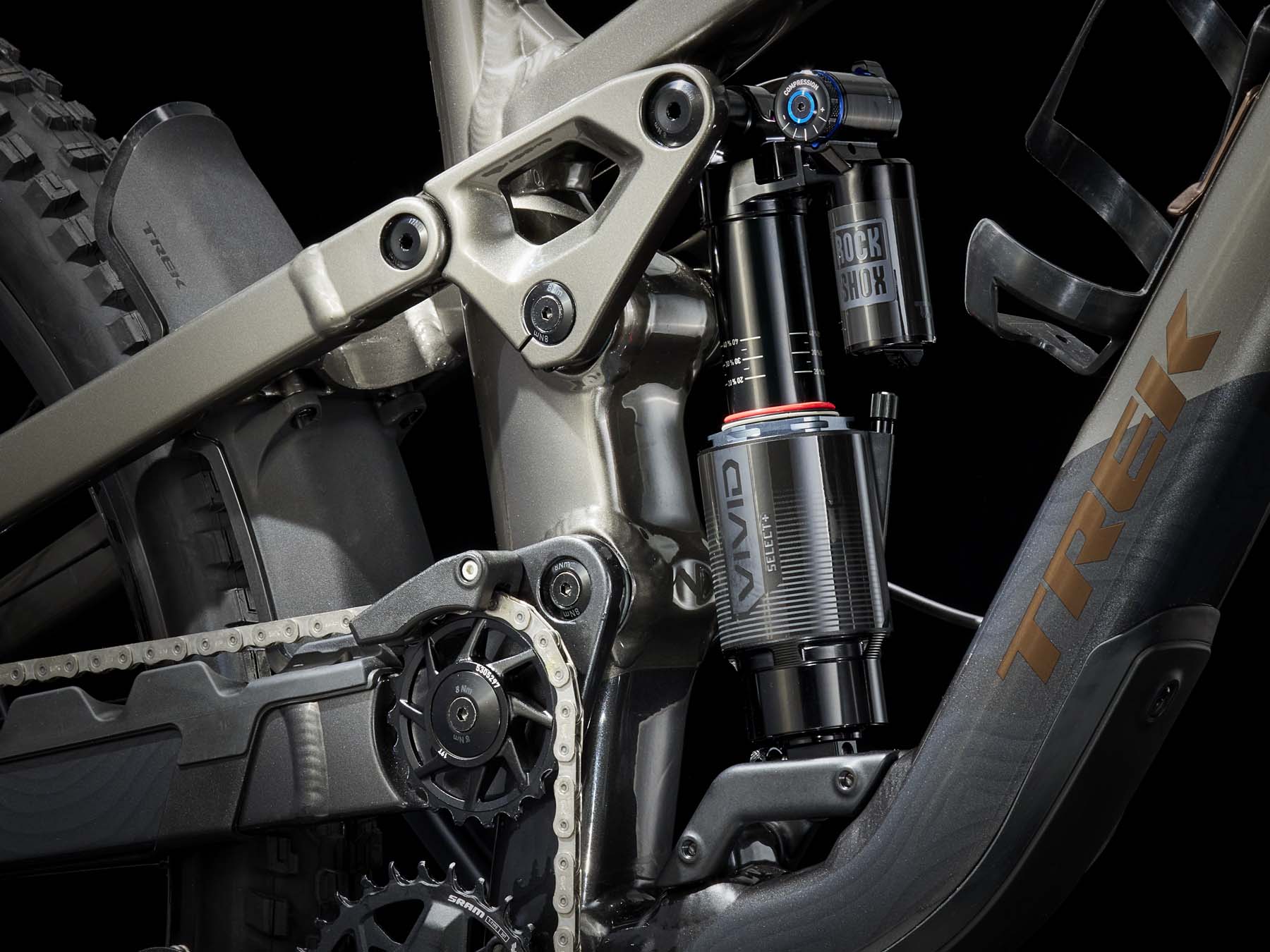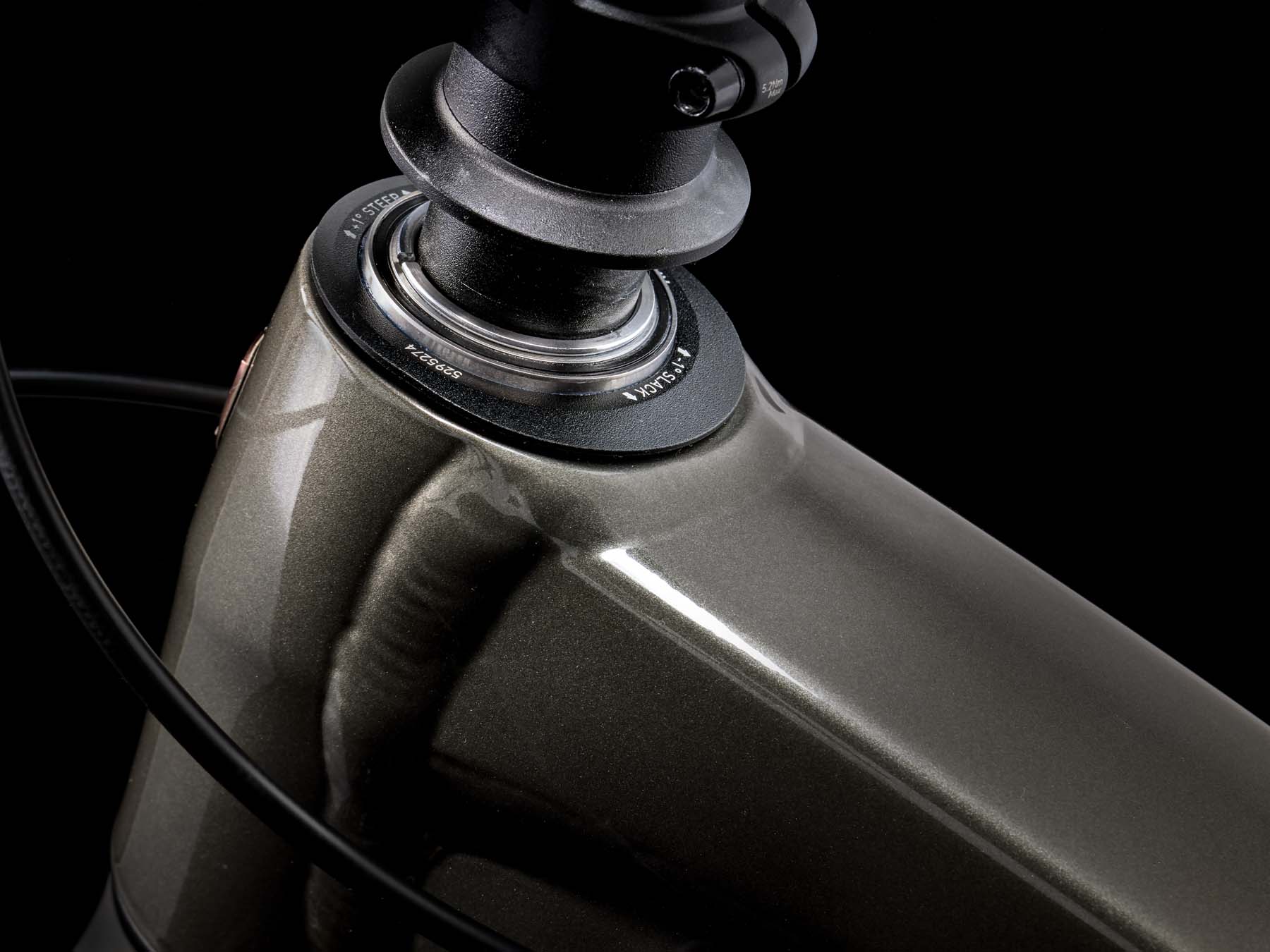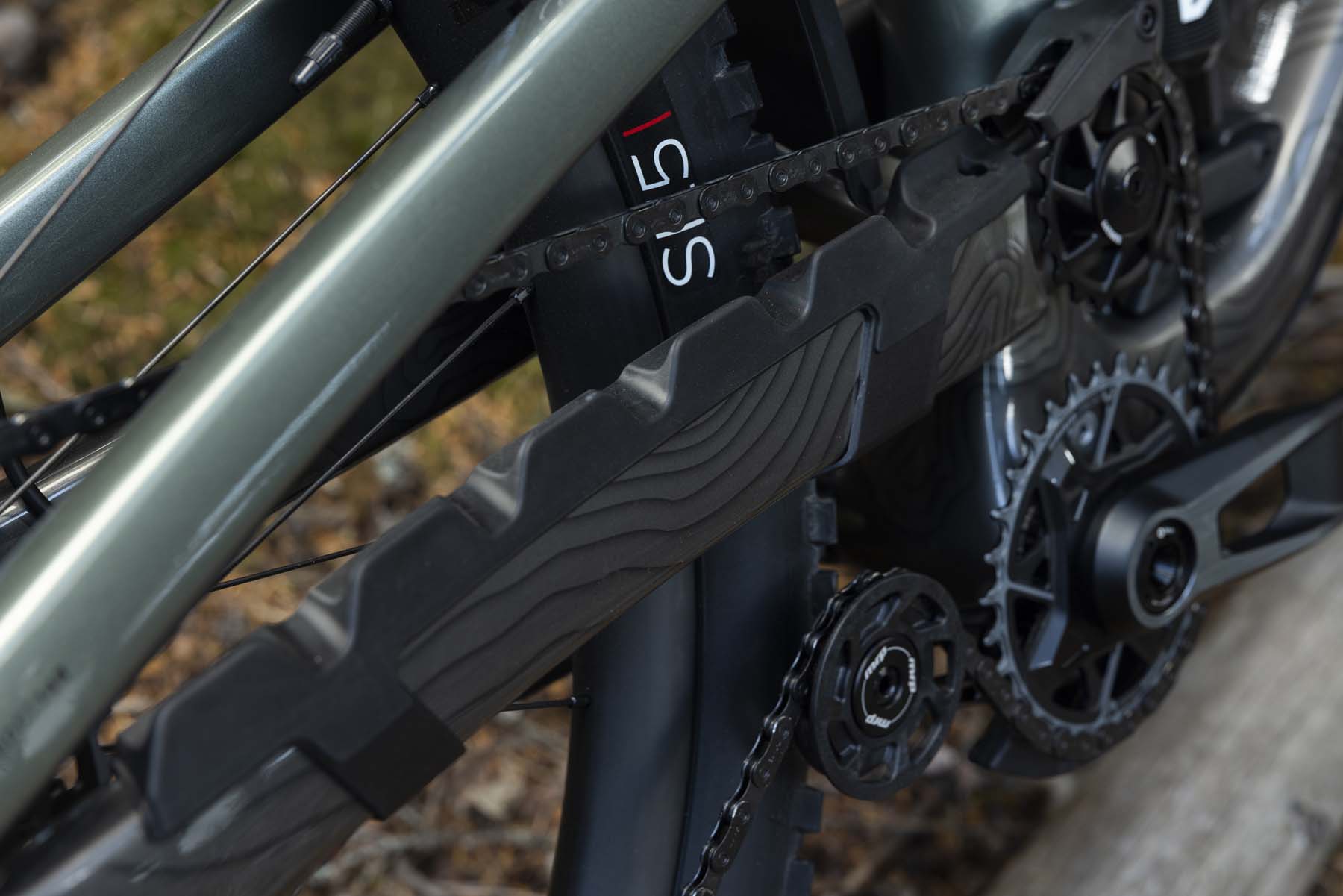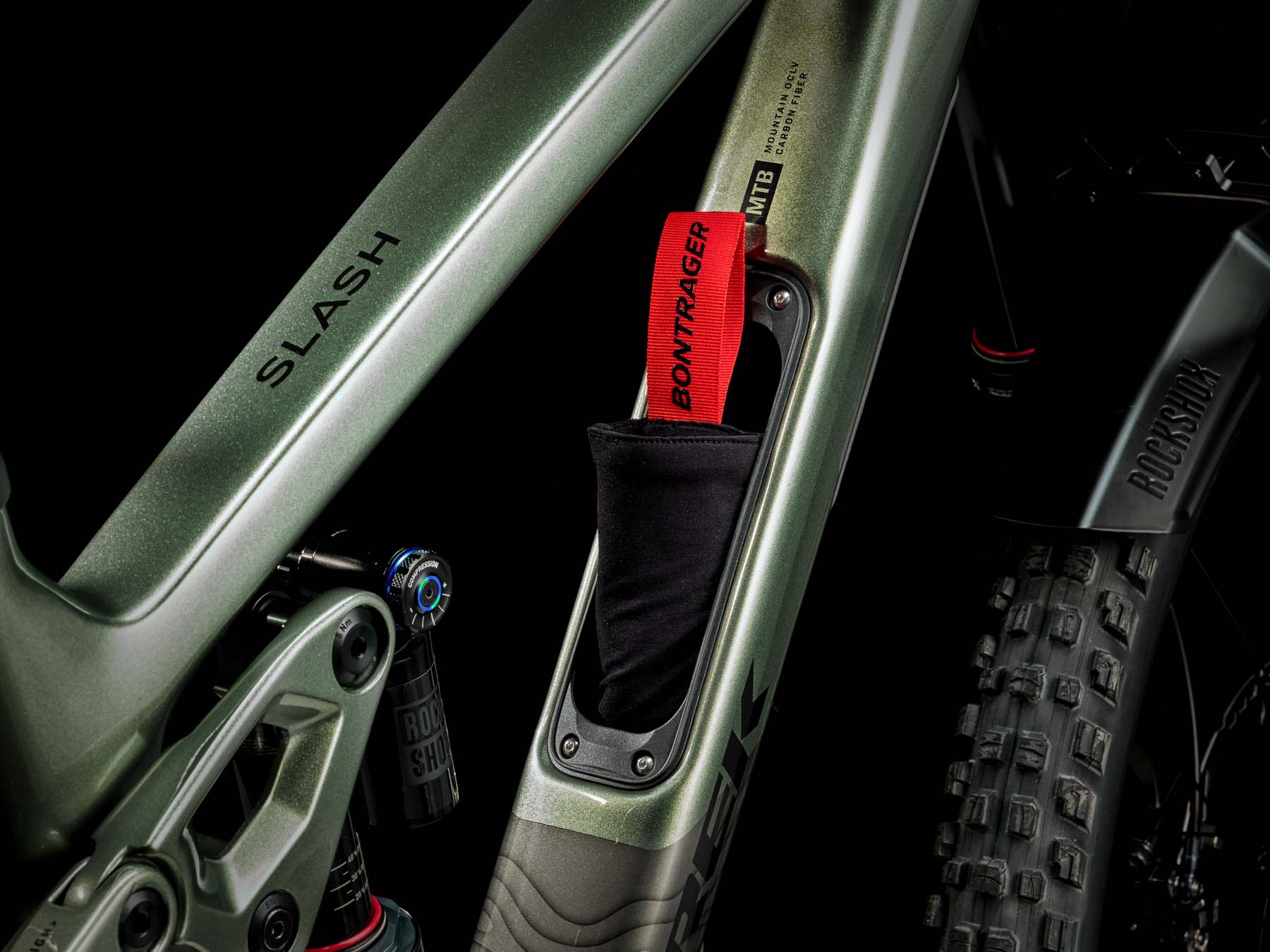 Trek was one of the first companies to offer in-frame storage on mountain bikes, and the new Slash continues the trend with a hatch under the water bottle mount on all frame sizes, in both the aluminum and carbon fiber frames. Cable routing is fully internal, with ports for the rear brake on both sides of the head tube, for folks who run their rear brake on the left side. The Slash features ample rubber guards on the chainstay, seatstay, and downtube, with the downtube guards bolting on for easy replacement should they get damaged. Trek says they've also applied a layer of an impact-resistant film underneath the paint on the carbon frames to further protect the frame from damage. A bolt-on rear fender is included as well, though Trek says it's only compatible with a 27.5'' rear wheel — there's not enough clearance with a 29'' one.
Trek specs the Slash with a 170mm-travel fork, but says that a single-crown fork up to 190 mm travel can be used if you want to go that route. Dual-crown forks, on the other hand, aren't currently approved, though Trek says that they simply haven't tested them enough to say for sure either way, so it's possible they'll be condoned at some point in the future. Trek has also done away with the Knock Block steering-limiting headset on the new Slash, and single-crown forks easily clear the downtube.
Fit & Geometry
Trek offers the Slash in five sizes, Small, Medium, ML, Large, and XL, with the reach ranging from 430 mm to 508 mm in roughly 20 mm increments. The headtube angle is 63.3° for the Medium frames on up (the Small steepens very fractionally to 63.5°). The effective seat tube angle is around 77° (varies slightly by size), with a still-pretty-steep 74° actual angle for the whole size range. There's no kink in the seat tube on the new Slash, so dropper post insertion has been greatly improved — Trek says you can bottom a 200 mm post to the collar on a Medium frame. The chainstay lengths now vary by size, with the Small starting at 429 mm and the XL topping out at 439 mm; the Medium comes in at 429 mm, and the ML and Large share 434 mm stays.
All of those numbers are in the stock geometry configuration (i.e., neutral headset cup, mixed wheel sizes on Medium and larger sizes, dual-27.5'' wheels on the Small). Going to a full 29'' configuration on the sizes that support it steepens the headtube and seat tube by 0.2°, adds almost 6 mm to the chainstay length, and increases the reach by a couple of millimeters. Installing the offset headset cups either steepens the headtube angle by 0.8° or slackens it by 0.7° with fractional changes to the other geometry numbers.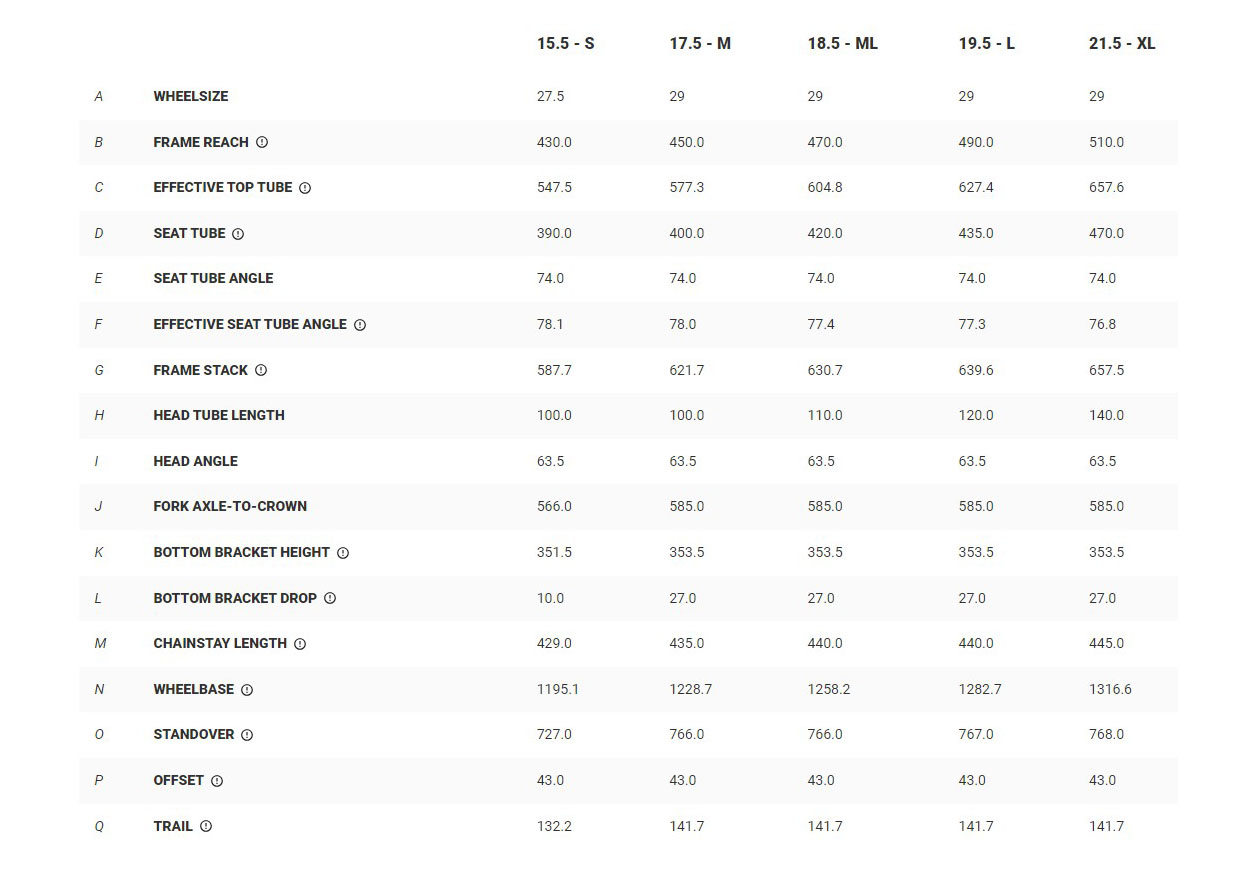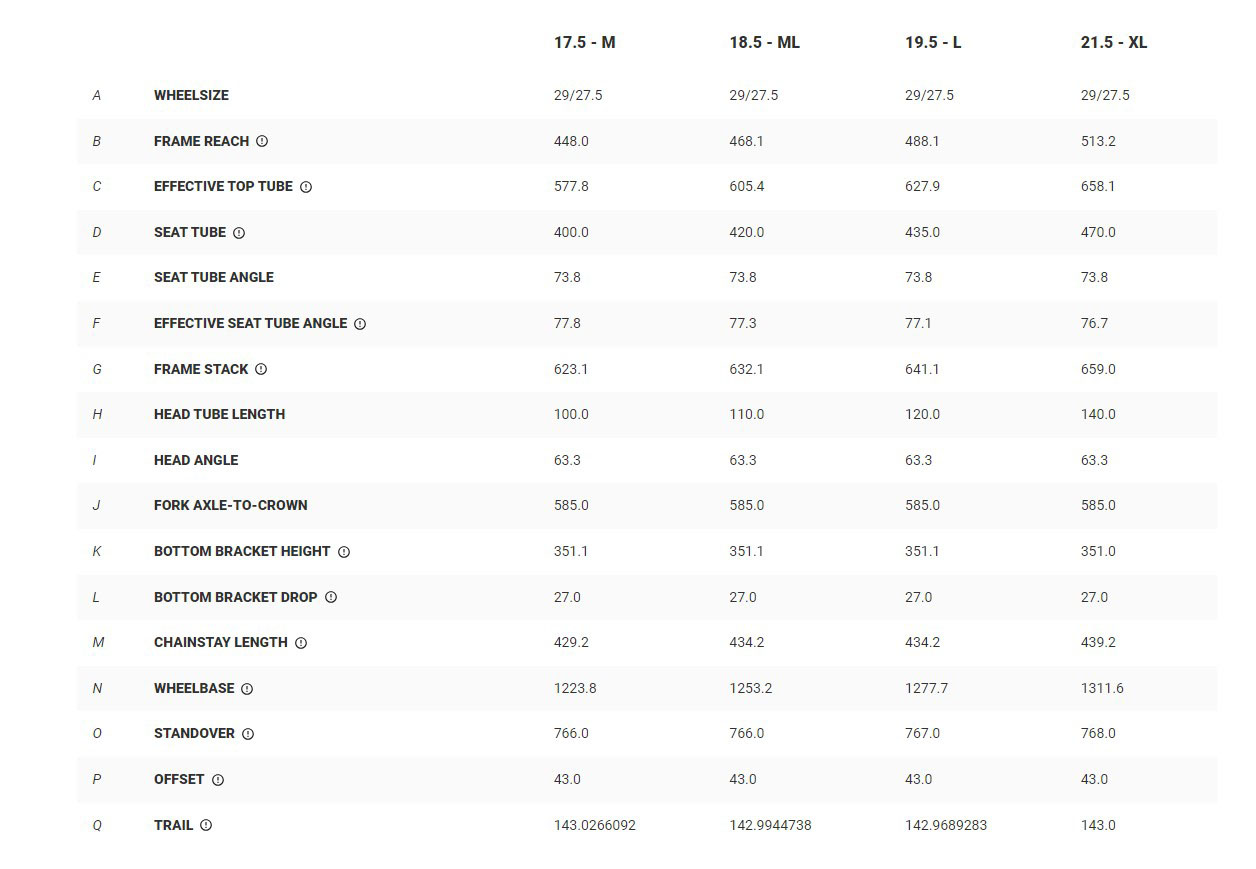 [There's a typo in Trek's listed geometry charts, above — the reach on the XL frame in the mullet configuration should be 508.1 mm. And for the full range of charts, including with the offset headset options, check out Trek's website.]
Those are really nice-looking numbers for a modern Enduro bike. If anything stands out as being a little bit unusual, it's the fairly short chainstay lengths in the 27.5'' rear-wheel settings. That said, it's worth bearing in mind that the high-pivot layout and notably rearward axle path that it produces means that the Slash's stays are substantially longer at sag, and continue to grow as it cycles deeper into the travel. That's also why the chainstay length changes so much between the 27.5'' and 29'' rear-wheel configurations, and it'll be interesting to see just how much the different rear-wheel options impact the ride of the Slash. We've got a set of the optional 29'' rear wheel shock mounts for our test bike and will be finding out.
The Builds
Trek offers the Slash in seven complete builds, with pricing ranging from $4,400 to $11,500. There's a mix of SRAM and Shimano drivetrains in here, but apart from the entry-level Slash 8, all builds get some variant of a RockShox Vivid shock and ZEB fork (with the exact version varying by build tier). As per usual for Trek, builds with a whole number indicate aluminum frames, and "9.X" denotes a carbon one.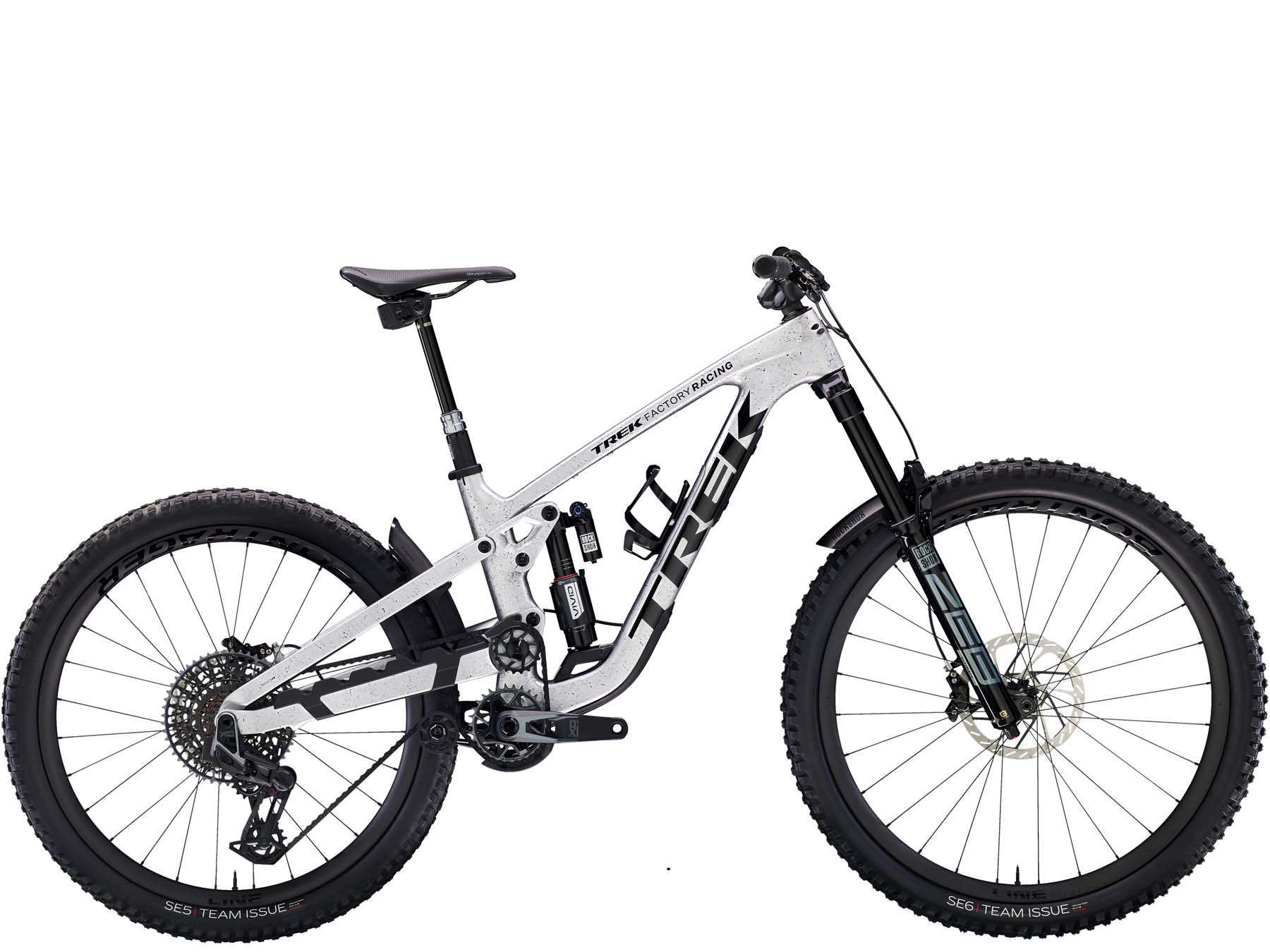 Trek is, unfortunately, not offering a frame-only option for the Slash at present, but say they might at some point in the future. All the builds come shod in Bontrager SE6 front / SE5 rear tires, in a 2.5'' width at both ends. And to reiterate, the size Small bikes get dual 27.5'' wheels, while all sizes from Medium on up come stock with a mixed-wheel configuration. Going to 29" front and rear is possible with an alternate lower shock mount (sold separately) but the Smalls are locked into 27.5'' wheels at both ends.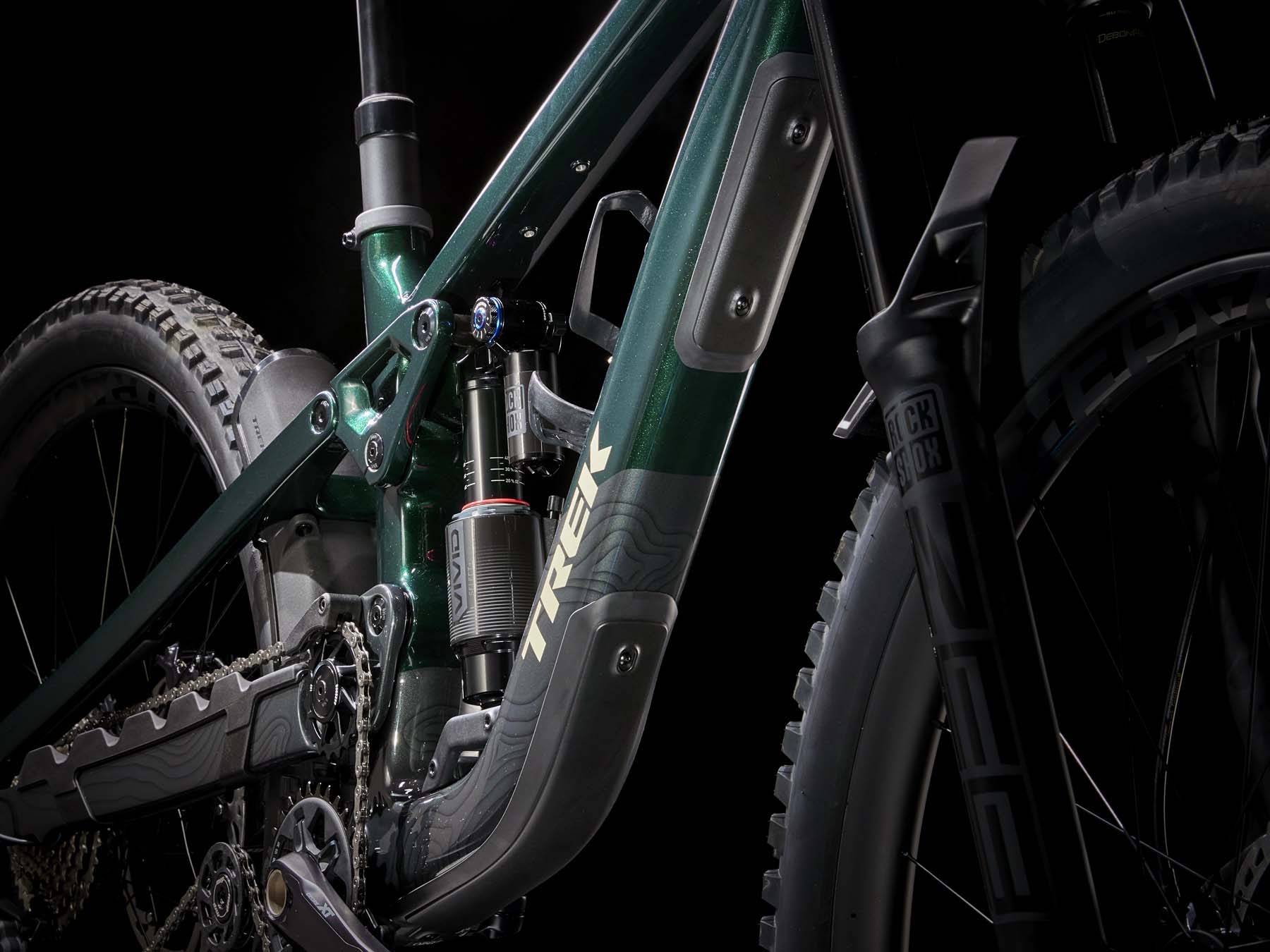 Some Questions / Things We're Curious About
(1) The new Slash clearly looks to be a true, modern Enduro bike, with geometry and suspension numbers that should make it quite stable and composed at speed. But how versatile is the Slash, and how well does it pedal? Is it an ultra-planted sled of bike (a-la the Norco Range) or is it more well-rounded than that?
(2) How does the Slash stack up against many of the other high-pivot Enduro bikes that have been flooding the market of late, including the Norco Range, Forbidden Dreadnought, Nicolai Nucleon 16, Cannondale Jekyll, Kavenz VHP 16, Contra MC, and more?
Bottom Line (For Now)
Trek's first high-pivot non-DH bike has been a long time in the making — check out Ep. 186 of Bikes & Big Ideas for a lot more on that, including how Trek considered making the Fuel EX a high-pivot. But it's finally here, and the new Slash looks to be a compelling take on the genre. We've already been spending a lot of time on the Slash and will be logging a lot more miles on it in the months to come — stay tuned for our full review.
Flash Review
Blister Members can read our Flash Review of the Trek Slash for our initial on-trail impressions. Become a Blister Member now to check out this and all of our Flash Reviews, plus get exclusive deals and discounts on gear, and personalized gear recommendations from us.