Sun Ringlé Duroc SD37 Pro Wheels
Test Location: Western Washington
Test Duration: 6 months
Build Specs:
Sun Ringlé Duroc SD37 Rims, 28 hole
Sun Ringlé Super Bubba Hubs
Wheelsmith DB14 spokes
Wheelsmith brass nipples
Internal Width: 32 mm
Stated Weight:
597 g / 1.21 lb (29" rim only)
2089 g / 4.52 lb (29" wheelset)
Blister's Measured Weight (29" size; includes pre-installed rim tape and valve stems):
Front: 963 g / 2.12 lb
Rear: 1163 g / 2.56 lb
Total: 2126 g / 4.69 lb
MSRP:
Rim Only: $130
Front Wheel: $360
Rear Wheel: $540
Wheelset: $900
Mounted to: Guerrilla Gravity Gnarvana and Privateer 161
Reviewer: 6', 165 lb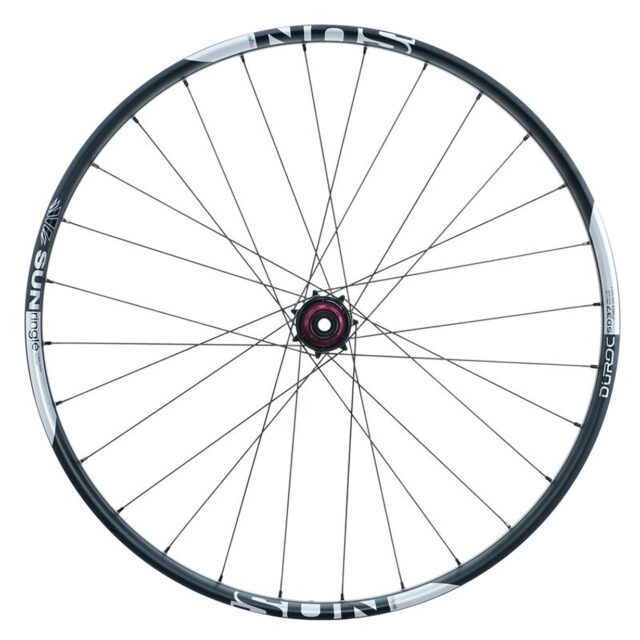 Intro
Sun Ringlé is a brand that a lot of old-timers will remember from the early days of mountain biking — they've been making mountain bike wheels for about as long as there have been mountain bikes to put them on.
Best known for their wheels (and purple anodizing), Sun Ringlé will be celebrating their 40th anniversary next year, but in the meantime, we've been testing their high-end, heavy-duty aluminum wheelset, the Duroc SD37 Pro.
Design
Named for their 37 mm external width, the Duroc SD37 Pro rim is designed for Enduro use, and is available on its own for $130, or as part of the Duroc SD37 Pro wheelset, tested here, for $900 for the pair. The rims feature a 32 mm internal width, and are available in 27.5" and 29" diameters, with either 28- or 32-hole drilling. The full wheels pair the 28-hole rims with Sun Ringlé's Super Bubba hubs, laced with Wheelsmith double-butted, straight-pull spokes.
Both wheel sizes of the Duroc SD37 Pro are available with a 110×15 mm Boost front hub, and either 12×148 mm Boost or 12×157 mm Super Boost rear hub spacing. Six-bolt rotors are standard, and the rear wheels come with both SRAM XD and Shimano Hyperglide drivers. A Microspline driver is also available, and at the time of publishing this review, Sun Ringlé says they're in the process of converting wheelsets over to shipping with the Microspline driver in lieu of the Hyperglide one.
While the Duroc SD37 rims are slightly on the wide end of the spectrum for an Enduro rim, they're even more notable for how low their cross-section is, at just 17 mm. A lot of rims have been trending to shallower cross-sections in recent years, in recognition of the idea that, while it's beneficial to have a rim that's relatively stiff laterally, not going super stiff in-plane with the wheel can produce a more comfortable, better riding wheel. Trimming down the rim cross-section, especially on relatively wide rims, is a great way to achieve that goal, and as we'll discuss more below, Sun Ringlé has struck a really nice balance with the Duroc SD37.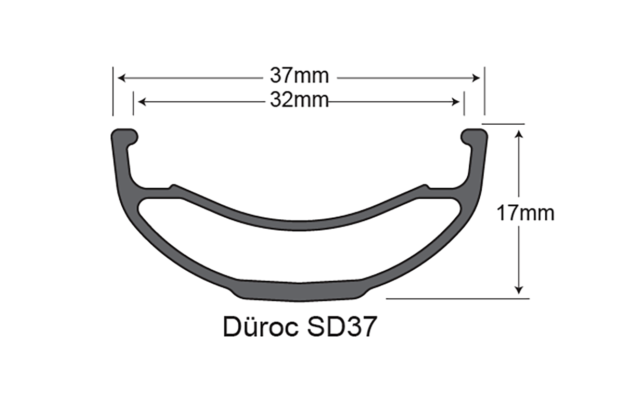 As one would expect for a high-end aluminum rim, the SD37 features a welded seam. It's also worth pointing out that, on the SD37 Pro, the graphics are applied directly to the rim with a water-transfer process — this makes for a more durable graphic that will hold up much better than decals, but also means that removing them isn't an easy option for riders looking for a stealthier look. SD37 rims sold on their own get more standard decals.
Another feature of the SD37 rims, which has become somewhat unusual in this day and age, is that they feature eyeleted spoke holes. Many modern aluminum rims have ditched eyelets in the name of weight savings, but Sun Ringlé argues that they both reinforce the rim at the spoke holes, and reduce friction between the spoke nipple and rim, leading to more accurate spoke tension measurements and an overall stronger wheel.
The SD37 Pro wheels use Sun Ringlé's Super Bubba hubs, laced with 28 double-butted, straight-pull Wheelsmith spokes. The rear hub features adjustable engagement, via a system that Sun Ringlé calls Clock'd. In short, the freehub body uses two rows of three pawls each to engage two separate ratchet rings within the hub shell. The outer of the two ratchet rings can be set up aligned with the inner ring, so that all six pawls engage simultaneously, or offset, in which case the two rows of pawls alternate engaging, doubling the number of engagement points from 45 to 90.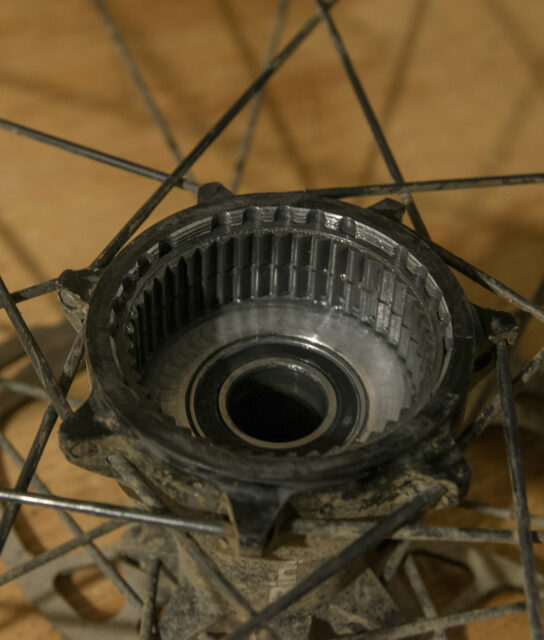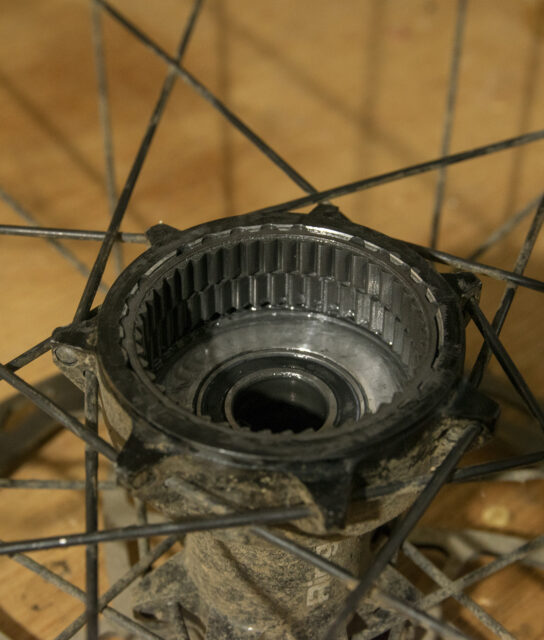 Toggling between the two simply requires sliding the freehub body off the hub, removing a retaining ring with a pin spanner, then sliding the outer ratchet ring out of the hub shell, and reinserting it in the other position. Sun Ringlé says that the 45 POE setup is for "fast heavy-duty use" while the 90 POE setup is ideal for "super-fast engagement for technical riding." In a nod to Sun Ringlé's past, from the glory days of purple anodized mountain bike parts, the freehub body on the Super Bubba hubs is purple. And if you're interested in really leaning into the purple bling, a Limited Edition version of the SD37 Pro wheels is available with purple hub shells.
It's also worth noting that getting tubeless tires seated on the SD37 rims is particularly easy. Most manufacturers have gotten the inner profile of their rims worked out well enough that truly difficult tubeless setups are rare these days, but the SD37 still stands out for how seamlessly tires seal and seat on them, even with a standard floor pump. The wheels also come pre-taped, with tubeless valves installed, and a 2oz bottle (good for one tire) of Sun Ringlé-branded Stan's sealant with each wheel.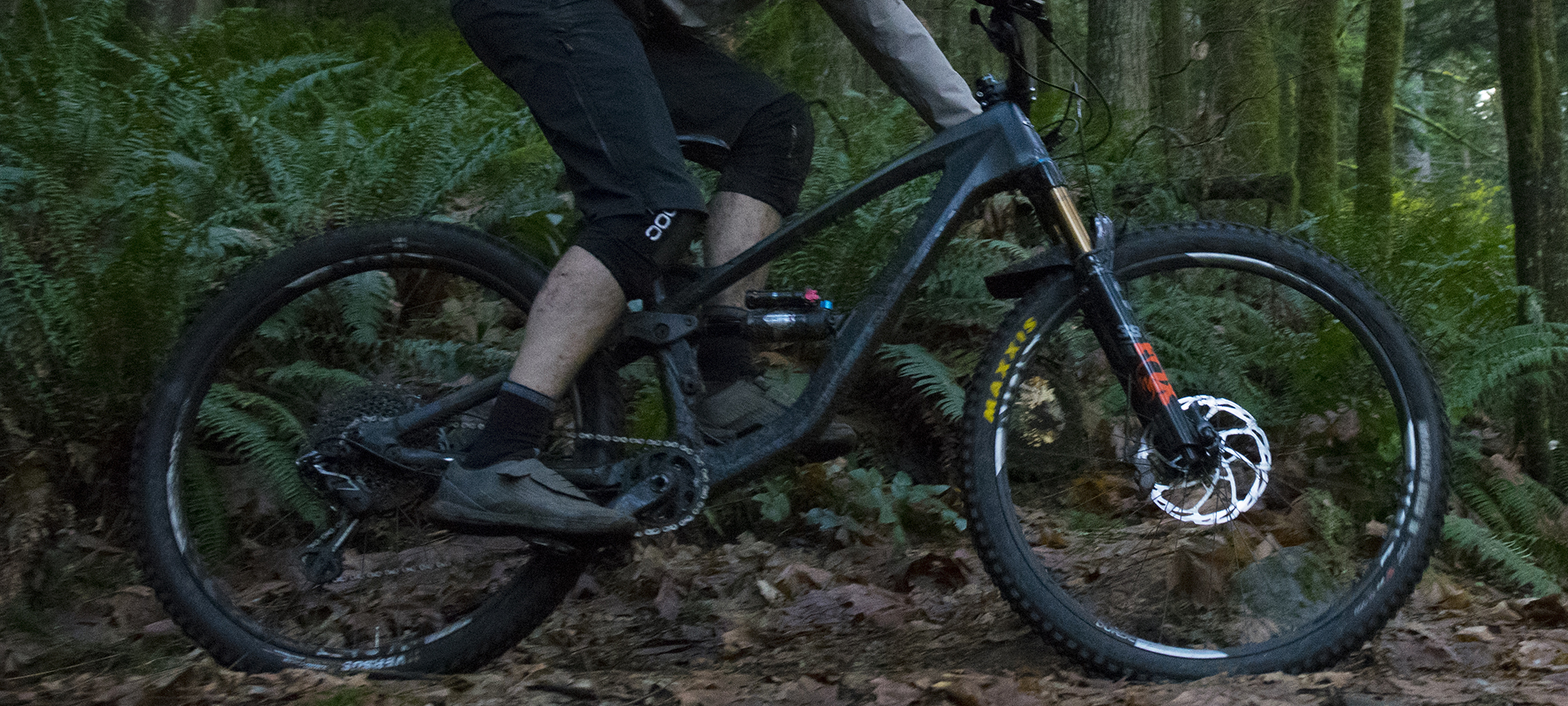 Weight (and Comparisons)
At a stated 597 grams per rim, in a 29" diameter, the Duroc SD37 Pro rims are on the heavier end of the spectrum for a beefier Enduro rim, but not by a huge margin. As we'll discuss more below, Sun Ringlé also offers some lighter options for more weight-conscious riders — the SD37 is meant to be stout. For reference, here are a number of other rims in roughly the same category, and their stated weights, all in 29" diameter.
480 g Revel RW30 (carbon)
490 g Santa Cruz Reserve 30 (carbon)
495 g We Are One Union (carbon)
525 g Race Face ARC30 (aluminum)
570 g DT Swiss EX 511 (aluminum)
580 g Enve M730 (carbon)
597 g Sun Ringle Duroc SD37 (aluminum)
618 g Stan's Flow EX3 (aluminum)
624 g Chromag BA30 (aluminum)
At a measured weight of 2126 g / 4.69 lb for the full 29" wheelset, the Sun Ringlé Duroc SD37 Pro wheels aren't especially light, but they're also the burliest option in the Duroc Pro family. Riders looking for a lighter-duty, and lighter-weight wheelset might be better served by the Duroc 35 Pro (which uses the same Super Bubba hubs, but with a lighter rim with a 35 mm external / 31 mm internal width) or the Duroc 30 Pro, which gets a yet-lighter, 30 mm external / 26 mm internal wide rim, paired with a lighter Super Bubba X rear hub, which loses the dual-row Clock'd freehub system in favor of a six-pawl, 45-point-engagement freehub.
Sun Ringlé also offers a Duroc Expert line, with widths ranging from 30 to 50 mm (external), and more basic hubs, at a lower price point. Details of the full line can be found on their website. The Duroc SD37 Expert wheels feature the same rims as the SD37 Pro, apart from graphics, and use Sun Ringlé SRX hubs in place of the Super Bubbas.
On the Trail
The SD37 Pro wheels are on the stiffer side for an aluminum wheel, especially laterally, but aren't as exceptionally stiff as most carbon wheels. That added stiffness was a welcome change, when going from the (much lighter) DT Swiss XM1501 wheels that we ran on our Guerrilla Gravity Smash test bike and converting it to the longer-travel, more aggressive Guerrilla Gravity Gnarvana. The improvement in steering precision through rougher terrain and cornering hard was welcome, and well suited to the intentions and capabilities of the Gnarvana.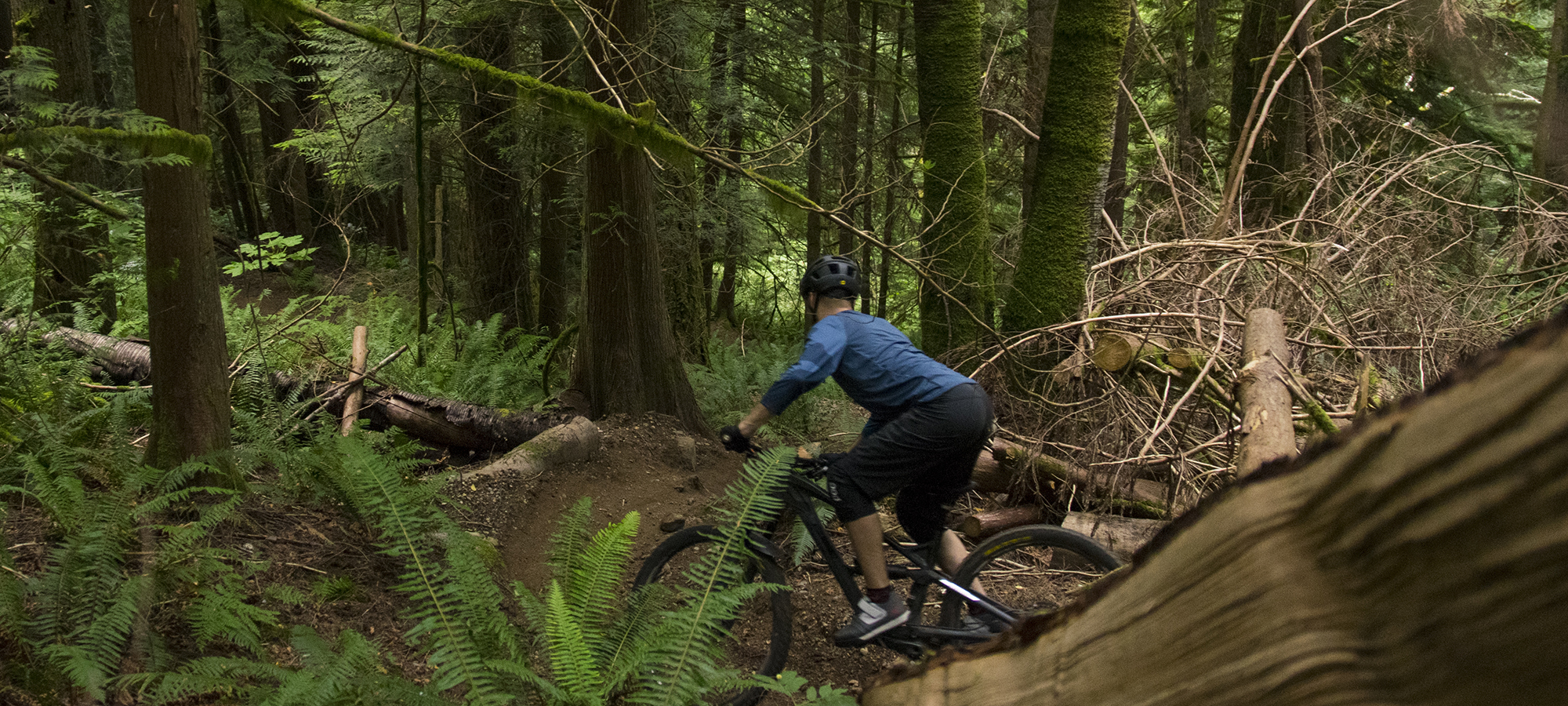 The Duroc SD37 Pro's ride quality is quite good in terms of compliance, too. They're far from the softest flexing, most compliant out there in general, but for how stout they are in corners and when holding a line, they're quite comfortable in choppier, rougher terrain. Compared to the DT Swiss EX 511, which has been my go-to heavy-duty aluminum rim for a while now, the SD37 feels very similar in terms of lateral stiffness and precision, but significantly more compliant when it comes to head-on impacts.
As we've written a bunch at Blister, there are very real benefits to carbon rims in terms of stiffness and precision, but while carbon rims have come a long way (and down in price) in recent years, good aluminum wheels still have an edge over carbon when it comes to smoothness and muting trail chatter. The Duroc SD37 Pro wheels are particularly good in this regard, and there's still very much a case to be made for high-end aluminum wheels, depending on your priorities.
The Super Bubba freehub is about average in terms of noise — notably louder than hubs like DT 240s, Hadleys, and Industry Nine Hydras, but not nearly as noisy as the original Industry Nine hubs, or Chris Kings. I'm personally a fan of quieter hubs in general, but didn't find the Super Bubba to be objectionable — once you're up to speed, wind noise downs it out, and it's not particularly obtrusive at low speeds, either.
Durability
Sun Ringlé's factory build on the wheels has held up well, with only minor tweaks to keep the wheels true, and the rims are in good shape as well. I've put a couple very small dents in the rear rim, but they've posed no problems in keeping tubeless tires sealed. To be very clear, I think there are few aluminum rims that would have fared better, and many would have done worse. I haven't used a tire insert at all during my testing of the SD37s, and have had a number of very hard rim strikes in that time. I've mostly switched to carbon rims on my personal bikes, but back when I was regularly running the same aluminum rims day in and day out, I'd usually blow up one or two a season, and the fact that the dents in the SD37 aren't worse is very much to their credit. I've also yet to break any spokes, and the hub bearings are still spinning nicely, despite having been ridden through much of a Pacific Northwest winter at this point.
The only issue I have to report with the Duroc SD37 wheels has to do with the rear hub. After several months of use, in the 90-point-engagement setting, I took it apart to experiment with the Clock'd system, and noticed that the inner row of pawls were slightly loose in their seats in the freehub body. A closer inspection revealed that the bores in the freehub in which the pawls sit had enlarged slightly, due to material displacing slightly from the load placed on the pawls. You can see the difference in the photo below, showing an unused freehub body on the left, and the used on the right. The gaps around the pawls are larger on the used hub, and there are small, silver witness marks apparent where the displaced material rubbed slightly on the inside of the hub shell.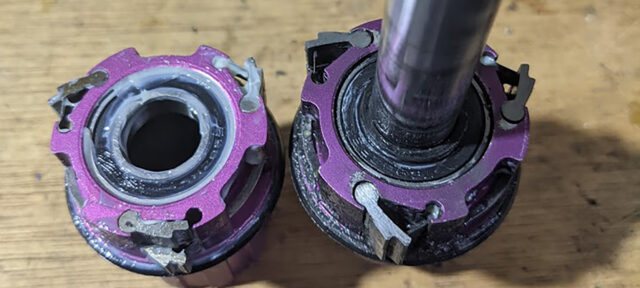 To be clear, this hasn't caused any on-trail problems in the several months of use since I noticed it. The only (minor) annoyance is that it makes it a bit harder to reinstall the freehub body when disassembling the hub, as the pawls are more likely to fall out of position as the hub is slid back together. Once the hub is assembled, though, there's no way for them to escape, and the problem doesn't seem to have gotten worse in the time since — though I've spent the bulk of that time in the 45 POE position for the Clock'd mechanism, which should significantly reduce the loading on the pawls, by spreading it between all six simultaneously.
While worrisome, this hasn't posed any real issues on the trail. Still, it perhaps speaks to the overly-complicated nature of the Clock'd freehub design. Honestly, I'm not sold on the need to adjust the engagement speed of a rear hub. Personally, I'm entirely happy with 45 points of engagement from my rear hub, and wouldn't mind just leaving it there — and Sun Ringlé does say that the 45 POE setting is best for "heavy-duty use." If you're really keen on the 90 POE setting, though, I'd maybe be a little warier, especially for larger riders, or those putting out especially high wattage.
Bottom Line
The Sun Ringlé Duroc SD37 Pro wheels are a great riding wheelset with durable rims and notably easy tubeless setup. The minor issue I had with the freehub body is disconcerting but hasn't caused any real problems on trail, so it's a bit hard to know what to make of it. If nothing else, the rims themselves are very good, and well worth consideration for a custom-built set of Enduro or DH wheels. The freehub body gives me pause, but to be fair, has continued to work just fine, and would be a simple replacement should anything go wrong. Overall though, the Sun Ringlé SD37 Pros are stout wheels with excellent ride quality, and as long as the freehub keeps working, I'll happily keep riding them.