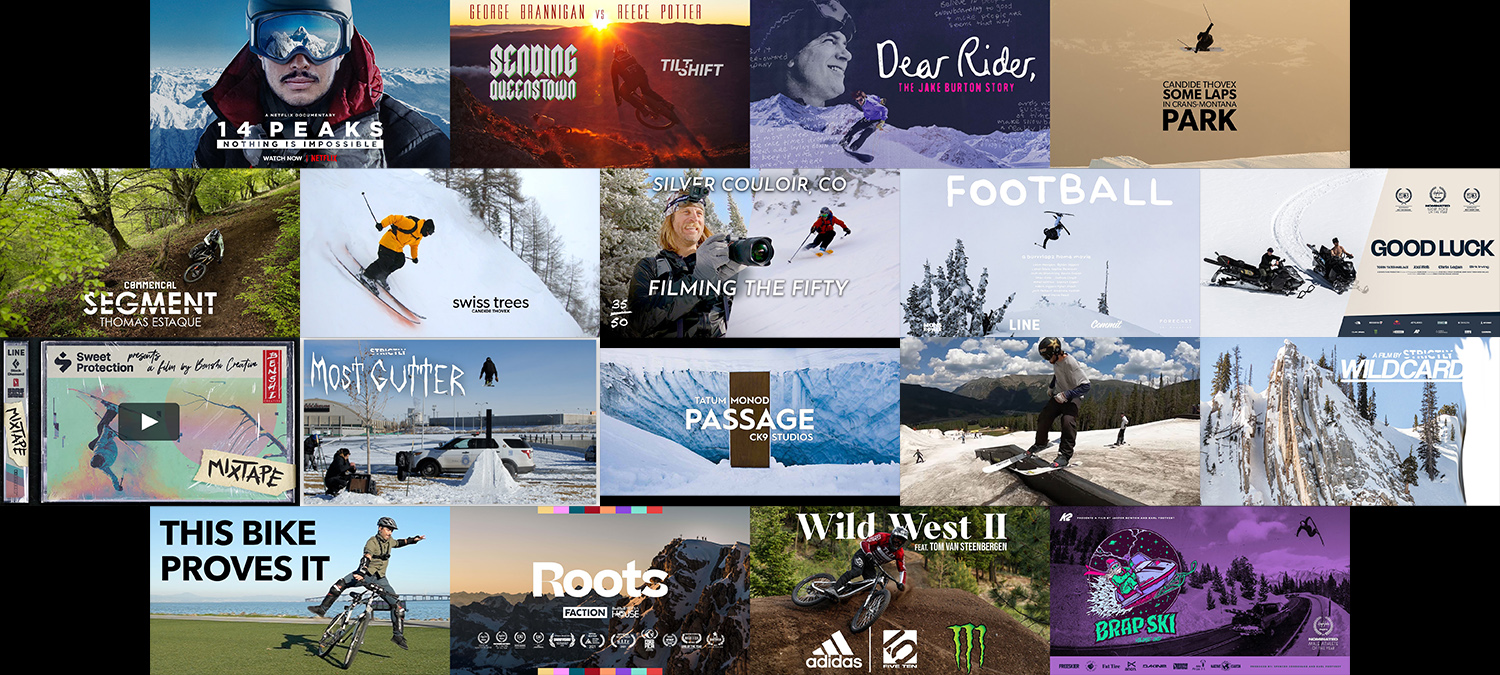 It's December already (how?!?!) and we're very, very pleased to be getting back on skis and riding chairlifts. But we're also still hard at work testing bikes, and haven't forgotten about that side of things either. And we even worked a little physics lesson into this one (it's relevant, we promise).
And for even more ways to stay entertained, or get motivated to go outside and burn off some Thanksgiving calories, see all of our previous video roundups.
Tom Van Steenbergen — Wild West II
David: Tom Van Steenbergen's Wild West edit was mind-blowing, and the follow-up doesn't disappoint either. Like the original, it features Tom riding both a DH bike and a dirt jumper, and going very, very big on both. And also like the original, there's a moment in Wild West II that literally made me say "what the f—…" out loud on the first viewing. I won't spoil it more than that — just go watch.
Luke: Yeah, there were multiple wtf moments in this one for me…
Thomas Estaque — Commencal Segment
David: We've heaped a lot of praise on Commencal's video production the last few years, and their latest edit with Thomas Estaque is also excellent. It's a quick edit with a freshly built course that highlights Estaque's riding style extremely well — and you can apparently go ride it if you happen to be in southern France. GPS coordinates are listed in the video notes.
Tilt Shift Episode 4 — Reece Potter and George Brannigan in Queenstown
George Brannigan's Queenstown edits are legendary, and while there's no Motörhead in this one, adding Reece Potter to the mix more than makes up for it. And there's still a whole lot of preposterous gaps that most people wouldn't even conceive of, much less pull for. It's also a cool mix of a quick shredit and then a bunch of behind-the-scenes footage rolled into one video.
Benshi Creative — Mixtape
Luke: The folks at Benshi seem to be pushing the boundaries of editing, cinematography, and VFX more than most in the outdoor media industry, and the results have been pretty neat. Mixtape is an edit built around music and how it plays into ski videos, but the skiing is also just really good, and the piano segment gave me chills. I also appreciate that they didn't just gloss over the serious event that occurred during the climax of that sequence. Plus, they closed it out with what is probably my favorite song of all time.
Luke: Torin Yater Wallace, Jossi Wells, and Sean Logan have once again teamed up and they really killed it with their film this year. Good Luck follows them, Chris Logan, and Birk Irving around the West as they hit some huge jumps, ski some stupidly deep snow, and seem like they have a blast doing it all.
Candide Thovex — Some laps in Crans-Montana Park
Luke: Any day can be a good day if Candide posts a new video of him skiing. He should sell an NFT of that zero.
Candide Thovex — Swiss Trees
David: What Luke said. Candide has blessed us with a second video in the last few weeks and, predictably, it doesn't suck.
Luke: Brap Ski is Karl's series about, you guessed it, skiing and snowmobiling. And it's pretty sweet — the skiing is unsurprisingly great, and the choice to film predominantly via an FPV drone brings a unique perspective. Granted, I'd prefer more of a mix of shooting styles, but there's no denying that Brap Ski stands out from other films because of how it was shot.
Luke: I'm a big fan of what the folks at Strictly have been doing for the past few years, and this year they opted to produce three separate short films, rather than one big movie. But just because the shots aren't all stitched together, that doesn't mean the quality has dropped at all (if anything, it's the opposite).
Wildcard is their backcountry / pow film this season, and it is excellent.
Urban more your thing? See the next video:
Luke: Most Gutter is Strictly's urban film this year, and again, I'm a big fan. The biggest surprise for me was finding out after the fact that the guys skiing in Most Gutter (Sam Zahner, Calvin Barrett, Pete Koukov, Seamas Flanagan, Carson Kerr, Will Berman) primarily shot and edited the film themselves. I say "surprise" since I wouldn't have guessed that while watching that, and given the high quality of Strictly's previous films, that's high praise. Plus, it doesn't hurt that I recognized several of the prominent spots from my hometown in Wisconsin, which is always a fun surprise.
SLVSH — Alex Hall vs. Colby Stevenson
Luke: SLVSH is finally back with new games this year, and this is one of the best I've seen in a long time.
Luke: Faction and director Etienne Mérel have consistently made a lot of great videos and films, and Roots is their latest offering. And it's got a lot of what you'd hope for from their team — excellent cinematography, absurd talents from the athletes, and an overall very nicely produced film.
Luke: Dylan Siggers and the Burrrlapz crew are always fun to watch, and their movie this year keeps the good times, pillow lines, and switch landings coming.
The FIFTY - Line 35/50 - Cody Learns How to Film, Skiing Silver Couloir
Dylan: Cody's newest Fifty episode is a must-watch for anyone in Colorado, because if you've driven I-70, you've definitely seen the mountain they're skiing. However, if you are unfamiliar with Buffalo Mountain, this is still a very entertaining episode since Cody and Bjarne swap roles, with Cody as the filmer and Bjarne as the star.
Luke: As someone who spends a lot of time skiing with a camera, this one was especially fun to watch…
Veratasium – Most People Don't Know How Bikes Work
Dylan: I'm not sure if we've ever put a physics video in What We're Watching, but I found this recent video by Veratasium very interesting. In this video, they conduct an interesting experiment with a surprising outcome and dive into the details about what makes bicycles work. I think we sometimes get so caught up in the finer details of today's technologically advanced bikes that we don't stop enough to think about how and why we are able to ride a bike in the first place.