2019-2020 DPS Uschi A94, 171 cm
Available Lengths: 157, 165, 171, 178 cm
Blister's Measured Tip-to-Tail Length: 169.8 cm
Stated Weight per Ski: 1545 grams
Blister's Measured Weight per Ski: 1535 & 1555 grams
Stated Dimensions: 129-94-110 mm
Blister's Measured Dimensions: 129.2-94.4-110.0 mm
Stated Sidecut Radius (171 cm): 18.5
Tip & Tail Splay (ski decambered): 53 mm / 29 mm
Traditional Camber Underfoot: ~3 mm
Core: Aspen + Carbon Fiber Laminate
Base: World Cup Race Base
Factory Recommended Mount Point: -8.6 cm from center; 76.3 cm from tail
Boots / Bindings: Tecnica Mach1 Pro W LV; Nordica GPX 105 W; Head Raptor 110S RS W / Tyrolia AAAttack2 11
Test Location: Telluride, CO; Taos Ski Valley, NM
Days Skied: 15
[Note: Our review was conducted on the 18/19 Uschi A94, which is not being changed for 19/20, apart from the addition of "C2" at the end of its name.]

Intro
After reading Jonathan Ellsworth's review of the DPS Cassiar 94, I was excited to get on its sister ski, the Uschi 94. The Uschi and Cassiar skis are part of the DPS "Frontside" series and are offered in DPS's Alchemist and Foundation constructions. The Frontside series includes DPS's narrower skis, and as we were in the middle of a dry winter when these arrived, I was interested in seeing how the Uschi A94 would perform as an all-mountain ski at Taos. Seeing as the Uschi A94 got a "Best Of" award in our 18/19 Winter Buyer's Guide, it's no secret that I'm a fan of the ski. So let's dive in a bit deeper here to explain why.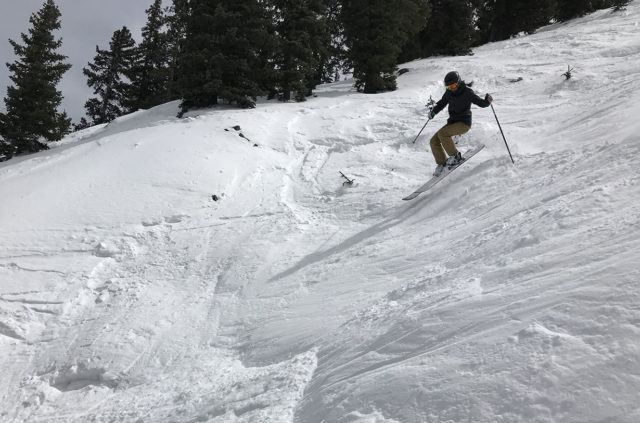 The DPS Cassiar and Uschi Lineup
As other reviewers have noted, DPS is not generally known for its narrower skis — or at least, it wasn't originally. When DPS first arrived on the ski scene, they offered 100+ mm waisted skis, many of which had lots of rocker and taper. But over the years, DPS has added a number of skinnier skis to their lineup. The Uschi line debuted a few years ago with Uschi 82 and 87, and for 2018-2019, DPS introduced the Uschi 94. Here's how DPS describes the Uschi and Cassiar lineup:
"Cassiar skis are designed to take you all over the resort, in all conditions. We have found that too many frontside-focused skis are too race/piste-driven and suffer in crud, steeps, moguls or trees. And similarly, there are too many freeride derived 80-95 mm underfoot shapes that simply aren't fun, balanced, or powerful enough to truly carve and generate lateral g-force on piste. Our Cassiar all-mountain skis don't come from the world of racing, and we think that's a good thing. Rather, they were born by applying the highest performance off-piste designs to DPS' composite material technology specifically for narrower waist-widths."
Having been on skis that were designed for on-piste use, yet claimed to be true "all-mountain" skis, I understand where DPS is coming from with their design. I recently spent some time on the piste-oriented K2 Tough Luv, and while that ski was great on groomers, it lacked the playfulness and versatility that I find necessary in an all-mountain ski. So, I was eager to jump on a pair of <100 mm skis that could potentially hold up in all the crud, chalk, bumps, and corduroy that Taos Ski Valley has to offer.
What DPS says about the Alchemist Uschi 94
"The Uschi 94 features the new C2 platform –– it's the widest of the Uschi line, and skews towards soft snow performance for most women, but is still accessible as a wider everyday resort board in deeper snow climates. To imagine the perfect scenario for the Uschi 94: 2-4 days after a medium-sized storm, 80 percent of the day is in crud and trees, and 20 percent is used for the occasional piste run. Also, consider the U94 as a great all-around mixed snow touring choice. C2 Chassis. The new C2 Chassis presents a beautiful sweet spot, and delivers a truly balanced and amazing all-mountain experience for the conditions commonly encountered on most resort days."
I'm tempted to stop the review right there as DPS does a nice job of describing the ideal conditions for this ski. And they do so without exaggerating. For years, I've been happily skiing a 110mm-underfoot ski, so was a little reluctant to go to a narrower ski, thinking that it was too narrow for Taos. But given how dry last season was, a sub-100mm-wide ski that was quick underfoot and yet still stable at speed sounded like fun.
Shape / Rocker Profile
The Uschi 94 shares a very similar shape and rocker profile with the men's Cassiar 94. Both skis have some subtle tip taper and significant tail taper compared to most skis that are this narrower. The Uschi A94 isn't super tapered compared to many wider skis, but compared to similarly wide skis like the Head Wild Joy, Blizzard Black Pearl 98, and Armada Victa 97Ti, the Uschi A94 has notably more taper.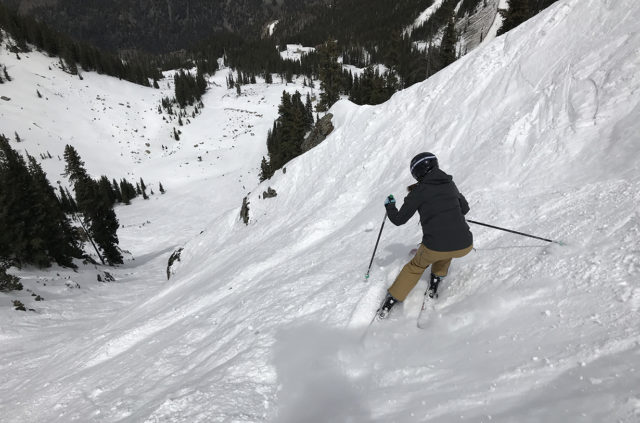 Compared to those skis, the Uschi A94 also has more rocker. Its tip and tail rocker lines aren't crazy deep, but they are deeper than most skis in its class. The Uschi A94's shape and rocker profile are probably a big part of why it performs as well as it does across a wide range of conditions.
Flex Pattern
Here's how we'd characterize the flex pattern of the Uschi A94:
Tips: 6.5 or 7
Shovels: 6.5
In Front of Toe Piece: 7-9
Underfoot: 9.5
Behind Heel Piece: 9.5-8.5
Tails: 8 or 8.5
The Uschi A94 starts fairly soft in the tips and shovels, but then stiffens up to a pretty strong midsection and has a tail that is quite strong. The Uschi A94 isn't as stiff as the Nordica Santa Ana 100 or Head Great Joy and Wild Joy, but the Uschi A94 is a bit stiffer than skis like the K2 Fulluvit 95Ti.
Weight & Comparisons
Like many of DPS's skis, the Uschi A94 falls on the lighter end of the spectrum. Of the ~170 cm, 95mm-wide skis we've reviewed, the Uschi A94 is one of the lightest. Below, I'll get into how this affects performance.
For reference, here are a number of our measured weights (per ski in grams) for some notable skis. Keep in mind the length differences to try and keep things apples-to-apples.
1507 & 1523 Liberty Genesis 90, 165 cm (18/19–19/20)
1533 & 1537 Armada Trace 98, 172 cm (17/18-19/20)
1535 & 1555 DPS Alchemist Uschi 94 C2, 171 cm (18/19–19/20)
1551 & 1604 Head Wild Joy, 168 cm (17/18–18/19)
1556 & 1575 Liberty Genesis 96, 165 cm (18/19–19/20)
1557 & 1607 Fischer My Ranger 98, 172 cm (16/17–18/19)
1626 & 1631 K2 Fulluvit 95Ti, 170 cm (18/19)
1635 & 1646 Blizzard Black Pearl 98, 166 cm (17/18–19/20)
1651 & 1669 Moment Sierra, 172 cm (17/18–19/20)
1709 & 1710 Blizzard Sheeva 10, 172 cm (17/18–19/20)
1748 & 1763 Nordica Santa Ana 93, 169 cm (17/18-19/20)
1750 & 1769 Armada Victa 97 Ti, 171 cm (17/18-19/20)
1762 & 1801 K2 Mindbender 98Ti Alliance, 168 cm (19/20)
1812 & 1813 Head Great Joy, 168 cm (17/18-18/19)
1983 & 1999 Nordica Santa Ana 100, 177 cm (17/18–19/20)
FULL REVIEW
Soft Chop and Crud
The Uschi A94 handles soft, light chop with ease. For being a relatively light and playful ski, I found that I was still able to easily carve turns and glide over the top of soft chop on the Uschi A94.
When the chop got thicker, the Uschi A94 got pushed / bounced around a bit. But if I reduced my speed a bit, I was still able to maintain control in these conditions on the Uschi A94.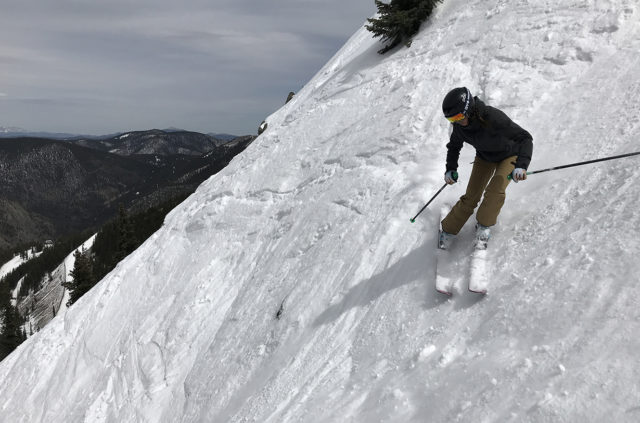 While I haven't been on a lot of ~95mm-wide skis recently, much heavier skis like the 177 cm Nordica Santa Ana 110 definitely plow through crud with much less deflection than the Uschi A94. And while not as stable in crud as the Santa Ana 110, the K2 Mindbender 106C Alliance was also considerably more stable than the Uschi A94. Of course, it's hard to compare a 94mm-wide ski to those two, though I think it's pretty safe to say that a heavier ski like the Nordica Santa Ana 93 and 100 would be a better option than the Uschi A94 if you prioritize stability in firm chop and crud.
As a lighter ski, the Uschi A94 is not made to power through heavy, thick, variable snow. The skis can float over some of the smaller bits of crud without too much tip chatter, but they will get pushed around when the crud is thick and / or deep.
At the bottom of Taos's West Basin chutes, the last bit of the apron is somewhat flat and the smooth, chalky run quickly turns into thick crud near the bottom. As I explain below, the Uschi A94 is great in chalk, but I was a bit apprehensive to aggressively ski the lower, more variable section on the Uschi A94.
With that said, I didn't hate the Uschi A94 in crud since, while it wasn't as stable as heavier skis, the Uschi A94 was still predictable. And for a light ski, that's an important characteristic. Some light skis can get scary in rough snow, and while the Uschi A94 didn't encourage me to charge through these conditions, it didn't get scary or become unmanageable in rougher snow — especially if I stuck to more moderate speeds.
Powder
At 94 mm wide, the Uschi A94 is not designed for big powder days. But in about 5" or less of fresh snow, these skis perform well. In shallow powder, the Uschi A94 can plane over the top if you get it up to speed. Like most ~95mm-wide skis, the Uschi A94's tips tend to sink a bit when skiing slowly through fresh snow.
If powder performance is a priority for you, it's worth noting that both the Head Great Joy and K2 Fulluvit 95Ti have wider shovels and float a bit better in powder. But for shallower days, the Uschi A94 does just fine for how narrow it is.
Groomers
The Uschi A94 was great on soft and firm groomers. It was easy to make small- and large-radius turns, and I never found an upper speed limit on fresh corduroy. The Uschi A94's lack of tip flop and its predictability through every turn made it a blast to ski on piste. With last year's low snow and this year's early season conditions, I spent plenty of time on piste and found these skis to be lots of fun.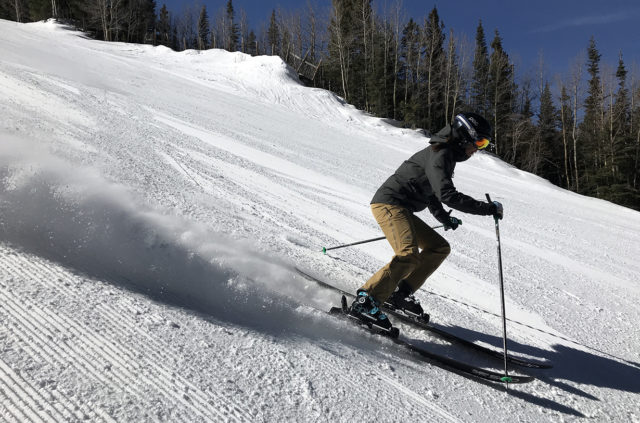 I also spent time in the same conditions on the K2 Tough Luv, an 88mm-wide ski that's primarily designed to rip groomers. The Tough Luv had more energy when exiting a turn and offered better edge hold, but was much more difficult to flex and bend into a turn. As a slightly softer ski, the Uschi A94 is more accessible to intermediate skiers on groomers compared to the Tough Luv. Compared to the much more tapered Fulluvit 95 Ti, the Uschi A94 was much more fun on piste as the Fulluvit's tapered shovel can make it a bit more difficult to initiate and hold carved turns.
Moguls
I skied the Uschi A94 primarily at Taos, where you get a mix of nice, little "glory" bumps, wider, flatter moguls that form after a storm, and / or irregularly spaced, big, pointy ones.
For the small, nicely formed glory bumps, the Uschi A94 was great — I was able to stay forward and pivot them easily. For the wider, post-storm bumps, I was able to carve and pop through turns with ease.
When the moguls get larger and more spaced out, I have a tendency to scrub speed between turns by smearing my tails. The Uschi A94 did not feel that conducive to this style of skiing, especially compared to more tapered / rockered skis like the Fulluvit 95Ti. Instead, the Uschi A94 wants to hold an edge and, as a result, it doesn't lend itself too well to sliding turns. While it feels best on edge and when skied fairly aggressively, the Uschi A94 was quite forgiving whenever I found myself in the backseat. Since its tail is fairly strong (but not punishing) and doesn't wash out super easily, it was easy to get myself back into a forward, aggressive stance if I got backseat.
Chalk
I really fell in love with this ski while skiing a steep, tight, chalky chute. I initiated my first hop turn thinking it was going to be exhausting to get my body (I was pregnant at the time) and the skis around, but I was happily surprised by how easy it was. The Uschi A94 turned easily in the air thanks to its lightweight design and it dug into the snow when needed. After my initial hop turns, I was able to really start skiing the chute and the Uschi A94 edged into the chalk well and made for a very smooth and fun run.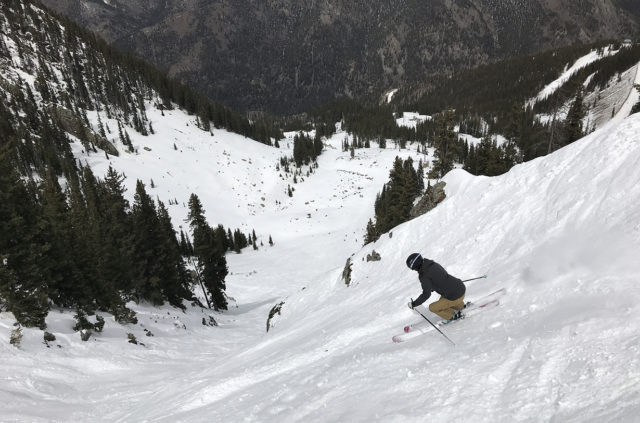 When the chalk was more chewed up, I again found it a bit tricky to smear turns on the Uschi A94. It was challenging to get the ski to hold its edge as it tended to get bounced around when the snow wasn't very smooth or consistent. I've found the same to be true with other lighter skis like DPS Zelda A106 and the Armada Trace 98, while heavier skis like the Nordica Santa Ana series and K2 Mindbender 106C remained a bit more composed. So again, if you want a really damp feel, you'd be better off on a heavier ski. But if you want a really nimble and quick ski, the Uschi A94 is a great option for steep, chalky terrain.
Who's It For?
The Uschi A94 would be a great option for intermediate to expert skiers who enjoy skiing the whole mountain and who like making carved turns on edge — even off piste. The Uschi A94 should be particularly appealing to those who value quickness and a lightweight feel over high-speed stability and a damp feel.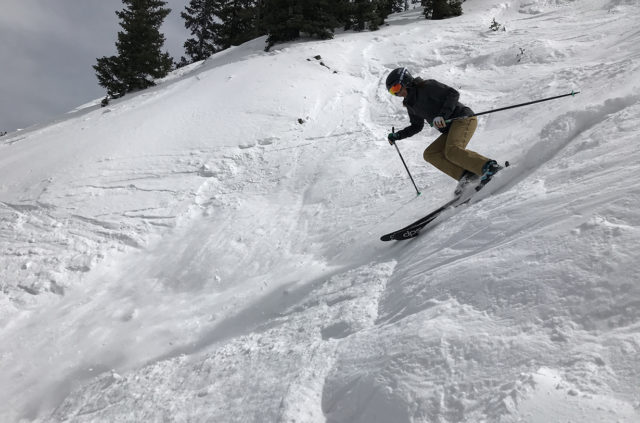 At the beginning of the ski season when I'm still building my ski muscles, the Uschi A94 allowed me to jump right into any terrain, unlike some heavier / stiffer / wider skis that require more effort and strength to ski. Someone who worries that their legs aren't strong enough should definitely check out the Uschi A94, as it's easy to ski without a lot of muscling around. That said, if you prefer to slide your turns rather than carve them, you'd probably be better off on skis like the K2 Fulluvit 95Ti or Armada Trace 98.
Bottom Line
The DPS Alchemist Uschi 94 is an accessible and versatile ski that, despite its narrower waist and low weight, feels comfortable in a wide range of conditions and terrain. If you enjoy skiing on and off piste and typically prefer carving precise turns rather than sliding or smearing them, then the Uschi A94 might be just the ski that you're looking for.