Ski: 2021-2022 DPS Pagoda Piste 90 RP, 184 cm
Test Location: Mt. Crested Butte, Colorado
Days Skied: 5
Available Lengths: 152, 157, 165, 171, 179, 184 cm
Blister's Measured Tip-to-Tail Length: 183.1 cm
Stated Weight per Ski: 1860 grams
Blister's Measured Weight per Ski: 1849 & 1887 grams
Stated Dimensions: 120-90-107 mm
Blister's Measured Dimensions: 126.8-90.4-110.2 mm
Stated Sidecut Radius (all lengths): 15 meters
Measured Tip & Tail Splay (ski decambered): 70 mm / 18 mm
Measured Traditional Camber Underfoot: 6 mm
Core: ash/aspen + carbon fiber laminate
Base: sintered "World Cup race base"
Factory Recommended Mount Point: -11.55 cm from center; 80.0 cm from tail
Boots / Bindings: Tecnica Mach1 130 MV / Tyrolia Attack2 13 AT
[Note: Our review was conducted on the 20/21 Pagoda Piste 90 RP, which returns unchanged for 21/22.]

Intro
For the 20/21 season, DPS launched two interesting new constructions and corresponding collections of skis. The Pagoda Piste and Pagoda Tour skis stand out primarily due to how their cores are constructed (see below), with the Pagoda Tour line being unsurprisingly aimed at backcountry touring, while the Pagoda Piste line is designed for lift-accessed skiing where low weight is less important than downhill performance.
For 21/22, DPS is replacing their current Alchemist line with the new "Pagoda" series, and Blister Members can check out my Flash Review of the Pagoda 100 RP for some initial thoughts on that ski.
In addition to the 21/22 Pagoda 100 RP and Pagoda 106 C2, we've also been spending time on a couple of the Pagoda Piste skis, and will soon be skiing the Pagoda Tour 100 RP.
One of the skis that has stood out the most is the Pagoda Piste 90 RP. This is in large part because it looks (and is) very, very different compared to most other ~90mm-wide skis on the market. And after skiing it on everything from firm, man-made groomers during the early season at Mt. Crested Butte, to some deep pow, and a lot of other conditions and terrain in between, I think it makes for a very intriguing ski in this category.
What DPS says about the Pagoda Piste 90 RP
"Ease-of-use of the proven rockered and tapered RP shape is now available in a double digit waist width. Whether swiveling through bumps or maneuvering amongst tight trees, the playful and pivoty shape has the ability to easily hold a truly locked-in high powered carve; while still allowing you to release the edge at will."
Quick note about the "RP" shape: that refers back to some of the older, easily recognizable DPS Wailer 112 RP shapes. The "RP" on those skis originally stood for "Resort Powder," and in the current DPS lineup, it basically refers to skis with more tip and tail taper, more tip and tail rocker, and a shorter sidecut radius. This is in contrast to the DPS "C2" skis, which feature less tapered tips and tails, less tip and tail rocker, and longer sidecut radii.
As for the rest of this copy, I think DPS is right to emphasize the Pagoda Piste 90 RP's off-piste maneuverability, given its shape and rocker profile. While lots of companies claim that some of their ~90mm-wide skis are great all over the mountain, the 90 RP shape certainly looks like a ski that's designed with off-piste skiing in mind. As for the note about this ski holding a "truly locked-in high powered carve," I was a bit more skeptical about that at first, but we'll go more into that below.
Construction
All three of the DPS Pagoda constructions (Pagoda, Pagoda Piste, & Pagoda Tour) feature a core construction that's very different from those used in the vast majority of other skis.
While nearly all skis with wood cores have cores that consist of vertically laminated wood stringers, the Pagoda skis feature an additional layer of wood laminated horizontally over the other wood core, in a stacked formation (hence the "Pagoda" name, which refers to an Asian architectural style with multiple stacked roofs).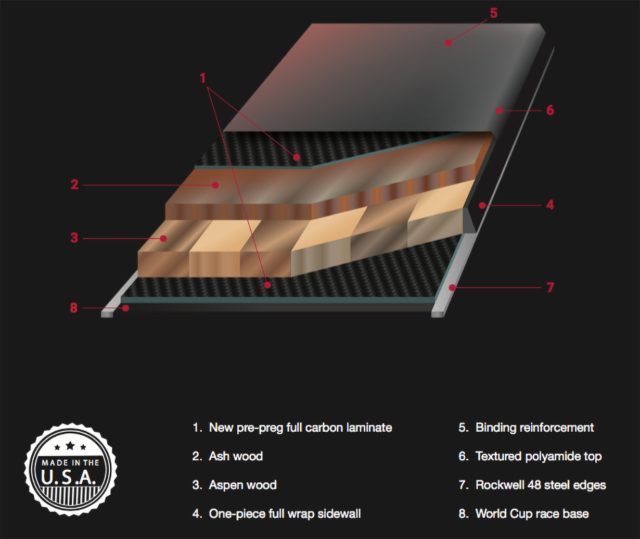 In the Pagoda Piste construction, the wood core is a mix of lightweight aspen and heavier, more damp ash. It's then wrapped in a full carbon-fiber laminate, topped with a textured polyamide top sheet, and features a sintered "World Cup race base" that you can have DPS treat with their Phantom permanent base glide treatment (our test pairs came treated with Phantom). All three Pagoda collections are made in the DPS factory in the United States.
Shape / Rocker Profile
When it comes to shape and rocker profile, the Pagoda Piste 90 RP looks very different than most similarly narrow skis.
In terms of shape, this ski does look pretty similar to the DPS Wailer 112 shape from which its "RP" designation stems. The Pagoda Piste 90 RP's tips and tails aren't as drastically tapered as its wider sibling, but the Pagoda Piste 90 RP's effective edge is shorter (i.e., its tips and tails are more tapered) than the majority of skis that are narrower than ~95mm-wide underfoot.
The Pagoda Piste 90 RP's rocker profile is similarly unusual for a ski of this width. While it still has a fairly long cambered section, its rocker lines are deeper than most skis in this class, particularly through the tip.
Flex Pattern
Here's how we'd characterize the flex pattern of the Pagoda Piste 90 RP:
Tips: 7.5
Shovels: 7.5-8
In Front of Toe Piece: 8.5-9.5
Underfoot: 10
Behind the Heel Piece: 10-9
Tails: 9
Many of the DPS skis we've tested over the past few years have been quite stout, and that mostly holds true with the Pagoda Piste 90 RP. The middle and back-half of the ski are very stiff, but its tips and shovels are a bit softer than some recent DPS skis like the Alchemist versions of the Wailer 106 and Wailer 112.
Overall, this is still a pretty strong ski, though as I'll get into below, it doesn't feel as demanding as its flex pattern might suggest.
Sidecut Radius
As we touched on above, the Pagoda Piste 90 RP has a sidecut radius on the shorter side of the spectrum. At a stated 15 meters across all lengths, the Pagoda Piste 90 RP's sidecut radius is shorter than skis like the Armada Declivity 92 Ti, Salomon Stance 90, and Atomic Maverick 88 Ti.
That said, given that it has the same sidecut radius across all lengths, the Pagoda Piste 90 RP's sidecut radius doesn't stand out quite as much in the shorter lengths when compared to other similarly short skis (since many other skis have shorter sidecut radii in shorter lengths).
And more importantly, the Pagoda Piste 90 RP's sidecut radius doesn't feel as short as it looks on paper. But I'm getting ahead of myself…
Mount Point
Like most DPS skis, the Pagoda Piste 90 RP has a very traditional, rearward mount point of about -11.5 cm from the true center of the ski. I also skied it with the bindings moved slightly forward of that line, which I touch on below.
Weight
While the Pagoda Piste construction is the heaviest and most downhill-oriented of the three Pagoda series, the Pagoda Piste 90 RP is still a fairly lightweight ski. Not wildly light — and heavier than the DPS Alchemist skis — but a bit lighter than some of the more traditionally constructed options in this category like the Blizzard Brahma 88 and Nordica Enforcer 88.
For reference, here are a number of our measured weights (per ski in grams) for some notable skis. Keep in mind the length differences to try to keep things apples-to-apples.
1728 & 1750 Renoun Atlas 80, 177 cm (19/20–20/21)
1758 & 1758 Head Kore 93, 180 cm (19/20–20/21)
1790 & 1828 Black Crows Orb, 179.1 cm (19/20–21/22)
1798 & 1815 DPS Pagoda Piste 94 C2, 178 cm (20/21–21/22)
1801 & 1839 Salomon Stance 90, 176 cm (20/21–21/22)
1810 & 1828 Armada Declivity 92 Ti, 180 cm (20/21–21/22)
1849 & 1887 DPS Pagoda Piste 90 RP, 184 cm (20/21–21/22)
1855 & 1877 Liberty Evolv 90, 186 cm (19/20–20/21)
1863 & 1894 Blizzard Rustler 9, 180 cm (18/19–21/22)
1911 & 1917 K2 Disruption 82Ti, 177 cm (20/21–21/22)
1935 & 1964 DPS Pagoda 100 RP, 184 cm (21/22)
1937 & 1945 Fischer Ranger 94 FR, 184 cm (19/20–21/22)
1947 & 2022 Liberty V92, 186 cm (19/20–20/21)
1952 & 1958 Renoun Endurance 88, 184 cm (21/22)
1990 & 2036 Blizzard Brahma 88, 177 cm (20/21–21/22)
1999 & 2060 Line Blade, 181 cm (20/21–21/22)
2008 & 2015 Folsom Spar 88, 182 cm (18/19–20/21)
2043 & 2089 Volkl M6 Mantra, 177 cm (21/22)
2049 & 2065 Volkl M5 Mantra, 177 cm (18/19–20/21)
2098 & 2105 Nordica Enforcer 88, 179 cm (19/20–21/22)
2131 & 2194 Nordica Enforcer 88, 186 cm (19/20–21/22)
2178 & 2195 Volkl M6 Mantra, 184 cm (21/22)
2235 & 2236* Elan Wingman 86 CTi, 184 cm (19/20–21/22)
*weights include binding mounting plates
Alright, now onto how this ski performs on snow:
FULL REVIEW
Luke Koppa (5'8", 155 lbs / 173 cm, 70 kg): We got the 184 cm Pagoda Piste 90 RP right before the lifts started spinning here at Mt. Crested Butte, so our testing started on some very firm, man-made groomers. I continued to spend time on the ski throughout the season, and I'm very glad I did because this is certainly an "all-mountain" ski, and a surprisingly versatile one when compared to other skis in its class.
Groomers
I'll kick things off with groomed conditions since that's typically where a lot of people spend time on ~90mm-wide skis.
Overall, the Pagoda Piste 90 RP is predictable and can be quite fun on piste, but it's not like most other skis around this width.
When initiating turns, it's instantly obvious that this is a ski with a pretty tapered and rockered tip. By that, I mean that it does not "pull you into a turn" like skis with minimally tapered and / or rockered tips tend to do. Instead, turn initiation on the Pagoda Piste 90 RP is a more casual experience — it'll happily run bases-flat until you either put a good amount of pressure on the front of the ski, or just roll it over from your ankles.
On relatively soft groomers, the Pagoda Piste 90 RP can be pushed quite hard and leaned over high on edge. I really enjoyed it on fairly fresh corduroy and late-afternoon spring laps. But on those super firm, early season groomers, I didn't feel quite as confident really trying to bend and lay this ski over. Its tapered and rockered design just doesn't offer the same kind of confidence-inspiring edge grip on icy snow as skis with more traditional shapes and rocker profiles.
However — and unlike some skis that do encourage you to really carve them hard on icy snow — the Pagoda Piste 90 RP is extremely easy when it comes to feathering, releasing, and pivoting turns. And I don't mean that it only wants to skid turns and is scary when conditions are really firm. It's not. "Predictable" is a word that kept coming to mind on this ski.
Now, regarding this ski's stated 15-meter sidecut radius: it feels a bit longer than that on snow. On relatively soft groomers, I can carve pretty tight turns, but I definitely can't carve as tight of turns on this ski as I could on, say, the 181 cm Line Blade (which has a sidecut radius around 13 meters and a very different shape). But what surprised me was how comfortable the Pagoda Piste 90 RP felt when making pretty big GS turns, even down a steep, sustained black run like Mt. Crested Butte's International. This ski never felt hooky to me or like it wanted to randomly dart across the fall line. For other reasons (weight, those tapered tips and tails), the Pagoda Piste 90 RP wouldn't be my top pick if you love to carve huge turns at high edge angles, but overall, the Pagoda Piste 90 RP is quite versatile in terms of turn shapes.
One other thing to note here is that I don't find the Pagoda Piste 90 RP particularly easy to bend. I think part of this obviously comes down to its relatively strong flex pattern, but I think a lot also comes down to its tapered and rockered design. Since it doesn't really pull you into a turn or finish a turn with as much precision and grip as a less tapered, less rockered ski, I find that I'm not bending the Pagoda Piste 90 RP very much, and instead mostly relying on its sidecut to carve tighter turns. Again, it's a very predictable ski, just not what I'd call a super exhilarating one on piste.
So, long story short, if you spend the majority of your time on piste and prioritize things like instant turn initiation, max edge hold, or a ski that you can bend hard and that feels really snappy, the Pagoda Piste 90 RP isn't your best option. But I've definitely still found it fun on piste, and it really starts to shine when you take it off groomed terrain.
Moguls, Trees, & Tight Terrain
This ski is really, really easy to ski in tight spots — especially compared to just about every other skis I've used that's narrower than about 95 mm underfoot.
First, the Pagoda Piste 90 RP requires very little effort to get its tails to release and skid / slide / pivot your way through bumps, trees, or steeps. And you can do this from a variety of stances. While many skis around this width require a pretty deliberate, forward stance to get their tails to give up their grip, the Pagoda Piste 90 RP does not. And in more open bumps, you can use that 15-meter radius to carve, rather than slarve, your way through the troughs.
Thinking of all the skis I've used that are around the same width, I can't think of many (any?) that are looser / easier to pivot around than the Pagoda Piste 90 RP. But again, it still feels predictable on edge and doesn't feel super squirrely as long as conditions are fairly consistent and / or soft. It's not a ski that only wants to slide sideways down the fall line.
Second, this ski has a really low swing weight. Like, really low. It's a fairly light ski overall, but its tapered tips and tails also help in terms of making it feel so quick. So between its loose tails and low swing weight, skiing dynamically and quickly flicking the Pagoda Piste 90 RP from side-to-side becomes very easy.
Third, this ski feels pretty forgiving. Despite its strong tail, I found it pretty easy to recover from a mistake on this ski. I think part of this comes down to its low swing weight and easy-to-pivot shape. Its tail wouldn't dig in if I got backseat, and I could easily flick the front of the ski around ( even from the backseat) which made mid-line recoveries quite easy.
While it's an accessible, easy ski, the Pagoda Piste 90 RP can also be a lot of fun when skiing bumps and trees very fast. Provided that you're alright with skiing with a dynamic, active, light-on-your-feet style, the Pagoda Piste 90 RP can be pushed very hard in tight spots. That low swing weight, loose tail, and forgiving-yet-supportive flex pattern are what I personally like in bumps and trees. It makes quick, last-second adjustments easy, but the ski is strong enough that I've never worried about it folding on me if I slam into a bump at high speeds.
And at the same time, the Pagoda Piste 90 RP is very happy just to casually maneuver through this sort of terrain.
The only times I wasn't a big fan of the Pagoda Piste 90 RP in bumps were when the snow was really firm, bordering on icy. In those conditions, I'd prefer something heavier and probably a bit less tapered since those skis tend to get knocked around less when the snow is firm and rough.
Steep Chalk
This ski is a blast on steep, chalky runs like what we typically see on Mt. Crested Butte's Headwall or Monument.
On nice chalk, the Pagoda Piste 90 RP holds a strong edge but is also really easy to release. Add on its low swing weight, and it makes for a ski that encourages a really dynamic approach to this terrain and these conditions — carve hard in one spot, pop over / off something, and then throw it sideways hard and spray a bunch of snow in your face. I wouldn't pick the Pagoda Piste 90 RP if I wanted to make huge turns down steeps, but fortunately for me, that's never how I ski steep chalk, so I really liked this ski in steep terrain.
Powder & Soft Chop
This was the biggest surprise for me. One day on the Pagoda Piste 90 RP, we found some tree runs near Mt. Crested Butte's Paradise Cliffs that were holding about 10 in / 25 cm of fresh snow. At first, I just thought "ah crap, I'm definitely on the wrong ski." But to my surprise, the 184 cm Pagoda Piste 90 RP did not get bogged down in the deeper snow, its tips never dove on me, and it was even pretty easy to slash and pivot in the deep spots.
Was it as surfy and maneuverable as much wider DPS Wailer 112 shape? No, definitely not. But for a 90mm-wide ski, the Pagoda Piste 90 RP was extremely impressive in deeper conditions. If you rarely find yourself skiing more than roughly 10 in / 25 cm of fresh snow and tend to seek out trees and tighter terrain on pow days, I think the Pagoda Piste 90 RP could work as your widest ski (as could the Pagoda 100 RP). I can't think of any ski this narrow that I would prefer in deeper snow.
That said, I put in that note about seeking out trees and tight terrain because the Pagoda Piste 90 RP is not ideal for making big turns in deeper snow, and more notably, the chopped-up snow that follows. The Pagoda Piste 90 RP is still a lot of fun in chop-filled trees and bumps (provided the chop isn't super deep), but it gets knocked around a good bit when trying to make big turns in cut-up snow. I was impressed by how hard I could ski it when that chop was pretty light (those skinny tips just sliced through it), but later in the day when it had set up more, I was definitely dialing back my speed more than I would on a heavier, less tapered ski.
Firm Chop / Crud
This is probably where the Pagoda Piste 90 RP is least at home. If you're typically breaking out your ~90mm-wide skis on days when conditions are very firm and inconsistent — and you like to ski fast in those conditions — I'd look to a different ski (see the "All-Mountain More Stable" section in our Buyer's Guide). If I try to make big turns in cruddy conditions on it, I have to stay very light on my feet on the Pagoda Piste 90 RP, looking ahead and trying to avoid the biggest clumps of crud and absorbing the impacts myself, rather than expecting the ski to do so.
Again, the Pagoda Piste 90 RP is very easy to casually slide and pivot around at slower speeds when you want, and for me, that was the best approach on this ski when conditions were very rough. I wouldn't call this ski "scary" in crud — I always knew what it was going to do. But those who prioritize a smooth, damp ride and / or stability in crud have better options.
Mount Point
As I'm often tempted to do when I get on skis with mount points similar to the Pagoda Piste 90 RP's, I tried it mounted in front of its recommended line. At about +1.5 and +2.5 cm from the recommended line (about -10 & -9 cm from true center, respectively), I liked the ski a bit better since it felt more balanced, slightly easier to slash from a centered stance, and I didn't feel like I lost any stability or carving performance. I think the recommended line would be fine for most people, but if you want a more playful, balanced feel, you can go forward a bit.
Length
Many of us at Blister, myself included, tend to size down a bit on narrower skis, and most of the skis we test in the ~90mm-wide category tend to be around 177–180 cm (which often feels like the right length for me).
However, due to its much more tapered and rockered design and fairly low weight (all things that tend to make skis feel shorter), I thought it would make more sense to test the Pagoda Piste 90 RP in a 184 cm length, and I'm very happy I did. This ski feels a bit shorter than it is when compared to most other comparable skis, and I wouldn't be afraid to size up if you're on the fence about length.
Another thing I've noticed, particularly after skiing the 184 cm Pagoda Piste 90 RP and 178 cm Pagoda Piste 94 C2, is that I often actually find longer skis easier to ski — when those skis are pretty light. On the 178 cm 94 C2, I had a bit of a hard time keeping its tips from getting knocked around, particularly in bumps and trees, even when I was skiing fairly slow. On the longer 184 cm 90 RP, I felt like I had more ski to lean into and could consequently ski both fast and slow with more control and confidence.
Oh, and on that note about length, I just want to shout out DPS for making the Pagoda Piste 90 RP (and most of their other skis) in a very wide range of sizes. Most of their skis are available in lengths ranging from about 155 cm to 184 cm or longer, and with two top sheet options.
Who's It For?
Folks looking for a fairly narrow all-mountain ski and who prioritize easy maneuverability in moguls, trees, steeps, and soft snow.
I would not recommend the Pagoda Piste 90 RP if you're looking for a piste-specific ski and like to carve hard on icy conditions; prefer something that really pulls you into each turn; and / or one that's easy to bend and energetically pops you out of a carve. For those people, I'd recommend checking out the more traditionally shaped skis in the "Frontside" section of our Buyer's Guide.
And if you've found that you prefer a very damp ski that provides a smooth, composed ride when skiing fast on firm, rough conditions, I'd look to heavier alternatives.
But if you've been looking for a fairly narrow ski that's easy and fun to ski off piste, the Pagoda Piste 90 RP should certainly be on your list. Compared to similarly narrow skis, it's almost in a class of its own when it comes to maneuverability and quickness. And as long as you're not looking to carve hard on icy, scraped-off snow, it's also quite enjoyable on piste, too.
Bottom Line
With many skis around 90 mm underfoot, we often end up describing them with something like "great on groomers, alright for the occasional lap off piste."
With the DPS Pagoda Piste 90 RP, it's kind of the opposite. This is a fairly narrow ski that excels and really stands out due to its maneuverability off piste, but it's still pretty fun to carve. It's a very versatile ski for its width and certainly warrants consideration from folks who are constantly seeking out bumps, trees, and steeps, but who don't feel the need for something wider.
Deep Dive Comparisons
Become a Blister Member or Deep Dive subscriber to check out our Deep Dive comparisons of the Pagoda Piste 90 RP to see how it compares to the DPS Pagoda Piste 94 C2, DPS Pagoda 100 RP, Elan Wingman 86 CTi, Fischer Ranger 94 FR, Blizzard Brahma 88, Nordica Enforcer 88, Renoun Endurance 88, Armada Declivity 92 Ti, Salomon Stance 90, Black Crows Orb, Folsom Spar 88, & Liberty Evolv 90.