Boot: 2022-2023 Atomic Redster CS 130
Stated Flex: 130, can be stiffened via 2nd Power Shift Screw
Available Sizes: 23.5-29.5
Stated Last (size 26.5): 96 mm
Stated Forward Lean: 16-18°
Size Tested: 26.5
Stated Boot Sole Length: 305 mm
Blister's Measured Weight (size 26.5):
Shells, no Liners: L: 1773; R: 1778 g
Liners, no Footbeds (with V3 High Volume Tongue): L: 434; R: 434 g
Shells + Liners = L: 2208 & R: 2212 g
Stock Insoles: 48.5 g
Removable Spoilers: 40 g each
Buckles: 7000-Series Alu Buckles, micro adjustable
Power Strap: Professional Dual Strap
Shell Material
Cuff: Polyurethane
Lower Shell / Shoe: Polyurethane
Soles: Non-removable ISO 5355 Alpine Soles
Binding Compatibility: Alpine-Specific Bindings, GripWalk Bindings, MNC Bindings
[Note: Our review is being conducted on the 22/23 Redster CS 130, which returns unchanged for 22/23.]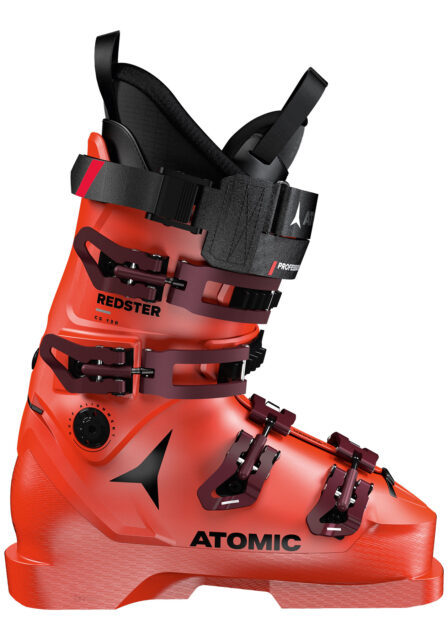 Intro
Kara Williard: The Atomic Redster CS (or "Club Sport") series is based on the race heritage of the Atomic Redster Team Issue boots. But the CS boots are designed to be better options for those who are looking for race-level boot performance while still getting some comfort-oriented benefits of all-mountain alpine boots.
The Redster CS series is built with a ~96mm last, heat-moldable shell (Memory Fit), and feature Atomic's Mimic liner technology (in the form of the Mimic World Cup or Mimic Professional liners) — all of which makes for an easier way to get a comfortable fit in a high-performance boot.
What Atomic says about the Redster CS 130:
"The Atomic Redster CS 130 is a boot that works brilliantly for piste skiing or racing your friends on the local circuit. The Redster CS 130 features a 96mm narrow fit that's aggressive and precise but offers more space in the forefoot and navicular area for enhanced comfort and great foot hold. It comes loaded with top racing tech like the Progressive Race Shell. This shell uses thicker but softer material to give you a more progressive flex, better damping and a more supple feel. Atomic's Mimic World Cup liner provides a comfortable, heat-moldable, individual fit that hardens into place – in exactly the shape of your foot. The package is all tied together with the Professional Dual Strap, giving you shock absorption and precise energy transfer."
The Redster Club Sport Series
For a more detailed overview of each boot in the Atomic Redster CS series and Atomic's entire line of ski boots, see our Deep Dive on Atomic's Ski Boots Brand Lineup.
The Redster CS series is comprised of the following boots:
Redster CS 130 Professional: $1,100 (with Mimic Professional Liner)
Redster CS 130: $900
Redster CS 110: $725
Redster CS 70 LC: $425
Shell
All the Redster CS boots feature Atomic's Progressive Race Shell, which is a polyurethane composition that features thicker, but softer-durometer than average plastic. Atomic states that this provides better damping and a more progressive flex, while also offering a more supple feel. The Redster CS boots' shells are also heat-moldable, via Atomic's Memory Fit process.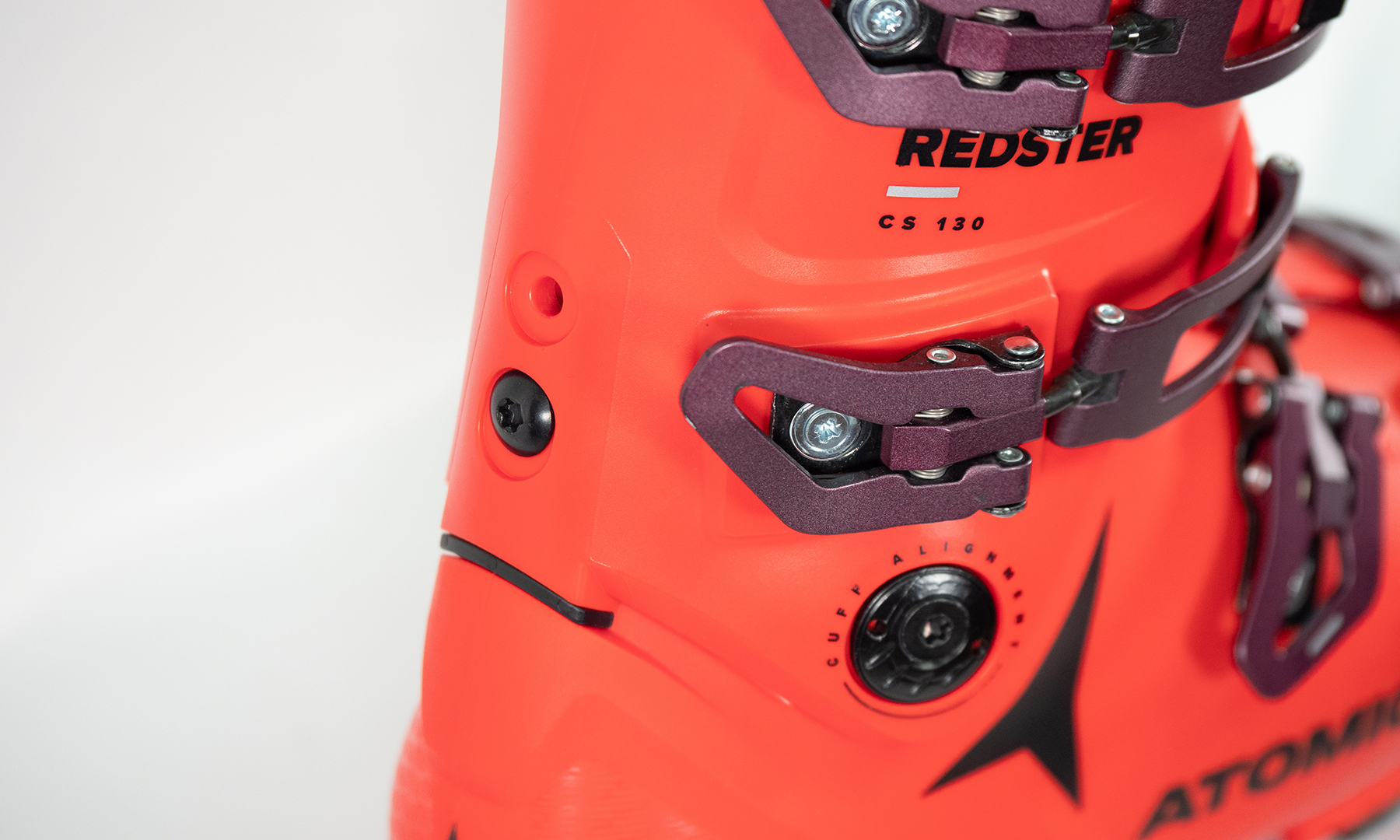 Liner
The Redster CS 130 is equipped with Atomic's Mimic World Cup Liner. The Mimic liner technology is an extension of Atomic's 3D Memory Fit foam liners, but includes further options for liner customization via heat-moldable "Mimic" material that is built into the heel, tongue, and cuff. When heated, this Mimic material conforms to the foot in those areas and then hardens in that new shape, which Atomic says creates a comfortable, custom, and powerful fit. The Mimic material can also reportedly be re-heat-molded several times (listen to Ep. 88 of our GEAR:30 podcast, with Atomic ski boot manager, Matt Manser, for more on Mimic).
The World Cup Liner in the Redster CS is a relatively low-volume liner that features a removable tongue (dubbed the "V3 Tongue System"). This provides the option of using three different tongue volumes (purchased aftermarket) that can be interchanged. The World Cup Mimic Liner also has the option for laces. The upper liner is reinforced with a more rigid material, which is meant to offer better power transmission between liner and shell.
Adjustable Forward Lean
The Redster CS features Atomic's "Power Shift Race" technology, which is a tool for forward-lean adjustment that's specific to the Redster CS boot. The forward lean is adjusted via T-shaped shims, situated between the cuff and lower shell; it comes stock with forward lean at 16° out of the box, or you can adjust it to 18°. The Redster CS also comes with a removable liner spoiler for further adjustment of forward lean.
Buckles
The Redster CS 130 features Atomic's 7000-Series Aluminum Buckles, which are all micro-adjustable. All the buckles are removable and replaceable. Overall, the buckles have a very robust feel, both when leveraging for closure and when secured for closure.
Power Strap
The Redster CS 130 Professional and Redster CS 130 are equipped with Atomic's new Professional Dual Strap. This strap is included on several Professional & Redster boots and is also available as an aftermarket purchase. It's an elastic power strap with two separated straps and a cam mechanism for closure, which allows you to dial in the amount of elasticity vs. static tension you get. The strap is split so that you can have part over the upper cuff shell material and part over the liner, with the upper segment featuring an additional velcro adjustment to fine-tune how much elasticity you get out of it.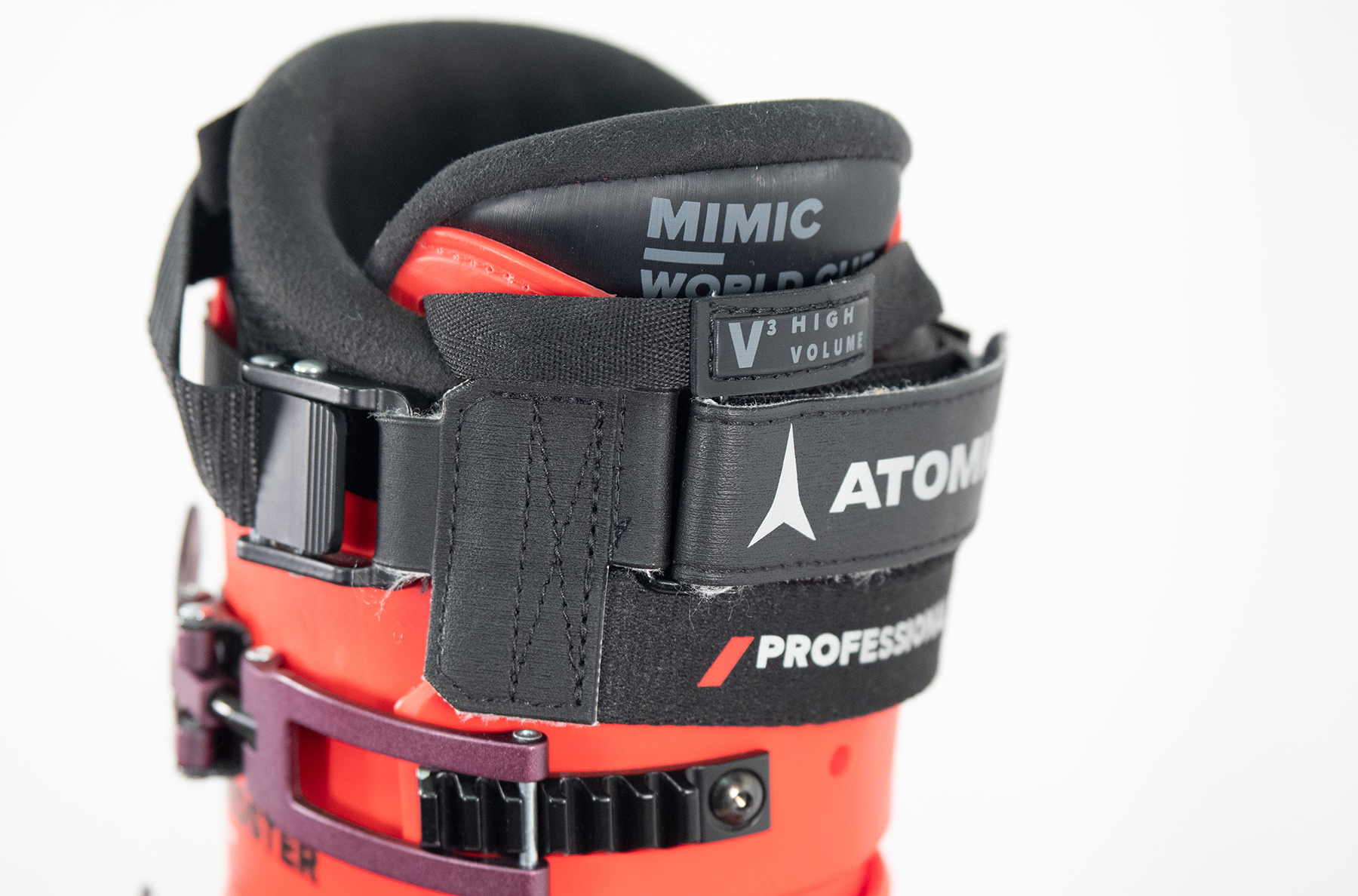 Soles
The Redster CS series comes with a non-replaceable, non-removable ISO 5355 sole.
Starting in the Fall of 2022, Atomic will have Dual Component Lifters available as an aftermarket purchase for the Redster CS, which require installation at a specialty boot fitting shop, if that shop is equipped to router the heel and toe lugs back to proper dimensions. These aftermarket plates feature rubber zones for added grip and they help prevent the wearing down of the heel and toe lugs, for the longevity of the boot.
Cuff Adjustment
The Redster CS 130 is built with dual cuff alignment, on both the medial and lateral sides of the cuff.
Weight & Comparisons
As a boot with a more traditional, race-boot-esque construction, the Redster CS 130 is notably heavier than many of today's "all-mountain" boots, which have tended to get lighter over the past several years.
For reference, here are our measured weights of several relevant alpine boots. Weights listed are for each shell, then each liner, then the combined weight of each shell and liner.
Head Nexo LYT 130 (26.5): 1082 & 1089 + 427 & 436 = 1509 & 1525 g
K2 Recon 130 LV (26.5): 1276 & 1277 + 369 & 374 = 1645 & 1651 g
Salomon S/Max 130 Carbon (26.5): 1291 & 1292 + 445 & 446 = 1736 & 1738 g
Atomic Hawx Ultra 130 S GW (26.5): 1375 & 1376 + 410 & 413 = 1785 & 1789 g
Salomon S/Pro Alpha (26.5): 1408 & 1417 + 399 & 400 = 1807 & 1817
Salomon S/Max 130 (26.5): 1389 & 1407 + 433 & 429 = 1822 & 1836 g
Nordica Promachine 130 (26.5): 1428 & 1428 + 444 & 445 = 1890 & 1891 g
Tecnica Mach1 130 LV TD (26.5): 1518 & 1518 + 447 & 450 = 1965 & 1968
Head Formula 130 (26.5): 1557 & 1558 + 468 & 470 = 2027 g & 2029 g
Head Formula RS 130 (26.5): 1587 & 1588 + 466 & 466 = 2052 g & 2053 g
Lange RX 130 LV (26.5): 1676 & 1678 + 430 & 430 = 2106 & 2108
Lange RS 130 LV (26.5): 1634 & 1634 + 481 & 489 = 2115 & 2123 g
Atomic Redster CS 130 (26.5): 1773 & 1778 + 435 & 434 = 2208 & 2212
Head Raptor 140 RS (26.5): 1892 & 1899 + 547 & 548 = 2439 & 2447 g
Fit
As always, our "Fit" sections will never replace the usefulness of the advice of an experienced bootfitter, nor are they designed to do so. The fit of any boot is the deciding factor and everyone's feet are different, so we highly, highly recommend visiting a bootfitter before settling on a boot. With that said:
Jonathan Ellsworth's Notes on Fit
Compared to similar boots like the HEAD Raptor WCR 140S and the Lange RS 130, the Redster CS 130 has the most snug heel pocket, which (given my particular heels), is something that I really like about this boot. (Your heels might feel differently.) It's worth noting that the heel pocket of the Redster CS 130 is exactly the same volume as Atomic's old World Cup boots (the current Redster Ti boots have a different heel pocket).
In terms of length, the Redster feels a touch shorter than the HEAD Raptor and Lange RS. It's also shorter than Atomic's Hawx Ultra, so on my visit to Atomic's headquarters in Austria, I did have Matt Manser lengthen the toe box on my Redster's a bit. (That said, I skied a lot of days in the Redster before pushing out the toe box, so I would not say that the CS is alarmingly short compared to other high-performance, low-volume boots, but it is shorter.)
Re: the Redster CS's instep, for a number of reasons, I'm hesitant to make strong pronouncements about instep height, but I'd call it lower than the HEAD Raptor 140 RS, a tiny bit higher-volume than the Hawx Ultra, and comparable to the Lange RS 130. Two boots that have felt like they have a lower instep to me are the Salomon S/Max Carbon 130 and the Tecnica Mach 1 LV 130.
In terms of cuff height, I'd say the Redster CS feels a bit taller than the Lange RS 130, and comparable to the HEAD Raptor WCR 140S. (Keep in mind, liners can play a big part in how tall or short a boot feels.)
Bottom Line (For Now)
Atomic's Redster CS series combines race-boot features like a thick, PU shell and a low-volume last with extensive fit-customization features more typical of all-mountain boots, with the goal of bringing race-level performance to a more versatile overall package. Blister Members can check out our Flash Review for our thoughts on the boot so far, then stay tuned for more info.
Flash Review
Blister Members can read our Flash Review of the Redster CS 130 for our initial on-snow impressions. Become a Blister member now to check out this and all of our Flash Reviews, plus get exclusive deals and discounts on skis, and personalized gear recommendations from us.