Ski: 2022-2023 Black Crows Camox Birdie, 168 cm
Test Location: Mt. Crested Butte, Monarch, & Aspen Highlands, Colorado
Days Skied: 9
Available Lengths: 156.1, 162.3, 168.1, 174.2 cm
Blister's Measured Tip-to-Tail Length (straight-tape pull): 165.7 cm
Blister's Measured Weight per Ski: 1685 & 1731 grams
Stated Dimensions: 128-97-116 mm
Blister's Measured Dimensions: 128-96-117 mm
Stated Sidecut Radius (168 cm): 19 meters
Measured Tip & Tail Splay (ski decambered): 54 mm / 38 mm
Measured Traditional Camber Underfoot: 4 mm
Core Materials: poplar + fiberglass laminate
Base: sintered
Factory Recommended Mount Point: -5.35 cm from center; 77.5 cm from tail
Boots / Bindings / Wax: Atomic Hawx Ultra 115 & Dalbello DRS 130 / Marker Griffon 13 / mountainFLOW All-Temp
[Note: Our review was conducted on the 21/22 Camox Birdie, which returns unchanged for 22/23, apart from graphics.]
Intro
The Camox Birdie is the women's version of the standard Camox and is a ski that I have been eager to get on for quite some time, especially after reading what Jonathan, Luke, and Dylan all thought of the 186 cm Camox last year.
I got on the Camox Birdie late last year and then continued to ski it throughout this past season, so it's time for me to weigh in on this playful all-mountain ski.
What Black Crows says about the Camox Birdie
"This incomparable mid-fat all terrain ski is reputed for its tolerance and playfulness. The association of a very progressive flex and good lenghten side lines brings great manoeuvrability and strong hold at high speed. With a DNA derived from freestyle, the progressive and supple flex makes it easy to handle and adapted to progression , whereas its side lines give a very effective and stable edge. Creativity for everybody on all types of terrain."
Women-Specific Aspects of the Camox Birdie
All of Black Crows' women's "Birdie" skis feature the same construction as the men's versions, but the Birdie skis feature different graphics and are available in different lengths.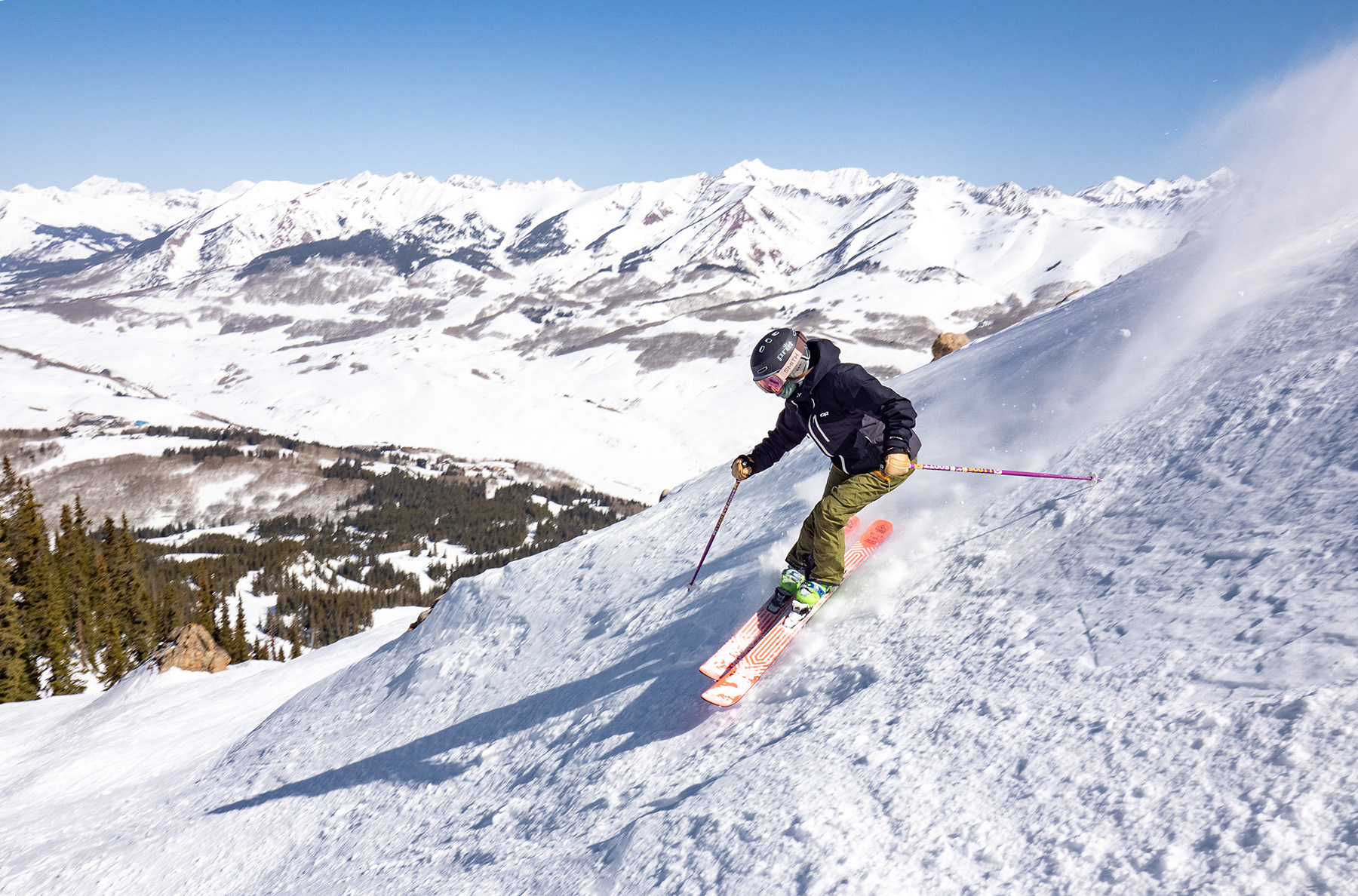 Construction
The Camox Birdie features a pretty simple core construction, with a poplar wood core, fiberglass laminate, and sintered base.
Shape / Rocker Profile
The Camox Birdie has a pretty long effective edge, with very little tip or tail taper. It also doesn't have very deep rocker lines for a more forward-mounted ski, though it does have a twinned tail.
Flex Pattern
Here's how we'd characterize the flex pattern of the 168 cm Camox Birdie:
Tips: 7.5
Shovels: 7.5
In Front of Toe Piece: 8-9.5
Underfoot: 10
Behind the Heel Piece: 9-8
Tails: 8-7.5
Particularly for a twin-tipped ski with a fairly forward mount point (i.e., somewhat freestyle-oriented), the Camox Birdie is a pretty strong ski. That said, its flex pattern is pretty symmetrical, with tails that are not that much stiffer than the tips.
Compared to the 186 cm Camox, the 168 cm Camox Birdie's flex pattern is very similar, with the shorter ski just being a touch softer at the ends.
Sidecut Radius
The Camox Birdie's sidecut radius is slightly on the longer end of the spectrum, with the 168 cm version's stated sidecut radius sitting at 19 meters.
Mount Point
At about -5.3 cm from true center, the Camox Birdie's recommended mount point is notably closer to center than most directional skis in its class, though it's not as centered as a pure park ski.
Weight
The Camox Birdie is a pretty light ski, with the 168 cm length weighing about 1700 grams per ski, though there are plenty of skis in its class that are similar when it comes to weight.
For reference, here are a number of our measured weights (per ski in grams) for some notable skis. Keep in mind the length differences to try to keep things apples-to-apples.
1556 & 1575 Liberty Genesis 96, 165 cm (19/20–20/21)
1592 & 1637 Head Kore 97 W, 170 cm (21/22)
1622 & 1638 Blizzard Black Pearl 88, 165 cm (20/21–22/23)
1638 & 1639 Atomic Maven 93 C, 172 cm (21/22–22/23)
1685 & 1731 Black Crows Camox Birdie, 168 cm (19/20–22/23)
1687 & 1695 Elan Ripstick 102 W, 170 cm (20/21–22/23)
1693 & 1710 Moment Sierra, 172 cm (21/22)
1709 & 1710 Blizzard Sheeva 10, 172 cm (17/18–22/23)
1762 & 1801 K2 Mindbender 98Ti Alliance, 168 cm (19/20–21/22)
1792 & 1792 Nordica Santa Ana 104 Free, 172 cm (20/21–22/23)
1797 & 1839 Rossignol Rallybird 102, 170 cm (20/21–22/23)
1812 & 1817 Salomon Stance 94 W, 174 cm (20/21–22/23)
1831 & 1852 Rossignol Rallybird 104 Ti, 171 cm (20/21–22/23)
1833 & 1842 Volkl Secret 96, 163 cm (21/22–22/23)
1881 & 1895 Salomon QST Lumen 99, 174 cm (19/20–21/22)
1903 & 1917 Nordica Santa Ana 93, 172 cm (20/21–22/23)
1917 & 1935 Nordica Santa Ana 98, 172 cm (20/21–22/23)
1928 & 1945 K2 Mindbender 99Ti W, 172 cm (22/23)
1933 & 1975 Volkl Secret 96, 170 cm (21/22–22/23)
1955 & 1990 Coalition Snow SOS, 173 cm (19/20–20/21)
1969 & 1988 4FRNT MSP CC, 171 cm (20/21–22/23)
1983 & 1999 Nordica Santa Ana 100, 177 cm (18/19 – 19/20)
2015 & 2024 Blizzard Black Pearl 97, 171 cm (20/21–22/23)
2104 & 2115 Volkl Secret 102, 170 cm (19/20–21/22)
Now, onto how all of this translates to on-snow performance:
FULL REVIEW
Chalky Steeps
Sascha Anastas (5'1", 100 lbs / 155 cm, 45 kg): Chalky, steep terrain is probably the terrain I gravitate most to and is usually the first place I test a ski. Generally, for this terrain, I tend to favor a ski that is fairly damp yet maneuverable, and in the past, I've also generally gotten along best with skis that have more reward mount points than the Camox Birdie. I tend to ski more directional than playfully, and in steep terrain when I need to feel more in control, I prefer to ski with a bit of forward pressure on the front of my boots to drive my skis precisely down each line.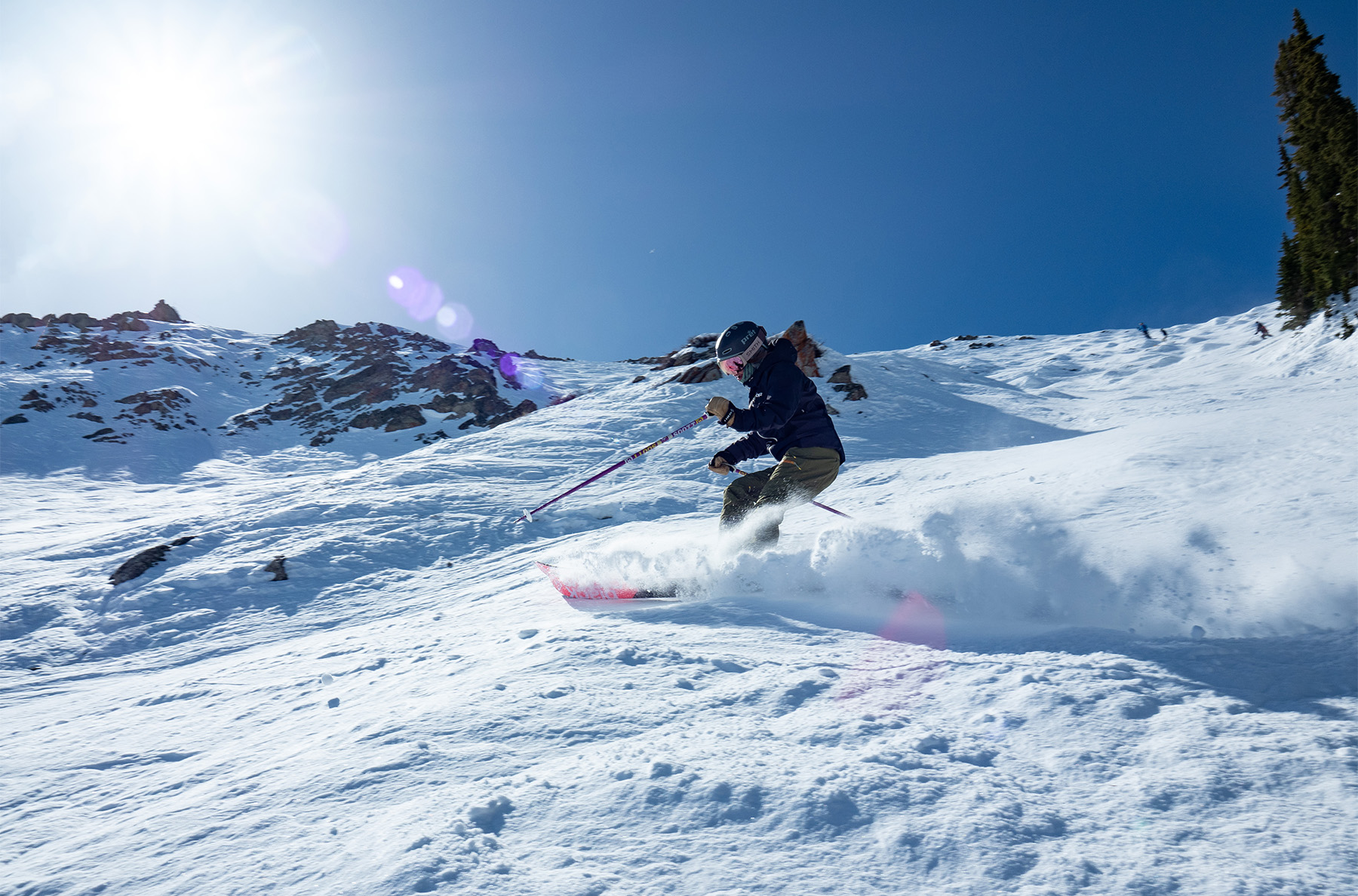 Though the Camox Birdie did not feel all that damp on groomers, I did not experience a ton of chatter on the rutted areas of the steeps. That said, I was initially somewhat reluctant to open it up and charge down more open, steep sections since I felt a little less at home with the centered mount point; while the ski allows for a fairly forward stance, it definitely took some getting used to, coming from more directional skis, which I think will be worth keeping in mind for those who typically ski skis with pretty rearward mount points. That said, as I got used to the ski and began feeling comfortable making bigger, faster turns, the ski felt more lively and playful. As was the case in tight moguls, I found that the Camox Birdie's stiff, minimally tapered tails were a little stubborn to release, meaning I had to either make some bigger, more drawn-out turns, or be more deliberate about unweighting the tails to make quick hop turns down the steeps.
Groomers
I found the Camox Birdie more intuitive on groomers than just about anywhere else and I didn't have a problem trusting the ski and getting it on edge. It seemed like the harder I pushed it, the more lively the Camox Birdie became. This ski certainly prefers larger turns to shorter ones, but this was not surprising, given the 168 cm length's stated 19-meter sidecut radius. Between that and its fairly long effective edge, the 168 cm Camox Birdie feels more like a ski that's in the low 170's in terms of "on-snow length." That said, I felt very balanced over the ski, and while its more centered mount point took some getting used to in steep and tight off-piste terrain, it felt pretty intuitive from the start on groomers.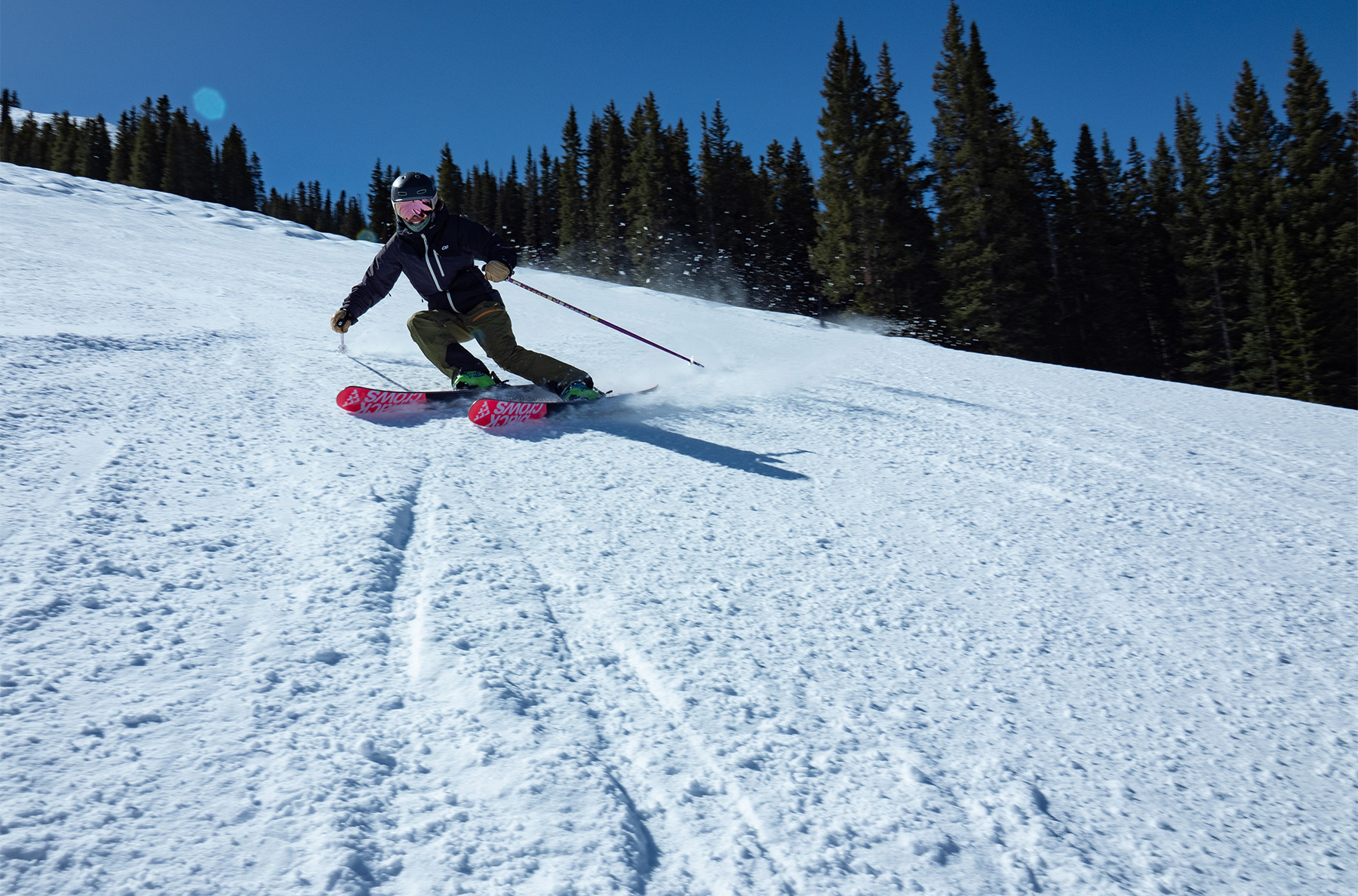 Overall, I would say the most impressive thing about this ski, especially in the groomers, was how easy it was to get the ski to pop / produce energy when exiting the turn and transitioning to the next. Just like what our male reviewers said about the longer Camox, the liveliness of the Camox Birdie is one of its standout traits.
Moguls, Trees & Tight Terrain
In tight terrain, the Camox Birdie felt most at home to me in areas with dispersed, large moguls where I could make relatively large turns, rather than really tight lines that require a ton of rapid turns. If I tried to take a more zipper-line or slash / slarve approach between the moguls, I sometimes found the tails hooking up and getting pushed into the back seat, though I fortunately found the ski to be fairly forgiving and I could quickly regain my balance. As our male reviewers said, I found the Camox Birdie to have a pretty big sweet spot, despite being a fairly stiff, mostly cambered ski.
As Luke and Dylan noted in their review of the Camox, this isn't a very loose ski that's really easy to release and slash around; I actually felt a little clumsy when trying to make quick, technical turns while keeping the ski on the ground. Because of this, I found that it was easier to catch a little bit of air off the moguls during each transition, and on a few occasions, I would get a little more air than I had anticipated and gap over the moguls, which I found to be quite fun. Again, this ski is very poppy.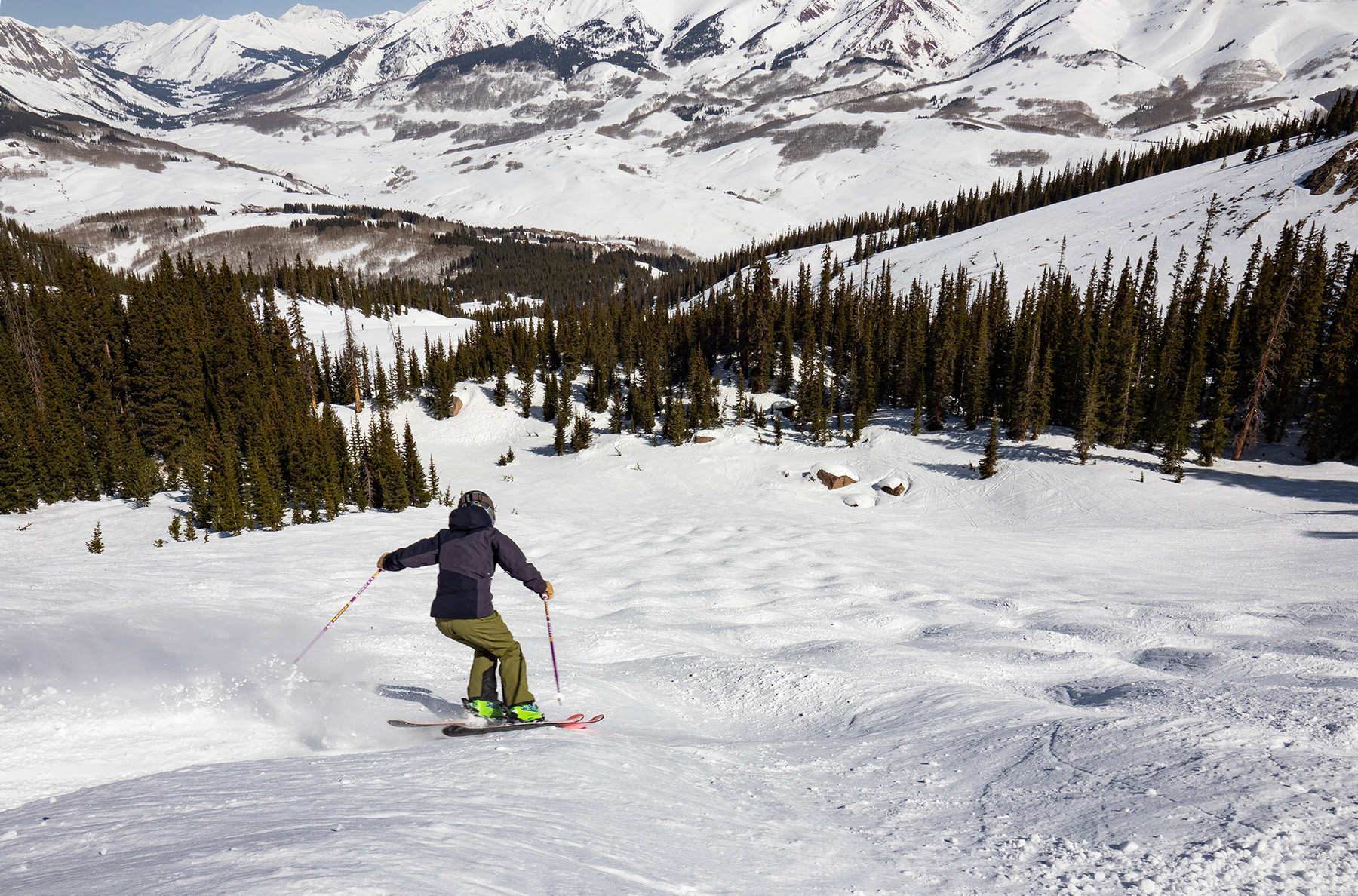 So if you don't tend to ski very dynamically and you do ski a lot of really tight bumps, you might be better off on something with more rocker and/or taper, such as the Liberty Genesis 101 or Blizzard Sheeva 10. But if you like to pop and hop your way through tight terrain in a dynamic fashion, the Camox Birdie can be a lot of fun.
Powder
At 97 mm underfoot, the Camox Birdie isn't really designed with deep snow in mind, and given the option, I would certainly opt for a wider ski. But I was still curious to see how well this ski floated in somewhat deep powder since it could be a good 1-ski-quiver for a lot of people out there. So on a day when there was a reported 12 inches of fresh snow at Monarch, I grabbed the Camox Birdie. I found that they did an ok job of floating atop the fairly deep snow, but I did have to keep more weight on the back half of the ski to keep the tips from diving, which ultimately made for slower skiing (versus charging through the snow as I could on a wider ski). This is basically what I expected; there are several skis (e.g., Liberty Genesis 101 & Salomon QST Lumen 99) that do a better job of planing up in deep snow for their width, whereas the Camox Birdie feels about average in this regard.
Chop & Crud
Once the powder was chopped up, the Camox Birdie still seemed to prefer larger turns and felt very energetic and poppy — two common themes with this ski. In heavier and wetter spring chop, Camox Birdie did not get too knocked around a whole lot, nor did it take a tremendous amount of power to push the ski through the piles of soft snow, but I found that it was still more fun to get the ski off the ground and dynamically ski over the chop than to charge through it. In more set-up and firm chop, I did get pushed around if I tried to charge through so I really had to focus on keeping my weight on the downhill ski and driving my turns to keep the tips of the skis pushing thru the patches of snow or use the ski's playful tendencies to get in the air and jump turn around the piles of snow.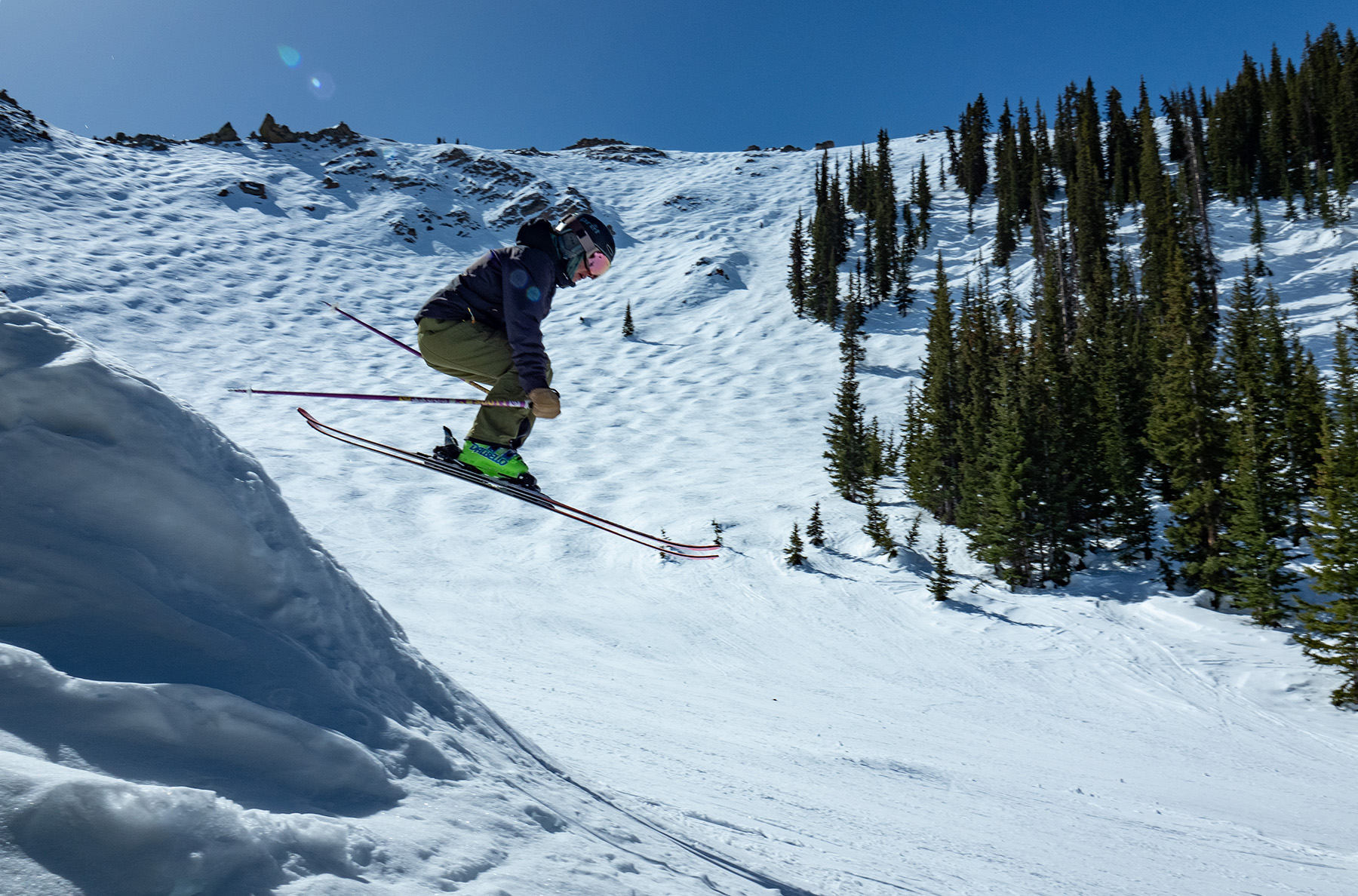 Similar to what I said in the Tight Terrain section, the Camox Birdie is best suited for those who like to ski pretty dynamically — seeking out little airs and taking advantage of its lively flex pattern. If you prefer a ski that feels very planted and calm when skiing through chop and crud, I'd look to something heavier like the K2 Mindbender 99Ti W or Nordica Santa Ana 98.
Bottom Line
The Black Crows Camox Birdie is a pretty versatile and playful all-mountain ski, though it may take more time than usual to really settle into this ski and figure it out if you're coming from more directional, rearward-mounted skis. Once I adjusted to its more forward mount point, though, the Camox Birdie proved to be fairly stable, easy to get on edge (and keep on edge) on piste, and remarkably energetic. Because it doesn't take a lot of power to get some energy out of this ski, I think an intermediate skier could really enjoy learning to load up and pop turns on it, and it could make for a good ski to progress on for those looking to ski in a more dynamic, playful style. At the same time, I think this would be a great ski for an advanced to expert skier with a more playful skiing style but who also enjoys carving and skiing a variety of terrain. It's not the best for carving tight turns, nor is it a really loose / surfy ski in tight spots, and those seeking a really damp, planted ski have better, heavier alternatives. But if you're looking to ski a little bit of everything and you want something that's lively and nimble, the Camox Birdie should be on your list.
Rocker Profile (decambered)
Tail Profile (decambered)