Ski: 2021-2022 Black Crows Camox, 186.5 cm
Test Location: Mt. Crested Butte, Colorado
Days Skied: ~15
Available Lengths: 168.1, 174.2, 180.4, 186.5 cm
Blister's Measured Tip-to-Tail Length (straight-tape pull): 184.6 cm
Blister's Measured Weight per Ski: 1925 & 1934 grams
Stated Dimensions: 131-97-119 mm
Blister's Measured Dimensions: 131.5-96.4-120.0 mm
Stated Sidecut Radius (186.5 cm): 20 meters
Measured Tip & Tail Splay (ski decambered): 54 mm / 38 mm
Measured Traditional Camber Underfoot: 9 mm
Core: poplar + fiberglass laminate
Base: sintered
Factory Recommended Mount Point: -6.1 cm from center; 86.2 cm from tail
Boots / Bindings: HEAD Raptor 140 RS; Atomic Hawx Ultra Professional; Tecnica Mach1 130 MV / Tyrolia Attack2 13 AT
[Note: Our review is being conducted on the 20/21 Camox, which returns unchanged for the 21/22 season.]

Intro
The Camox name has been in the Black Crows lineup for close to a decade now, and while it's pretty much always maintained its width of 97 mm underfoot, the rest of the ski has undergone several changes over the years.
The latest update was made for the 19/20 season, with the ski getting slightly less tapered at the tip and tail and reportedly coming with a slightly softer flex pattern. Those changes carried forward for the 20/21 and 21/22 seasons, just with a graphic update.
We've received loads of questions about the Camox over the years, and I've personally always been really curious about it. So we're happy to report that we're finally reviewing it. We've now updated this post with our full review, but first, let's dive into the design of this playful all-mountain ski.
What Black Crows says about the Camox
"This incomparable mid-fat all terrain ski is reputed for its tolerance and playfulness. The association of a very progressive flex and good lengthen side lines brings great manoeuvrability and strong hold at high speed. With a DNA derived from freestyle, the progressive and supple flex makes it easy to handle and adapted to progression , whereas its side lines give a very effective and stable edge. Creativity for everybody on all types of terrain."
Most of this is what we'd expect a brand to say about their 97mm-wide ski, though I think one of the important things to highlight is the Camox's blend of traditional elements from directional skis and some from more freestyle-oriented options. As we'll get into below, the Camox definitely strikes me as a mix between very playful skis and more directional ones.
Shape / Rocker Profile
Black Crows talks about the current Camox's "lengthened side lines" and that makes sense — this ski's tips or tails don't taper very much. Its effective edge is quite long, looking similar to some directional skis like the Nordica Enforcer 100, Rossignol BLACKOPS Sender, and Black Crows Justis. Compared to some of the more freestyle-oriented options in this class (e.g., J Skis Vacation, Volkl Revolt 104, Prior Northwest 100), the Camox's shape looks a bit more traditional.
That also holds true of the Camox's rocker profile — for the most part. It does have a twinned tail, but the Camox's rocker lines are pretty shallow. It also has a lot of camber underfoot. Our pair's camber underfoot measured in at almost a centimeter per ski, which is more than most skis we've measured. One thing I always heard from folks about the Camox was that it was very poppy, and seeing that camber underfoot made me inclined to believe them.
Flex Pattern
Here's how we'd characterize the flex pattern of the Camox:
Tips: 7.5
Shovels: 7.5-8
In Front of Toe Piece: 8-9.5
Underfoot: 10
Behind the Heel Piece: 9.5-8.5
Tails: 8
The Camox's flex pattern is pretty interesting. At the ends of its tips and tails, it's actually quite strong compared to most skis in its class, especially the more playful ones. But then the areas between the ends of the Camox and the middle have a pretty slow and smooth ramp-up in stiffness. So overall, I'd say it's stiffer than average at the ends, but maybe a bit softer than average in front of and behind the bindings.
Overall, the Camox's flex pattern reminds me of the Volkl Revolt 104, though the Camox's flex pattern feels a bit more directional, with a slightly stiffer tail.
Sidecut Radius
Nothing super unusual here. All lengths of the Camox, except for the 168.1 cm length, have a stated sidecut radius of 20 meters (the 168 cm's is 19 meters).
That's pretty much par for the course, if not slightly on the longer end of the spectrum for a playful, ~97mm-wide ski.
Mount Point
This is where I think it's most obvious that the Camox treads the line between freestyle and more directional all-mountain skis.
At -6 cm from true center, the Camox's mount point isn't as far back as most flatter-tailed skis, but it's also not as far forward as some pure freestyle skis like the Armada Edollo, K2 Reckoner 102, and Line Chronic.
Many of us at Blister have gotten along very well with skis with mount points around -6 cm from true center, primarily because they tend to let you ski them with a variety of skiing stances and styles. That mount point doesn't seem quite as common in skis as narrow as the Camox, so I was excited to see it.
Weight
The Camox is a fairly lightweight ski, though it's certainly not some huge outlier in this regard. When it comes to weight, the Camox is pretty similar to skis like the Liberty Helix 98, Liberty Origin 96, Fischer Ranger 94 FR, and K2 Reckoner 102.
For reference, here are a number of our measured weights (per ski in grams) for some notable skis. Keep in mind the length differences to try to keep things apples-to-apples.
1734 & 1750 Renoun Endurance 98, 184 cm (18/19–20/21)
1758 & 1758 Head Kore 93, 180 cm (19/20–20/21)
1803 & 1809 Line Chronic, 178 cm (19/20–20/21)
1807 & 1840 Atomic Bent Chetler 100, 188 cm (18/19–20/21)
1810 & 1828 Armada Declivity 92 Ti, 180 cm (20/21)
1863 & 1894 Blizzard Rustler 9, 180 cm (18/19–20/21)
1896 & 1942 K2 Reckoner 102, 184 cm (20/21)
1883 & 1906 Season Aero, 180 cm (20/21)
1921 & 1968 Head Kore 99, 188 cm (18/19–20/21)
1925 & 1934 Black Crows Camox, 186.5 cm (19/20–21/22)
1925 & 1937 Liberty Helix 98, 186 cm (18/19–20/21)
1936 & 2013 Salomon Stance 96, 182 cm (20/21)
1937 & 1945 Fischer Ranger 94 FR, 184 cm (19/20–20/21)
1966 & 1973 Liberty Origin 96, 187 cm (18/19–20/21)
1976 & 2028 Parlor Cardinal Pro, 182 cm (19/20–20/21)
1985 & 2006 Parlor Cardinal 100, 185 cm (16/17–20/21)
1994 & 2011 Fischer Ranger 99 Ti, 181 cm (19/20–20/21)
1998 & 2044 4FRNT MSP 99, 181 cm (17/18–20/21)
1999 & 2060 Line Blade, 181 cm (20/21)
2019 & 2022 Rossignol BLACKOPS Holyshred, 182 cm (18/19–20/21)
2049 & 2065 Volkl Mantra M5, 177 cm (18/19–20/21)
2055 & 2080 Salomon QST 99, 181 cm (19/20–20/21)
2078 & 2138 Black Crows Justis, 183 cm (20/21)
2080 & 2102 Armada Edollo, 180 cm (19/20–20/21)
2085 & 2096 Dynastar Menace 98, 181 cm (19/20–20/21)
2089 & 2105 Nordica Soul Rider 97, 185 cm (15/16–20/21)
2115 & 2149 J Skis Masterblaster, 181 cm (16/17–20/21)
2256 & 2284 Nordica Enforcer 94, 186 cm (20/21)
2281 & 2284 Blizzard Bonafide 97, 177 cm (20/21)
2311 & 2342 K2 Mindbender 99Ti, 184 cm (19/20–20/21)
Some Questions / Things We're Curious About
(1) Black Crows says the Camox blends progressive freestyle elements with those from more traditional all-mountain skis, and its specs seem to back that up. So do you have to be throwing tricks to enjoy this ski? And how playful will it feel compared to various park and all-mountain freestyle skis?
(2) The Camox has a pretty long effective edge, relatively short rocker lines, and a lot of camber. So how strong will it hold an edge on firm snow, and how easy will it be to slash around when the terrain gets tight and / or the snow gets soft?
(3) With its fairly strong flex pattern and moderately low weight, how well will the Camox handle firm, rough conditions?
Bottom Line (For Now)
Black Crows says the Camox offers "creativity for everybody on all types of terrain."
Looking at the design of the ski, it certainly seems like it could work for a pretty wide range of skiers, mostly due to its moderately forward mount point, accessible but still strong flex pattern, and fairly middle-of-the-road rocker / camber profile. And all of those elements also make us optimistic about its versatility across various conditions and terrain.
Blister Members can check out our initial thoughts on the Camox in our Flash Review linked below, and then stay tuned for our full review once we've spent more time on this ski.
Flash Review
Blister Members can read our Flash Review of the Camox for our initial on-snow impressions. Become a Blister member now to check out this and all of our Flash Reviews, plus get exclusive deals and discounts on skis, and personalized gear recommendations from us.
FULL REVIEW
Three of us spent time on the Camox at Mt. Crested Butte this year, and it's now time for all of us to chime in on this playful, versatile all-mountain ski.
Chalk
Luke Koppa (5'8", 155 lbs / 173 cm, 70 kg): I'm just gonna kick things off with where I had the most fun on the Camox — steep, nice, edgeable chalk. Fortunately, there was a whole bunch of it off Mt. CB's The North Face and High Lift t-bars this season, and the Camox offers a really fun ride in these conditions.
Granted, I like most skis in chalk, but as will be a theme, the Camox's blend of traits from directional and more playful skis equates to a versatile ski that I think a lot of skiers could get along well with.
In steeps, the Camox offers enough "bite" and edge grip to encourage aggressive skiing, yet it's more maneuverable, forgiving, and accepting of a neutral stance than many of the more rearward-mounted, flatter-tailed skis around this width.
The Camox is also really poppy. That's one consistent thing I'd heard about it before skiing it, and I can confirm that this ski has a lot of life to it. In steep chalk with mini-moguls (e.g., on Mt. CB's Headwall & Monument), it was easy to get the ski airborne and gap some bumps, but also pretty easy to stay in control thanks to the ski's pretty big sweet spot.
The Camox certainly isn't the loosest, most maneuverable ski, nor the most damp or stable. But in relatively forgiving conditions like nice chalk, it allowed me to confidently ski just about as hard as I wanted, yet was also pretty accessible and fun at slower speeds and when just pivoting turns down the fall line.
Dylan Wood (5'11", 155 lbs / 180 cm, 70 kg): Yep, when I think about my time on the Camox, chalky steeps were probably my favorite. I felt confident skiing fast and hard through chalk, thanks to ample edge hold from the Camox. It didn't have a totally locked-in feel though, it is definitely easier to release from a turn and feather than more traditional directional skis like the Black Crows Justis. While I wouldn't equate its maneuverability to something much more rockered, I'd say that it falls somewhere near the middle of the spectrum of precision and looseness.
I also agree with Luke in that the Camox is a very poppy ski. Not only did I notice this when popping off of moguls or small features, but it has a good amount of energy return when engaging the whole edge in chalky steeps. The Camox liked to spring me out of a turn and into the next one. This was most noticeable when making bigger, faster turns, but it also has somewhat of a springy feel when making quick, dynamic turns, pivoting down the fall line.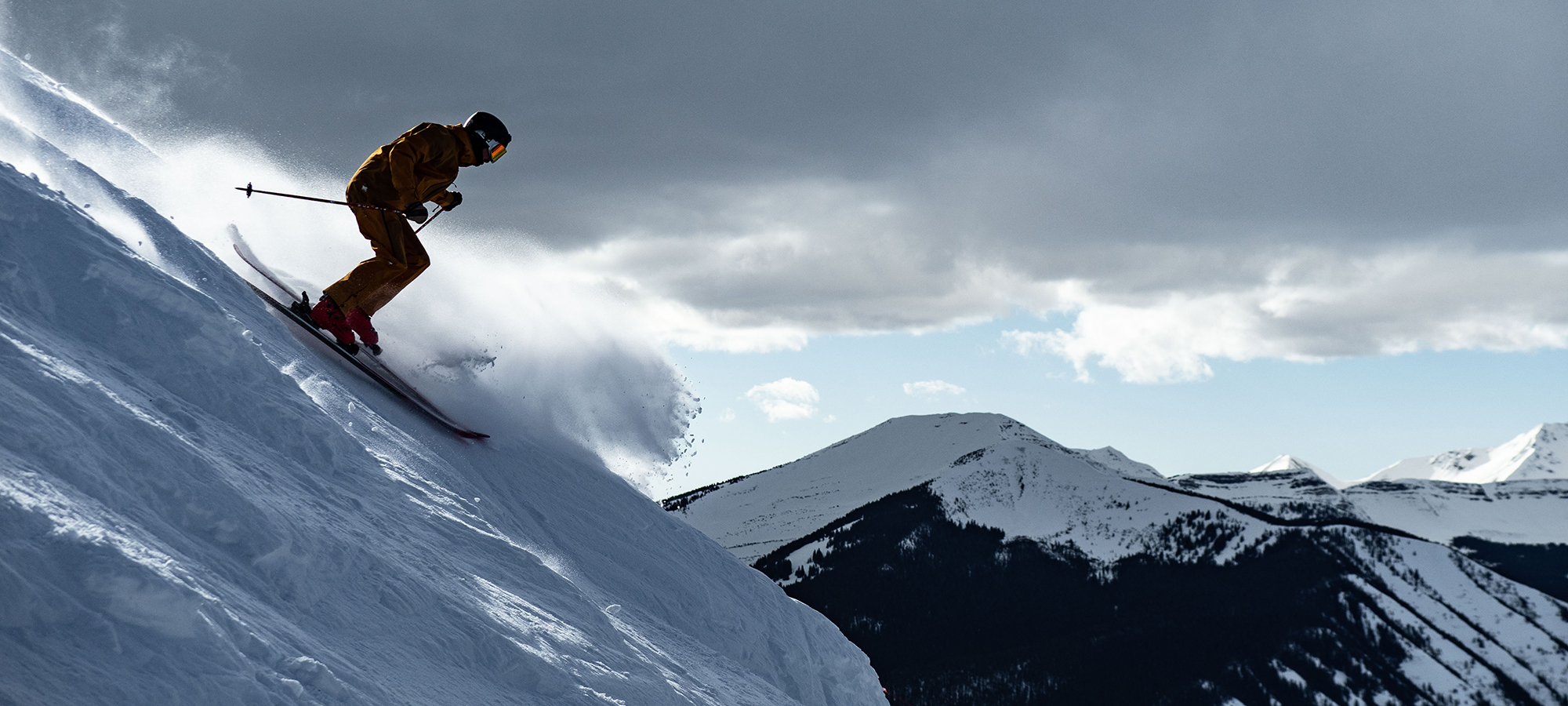 Jonathan Ellsworth (5'10", ~175 lbs / 178 cm, 79 kg): First of all, yes to chalky steeps. And you can count me personally uninterested in any ~97mm-wide inbounds ski that makes such conditions and terrain anything but the most fun ever. For the reasons that Luke and Dylan have talked about, the Camox really shines here. Especially when compared to heavier and more directional skis in this category, the Camox is super energetic and yes, poppy.
(We should definitely start a drinking game here: Luke has to do a shot for every time one of us continues to use the term "poppy.")
And on firmer snow, Dylan is right that there is a nice blend of precision and pivotability. Get the ski on edge, and it bites well. But its tails (while they are strong) are not difficult to break free.
Moguls, Trees, & Tight Terrain
Luke: As I just alluded to, the Camox kind of falls around the middle of the market when it comes to maneuverability. Especially looking at other skis designed with freestyle skiing in mind, the Camox has a lot of camber and fairly shallow rocker lines. Combined with its pretty long effective edge, this means that you can find skis that are easier to release and slash through tight spots.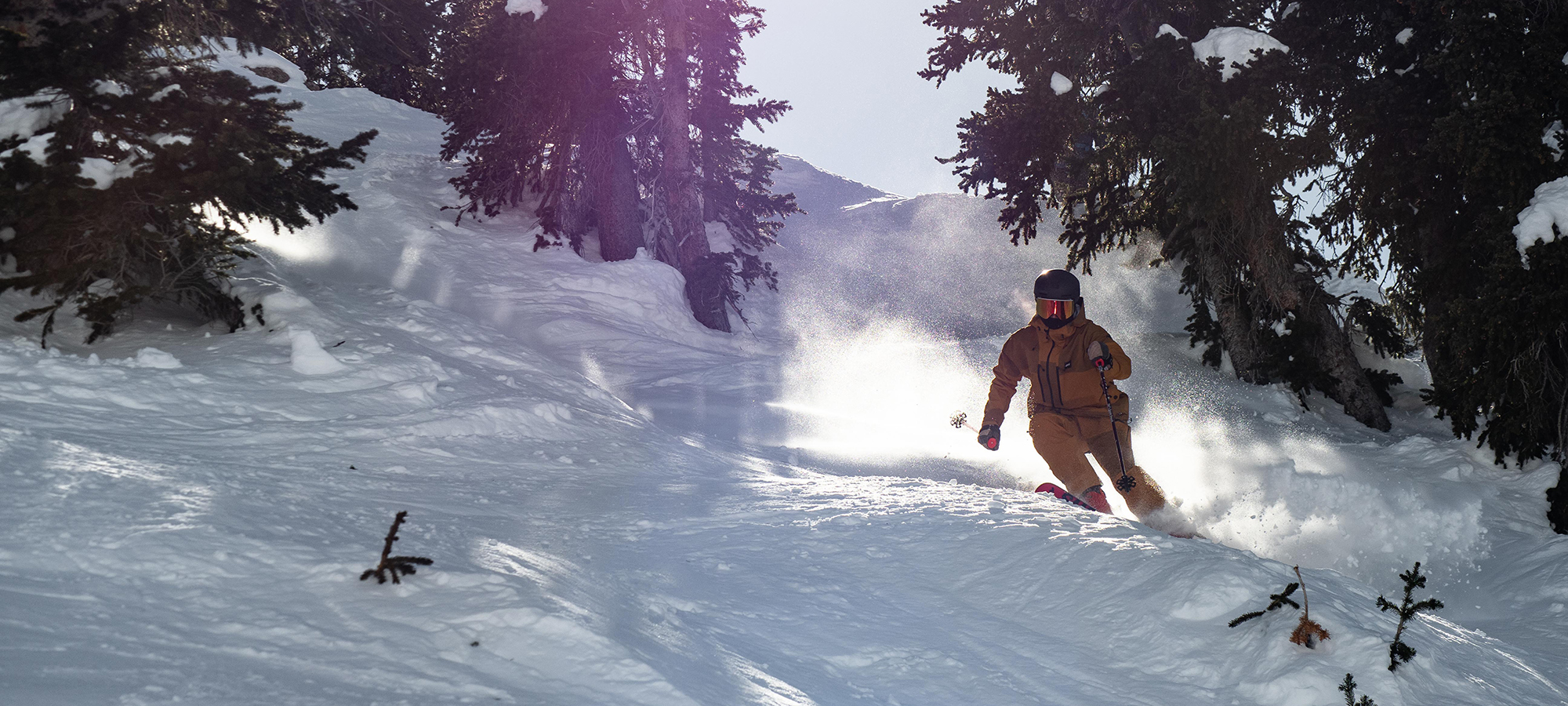 That said, the Camox is still a pretty easy ski in bumps and trees. Compared to skis with more tail rocker, you just have to focus on keeping a bit more pressure on the Camox's shovels and be a bit more dynamic when unweighting it to get it through big bumps and tight trees. And in more widely spaced mogul and tree runs, I got along really well with this ski — it lets me precisely carve my way through slightly more open lines, but is also pretty easy to pivot and slide when things get tighter.
The main thing I like about the Camox in bumps and trees is that it's pretty adaptable to a variety of skiing styles. Especially when trying to ski them fast, I'm often shifting my weight forward and back quite often in bumps. On more directional skis, that often means I feel out of control when I lay off their shovels. And on more forward-mounted skis, I often feel like I don't have enough support through the shovels to really drive them hard. But on the Camox, I could lean into the front about as hard as I wanted, but also ski with my weight balanced around the middle of the ski when needed.
Overall, the Camox wouldn't be my top pick if your number one priority is maneuverability and forgiveness in tight terrain, but for a lot of people, I think it makes for a versatile ski that isn't a burden in most terrain.
Dylan: Yep, I had a very similar experience as Luke with the Camox in moguls and other tight terrain. The tighter the trees and/or bigger the moguls I was skiing, I felt like I had to be more dynamic with the Camox, picking it up between turns. This isn't a ski that will let you slide and slarve very easily in tight terrain. Rather, I found it more intuitive to work with the ski's poppiness, being light on my feet between making hacky turns.
Once the terrain opened up, I could ski faster and carve and feather the Camox around a bit more and didn't feel that such a dynamic style was required. I do agree with Luke in that the Camox isn't limited to a certain skiing stance in tight terrain – it has a big sweet spot that allows the skier to drive the shovels and doesn't totally punish backseat skiing. However, in really tight terrain, I believe that unweighting the Camox is pretty necessary to get it to do what you want. I wouldn't say that this ski is surfy or a total charger in tight terrain, it falls somewhere in the middle.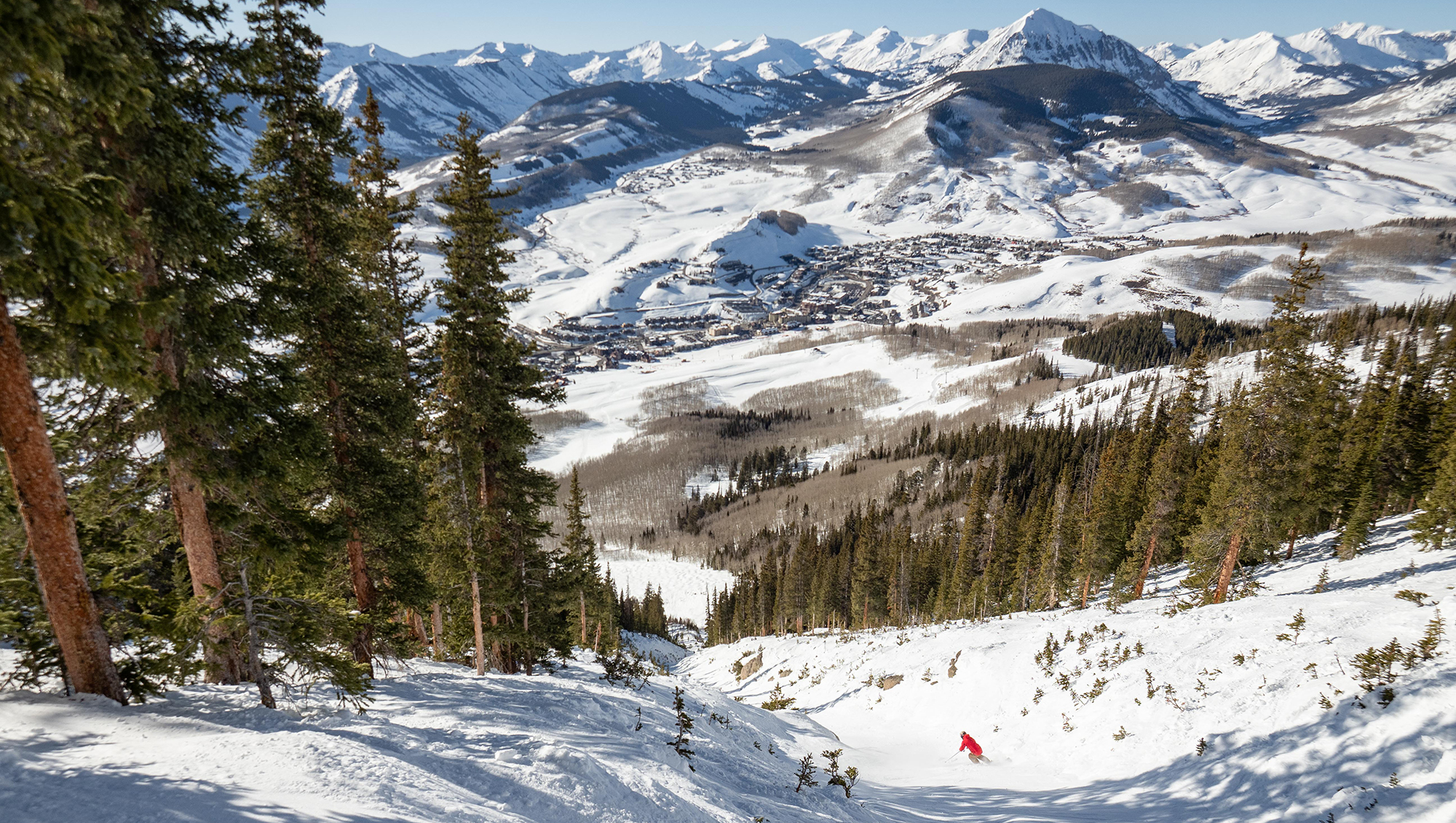 Jonathan: I think the most useful thing that I can add here is that I think Luke and Dylan are arguably downplaying how strong the tail of the Camox is. The tighter the moguls or the more unevenly spaced the moguls, the more (I'd say) this quickly becomes a ski best suited for advanced and expert skiers. And the more open those trees or moguls are, the more willing I'd be to suggest this ski to intermediate skiers — especially the heavier the skier (e.g., let's say the more above 180 lbs you weigh, the less demanding I think you'll find these tails to be in tighter terrain, while the ski ought to still feel supportive).
But for advanced skiers in tight trees or moguls, these skis are a blast. Rockstar skis. Rocketships. They provide so much energy and rebound that you are in for an exhilarating ride. I tend to get along well with heavier, more planted skis, and these Camox were a fun departure.
Soft Chop
Luke: I was initially a bit worried about how the Camox would handle softer conditions, mostly because of its fairly shallow rocker lines and minimally tapered tips and tails. And again, while there are many better options if you want a really loose, surfy ski, the Camox has still been lots of fun in ~6" / 15 cm of soft, cut-up snow.
With a pretty moderate weight for its size (and its lively flex pattern), the Camox was most enjoyable when I was skiing these conditions with a pretty dynamic, light-on-my-feet style — try to pop off every little mound, and ski fast through the more consistent snow. Trying to make GS turns through choppy conditions will result in some deflection, but compared to many other skis in its class, the Camox feels pretty average in terms of stability in these conditions.
This ski wouldn't be my first pick if I planned on skiing a lot of deep snow on my ~100mm-wide ski, but for most soft conditions, it performs admirably for its width.
Dylan: Yeah, the Camox just doesn't feel at home in soft chop in the same way that a lot of heavier and / or more rockered, surfier skis do. I'm on the same page as Luke here – the Camox was most enjoyable in soft chop when skied with a dynamic style, taking full advantage of how poppy it is. It didn't feel as solid when trying to blast through chop on edge, but it also wasn't totally unhinged and harsh.
Firm Chop / Crud
Luke: Like most skis that are coming in at a similar weight, the Camox requires a pretty conservative, controlled approach when conditions are really nasty. It can be skied quite hard if we're just talking about the pushed-around snow on groomers at the end of the day, or, say, two days after a storm. But if conditions are really nasty, the Camox will get knocked around a good bit.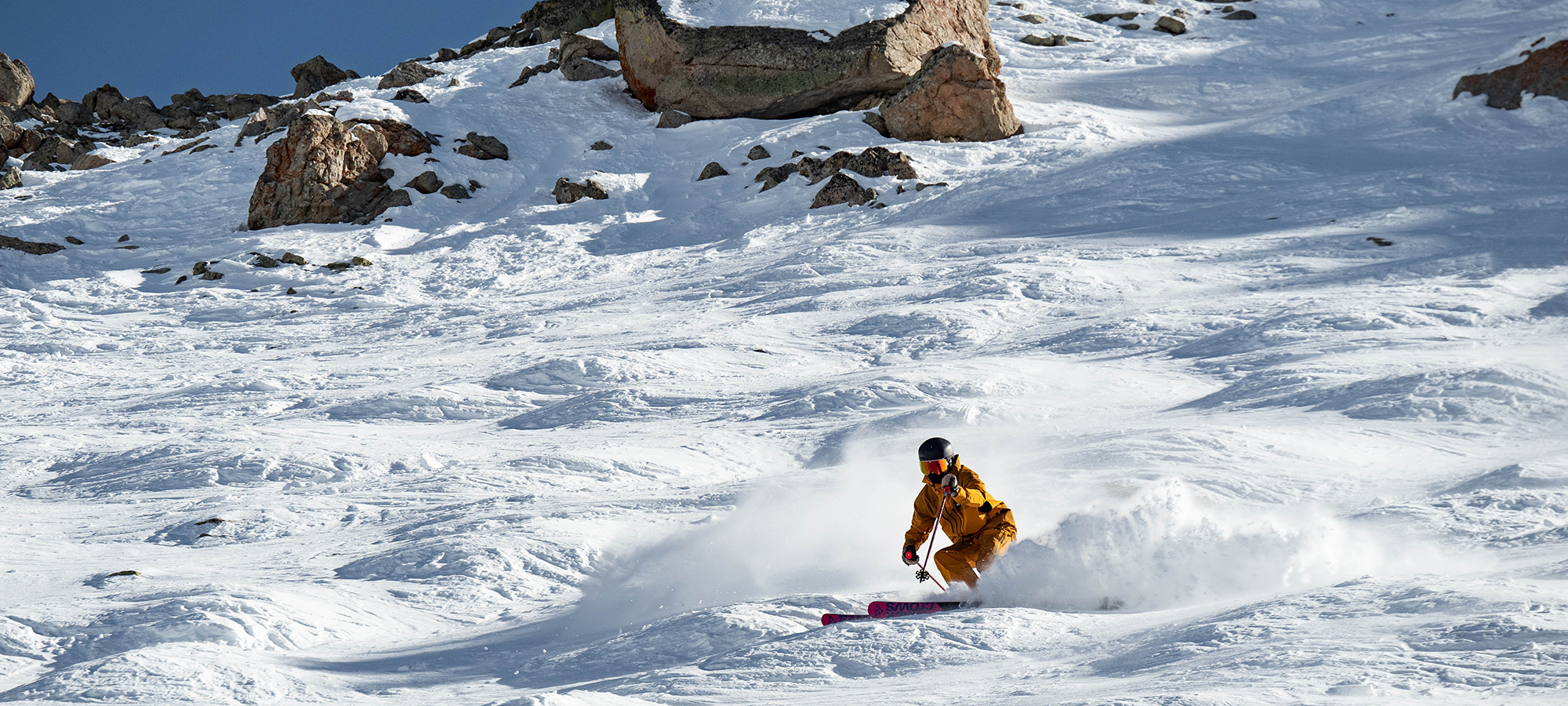 To me, if I'm on a ski that's about the same weight as the Camox, I know I'm not going to want to ski it super fast in rough conditions, so I mostly want it to be predictable. The Camox checks that box. Its big sweet spot I mentioned above applies here — I can push it hard when I feel like it, but it doesn't require an aggressive pilot 100% of the time.
Dylan: While the Camox is no ultra-damp charger in firm, variable snow, I actually thought that the Camox skied a little better than its weight would suggest. I suspect that this can be credited to its longer effective edge – it just felt like it stayed on track and was more planted in firm crud than other similarly lightweight skis with more rocker and less camber (like the 4FRNT Devastator).
While the Camox is not even close to the top of my list for skis I'd pick if I mostly skied firm, variable snow and wanted to ski fast and enjoy the conditions, I'd call it one of the best relatively lightweight all-mountain freestyle skis for this type of skiing that I've been on.
Jonathan: The firmer the conditions, I'd suggest that you either pick a ski with a bit more weight and a bit more plush suspension, or stick with the Camox, and keep a lighter-on-your-feet, more active style. Either will work.
Groomers
Luke: The Camox is a pretty solid carver, especially compared to other freestyle-oriented skis.
If things like max edge hold, quick turn initiation, or ultra-tight turns are big priorities for you, there are better options than the Camox. Despite its minimal tip and tail rocker (for a playful ski) and long effective edge, the Camox doesn't feel like a ski that instantly pulls me into a turn with minimal effort. Once you get some speed going, the Camox carves better than a lot of more maneuverable, playful skis with deeper rocker lines, and I've found its edge hold to be good on everything except scraped-off, icy sections. And conditions are easily edgeable and you put in the effort, it'll also produce lots of energy coming out of a turn.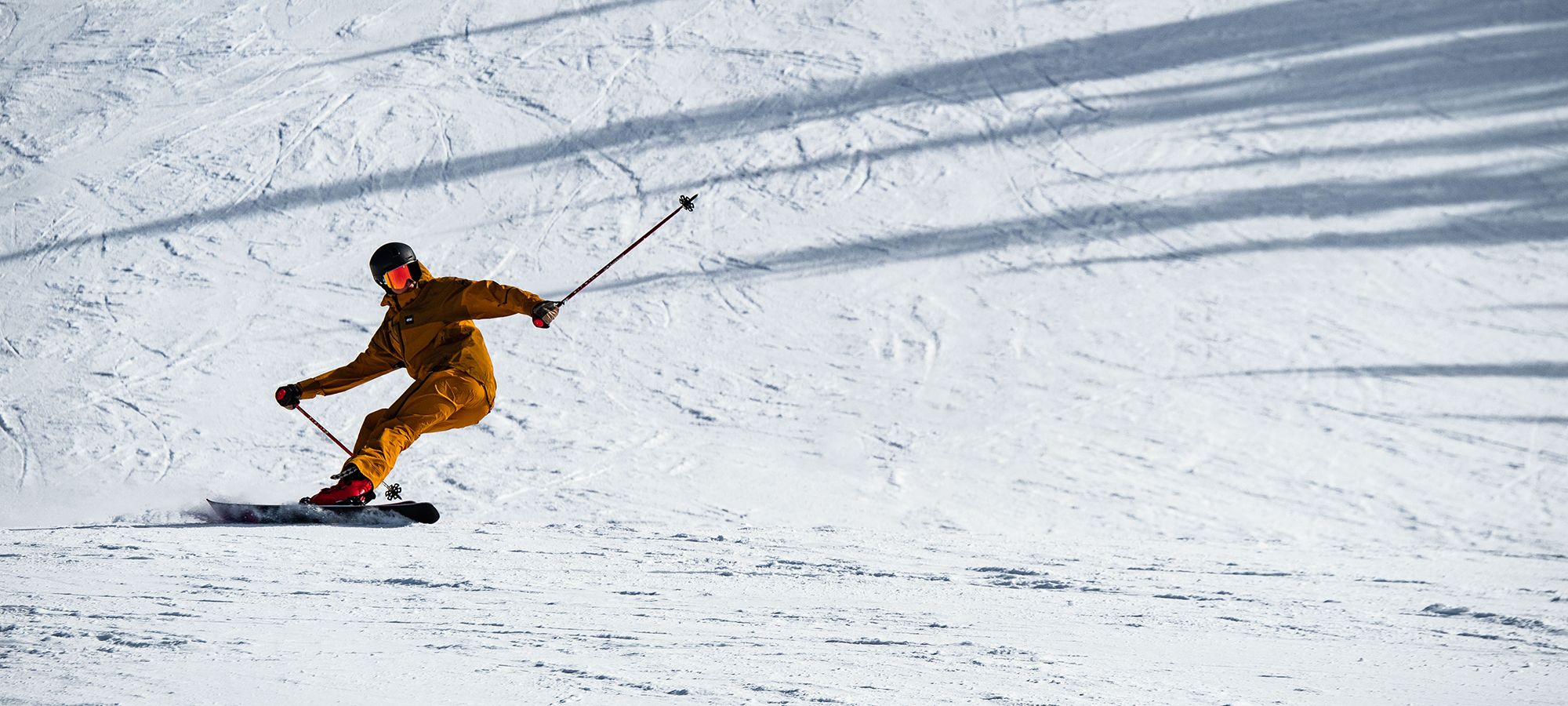 So the Camox isn't the best carving ski around this width by any means, but especially compared to similarly playful skis, the Camox is quite good on groomers.
Dylan: I have pretty similar thoughts here as Luke. The Camox is a good (but not great) carver.
It didn't initiate turns very aggressively, but what I liked most about the Camox on groomers was its edge hold. I felt like I could dig into pretty icy snow that I would be hesitant about committing to on a more rockered ski. Again, this is all relative to other all-mountain freestyle skis, there are more directional and skinnier skis that have far better edge hold than the Camox. I also found that the Camox has great energy return out of clean, carved turns, similar to what I experienced in chalk.
All in all, I'm on the same page as Luke here – the Camox sets itself apart from other freestyle-oriented skis on groomers, but can't hang with skis like the Volkl M6 Mantra.
Jonathan: Interesting to read Luke and Dylan's take here. Admittedly, I think I got lucky and mostly skied the Camox on nice, soft groomers. And when the snow was soft on Mt. CB's International, damn this ski was fun to carve. International is always an exercise in bravery and a test of a ski's ability to hold an edge on its steeper pitches. And on those pitches, the firmer the snow, the more I want to be on a skinny dedicated carver.
Still, on International with softer conditions, the stability of the Camox was good, I'd call its edge hold good, and the energy you can get out of each turn is just really fun.
(And if you spend most of your time skiing lower-angle groomers, then the stability and edge hold become even less of a concern.)
Finally, I'd give this ski high marks for how well it works at low speeds, too. So if you're skiing with kids or skiing in a whiteout, the Camox will easily let you slide and feather your way down anything without any drama.
Playfulness
Luke: The Camox is very playful in some regards, less so in others.
This ski is really poppy, it feels pretty balanced in the air, it skis switch quite well, and it's fairly easy to slash around.
On the other hand, you can definitely find surfier, looser skis, as well as those that are more forgiving and easier to butter around.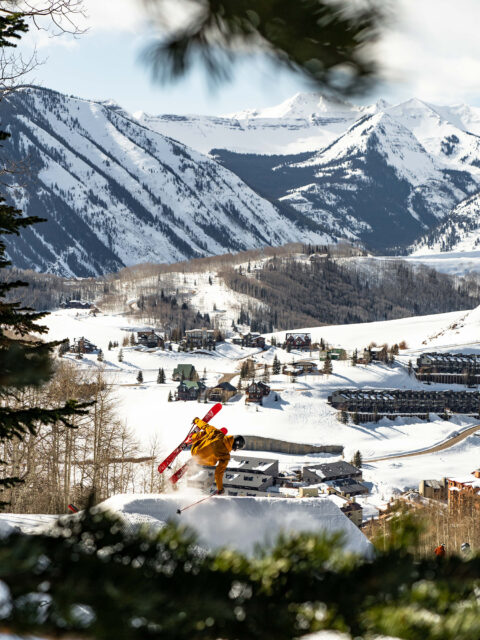 The Camox isn't some wide park ski, nor is it representative of the modern class of soft, rockered, ~100mm-wide freestyle skis like the K2 Reckoner 102 and J Skis Vacation. But it feels perfectly comfortable in the park (and you could always mount it a few cm closer to center if you spend a lot of time there), and it's generally more playful than a lot of skis around this width.
As someone who doesn't spin or flip super often but generally gets along with more freestyle-oriented skis, the Camox strikes a nice balance between being playful while not feeling out of place around the mountain or when I just want to ski with a more traditional, directional style.
Dylan: I couldn't have said it better myself. The Camox is playful in the sense that it will let you ski switch comfortably, get an impressive amount of air when popping off of features, and lap through the park. However, it is not a surfy, loose ski that is easy to do more slow-speed butters and maneuvers on.
I really liked the Camox in the park. I think it would make total sense for someone who likes to swing through the park and wants something that is stable on big jumps, rather than easy to butter and jib at slow speeds. It also felt perfectly comfortable on rails, and helped me pop high enough to get onto some of those trickier features. I also agree with Luke in that mounting the Camox 2ish cms forward of the recommended line will allow it to be a more practical park ski without compromising much of what makes it a good ski on the rest of the mountain.
Jonathan: This might be the highest compliment that we have paid to the Camox so far: Dylan and Luke really liked it in the park?? That actually really surprises me, since as a directional skier who tends to like some extremely non-park-friendly skis (e.g., the Blizzard Bonafide, the Volkl Mantra 102, etc), all of my comments about the Camox have really been made with skis like the Bonafide in mind. In other words, if Dylan and Luke will vouch for the Camox's playfulness (in certain regards), I will vouch for it as just a straight-up, directional, all-mountain ski. And that certainly puts the Camox into a much smaller category of skis.
Who's It For?
Luke: Intermediate through expert skiers who want a versatile ~100mm-wide all-mountain ski that's pretty playful, quick, and maneuverable, but that can still be pushed hard when conditions are fairly consistent or forgiving.
Who shouldn't get this ski? A few groups come to mind.
If you love really damp, planted, stable skis, then the fairly lightweight Camox won't be for you.
If you want a ski that's super easy to slash and pivot around, I'd look to skis with deeper rocker lines and / or more tapered tips and tails.
And if you're a beginner who primarily wants a ski that's very easy to ski at slower speeds, there are some more forgiving options (though the Camox could be a very good ski to grow with).
Outside of those groups, though, I think a lot of folks could appreciate this ski. It's not a product that really blows me away in any one particular way, but at the same time, I really haven't ever found myself on the Camox and feeling like I was seriously on the wrong ski. For a lot of people, that's what they want out of an all-mountain ski. And I think the Camox will be especially appealing if you generally get along well with skis that are mounted slightly closer to center, and / or you like a ski that feels pretty balanced and comfortable in the air.
Jonathan: See again my comments in the "Playfulness" section, and then let me just quickly add here: anyone used to heavier, more traditional, more directional all-mountain skis who thinks they might want to go a bit lighter, get a bit more forward, and have a more playful ski — that definitely isn't some dumbed-down ski — ought to check out the Camox. While I think it's a ski that intermediate skiers on more intermediate terrain will be able to really enjoy (and grow into, as Luke said), I think the more advanced your technique, the more you might enjoy this ski.
Bottom Line
The Black Crows Camox is a good example of a playful "all-mountain" ski. It may not be the absolute best ski for tearing up groomers or slashing through bumps and trees or lapping the park — but it can do all of those things quite well. The Camox is a ski that rarely feels out of place, and if you like a poppy, dynamic ski, it's one that can be a whole bunch of fun.
And on that note, it's time for Luke to go do some shots, while Blister members can now check out our Deep Dive Comparisons of the Camox to a bunch of other skis.
Deep Dive Comparisons
Become a Blister Member or Deep Dive subscriber to check out our Deep Dive comparisons of the Camox to see how it compares to the Black Crows Atris, Black Crows Justis, Liberty Origin 96, Blizzard Rustler 9, Line Sick Day 104, Season Aero, Nordica Soul Rider 97, Dynastar Menace 98, Prior Northwest 100, K2 Reckoner 102, Rossignol BLACKOPS Holyshred, Fischer Ranger 94 FR, J Skis Masterblaster, Armada Declivity 92 Ti, Salomon QST 99, Salomon QST 98, & 4FRNT MSP 99.