Ski: 2021-2022 Blizzard Black Pearl 97, 171 cm
Test Location: Mt. Crested Butte, Colorado
Days Skied: 15
Available Lengths: 153, 159, 165, 171, 177
Blister's Measured Tip-to-Tail Length (straight-tape pull): 169.6 cm
Blister's Measured Weight per Ski: 2015 & 2024 g
Stated Dimensions: 136.5-97-118.5 mm
Blister's Measured Dimensions: 135.5–96.2-117.8 mm
Stated Sidecut Radius (171 cm): 16 m
Measured Tip & Tail Splay (ski decambered): 67 mm / 15 mm
Measured Traditional Camber Underfoot: 3.5 mm
Core: beech/poplar + partial titanal layer + carbon and fiberglass laminate
Base: Sintered
Factory Recommended Mount Point: -11 cm / 73.8 cm from tail
Boots / Bindings / Wax: Nordica Promachine 115 W, Tecnica Cochise Pro W / Tyrolia Attack 13 AT / mountainFLOW All-Temp

Intro
Built with an all-new construction for 20/21 that carries over into 21/22, the latest Blizzard Black Pearl 97 represents a notable change in the line, with a significant ramp-up in overall stiffness and stability, relative to older generations of the Black Pearl 98.
After 15 days across wide-ranging conditions, the Black Pearl 97 has proven to be one of the more powerful women-specific skis available. For this reason, it's a really impressive ski, but that also means it won't be for everyone. Here, I'll discuss who should and should not have this ski near the top of their list.
What Blizzard Says about the Black Pearl 97
"The Black Pearl 97 with TrueBlend Flipcore and a Women's specific design is a versatile, fun, high-performance, all-terrain women's ski that, regardless of conditions, allows women to ski like a boss. With input from our Women2Women panel, real-world testing and next-level Austrian engineering the Black Pearl 97 empowers women every day, in every condition. It carves groomers with perfection, charges through chopped-up crud and makes challenging snow conditions easy to ride. It feels like magic in soft, light powder. It's the kind of ski that makes you feel stronger, ski better and tackle every day with confidence."
"The Black Pearl 97 is one of the stiffest, most damp, and most stable skis in our women-specific sections. It is a great ski for charging fast on groomers and can also rip around the whole mountain if you're an advanced or expert skier who prefers stability over accessibility. While it's capable of making tight carved turns, the BP 97 greatly prefers to be on edge, rather than sliding or pivoting around. In tight bumps, or when you are just not on your A-game, it can feel punishing. But if you often feel the need to stick to men's/unisex skis cause you find them more stable, the BP 97 is a women-specific ski that will likely change your mind – while being easier overall than the unisex Blizzard Bonafide 97. It won't work for nearly as many people as the easier Black Pearl 88, but the 97 is certainly one of the best women-specific skis for those who like to go fast."
Construction
The Black Pearl 97's "W.S.D Trueblend Flipcore Construction" consists of dozens of small strips of poplar and beech wood assembled in a grid-like structure. The concept of wood stringers is not unique to this ski, but Blizzard has worked to precisely impact the flex of the ski by increasing the number of wood stringers and adjusting the pattern to create a stiffer flex pattern underfoot, and softer flex in the tip and tail. There's also a full-width, partial-length sheet of titanal around the binding area, and a mix of carbon and fiberglass to finish it off.
Shape and Rocker Profile
The Blizzard Black Pearl 97 has the same shape and rocker profile as the men's / unisex Bonafide 97. Compared to previous versions of the Bonafide and Black Pearl 98, the new versions of both have shallower rocker lines, but they maintain the pretty traditional, minimally tapered tip and tail shape.
Flex Pattern
Tips: 6-6.5
Shovels: 7-8
In Front of Toe Piece: 8-9.5
Underfoot: 9.5
Behind the Heel Piece: 9.5-8.5
Tails: 8-6.5
The Black Pearl 97 has a stiff flex pattern underfoot and through the midsection of the ski. For how stable the ski is, the flex pattern in the tip and tail is a bit softer than I expected (when hand flexing it). On snow, the tip and tail still felt pretty stout. Overall, the ski's flex pattern feels smooth and predictable from tip to tail, while on edge.
Weight
The Black Pearl 97 is a pretty heavy ski. While the 21/22 Black Pearl 97 bears a closer resemblance to the men's Bonafide (a ski I have really liked in the past) than the previous Black Pearl 98, it certainly comes with an added weight (which is probably part of why I preferred the old Bonafide to the old Black Pearl 98).
Much of what feels great about the Black Pearl 97 comes down to its damp ride quality, but it is one of the heaviest women-specific skis we have weighed, with the main exception being the Volkl Secret 102. And, granted, there are several other skis in its class that aren't super far off in terms of weight.
The upside is that, compared to previous iterations of the Black Pearl skis, the Black Pearl 97 feels much more damp, planted, and less twitchy / unstable. For all the conditions the Black Pearl 97 handles best, its weight can be very advantageous, especially on firm and unforgiving snow.
For reference, here are a number of our measured weights (per ski in grams) for some notable skis. Keep in mind the length differences to try to keep things apples-to-apples.
1556 & 1575 Liberty Genesis 96, 165 cm (19/20–20/21)
1592 & 1637 Head Kore 97 W, 170 cm (21/22)
1622 & 1638 Blizzard Black Pearl 88, 165 cm (20/21–21/22)
1638 & 1639 Atomic Maven 93 C, 172 cm (21/22)
1687 & 1695 Elan Ripstick 102 W, 170 cm (20/21–21/22)
1693 & 1710 Moment Sierra, 172 cm (21/22)
1709 & 1710 Blizzard Sheeva 10, 172 cm (17/18–21/22)
1762 & 1801 K2 Mindbender 98Ti Alliance, 168 cm (19/20–21/22)
1792 & 1792 Nordica Santa Ana 104 Free, 172 cm (20/21–21/22)
1797 & 1839 Rossignol BLACKOPS Rallybird, 170 cm (20/21–21/22)
1812 & 1817 Salomon Stance 94 W, 174 cm (20/21–21/22)
1831 & 1852 Rossignol BLACKOPS Rallybird Ti, 171 cm (20/21–21/22)
1833 & 1842 Volkl Secret 96, 163 cm (21/22)
1881 & 1895 Salomon QST Lumen 99, 174 cm (19/20–21/22)
1903 & 1917 Nordica Santa Ana 93, 172 cm (20/21–21/22)
1917 & 1935 Nordica Santa Ana 98, 172 cm (20/21–21/22)
1933 & 1975 Volkl Secret 96, 170 cm (21/22)
1955 & 1990 Coalition Snow SOS, 173 cm (19/20–20/21)
1969 & 1988 4FRNT MSP CC, 171 cm (20/21–21/22)
2015 & 2024 Blizzard Black Pearl 97, 171 cm (20/21–21/22)
2104 & 2115 Volkl Secret 102, 170 cm (19/20–21/22)
Now, onto how all of this translates to on-snow performance:
FULL REVIEW
Groomers
Kara Williard: (5'9", 167 lbs / 175 cm, 75.7 kg): After a lot of groomer time, the 171 cm Black Pearl 97 stands out as one of the more precise and energetic carving skis I've used in the women-specific 95-100mm-wide category. The Black Pearl 97 is a rewarding and powerful ski when making fast turns, as it provides a lot of energy and rebound when you push it pretty hard.
As groomers turned icy or inconsistent, the Black Pearl 97 is the type of ski that only feels more locked in, which is a reassuring feeling as long as you're skiing it with pretty good technique. However, when trying to release the ski and make more slash-oriented turns, the Black Pearl 97 does not release as easily or feel as intuitive as many other skis in its class. It is a ski that feels best when driving the shovels and skiing it with an aggressive, forward stance.
While the Black Pearl 97 prefers slightly more open, large turns, it's capable of slowing down and making shorter, quicker turns — so long as, similar to what is mentioned above, you are working to keep the ski on edge and keeping pressure on its shovels. The more energy put into this ski with a forward, aggressive stance, the better it responds (as will be a theme throughout this review). The Black Pearl 97 isn't as favorable to a tired or not as technically-sound skiing style as many women-specific skis around the same width. Where the Black Pearl 97 really shows its potential is at high speeds, even on variable groomer snow. As the snow gets less consistent, the Black Pearl 97 continues to feel smooth — especially compared to lighter and/or more rockered skis. When on-piste and charging fast, the Black Pearl 97 provides notable suspension and stability.
The only ski that I've been on of a comparable width that is about as fun to carve is the Volkl Secret 96, with the two feeling similar overall on piste, but the Secret 96 being a bit easier to release from a carved turn.
Moguls, Trees, & Tight Terrain
Through tighter and more challenging terrain, the Black Pearl 97 requires a lot of energy input and pressure on its shovels in order to access a quicker, tighter turn. The Black Pearl 97 excels when executing a turn on edge, rather than a slash or skid, due to the overall stiffness of the tail and minimal tail rocker. When tired and attempting to turn the ski from the tail rather than initiating from the tip, it feels like a lot to maneuver, and isn't particularly intuitive. I first experienced this last season upon coming back from a knee injury, when the Black Pearl 97 definitely wouldn't have been my top pick for getting back into ski shape.
As I regained my ski legs and began to feel like I could bend the ski and put more power into the turn, the Black Pearl 97 transformed into a responsive ski. However, it still isn't a very forgiving ski. In easier, softer, smaller bumps, the ski feels just right for me in terms of its ability to maneuver through them, but in more challenging bumps (firmer, tighter, bigger), you need to be willing to work and maintain a forward stance. This was particularly obvious in large and firm moguls, where any slight mistake in turn execution made it obvious just how stiff this ski is, and really required me to focus on finishing each turn all the way through (or otherwise be punished). The Black Pearl 97 isn't a playful or forgiving ski, so if you're just starting to venture off piste and/or want a ski that's easy from the start, this isn't it. But for experienced skiers, the Black Pearl 97 offers a level of support and suspension that's rare in the women-specific category.
The Black Pearl 97 is significantly heavier than a majority of the skis I've recently been navigating through tight terrain, and it shows. However, the Black Pearl 97 can be energetic and responsive, so despite its weight, it offers a lot of rebound to those who put in the effort. The swing weight and overall heft of this ski can prove exhausting at the end of the long day, as it requires consistent precision and doesn't feel friendly when you're feeling tired in the moguls.
When compared with the Volkl Secret 96, the Black Pearl 97 is pretty similar in terms of overall stability and dampness. However, the Secret 96 feels a bit quicker and more forgiving, particularly in the tail, and is a little more lenient when it comes to tired legs.
For someone who prefers a stiff and damp ski when powering turns through bumps, the Black Pearl 97 is a great choice. However, for someone looking to work on more skillful technique through moguls, this ski can feel like a lot. For someone wishing for a slightly more playful or forgiving ski for moguls and tight terrain, the 4FRNT MSP CC, Atomic Maven 93 C, or Nordica Santa Ana 93 are all viable options.
Steeps
Firm steeps are where I first fell in love with the men's version of this ski, the old Bonafide (more precisely, the 17/18–19/20 'V3' Bonafide), and for many of the same reasons, the Black Pearl 97 is a phenomenal ski in steep terrain — if you are looking for something damp, supportive, and responsive.
For many years, I felt inclined to ski the men's Bonafide (in both the 173 cm and 180 cm lengths) because the Black Pearl series just didn't offer the traits that were most prominent in the Bonafide series, namely dampness and stability. With this version of the 171 cm Black Pearl 97, that is certainly no longer true. It feels reminiscent of the V3 Bonafide, in terms of overall dampness and stability, particularly on firm, steep terrain.

Same as in other terrain, I felt that I had to really drive the shovels of the Black Pearl 97 to initiate a turn in steep terrain. For someone who prefers a more playful, looser, more forgiving ski on steeps, or who skis from a more centered stance, the Blizzard Sheeva 10 certainly lends itself to that skiing style better than the Black Pearl 97.
The power and suspension of this ski really shines when the steeps are super firm and you can execute a turn without feeling the chatter of unforgiving snow rattle through your bones. This is a robust ski that handles the chalky, steep terrain of Mt. Crested Butte really well. When the steeps are a little more forgiving, I would gravitate toward a slightly more forgiving and more playful ski, such as the 4FRNT MSP CC, the Volkl Secret 96, or the Nordica Santa Ana 104 Free, since the smooth and strong ride of the Black Pearl 97 wouldn't feel as necessary in more forgiving snow.
Powder
Not the most ideal powder ski, the Black Pearl 97 is pretty heavy, not very playful or loose, and can feel a bit bogged down and demanding in deeper snow. On less deep days with more of a "dust on crust" sensation, the Bonafide is a pretty fun and smooth ski.
For deeper days over 6", I wouldn't gravitate towards the Black Pearl, and would favor the Blizzard Sheeva 10, Sheeva 11, or Nordica Santa Ana 104 Free, for better overall flotation and maneuverability in soft snow.
Soft Chop
The weight and suspension of the Black Pearl 97 feels best when charging through soft and choppy snow. It's a really fun ski for slicing through thick chop and inconsistent snow in a smooth manner, though if you prefer to make lots of shorter, slash-ier turns when the soft snow gets cut up, it's not your best choice.
The Black Pearl 97 offers a similarly smooth ride through chop to that of the Volkl Secret 96, with both skis being near the top of their class when it comes to stability. Compared to the Black Pearl 97, the Blizzard Sheeva 10 feels slightly less stable at speed in chop, but the Sheeva 10 also more easily accommodates smaller, more playful turns and feels more maneuverable and forgiving. It seems the faster you are willing to ski the Black Pearl 97, the smoother it feels. For someone who likes to slow down and cruise with smaller turns in chop, the Sheeva 10 provides a much more playful, easy going ride.
Firm Chop / Crud
In firm crud, the weight of Black Pearl 97 provides a damp ride, and it's a ski that stands out as a top pick (for its width) for firm conditions.
In really firm and unforgiving conditions, there are few skis (especially women-specific skis) that handle these snow conditions with as good of suspension as the Black Pearl 97. That said, this is true if you are staying in an aggressive forward stance on the ski. As soon as I found myself in the back seat, the Black Pearl 97 was back to feeling unforgiving and not very intuitive. But when committed to a consistently forward stance, the Black Pearl 97's smooth ride quality makes it stand out from most skis in its class.
Length
I would definitely recommend a conservative approach when choosing length for the Black Pearl 97. At 171 cm, the Black Pearl 97 felt just right for me in terms of stability, while still being able to handle quick maneuvers and skiing in tight terrain and moguls. Depending on the ski, I've been happy on anything from 170 cm to 180 cm, but with the Black Pearl 97, the 171 cm is as long as I would want to go.
Interestingly, I used to ski the 17/18–19/20 Blizzard Bonafide in a 180 cm without a second thought, but with the Black Pearl 97, I doubt I'd ever go longer unless I was only going to be skiing groomers and looking to make large, fast turns on open terrain.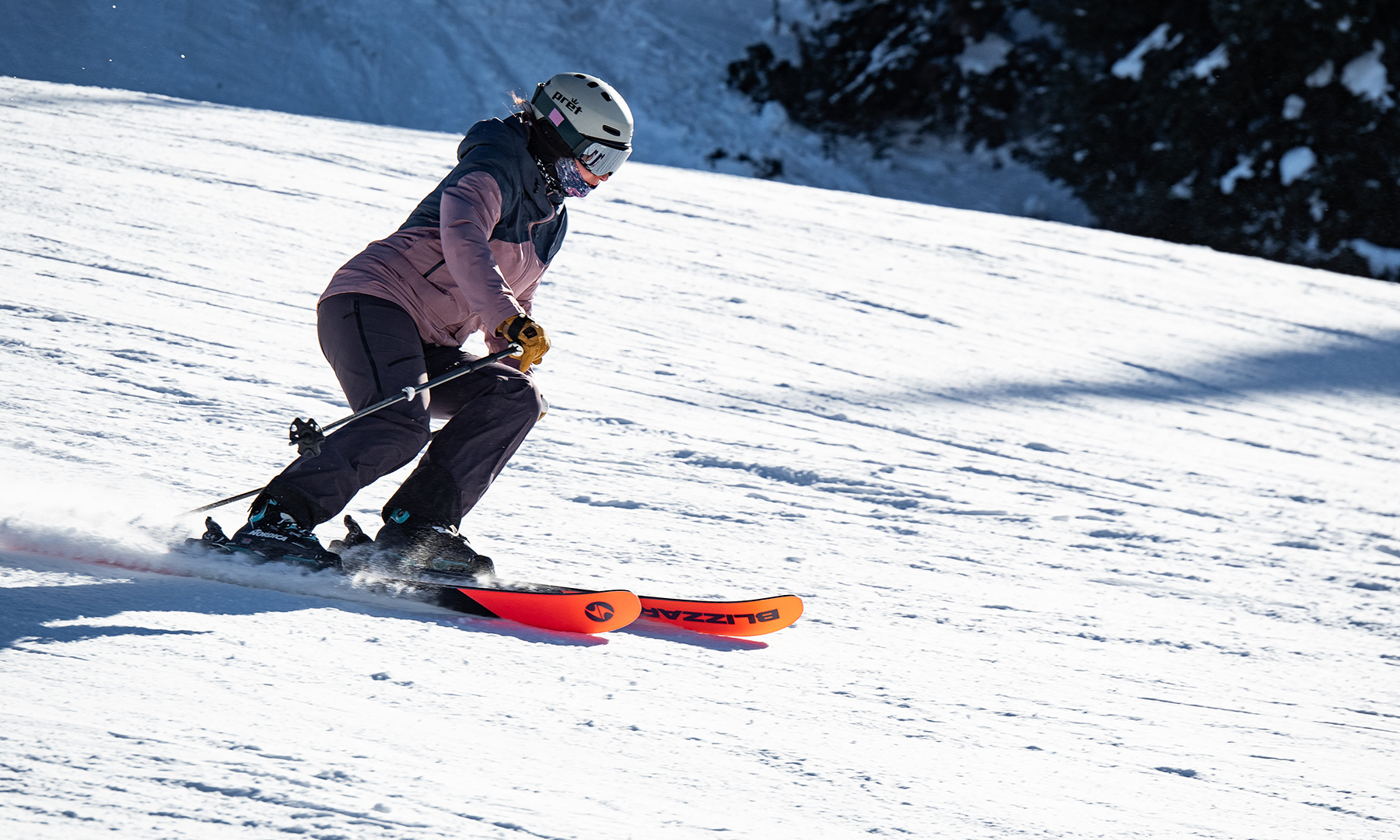 Who's It For?
The Blizzard Black Pearl 97 is a legitimately stable and hard-charging women-specific ski. It's a standout in this category for someone looking for a smooth, composed, and powerful ski to use across a variety of conditions. The Black Pearl 97 is an excellent choice for someone looking to add a ski that excels on firm snow, groomers, crud, and chop to their quiver, but it also has the potential to serve as a one-ski quiver for someone who is favorable to a powerful and stiff ski that prioritizes suspension and dampness over playfulness and maneuverability, or for someone who rarely finds themself in soft or deep conditions. For less experienced skiers or those who just prefer a quicker, more maneuverable, more playful, or more forgiving ski, you should probably look to something else (e.g., the Blizzard Sheeva series).
Bottom Line
As someone who skied the men's Blizzard Bonafide for years because the old women's Black Pearl skis didn't match its stability and suspension, it is reinvigorating to get on a women-specific ski that is as capable and powerful as the men's version. Blizzard didn't water down or lighten the construction of the latest Black Pearl 97 (in fact, they did the opposite), and while it's not the most forgiving of skis, the Black Pearl 97 is a hard-charging, stable, women-specific ski that handles a lot of conditions and terrain really well. It's not for everyone, but with so many alternatives in the women-specific category that are much lighter, more maneuverable, and more forgiving, it's awesome to have an option like the Black Pearl 97 on the market.
Rocker Profile (decambered)
Tail Profile (decambered)