Ski: 2022-2023 Nordica Santa Ana 98, 172 cm
Test Locations: Mt. Crested Butte, Colorado; Taos Ski Valley, New Mexico
Days Skied: ~15+
Available Lengths: 151, 158, 165, 172, 179 cm
Blister's Measured Tip-to-Tail Length: 171.0 cm
Stated Weight per Ski: 1840 grams
Blister's Measured Weight per Ski: 1917 & 1935 grams
Stated Dimensions: 132-98-120 mm
Blister's Measured Dimensions: 132.2-99.4-118.5 mm
Stated Sidecut Radius (172 cm): 16.3 meters
Measured Tip & Tail Splay (ski decambered): 68 mm / 24 mm
Measured Traditional Camber Underfoot: 4 mm
Core: Poplar/Balsa/Beech + Titanal (1 layer) + Carbon & Fiberglass Laminate
Base: sintered
Factory Recommended Mount Point: -8.2 cm from center; 77.3 cm from tail
Boots / Bindings / Wax: Salomon S/Max 120 W / Marker Griffon / mountainFLOW All-Temp
[Note: Our review was conducted on the 20/21 Santa Ana 98, which returned unchanged for 21/22 and 22/23, apart from graphics.]

Intro
The Santa Ana series has been in Nordica's lineup since the 2015/2016 season and since then, they've updated the construction multiple times, added new sizes, and most recently, added two much lighter, backcountry-specific options.
Inevitably, the first run I take on any pair of Santa Anas is on a groomer and after the first few turns, I'm usually smiling and rocketing towards the lift. I've had this experience with the Santa Ana 88, 93, 98, 104, and the older version of the 110 (I have yet to ski the new 110). For more information on the latest construction of the Santa Ana 98 (and the 88, 93, 104, and 110), refer to this article.
If you've read any of our ski quiver reviews, you'll know that several of us at Blister are fans of this series. And after spending a number of days on the Santa Ana 98 over the past two seasons, I am now ready to weigh in on this updated version of the Santa Ana 100. Continue reading to learn why the Santa Ana 98 might be an ideal candidate for a 1-ski quiver.
Women-Specific Aspects of the Santa Ana Series
A lot of skis companies have moved from separate men's and women's lines of skis to a women's and unisex line or to just a unisex line of skis with a broader range of lengths and multiple top sheet options. In contrast, Nordica has maintained unique men's and women's versions, or at least in the all-mountain and freeride categories, which the various Santa Ana and Enforcer skis fall under.
The biggest difference between the current versions of the Santa Ana and the Enforcer skis is that the Santa Anas feature only one partial sheet of titanal and the Enforcers have two full-length, full-width layers. And of course, lengths offered and top sheets are different between the two skis.
What Nordica Says about the Santa Ana 98
"If you're looking for a wider all-mountain ski that can carve groomers and give you confidence in fresh snow, the Santa Ana 98 is the perfect choice. This new ski reimagines what's possible while building on the legendary performance and versatility of the Santa Ana collection. Thanks to a fresh construction that pairs a wood core with carbon and a sheet of terrain-specific metal, the Santa Ana 98 offers a ride that's especially smooth and stable. This design also reduces weight and enhances edge hold and response to inspire confidence and keep you in control. Whether ducking in the trees on a powder day or skiing groomers with friends, the Santa Ana 98 allows you to ski everywhere with confidence.
Nordica is definitely advertising the Santa Ana 98 as an all-mountain, all-condition ski, which is a pretty big claim (though also a common one for a ski around this width). Most all-mountain skis claim to be good in any terrain, but it's rare that a ski truly excels on everything from groomers to deep snow.
Nordica also claims that this new version of the Santa Ana is lighter, which they claimed across the board for the Santa Ana series, but our measured weights don't show much difference between the older and newer version.
"The Santa Ana 98 is another ski that does an impressive job of providing excellent stability and suspension without being extremely challenging to ski. The current version isn't quite as ultra-stable as the pre-20/21 iterations, but it's also slightly more approachable for less aggressive skiers, especially when making quick, small turns off-piste. The Santa Ana 98 still rewards a forward stance, but it's not as quick to punish backseat skiing compared to the Volkl Secret 102. If you want a more forgiving, quicker ski that's easier in bumps, consider the Rossignol BLACKOPS Rallybird. And the 4FRNT MSP CC is better if you're willing to give up some of the Santa Ana's pop in exchange for a more forgiving ride in tight bumps and trees. But the Santa Ana 98 continues to be one of our top recommendations for advanced and expert skiers who want a dependable ski that's quite stable, carves well in most conditions, and is energetic coming out of a turn."
Shape / Rocker Profile
The shape and rocker profile of the Santa Ana 98 didn't change much at all from the previous Santa Ana 100, and in fact, the dimensions are almost identical. The Santa Ana 98 still has a slightly tapered tip and tail, moderate tip and tail rocker, and some camber underfoot. This makes for a ski that initiates turns easily and that holds its edge well.

The Santa Ana 98's slightly more tapered tips and tails make for a slightly shorter effective edge than the more traditionally shaped skis in this class, such as the Volkl Secret 102 and 96 and the Blizzard Black Pearl 97. That said, the Santa Ana 98's shape is not as tapered as, say, the Head Kore 97 or Salomon QST Lumen 99.
When compared to the Santa Ana 104 Free, the Santa Ana 98 has considerably less tail rocker and less of a twin tip. That, and the 104's lighter construction, are the main differences between the two.
[Editor's Note: We had a mixup and don't yet have our own rocker profile pictures for the Santa Ana 98, but Nordica's photo above is accurate, and we'll add our own ASAP.]
Flex Pattern
Here's how we'd characterize the flex pattern of the Santa Ana 98:
Tips: 6-6.5
Shovels: 7-8
In Front of Toe Piece: 8.5-9.5
Underfoot: 10
Behind the Heel Piece: 9.5-9
Tails: 8.5-8
The Santa Ana 98 replaced the Santa Ana 100 and while there is some family resemblance, the flex pattern of the 98 is noticeably softer in the very ends of the tips and tails, but maybe a bit stiffer just outside of the binding area. Both versions of the skis have a softer front half and a stiffer back half which, along with the 132.2 mm wide shovel and rocker profile, helps a bit when it comes to flotation. Overall, the Santa Ana 98 is still a pretty strong ski, though its softer shovels make turn initiation pretty easy.
When compared to the Blizzard Black Pearl 97, the flex patterns are very similar except for the Santa Ana 98 having slightly stiffer tails (even though this doesn't always feel true on snow). When compared to the lighter Santa Ana 104, the Santa Ana 98 is slightly stiffer throughout the ski.
Mount Point
The Santa Ana 98's recommended mount point is in line with most Santa Ana and Enforcer skis we've tried over the years, sitting at about -8 cm back from the true center of the ski. I skied the Santa Ana 98 on the recommended mount point and felt no need to move away from it.
Weight
The Santa Ana series is known for being on the heavier side of the spectrum and the 98 is no exception. Below is a list of weights for a number of skis in the 93-102 mm range. The lengths of these skis vary a bit, but the list is a decent indicator of where the Santa Ana 98 sits in the spectrum.
One thing to note is that Nordica said they cut weight in the new Santa Ana series, presumably by removing a sheet of titanal, but based on our measured weight for the older version (the Santa Ana 100), the weight didn't change much, especially considering the weight for the older version was based on a 177 cm length ski.
Regardless, for those who were worried that the revised Santa Ana skis would lose a lot of stability or suspension when they lost their second sheet of metal, I wouldn't be too concerned.
1556 & 1575 Liberty Genesis 96, 165 cm (19/20–20/21)
1592 & 1637 Head Kore 97 W, 170 cm (21/22)
1622 & 1638 Blizzard Black Pearl 88, 165 cm (20/21–22/23)
1638 & 1639 Atomic Maven 93 C, 172 cm (21/22–22/23)
1687 & 1695 Elan Ripstick 102 W, 170 cm (20/21–22/23)
1693 & 1710 Moment Sierra, 172 cm (21/22)
1709 & 1710 Blizzard Sheeva 10, 172 cm (17/18–22/23)
1762 & 1801 K2 Mindbender 98Ti Alliance, 168 cm (19/20–21/22)
1792 & 1792 Nordica Santa Ana 104 Free, 172 cm (20/21–22/23)
1797 & 1839 Rossignol Rallybird 102, 170 cm (20/21–22/23)
1812 & 1817 Salomon Stance 94 W, 174 cm (20/21–22/23)
1831 & 1852 Rossignol Rallybird 104 Ti, 171 cm (20/21–22/23)
1833 & 1842 Volkl Secret 96, 163 cm (21/22–22/23)
1881 & 1895 Salomon QST Lumen 99, 174 cm (19/20–21/22)
1903 & 1917 Nordica Santa Ana 93, 172 cm (20/21–22/23)
1917 & 1935 Nordica Santa Ana 98, 172 cm (20/21–22/23)
1933 & 1975 Volkl Secret 96, 170 cm (21/22–22/23)
1955 & 1990 Coalition Snow SOS, 173 cm (19/20–20/21)
1969 & 1988 4FRNT MSP CC, 171 cm (20/21–22/23)
1983 & 1999 Nordica Santa Ana 100, 177 cm (18/19 – 19/20)
2015 & 2024 Blizzard Black Pearl 97, 171 cm (20/21–22/23)
2104 & 2115 Volkl Secret 102, 170 cm (19/20–21/22)
Now, onto how all of this translates to on-snow performance:
FULL REVIEW
Groomers
Kristin Sinnott (5'8", 125 lbs / 172 cm, 56.7 kg): My first turns on the Santa Ana 98 were on a smooth groomer and the skis felt intuitive, poppy, fast, and fun from the first turns. I flew down the mountain and I had no idea I was skiing faster than normal until I got to the lift and had to wait for everyone else. I've been told by some of my colleagues that, tuning / waxing aside, skis themselves aren't inherently "fast" or "slow." And while I still disagree with this, what I can say is that the Santa Ana 98 (and all the other Santa Anas) are so confidence-inspiring on the groomers that my typical speed limit is forgotten when I click into a pair.
On fresh corduroy, it is super easy to get the Santa Ana 98 to transition from edge to edge. Very little effort is needed to get the ski on edge, and with the downhill ski weighted, the Santa Ana 98 makes a beautiful arc with both skis staying parallel throughout the turn. Near the end of the turn, the ski has a little pop / burst of energy that can be surprising if you're not anticipating it and can kick you into the backseat. Fortunately, it's not too hard to recover from getting a bit backseat, and for me, that little pop also provides a boost of energy to me and makes for a more exciting carving experience.
On groomers, the old and new Santa Ana skis feel very similar. Confidence-inspiring, fast, and energetic.
The Santa Ana 98 is not a dedicated groomer ski, and while I enjoy skiing it on groomers, it is designed to be an all-mountain ski. If you don't plan to ski off-piste, you might want to take a look at the narrower Santa Ana 93 or 88, or the Volkl Secret 96 (a particularly good carver for its width), Blizzard Black Pearl 88, or a dedicated frontside carver.
Moguls, Trees, & Tight Terrain
Changing the design of the Santa Ana 98 from two sheets of titanal to one, and making the tips a bit softer, should have made the skis less demanding, especially in moguls and other terrain that requires tight turns. And to a degree it did, but I found I still had to stay on top of the Santa Ana 98 to get it to work for me. If I wasn't putting pressure on the front of my boot, I found the Santa Ana 98 to be less maneuverable and therefore much less fun in the bumps and other terrain that require quick turns. This isn't particularly out of the ordinary for a directional, fairly strong, fairly heavy ski, but it's worth noting for beginner and low-intermediate skiers who may often end up in the backseat.
In soft nicely spaced bumps, the Santa Ana 98 performed well, but again, only when I maintained a forward aggressive stance. If I got in the backseat, it was very difficult to control the skis; fortunately, it was fairly easy to recover from the backseat. In general, it is very hard to control any ski from the backseat, but with the heavier weight of the Santa Ana 98 and its propensity to go fast, backseat maneuverability was extremely limited (and oftentimes a little nerve-wracking).
The Santa Ana 98 does have a tendency to rocket down a run and I noticed I had to focus on controlling my speed more than usual. But the Santa Ana 98 is stable and it was easy to set the edge at the start of each turn to scrub speed. I also found I was able to carve turns through bumps as well as slide / slash turns over the top of them. When out of the trough, it was nice to scrub speed by elongating the bottom half of the turn and the suspension of the skis kept the skis from getting bumped around too much when sliding over the rough snow.
I wasn't able to test the Santa Ana 98 in tight, zipper-line bumps, and honestly, I tend to avoid tight bumps like that, so I can't say how they would perform in that scenario, but for my more varied approach to moguls, the skis performed well.
Steeps
When I ski steeps, I tend to make shorter-radius turns, including some jump turns. The Santa Ana 98 is not the lightest skis by any means, but I still found myself comfortably making jump turns on multiple occasions. My comfort level had less to do with the weight of the ski and more to do with the predictability and edge hold of the ski. I trust the ski to keep me on edge, whether it's on a groomer or on a steep, tight chute, so I didn't have to hesitate when making turns in consequential terrain with firm snow.
On steeps with chalky snow and small moguls, the Santa Ana 98 feels more playful and it's easier to initiate a turn when compared to the Blizzard Black Pearl 97. But the Santa Ana 98 is not quite as stable; the Santa Ana 98 chatters some and it gets pushed around a bit more. But in general, I find the Santa Ana 98 to be a lot more fun off-piste because I can really pivot / maneuver it a lot easier than the Black Pearl 97.
When compared to the Rossignol Rallybird 102 (formerly known as the Blackops Rallybird), it was harder to initiate a turn on the Santa Ana 98. But the Santa Ana 98 doesn't require as much energy to stay in the turn as the Rallybird does, given the Santa Ana 98's more planted, stable ride. The Rallybird doesn't require as much of an aggressive, forward stance as the Santa Ana 98, but when I was in a strong, forward stance, I was able to slide or carve up uneven terrain as needed.
Chop / Crud
One of my most vivid, ski-specific memories is of being in Revelstoke for a series of storm days. I had the older, heavier, double-titanal-layer version of the Santa Ana 110 in a 177 cm and hadn't really skied them before taking them out on vacation. I was hesitant to ski them since 177 cm was longer than my typical ski length but my hesitation disappeared after my first run down a chopped-up groomer. The skis dampened the chop and I absolutely flew down the mountain. I felt like a rockstar every time I skied them in heavy and deep chop. My friends would be getting bounced around and arrive back at the lift with exhausted legs, but I would be waiting with a big smile and fairly well-rested legs. Those skis set the standard for me in chop.
There are a lot of differences between the Santa Ana 98 and the old 110, including one less sheet of titanal, a lot less ski underfoot, and in this case, less length. The Santa Ana 98 isn't as damp but it still performs reasonably well in chop. I find that I need to maintain a strong, forward body position to keep it from bucking me around and it can be hard to keep it at a reasonable speed. But fortunately, the Santa Ana 98 is predictable, and once they get going, I don't need to worry about any strange deflections. Relative to the whole market of women-specific skis, the Santa Ana 98 is still on the more damp and planted end of the spectrum.
Powder
When I think of a dedicated powder ski, I usually think of a ski that is wider than 110 mm underfoot, though as you may have seen in my personal ski quiver selections, I've ended up being happy with many ~105mm-wide skis in deep snow. But with Nordica claiming that the Santa Ana 98 works well in all terrain and all conditions, including powder, I was curious to see how this ski would perform in some deep snow.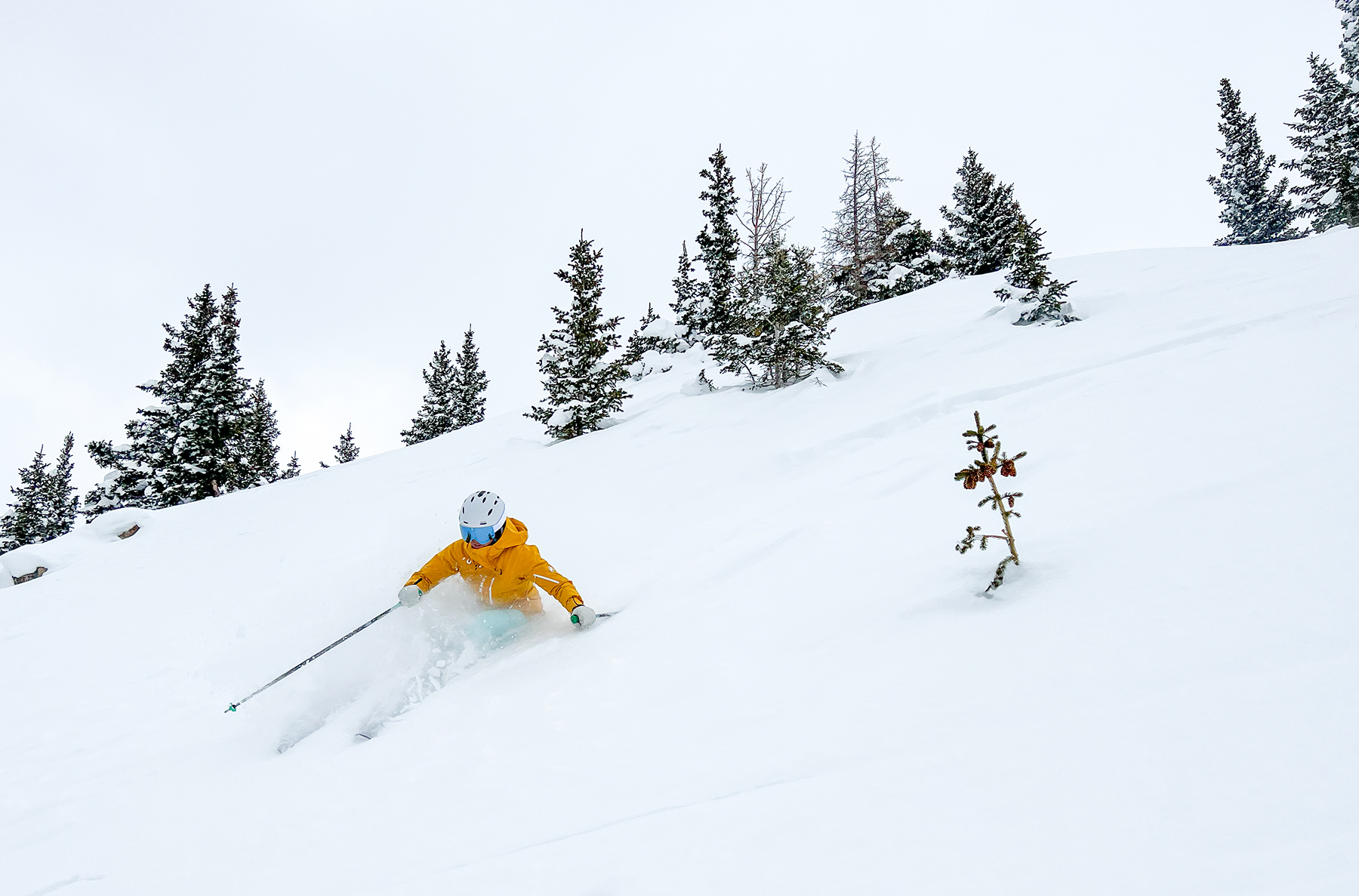 At 98 mm underfoot, the Santa Ana 98 certainly doesn't meet my stereotype for a powder ski, but with rockered tips that measure 132 mm in the shovel, it's not too much of a reach to think the Santa Ana 98 could work in powder. So when my local mountain got hit with a week-long storm, I decided it was the perfect time to test Nordica's claims.
After 3 days, the storm total was over 20 inches, and with a recent rope drop opening up new terrain, I found myself skiing some deep, untracked runs. The skiing was great, as expected, and I was happy to find that the Santa Ana 98 performed well in the deep snow.
On that run, the snow was a few days old and some areas were sun and wind affected but there were also large swaths of soft powder, too. And thankfully, it was basically bottomless. I found that once I had some speed going, it was easy to keep the tips of the Santa Ana 98 on top of the snow. To get them up to speed, I started each line a bit in the backseat because I was worried the tips would dive, but eventually, I found myself in a more upright / neutral stance once I was able to get some momentum going.
At one point I did try to ski this deep snow with a more forward stance while going somewhat slow and the tips dove into the snow, causing me to rodeo a bit. This happened in some deep and dense snow but that was the only time that day I felt the skis held me back. I wasn't skiing fast through tight trees in deep, heavy snow (where I think this ski might start to feel a bit narrow / not float well enough), but for fast big turns, the Santa Ana 98 performed well. Better than expected, really.
The rest of the week, the snow depth ranged from 36 in / 91 cm off-piste to 7 in / 18 cm on groomers. Sometimes the deep snow was bottomless, and other times you could feel the hard base underneath. Off-piste, I was skiing a variety of terrain ranging from tighter tree lines to open slopes. When I wasn't able to open it up and get some speed, it was challenging to maneuver the Santa Ana 98 and I found myself augering into the deep snow pretty often. So if you want a ~100mm-wide ski that's very maneuverable in deeper snow, I'd look to something a bit more rockered and tapered, such as the Liberty Genesis 101 or Blizzard Sheeva 10.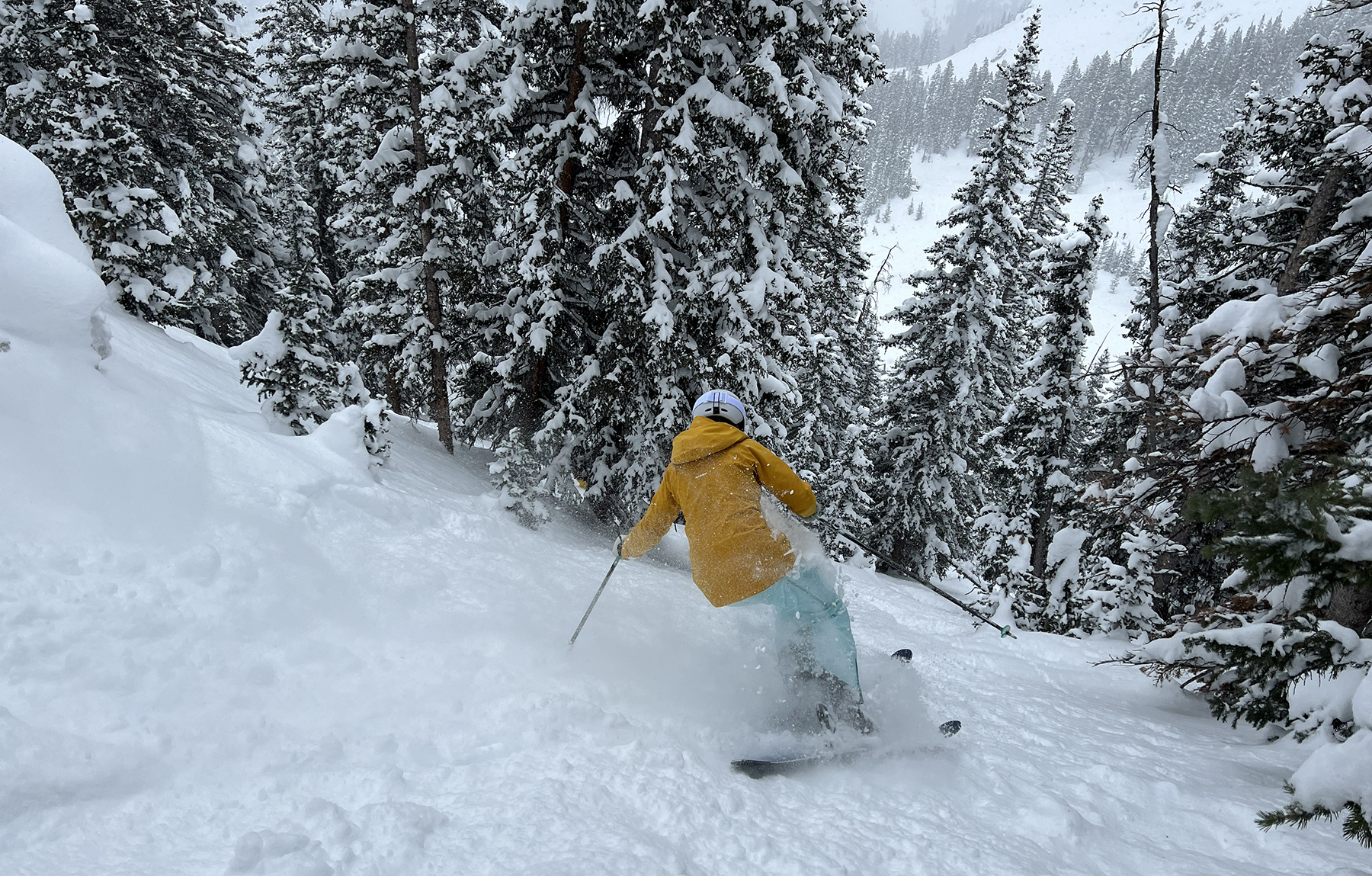 On the powdery groomers with about 7 in / 18 cm of new snow, the Santa Ana 98's tips stayed above the snow and/or plowed through it when the drifts were a bit deeper, making quick work of those runs.
Length
I have only had the opportunity to ski the 172 cm Santa Ana 98 but if I were to go to a store to buy a pair, the 172 cm would still be my first choice. I think it was the ideal length for me, based on my preference to finesse turns rather than to power through them. I also like that the 172 cm Santa Ana 98 would work well for me as a 1-ski quiver; anything shorter and I think I would have felt less comfortable racing down groomers and I don't think I would have been able to ski powder quite as effectively.
The longer 179 cm length could have likely worked well for me if I hadn't slacked in terms of off-season training and if I was a more powerful skier. I skied the previous version of the Santa Ana 110 in a 177 cm and really enjoyed skiing big, fast lines and plowing through chop on it. But that was in Revelstoke — not at my home mountain, where tighter lines are more common. For my preferred terrain (narrow steeps and mogul runs), the 179 cm seemed like it would have been too much ski for me.
Who's It For?
Nordica markets the Santa Ana 98 as an all-condition, all-terrain ski. And after testing it in just about all the various terrain and condition types I ski throughout a season, I don't think they are overselling the ski — it does a very good job of handling just about anything. It doesn't float like a much wider ski, nor feel as quick edge-to-edge as a much narrower ski, but it does a good job of doing most things quite well.
That said, the Santa Ana 98 is best suited for high-intermediate to expert-level skiers, particularly those who like to ski fast and hard. More often than not, I found myself skiing faster on these skis than I normally do, in part because they are quite damp and stable, and in part because the skis just seem to encourage faster skiing. If you're a skier who often ends up skiing from the backseat, the Santa Ana 98 will be difficult to control and it can take you for a ride if you don't focus on staying on top of them. But if you can maintain a good, forward stance, the Santa Ana 98 will reward you with both stability and maneuverability. I tend to find myself in the backseat more than I'd like, but when I'm skiing the Santa Ana 98, I am always pushing myself to stay in an aggressive forward stance — and feeling rewarded when I do.
Bottom Line
The Nordica Santa Ana 98 is a ski that performs "pretty well" to "great" in just about any condition or terrain. It is not the best ski for every condition or terrain type (no ski is, after all), but if you're a high-intermediate to expert skier who skis on and off-piste, enjoys a strong, stable ski, and is looking for a 1-ski quiver, you would do well to consider the Santa Ana 98.