Ski: 2022-2023 Volkl Secret 96, 170cm
Test Location: Mt. Crested Butte, Colorado
Days Skied: 25
Available Lengths: 149, 156, 163, 170
Blister's Measured Tip-to-Tail Length (straight-tape pull): 170.6 cm
Blister's Measured Weight per Ski: 1933 & 1975 g
Stated Dimensions: 135-96-119 mm
Blister's Measured Dimensions: 135.1-96.1-118.8 mm
Stated Sidecut Radius (170 cm): (Tip) 27 m, (Middle) 16 m, (Tail) 22 m
Measured Tip & Tail Splay (ski decambered): 49 mm / 19 mm
Measured Traditional Camber Underfoot: 2.5 mm
Core: Poplar/Beech
Base: P-Tex 2100
Factory Recommended Mount Point: -11 cm / 74 cm from tail
Boots / Bindings: Tecnica Cochise Pro W, Nordica Promachine 115 W / Marker Griffon /
mountainFLOW All-Temp
[Note: Our review was conducted on the 21/22 Secret 96, which returns unchanged for 22/23, apart from graphics.]

Intro
For the 21/22 season, Volkl released a new women-specific ski in the form of the Secret 96. Relative to the 20/21 Volkl Secret, the Secret 96 features a new construction and sidecut, and is intended to split the difference between the Volkl Secret 102 and the Kenja 88. Positioned as an all-mountain ski that is built with some of Volkl's newer technology, such as their Tailored Titanal Frame and Tailored Carbon Tips, I was interested to see how this ski stood up against some of the comparably stout and stable all-mountain skis in this category.
I have now spent a considerable amount of time on the Secret 96, and it has proven to be the ski I gravitate toward for a lot of different days and conditions. It's actually the ski I have spent the most time on from last season into this season, and I am excited to talk more about it.
Note: Kristin Sinnott has the 163 cm Secret 96, so we will update this review with additional insights on the shorter length.
What Volkl Says about the Secret 96
"The Secret 96 is a serious recipe for snow-shredding fun. If you take a dash of the powder-loving girth of the Secret 102 and a pinch of the on-piste prowess of the Kenja 88, you've got the deliciously versatile combo that is the Secret 96. The new Tailored Titanal Frame and Carbon Tips give the skis much the same smoothness, with a bit more ease. The 3D Radius Sidecut allows for confident turns in any terrain, and the 96mm waist covers the bases for most every snow depth without sacrificing performance in either direction. If your appetite says "yes, please" to virtually all conditions, and you sometimes prefer cruising over charging, the Secret 96 is your ski du jour."
"The all-new Volkl Secret 96 is a well-rounded, confidence-inspiring ski that is a particularly good choice for aggressive skiers seeking a smooth ski that stays composed at higher speeds. The Secret 96's most notable quality is its nice suspension. From groomers to bumps to tight terrain, the Secret 96 is a stable and damp ski. But under the feet of high-intermediate to expert skiers, it's also pretty maneuverable and lively. It's considerably more forgiving and energetic than the Secret 102 and Blizzard Black Pearl 98 in terms of suspension. The Secret 96 suits a fairly wide range of skiers since few will find its speed limit, yet it is not really difficult to pivot and flick around at moderate speeds. The Santa Ana 98 floats a bit better, but if you want a ski that really carves well, is very stable at speed and isn't super overwhelming off piste, the Secret 96 is one of your best options."
Construction
Volkl integrated several new technologies into the construction of the Secret 96. The first is "Tailored Carbon Tips," which weaves a carbon fiber stringer into a carrier material in the tip and tail. By manipulating the orientation of the individual carbon strands, Volkl says they can better fine-tune the longitudinal and torsional stiffness of the skis, compared to more traditional carbon stringers or carbon sheets, which typically maintain the same orientation (and effects on flex) across their entire surface area. In theory, this is fairly similar to K2's "Spectral Braid," though Volkl's "Tailored Carbon Tip" looks to be more complex with more customizability, and is currently only used in the shovel and tip of the ski, rather than along the whole length of the ski.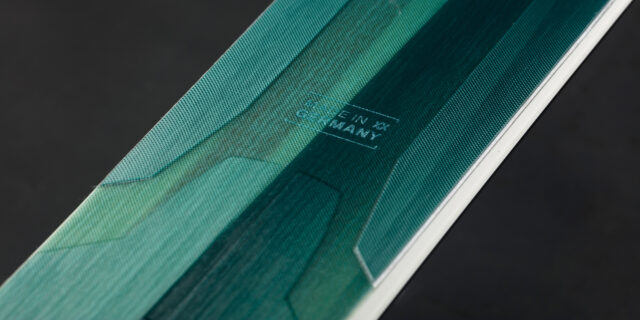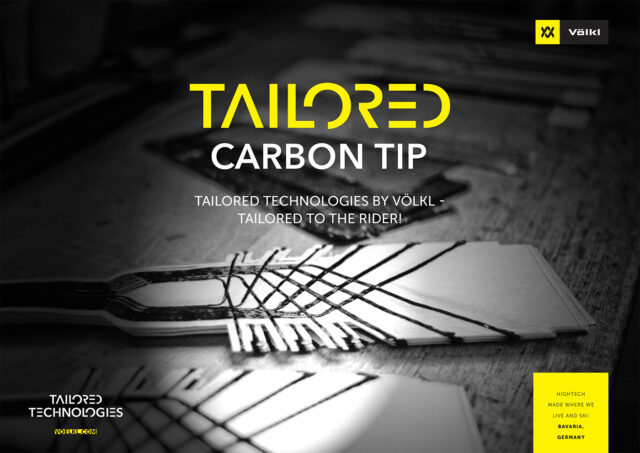 Volkl also utilizes their "Tailored Titanal Frame" in the Secret 96 and the Mantra M6, as well as the new skis they just announced for next year (22/23 Kenja 88, Kendo 88, and Mantra 102), where the length of the ski determines the amount of titanal in the construction. The titanal is built in a frame, proportional to the length of the ski, and the frame runs along the sidewall in the tip and tail, and throughout the midsection of the ski.
Aside from that, the ski is built with a poplar/beech wood core, a sintered P-Tex 2100 base, and a fiberglass laminate.
Shape and Rocker Profile
The Secret 96 has a mellow-looking tip and tail rocker profile, which becomes most noticeable toward the very end of the tip and tail, which translates to a long contact length when the ski is tipped over on edge (though the rocker lines are somewhat deep, they're quite low). Similar to a lot of Volkl's skis, there isn't a ton of camber underfoot, and the Secret 96 has very minimal tip and tail taper.
Flex Pattern
Here's how we'd characterize the flex pattern of the 170 cm Secret 96
Tips: 8.5
Shovels: 8.5-9
In Front of Toe Piece: 9-9.5
Underfoot: 10
Behind the Heel Piece: 9-9.5
Tails: 8.5-8
Overall, the Secret 96 is a very strong ski. Unlike many skis, its tips and tails don't feel dramatically softer than the middle of the ski. Its flex pattern is extremely similar to the Volkl M6 Mantra.
Weight
The Secret 96 is on the heavier side of women-specific skis available today.
For reference, here are a number of our measured weights (per ski in grams) for some notable skis. Keep in mind the length differences to try to keep things apples-to-apples.
1556 & 1575 Liberty Genesis 96, 165 cm (19/20–20/21)
1592 & 1637 Head Kore 97 W, 170 cm (21/22)
1622 & 1638 Blizzard Black Pearl 88, 165 cm (20/21–21/22)
1638 & 1639 Atomic Maven 93 C, 172 cm (21/22)
1687 & 1695 Elan Ripstick 102 W, 170 cm (20/21–21/22)
1693 & 1710 Moment Sierra, 172 cm (21/22)
1709 & 1710 Blizzard Sheeva 10, 172 cm (17/18–21/22)
1762 & 1801 K2 Mindbender 98Ti Alliance, 168 cm (19/20–21/22)
1792 & 1792 Nordica Santa Ana 104 Free, 172 cm (20/21–21/22)
1797 & 1839 Rossignol BLACKOPS Rallybird, 170 cm (20/21–21/22)
1812 & 1817 Salomon Stance 94 W, 174 cm (20/21–21/22)
1831 & 1852 Rossignol BLACKOPS Rallybird Ti, 171 cm (20/21–21/22)
1833 & 1842 Volkl Secret 96, 163 cm (21/22)
1881 & 1895 Salomon QST Lumen 99, 174 cm (19/20–21/22)
1903 & 1917 Nordica Santa Ana 93, 172 cm (20/21–21/22)
1917 & 1935 Nordica Santa Ana 98, 172 cm (20/21–21/22)
1933 & 1975 Volkl Secret 96, 170 cm (21/22)
1955 & 1990 Coalition Snow SOS, 173 cm (19/20–20/21)
1969 & 1988 4FRNT MSP CC, 171 cm (20/21–21/22)
2015 & 2024 Blizzard Black Pearl 97, 171 cm (20/21–21/22)
2104 & 2115 Volkl Secret 102, 170 cm (19/20–21/22)
Now, onto how all of this translates to on-snow performance:
FULL REVIEW
Groomers
Kara Williard: (5'9", 167 lbs / 175 cm, 75.7 kg): The Secret 96 stands out on groomers, especially considering the width of this ski. This is something I recently mentioned in the Blizzard Black Pearl 97 review, since both of these skis are really excellent on groomers for their width.
Even when the groomers are less than ideal, the Secret 96 remains damp and responsive. A lot of energy and rebound can be accessed in this ski when skiing with an aggressive forward stance. Doing this, the Secret 96 feels energetic as one powerful turn helps drive the next. No matter the pitch or condition of the groomer, the Secret 96 feels smooth, predictable, and easy to trust on edge.
From a forward stance on the Secret 96, I was pleased to find a wide range of turn sizes available. It's a fairly easy ski to slow down via smaller, controlled carves, and it's also not adverse to being pulled out of a carve into a feathered, slarved turn. The Secret 96 doesn't demand to be on edge, and its versatility in terms of turn shapes and styles is impressive, given how easily it initiates carved turns and how well it holds an edge.
Compared to the Black Pearl 97, the Secret 96 is not a ski that demands to be in a carve, but overall the Secret 96 feels best when on edge, and making turns on the larger side, especially when opening up the ski at higher speeds. There are skis that are easier to initiate than the Secret 96, such as the Atomic Maven 93 C and the Nordica Santa Ana 93, though the Secret beats both when it comes to edge hold and stability at speed.
Moguls, Trees, & Tight Terrain
The Secret 96 is a ski I spent a lot of days on as I learned the intricate terrain of Mt. Crested Butte. This mountain has a lot of tight terrain that requires hop turns and tight, controlled maneuvers. I also end up skiing a lot of firm snow throughout the season, even when venturing into some of these tighter lines.
The Secret 96 is a pretty heavy ski, but while its swing weight in tight terrain isn't the lightest, the stable platform it provides and reasonably easy turn initiation strike a nice balance if you prefer stability over playfulness in tight terrain.
The Secret 96 offers a reasonable balance of maneuverability for how stiff, minimally tapered, and minimally rockered it is. I appreciate that the Secret 96's tips make it pretty easy to initiate a turn, but the tails also feel forgiving enough to release without always having to finish a turn on edge, which allows me to hop the back half of the ski out of a turn, and I find myself doing this a lot when I am in really committed terrain.
While the Secret 96 feels best when skied with a forward stance, it doesn't feel tricky or out of balance if I happen to slip up for brief moments in time. That said, if you're skiing very centered or backseat, you won't really be benefitting from the sweet spot of this ski, where it feels most intuitive, easily put on or off edge, and stable.
Compared to the Blizzard Black Pearl 97, the Secret 96 doesn't force you to be as committed to each turn. The Secret 96 offers a bit more forgiveness and maneuverability in this setting, due to it being a bit easier to release and pivot, easier to initiate, and not as quick to punish mistakes. That said, there are many skis that are more playful, looser, and more forgiving than the Secret 96, such as the 4FRNT MSP CC, Nordica Santa Ana 104 Free, and Blizzard Sheeva 10.
Steeps
Similar to tight terrain, the Secret 96 offers a nice balance of stability and maneuverability for technically experienced skiers. The Secret 96 is one of my go-to choices when the steeps are firm and unforgiving, due to its excellent suspension and support, as well as its precision and edge grip. Much of what I enjoyed about the Secret 96 in tight terrain translates well to the steeps in most conditions, but particularly when they are on the firmer side of the spectrum.
As mentioned above, the Secret 96 feels slightly easier to turn overall than the Black Pearl 97. However, when the snow conditions are frighteningly firm, the Black Pearl 97 offers better suspension.
When I'm looking for a stable ski in the steeps that isn't extremely challenging to turn, the Secret 96 has been my top pick. If I want something more forgiving and playful to maneuver through steep terrain in a more relaxed manner, the Secret 96 might not be the optimal choice. The Blizzard Sheeva 10 and Head Kore 103 are both lighter and have notably lower swing weights, making them more manageable at slow speeds, but neither is as damp.
Powder
I found myself on the Secret 96 in some deep powder several days this season, on accident, as I went out expecting to ski terrain that was already open and then found myself at a rope-drop as Ski Patrol opened a new zone for the first time this season.
In deep powder, the Secret 96 performs about as well as to be expected for a ski of this width, but it's certainly not the most maneuverable or surfy ski. It certainly isn't the ideal ski for deeper powder, but I was surprised to find that it was a little easier to make tighter turns in soft snow and set-up, heavier powder than I was expecting.
The Secret 96 felt best on powder days that were 6-8" — especially when there was more supportive / firm snow beneath the fresh stuff. On deeper days, I would lean toward something a little wider and more rockered, such as the Nordica Santa Ana 104 Free, Blizzard Sheeva 10, or Sheeva 11.
Soft Chop
The Secret 96 offers a really smooth ride through soft chop, though it isn't the most playful. Rather, it provides a damp, predictable experience in choppy snow.
The Secret 96 is also a fairly lively and energetic ski, given how heavy it is. Because of the forward stance it encourages and its notable stability, the Secret 96 feels great when charging hard through soft chop. Because it's not particularly quick or super easy to throw sideways, it feels better when moving faster with slightly larger turns in soft chop, otherwise, it takes quite a bit of work to force into quicker, tighter turns while in softer snow.
Firm Chop / Crud
The Secret 96 feels intuitive on firm snow and, for this reason, it is a great ski to take out in less than ideal conditions. It provides a smooth and planted platform for making clean turns in rough snow without feeling like it's getting pushed around a bunch.
This is similar to what I experienced with the Black Pearl 97, with the Secret 96 being just slightly easier to initiate but the two being similar in terms of overall stability. But again, the Black Pearl 97 offers a level-up in overall suspension in truly heinous conditions.
Length
The 170 cm Secret 96 felt just right for a lot of the tighter skiing I was doing both in steeps and moguls. It offered more than enough stability without feeling excessively big when navigating tighter off-piste zones. That said, the 170 cm Secret 96 also allowed me to make open, Super-G-style turns without really feeling like I was losing stability at speed on groomers. It's hard to imagine going longer in this ski, as the 170 cm was plenty powerful and stable. (And this is in contrast to many skis; I've skied plenty of ~180 cm skis with zero complaints.)
I have yet to ski the 163 cm Secret 96 that Kristin has, but I hope to soon just to see (a) if I can notice a difference in perceived flex pattern, given the Tailored Titanal Frame construction, and (b) I wouldn't often opt to ski anything less than 170 cm, but given how powerful the Secret 96 is, I wonder if this shorter length would still provide decent stability while being quicker and more maneuverable.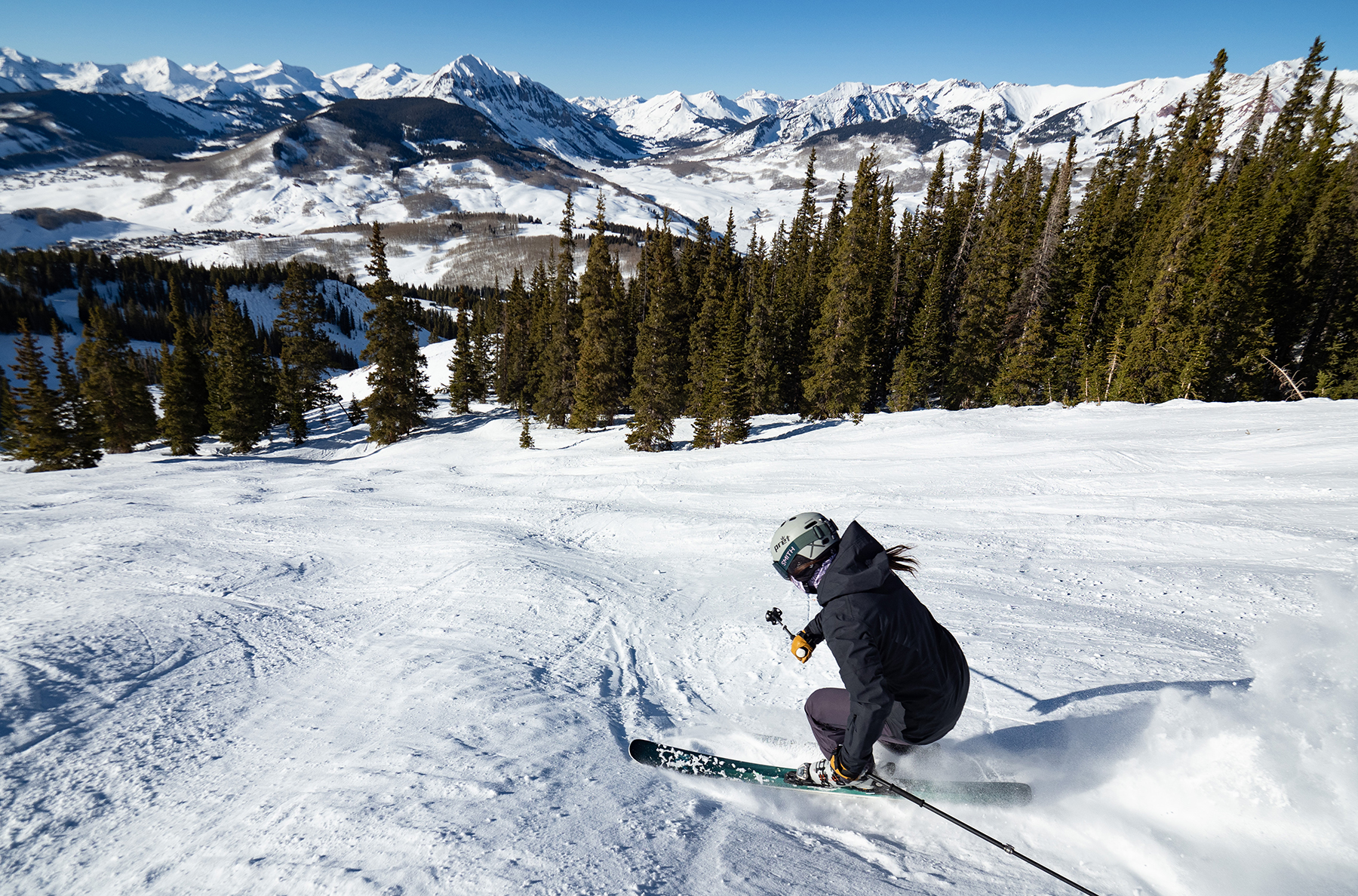 Who's It For?
The Secret 96 is a precise and versatile all-mountain ski for someone who favors stability over playfulness and maneuverability. That said, for how stable it is at speed, experienced skiers will still find it to be pretty maneuverable and versatile across the whole mountain. The Secret 96 is one of the most powerful and precise women-specific all-mountain skis we've tested, with the main exception being the Blizzard Black Pearl 97, though the Secret 96 is more accessible overall.
Overall, the Secret 96 is best suited to those who want a damp ski that stays composed when the snow is firm, and those who prioritize smoothness and suspension over quickness and maneuverability.
Bottom Line
As I keep finding myself gravitating toward the Secret 96 on a lot of different days in various conditions, I can't help but feel that Volkl nailed it on this one, in terms of making a powerful, stable, women-specific ski that isn't excessively challenging and is also highly versatile. While it's slightly reminiscent of the older Volkl Aura series in terms of stability and damping, the Secret 96 is more intuitive and lively. It's also more forgiving and versatile than the Volkl Secret 102, and overall, the Secret 96 is impressive in terms of how well it balances high-speed composure with lower-speed accessibility.