Giro Latch Flat Pedal Shoe
Test Locations: Washington; Gunnison / Crested Butte, CO
Test Duration: 6 months
Reviewers:
David Golay: 6', 170 lb / 183 cm, 77.1 kg
Luke Koppa: 5'8", 155 lbs / 173 cm, 70 kg
Size Tested: EU 44
Blister's Measured Weight per shoe: 350 and 361 g
Upper: Microfiber
Closure: Lace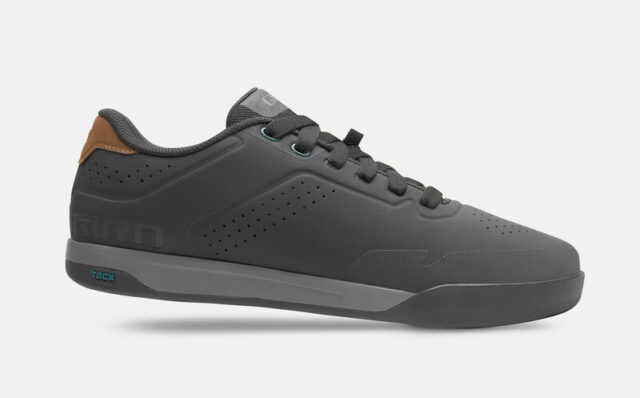 Stated Features:
Tack Rubber outsole is highly elastic and matches grip with durability
Gamma tread design
HD Polyethelyne
Power Plate
Rockprint reinforcement along the toe and heel offers abrasion resistance and enhanced durability
Laced closure
Proprietary Mute Foam nanofoam midsole has slow rebound characteristics that help to damp chatter, bumps, and vibration
Pedals used: Chromag Dagga, NSB Daemon, OneUp Aluminum, Deity Deftrap
MSRP: $150
Intro
Giro says their Latch flat pedal shoe is meant for "when the trail gets fast and rowdy" but its design and feature set seem aimed more at all-around use, rather than just heavy-duty DH use. We've now had two reviewers spending several months in the Latch, and it's definitely a strong competitor in the all-round, flat-pedal category.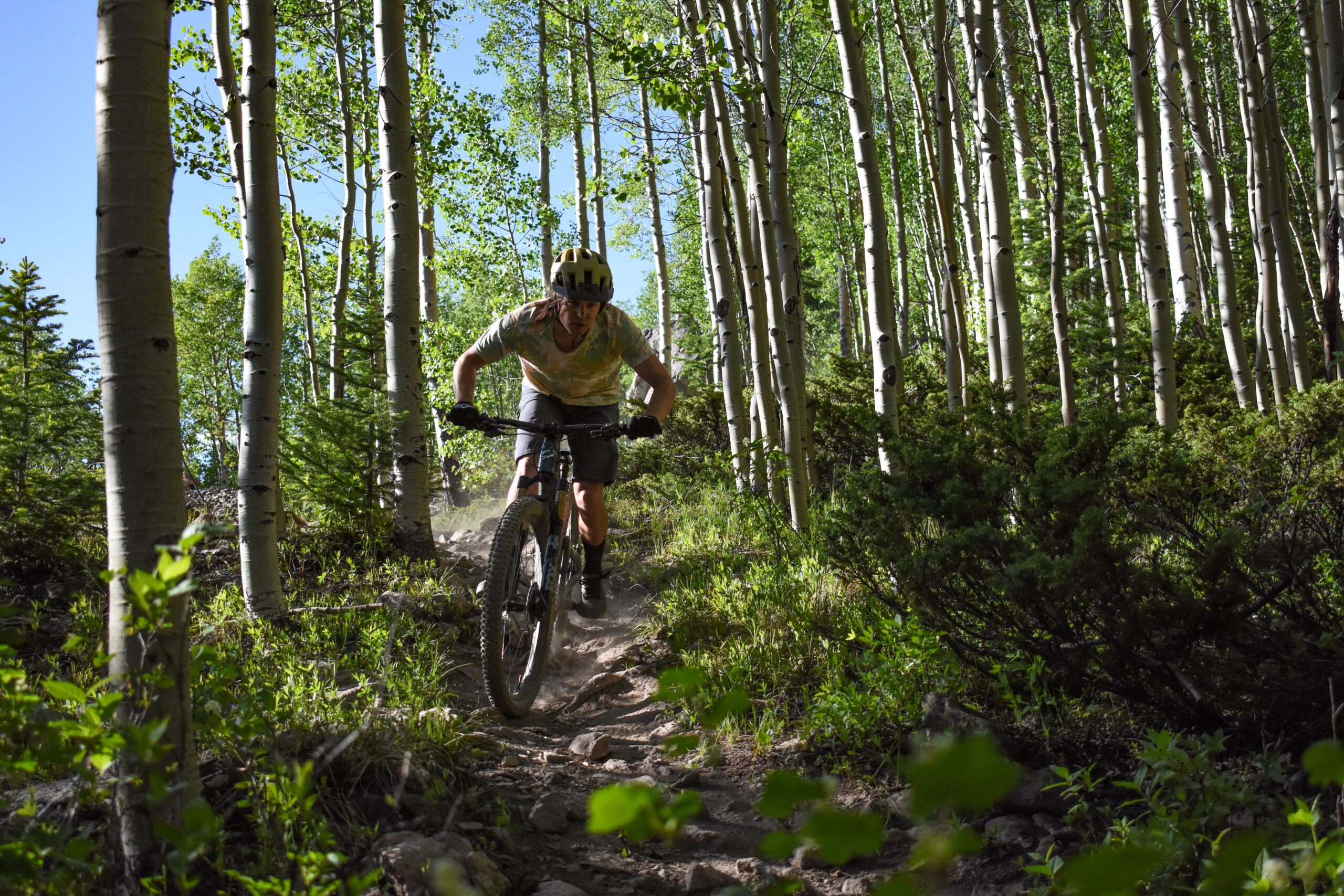 Features and Construction
David Golay: In terms of overall design, the Latch looks quite a bit like a lot of the skate-shoe-inspired bike shoes on the market. It's got what Giro calls a microfiber upper, which is essentially a synthetic leather with some perforations over the toe box, midfoot, and heel for a little ventilation. There's a subtle protective toe cap for a bit of impact protection, but it's definitely not as ultra-burly as a lot of more specifically gravity-oriented shoes (e.g., the Ride Concepts Powerline, Five Ten Impact Pro, etc).
The Latch uses a standard lace closure, with an elastic loop on the tongue to secure the free ends of the laces, if you're so inclined. I mostly didn't bother, and didn't have any issues with the laces getting tangled in things (the stock ones aren't wildly long by any stretch) but it's there if you want it.
Moving down in the shoe, the midsole of the Latch uses Giro's proprietary "Mute Foam," which they say is designed to offer especially slow rebound, to help damp chatter and keep your feet stuck to the pedals. An "HD Polyethelyene Power Plate" stiffens up the midsole, and then the whole package is wrapped in Giro's new "Tack Rubber", the name of which gives a pretty clear indication of its intentions. The outsole is molded with a shallow, blocky texture, not unlike the classic Five Ten Dotty pattern, except with pentagonal blocks instead of round ones.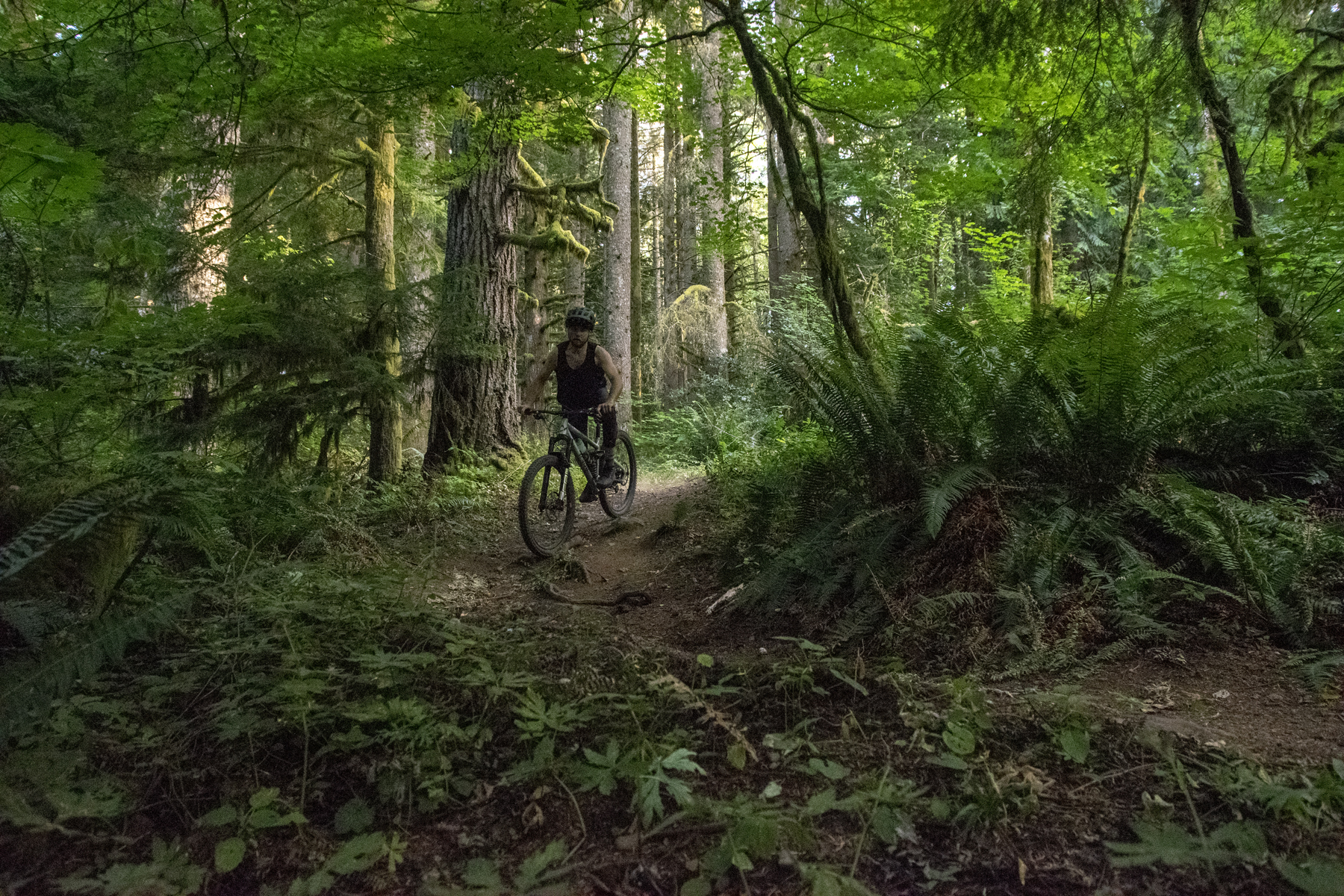 Fit
David: To me, the overall fit of the Latch seems average to moderately wide, and (at least for my feet), that works out really nicely. The toe box, especially, is on the roomier side, but I'd call the fit through the rest of the shoe more average. Especially for a shoe that's meant to be somewhat gravity-oriented, I'm all for that extra toe room — I don't tend to feel like a little extra space there has much of an impact in terms of on-bike performance, but it can be nice for comfort, especially when you're doing a bunch of hike-a-biking or smashing your feet on stuff by mistake.
The heel pocket on the Latch doesn't feel especially tight, but its hold on my moderately-narrow heels is still pretty good. I've been wearing the Latch in a size EU 44, which Giro says converts to a US 10.5, and though my typical size is a US 10, that was 100% the right call — if you're on the brink with these, I'd size up. My feet are moderately high volume, granted, but the fit of the EU 44s, including length, is quite good.
That said, the upper of the Latch is somewhat on the stiffer side of average, and doesn't wrap around my foot quite as smoothly as some other shoes if I'm really trying to snug up the laces, especially over the instep. The fit (for me) is good enough that this really isn't an issue, but particularly for folks with lower volume feet and/or low insteps, the fit might be a bit less dialed.
I'm going to be referencing the Five Ten Freerider Pro a whole lot when we get to the performance part of the review because the Latch reminds me of that shoe quite a bit. And for a lot of people, fit is going to be the biggest reason to go one way or the other on that decision. The toe box of the Latch is significantly roomier, especially around the fifth toe — it doesn't start to taper narrower as quickly as the Freerider Pro. The heel pocket on the Freerider Pro is also slightly more snug (but really only slightly), and it's a little narrower through the midfoot as well.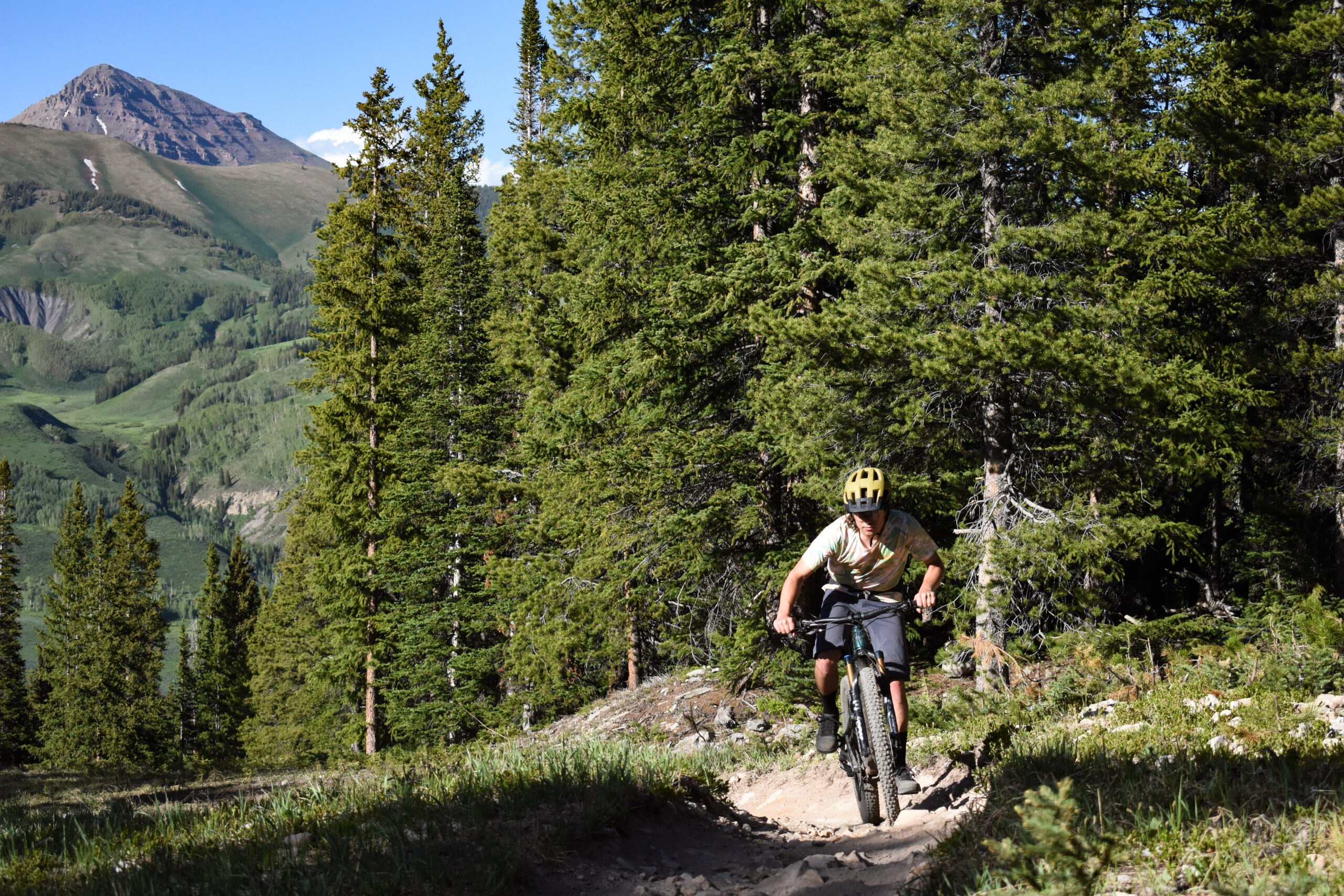 Luke Koppa: Like David, I typically wear bike shoes in a US Men's size 10 and have been testing the Latch in a size 44. And like David, I definitely wouldn't want to size down — though that's purely due to midfoot width, rather than any length issues (the Latch doesn't feel short to me). On my feet, which I'd describe as a bit wider than average (some Five Ten shoes like the Sleuth DLX are just a bit tight for me through the midfoot), the Latch is comfortable pretty much everywhere, but I have noticed some soreness at the lateral edge of my midfoot after long days on the pedals and/or lots of bike park laps. It's worth noting that I also tend to place my feet a bit outward on my pedals, which tends to exaggerate any pain / tightness in that area in any bike shoes.
Anyway, the shoe I've spent the most time in recently has been the Ride Concepts Powerline, and I think the Latch fits pretty similar, if not maybe a touch narrower. My toes taper a lot from the pinky to the big toe, so I rarely have issues with toe boxes being too tight, but I also have zero complaints about the Latch's toe box being excessively voluminous. I agree with David in that the Latch's stout upper material doesn't let you precisely tighten down the fit like you can with shoes with more supple knit uppers, but I haven't had any foot-stability issues on the bike in the Latch. The heel pocket doesn't feel super snug while hiking up steep slopes, but it hasn't been a significant issue for me.
Overall, the fit of the Latch seems like one that should work for a wide range of foot types.
On the Bike
David: It had been quite a while since I'd last tried a Giro flat pedal shoe, and, frankly, the grip from some of their earlier offerings left quite a bit to be desired. But Giro has gone back to the drawing board, developed a new rubber compound and midsole material with the goal of improving grip, and they talk a big game about the results, calling the Latch "a benchmark in flat pedal performance." And I'm pleased to report that it's worked — the grip from the Latch is quite respectable.
That said, the Latch is still definitely not as sticky as Five Ten's grippiest offerings (e.g., the Freerider Contact, Impact Pro, and Trailcross GTX), but it's very comparable to the Freerider Pro Primeblue, and that's a big step up from the Giro offerings of yesteryear. And particularly for folks who don't want the absolute stickiest shoe possible, for better feel on the pedals and ease of repositioning feet on them, I think the Latch strikes a really nice balance.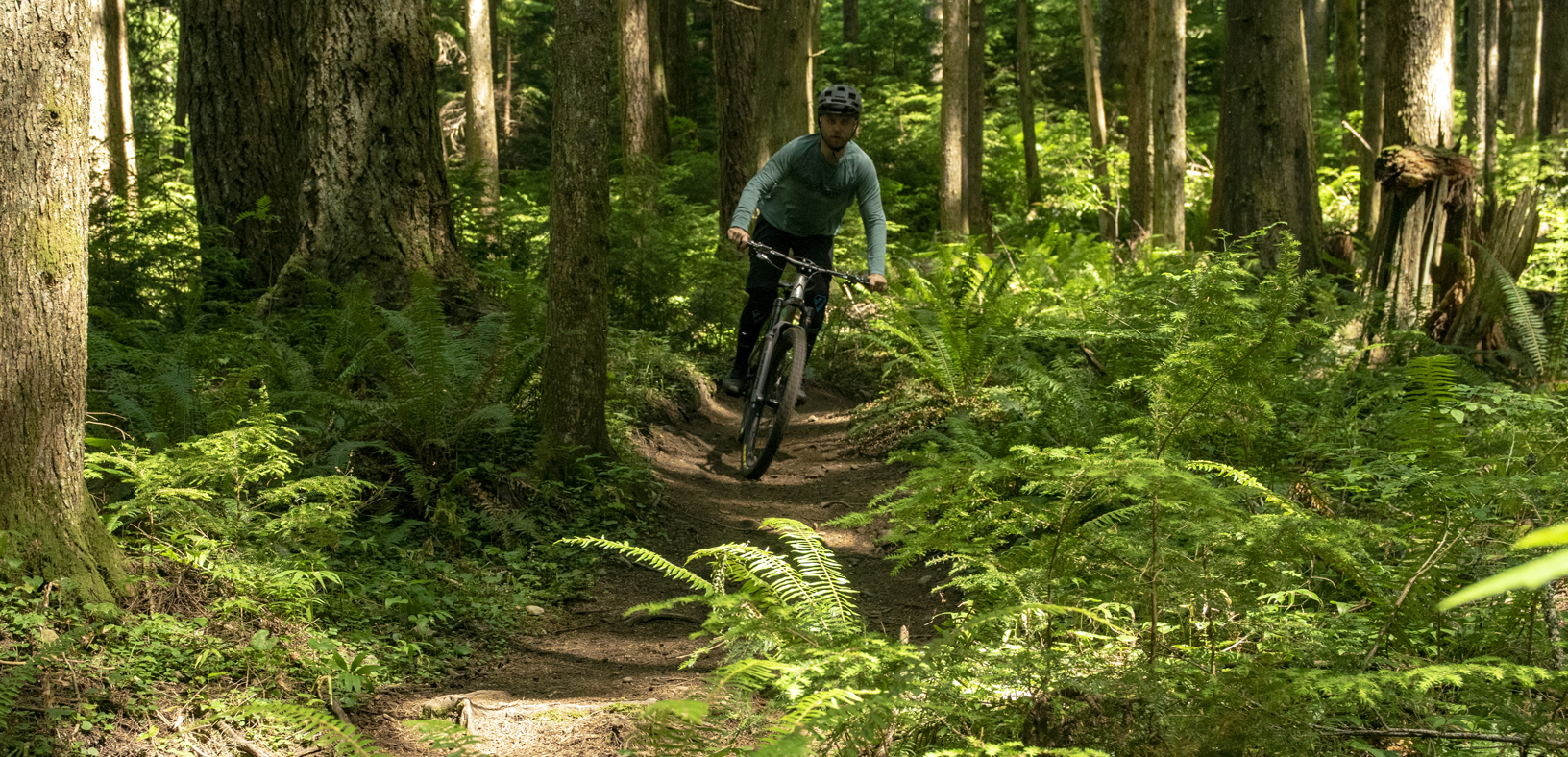 On a similar note, the sole of the Latch is kind of middle-of-the-road in terms of stiffness, in a good way. It's notably more flexible than a lot of true DH-specific shoes, but still stiff enough to feel comfortable pedaling all day, and I didn't have any of the issues with foot cramping that I can sometimes get with more flexible soled shoes when hammering them through rough sections of trail, either. And compared to the stiffest-soled shoes out there, the somewhat more flexible sole of the Latch helps with on-pedal feel, and being able to tell how your feet are positioned.
Compared to the Five Ten Freerider Pro, the sole of the Latch is a little softer through the midfoot, but the two feel very similar as you move forward in the shoe. Both feature a bit of a hinge point around the ball of the foot, which goes a long way towards improving walkability (more on that below) but on both shoes, it's far enough forward to not be particularly noticeable on the pedals.
To continue the Freerider Pro comparisons, the upper of the Latch feels slightly more padded and protective — but emphasis on slightly. Between that little bit of extra padding and the slightly less breathable upper, the Latch is a little bit warmer than the Freerider Pro Primeblue, but it's also a bit more impervious to splashes (though it's definitely not waterproof), and does a respectable job of drying quickly if properly soaked.
Luke: I agree with everything David said. In the past, I became less and less interested in any shoes that didn't have "Stealth" on their outsoles because I had repeatedly been seriously disappointed by the lack of grip from other brands' shoes. I really don't like my feet unpredictably bouncing off the pedals. Fortunately, I can add the Latch to the list of the shoes that are legitimate competitors when it comes to on-pedal traction and security.
In terms of outright grip on the pedals, I don't think the Latch's rubber is quite as tacky as the shoes I've used with Five Ten's Stealth S1 rubber, but it's by no means a massive difference. And the Latch is definitely easier to reposition on the pedals than those shoes, to the point that I think it's much more of a personal preference thing than one option clearly being better than the other.
Overall, the Latch's outsole feels really similar to Ride Concept's "Max Grip" compound, which I've used extensively on their Powerline shoe. Neither shoes' rubber compounds feel quite as soft and tacky as Five Ten's grippier offerings, but the Latch and Powerline are easier to reposition and move around on the pedals (and more durable). If I was still running a pair of pedals with pretty poor inherent grip (e.g., Crankbros Stamp 1), I'd opt for the tackier Five Ten rubber. But on my fairly grippy OneUp flats and the Deity Deftrap, I actually prefer the slightly less locked-in feeling of the Latch and Powerline.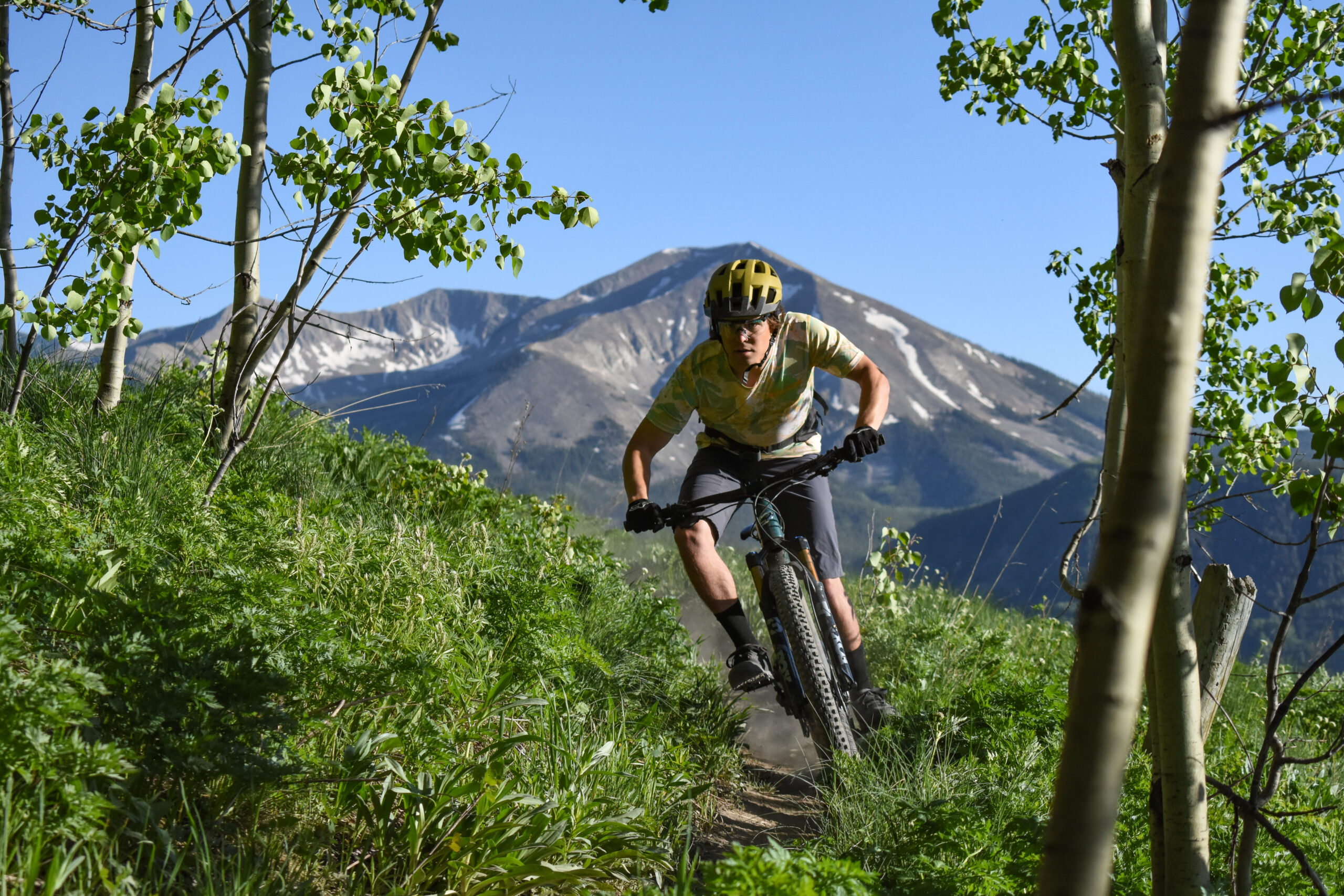 As for Giro's claims about the Latch's "Mute Foam" midsole being "a revelation in performance," I will say that I think the shoe does a good job of absorbing small, high-frequency chatter, though it definitely doesn't feel like you're standing on a pillow; as David noted, it's still a moderately stiff shoe. The Ride Concepts Powerline, with its D30-laden insole, is still my benchmark for impact and vibration-absorption capabilities, but the Latch does seem above average in that regard. And I think the Latch strikes a really nice balance of stiffness for an all-around shoe — I haven't noticed any foot fatigue, but the Latch still conforms enough to the pedal that I can feel what's going on under my feet.
Regarding the upper of the Latch, I'd say it falls on the more protective, less breathable end of the spectrum compared to the whole bike-shoe market. Now, it seems like most flat-pedal shoes these days feature a fairly similar leather or synthetic leather upper, so it's not like the Latch is an outlier in this regard. But I do think it'd be cool to see more brands experimenting with more breathable upper materials in flat shoes, not just clips.
Of course, the upside of the Latch's pretty thick upper is significant abrasion resistance and pretty good water resistance. I've kicked and brushed past a lot of rocks and trees in my time in the Latch, and it shows basically no signs of that.
The downside, same as shoes with similar uppers (e.g., the Powerline), is limited breathability and poor drainage. While the outer microfiber material of the Latch's upper does a great job of not absorbing much water (and drying quickly), the interior mesh lining does soak up a fair bit and is not inclined to let go of that moisture very quickly. Again, that seems fairly standard for this category (the Latch is very similar to the Powerline in this regard), but is something I noticed on early-morning rides where I was constantly whacking trailside brush coated in dew, to the point that my pants, shoes, and hands were all pretty wet at the end. While the Latch's outer material very quickly looked and felt dry, dumping the shoes out at the end revealed that there was plenty of water still sloshing around inside (and the lining tended to take a while to dry out afterward).
Off the Bike
David: The Latch walks about as I expected it to — which is to say, pretty well, as long as you're not expecting it to feel like an approach shoe or anything like that. I haven't had any issues with heel lift or chafing, and the forward part of the sole is flexible enough to move with your foot well. Grip is very good on harder surfaces, but as with most flat pedal shoes, traction isn't all that great on wet, loose dirt. That's a standard consequence of making a shoe with a fairly shallow tread (which I'm all for in terms of on-bike performance) so I'm really not complaining here. Just know that there are better options (such as the Five Ten Trailcross line) if hiking comfort is a top priority.
Luke: Yep, I think the Latch walks very respectably well for an all-round flat shoe. Like most bike shoes, it struggles on looser surfaces, but is great on dry rock and fairly hard-packed trails. As I noted above, I get a bit of heel-lift when hiking steeper slopes in the Latch, but it hasn't been a notable issue for me. And while it feels a bit stiffer than my everyday sneakers and skate shoes, walking around in the Latch feels quite normal overall.
Durability
David: The Latch is holding up really well for me, and in particular, the rubber outsole is wearing extremely well. Granted, it's not the absolute stickiest rubber in the universe (the ultra-softest Five Ten shoes, such as the Freerider Contact and Trailcross GTX, definitely show signs of wear and tear more quickly). But even compared to the Freerider Pro Primeblue, which feels similar in terms of overall grip, the Latch is holding up impressively well.
The upper is faring nicely, too — really nothing to report here. The Latch seems quite well made and durable, especially for a reasonably lightweight all-arounder sort of shoe, rather than one that's meant for pure gravity use.
Luke: Yep, this shoe seems pretty burly with no obvious areas that might fail prematurely. The microfiber upper on my pair shows basically no signs of wear after several months of use, and the tread is holding up really well for its level of grip (notably better than even my Five Ten Sleuth DLX, which features Five Ten's slightly less grippy Stealth Phantom compound). So far, the Latch seems to be holding up similarly well to my Ride Concepts Powerline, so I'm curious to see if that continues in the long run.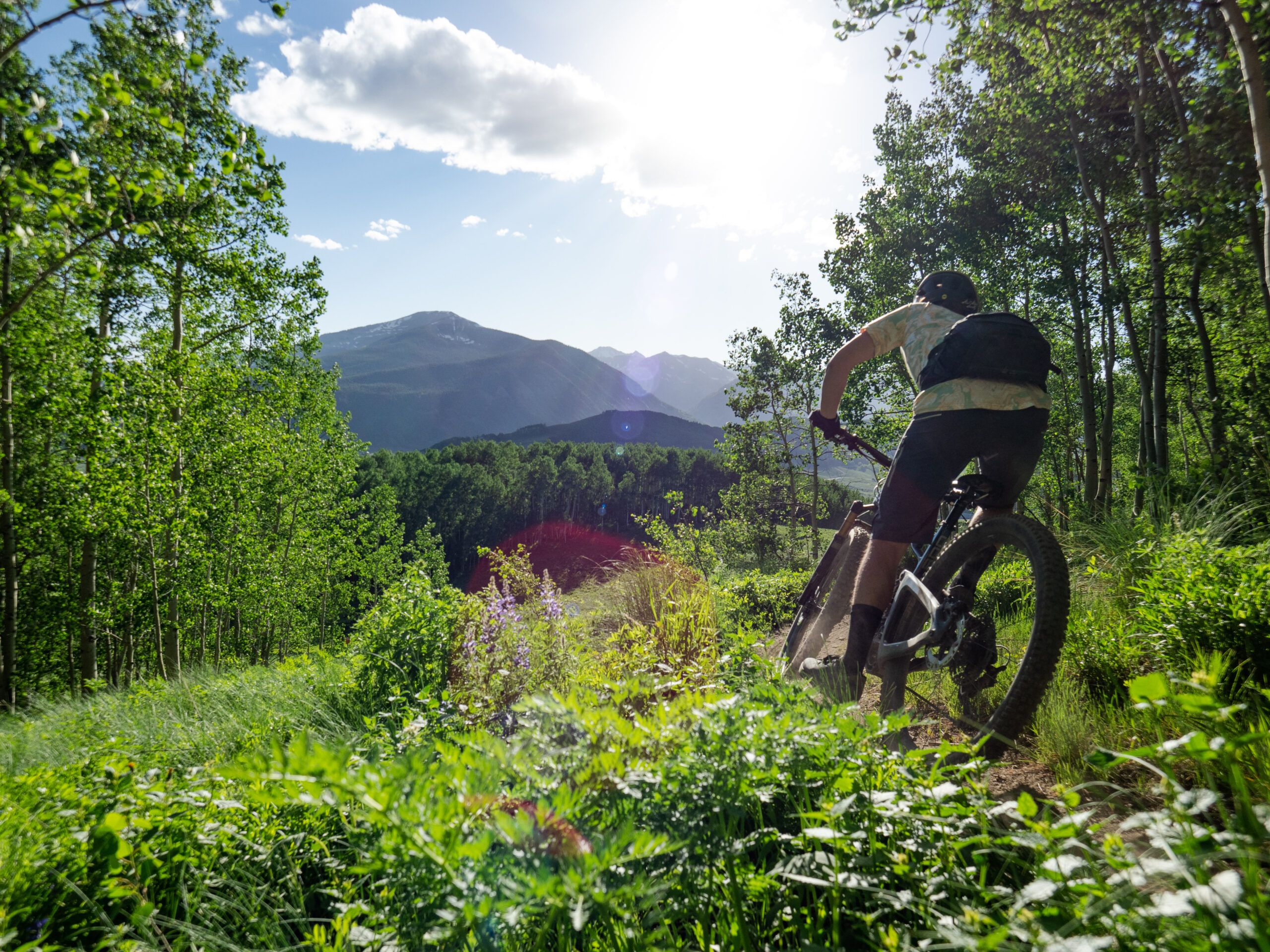 Bottom Line
David: The Giro Latch is a nice all-around flat pedal shoe, one that reminds me quite a bit of a Five Ten Freerider Pro with a slightly wider fit, especially through the toe box. While it's not the absolute grippiest shoe in the universe, it's a big step up from Giro's earlier efforts and strikes a really nice balance between offering good grip and still being relatively easy to reposition your feet on the pedals. Couple that with understated looks and very good durability, and it's a compelling option, particularly for folks who like the sound of the Freerider Pro but wish it was a bit wider.
Luke: When I'm reading about new flat pedal shoes, I always just skip to wherever someone talks about grip to see if a shoe is actually a viable option or not. Cause if a shoe is way off the benchmark models in that single regard, I immediately lose interest. Fortunately, I am happy to say that the Giro Latch definitely checks that box.
As David noted, the Latch isn't at the very upper echelon of tackiness, but as someone who's pretty picky about that, I have been totally content running it as my only flat shoe this whole summer. It's not super breathable, and those with very wide feet should attempt to try it on before buying. But the Latch is a very versatile flat-pedal shoe that offers competitive grip on the pedals, easier foot repositioning than the grippier alternatives, and a nicely damped, moderately stiff midsole that makes it applicable to a whole lot of riding scenarios.