Flylow Domino Jacket & Siren Bib
Test Locations: New Mexico; Japan; Alaska; Utah; Wyoming
Days Tested: 26
Reviewers:
Kara Williard: 5'10", 150 lbs
Rebecca Chow: 5'7", 125 lbs
Size Tested (jacket & bib): Medium
Blister's Measured Weight (both for size Medium):
Domino Jacket: 520 grams
Siren Bib: 503 grams
Fabric: "The Perm" waterproof / breathable laminate w/ 40-denier nylon face fabric
Stated Features — Domino Jacket:
Articulated shoulders and sleeves
Fully seam taped
12-inch pit zippers
Backpack friendly pockets
Helmet-compatible hood
No Bulk Cuffs
YKK waterproof zippers
High performance DWR (Durable Water Repellent)
Removable Powder Skirt
Stated Features — Siren Bib:
500-denier Cordura cuffs
Outer thigh vents
Articulated knees
Fully seam taped
YKK waterproof zippers
Domino Jacket Pockets:
2 exterior zippered chest pockets
2 exterior zippered hand pockets
1 interior zippered chest pocket
1 interior drop-in pocket
Siren Bib Pockets:
2 exterior zippered thigh pockets
1 exterior zippered bib pocket
1 exterior zippered seat pocket
MSRP:
Domino Jacket: $460 (on sale for $276 as of publishing)
Siren Bib: $460 (on sale for $276 as of publishing)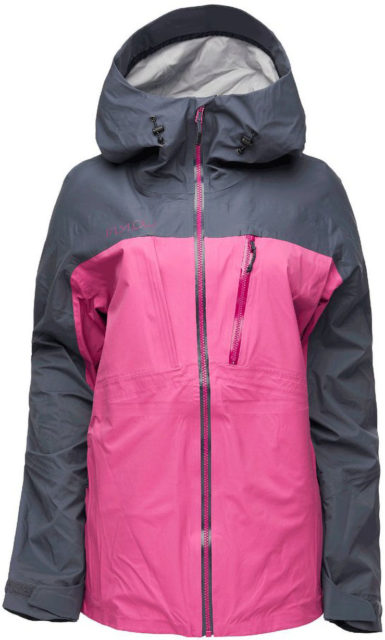 Share on facebook
Share on twitter
Share on pinterest
Share on reddit
Share on email
Review Navigation:
Specs //
Intro //
Fit //
Features //
Weight & Comparisons //
Materials & Performance //
Bottom Line
Intro
Kara Williard: When Flylow released a touring-oriented kit this past season, I was elated. While I have done the majority of my tours, even long days, in their Foxy Bib and both Vixen Jacket and Billie Coat, I was definitely wanting a more touring-oriented getup — one that would provide better breathability and do so in a lighter, more minimal package.
Flylow introduced the Domino Jacket and Siren Bib to their line for the 19/20 season and I was eager to put this kit to the test, not only to see if it would provide the backcountry performance I was looking for, but also to really gauge durability, as I have always been impressed when it comes to Flylow's quality control.
I spent about 20 days in the bib and jacket, from cold tours in snowy Japan, to warm spring conditions in southern Alaska, all the way to some groomer resort days this season in New Mexico. I've come away really impressed, so here I'll go over how the kit has performed, and new Blister Reviewer, Becca Chow, will also be adding her thoughts after using the kit.
Fit — Siren Bib
Kara Williard (5'10", 150 lbs): I typically wear a Medium-Long in Flylow bibs to fit my tall 5'10" frame. So, it didn't come as much of a surprise that the size Medium Siren Bib was a bit shorter than I prefer in the inseam, which forced me to wear the bib straps at max length. Despite that, it was still a comfortable and non-restrictive fit. My first day out in the Siren Bib consisted of a bushwhack and involved post-holing up to the hip, navigating tree wells, debris fields, bushes, and river crossings. The bib stayed in place and allowed me to pull off some questionable maneuvers.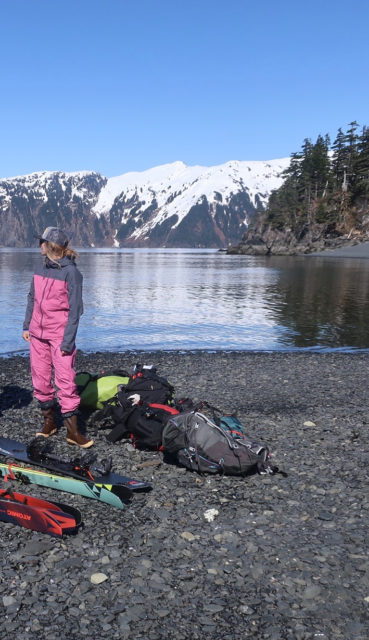 The fit is much slimmer in the legs than the Foxy Bib, but the Siren's cut also feels more articulated and hasn't inhibited any range of motion. The Foxy has a generally baggier fit and does sit a bit more comfortably on my wide-ish hips. Because the Siren is a partial bib, it is uninhibiting in the bust area, which is nice and I think it will give most women comfort in that zone, even with a couple of layers underneath.
Becca Chow (5'7", 125 lbs): Kara had mentioned the bibs were a little short on her and given that she's a few inches taller than me, I expected them to fit me perfectly, which was the case. The torso part of the bib is a little loose and without a puffy layer underneath, it creates a sizable gap on the back. But I enjoyed the versatility of the fit in terms of the variety of layers I could put both under and over the Siren Bib.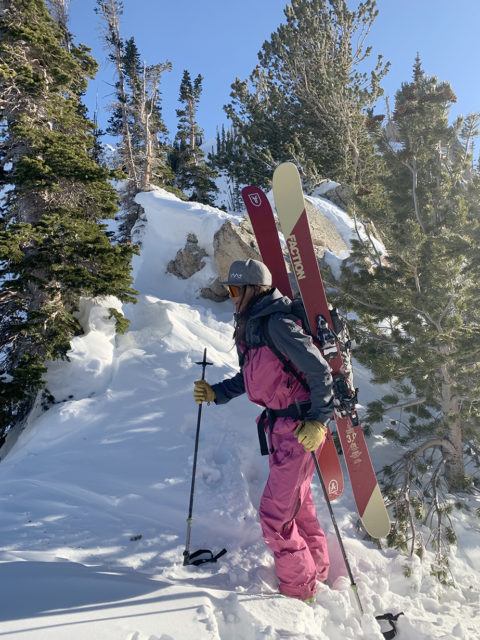 The straps on the Siren were pretty unnoticeable; I initially set them at a length that allowed the pants to sit on my hips nicely and then never had any issues with them falling, chafing, or otherwise bothering me.
Fit — Domino Jacket
Kara: The size Medium Domino Jacket is a pretty ideal fit for me. I love many Flylow jackets because the sleeves tend to be a bit longer, which is a necessity for my tall build. The Domino fits me comfortably with 2-3 layers underneath, while also not feeling baggy when paired with just a baselayer on the warm and windy spring days. On a cold and windy summit day, I was able to comfortably layer the Domino over the Flylow Betty Down jacket, which is a pretty bulky jacket, and had more than enough space to move freely, both while climbing up and skiing down.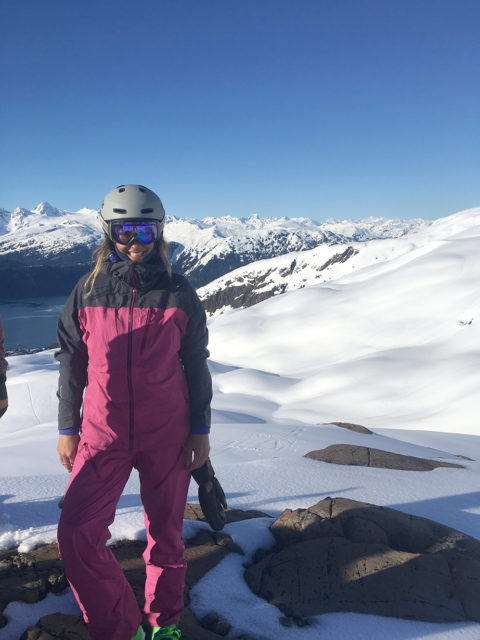 Becca: For me the size Medium Domino Jacket is on the longer side, coming down to about a few inches past my hips and providing nice booty coverage. The hemline of the jacket stayed put along with the body not bunching / riding up, which is something I typically deal with in longer jackets. Like Kara, the jacket fit perfectly with a multitude of different layers underneath, making it very versatile.
Features — Siren Bib
Kara: The Siren Bib offers full venting on the outer legs via zips. The right side vent is about 13.5" / 34 cm long. On the left side, the vent is 26" / 66 cm and starts from the waist and goes all the way to the top of the bib. As it is with women and bibs, easy access for peeing outside is a true test of well-devised features and smart design. With the full zip on the left side, you can easily drop the back and squat in the Siren. For being a partial bib, you still get a big enough kangaroo pocket with a loop to securely store your beacon, if you choose to do so. The bib suspenders are easily adjustable and easy to clip / unclip thanks to their buckles, but also fairly minimal and streamlined. I really like the diagonal pockets across the thighs, which are easy to open when en route.
Becca: For me, the features of the Siren Bib were on point. Vents and convenient pee-break access are a must for touring. Flylow really nailed these two things with this bib. The pockets are well placed and large enough to be useful (carry a phone / beacon / snacks). The cuffs of the bibs also have some snap adjusters that allowed me to make the cuff tighter and not have them dragging on the inside of my boots.
Features — Domino Jacket
Kara: The Domino Jacket has a pretty full feature set, without adding a ton of weight or bulk. With two exterior chest pockets, two exterior hand pockets, one small zippered interior pocket, one large interior drop-in pocket, and a helmet-compatible hood, the Domino offers almost as many features as the old Billie Coat and newer Vixen Jacket, but is significantly lighter and has a more flexible, softer fabric.
Becca: It was surprising that Flylow seemed to maintain all the features of what a heavier, more resort-oriented shell would have in a lightweight, touring jacket. Once again they did an amazing job with two 12.5" / 32 cm pit zips and plenty of pocket storage in the Domino Jacket. In the resort, I like to carry snacks and a small collapsible HydraPak softflask and had no issues fitting all this in the Domino Jacket. The interior drop-in pocket is 8"x8" / 20×20 cm and is great for stashing skins or gloves, though getting two pairs of skins cut for wide pow skis (110mm-wide+ and longer than ~175 cm) would be tricky. The Domino's "backpack friendly pockets" were clutch while touring — with both my waist and chest straps buckled on my touring pack, I could access all four of the Domino's exterior pockets. The YKK waterproof zippers felt sturdy and were easy to use; no struggles with zipping / unzipping the jacket. Speaking of zipping / unzipping, Flylow made the powder skirt removable with an easy unzip from the jacket.
Weight
Kara: For a brand that tends to create some very burly apparel, Flylow definitely stepped into the lightweight realm with this kit. As far as touring outerwear that can also be used in the resort, the Domino / Siren outfit is a good balance of lightweight and packable, but also substantial. At high elevations and in brutal winds, the Domino jacket felt highly protective, but it's also quite light at around 520 grams for the size Medium. There were many instances where I would throw the jacket in my pack, and was pleased that it would pack down about the size of a small water bottle (smaller than a 32-oz Nalgene bottle).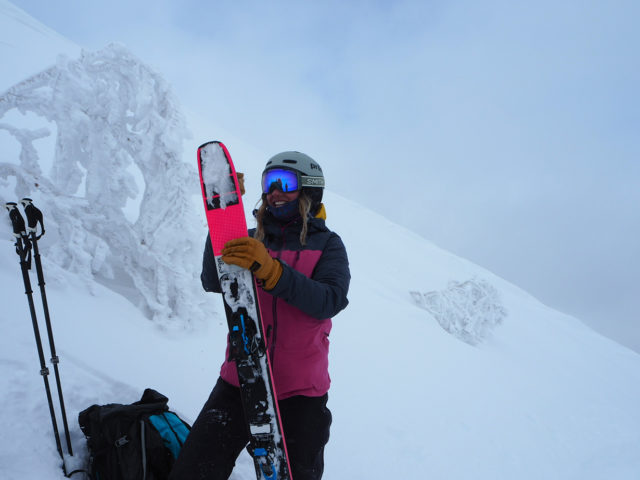 Becca: The size Medium Domino Jacket weighs in at 520 g, which is right in the middle of the other two jackets I own, the Arc'teryx Sentinel LT (580 g) and an older Millet Gore Tex shell (470 g). The Siren Bib at 508 g is a bit lighter than my Flylow Nina Pants (523 g), as expected. For me, the Domino and Siren's supple fabric makes them feel more lightweight, even though my Millet jacket is actually lighter. In general, I don't really think about the weight of my gear but more how it moves / if I notice it. Kara sums this up nicely below.
Materials
Kara: Both the Domino Jacket & Siren Bib use Flylow's proprietary, air-permeable "Perm" waterproof / breathable membrane, paired with a pretty lightweight 40-denier nylon face fabric and a durable water repellent finish. The Perm fabric is very soft and supple, much more so than the fabrics on the Flylow Foxy Bib, Billie Coat, and Vixen Jacket.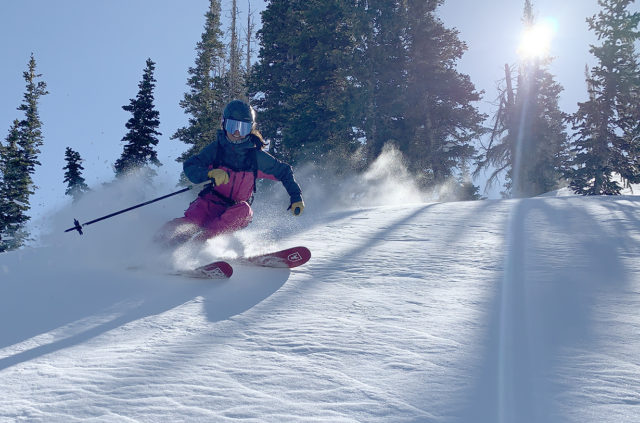 The Domino and Siren's fabric moves and conforms to my body easier, folds better, and tends to just conform and glide with little resistance. As a result, it is a very comfortable fabric, even when worn with only one thin base layer. The fabric drapes nicely and comfortably moved with me, rather than bunching unnecessarily when going uphill. For a waterproof "hardshell" fabric, the fabric on the Domino & Siren is very comfortable.
Weather Resistance
Kara: I had some interesting testing grounds for this kit. While I got a lot of touring days in Taos and Japan in the Domino jacket, I didn't get my hands on the Siren Bib until my April arrival in Alaska. This consisted of spending a week on a boat, which meant wet and rainy days on the boat and a lot of coastal weather. Through all of this, the 20K-rated kit performed really well. As with other 20K-rated fabrics I've used, the Perm fabric on the Domino & Siren kept me feeling comfortable and dry in everything from super warm, wet snow and rain to exceptionally windy summits to warm and sunny spring days.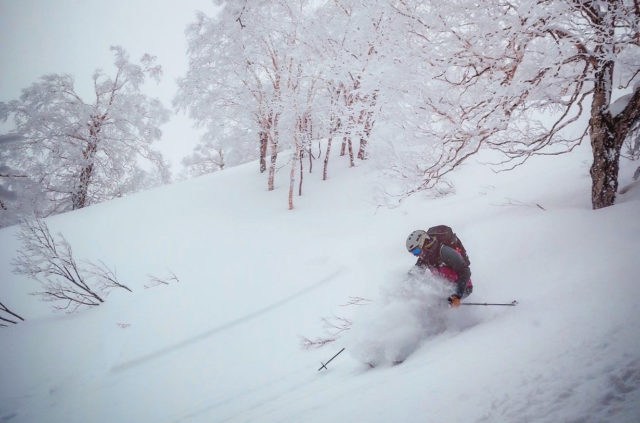 For the last two months of the resort and backcountry season of last year, the Domino Jacket quickly became my go-to choice. Because it is lighter and more comfortable than my other shells, it is an excellent choice for spring days, yet still feels protective when temps drop, the weather gets nasty, or the wind picks up. I would happily choose it as a 50/50 resort / backcountry shell if I was gravitating towards a lighter shell that does it all.
Becca: The majority of my time in this kit was spent in mild, spring-like, sunny days. The kit did a great job of blocking gusts on windy ridge lines, mountain tops, and chilly lift rides. In an unexpected snowstorm at Snowbird, I got to see how the kit did in wet conditions; just like Kara, I found that the Perm fabric held up through a few hours of snow and sitting on wet lifts without letting water through.
Breathability
Kara: The Siren Bib's fabric doesn't extend super high on the chest, which is ideal when it comes to breathability and ventilation on the uphill. For someone who is a newbie when it comes to "partial bibs," I was amazed by how much less sweat this created on the ascents. The Siren Bib also offers zippered ventilation on both sides of the leg, which allows for as much breeze and ventilation as you do / don't want. The material itself offers better breathability than other Flylow shells I have skied in over the years, and with so many ventilation options, I found it near impossible to overheat. At one point, I had both sides of the vents open so much that it hardly felt as though I was wearing pants.
The Domino jacket features 12-inch pit zips, and combined with the light and fairly breathable fabric, made for good breathability and airflow on the up. Even on warm spring days, I never felt on the verge of overheating. The material itself feels pretty breathable for a waterproof fabric, and combined with plenty of underarm venting, it is an easy shell to move uphill in when it is breezy (I'm generally not a fan of touring uphill in shells unless the wind or weather are on the cold / bitter side).
Becca: I easily work up a sweat and when skinning can comfortably wear just a base layer. But to get an idea of this kit's breathability, I opted to wear the jacket and bib for the entirety of a tour at the beginning of March in Taos. It was a warm day, around 30°F / -1°C when we started warming to around 40°F / 4.5°C but with some wind. I went very minimal under the kit with just a synthetic T-shirt and some thin Smartwool tights and was very happy all day. The biggest thing was not getting chilled due to sweating. The rest of the group mentioned they had a difficult time regulating their temperature due to the ridgeline being very windy but the temperatures being fairly warm. Since I was able to ascend with the Domino Jacket and Siren Bib, once I got into the wind, I was protected and didn't get chilled.
Warmth
Kara: The warmth of this kit comes through the highly protective wind & waterproof material, but it does not have much inherent insulative value. While the kit itself is not very warm, it is an excellent protective layer, and with proper layering underneath, it can cover a broad range of temperatures.
Durability
Kara: For being pretty lightweight, the Domino Jacket & Siren Bib have proven to be quite durable. I had some spring tours from the coastline which included navigating a lot of bushes and trees and the material held up against plenty of snags. Furthermore, living on a boat for a week in the kit definitely tested the daily wear of the material. I was impressed by the durability when it came to daily use. I have noticed slight pilling around the cuffs and the crotch on the Siren Bib, but it is very minor.
Becca: Agreed. In the resort, I spent a lot of time carrying skis on my shoulders and did not notice any wear and tear on the Domino jacket. While touring in Utah I had a couple brutal bootpacks through a breakable ice crust and one encounter with a small tree and was pretty sure there'd be some tears and cuts but the material stood the test. I've also been known to tear the cuffs of my pants and after my six days (on top of the time Kara spent in it), I haven't noticed this happening on the Siren Bib. So although the fabric feels delicate, it has not performed like it.
As always, we'll update this review if we run into any durability issues down the line.
Who's It For?
Kara: The Siren Bib and Domino Jacket are very versatile pieces. While I do find their best application to be for touring, they could definitely work for someone seeking a lighter-weight resort getup, especially for spring chair laps. While they're plenty light, breathable, and packable enough for the skin track, they still offer excellent weather protection and the features many people want in an inbounds kit.
The Domino & Siren combo feels much lighter and more breathable than almost any other Flylow shell I've been in, and as a result, it opens new doors for Flylow. I would happily ski the Domino Jacket almost any day of the year, and did find it to be almost as weatherproof and protective as my other Flylow shells, with a fraction of the weight or bulk. In really rough conditions I would likely stick to a beefier shell since I do find the Billie Coat to feel a bit more protective / warm in brutal winds. For colder or more intense conditions, I would likely stick to the Foxy Bib because it also does a slightly better job of blocking wind, and I prefer a full bib for this scenario. I found the Domino Jacket / Foxy Bib combo to also be highly versatile on days where I wanted a more protective bottom.
The point is, the Siren Bib and Domino Jacket are excellent choices for touring, but are far from limited to that application.
Bottom Line
Kara: The Siren Bib and Domino Jacket are great offerings in the women's touring category. Their fabric is light, very comfortable, and flexible but still does a great job of protecting against wet weather. This also makes them solid do-it-all options, from a lightweight resort-kit for spring or other warmer conditions to all sorts of conditions in the backcountry.
Becca: The material of the Domino Jacket and Siren Bib is softer and thinner than typical waterproof shells, so it packs down easier and moves better than what I typically expect from a shell. While this kit is designed for touring and it excels there, I found it to also be useful in resort. This kit reinforces my thoughts that, with a good shell layer, one can adapt to any condition.
Share this post:
Share on facebook
Share on twitter
Share on pinterest
Share on reddit
Share on email