Antidote Woodsprite
Wheel Size: 29''
Travel: 135 mm rear / 140–150 mm front
Material: Carbon Fiber
Price:
Frame: €3,799
Framesets starting from €3,799
Complete bikes starting from €7,799 (see below for details)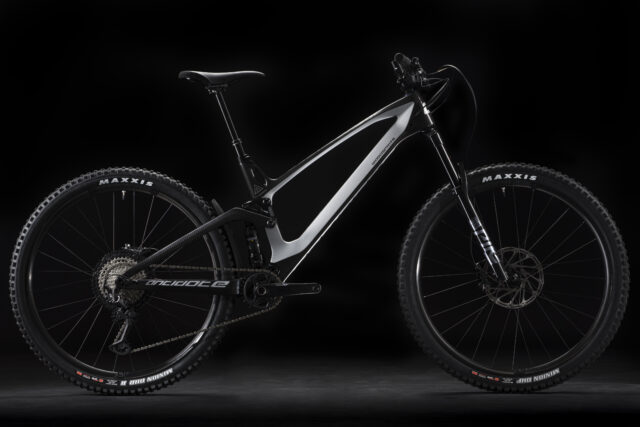 Intro
We've been spending a lot of time on Antidote's Enduro bike, the Carbonjack (review coming very soon), and at first glance, the Woodsprite looks a whole lot like a shorter-travel version. But there are a whole lot more subtle differences going on, so let's take a closer look.
The Frame
As with all of Antidote's bikes, the Woodsprite is made in their own factory in Poland, in carbon fiber only, and the raw carbon is the star of the show, aesthetically. The overall lines of the Woodsprite frame are very similar to the Carbonjack as well, though once you dig deeper some differences start to emerge. For one, the big cutout at the bottom of the downtube is gone, but (more significantly) the suspension layout is substantially different.
Both feature a version of Antidote's Floating Damper System (FDS) which positions the rear shock sideways behind the seat tube, and actuates it from both ends, with a small rocker link driving the upper eyelet. But where the two bikes differ is in what happens with the lower shock eye — the Carbonjack features a solid rear triangle, with a second mini link that pivots concentric to the bottom bracket shell and drives the shock. The Woodsprite does away with that and instead uses separate chainstay and seatstay assemblies, with a pivot concentric to the rear dropout tying them together. The lower shock eye is attached directly to the chainstay.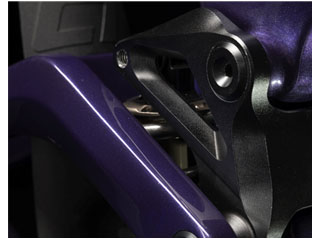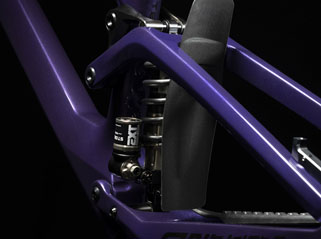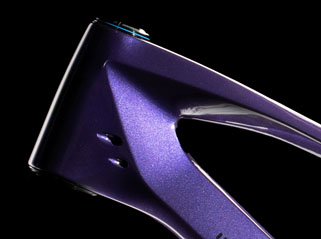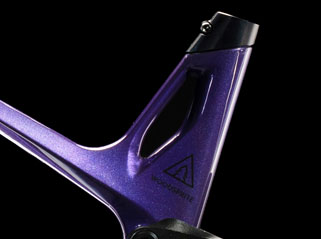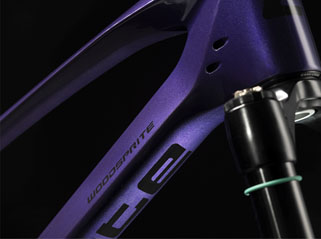 It's a clever simplification of the overall layout, and the resulting frame is fairly light — Antidote states a 2.5 kg weight, without shock. Cable routing is fully internal, with in-molded guide tubes for easy installation. ISCG-05 chainguide tabs are included, and tire clearance up to 2.6" wide is on offer. The brake mount is a custom bolt-on affair, with 180 and 203 mm versions available. Custom titanium and aluminum hardware is used throughout, including in the integrated seatpost clamp. Chainring compatibility up to 34t, a ZS44/ZS56 headset, a threaded bottom bracket shell, 148 mm boost rear axle spacing, and a 30.9 mm seatpost diameter round out the spec highlights.
Antidote publishes unusually complete suspension kinematic details for the Woodsprite, including the leverage and anti-rise curves, and anti-squat and pedal kickback info in all 12 gears. In short, the leverage ratio starts at about 2.55:1 and falls off to 2.2:1, starting off fairly flat and then getting moderately progressive starting around the sag point. Antidote says that the leverage curve is suitable to both air and coil shocks and offers both on their complete build packages. Anti-squat is slightly on the lower side, at about 90% around sag, depending on the gear. If you really want to nerd out the full graphs are shown here: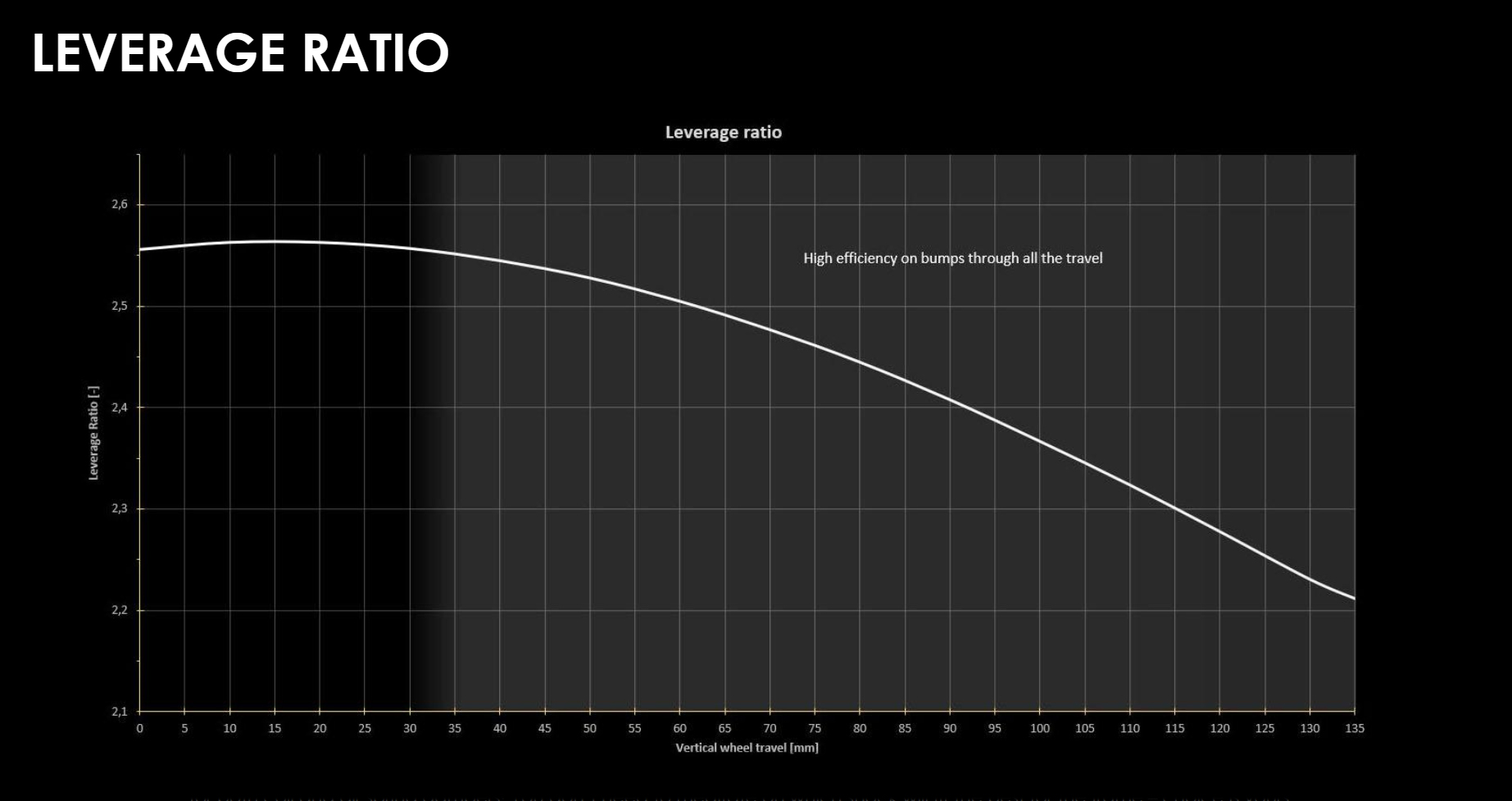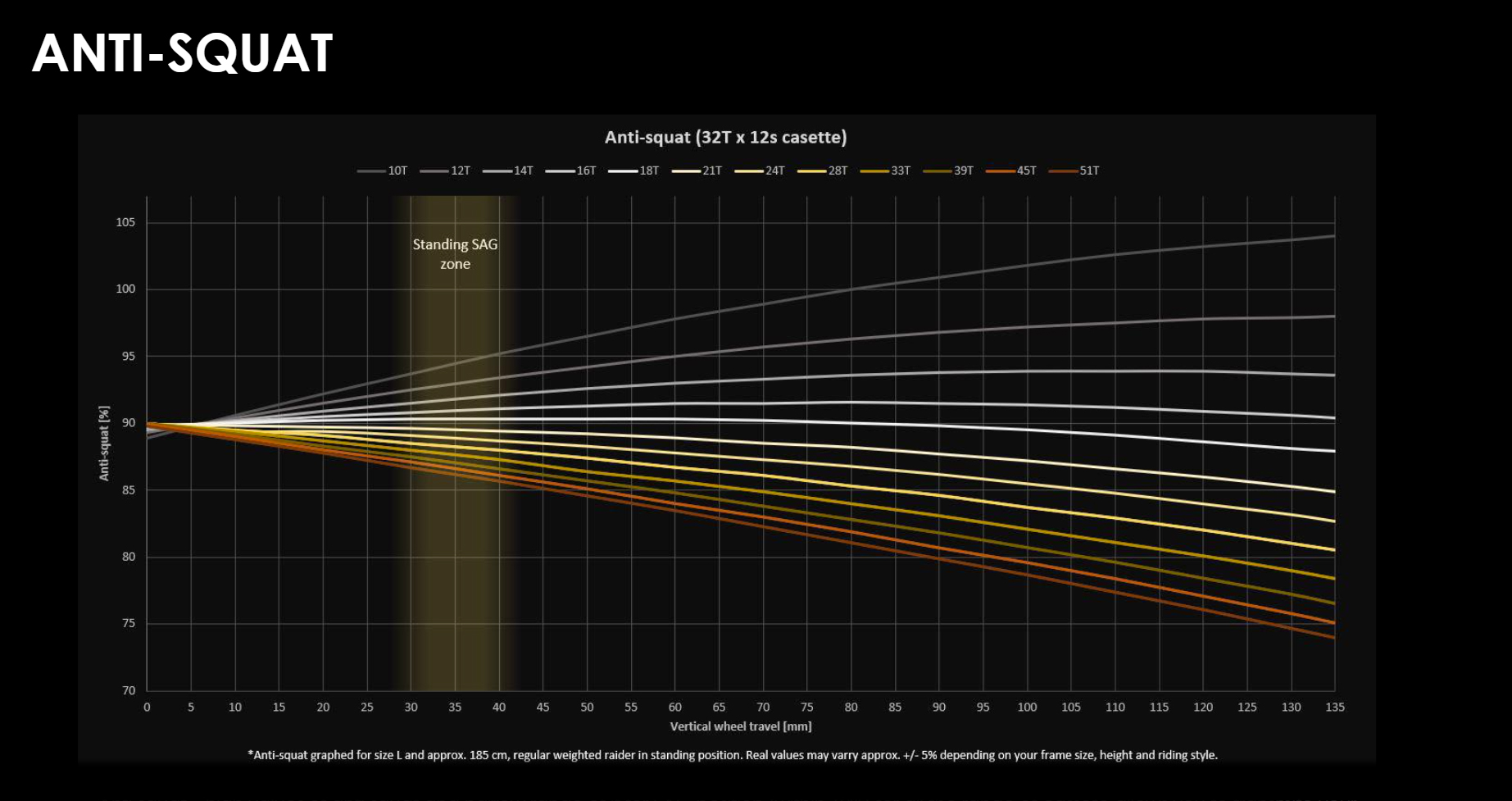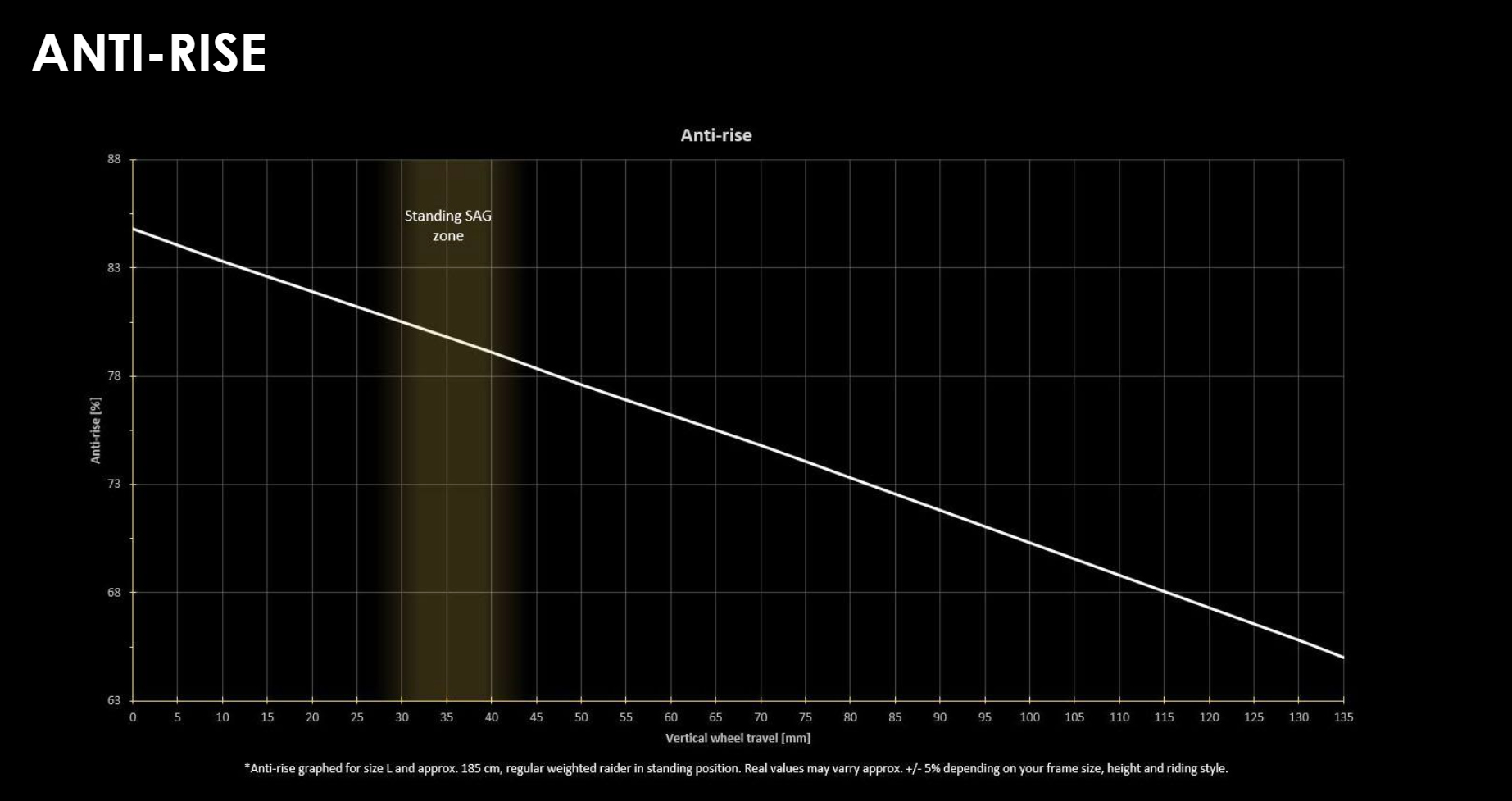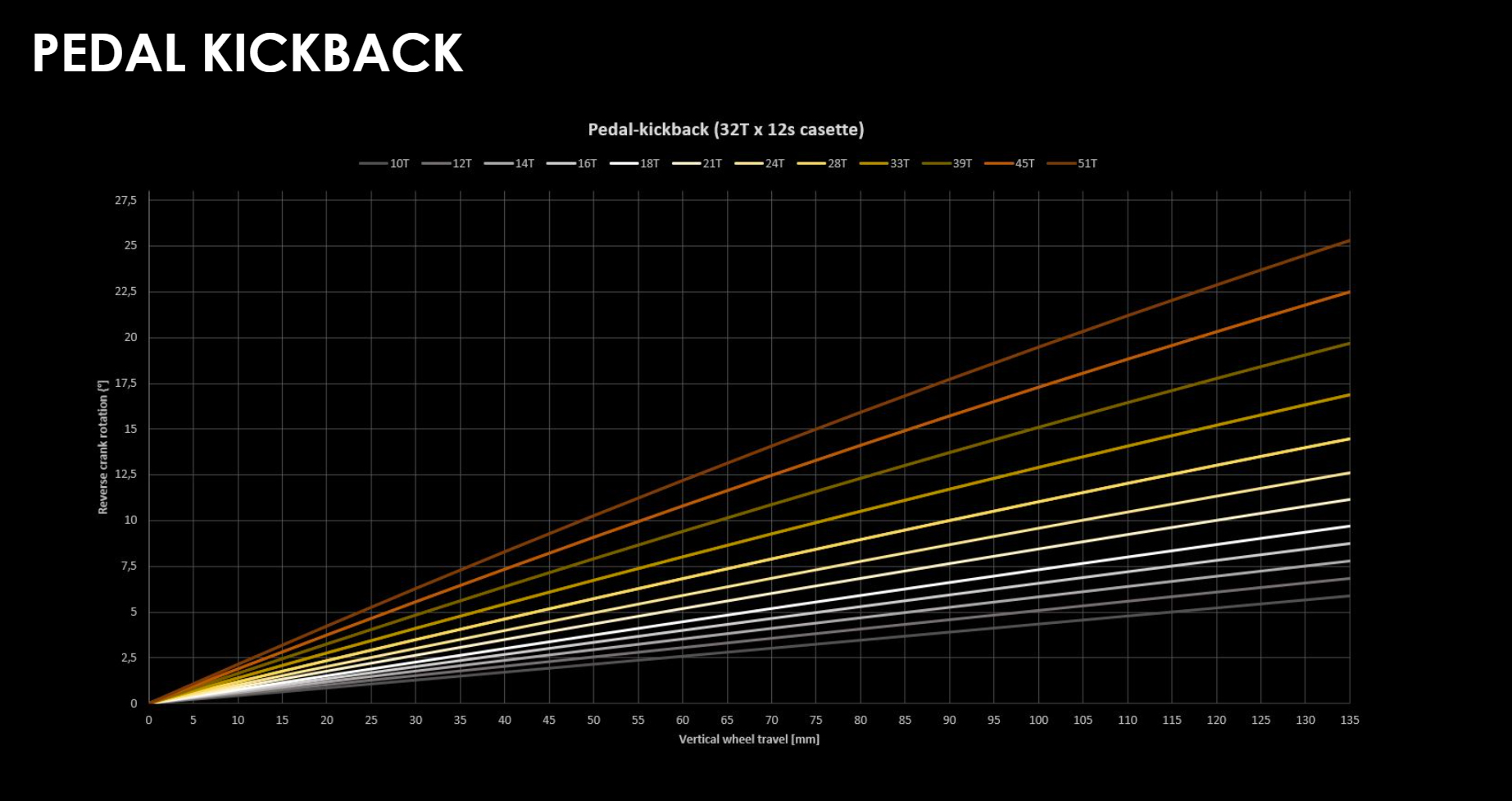 Fit & Geometry
Antidote offers the Woodsprite in three sizes, Medium through XL, which they say covers riders from 5'5'' through 6'6'' (169–198 cm). All four get a 65.5° headtube angle, a 76.5° effective seat tube angle (all measured at a realistic seat height for their given sizes — a really nice touch), and notably-long 450 mm chainstays. Reach ranges from 455 to 515 mm in 30 mm increments.
There are a couple of interesting things to note here: first that the geometry is pretty close to that of the Carbonjack Enduro bike. The headtube angle is 0.5° steeper and the seat tube angle ~1.5–2° steeper, depending on size, but they're otherwise very close. The second is that the chainstays are fairly long for this sort of bike, at 450 mm in all three sizes. It's not a total outlier in that regard — the Banshee Phantom, for example, gets 445 mm stays on a 120 mm rear-travel Trail bike — but it's certainly on the long side.
Our hunch is that the Woodsprite is going to be a bit more stable and game-on than a lot of ~130mm-travel Trail bikes, but we're very curious to get one on trail and see how it stacks up.
The Builds
Antidote lists seven different builds for the Woodsprite, but as per usual for Antidote they're really more like three different builds with three different suspension offerings, making for seven total combinations (since not all combinations are on offer). And they're all pretty high-end — and notably burly for a 135mm-travel Trail bike. All the builds get 4-piston brakes with big rotors, Industry Nine Enduro S wheels, Maxxis Minion DHF 2.5'' front / DHRII 2.4'' rear tires (with Exo+ casings) and so on.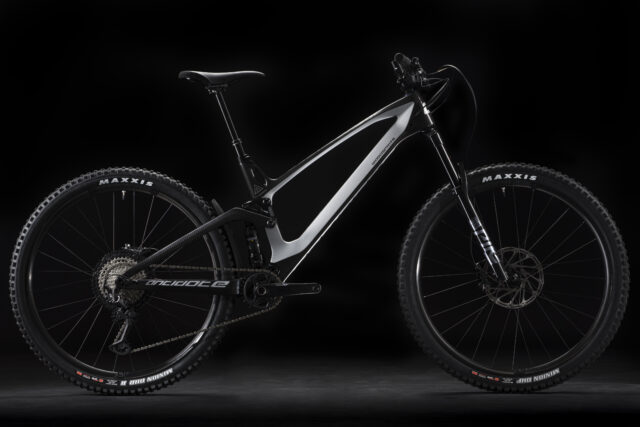 Antidote also offers the Woodsprite as a frame only, or as a frameset with a fork and shock package included. And Antidote's typical host of custom paint options are available as well. Check out their website for the full rundown.
Some Questions / Things We're Curious About
(1) On paper, the Woodsprite looks like a relatively aggressive mid-travel Trail bike, particularly with the EXT suspension spec, which gets you an extra 10 mm of fork travel and a coil rear shock. Is that borne out on the trail?
(2) And just how similar do the Woodsprite and Carbonjack feel, and who should be picking which bike from the Antidote range?
Bottom Line (For Now)
The Woodsprite is an exciting new offering for Antidote, and gives their model line a shorter-travel option that had been missing up until now. We're hoping to get a Woodsprite lined up to review, so stay tuned for more to come.