Canfield Jedi 29
Wheel Size: 29''
Travel: 203mm rear / 200 mm front (see below)
Material: Aluminum
Price:
Frame only: $2,600 ($2,300 on pre-order)
Complete bike: $6,500 ($6,000 on pre-order)
Frame + shock and frame + shock + fork packages available, see below for details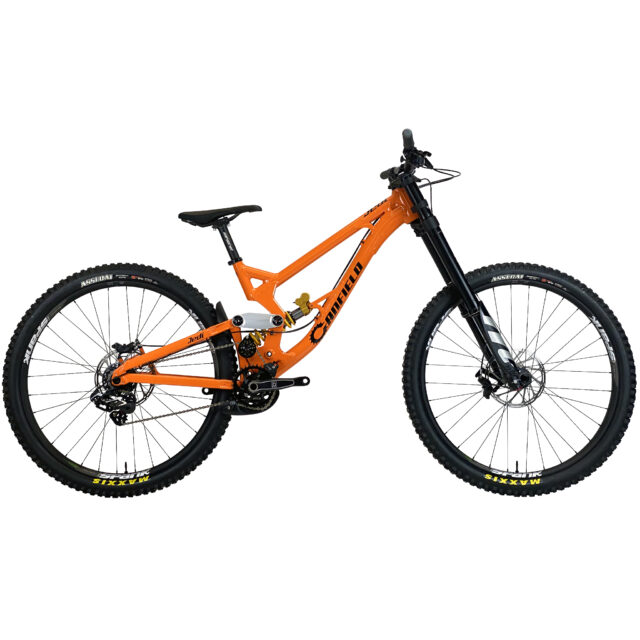 Intro
We've talked a lot about how high-pivot bikes are having a resurgence of late but they're certainly not a new idea, and perhaps the most famous bike from their original heyday in the 2000s was the Canfield Jedi. Well, after a few years' hiatus, the Jedi is back, and it's still got the familiar dual-link, high-virtual-pivot layout of its predecessors. There's a whole lot that is new though, including 29'' wheels, modernized geometry, and substantially redesigned suspension kinematics, so let's dive in.
The Frame
Carbon DH bikes may be commonplace these days, but Canfield is sticking to aluminum with the Jedi. Not that we're complaining. Saving weight on a DH frame isn't a super high priority, and we've even seen brands like Trek — who offered one of the first carbon DH bikes on the market — go back to aluminum-only with their latest Session.
As folks who are familiar with the earlier iterations of the Jedi would expect, the new Jedi 29 uses a dual mini-link suspension layout, with a significantly rearward axle path and an idler pulley to keep chain growth in check — Canfield claims less than 1mm total growth through the entire travel. Pedal kickback numbers aren't published, but given the near-zero chain growth, there should be almost none.
Interestingly, Canfield isn't referring to the suspension layout by their CBF (Canfield Balance Formula) trademark, and instead is bringing back the "Formula 1" name that they used on prior iterations of the Jedi. And that does make some sense — though both the CBF layout (as used on a number of bikes from both Canfield and Revel, including the Lithium, Rail, and Ranger) and the Formula 1 designs are dual mini-link layouts, they are substantially different in terms of link placement and configuration, in addition to the Formula 1's idler pulley.
That's not to say that Canfield hasn't revised the kinematics from the prior-generation Jedi, though. Perhaps most notably, Canfield is quick to point out that "a revised axle path allows it to corner and jump more intuitively than previous versions." Having ridden a few earlier Jedis, that line, in particular, is quite exciting — the Jedis of old had extremely rearward axle paths, which felt great when trying to carry speed through rough sections of trail but could also feel awkward when trying to preload the suspension off lips, or when loading it up into corners. Canfield says that the new Jedi 29 has 19 mm of rearward travel (compared to 33 mm on the 2015-2017 bike) and I'm very curious to see how the new bike compares in terms of on-trail feel.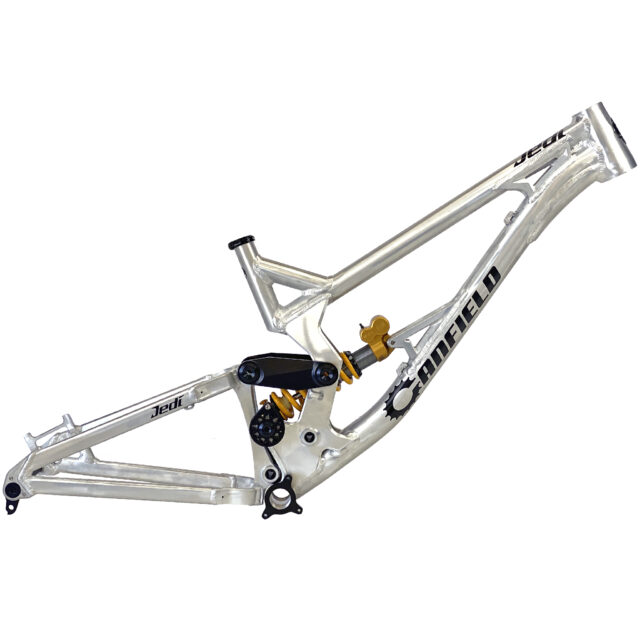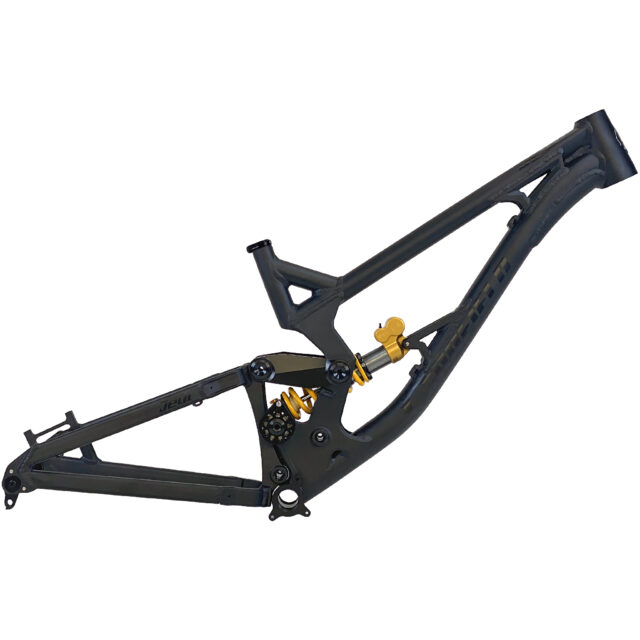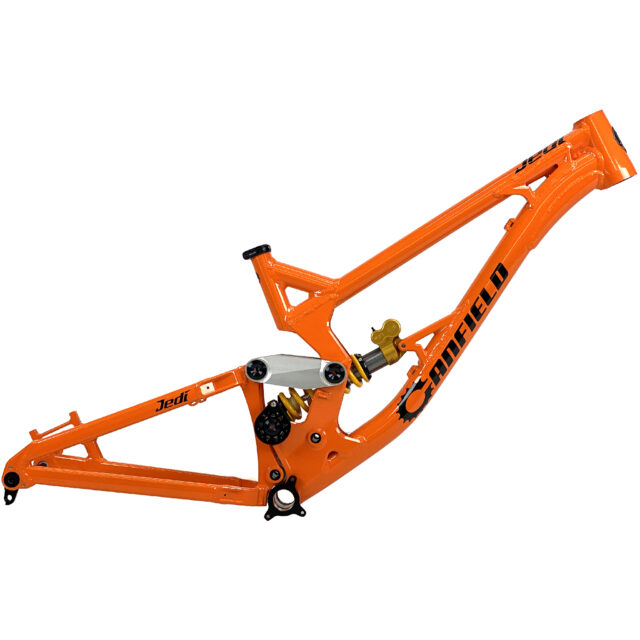 Canfield also says that the suspension kinematics have been tweaked to increase progression in the leverage curve, bolster midstroke support, and achieve slightly less anti-rise, for more neutral braking performance than the old bike.
Elsewhere, the features of the Jedi 29 frame are pretty standard for a modern DH bike. You get an 83mm threaded bottom bracket shell, 157 x12mm dropouts, ISCG-05 tabs (complete bikes come with a custom MRP chainguide, designed for the high-pivot and idler arrangement) and a ZS44/56 mm headtube. The Jedi 29 takes a 250 x 75 mm shock with 20 x 8 mm hardware at both ends if you want to BYO — a bare frame, frame + shock, and frame + shock + fork packages are all available, in addition to a complete bike, as we'll describe in more detail below.
Fit & Geometry
The Jedi 29 is offered in three sizes, Medium through Extra Large. The headtube angle on all three is 62.5° degrees, and they all share the same 427 mm chainstay length. That's very short for a modern DH bike, though Canfield notes that they measure 443 mm at sag, due to the substantially rearward axle path. That's still perhaps a touch on the short-ish side, but not by nearly as big a margin.
Reach ranges from 450 to 500 mm in neat 25 mm increments, all of which add up to wheelbases starting at 1,252 mm on the Medium, up to 1,304 mm on the XL. Canfield says that range covers riders from 5'5'' to 6'6'' (165 to 198 cm)
The Build
Canfield offers the Jedi 29 in a single complete build, with options for the fork and rear shock. A frame-only setup, frame + shock, and frame + shock + fork package are all available. Currently, all are available for pre-order with delivery expected in May 2022, at a discount from their full retail price.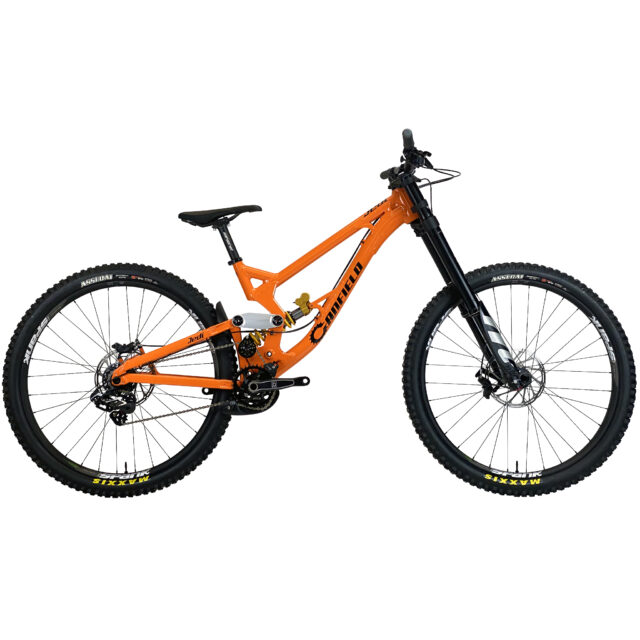 Shock: Ohlins TTX22 ($700) or EXT Arma ($900)

Fork: Manitou Dorado Expert ($1,100) or Dorado Pro ($1,400)
Fork: Manitou Dorado Expert (Dorado Pro available for a $300 upcharge)
Shock: Ohlins TTX22 (EXT Arma available for a $200 upcharge)
Drivetrain: TRP DH7
Crankset: Canfield
Brakes: TRP DH-R Evo
Wheels: e*thirteen LG1 Plus
Some Questions / Things We're Curious About
(1) The revised suspension kinematics of the new Jedi 29 sound like they should keep a lot of the ability of the old bike to carry speed in rough terrain, with far fewer downsides — but is that really the case on trail?
(2) And how does the Jedi 29 stack up against other high-pivot DH bikes, such as the Trek Session and Commencal Supreme?
Bottom Line (For Now)
It's always exciting to see bikes with as storied histories as the Canfield Jedi resurface, and the new Jedi 29 looks to be a very promising take on a modern DH race bike. We're hoping to be able to get on one for a full review when they're available next year and look forward to finding out how the Jedi 29 stacks up against both its predecessors and the current DH bike market.