Öhlins RXF 34 m.2
Travel Options: 120 & 130 mm
Wheel Sizes: 29''
Available Offset: 44 mm
Stanchions: 34 mm
Blister's Measured Weight (130 mm, uncut steerer tube): 1,740 g
MSRP: $1,180
Reviewers:
David Golay: 6', 175 lb / 183 cm, 79.4 kg
Zack Henderson: 6', 160 lb / 183 cm, 72.6 kg
Bolted To: Rocky Mountain Element, Guerrilla Gravity Trail Pistol, Banshee Phantom
Test Duration: 5.5 months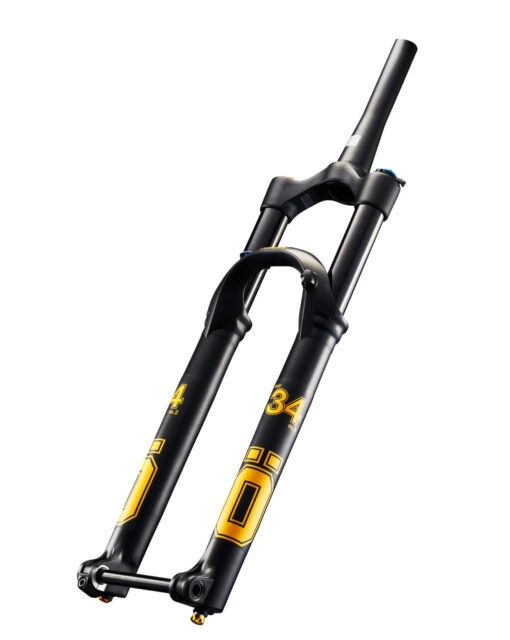 Intro
I've been a huge fan of Öhlins' RXF 36 and (especially) RXF 38 forks in the latest "m.2" generation, so when they announced a new iteration of the RXF 34 Trail bike fork, I was more than a little interested. But unlike its two bigger siblings, the RXF 34 m.2 doesn't use the TTX 18 damper or the dual-positive air spring design that I've gotten on so well with, so I wasn't sure what to expect, either.
We've got an RXF 34 m.2 in for testing and will have a full review to come, but for now, let's dive into the details on the new fork:
The Design
Externally, the RXF 34 m.2 looks a whole lot like the bigger RXF 36 and RXF 38 — Öhlins' classic black and gold color scheme remains, and the overall design language, damper adjustments, axle layout, and so on are all very similar. As you've undoubtedly figured out, there are the obvious differences in stanchion size (starting with the 34 mm ones on the RXF 34, which grow by 2 mm with each step up in the line) and the corresponding differences in overall bulk, but the three forks are clearly in the same family.
Internally, though, things are completely different. Whereas the RXF 36 and RXF 38 use Öhlins' longstanding TTX 18 twin-tube damper, the RXF 34 gets an all-new monotube one, which Öhlins calls "OTX 18." It's got the same adjustments as the bigger forks — rebound, high- and low-speed compression, with the last click on the HSC knob activating a climb mode — but the guts that make all that happen are entirely different. Given the RXF 34's role as a short-travel Trail bike fork, cutting weight was, understandably, a major goal and Öhlins says that the OTX 18 is about 27% lighter than the full-fat TTX 18 found in their bigger forks.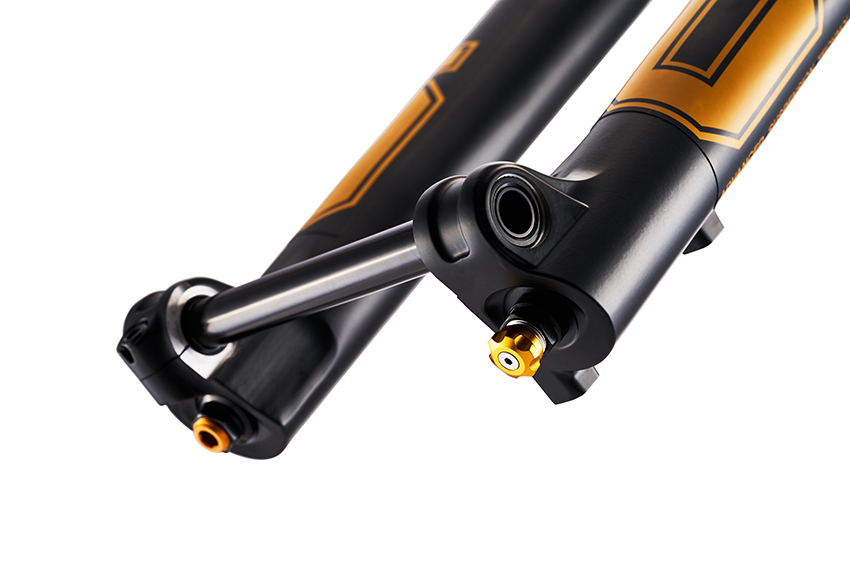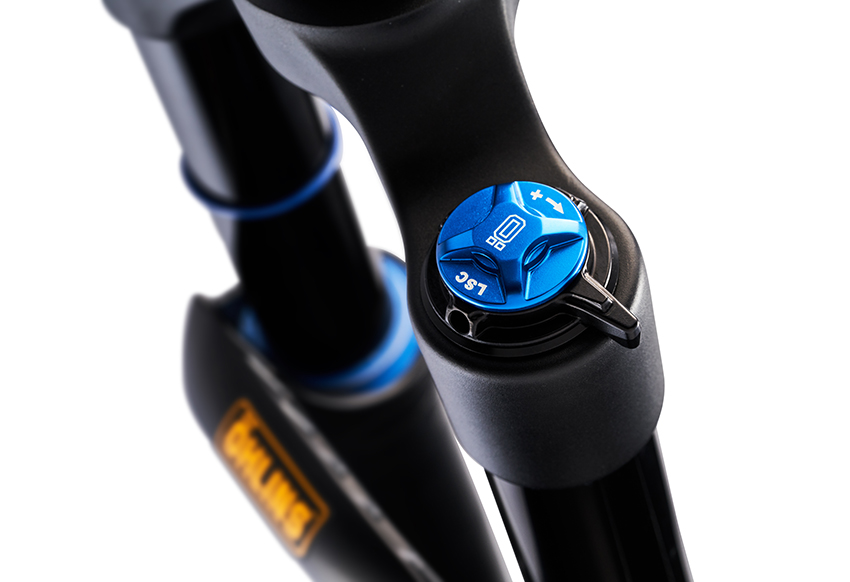 The OTX 18 damper is said to be "optimized for faster and more fluid trail riding," which, in part, means a somewhat lighter compression tune than the RXF 36 and RXF 38 get — which makes good sense for a fork that's meant to be ridden on shorter-travel bikes that are going to see less aggressive descending and super hard hits. And it's also worth noting that the RXF 34's bigger siblings are notably firmly damped, particularly compared to Fox's lightly tuned Grip2 forks. It'll be very interesting to see how the RXF 34 compares, and we've got one in for testing so we'll have a lot more to say on that subject soon.
The air spring in the RXF 34 is also substantially different from that in the RXF 36 and RXF 38. Both of the bigger forks use a dual-positive air spring design that has some very real benefits when it comes to tunability and midstroke support, but the RXF 34 forgoes that design for a more conventional spring design with a single positive air chamber, similar to what Fox and RockShox have been using across their ranges for a while now.
[For a whole lot more on that dual-positive spring design, check out the "Design & Features" section of our review of the RXF 36.]
As with the Fox and RockShox implementations of the design, the RXF 34's air spring is filled through a single valve and equalizes pressure between the positive and negative chambers automatically. In lieu of the second positive air chamber, the RXF 34 adds adjustable volume spacers, which clip into the top cap very much like Fox's version. And like Fox and RockShox's spring designs (and unlike the RXF 36 and RXF 38's versions), the RXF 34 uses the inside of the stanchion as the outer part of the air spring, instead of having a self-contained cartridge design.
The RXF 34 m.2 is only available for 29'' wheels and with 120 or 130 mm of travel. Öhlins says a shorter-travel version might come later, but that the chassis can't handle anything longer than 130 mm. The axle is the same 15 x 110 mm Boost floating bolt-on version used on the RXF 36 and RXF 38, and the brake mount is for a 160 mm rotor; Öhlins condones up to a 203 mm one with an adapter.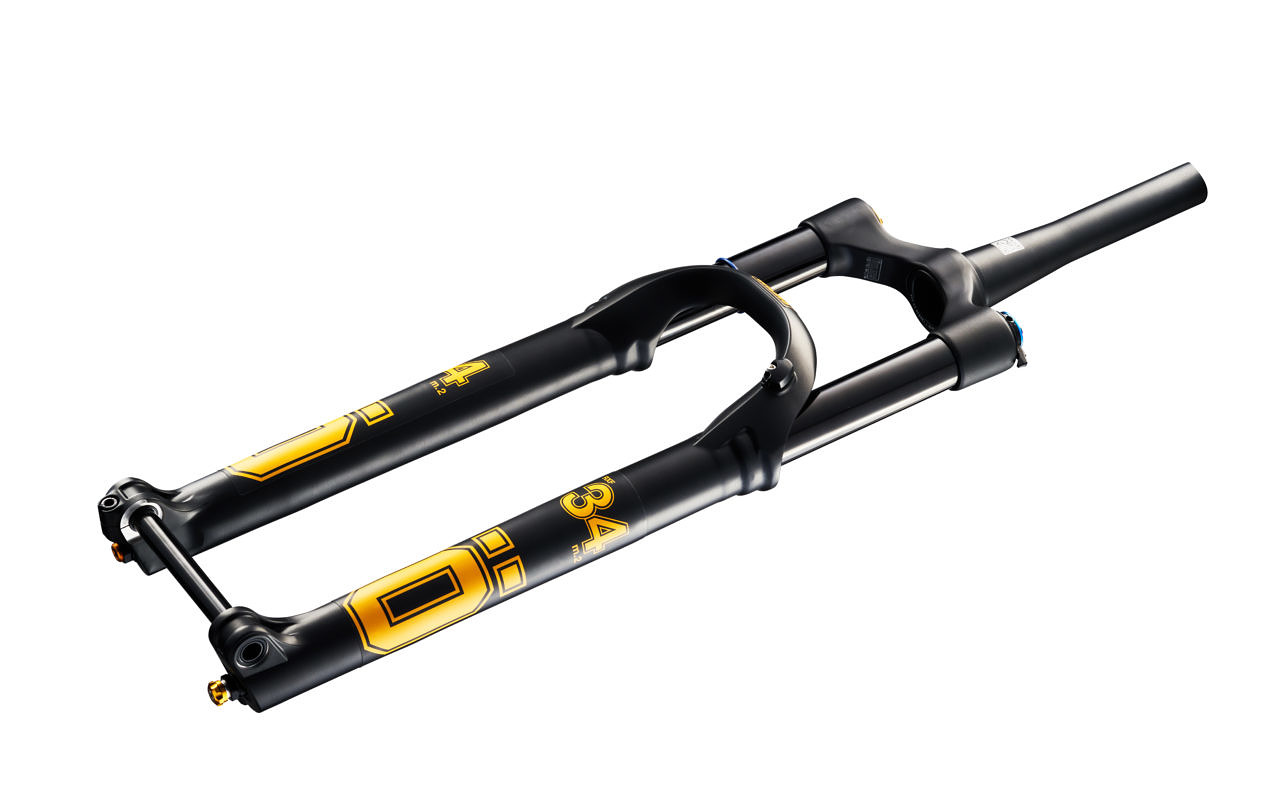 Some Questions / Things We're Curious About
(1) We've been huge fans of Öhlins' RXF 36 and RXF 38, but does the RXF 34 stack up to its bigger siblings, or are the different spring and damper designs a letdown?
(2) And how does the RXF 34 compare to its main rivals from other brands — chiefly, the Fox 34?
Bottom Line (For Now)
Öhlins' initial forays into the mountain bike world were somewhat hit and miss, but they have been on a roll with their recent offerings. Can the RXF 34 m.2 maintain that momentum — especially since it introduces new spring and damper designs? Stay tuned for a full review soon.
Flash Review
Blister Members can read our Flash Review of the RXF34 m.2 for our initial on-trail impressions. Become a Blister Member now to check out this and all of our Flash Reviews, plus get exclusive deals and discounts on skis, and personalized gear recommendations from us.
FULL REVIEW
Intro
The class of ~130mm-travel forks is an especially diverse one, with options that share design features with true XC forks, and others that borrow more heavily from longer-travel, burlier options. And through that lens, the Öhlins RXF 34 m.2 sits in an interesting place — it doesn't share damper or spring designs with Öhlins' bigger forks (the excellent RXF 36 and RXF 38), but Öhlins also doesn't make a true XC fork to base the RXF 34 around. It's something entirely new, so we weren't quite sure what to expect, but were excited to learn more.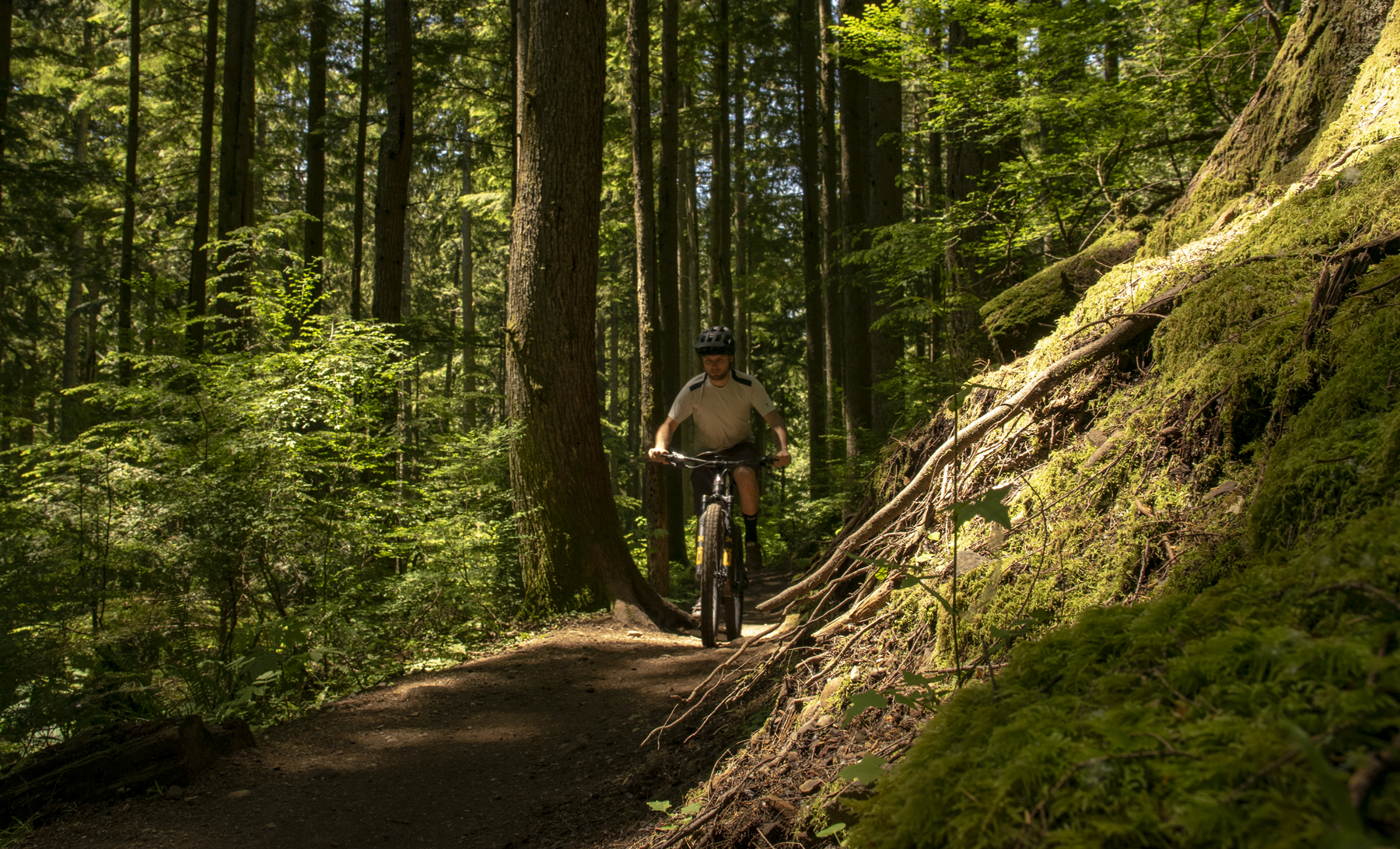 On the Trail
David Golay: The three-chamber air spring that Öhlins uses in its RXF 36 and RXF 38 forks plays a big role in my appreciation of those two, so I was curious to see how the simpler, lighter design in the RXF 34 would stack up. I certainly didn't expect the shorter-travel fork to have as good midstroke support as its bigger siblings, but with less travel on tap (I tested both of the bigger forks at 170 mm), there's also generally less need for an ultra-supportive setup to keep fork dive under control, not to mention that I'd generally be riding less-steep trails on the sorts of bikes that the RXF 34 would suit.
But I initially struggled with the setup of the RXF 34, and it was midstroke support that I initially found lacking. I started with 84 psi in the fork (right around Öhlins' recommended setting for my weight) but felt like the RXF 34 was riding deeper in its travel than I wanted it to much of the time, and relying too heavily on the final ramp-up of the air spring to avoid bottoming out, meaning that I was operating within a relatively narrow slice of the travel and often slamming into the final bit of progression deep in the stroke, even on what I'd call more medium-sized impacts.
After some experimentation with running fewer volume spacers (I eventually settled on one, down from the stock three) and correspondingly more air pressure (about 96 psi) to make the spring curve more linear and supportive, things started to click more. With that setup, the RXF 34's small-bump sensitivity did suffer somewhat as compared to the baseline settings, but especially on shorter-travel forks, my general inclination isn't to strive for ultra-supple initial travel anyway. With limited total travel available, I'd rather optimize for dealing with medium to larger impacts, and emphasize making the bike firmer and more lively off the top (which is in no small part the whole point of a shorter-travel bike in the first place). Compared to both the Fox 34 (especially the Grip2 version) and the new Charger3-equipped RockShox Pike, the RXF 34 definitely feels firmer off the top and more like a beefed-up XC fork than a scaled-down Enduro one, but with those expectations in mind, I think it works quite well.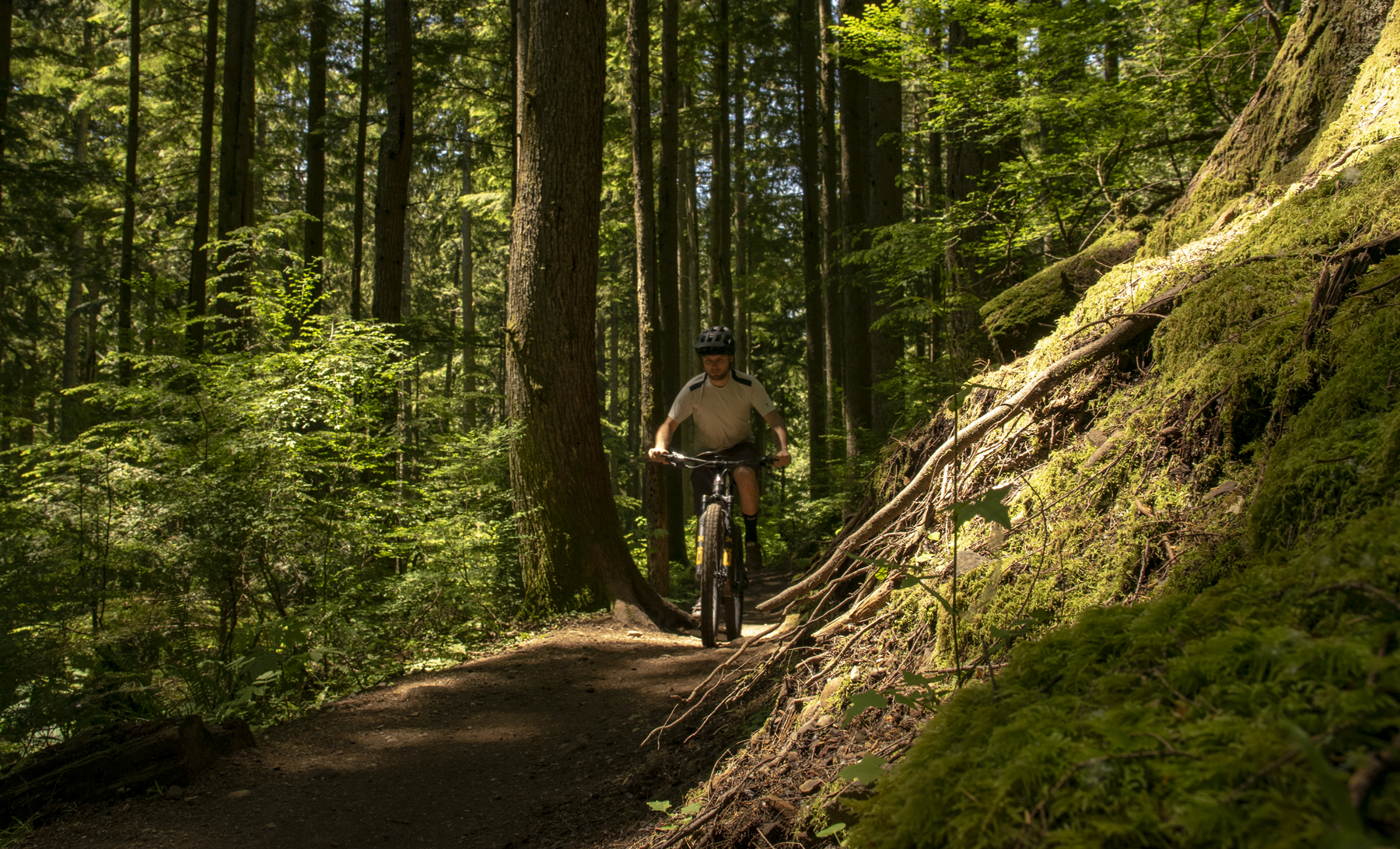 I had an easier time with the damper side of the RXF 34, settling in on mostly running the high-speed compression adjuster in the middle position (of the "normal" settings, leaving the climb mode out of the picture), the low-speed compression at 7 clicks from closed, and the rebound at -6. And in that ballpark, the RXF 34's damper feels much more firmly damped in high-speed compression (a welcome thing in my book) than the Fox Fit4, and to a lesser extent, the Grip2 as well. I did notice a little bit of inconsistency on longer, sustained sections of high-speed descending where it did feel like the damping would start to fade and lighten up a little bit (I think probably due to heat building up in the damper) that I've not experienced on its bigger siblings, but I had to try pretty hard to get there; if you're not going to regularly be descending 2,000+ feet of elevation in one shot on your short-travel bike, I doubt most folks will notice much of a limitation there.
Zack Henderson: I am, like David, a massive fan of Öhlins' other single-crown fork offerings, the RXF 36 m.2 and RXF 38 m.2, but I've been spending a lot more time on shorter-travel trail bikes as of late and was very intrigued to see if the RXF 34 m.2 could keep up with what Öhlins has been doing in the longer-travel segment.
Things were off to an admittedly rocky start when I first got the RXF 34 m.2 out on the trail. At Öhlins' recommended pressure for my weight (about 80–82 psi), sensitivity was good, but the midstroke support just wasn't quite what I wanted. I weigh 160 lbs, and ended up settling on 88 psi after trying Öhlins' recommended settings — like David, running higher pressure to keep the fork from diving in the midstroke, and sticking with one volume spacer for that more linear feel. This reduced small-bump sensitivity a bit and introduced a little more hand fatigue on longer rides, but it remained decent, and the added support made a huge difference in keeping the fork riding higher in rougher terrain.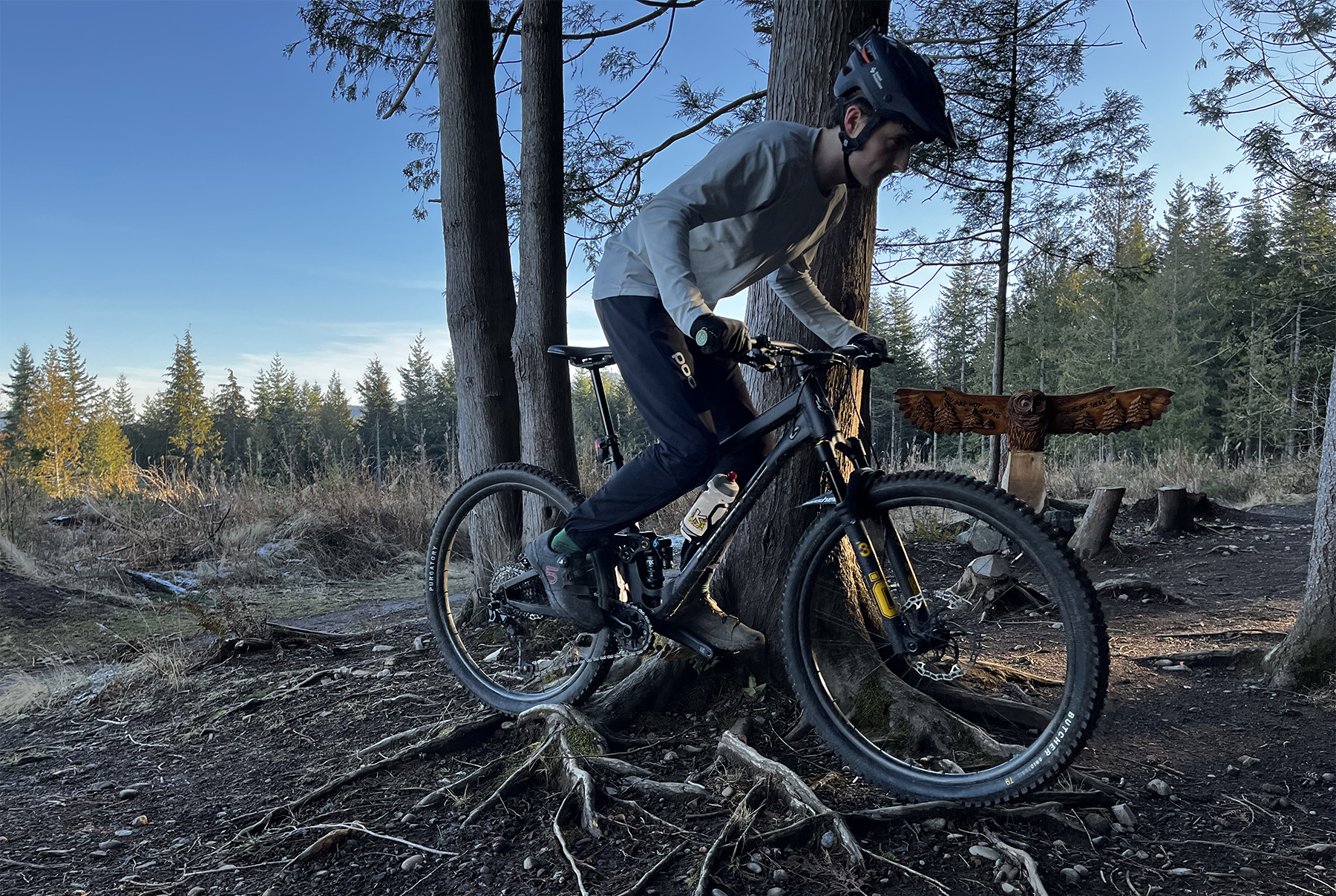 When it came to the damper side, I gravitated toward my conventional Öhlins setup tricks of trying to keep the damping relatively open, expecting a similar heavily-damped feel to the TTX 18 damper found in the RXF 36 m.2 and RXF 38 m.2. Again, Öhlins surprised me a bit here, with the RXF 34's OTX 18 damper delivering a much more lightly damped feel that felt comfortable on smoother trails but unstable in rougher terrain. I settled on running the rebound 8 clicks from closed, low-speed compression 6 clicks from closed, and high-speed compression 2 clicks from climb mode (1 from open), and I was impressed by the amount of support on offer.
After that initial tinkering, I ended up getting along quite well with the RXF 34 m.2. Coming from a Pike Ultimate (with the older Charger 2.1 damper), the slightly lighter weight on the front end was more noticeable than I would have thought, and despite the more supportive feel, the fork maintained a firm, lively feel that suited my very energetic 120mm-travel Banshee Phantom V3 quite well. The OTX 18 damper managed to feel both more lively and more controlled than the Charger 2.1 on the Pike Ultimate that was previously on the bike, resisting some of the spiking tendencies that I've found the Charger 2.1 to exhibit in repeated larger compressions. Even in rough sections, there was always a nice bit of support available from the damping, and even in rougher sections I could really press into the bike and get enough pop to jump over obstacles — something I've struggled with when using Fox's Grip2 damper, which irons out the trail a bit more but doesn't offer nearly as much support under larger impacts.
I did find that all of the weight savings that Öhlins chased in the chassis, air spring, and damper showed some weaknesses when pushing outside of what one might think of as XC / Trail riding. The chassis does feel less stiff and controlled than the burlier Pike, exhibiting some tendency to flex and ping around in really fast sections, particularly in large braking holes. The air spring still seemed to want to dive a bit too much in steeper terrain, and like David, I found some indications of damper fade on really rough and long descents — but again, it took some very long and very rough descents to get to that point, which were admittedly outside of the fork's intended use.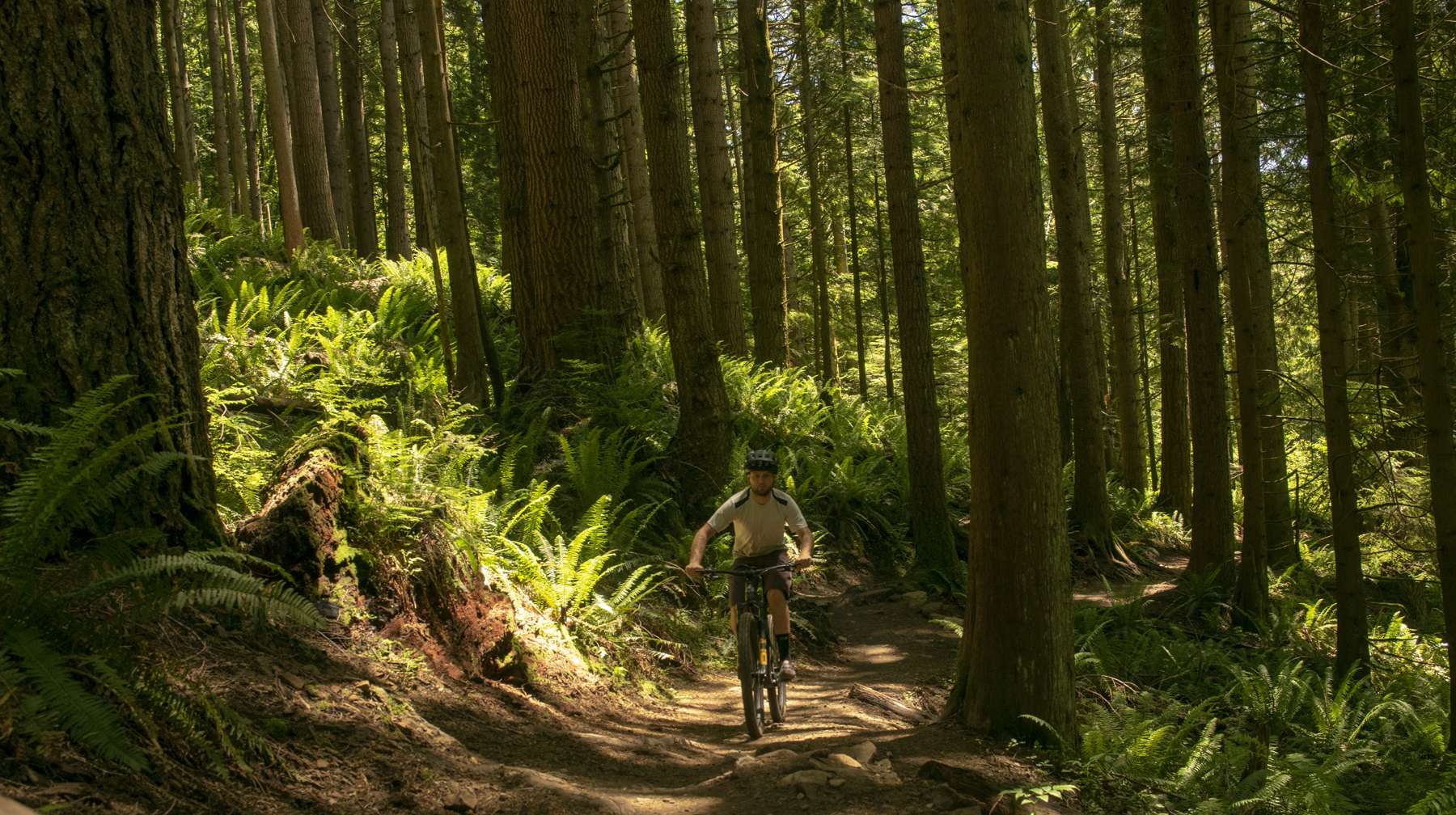 That said, when you stay within its intended use, the RXF 34 m.2 is fantastic. The fork really pulled away from others I've tried on longer rides where I wanted to put in a hard effort and churn out some mileage in rolling terrain. In those situations, the lively feel felt efficient and rewarding of hard efforts, the lighter weight certainly didn't hurt my efficiency, and the damper punched above its weight class when things got rough.
Comparisons
David: The Fox 34 is the RXF 34's most obvious competitor, in terms of weight and travel options, and while we'd caution against using stanchion diameter as a proxy for chassis stiffness in all cases, it does line up nicely here — both of these 34mm-stanchioned forks come in at similar weights and their gap in chassis stiffness is also modest. If I have to declare a winner I'd give a very slight edge to the RXF 34, but there's really not much in it — they're quite comparable in that regard.
More significant differences start to emerge once you get to their inner workings, especially on the damper side. Compared to the Fit4 damper that Fox offers as one of the two options in the 34, the RXF 34's OTX 18 damper is more adjustable (it's got low- and high-speed compression adjusters, instead of simply a low-speed one), and it's able to provide much firmer high-speed compression damping, in particular. My biggest gripe with the Fit4 damper has long been that firming up its compression damping primarily impacts the low-speed portion of the program, making for what feels like something of a blow-off effect where its compression damping disappears when you start hitting things harder and want more support from it. The OTX 18 is a big step up there, offering more high-speed compression damping, though it's neither valved as firmly nor as consistent in its performance as the TTX 18 one that Öhlins uses in their bigger forks.
The Grip2 option that Fox also has available in the 34 is a big step up from the Fit4 in terms of consistency and can offer somewhat more high-speed compression damping, but it's overall more lightly-damped than the OTX 18 in the RXF 34. The Grip2 is both much more tunable and better performing than the Fit4 option (but does forgo any sort of pedal platform / climb mode); it's also somewhat more consistent in its performance in fast, choppy sections of trail than the OTX 18 in the RXF 34, but folks who want to run overall firmer compression damping might be let down by the limited upper range of the Grip2.
The performance of the two forks' air springs also feels somewhat different, despite their similarities in design. As noted up top, I needed to make some substantial changes to Öhlins' recommended baseline settings to get the RXF 34 feeling how I wanted, but was able to wind up in a good place. And though I was able to end up in a place I was happy with, the Fox 34's spring does feel more sensitive off the top (though, granted, the tweaks that I made to the RXF 34 to get more midstroke support definitely compromised its small-bump sensitivity somewhat). Overall, the RXF 34 feels a little more biased toward a firm initial stroke for a lively ride and a stiff pedaling platform, while the Fox 34's is more plush, overall. There's probably not a one-size-fits-all answer as to which is better, but they're different. It's also worth noting that Fox offers a 140mm-travel version of the 34, while the RXF 34 is capped at 130 mm.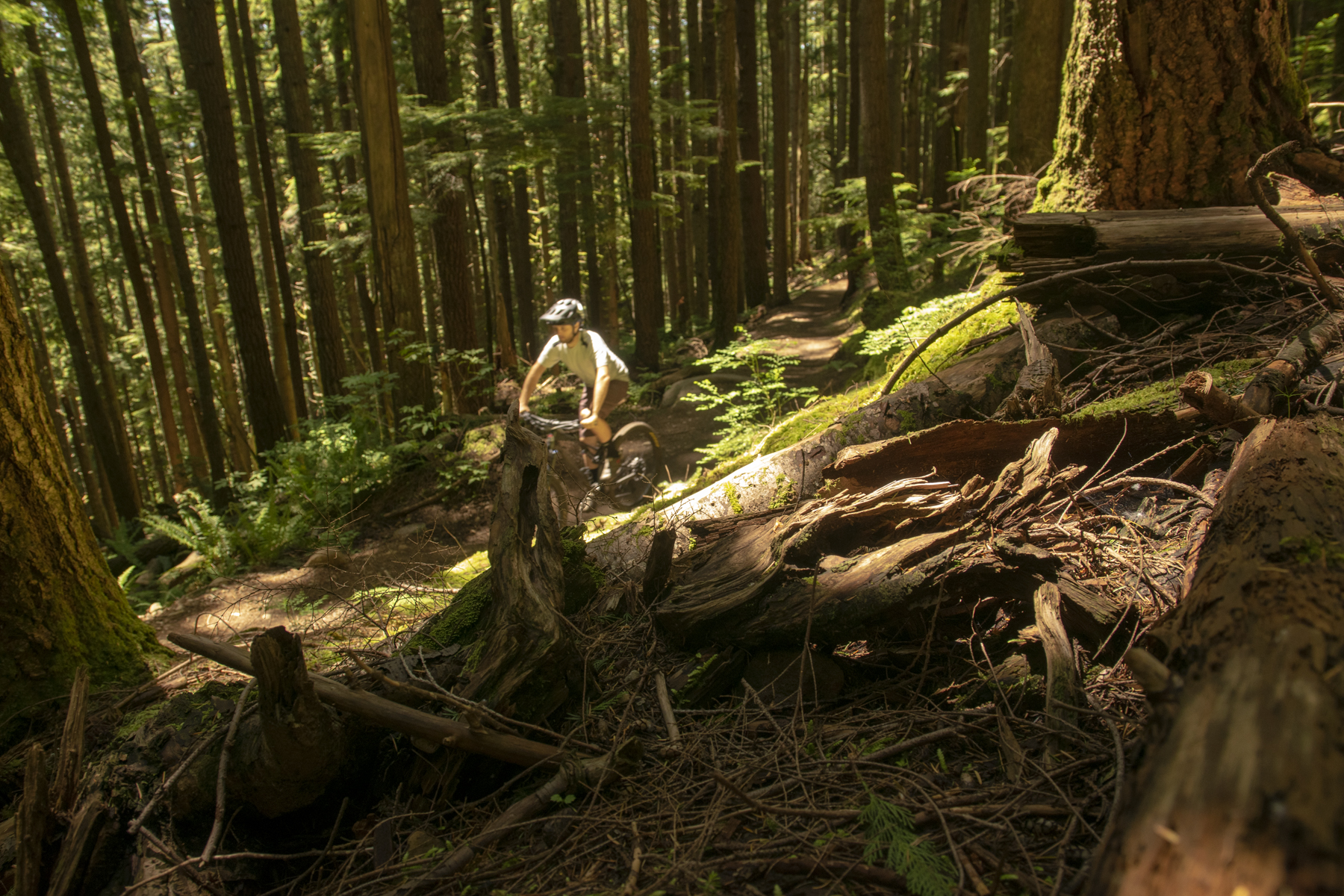 RockShox Pike Ultimate RC2 Charger 2.1 (B4 generation)
Zack: The Pike is definitely a competitor to the RXF 34 m.2, but the Öhlins is probably better thought of as straddling the line between the burlier Pike and Rockshox's lighter-duty SID Ultimate. With the older Charger 2.1 damper, the Pike weighs nearly 200 grams more than the RXF 34 m.2, and that weight difference is quite noticeable in the chassis stiffness — the Pike is quite a bit stiffer. That stiffer chassis is the biggest difference between the forks, and it leaves the Pike feeling a little more comfortable and confident when speeds and roughness of the trail begin to pick up.
Now superseded by the Charger 3-equipped iteration that David discusses below, the 2021/2022 Pike Ultimate came with RockShox's Charger 2.1 damper and the then-new DebonAir C1 air spring. This C1 air spring reversed course somewhat from some of their prior efforts to increase the negative volume in their air springs as a means of boosting initial sensitivity as well as midstroke support. In my opinion, the DebonAir C1 air spring was a step back in this regard, and while the Öhlins RXF 34 m.2 air spring could definitely benefit from more negative volume to find a more supportive, linear feel, it did feel like it did a better job than the DebonAir C1 spring in the Pike.
However, having recently sourced and fitted an older DebonAir B1 air spring in my Pike Ultimate, the added negative volume in that air spring paired with the higher spring pressures it requires creates a more supportive air spring than the RXF 34 has on offer.
From a damper perspective, the Öhlins wins out in my book. Both dampers offer low- and high-speed compression adjustments and a single rebound adjustment, so the real difference is in the on-trail performance. The Charger 2.1 does an ok job in its low-speed support, but I have consistently found it hard to get adequate high-speed support without getting some spiking out of the damper. The OTX 18 damper in the Öhlins does an awesome job of offering a wide damping range to suit riders who like a more comfortable ride as well as those who like something more supportive, and while it did fade on really long descents it never felt like it was spiking unexpectedly.
The Pike is probably the better fork for heavier riders or riders who prioritize a stiff and precise chassis, but that's not surprising given that the Pike could be had in travel lengths up to 160 mm. I would say that the Pike straddles the line between Trail and All Mountain territory where the Öhlins RXF 34 m.2 falls firmly into the XC/Trail bracket, but for riders who are comfortable maxing out at 130 mm of travel and who value the weight savings, the damper performance of the RXF 34 m.2 makes it the more impressive fork.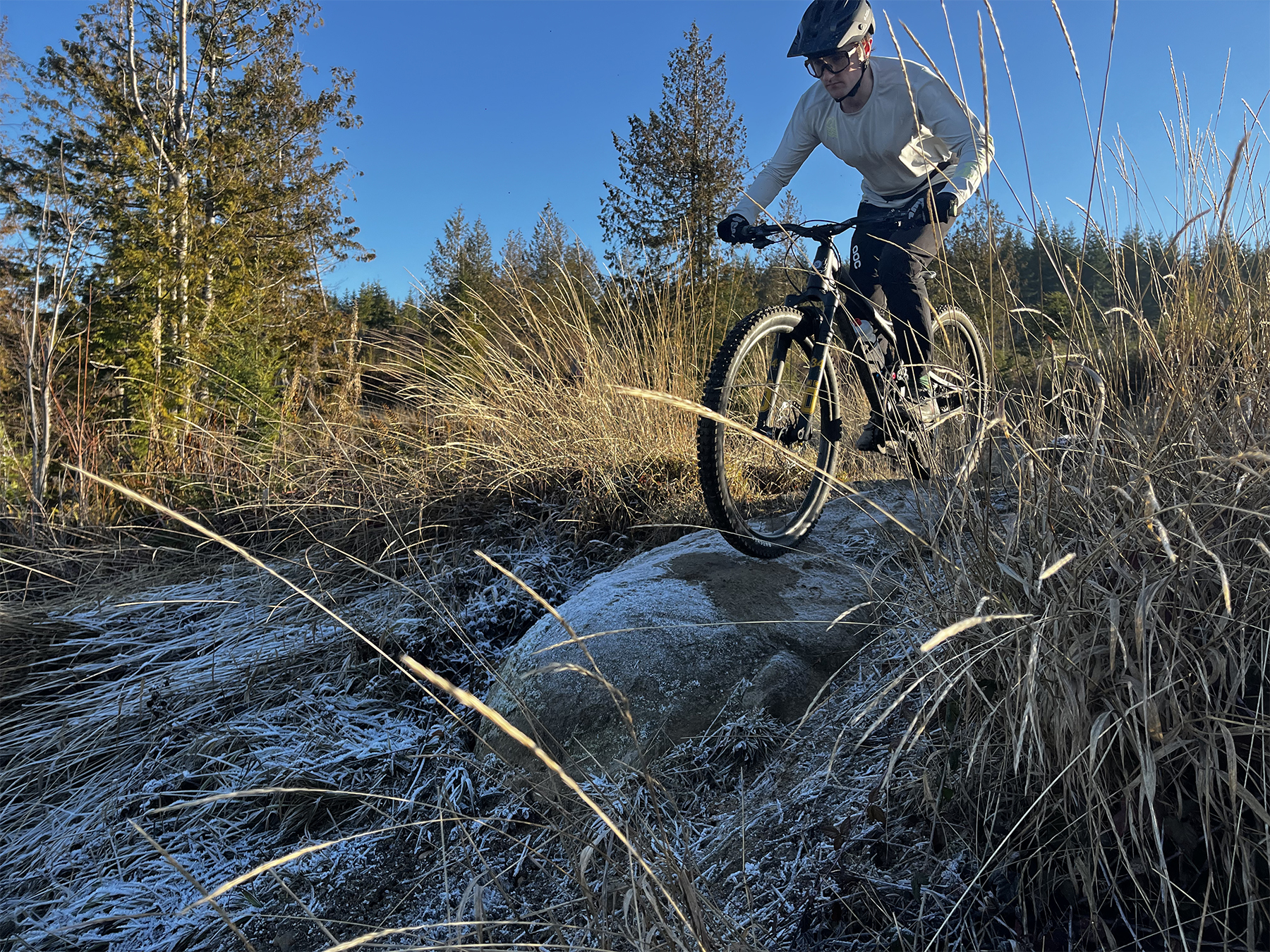 David: I haven't directly A-B tested the prior-generation Pike B4 against the RXF 34 as Zack did, but I've ridden that fork plenty and generally agree with his conclusions. And as with the old Pike, the new C1 generation generally feels like more fork than the RXF 34, for better or worse depending on what you want out of it.
The Pike C1 chassis is substantially stiffer and more precise than the RXF 34, but it's also just over 200 g heavier (1,943 g for the 130mm-travel Pike Ultimate that I've been riding); RockShox says that the new Pike is a little stiffer than the old one, and while I don't have any reason to doubt them on that point, the difference is subtle. Still, that makes for a very marked step up from the RXF 34 (and the Fox 34) on that front.
But while the new Pike's chassis doesn't feel wildly different from the old one, the internals do. The new DebonAir+ spring feels much more linear than that of any of the other forks we've been talking about here, offering better small-bump sensitivity and midstroke support than that of the RXF 34. And the new Charger 3 damper (which is shared with the burlier Lyrik and ZEB forks) is notably more consistent over longer, faster descents in particular. It's also got a wider adjustment range than the OTX18 damper in the RXF 34, especially in terms of high-speed compression, and despite that wide adjustment range, does an impressively good job of avoiding high-speed spiking and harshness when running firmer damping settings, especially as compared to the older Charger 2.1 damper that Zack discussed above.
All of that is to say that the Pike feels a lot more like a scaled-down Enduro fork than the RXF34 does. The Öhlins is substantially lighter, features a climb switch, and is firmer off the top, helping make the performance of the bike it's bolted to feel lively, efficient, and snappy, at the expense of some plushness and small-bump sensitivity.
And so I think that, probably even more so than with some of the longer-travel classes of forks out there, this class of ~130mm-travel forks really requires you to know thyself and be honest in your assessment of your priorities in order to pick the best option for you. The RXF 34 m.2 performs very well for a ~1,750-gram fork, but if you're willing to add a few hundred grams, stepping up to the new RockShox Pike (or an Öhlins RXF 36 m.2, which isn't sold natively at 120- or 130mm-travel, but can be lowered with a shorter spring tube, sold separately) gets you a not-subtle step up in suspension performance and chassis stiffness. There's definitely no one-size-fits-all answer as to whether or not that's worth it, and plenty of folks will rightly take the lighter RXF 34 over one of the heavier, burlier options out there. It really comes down to how you ride and what your priorities are.
(And, of course, if you want some specific guidance on which fork is the right call for you, drop us a line through the contact form in the Blister Members' Clubhouse and we'll get you sorted out.)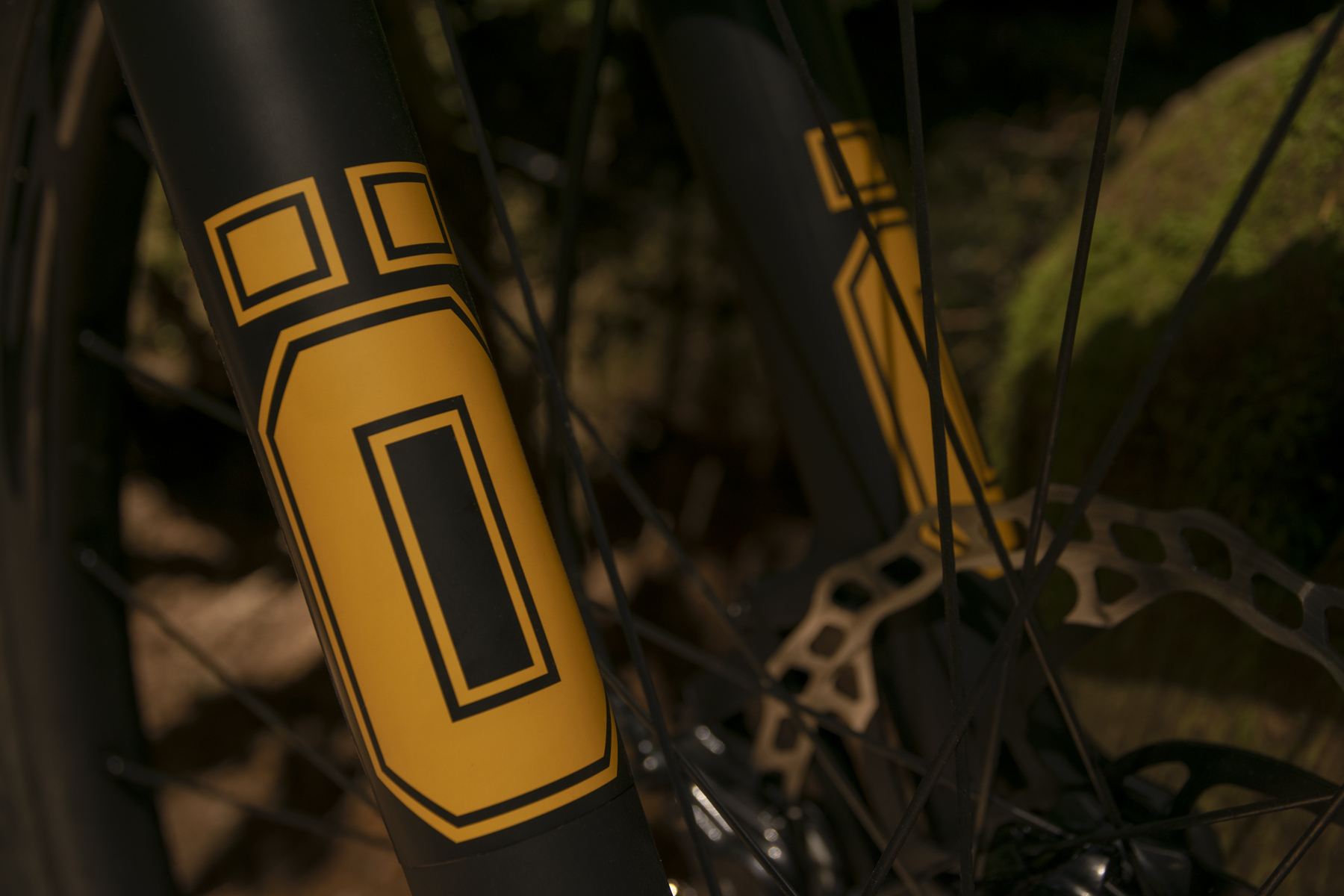 Bottom Line
The Öhlins RXF 34 m.2 is something of a departure from the (excellent) RXF 36 and RXF 38, which really do feel like scaled-up / down versions of each other, but the RXF 34 is a good option for riders who want a very light short-travel Trail fork that emphasizes a firm, lively ride over being especially plush and cushy. The RXF 34 feels more firmly damped and less sensitive than the Fox 34 Grip2 and more composed than the Fit4 version; compared to the RockShox Pike, it's a lot lighter and features a climb mode that the Pike lacks, but gives up some chassis stiffness and composure on really rough trails in exchange. The RXF 34 is going to make the most sense for folks who want something lighter than the Pike but more firmly damped than either of the Fox 34 variants, and / or who really want a climb mode but find the performance of Fox's Fit4 damper to be lacking.