Fox Rampage Pro Carbon MIPS
Size Tested: Medium (57-58cm)
Blister's Measured Weight: 1,027g
Reviewer: 5'9'' / 175 cm, 155 lbs / 70.3 kg
Head circumference: 56.5 cm
Stated Features:
Proven MIPS™ impact protection system reduces rotational forces in a crash
Breakaway visor screws sheer off at impact
Dual-density, in-mold Varizorb™ EPS balances weight with performance
Lightweight, carbon fiber shell
Injected mesh vent screens provide ventilation and airflow, and shield from dirt and debris
Moisture-wicking, antimicrobial, washable X-Static® comfort liner and cheek pads
MSRP: $499.95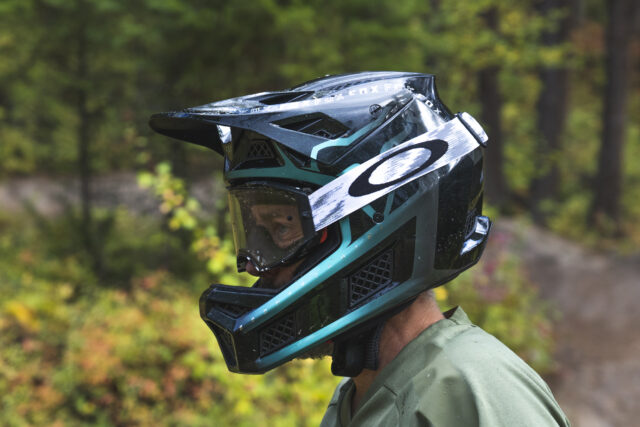 Intro
The Rampage Pro Carbon isn't new in Fox's lineup, but it's recently been revised, and now includes the MIPS system. Unlike plenty of new full faces on the market these days, the Rampage Pro Carbon is unapologetically a Downhill helmet. Fox doesn't intend for this to be some sort of Enduro, pedal-friendly crossover helmet (for that, look at the Proframe) — the Rampage is relatively heavy, ventilation is modest, and it's clearly designed to protect against big impacts.
Features and Specs
The Rampage Pro Carbon MIPS is built around a standard EPS foam structure. Despite lots of advancements in helmet technology, EPS (expanded polystyrene) still offers some of the best protection available, and it's relatively lightweight. The Rampage Pro Carbon also ups the ante by using "Varizorb" EPS, which is a dual density foam and should help protect your head in a wider range of impact forces.
On the outside, that EPS is wrapped in a carbon fiber shell, which is mostly beneficial from a weight saving perspective. On the inside, as the name implies, there is a MIPS liner, which should help minimize head injuries associated with rotational impacts. Also on the safety front is a visor that uses breakaway bolts.
On the comfort side of things, the Rampage Pro Carbon MIPS has antimicrobial liners and pads that are easy to remove and wash. The cheek pads also have prominent, well marked pull tabs so they can be removed quickly, including while the helmet is still on. That's convenient for washing, but also good if you need to get the helmet off while keeping a possible broken neck stabilized.
Fit
There's no two ways about it — the Rampage Pro Carbon MIPS runs pretty small. My head measures 56.5 cm, and I wore a size Medium, which Fox says fits a 57-58cm head. Despite that, the Medium was a bit too small for me. The shell itself was a bit snug front to back, and the cheek pads were very tight even though I have a relatively narrow face.
Notably, I've never had a sizing issue with any other Medium-sized full face helmet from any other brand. Of course, some brands (like Giro) fit my head better than others, but the Rampage Pro Carbon MIPS is the only full face helmet where I pretty clearly needed to size up from a Medium.
The Rampage Pro Carbon MIPS helmet only comes with one set of cheek pads, and while I hoped they would pack in a bit, they didn't. That said, the snug cheek pads are great in terms of keeping the helmet stable and situated on my head, and I think they would have been perfect if I'd bumped up to a size Large.
The best advice I have here is that you should try the helmet on before buying. If that's not an option, I'd definitely suggest sizing up. More generally speaking, I think this helmet will work best for people with slightly more round heads, but with a narrow face.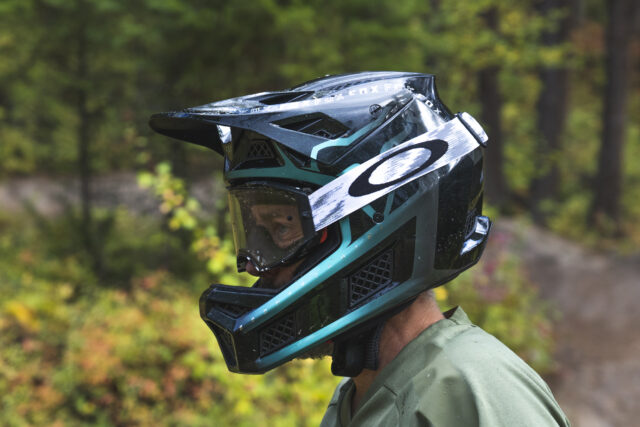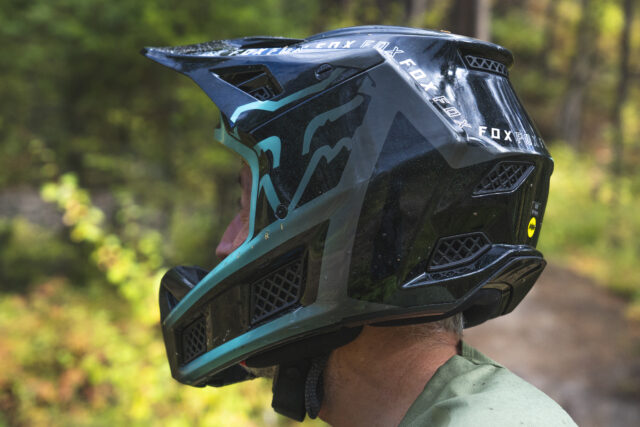 On the Trail
There's no denying that the Rampage Pro Carbon MIPS feels like a substantial helmet. While it's not excessively heavy at 1,027 g (measured, size Medium), it's not particularly light by modern standards. But that heft puts aside any concerns that the helmet might not hold up well in a crash.
The Rampage Pro Carbon MIPS helmet eschews almost all frills that you'll sometimes find on other helmets. There aren't any integrated widgets for attaching gadgets to the helmet, and the visor isn't adjustable. And there aren't any odd buckles or ratchets — the strap is a traditional D-ring. And I'm a big fan of all of that — it makes the helmet feel less like an experiment in fasteners and more like a solid piece of protective equipment. Some people might be leery of the non-adjustable visor, but I found it to be positioned nicely, and by virtue of being non-adjustable, it's really solid with no wiggle at all.
Field of view was excellent, and the helmet played nicely with my Oakley Airbrake MX goggles. The one thing I did notice was that the location for the goggle strap on the back on the helmet is fairly slanted. With older goggles where the silicone grips on the strap were worn out, the goggle strap liked to creep upward, which was a bit annoying.
Ventilation in the Rampage Pro Carbon MIPS is about par for the course compared to other well ventilated full-on DH helmets. There are a decent number of vents, but it's still a pretty warm helmet compared to the airier Enduro full faces. But for a full-on DH helmet, it's reasonably ventilated and runs a little bit cooler than some of the less ventilated DH lids that I've worn over the years. I'd say it runs cooler than my old POC Cortex or Kali Avatar X, and it also runs cooler than the convertible Sweet Protection Arbitrator. Venting was about on par with the Leatt DBX 6.0.
Bottom Line
If you're looking for a full-on DH helmet, the Rampage Pro Carbon MIPS is a worthy contender. It runs quite small so I'd definitely recommend trying it on before you buy, but once you get the fit dialed, there's a lot to like. If you're looking for a helmet that has integrated mounts for cameras, an integrated hydration system, and maybe some magnets here and there for good measure, this isn't it. But if you're looking for a traditional, solid DH helmet that puts a priority on safety, the Rampage Pro Carbon MIPS has a lot to offer.