On Cloudvista
Test Location: Colorado Springs, Colorado
Test Duration (so far): 50 miles
Stated Heel-to-Toe Drop: 7 mm
Stated Features:
Helion Superfoam combines rigid, stable sections of midsole with more flexible foam elements to provide both impact cushioning and energy return.
On's patented CloudTec Midsole allows the shoe to flex independently on impact, aiding ground feel.
Missiongrip outsole with multidirectional lugs cling to all surface types.
TPU mudguards give the Cloudvista the durability it needs to hold up against tough trails.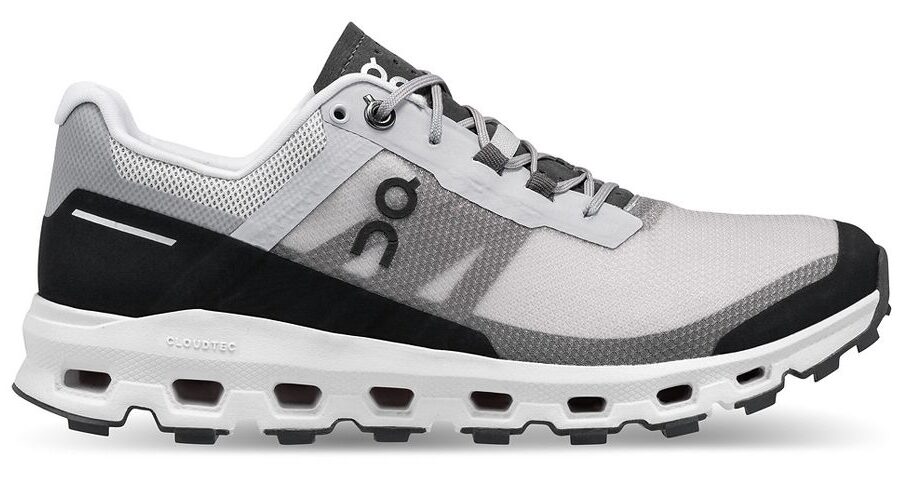 MSRP: $139.99
Reviewer: 4'11, 110 lbs
Size Tested: Women's US size 7.5
Stated Weight (W's US size 8): 235 g / 8.29 oz
Intro
Not much has fundamentally changed about On's design approach since the Swiss footwear brand arrived on the scene in 2010. Their air-pocketed midsole / outsole union (aka, "CloudTec") still dominates their shoes' silhouettes, and On's stylistic flourishes – from colorways to build quality to lasts – remain unique. What has changed is how the brand is perceived. While On's novel approach to midsole/outsole design has produced impressive results across many of their road shoes, there were initial concerns about how well their pod-like semi-circles would perform on mixed surfaces. After the success of models like the Cloudventure and the Cloudventure Peak, two shoes that helped legitimize On's patented CloudTec and "Speedboard" technologies on rugged terrain, many of the doubts about On's ability to contend in the trail space shifted to excitement.
In 2022, On is set to expand their trail offerings to appeal to a wider band of runners, from those who've just transitioned off the roads to athletes looking to move deeper into ultra-distances. Their newest trail model, the Cloudvista, is marketed as a "comfort-based agility shoe" aimed at the former. It's intended to serve as an intro-level utility shoe within On's lineup, somewhere between the mileage-pushing Cloudultra and the more technical-trail-minded Cloudventure. The road-to-trail niche continues to crowd, with more serious trail running brands seeing the value in having at least one model in that specific category; the Cloudvista fits squarely into that mold.
As somebody who typically runs in shoes like the Hoka Torrent 2 – specifically for the agility and traction that models like that provide on uptempo trail runs – I was excited to see if the Cloudvista could work its way into my shoe rotation. In this review, I'll evaluate the strengths and weaknesses of the Cloudvista before discussing who I think could benefit from On's latest road-to-trail model.
Fit
As with every review, we do recommend you try on any shoe in-store before buying it. That said, I can speak to how the Cloudvista fits me specifically. For a point of reference, I have a relatively wide foot with a narrow heel and medium-flat arches, which tends to lead to blisters on the outside of my midfoot when first breaking in a pair of shoes. However, out of the box, the Cloudvista felt noticeably accommodating to broader feet than some of On's previous models, with a tapered forefoot and a slightly wider last giving space to my toes and arch. The Cloudvista is lightweight and flexible enough to not need more than a run or two to break in and the upper's subtle structure hasn't so far prevented the fit to become sloppy as the shoe accumulates mileage. I particularly appreciated how the upper conformed to my foot on first wear and didn't slouch or slip during or between runs.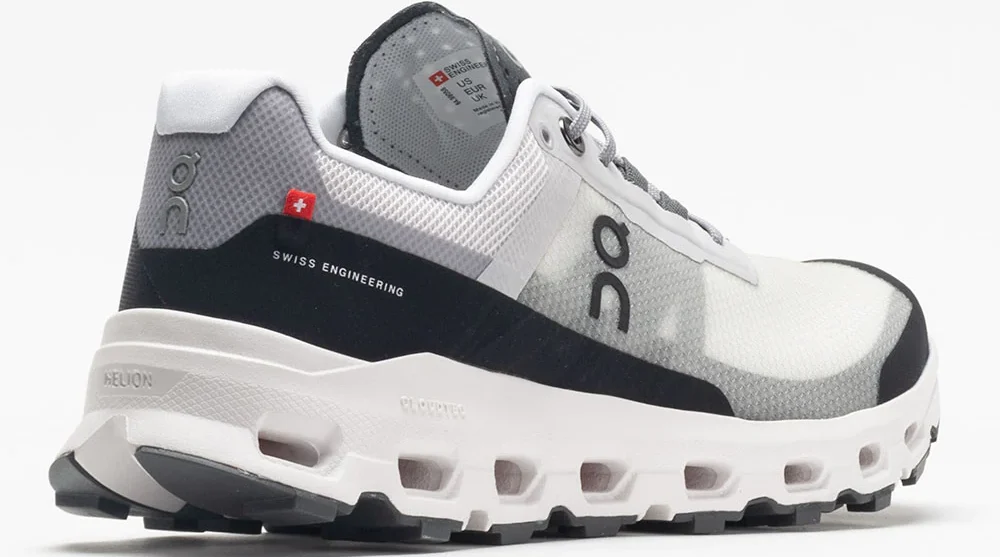 On my feet, the Cloudvista did an excellent job establishing foot lockdown – both at the upper and at the heel – without being too constricting. The perforated tongue spans my entire instep without leaving gaps between the thin laces and rest of the upper, which isn't always the case in models that are snug on my wider feet. As mentioned above, I have a fairly narrow heel, which, when paired with my blocky forefoot, often means I struggle to prevent my foot from sliding around in the seat of my shoes. However, the Cloudvista's heel counter climbs several inches up the Achilles and is cornered instead of rounded, so it actually did a great job of gripping the back of my foot and holding it in place while running. I did end up using a "runner's loop" lacing technique for added security, but I expect that addition to be excessive for most folks.
One note with respect to arch support: the Cloudvista definitely falls on the subtler side. Its minimal construction and low weight allow it to feel pretty fast for a trail shoe but that does come at the expense of some midfoot stability. While probably not a deal-breaker for runners with flat feet, the Cloudvista's mild to moderate arch support is something worth keeping in mind if your feet tend to ache during longer runs or you're a heavier runner who pronates aggressively. And of course, aftermarket insoles are always an option.
Weight
While certainly not a racing flat, nor as light as most road models, at 235 g the Cloudvista is on the trimmer side of trail shoes. It's currently the lightest shoe in On's trail running lineup and weighs less than many similar road-to-trail offerings. Here's a snapshot of how it compares to similarly styled trail shoes currently on the market (all stated weights are based on a US Women's size 8).
195 g / 6.8 oz – Salomon S/Lab Sense 8
210 g / 7.4 oz – On Cloudventure Peak
215 g / 7.6 oz – Hoka Torrent 2
235 g / 8.3 oz – On Cloudvista
240 g / 8.5 oz – On Cloudventure
244 g / 8.6 oz – adidas Terrex Speed Ultra
Measured weights are often misleading, apart from how a shoe feels when you pick it up. On's Cloudvista is a prime example of a model that "runs" far lighter than it appears on paper. Everything about it, from its lightweight breathable upper to On's "Helion superfoam" and the weight-saving attributes of CloudTec, make the Cloudvista compellingly lightweight for a shoe in its category. At the same time, On included enough thoughtfully implemented trail-specific features for the shoe to be protective and stable on many trails.
Upper
On has a history of making some really sleek (and frankly good-looking) uppers that don't cheap out on performance. The Cloudvista's upper is consistent with what we've come to expect from the Swiss brand's build quality. The simple upper is made from 70% recycled polyester with segments of rounded TPU mudguards that attach to the midsole at the shoe's stress points. The fabric is pliable and conforms to the foot well, but may be slightly less precise than the sock-like fit of models like the Salomon S/Lab Ultra 3 or the Speedland SL:PDX. The Cloudvista also features a modest yet durable toe cap that protects the front of the foot from incoming rocks, a fully-gusseted minimal tongue, and reinforced lace eyelets. After testing, I found the upper to be simultaneously the shoe's strongest and weakest feature. Let me explain.
The Cloudvista's snug-fitting upper was the first thing I noticed when donning the shoe for the first time. It hugged my foot uniformly from forefoot to midfoot, even prior to any fine-tuning on my end. While a properly fitting upper is always important, it is particularly advantageous on technical trails where precise foot placement is the name of the game. The Cloudvista allowed me to navigate over rocky stretches of singletrack without feeling separated from the shoe.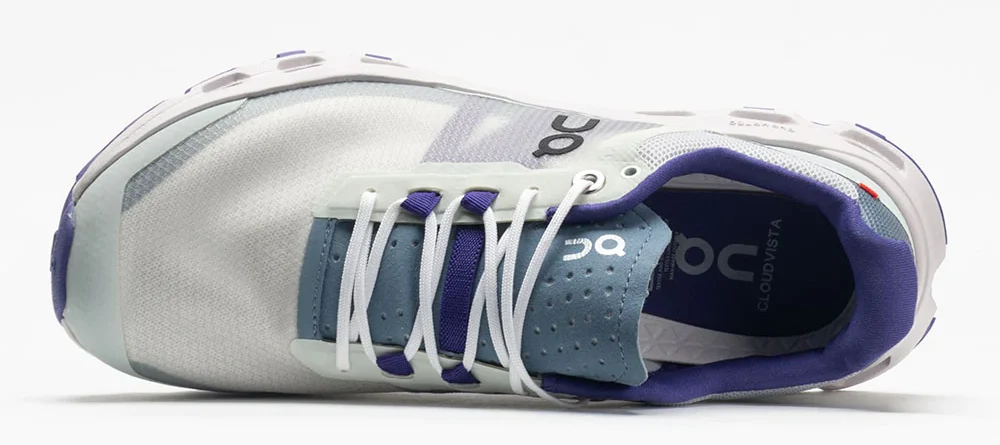 However, what makes the Cloudvista's upper so trustworthy – namely its snugness – comes at the expense of its breathability, one of my major gripes with the shoe. My first run was 6 miles in a dry 60 degrees Fahrenheit and my feet were a swamp by the end of it. On may market their shoe as well ventilated, but I found that to be far from the case, at least with the Cloudvista. The recycled polyester fabric and TPU mudguards don't cycle air through the shoe very effectively. That's something to keep in mind if your feet sweat prolifically during runs.
And while on the subject of dislikes, I do have my doubts about the Cloudvista's extremely thin lace diameter and tongue durability. For runners who enjoy a tight fit, the lack of area across the shoe's narrow laces could lead to some instep irritation. As far as the tongue goes, well, after about 20 miles of running, the stitching on the medial side of my left shoe's gusset completely ripped out. It would have been nice to see On lean more heavily into their trail running line when constructing the Cloudvista's upper, which needs a bit more toughness than it currently has.
Midsole
On advertises the Cloudvista's midsole composition as a blend between "energy saving responsiveness and cushioned protection," which they achieve by pairing their popular CloudTec design with their new "Helion Superfoam." CloudTec is what On defers to in most of their models and strays from how traditional midsoles are conceived. Instead of using a thick piece of EVA foam, CloudTec is composed of individual units that compress both vertically and laterally for multi-directional force absorption. Helion, on the other hand, is a new material from On and reportedly works by folding and releasing better than previously-used foams to enhance energy return.
Compared to shoes with conventional midsoles, I noticed how much more "deliberate" the ride felt in the Cloudvista — I'd describe it as neutral and distinctly firm. While the "air bubble" look of the midsole might suggest a certain bounciness, in practice the shoe felt more dense and agile than springy. CloudTec, at least as it used in the Cloudvista, felt closer to a racing flat's midsole than that of a cushioned neutral trainer. The lack of suppleness does come with the benefit of improved ground feel and precision, particularly important for technical trails or during faster efforts, but it also detracts from comfort on longer efforts (especially on harder surfaces). In the Cloudvista's defense, it's definitely still a shoe built for shorter runs, so if you're looking to push mileage in a pair, be prepared for some potentially beat-up legs and feet. Some better options for those looking to step up in distance include the Hoka Torrent 2, Salomon Sense Ride 4, and Altra Lone Peak 6.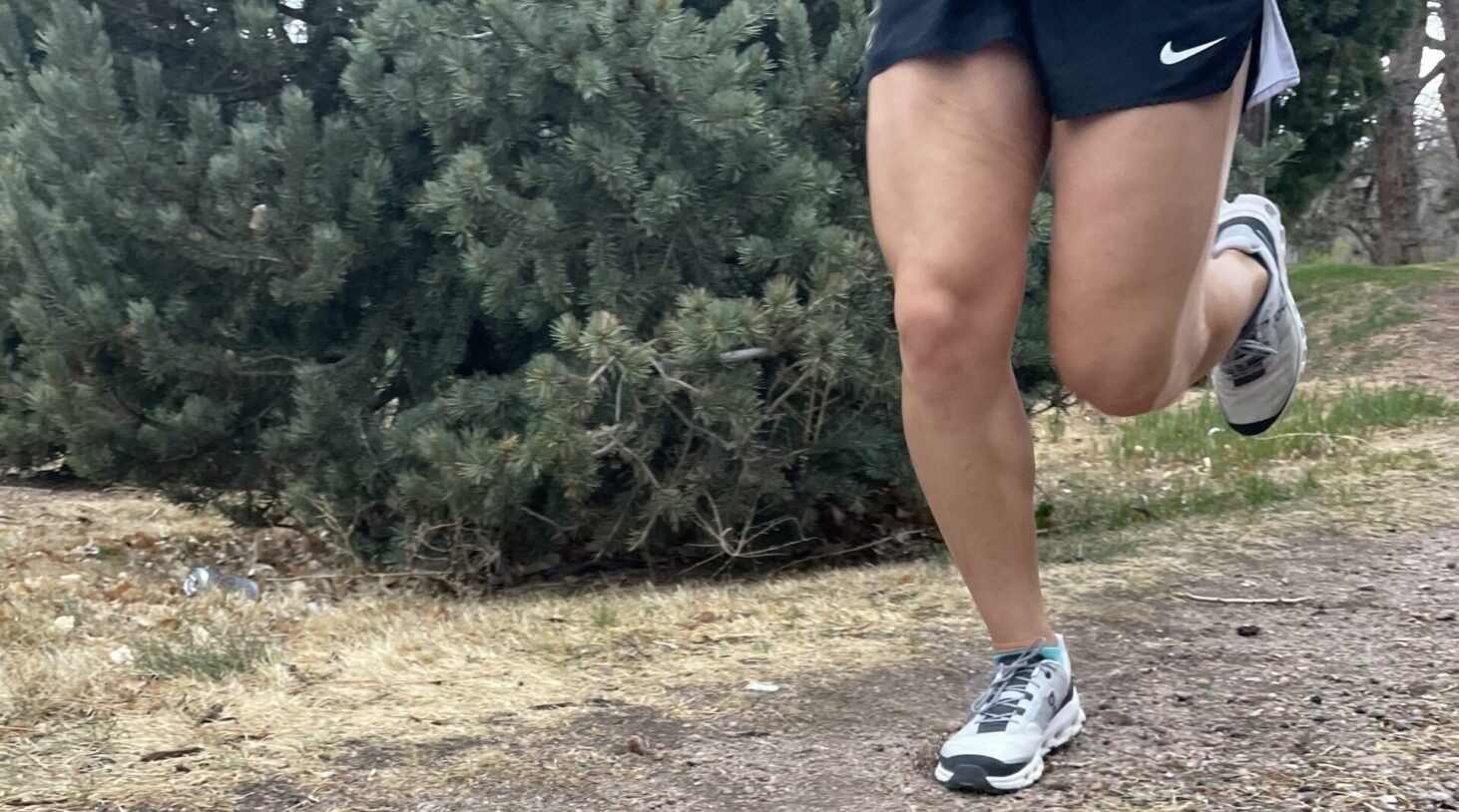 This also happened to be my first pair of On shoes. The main difference I noticed between normal midsoles and the hollow CloudTec is that, by my second or third run, I began to feel the partitions between the rubber pods through the Cloudvista's insole, despite the shoe's rock plate. This definitely knocked the comfort level down a few notches. Overall though, I think runners familiar with On who enjoy a firmer ride on paved surfaces but want some forgiveness when transitioning to trails will have no qualms with the Cloudvista's midsole.
Outsole
While the CloudTec / Helion midsole fell a little short for my preferences, On really nailed the Cloudvista's outsole. The brand uses their own proprietary rubber compound that they call "Missiongrip", which I found to be slightly less sticky than Vibram MegaGrip – I wouldn't turn to this shoe for slickrock – but far more durable in many respects. In my experience, shoes with deeper-lugged Vibram outsoles have a tendency for their lugs to develop into "hangnails" before tearing away from the outsole completely. The Cloudvista's firmer Missiongrip rubber and relatively shallow lugs ensure that it'll likely be the last part of the Cloudvista to succumb to wear. The Missiongrip outsole also sheds debris quite well, and despite my initial concerns, no rocks have managed to wedge themselves into the perfectly pebble-sized CloudTec pods.
The outsole layout features a mix of square lugs positioned under the heel and forefoot and angled lugs under the shank and toe area. Texturing like this provides multidirectional traction without any awkwardness when grip is less of a concern (e.g., smooth surfaces). What's most impressive about the Cloudvista is its ability to perform well on slippery technical trails only to turn around and transition seamlessly onto roads. I'd still say the shoe is best suited for rocky gravel or loose dirt, but for a trail shoe, it definitely won't seriously inconvenience you on firmer surfaces like roads or bike paths.
My one nitpick is with the Cloudvista's heel flare, which extends laterally and medially several centimeters beneath the shoe's heel counter. It's slightly sharp, and I tend to heel whip mid-stride like many runners (i.e., my right foot often strikes the inside of my left calf), so if I wasn't careful I'd end up with a chronic bruise on the inside of my leg. Aside from that minor inconvenience, the Cloudvista's outsole performs quite well on all but the most extreme terrain and conditions.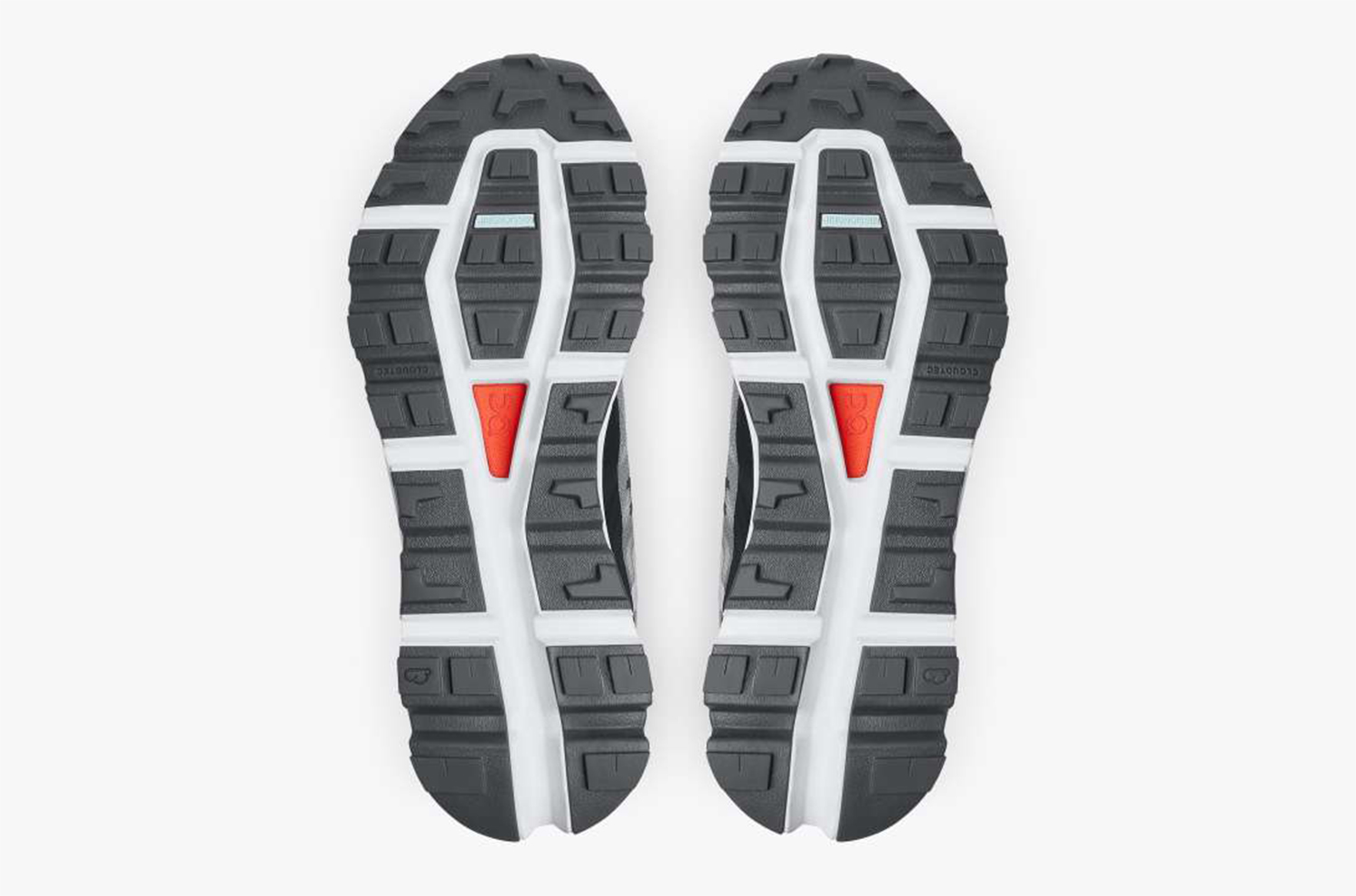 On Trail
As I said previously, the Cloudvista is a utility shoe, and that's exactly how it fit into my quiver. During the test period, I used it on runs from 4-10 miles on both roads and trails. The shoe's performance definitely started to wane on the higher end of that mileage, particularly when my legs were heavy from big weeks of training. Unlike other models with more forgiving midsoles that help to rejuvenate spent quads, the Cloudvista's stiffness meant I needed more recovery time between efforts. However, the shoe really shined on my uptempo trail runs. The play / flexibility between the midsole and outsole meant the shoe cornered fantastically with no slippage, giving me confidence on terrain requiring precise foot placement. The Cloudvista also did just fine on paved surfaces, perfect for folks who don't feel the need to have a designated shoe for concrete.
I'll likely keep from running in the Cloudvista until cooler temps prevail because it is decidedly not a summer shoe for me. On a few runs that maybe got into the low 70s Fahrenheit, my feet were perspiring by the first mile. I didn't do any creek crossings in the shoe but, based on their upper design, I suspect their drainage mirrors their breathability – poor. Personally, I found the Cloudvista best suited for training days when my legs felt fresh and I wanted to go for a short rip around the local trails (or a QOM effort if I felt optimistic). In not so many words, I used the Cloudvista when I wanted trail running to feel fun. When I didn't want a slog, just a quick burner on some singletrack, the Cloudvista was just the right tool for the job.
Durability
I've only put about 50 miles on the Cloudvista so I don't have a great sense of its long-term durability. That said, I've done enough testing to offer my initial thoughts.
If you notice the CloudTec midsole feeling firmer than you prefer in the first few runs as I did, it only becomes more pronounced with more mileage. For some less sensitive runners, this might not be an issue, but if it bothers you as it did me, there's no working around it. On the plus side, because the CloudTec midsole is so rigid out of the box, the shoe likely won't lose its original spring with repeated use like so many other models employing chunky sections of EVA foam. Now, the CloudTec pods will compress eventually, and the shoe will feel flat as a result, but I can't imagine that happening before 400 miles. I'll also point out that, as with any trail shoe spending significant time on the roads, doing so will accelerate how quickly the Cloudvista's tread will wear down. However, because the shoe is equipped with only modest lugs to begin with, the quality of traction likely won't change much over time.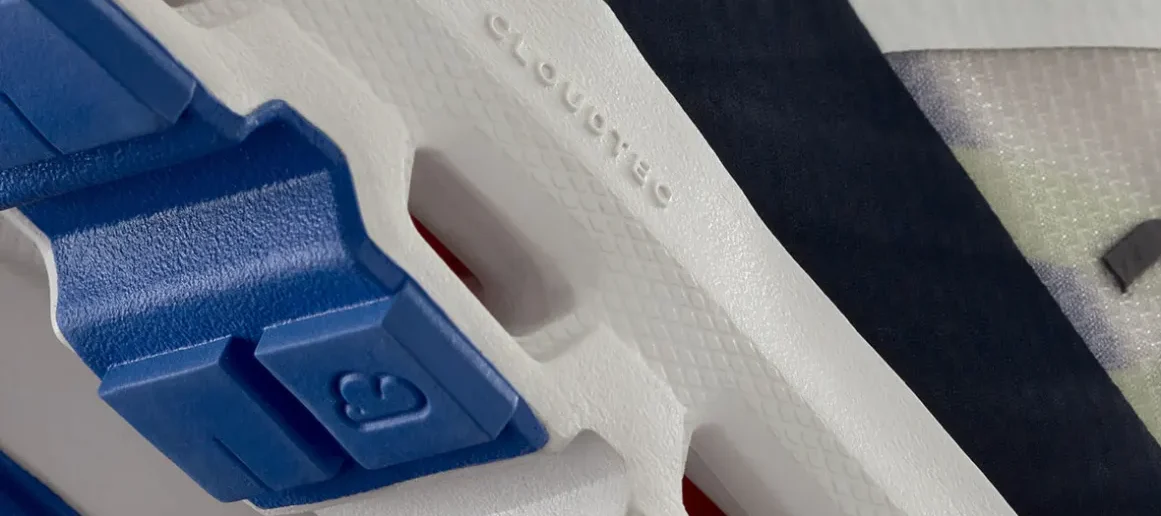 Moving to the topside of the shoe, as I mentioned earlier, On's upper breathes poorly due to the density of the polyester they use across the mid and forefoot. The added TPU mudguards layered on top don't help much in the way of ventilation, either. However, both fabrics do happen to seem incredibly durable. While I'm not sure I'd take that tradeoff every time, I had no concerns about the Cloudvista's ability to protect my foot from brambles, sticks, and shale. The only significant durability issue I ran into was with the aforementioned gusseted tongue, which had flimsy stitching out of step with the rest of the shoe's build quality. Apart from that, the Cloudvista bolsters On's reputation for making some of the most resilient footwear on the market. If I encounter any unusual durability issues down the line, I'll update this section.
Who's It For?
A brand's intention for a given shoe does not always align with how it is worn; I know plenty of people who use short-distance, race-specific models like the Salomon Pulsar and Hoka Zinal as daily trainers or even long-distance options. I don't think that'll be the case with the Cloudvista. As echoed throughout this review, On designates their road-to-trail model as a workable option for folks new to trail running or for runners looking to trim their shoe quiver to one or two flexible models. I completely agree.
In my opinion, the Cloudvista is a great choice for beginner trail runners looking for a shoe that will support them on a variety of terrains over relatively short distances. The pretty grippy outsole will help keep folks upright on slippery corners but won't be a burden on concrete or smooth gravel paths. The shoe could also just as well occupy a spot in the rotation of a more experienced trail runner looking for a firm-cushion, lightweight model for their shorter trail days (e.g., hill repeats and workouts). I could also see turning to the Cloudvista for sub-ultra trail races, especially if you're looking for a bit more support than a true racing flat. As far as fit goes, the shoe is best suited for runners with medium-width, low-volume feet, but I think the Cloudvista will accommodate a wide variety of foot shapes, save for the incredibly narrow or incredibly wide.
Bottom Line
The On Cloudvista is a solid all-round trail shoe for those looking to run shorter distances off pavement (or with a mix of on- and off-road terrain). This shoe performs best at uptempo paces for anything under roughly ten miles but serves as a solid utility shoe in most situations, save anything 'ultra'-length. It is lightweight and responsive but still easily supports runs at slower paces, provided you're not looking for something super plush or very springy. Whether fitting into a trail veteran's shoe rotation or acting as a gateway model for a runner new to the sport, the On Cloudvista is versatile enough to slip into a variety of roles, roads, or trails.