Salomon Sense Ride 5
Test Location: Durango, CO
Test Duration: 110 miles (so far)
Stated Stack Height (Men's): 29 mm (heel) / 21 mm (forefoot)
Stated Heel-to-Toe Drop: 8 mm
Stated Features:
All-terrain, versatile "Contagrip" rubber outsole
Updated "energyFOAM" midsole
Redesigned engineered mesh "Sensifit" upper
Signature Salomon "Quicklace" lacing system with secure lace pocket
Stated Weight per Shoe (US Men's Size 9): 286 g / 10 oz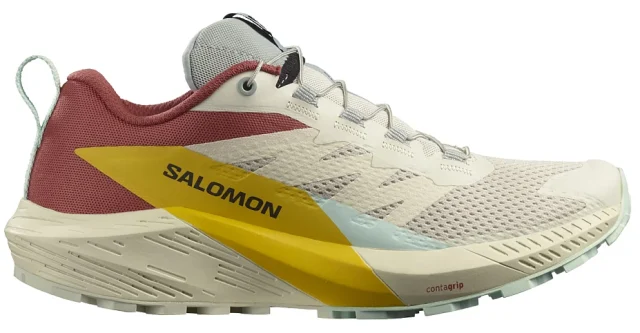 MSRP: $140
Size Tested: US Men's 9.5 / EU 43 1/3
Reviewer: 5'9", 150 lbs / 180 cm, 68 kg
Intro
Looking at Salomon's 2023 trail lineup, it's apparent that the brand is really making some major headway toward offering more shoe models with increased cushion and stack height. The 5th iteration in their longstanding Sense Ride series definitely reflects that shifting emphasis. While it may not be the flashiest model Salomon has come out with as of late, it's still, in my opinion, one of their most reliable trail options, one that can satisfy most needs (i.e., as a daily trainer or long-distance racer). The updates to the shoe don't subtract from its quiver-killer personality, and if anything, only add to its range.
If you're a longtime fan of the Sense Ride series, your feet will likely feel right at home in its latest installment, and for those newcomers, you'll find a Salomon shoe that may just be what you have been looking for if other Salomon models have felt too narrow. In addition to being downright eye-catching on foot, the Sense Ride 5 does a lot of things well, but the question must be asked: in an increasingly crowded lineup, is one of Salomon's longest-tenured models on the verge of being pushed out? Let's take a closer look at who the Sense Ride 5 is going to suit best and where it falls in Salomon's deep roster of trail shoes.
Fit
There are few brands out there that have received as much flack about their fit as Salomon has here in the States. "Too narrow," "too constricting," "too rigid" — no matter the issue, the lower-volume, "European-style" fit they embody seems to be a challenge for many of us Americans.
That stereotype has definitely begun to fade in recent years with wider-fitting releases like the commodious Ultra Glide, but still, the brand does tend to adhere to its roots and design shoes that have narrow to moderately narrow toe boxes and lasts. The Sense Ride 5 fits somewhere in the middle between narrow and average, and thus fits my slender foot shape perfectly. That said, if you have a wider foot or prefer a lot of toe splay, this may not be the fit you are looking for. As far as sizing, the Sense Ride 5 was spot on in my typical Salomon size, which is a US Men's Size 9.5. I have always had great luck with Salomons fitting my foot well and the Sense Ride 5 was no different.
The Sense Ride 5 has an excellent foothold so long as you do not mind the signature "Quicklace" lacing system Salomon is known for. For me, Quicklace performed flawlessly and allowed me to lock in my foot well, and I never experienced a need to readjust the synching mechanism mid-run. I have heard rumors of other folks having issues with this iteration of the Sense Ride's lace-keeper pouch located on the outside of the top of the tongue; however, for me, it worked just fine and I never had any issues with the extra lace material popping out or not fully fitting into the lace keeper.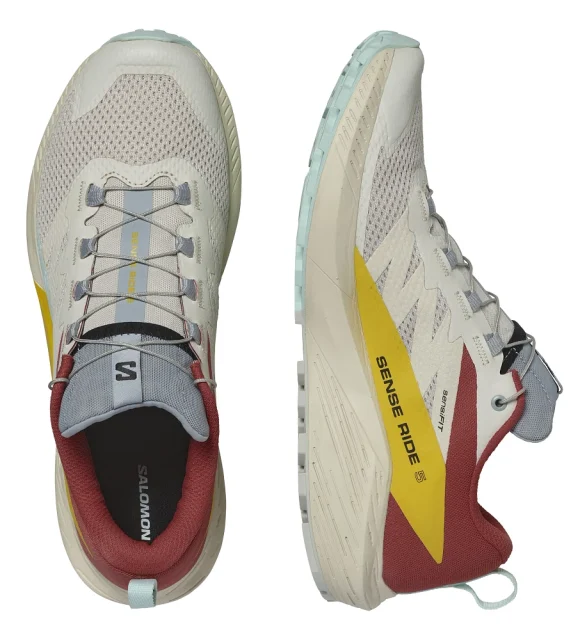 As I'll reiterate later in this review, the Sense Ride 5 did feel quite stiff out of the box. All aspects of the upper and midsole did take slightly longer than normal to break in, so definitely give the shoe a bit longer of a leash early on. For example, the ankle and heel collar felt quite rigid and harsh initially despite both having adequate padding, but eventually, the fabric softened some and I've had no problems since. I do still think that the Sense Ride series from Salomon is one of the most predictable and approachable fitting models from the brand and the fifth iteration of the shoe has continued that trend. Salomon knows the Sense Ride 5 will likely have a wide audience and I think they've incorporated some of that awareness into their design, namely through the shoe's accommodating fit.
Weight
At 286 g / 10 oz in a US Men's Size 9, the Salomon Sense Ride 5 is about average in terms of weight for the class of trail running shoes it falls into. The most similar model in Salomon's line, the Salomon Pulsar Trail, comes in just a bit lighter in weight (see below) which I imagine is largely due to the more minimal upper material used in that model. The weight of the previous model of the Sense Ride came in at 290 g / 10.2 oz., so while slight, the latest version of the shoe did lose a handful of grams. For more context, here's how the Sense Ride 5's stated weight compares to the stated weights for models in its generalist category. All weights are based on a US Men's Size 9.
252 g / 8.9 oz — Hoka Challenger 7
260 g / 9.2 oz — Salomon Ultra Glide 2
275 g / 9.7 oz — La Sportiva Jackal II
280 g / 9.8 oz — Salomon Pulsar Trail
286 g / 10.0 oz — Salomon Sense Ride 5
284 g / 10.0 oz — Topo Athletic Mtn Racer 2
289 g / 10.2 oz — Topo Athletic Ultraventure 3
292 g / 10.3 oz — Hoka Speedgoat 5
297 g / 10.5 oz — Brooks Cascadia 16
300 g / 10.6 oz — Scarpa Ribelle Run
303 g / 10.8 oz — ASICS Trabuco Max 2
310 g / 11.9 oz — Nike Wildhorse 8
310 g / 10.9 oz — La Sportiva Akasha II
310 g / 10.9 oz — Altra Timp 4
If we were to average up all of the weights above in this class of trail shoes it would sit about at 10.0 oz, placing the Sense Ride 5 at roughly the industry norm. That said, seeing how much lighter the Salomon Ultra Glide 2 is than the Sense Ride 5 (nearly an entire ounce), the argument can definitely be made that the Sense Ride 5 could potentially benefit from losing a few more grams if it really wanted to be competitive as it relates to weight.
However, to reiterate a point from earlier, the Sense Ride 5 is not necessarily a model whose prime concern is speed, so weight may not be as much of a central focus. Rather, what you get is a trail shoe that takes durability, versatility, and comfort seriously. This logic extends to the materials Salomon uses, too. They're perhaps not the lightest, but they're tough and help keep the price point down, thereby making the shoe more accessible to a broader audience. If you are looking for a lighter model from Salomon, something that is more aimed at racing and FKTs than daily training, the S/LAB Salomon Pulsar is probably more likely to check that box.
Upper
While this is not a technical aspect of a shoe by any means, the Sense Ride 5 does come in hot with some great colorways. The colorway of the model I tested is what Salomon calls "Rainy Day / Hot Sauce / Fressia," and while your mileage may vary, I thought it looked great. Aesthetics aside, the Salomon Sense Ride 5's upper is composed of a mix of textiles and synthetic mesh that has for the most part replaced burdensome overlays found in previous models of the shoe. Simplifying the upper design has allowed the Sense Ride 5 to drop a handful of grams from the previous Sense Ride 4. As mentioned in the "Fit" section above, the upper did take a bit of time to break in and felt rather unforgiving and stiff for the first 50 miles or so. However, once broken in, the upper fit my foot nicely and I experienced no hot spots or rubbing even though during many of the miles I ran my feet were damp or even soaking wet from melting snow.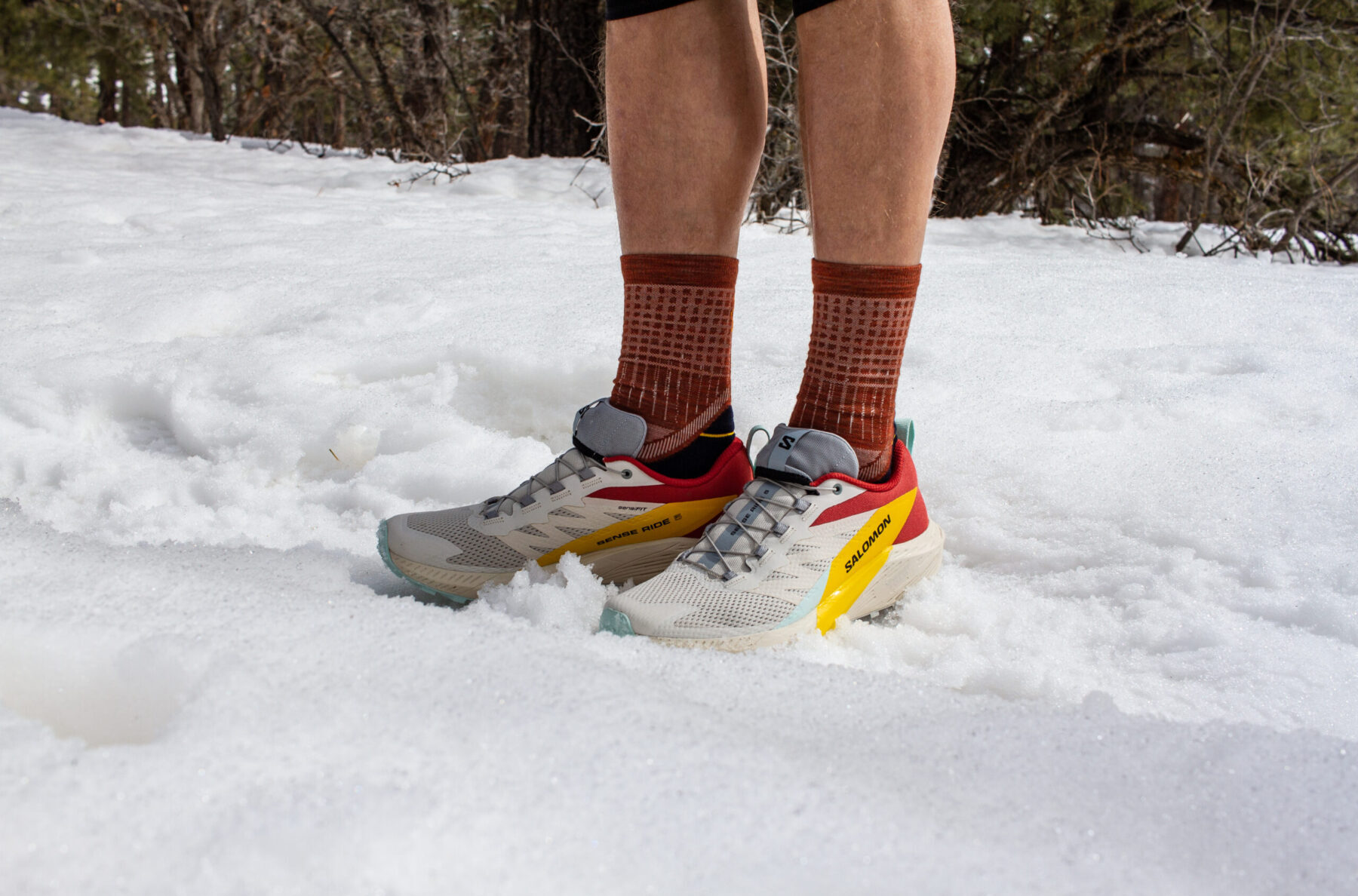 The forefoot and toe areas of the Sense Ride 5 felt very breathable and are lined with a comfortable mesh that should allow the shoe to expel heat and sweat well in hotter conditions. That said, I could see the top of the shoe and the gusseted tongue holding in water from stream crossings or puddles. While the Sense Ride 5's upper did a good job padding the top of my foot, the foam and thicker mesh material in that location could also potentially hold significant amounts of moisture and further weigh down the shoe.
While the front half of the Sense Ride 5's upper (i.e., forefoot and midfoot) cradled my average to slightly narrow foot shape well, the collar of the shoe was quite narrow and stiff. Now, the collar padding itself was sufficient and soft, but the actual opening of the collar felt really narrow and made it quite hard to get the shoe on my foot for the first handful of runs. The collar eventually softened up a bit and stretched enough to allow my foot to slide in easier, but it was definitely noticeable how small of an opening there was between the heel counter, collar, topline, and tongue of the Sense Ride 5. All this to say, my overall impression of the upper is that the synthetic mesh used with Salomon's "Sensifit" design held my foot shape well but I could see those with wider and/or higher volume feet feeling a bit restricted in the shoe, especially in the collar area.
Midsole
Salomon incorporates a lot of variations of material and tech into their midsoles across their lineup, so don't feel too guilty if you can't keep track of what's what. Naming conventions aside, here's what you need to know about the Sense Ride 5's midsole and how it performs on foot.
It took me all of about 3 minutes on my first run to notice that this shoe is designed with heel strikers in mind. After the first run, I immediately hopped onto Salomon's website to make sure I was right about the shoe's stated 8 mm heel-to-drop, because it felt like significantly more than that to me. As a forefoot striker, I tend to get along best with shoes that fall somewhere between 3 to 6 mm, although my favorite trail shoe of all time is the La Sportiva Mutant, which features an aggressive 10 mm drop. For whatever reason, the 10 mm drop in the Mutant works great for my running style and foot strike whereas the Sense Ride 5 felt like I was carrying excess weight in the back of the shoe whenever I would run on my forefoot.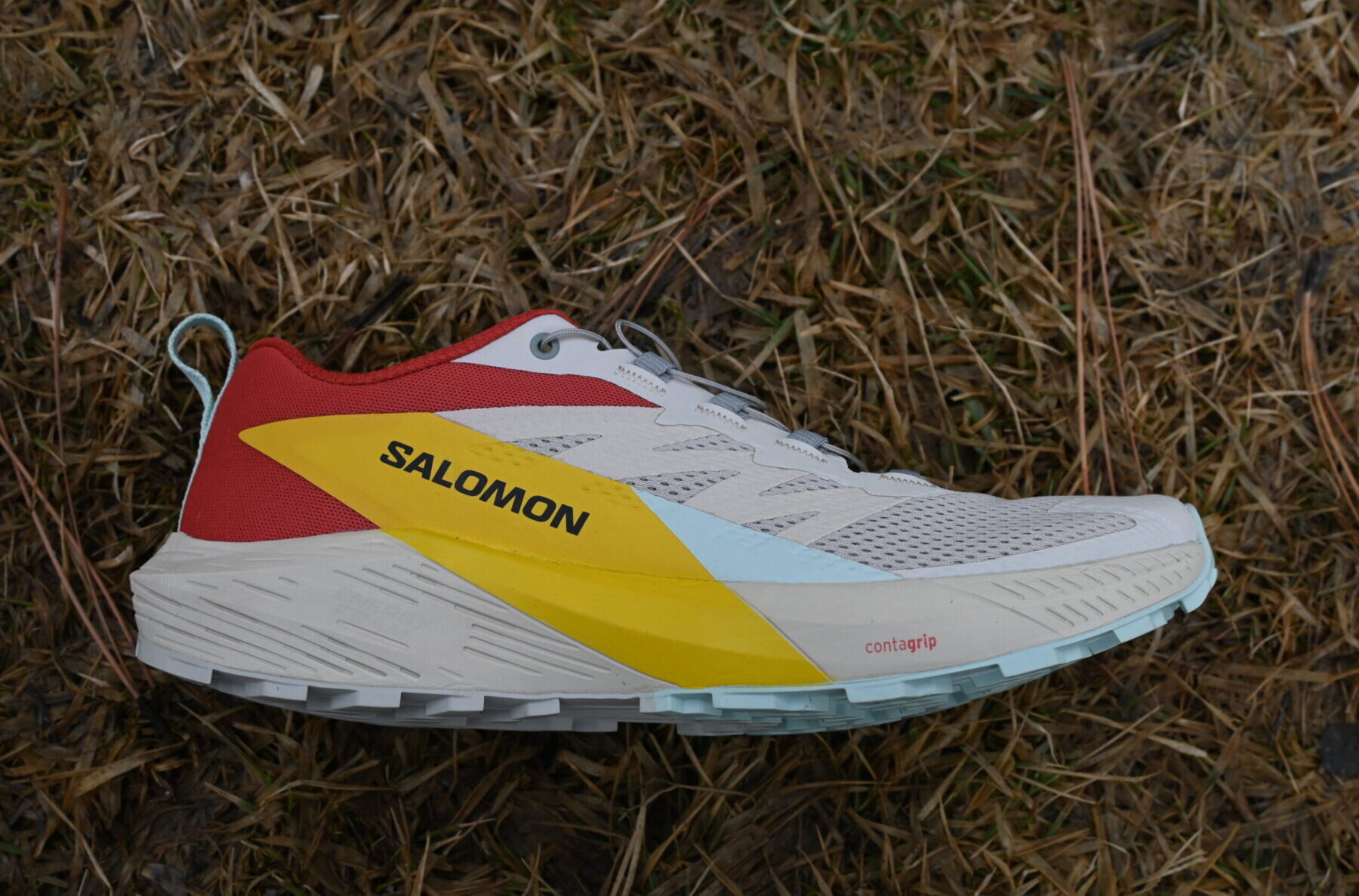 The shoe's "energyFOAM" midsole has a stated height of 29 mm in the heel and 21 mm in the forefoot, but to me, it felt more like 32 mm in the heel. Because of this geometry, I felt like I needed to change my natural running rhythm and found myself heel striking much more than normal as a result. Again, I typically do not have this much of an issue with higher-drop trail shoes (> 8 mm) but my running gait felt very off in the Sense Ride 5. I can remember feeling this a bit in my previous experience with the Sense Ride 3 a few years ago but it was nowhere near as pronounced as I experienced in the latest iteration of the model.
I found the shoe's energyFOAM midsole itself to be pretty spry and very protective underfoot, with nothing flashy or particularly "exciting" about it. Mirroring the hard-to-break-in upper, the midsole came across as quite stiff and unforgiving during my initial runs but eventually came to life a bit more, allowing me to feel sufficient cushioning on 5-mile neighborhood jaunts and 15+ mile outings on trail.
Since Salomon does produce so many different models of trail shoes with varying midsole compounds, I will compare what's used in the Sense Ride 5 to what I think is its closest equivalent, the Pulsar Trail. Engineered with more of a performance bent, the Pulsar Trail is built on a midsole that uses the same energyFOAM as the Sense Ride 5 but is enhanced with a TPU-based plate Salomon calls their "Energy Blade." From my experience, the major difference between the two shoes is propulsion. The Pulsar Trail definitely feels like it confers better energy return than the Sense Ride 5, but, in my experience, does so at the expense of longevity; the pair I wore packed out after 200 miles or so. Additionally, the Sense Ride 5 felt a lot more stable on technical terrain, something I chalk up to its lack of performance plate, which can often make shoes feel a bit tippy.
Outsole
Are you tired of hearing me say "versatility" yet? The outsole on the Sense Ride 5 is — you guessed it — very versatile. With 3.5 mm lugs, the Sense Ride 5 has enough bite to feel secure and sure-footed on somewhat muddy dirt trails while still not feeling overly built or clunky on those road miles in between. The in-house rubber compound that Salomon uses on all of their trail models, "Contagrip," has proven itself as a sticky, long-lasting rubber that tends to be reliable no matter the condition. Now, typically I wouldn't think twice about trusting a material that Kilian Jornet leaned on during his time with Salomon, but I have had a few instances in the past when Salomon outsoles have worn out much more prematurely than the rest of the shoe, so I had some reservations heading into this review. That said, I can confidently say that after 110 miles in the Sense Ride 5, a lot of which came on the road, its outsole is holding up very well. I often find that a shoe I am using as a commuter or door-to-trail shoe can take on a lot of early outsole abuse because road miles tend to eat away at softer, sticky rubber compounds found on trail shoes. The Contagrip compound used on the Sense Ride 5 feels especially firm, allowing it to handle time on pavement well.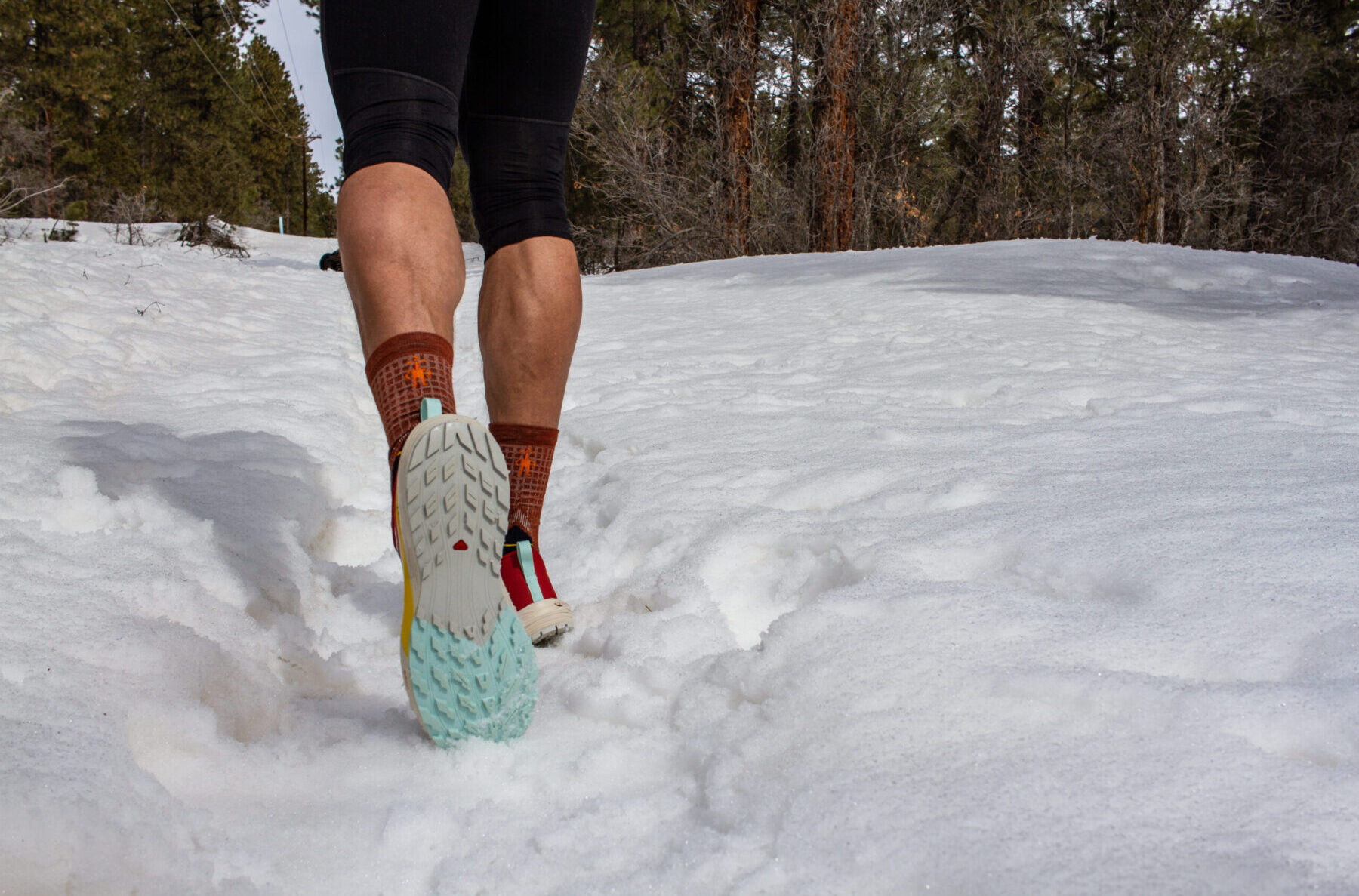 Another feature worth calling out: the Sense Ride 5's outsole is full length, meaning that no midsole material is left exposed. While I think this will aid in some added points in the durability department, I do think perhaps a little exposed midsole in the middle of the shoe or towards the heel could significantly help with a decrease in weight without impacting the longevity of the outsole very much. In many other models from Salomon, we do see sections of the outsole that have small amounts of exposed midsole foam in areas that typically receive less impact. This also does make the Sense Ride 5 feel a little stiffer underfoot, as there is less flexibility in the shoe given that there are no real grooves or spaces in the outsole to promote pliability. The past few iterations of the shoe have featured similar designs, so this is very much in the spirit of the model.
On Trail
I thought by the time I sat down to write this review I would be excitedly describing glimpses of spring and finally running on dry, snowless trails. Alas, we are still very much in the midst of winter here in the San Juans and surrounding high desert, despite what the calendar says. With record-breaking snowfall continuing to pile up, we are experiencing the deepest winter since 1987. All this to say, I have tested this shoe primarily on trails that are either snow-packed or horribly muddy. While I would much rather have access to more dry, tacky trails to spend time on this late into March, the poor conditions have given me more motivation to spend miles on the paved Animas River Trail through town or on the streets that make up my neighborhood. This served as a fantastic time to test the Sense Ride 5's versatility as a door-to-trail option, which in the end proved to be one of its greatest strengths.
One difference I did notice with this iteration of the Sense Ride from the Sense Ride 3 I had a few seasons back was the insole Salomon now uses. In the Sense Ride 3, they incorporated an "Ortholite" insole rather than the much thinner and less padded insole in the Sense Ride 5. I did feel the difference between the two in practice; unlike the factory insole in the current version of the shoe, the former Ortholite insole not only cushioned my landing better, but also made for a snugger fit because of its slightly increased volume. While running on uneven terrain — the surface type I've been spending the most time on as of late — I did notice a bit of foot-slippage brought on by the insole itself that I think could be eliminated if Salomon worked with higher quality material in that particular aspect of the shoe. Again, I never experienced enough movement to cause a blister, but it was noticeable enough to make me consider taking the insole out altogether or look into purchasing an aftermarket one.
Durability
With just over 100 miles in the Sense Ride 5 up to this point, I am thus far pleased with how the shoe is breaking in as the miles tick away. I have had mixed experiences with Contagrip rubber's durability in the past; some models outfitted with it have had enduring outsoles — thinking here of the S/LAB Ultra 3 — while others, such as the Salomon Pulsar Trail Pro, have been quick to fade, breaking down in as little as 80 miles. Fortunately, the way Contagrip is used on the Sense Ride 5 resembles the former, so it should last quite a while, in my estimation.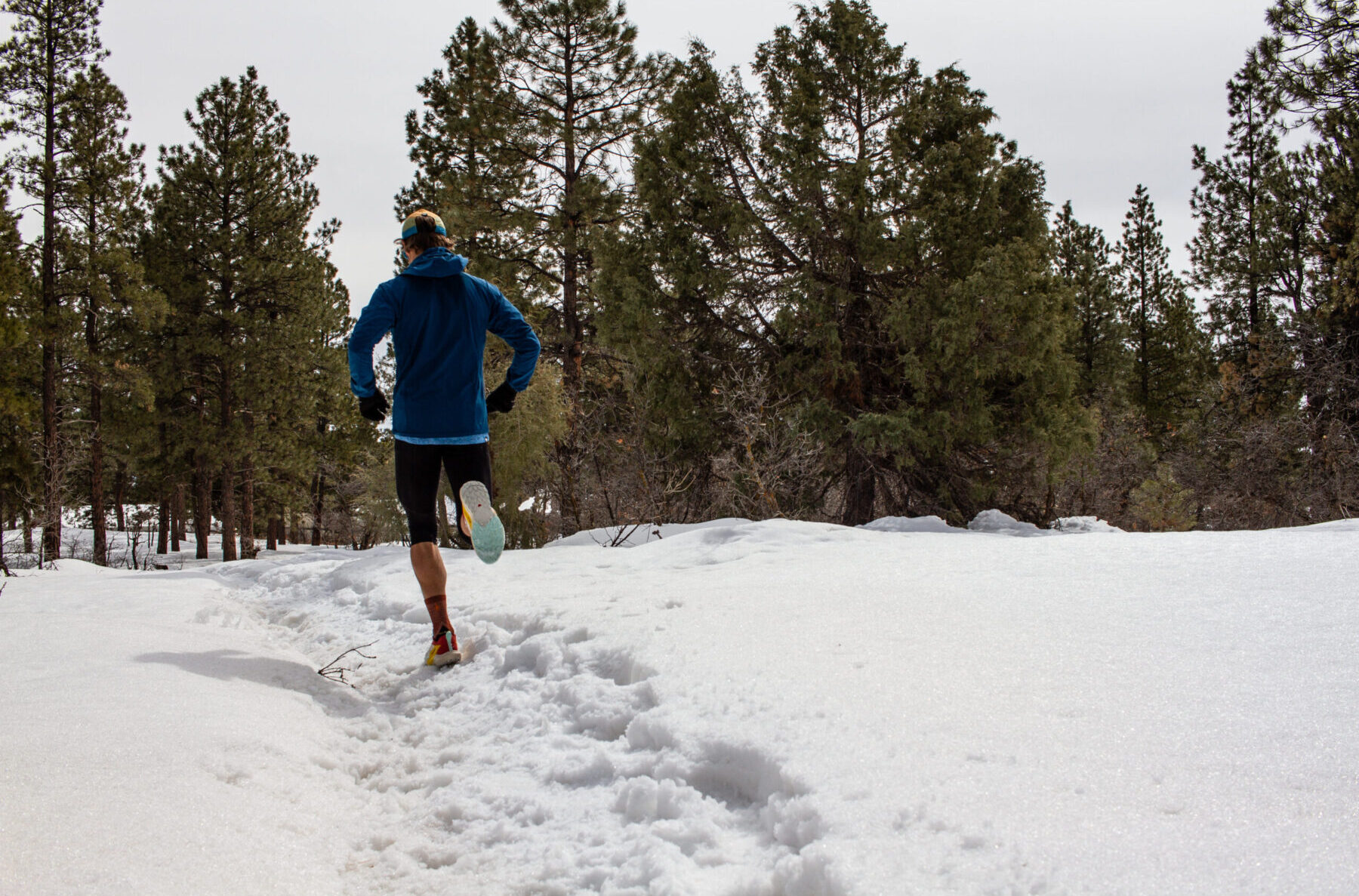 While the upper and heel collar felt quite stiff at the beginning of my testing period (though they eventually loosened up), their construction seems to have paid dividends when it comes to their respective toughness. Even after 100 miles, I see no obvious signs of wear, such as tearing or fraying. I took the Salomon Sense Ride 3 to well over 400 miles and I can see the same potential in the Sense Ride 5, and I think so should you. As always, if anything changes down the line I'll be back with updates. It's also worth mentioning Xero's "5,000 mile sole warranty." They say that if you wear the sole of their shoes down to 1 mm at the ball or heel of the shoe, they'll let you replace the shoe at 60% off the MSRP.
Who's It For?
At $140, I see the Sense Ride 5 as a fairly solid value-buy given its build quality and versatility it offers. The price point (although by no means cheap), along with its approachable nature and ability to adapt to a wide array of trail and surface types, makes the Sense Ride 5 one the best entry-level shoes I have tested recently. Whether you are a road runner converting to the trails, a city slicker who has extended miles to commute to dirt, or someone who is looking for one shoe that can get you out on the paved bike path during the week and high in the backcountry trails on the weekend, I think the Sense Ride 5 is going to be an excellent partner for all your endeavors. Again, I will note that this shoe's structure biases toward heel strikers, so if you tend to land more toward the front of your foot, know that the Sense Ride 5 might take a little while to get used to.
Bottom Line
The updated Sense Ride 5 seems to be lacking the innovative spark that has lit up recent models in Salomon's lineup, but while that may be the case, the end product is still tremendously successful. Because of its unvarnished attitude and simple construction, the Sense Ride 5 strikes me as a stellar entry-level trail shoe and a solid choice for folks in need of a road-to-trail option. Its versatility also positions it as a good candidate for use as a single-shoe-quiver travel shoe, something that can cover most of your bases abroad. If you're an experienced ultrarunner looking for a no-frills training option capable of stomaching a ton of miles, or you're in the market for your first pair of trail shoes, consider giving the Sense Ride 5 a try.