La Sportiva Jackal II BOA
Stated Stack Height (Men's): 29 mm (heel) / 22 mm (forefoot)
Stated Heel-to-Toe Drop: 7 mm
Stated Features:
Compression Molded EVA with "Infinitoo™" PU inserts and a dual-density compressed EVA rock-guard
"FriXion XF 2.0" (White) rubber outsole with 3.5 mm lugs
Dual "BOA Fit System" and "Spiyralfit Tongue" construction
TPU toe cap and overlays
Stated Weight per Shoe (US Men's Size 9): 300 g / 10.5 oz
MSRP: $185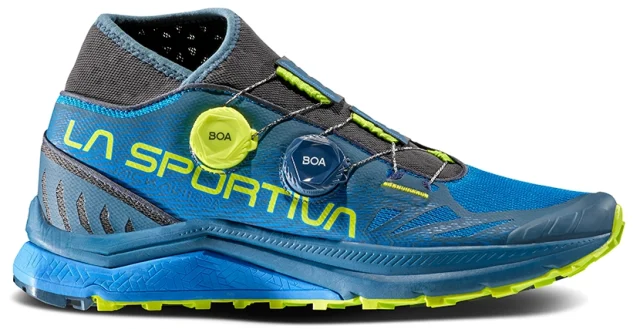 Intro
We published a glowing review of the La Sportiva Jackal back in 2020, signaling it as the brand's best long-distance-specific shoe to date. While La Sportiva has released several other models with similar purposes since, thinking here about the comfort-focused Karacal and the equally capable Akasha II, the Jackal has remained a popular fixture in their lineup, appealing to runners in want of a shoe that can cut through technical terrain while still feeling relatively smooth on runnable trails.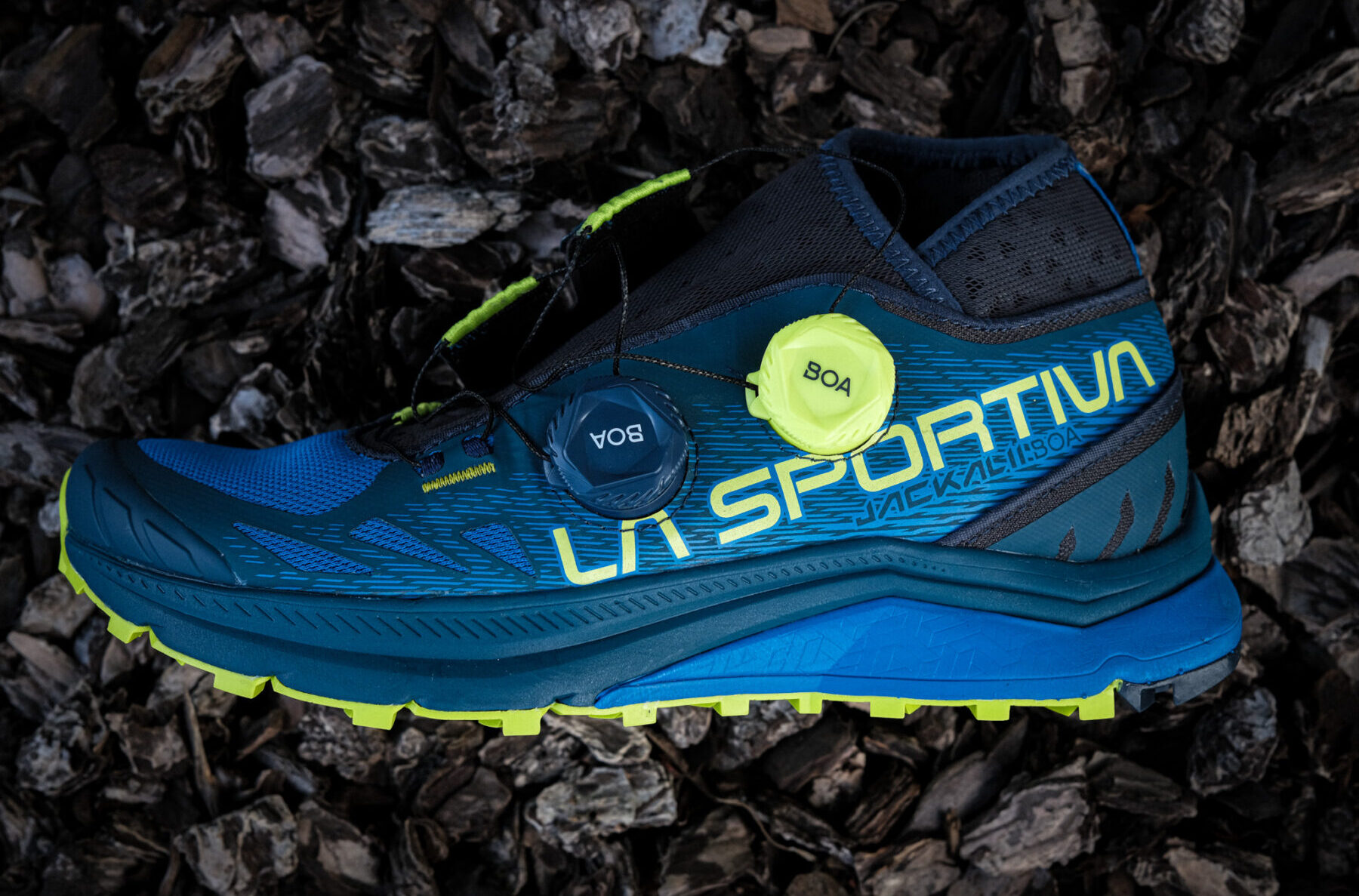 Reading back through our initial coverage, there's a soft subtext underlying our praise, one that wishes in a whisper that La Sportiva will issue restraint in future iterations of the Jackal by not straying too far afield of what made the first version so successful. But massive overhauls and complete redesigns aren't typical of La Sportiva to begin with, and the recently released Jackal II and Jackal II BOA (reviewed here) appear to improve on their predecessors in ways that are measured, if a bit staid. I've recently begun testing out the latter of the two shoes and have been encouraged by just how significant of a complement the "BOA Fit System" is to a model I expected to be plenty capable on its own. In the interim, we'll take a closer look at the makeup of the shoe, and then follow up with a full-length review down the road.
Fit & Features
Built on La Sportiva's "Tempo" last and outfitted with a premium BOA Fit System, the Jackal II BOA definitely skews more toward folks with performance goals in mind, a departure from its wider-fitting, more relaxed standard version. La Sportiva has plenty of familiarity with BOA; in the past, they've incorporated various different forms of the technology on higher-end, race-specific shoes like the Cyklon and VK BOA, so its presence on the Jackal II BOA should help indicate how La Sportiva conceives of its use.
Instead of a single micro-adjustable dial controlling lace tension across the entire foot, as was the case on the VK BOA, the Jackal II BOA features two dials that work in tandem with two independent wraps (called "PerformFit Wrap") layered over the midfoot. Like in the Speedland SL:PDX, which leverages a similar system, swaddling the foot in this way allows for much more precision / support than what most people can achieve with traditional laces, as well as the benefit of being able to zonally control tension in multiple areas. Paired with what La Sportiva calls their "medium" fit, this design should accommodate a wide spectrum of different foot shapes, though won't be as commodious as the standard Jackal II and its "Tempo Ultra" last.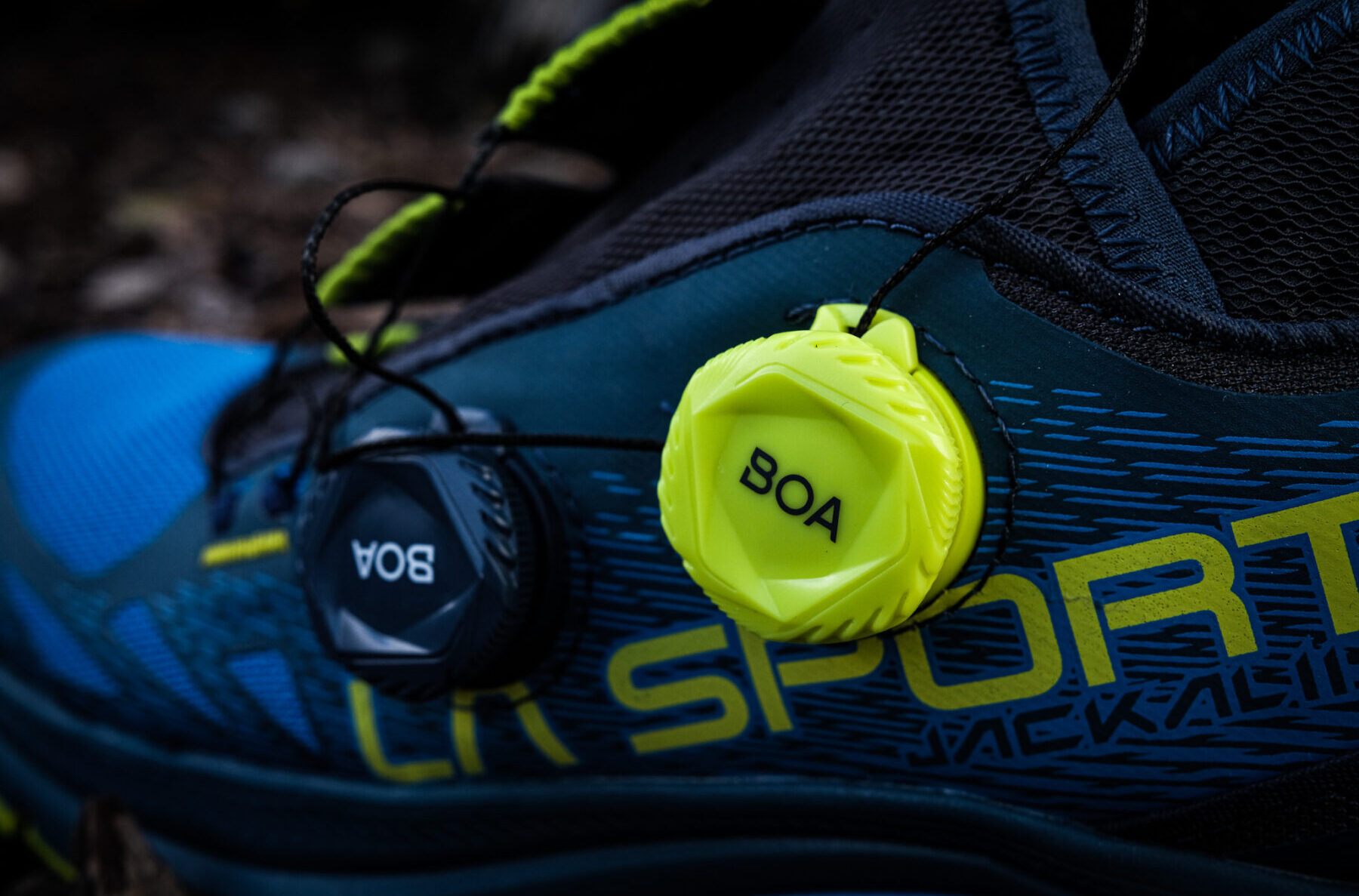 Personally, I'm pretty bullish on the BOA Fit System, specifically how it's used here. I've been frozen out by past models of La Sportiva because their narrowness pinched my broad forefoot, and the uncompromisingness of traditional laces offered me no reprieve. With BOA's two adjustable dials, I'm able to loosen the lower one to free up the shoe's toe box a bit while keeping the dial closest to my ankle ratcheted down. Sparing the dreaded on-trail mechanical failure (in which case you're kinda SOL), this seems like a pretty ideal setup that I'm happy to see finally start working its way down to more approachable models (the Jackal II BOA even sneaks in under 200 bucks).
The rest of the Jackal II BOA's upper construction aligns with what you'd expect from a brand that's been at the forefront of the mountain shoe category for decades. La Sportiva uses "Ariaprene" — a perforated, closed-cell foam — for both the collar and tongue, which is designed continuously to form a cushioned, pseudo-bootie akin to what appears on the Mutant, albeit raised up by at least a couple inches. No-sew TPU overlays and a stout TPU toe cap round out the front of the shoe in a style that's not shy about its aggressiveness.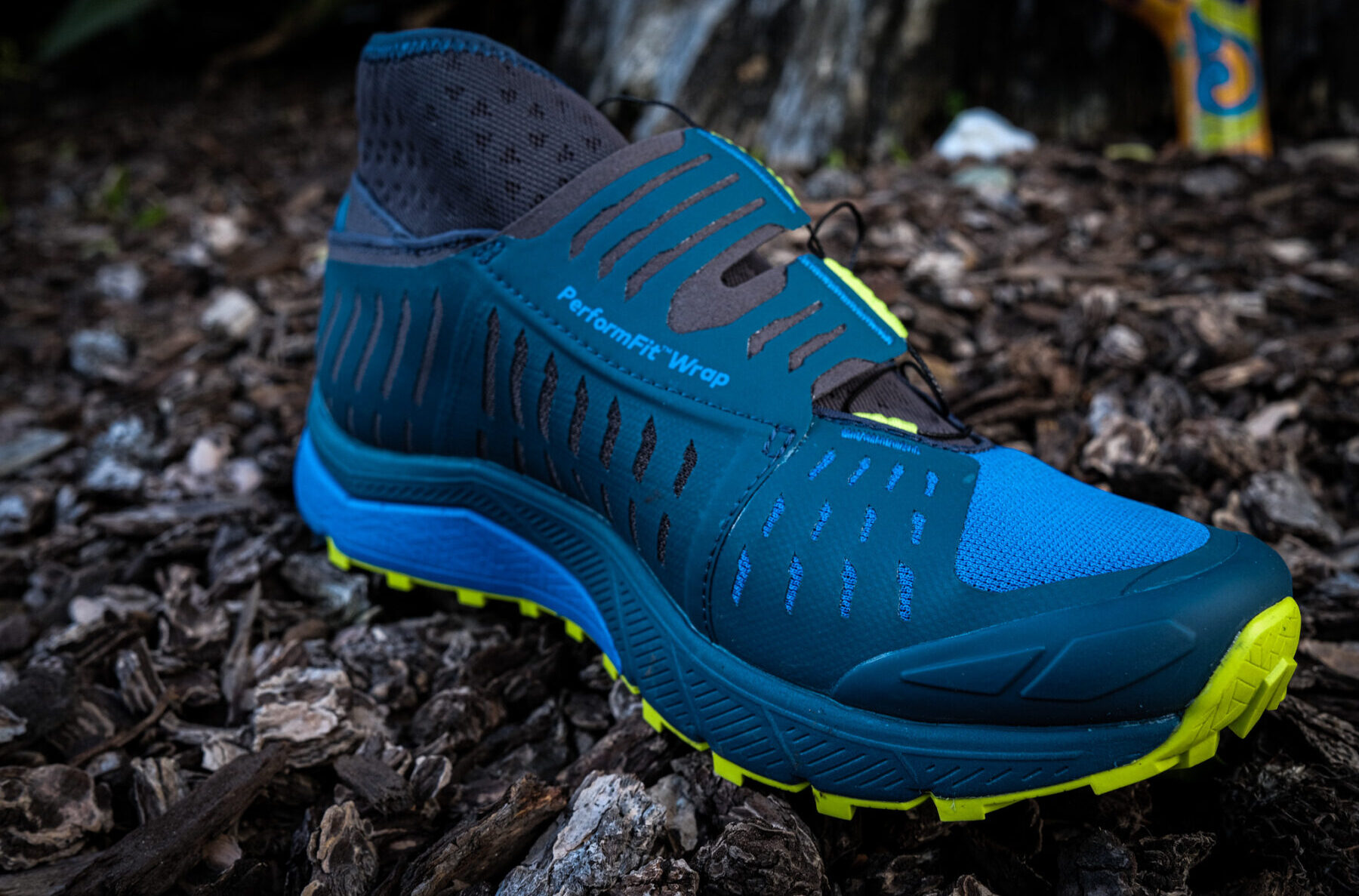 If this list of components, many of them proprietary, sounds like a lot, you'd be more than justified to inquire about how much the Jackal II BOA weighs. Weight is definitely less of a concern in long-distance mountain shoes, to an extent, but for context, here's how its stated weight compares to the stated weights for some other similar models, including the Jackal II. All weights are based on a US Men's Size 9.
275 g / 9.7 oz — La Sportiva Jackal II
292 g / 10.3 oz — Hoka Speedgoat 5
300 g / 10.0 oz — La Sportiva Jackal II BOA
298 g / 10.5 oz — La Sportiva Bushido II
300 g / 10.6 oz — Scarpa Ribelle Run
300 g / 10.5 oz — La Sportiva Jackal
303 g / 10.7 oz — La Sportiva Mutant
310 g / 11.0 oz — Arc'teryx Vertex
328 g / 11.6 oz — Adidas Terrex Agravic Ultra
Crafting a midsole that fairly balances enough comfort for extended time on feet with the protection needed for rugged off-trail pursuits is one of the hardest needles to thread from a design perspective, and La Sportiva hasn't always been able to execute on it in the past. However, how they've formatted the midsole that the Jackal II and Jackal II BOA share leaves me feeling hopeful.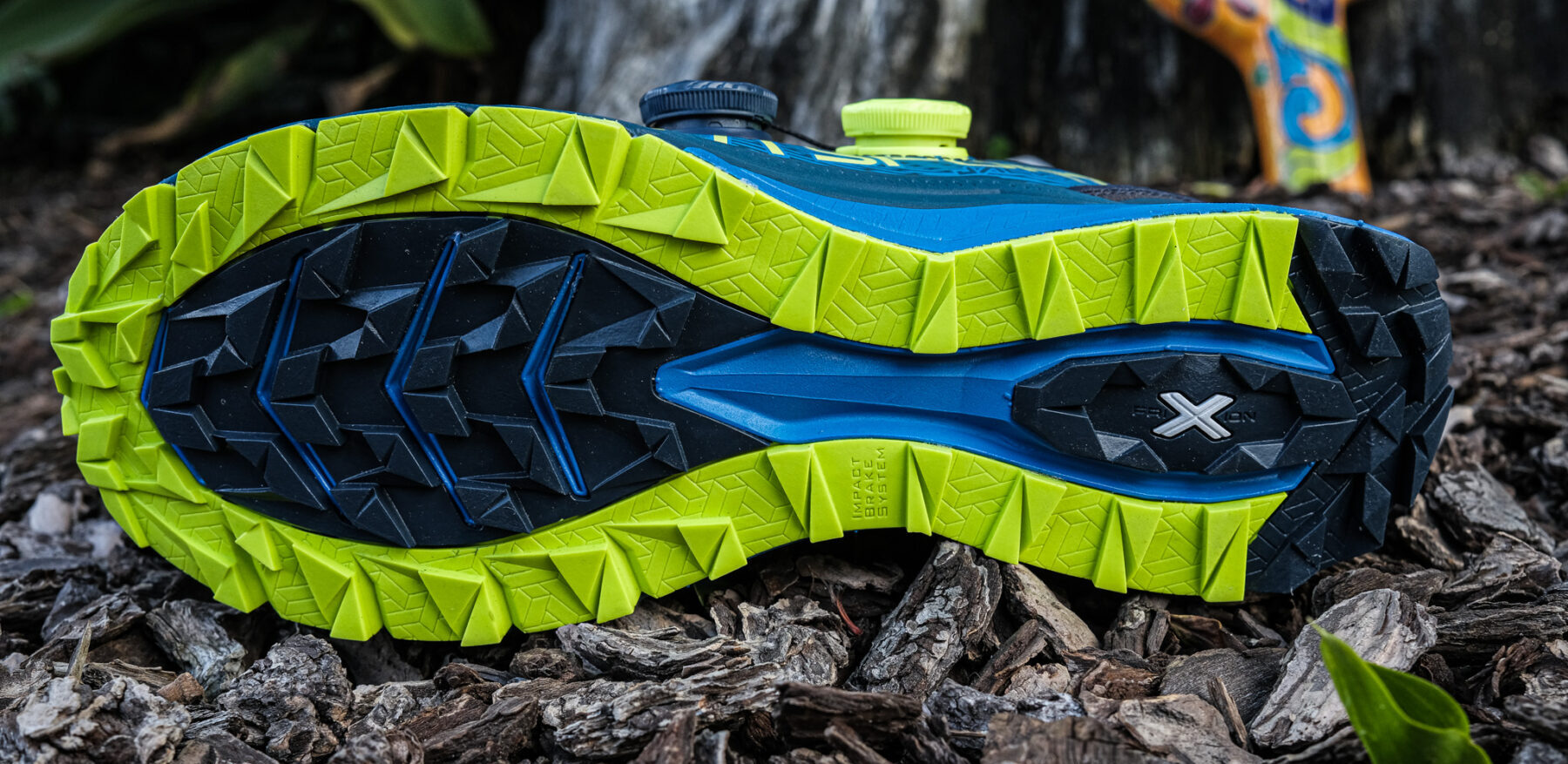 The two models feature a full-length layer of compression-molded EVA foam enhanced with "Infinitoo" PU inserts in the heel and forefoot for energy return and stability. To shield the foot from rocks, La Sportiva also included a dual-density compressed EVA rock-guard underfoot for safe measure. This marriage between protection and performance, values seemingly stressed in nearly every La Sportiva model, extends to the Jackal II BOA's prized outsole as well. The same tacky "FriXion XF 2.0" (aka "White"; their stickiest trail-shoe rubber compound) rubber tread organized in jagged 3.5 mm lugs that debuted on the first version has been brought over to this latest iteration, "Impact Brake System" and all. I see no reason why the outsole, as well as the rest of the shoe, can't be expected to replicate the original Jackal's stand-out performance.
Some Questions / Things We're Curious About
The Jackal II BOA's dials are protrusive and made of plastic. Considering the integral role they play in securing the shoe's fit, how durable will they be in rocky, mountainous environments?
How will La Sportiva's decision to outfit the Jackal II BOA with a narrower performance last impact the shoe's comfort as distance increases?
The Jackal II BOA's Ariaprene heel collar extends quite high up the Achilles. What effects can we expect from this design (e.g., improved foot security while climbing, rubbing / chafing, lack of ankle mobility, etc.)?
Bottom Line (For Now)
When La Sportiva and BOA collaborate, you can generally expect good things. With the recently released Jackal II BOA, an update to a model we crowned as La Sportiva's best long-distance specific trail option to date at the time of writing, both brands hope to continue their track record of turning out some of the industry's best high-performance mountain shoes. At least early on, the addition of a BOA Fit System brings an impressive amount of foot security, precision, and on-the-fly adjustability to a model expected to dice through unstable technical terrain, and the shoe's appreciably taller stack height compared to the original Jackal should help extend the range its comfort can travel. While there is a concern that the Jackal II BOA's performance-focused design (i.e., its narrow last and potentially vulnerable BOA dials) could subtract from its practical use as a rugged long-distance option, we're feeling pretty optimistic about its future. Keep an eye out for our forthcoming full review soon.