Scarpa Spin Ultra
Test Locations: Boulder & Buena Vista, Colorado
Test Duration (so far): ~65 Miles
Stated Stack Height: 24.5 mm (heel) / 18.5 mm (forefoot)
Stated Heel to Toe Drop: 6 mm
Stated Features:
Micro Nubuck & Mesh upper
Polyurethane overlay in upper
Molded TPU toe cap
Sock-fit light wrap
Vibram MegaGrip Outsole
MSRP: $149
Size Tested: EU 39
Stated Weight per Shoe (EU 38 / US Women's 7): 225 g / 7.93 oz
Blister's Measured Weight per Shoe (EU 39 / US Women's 7.5): 259 g / 9.13 oz
Reviewer: 5'10", 115 lbs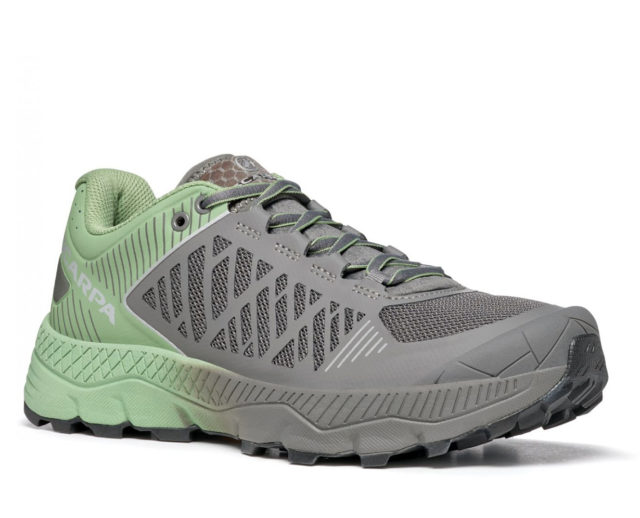 Intro
Last year Scarpa released the Spin Ultra — the most cushioned shoe in their "Spin" line of trail-running shoes. Scarpa says the Spin Ultra is ideal for longer-distance running, whether that's during your regular training or faster-paced races. I have a pair of the Spin RS and spend a lot of time in other shoes in the same class as the Spin Ultra, so I was eager to see how this more cushioned Scarpa shoe would perform and compare.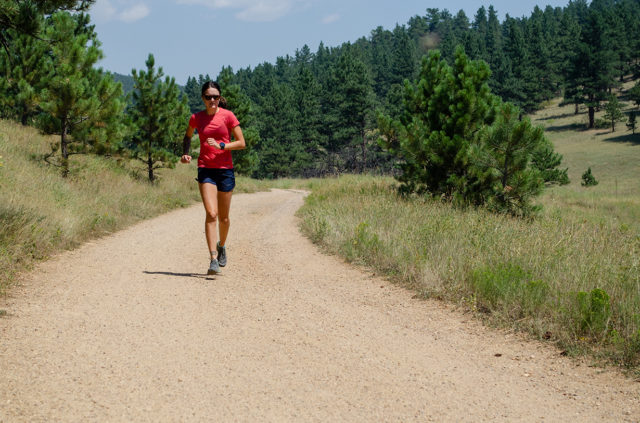 I've now put enough time in the Spin Ultra to get a general idea of where this shoe makes the most sense, where it falls short compared to the competition, and who I think should consider it. Let's get to it:
Fit
As always, we highly recommend trying on any shoe before buying, when possible. With that said, I can add some thoughts on how the Spin Ultra fits my feet, which are fairly low volume but have large bunions.
I have only run in one other pair of Scarpa shoes before, the Spin RS, and in both that shoe and the Spin Ultra, I have found they fit my feet very well. I normally wear a US Women's size 7.5 or 8, depending on the brand, and I tested the Spin Ultras in a EU 39, which Scarpa says is basically equivalent to a US Women's size 7.5. It's worth noting that Scarpa's EU-to-US sizing conversion varies a bit from some other brands, so be sure to check their sizing guide to figure out your proper size.
The Spin Ultra uses a sock-like construction through the upper for a more secure connection all the way from the midsole to the tongue. Combined with how the fairly low-volume last fit my feet, I think this upper construction was part of what made the Spin Ultra feel stable on my feet; even when running steep uphills / downhills, there was very little movement of my foot within the shoe.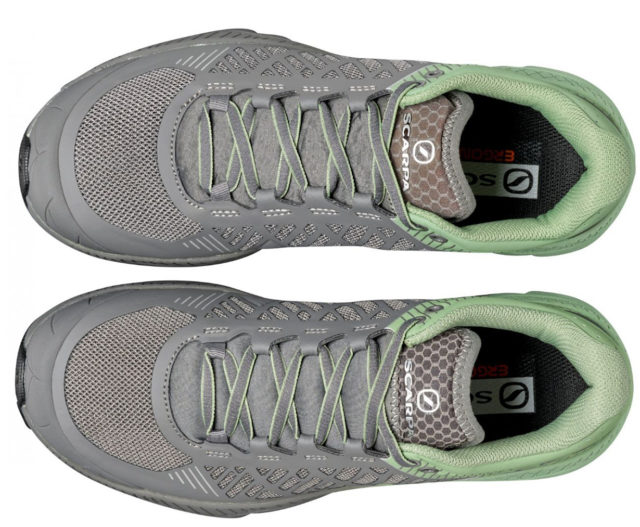 The Ultra Spin's toe box provided enough room for my toes to feel comfortable, but was not overly spacious. In terms of its general volume through the midfoot and toe box, the Spin Ultra reminds me of most of Salomon's trail-running shoes. If you prefer a shoe with a wider toe box and lots of room for toe splay, the Spin Ultra is likely not the best bet (it's not super wide like most Altra shoes).
Overall, the fit of the Spin Ultra felt very similar to that of the Spin RS, with the Ultra's toe box being slightly wider. The Spin Ultra's upper also felt a bit more padded / substantial and I think that translated to a slightly more secure, snug feeling, but the two shoes feel similar overall.
During my time running in the Spin Ultra so far, I have not had any issues with rubbing, blisters, or hot spots. The laces did stretch a bit during the first few runs, which required stopping to fix them, but after this initial phase, I haven't since had any issues.
Weight (and Comparisons)
While it's not uncommon for long-distance-oriented shoes to be on the heavier end of the spectrum, the Spin Ultra is notably heavier than some other similarly cushioned shoes. It's also worth noting that our measured weight of the EU size 39 Spin Ultra (259 g) was notably heavier than the stated weight for a EU size 38 (225 g).
For reference, below are some measured weights (for a US Women's size 7.5 or 8) and stated weights for a few other shoes that are in the same general category as the Spin Ultra. I also included the stated weight of the Scarpa Spin RS for reference.
233 g / 8.2 oz — Scarpa Spin RS
238.5 g / 8.4 oz — Hoka Challenger ATR 5 (measured weight)
247 g / 8.7 oz — Altra Lone Peak 4.5
249 g / 8.78 oz — Salomon S/Lab Ultra 2 (measured weight)
259 g / 9.13 oz — Scarpa Spin Ultra (measured weight)
262 g / 9.24 oz — Salomon Ultra /Pro (measured weight)
290g / 10.22 oz — Dynafit Ultra 100
While it's far from the most maximal shoe with its 24 mm / 18.5 mm stack height, the Scarpa Spin Ultra comes in at a heavier weight than some of the competitors. After recently reviewing the Salomon Ultra /Pro, it made sense looking at the list above, since the two feel pretty similar in terms of weight on the trail. I noticed this most on more technical terrain, where I felt like I had to really think about each foot placement to ensure I did not fall in the Spin Ultra. On smoother trails, the shoe did not feel super light and fast, but for moderate-paced recovery runs where some added cushion is helpful, the Spin Ultra felt more sensible.
Upper
The upper of the Spin Ultra is primarily mesh but with a lot of Polyurethane overlays, designed to be a breathable, yet protective construction. These PU overlays on the sides of the shoe help to create a bit more structure / support through the midfoot, particularly when combined with the overall sock-like fit of the upper. The Spin Ultra's heel cup has some additional cushioning to help prevent pain or hot spots, and the shoe also features a molded TPU toe cap to protect your toes from any rocks that may get in your way (it's done a great job of protecting my toes on some rocky tumbles).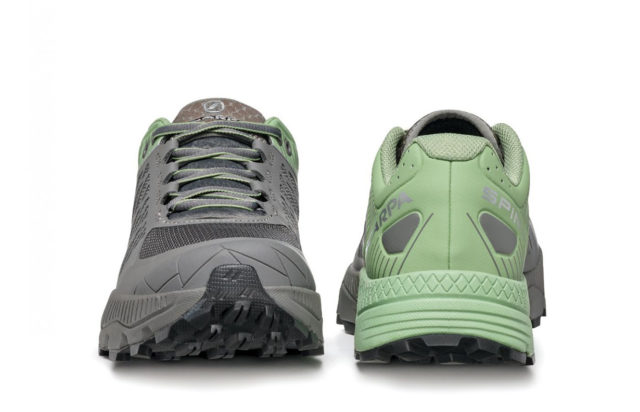 I found the upper of the Spin Ultra to be pretty breathable and never had any major complaints about lack of breathability, even though its upper is a bit thicker than some other shoes, like the La Sportiva Kaptiva and the Salomon S/Lab Ultra 2. I did cross a river in the Spin Ultra, soaking them thoroughly, and they took longer to dry than those two shoes, though I didn't experience any hot spots or blisters.
Midsole and Cushioning
With a 24 mm / 18.5 mm stack height, the Spin Ultra offers more cushioning than the Spin RS, though the Ultra still isn't some super maximalist shoe. Its midsole is made of two different densities of EVA foam for a balance of efficiency and impact absorption, along with a small shank in the middle of the foot for increased torsional rigidity.
The cushioning on the Spin Ultra was my favorite part of the shoe. The Spin Ultra has a far more cushioned and plush ride compared to the Spin RS, which I appreciated on longer days. Compared to the Salomon Ultra /Pro, the Spin Ultra feels a bit softer and I mostly preferred it because it fit my feet much more securely.
The Spin Ultra reminded me of the Hoka Challenger ATR 5 in terms of its plush ride, but the Spin Ultra's lower stack height kept the Spin Ultra feeling closer to the ground and its outsole provided a stronger grip than the Challenger ATR 5. Compared to the Salomon Sense Ride 3, the Spin Ultra felt notably softer and more forgiving.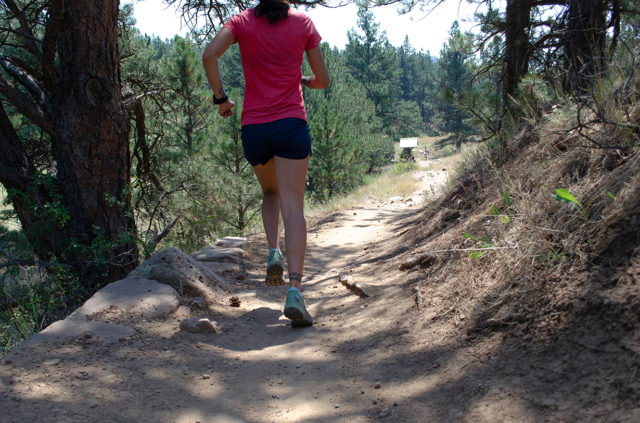 As I mentioned in the Weight section, the Spin Ultra has not felt particularly agile on technical terrain, and I think its cushioning may have played a role in that. While the cushioning is quite comfortable, it felt like it absorbed a notable amount of energy when taking a step, jumping from rock to rock, etc. This was not a huge problem, especially for longer runs where speed is not the biggest concern, but for shorter training runs and those with lots of technical terrain, I felt like it slowed me down. If you like the firm, efficient ride of shoes like the Salomon S/Lab Ultra 2, the Spin ultra may feel inefficient and more cumbersome, but it'll also likely feel much more forgiving and plush.
Outsole and Traction
The Scarpa Spin Ultra utilizes Vibram's Megagrip rubber compound, Vibram's "Litebase" construction, and combines those two with moderately large, widely spaced lugs, somewhat similar to those on the La Sportiva Kaptiva or the Salomon Sense Ride 3.
The outsole on the Spin Ultra has provided reliable grip on a wide variety of trails so far. I've had zero slippage on steep rocks, and when going downhill on loose gravel, I felt confident that the shoe was not going to move / slip unexpectedly, which is a big perk for me since I am not a confident downhill runner.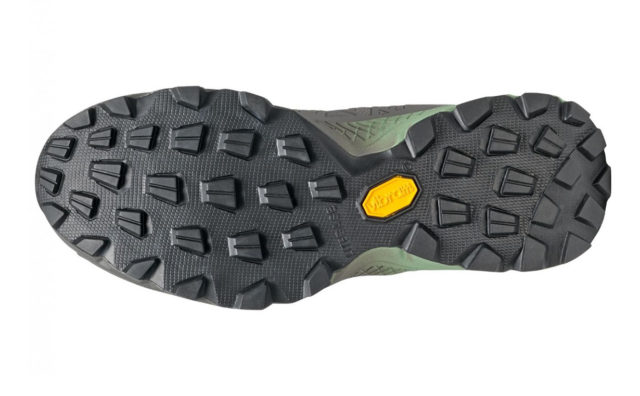 Even though the Spin Ultra felt a bit clunky, its grippy outsole was a huge confidence booster. On flat, dirt roads / crushed gravel trails, I didn't feel like the excellent traction was slowing me down, but the shoe overall didn't feel especially fast, due to its weight and midsole.
I mentioned that the Spin Ultra feels similar to many Salomon shoes in terms of fit, but the Spin Ultra's traction is a big differentiating factor. Its Vibram Megagrip rubber is notably stickier on rocks, roots, and dirt compared to Salomon's Contagrip MA and Contagrip MD compounds. While the weight and cushioning of the Spin Ultra doesn't make it ideal for running fast through technical terrain, its sticky outsole does make it a good option for those who just want to have reliable grip at more moderate paces.
On The Trail
After about 65 miles in the Spin Ultra so far, I definitely see why Scarpa added it to their line, but it does have some shortcomings.
It was immediately clear why the shoe is designed for longer efforts — its cushioning and structure of the upper make it a super comfortable shoe. On smoother trails with fewer rocks, like the Colorado Trail near Buena Vista, I loved the plush ride and snug, supportive feel of the upper. I finished that 20-mile, slower-paced run with no foot fatigue or blisters.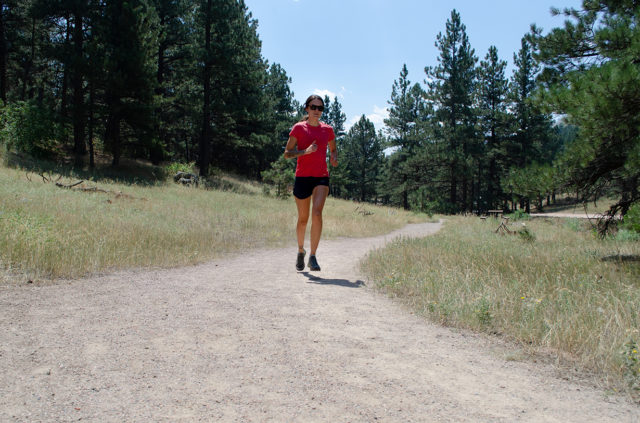 That said, the Spin Ultra felt less and less ideal the more technical the trails got. During several runs, including at Heil Ranch in Boulder and on the Sourdough Trail near Ward, I found myself having to really concentrate on where each foot was landing to prevent falling. I also felt like I caught the toes more than normal in these shoes, which is why I was glad it had the reinforced TPU toe cap, but it was still annoying. While I wasn't having any pain from landing on rocks, the shoes just felt pretty clunky overall, which was most noticeable on rocky / off-camber terrain where quick, precise foot placements are key.
On the other hand, the Spin Ultra's excellent traction did help to slightly counteract that clunky feeling. Even on the slick rocks at the top of Bear Peak in Boulder, I had no issues with slipping. On both wet and dry trails, I felt confident in the outsole.
For slower runs on smoother trails, I really like the Spin Ultra. But as someone who regularly trains on trails that are a mix of smooth and very rocky terrain, it wouldn't be my pick for my everyday runs. If you tend to stick to smoother trails (e.g., Marshal Mesa loop in Boulder) and / or don't need to run fast through technical sections, the Spin Ultra worth considering.
Durability
I can't say much about durability right now, given that I've only run about 65 miles in the shoe so far. But I will happily report that the Spin Ultra is showing no signs of wear; the lugs on the outsole are the same size as when I pulled the shoes out of the box and the midsole has not packed out at all. I will update this section as I put more miles on the shoe.
Who's It For?
If you are in the market for a fairly plush, well-cushioned shoe for long training days or some races, the Scarpa Spin Ultra might work for you. The upper has provided a snug but very comfortable fit for my lower-volume feet, and the added cushioning around the heel was a big perk for me. As I mentioned, if you tend to like how Salomon shoes fit but are looking for better traction and a more plush midsole, the Spin Ultra is worth a look.
The Spin Ultra felt the best on smoother trails with fewer rocks. There, it feels secure and comfortable, and makes sense particularly on longer runs where speed isn't the top priority. While the Spin Ultra offers excellent grip, its weight and bulky feeling make it less ideal for lots of off-camber terrain vs. something like the Spin RS, Salomon S/Lab Ultra 2, Salomon Sense 4 /Pro, or potentially even the Altra Timp 2.0.
Bottom Line
With ultrarunning becoming more popular, the trail running shoe market is starting to see more ultra-specific shoe models. But even within that relatively new and niche category, we're seeing lots of variation.
The Scarpa Spin Ultra is a good example of how different companies are taking different approaches to longer-distance trail shoes. While some brands' "ultra" shoes are super stiff and designed with maximum efficiency and / or stability in mind, the Spin Ultra goes in the other direction; it offers a well-cushioned, comfortable ride that can be a big plus on long days, but that does come at the cost of agility and confidence in more technical terrain. There are better options if your typical runs range from super rocky to smooth, but the Spin Ultra excels on more mellow trails, longer days, and moderate paces.