Smith I/O Mag XL
Lens Tested: ChromaPop Sun Green Mirror (9% VLT)
Stated Features:
Smith MAG™interchangeable system
Includes bright light and low light ChromaPop™ performance lenses
Spherical carbonic-x lens
5X™anti-fog inner lens
TLT lens technology for crystal clear vision OTG compatible
Large fit
Responsive Fit™frame design
QuickFit strap adjustment system with clip buckle
3-layer DriWixface foam*
Available in Asian fit
Helmet compatible
Ultra-wide, silicone backed strap
ODS3 compatible
MSRP: $240
Test Locations: Crested Butte, Telluride, Front Range, & Ten Mile Range; CO
Days Tested: ~15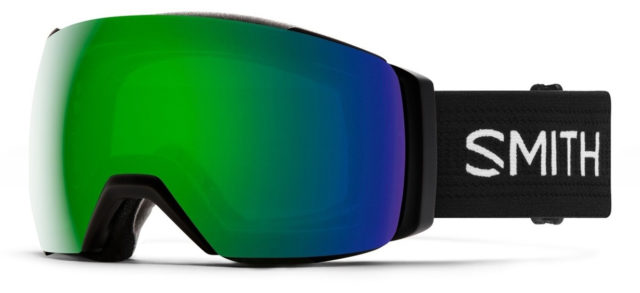 Intro
Smith's I/O line of goggles has become one of the most prolific lines on the market. What started with the original I/O led to the I/OX, I/OS, I/O7, and their first magnetic lens-swap goggle, the I/O Mag. For 19/20, Smith is expanding their I/O line again with a few new options, including the I/O Mag XL.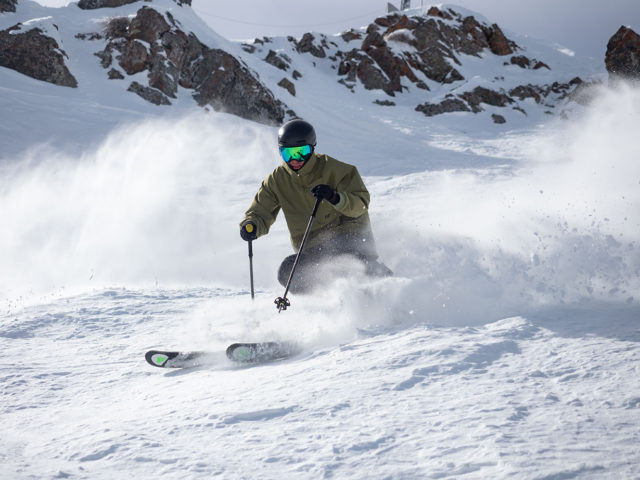 Along with the new smaller-framed I/O Mag S, the I/O Mag XL brings the same magnetic lens-swap system of the I/O Mag to a broader size range of frames. Luke Koppa and I have both been using the new I/O Mag XL this season, and we think it's another solid offering from Smith.
Fit
Sam Shaheen: One of the things that struck me about the I/O Mag XL is how versatile the fit seems. I have a fairly small face and this frame fits my face surprisingly well. As far as supposedly "large-framed" goggles go, the I/O Mag XL seems to fit on the smaller side.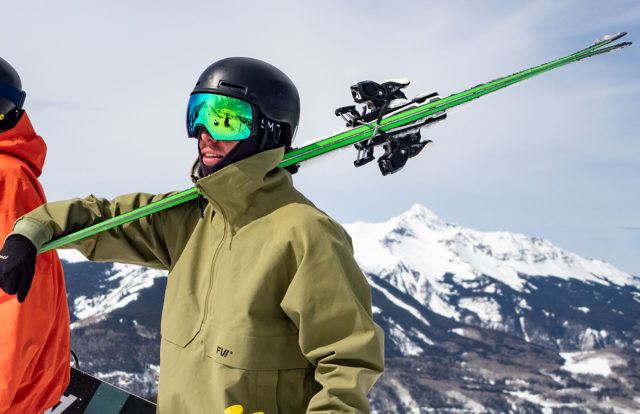 Compared to the Smith 4D Mag, the I/O Mag XL feels like it has a slightly larger frame, but the I/O Mag XL actually fits my face better than the 4D Mag. I think this is because the I/O Mag XL's frame is a bit more flexible so it does a better job of conforming to my face. I don't get any gaps between the frame and my face and, for the most part, I don't have to worry about the fit of the I/O Mag XL.
Luke Koppa: I have a bigger head / face and tend to get along best with larger frames. Overall, the I/O Mag XL fit my face pretty well, though I had to play around with the strap tension a bit to get it dialed. The I/O Mag XL's frame feels a bit more flexible and conforming than the 4D Mag's, but not as flexible as the old Smith I/O7 or Sweet Protection Firewall.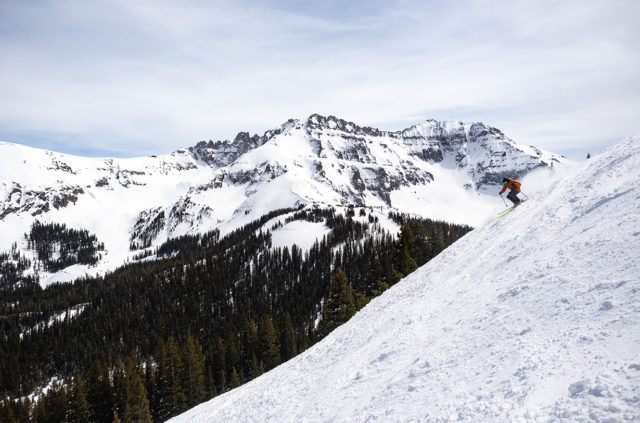 Despite it's "XL" moniker, I wouldn't call the I/O Mag XL a very large goggle. As evidenced by Sam's comments, I think the I/O Mag XL is still worth a look for people with fairly average-sized faces, not just people with larger ones. And if you have a really big head and need a really big goggle, I'd look to truly large frames like the Anon M4, Smith Squad XL, and POC Orb Clarity. As always, we recommend trying on goggles (with your helmet) before purchasing to get a better idea of how a particular frame will fit your face.
Lens Swapping
Sam: The I/O Mag XL uses a magnetic lens-swap system that's identical to the one on the standard I/O Mag. There are several magnets places around the I/O Mag XL's frame and lens that hold the lens onto the front of the frame. Additionally, there are two clips behind the strap on either side of the frame that the lens clips into to provide further security.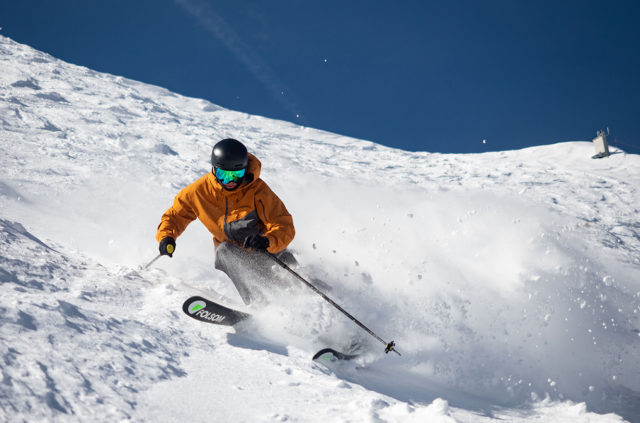 This system holds the lens in place quite securely but isn't as incredibly easy to change lenses as the magnetic lens-swap system on Anon's M series of goggles, which only use magnets to hold the lens in place. I do have to use two hands to change the lens on the I/O Mag XL, and it is quite a challenge to do so while the goggle is still on my face. Where an Anon M series lens can be changed in less than 5 seconds (even while being worn), the I/O Mag XL takes me between 10 and 15 seconds to swap out when it is off my face.
If you're looking for the absolute simplest lens swap system on the market, there are better options. But unless the quickest lens swap is your #1 priority in a pair of goggles, the lens-swap system on the I/O Mag XL shouldn't rule out this frame.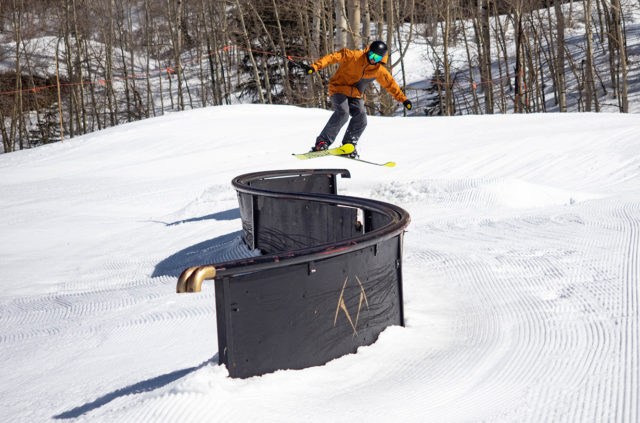 Luke: Yep, agreed. The I/O Mag XL's lens-swap system isn't quite as ridiculously quick and easy as Anon's M series, but it's still significantly quicker and easier than the lens-swap systems on some of the old I/O goggles like the I/O, I/OX, and I/O7. Yes, it's a bit annoying that you can't swap lenses easily with the goggle literally on your face. But I don't think the I/O Mag XL's lens-swap system is a reason to rule it out vs. other magnetic goggles, and it's still a notable upgrade from most non-magnetic goggles.
Lens & Optics
Sam: I've only used the ChromaPop Sun Green Mirror (9% VLT) with the I/O Mag XL. This lens has been my go-to for full-sun days for the latter half of the season. It blocks enough of the sun so that my eyes aren't fatigued at the end of the day and also does a great job with on-snow contrast.
In full-light situations, I find it more difficult to tease out differences in contrast between lenses than in stormy / flat-light conditions. That said, I've found the ChromaPop Sun Green Mirror to work excellently and I wouldn't hesitate to recommend this lens to anyone living in a sunny location (e.g., Colorado) or for someone looking for a lens for the brightest days.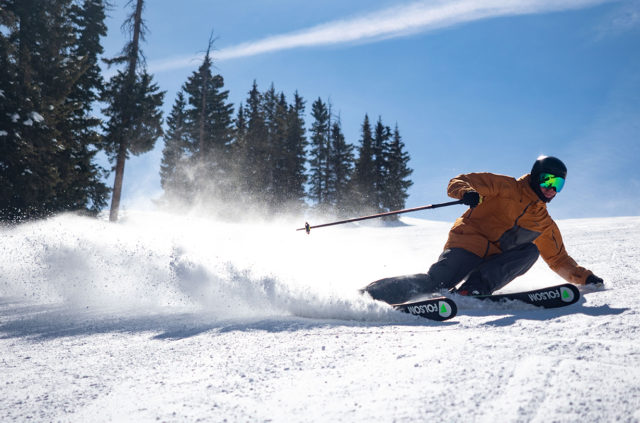 Luke: Yep, I think the ChromaPop Sun Green Mirror is a great lens for any day where it's mostly sunny. I've been happy using it on full bluebird days and days when I know there will be a fairly even mix of clouds and sun. As Sam noted, it's difficult to notice differences in contrast in high-light lenses since the visibility is good to begin with. But, as with all the Smith ChromaPop lenses I've used, I think the ChromaPop Sun Green Mirror lens is a bit above average when it comes to contrast.
The I/O Mag XL will come with two lenses when it hits stores this fall. While we only tested it with the Sun Green Mirror, we used the Smith 4D Mag with the ChromaPop Storm Rose Flash lens, which is a low-light (50% VLT) lens that will be included with most of the I/O Mag XL frame options. Here's what I said about that lens in our review of the 4D Mag:
The ChromaPop Storm Rose Flash is a great low-light lens. While I've never used a lens that makes fully flat-light conditions super fun, I think the ChromaPop Storm Rose Flash is basically as good as my other favorite low-light lenses, like the Giro VIVID Infrared (58% VLT) and Anon Sonar Blue (46% VLT).
While I'd prefer the VIVID Infrared for the lowest-light days, I think the ChromaPop Storm Rose Flash is a bit more versatile when there's a bit of sun. I've been happy using the Storm Rose Flash on mixed-sun days when I think my eyes might have gotten a bit more strained in a higher-VLT lens like the VIVID Infrared.
Fogging
Sam: No abnormal fogging issues to report here. As with all goggles I've used, in high-output situations (like long hikes) the I/O Mag XL can fog up. But apart from those scenarios, I haven't had any issues.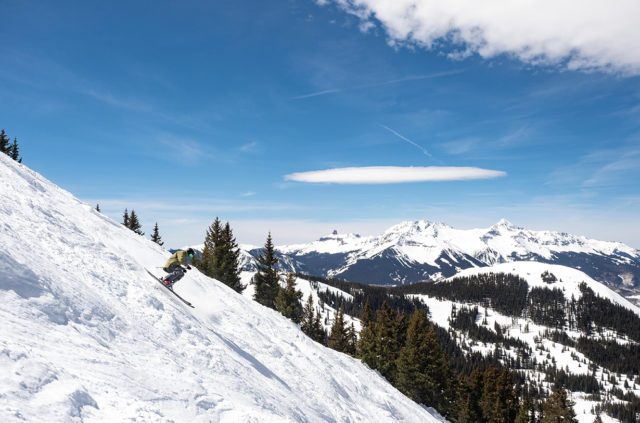 Luke: Yep, nothing out of the ordinary here. The I/O Mag XL is neither exceptionally bad nor exceptionally good when it comes to fogging.
Field of View
Sam: The I/O Mag XL is marketed as an oversized frame, and though it is certainly larger than the standard I/O and I/O Mag, it isn't as large as many of the other "oversized" frames out there like the Anon M4 and POC Orb Clarity. As a result, the I/O Mag XL's field of view (FOV) is similarly not quite as good as some of the larger frames on the market.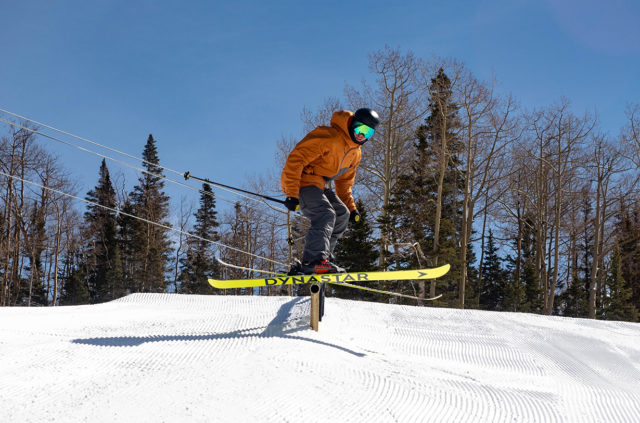 The I/O Mag XL's side-to-side FOV is excellent and its upward FOV is similarly good. In the downward direction, the lower part of the frame blocks a noticeable amount of view. However, I haven't noticed this while skiing. I think if absolute maximum FOV is your priority, then the 4D Mag is a better option. Otherwise, I haven't had any issues with the FOV on the I/O Mag XL.
Luke: Yep. The I/O Mag XL doesn't have best-in-class FOV, but I'd still say its FOV is above average. If max FOV is your priority, the 4D Mag, M4, or Orb Clarity are better choices. But the I/O Mag XL offers up a larger FOV than many "average-sized" frames like the Giro Axis, Smith I/O7, and Spy Ace.
Helmet Compatibility
Sam: I've used the I/O Mag XL with three helmets — the Smith Maze, Sweet Protection Switcher, and Pret Cynic X. Unsurprisingly, this Smith goggle fits excellently with the Smith helmet, with essentially zero gap. The I/O Mag XL + Maze combo works great.
With the Switcher, the fit is also quite good. There is a small gap (2-3 mm) between the top of the frame and the brim of the helmet, but that gap is consistent and inconspicuous. The fit between the I/O Mag XL and the Cynic X is very similar to that of the Switcher.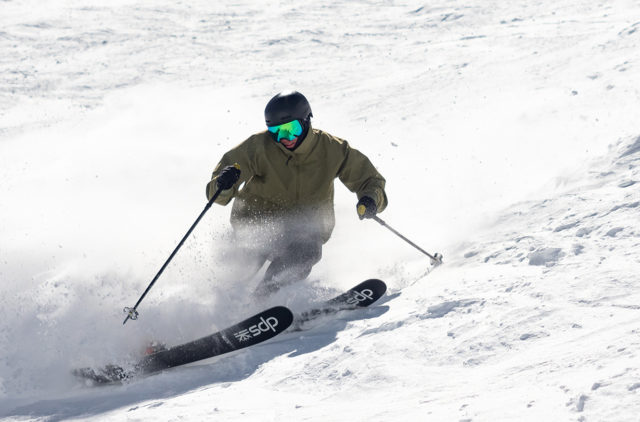 As with any goggle helmet combo, it's always best to test it out before you make a purchase.
Luke: All I have to add here is that, like the 4D Mag and I/O7, the I/O Mag XL works really well with the Giro Combyn helmet.
Durability
Sam: After about 15 days of use, our pair of I/O Mag XL looks brand new. We don't have any reason to believe that we'll experience durability issues in the future, but we'll be sure to update this review if we do.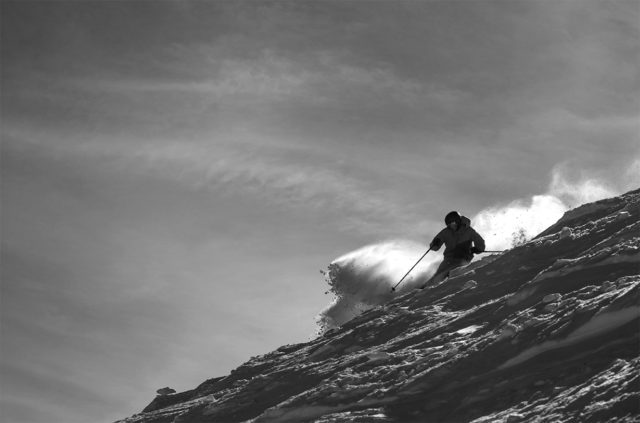 Luke: I've had very good luck with Smith goggles in the past, and am still using a pair of the I/O7 that's probably seen close to 200 days at this point. That goggle still looks and works great, so I have high hopes for the durability of the I/O Mag XL.
Price
Sam: At $240 for the I/O Mag XL and two lenses, this frame is competitive in price when it comes to large frames with magnetic lens-swap systems. There are certainly cheaper options out there, most of which have stripped-down feature sets.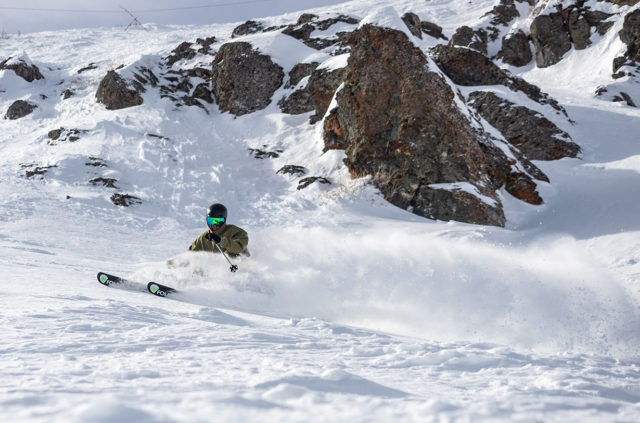 Luke: I think the key thing to note here is that the I/O Mag XL comes with two high-quality lenses and has a very easy lens-swap system. If you don't need an extra lens and / or don't swap lenses often, then you'd probably be better off with a cheaper goggle. But compared to other goggles that offer similar features (multiple lenses and easy swapping systems), the I/O Mag XL is pretty competitive when it comes to price.
Bottom Line
The Smith I/O Mag XL is a solid addition to their I/O line. With excellent optics, a versatile fit, quick magnetic lens-swap system, and a slightly larger frame than the standard I/O Mag, the I/O Mag XL is an easy goggle to recommend.