Intro
Most of our reviews are pretty long — and take a long time to produce — because we want to provide enough info for you to actually determine whether the gear we tested will work well for you.
But we get asked to check out an increasingly wide range of products, and sometimes, we just want to tell you about something we've been using and loving lately.
So we've rolled out a new monthly series with an incredibly original name — Stuff We Like — to keep you current on a broad range of stuff we're currently digging.
And if there's something you love that you think we ought to check out, drop us a note in the comment section below.
MSRP: $80
I already talked about this jersey in our men's MTB jersey roundup, but I'm throwing it in here as well cause I just really, really like it. It's super light and breathable, and combined with its loose fit, that's made it my go-to for hot rides. At the same time, I also really dig that loose fit at the bike park to put over my Fox Baseframe chest / back protector, and the pattern just looks really cool. One of my all-time favorite bike jerseys.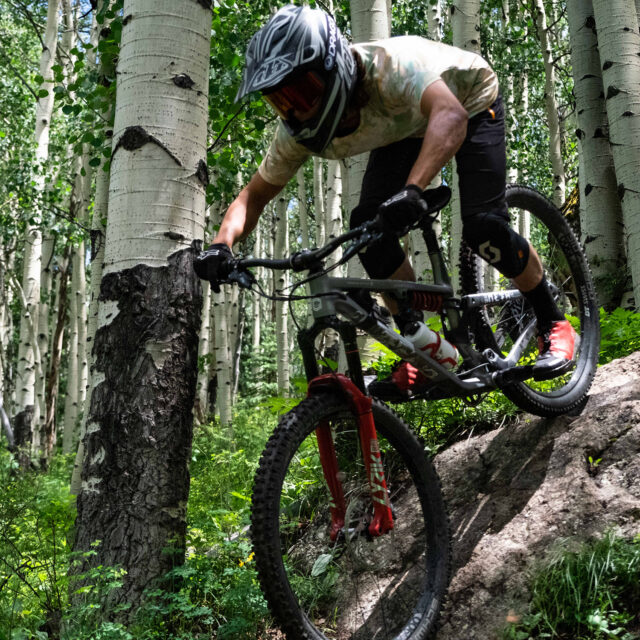 Merino Wool Boxers
MSRP: ~$30–$60
I've been almost exclusively wearing merino wool boxers and boxer briefs every day for the past five years now, and I can't say enough good things about them. They manage moisture a whole lot better than any cotton alternatives I've tried, and while I try not to push them to their limit in this regard, they also resist body odor buildup really well. Gross, sure, but also really nice when you're trying to limit the number of times you need to use your washer, and also great for traveling.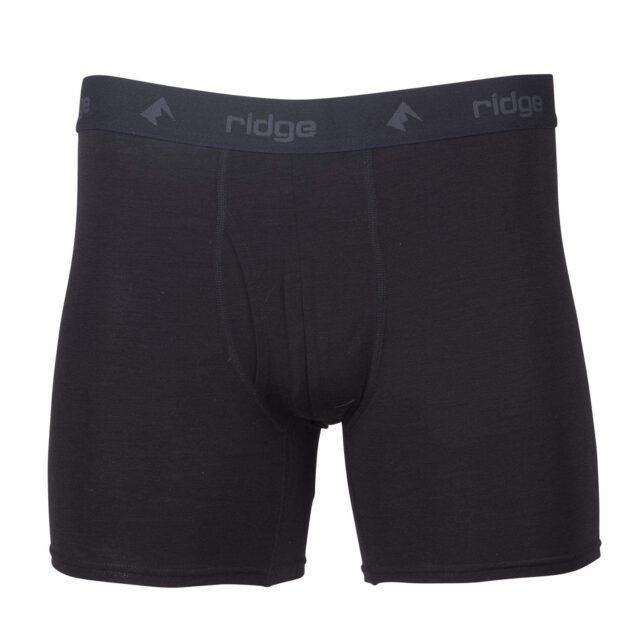 I currently have boxers and briefs from Smartwool, Mons Royale, Icebreaker, and Ridge Merino. They have all proven to be surprisingly durable, to the point that I don't think the exact ones I have are actually still in production. That said, currently my favorites are the Ridge Merino Boxer Briefs (which are a great deal at $30) and then Smartwool's Merino Sport 150 ($35) is a bit more snug and breathes better, which I like for biking, hiking, etc. They wouldn't be my top pick for really long days in the saddle, just cause I'd worry about all that abrasion, but I have yet to wear through a pair, apart from small tears that were the result of crashes that also tore my much burlier outer shorts.
MSRP: $100
This is another piece I've already talked about on our site (see my full review here), but I'm still loving it. I finally started carrying two lenses (Panasonic 35-100 mm + Olympus 7-14 mm) with me this bike season, and while that pushes the Capture 7 closer to its limit in terms of storage capacity, it still leaves enough room for my bike essentials. And more importantly, the Capture 7 has continued to protect my camera gear from occasional tumbles.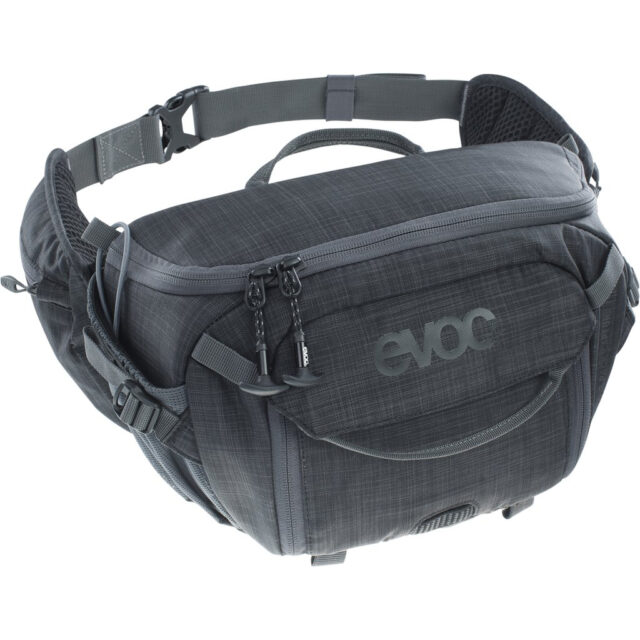 It seems rare that gear designed with two main purposes in mind manages to do both things really well. Especially when it comes to camera storage, I feel like you can usually get either good camera storage, or a good pack. The Capture 7 is an exception — it's a very good mountain biking hip pack on its own, and it also does a great job of keeping camera gear safe and easy to access. I've been pretty psyched on the biking images I've been able to get over the past year and a half, and the Capture 7 has been a part of just about every one of those shots.
MSRP: $349.99
Last summer, when it became apparent that COVID restrictions weren't going away anytime soon, I started to panic about getting on the water. With travel restrictions limiting my mobility and with all the local pools and swimming access points closed in my area, I decided I needed my own watercraft. And by watercraft, I mean something that would float, allow me and my 2-yo son some time on potentially very shallow water, and that wouldn't take up too much space when stored in our small house.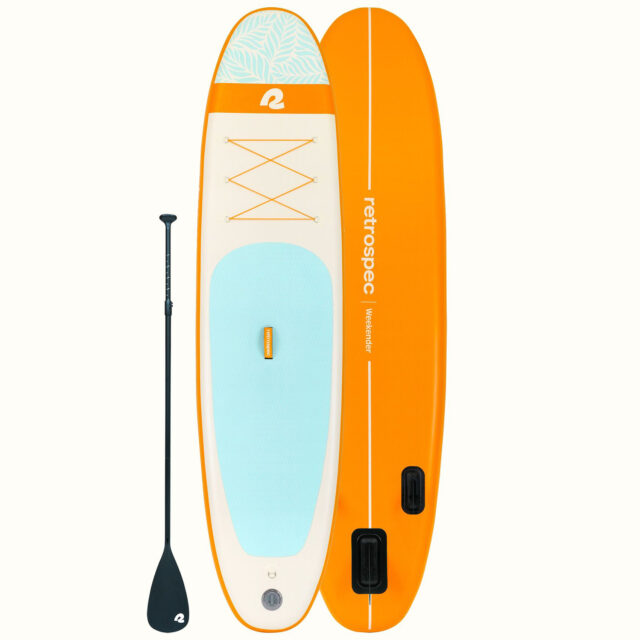 Some friends recommended Retrospec's Weekender Inflatable Paddle Board. I had already looked at paddleboards but had dismissed them since the ones I found were either expensive or of questionable quality. But between the recommendation and the $350 price tag, the Weekender was extremely appealing especially since it came with a paddle, pump, backpack, and leash. There is definitely a difference between high-end paddle boards and the less expensive models, but for what I needed/wanted, the Weekender works just fine. It floats, it's not too tip-y (though I won't be attempting any SUP yoga on it anytime soon), and it seems pretty durable. I've taken it down class I and II rapids without encountering any issues and I've even towed a tube or raft behind it while navigating those rapids.
Another thing I like about the Weekender is its weight. At 17 pounds, this paddleboard is light enough to hike with, especially since it packs down nicely into its own backpack. While I haven't attempted a hike with it yet, I am excited to take it up to an alpine lake. This was part of the allure to purchasing it, and now I just need to make it happen! Even if you don't plan to hike with the Weekender, its lightweight build makes it an easy carry from the car to the water — regardless of the distance.
MSRP: $33.99
I've tried a number of boyshorts over the years and for a number of years I was a big fan of Stoic's version. I own a number of pairs of them and my only complaint with them is that the band would twist in the wash and it required some adjustments before I wore them. Pre-baby, I didn't mind performing this little underwear ritual, but post-baby, I had zero time or tolerance for it. When I saw that the Woolverino Boyshorts had a 1-inch-wide, elastic waistband, I was eager to try them.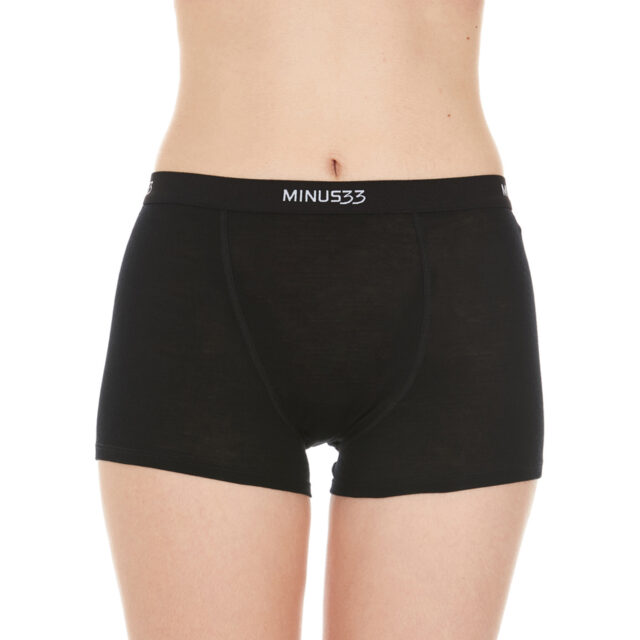 The flat seams make for a comfortable and chaffing-free fit and the soft fabric, a blend of merino wool (84%), nylon (12%), and spandex (4%), make these boyshorts a go-to for me. From camping to biking around town, I happily wear these for any activity. I have the size Small (I'm 5'8", 130lbs) and while they fit and feel good, I think I will purchase a second pair in the next size up. They do fit true to size.
MSRP: $265
First off, I'd like to address the elephant in the room. The RUX isn't cheap and I definitely had sticker shock when I first saw it. The sticker shock was mostly because I didn't understand it and thought of it as just another tote bag. And wow, do I not need another tote bag. But if you think of it as a well-designed, technical carry-all, then the price is more fitting.
RUX is a fairly new company, founded in 2019, and its unique name, which helps to explain the concept, is a combination of the words rucksack and box. And that's exactly what it is. A collapsible yet sturdy tote. The RUX collapses for easy storage but with 4 bumps, it turns into a soft-sided, but rigid bag.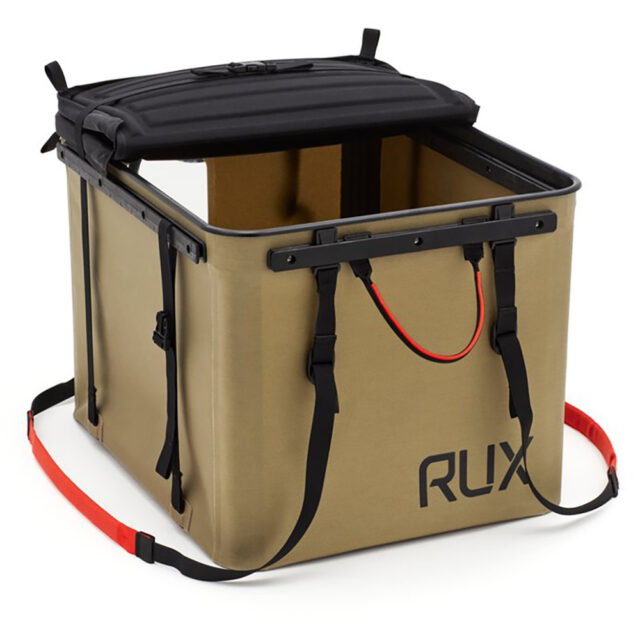 What I love about it is that it isn't a bottomless pit. I am definitely guilty of throwing all my gear into a giant LLBean tote, plastic bin, or shopping bag when heading out for the day. And once I get to the destination, I frustratingly rummage through the bag looking for my items. This happens every single time, no matter how many pockets are in the bag. The team at RUX reportedly ran into this same problem and decided to do something to address it.
One of the most notable features but perhaps not the most sophisticated of the RUX is the window that allows you to get a glimpse of the contents. It's such a simple idea but it always triggers my memory and I can then recall exactly what's inside. My family and I have been using the RUX for just about every outing since we got it a few months ago, from camping trips to river floats to bike rides. We have the pouch attachment and have found it especially useful for separating and organizing items like our plates and utensils from our camping food and small stove.
The RUX is designed to be durable and so far that's proved to be true. Unlike my collapsible plastic bins, I don't worry about the RUX breaking when placed in the bed of the truck. It has a lid and multiple straps that make it pretty easy and versatile to carry. If you're looking for a technical carryall, be sure to check out the RUX system.
MSRP: $230 per brake
In our full review last year, I called the Dominion A4 "my current benchmark for a burly, four-piston Enduro / Downhill brake" and after another 8 months on the same pair, my opinion hasn't changed one bit.
All the stuff that I wrote in the review — excellent power, outstanding lever feel, clever touches for easier installation and maintenance — all still stand, but the reliability and dependability of these brakes have only gotten more impressive the more time I've put on them. I've gone through a few sets of pads at this point, but still haven't had to fully bleed either brake.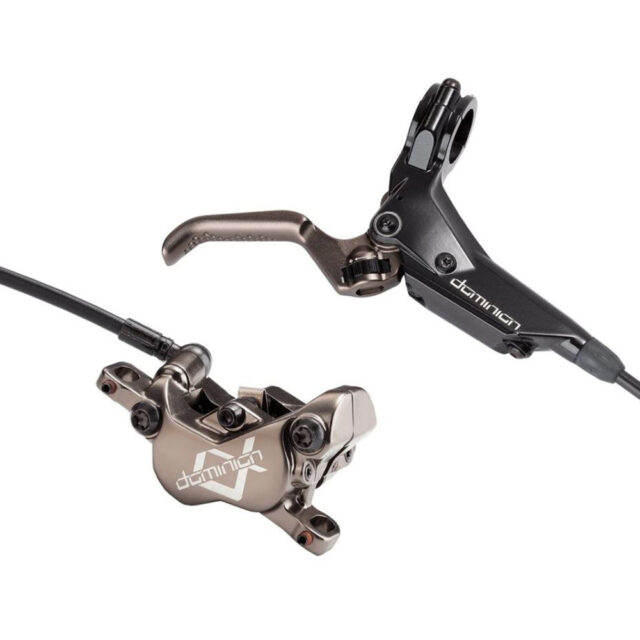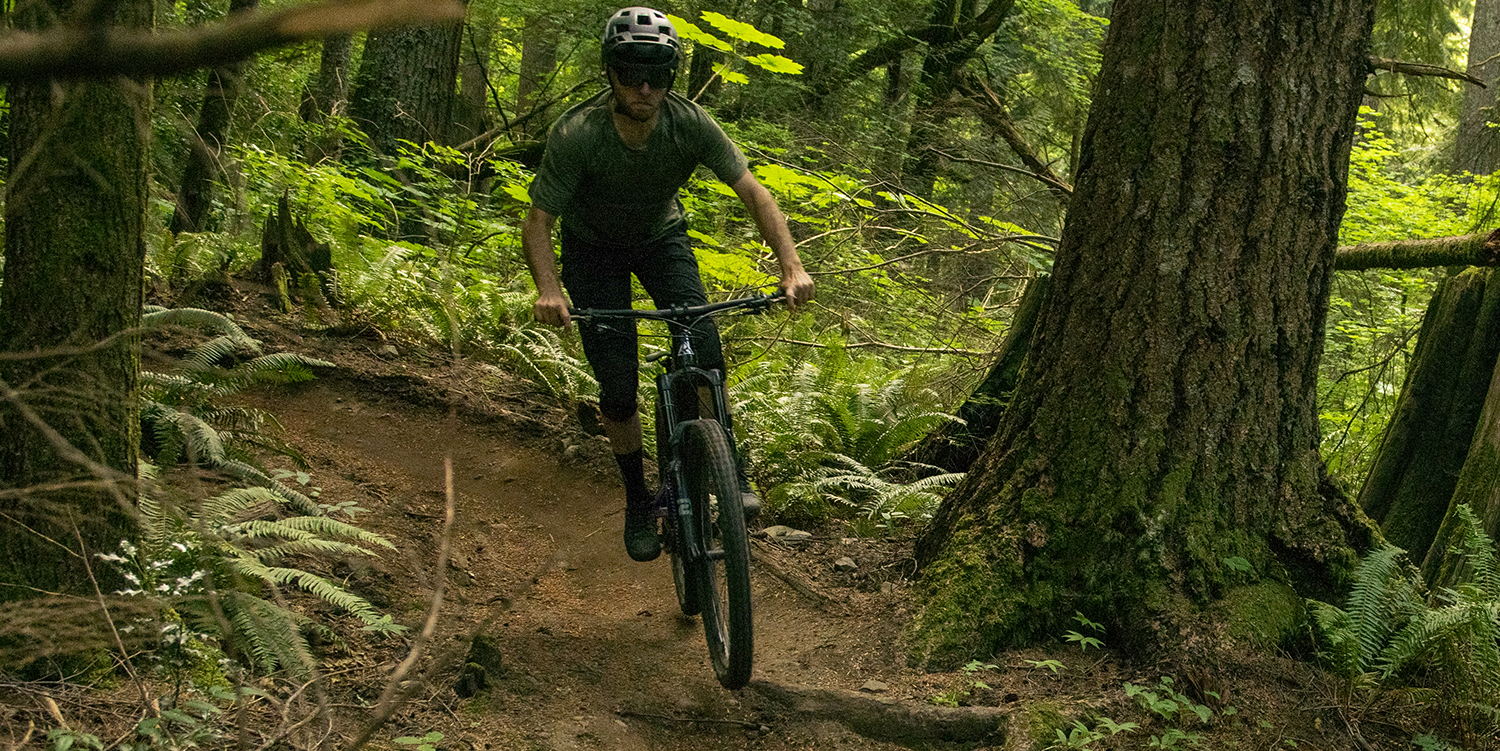 They've been moved between a few different bikes now, and while that necessitated a lever-end bleed or two on the rear brake (thanks to internal routing), I haven't had to touch the front and suspect the same would be true of the rear if I had just left them on the same bike the whole time.
Despite that, they've never once wavered. No inconsistency, no varying bite point — just solid, dependable performance ride after ride. They're outstanding, and I fully intend to get another pair or two for my personal bikes. I'm sold.
MSRP: $40 (1 liter bottle)
My first experience with tubeless sealant was with Stan's No Tubes (back when it was the tubeless sealant on the market) and until I tried Muc-Off's version, experiments with other competitors usually ended in disappointment.
While I still think Stan's is a good product that I'm plenty happy using, I clearly prefer Muc-Off for a few reasons. First and foremost, it both seems to last longer without drying up and doesn't form a dried-on latex film on the insides of tires and rims in the same way that old Stan's does.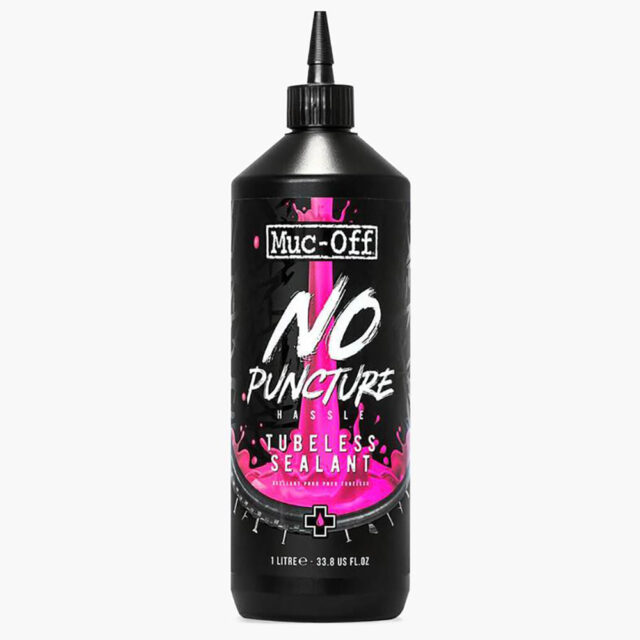 It's tough to exactly compare how well two sealants repair flats, especially when you're spending time on a ton of different tires, because no two flats are ever identical, particularly in different tire constructions. But from my experience, the standard Stan's sealant (i.e., not the Race formulation) and Muc-Off are at least roughly comparable when they're fresh, but Muc-Off keeps its self-healing properties for significantly longer and is easier to clean up when the time comes.
Another interesting feature of Muc-Off — which I admittedly have not tested yet — is that it has a little bit of UV dye mixed in so that you can help locate small leaks with the help of a black light. It's a neat idea, and Muc-Off also sells a black-light flashlight for the purpose. I've been meaning to pick one up to try out, and (if it pans out) I'll report back in a future iteration of Stuff We Like.
MSRP: $79.95 (500 Lumen) / $59.95 (250 Lumen)
I'll be honest, I never expected to be this into a LED lantern — but the Biolite Alpenglow Lanterns are pretty awesome. I spend a lot of time camping, and I always appreciate having a decent light source for cooking, playing card games, and so on. Usually, that just looks like a headlamp hung on a tree branch or something, which works just fine — but Biolite's Alpenglow Lanterns are a heck of a lot more functional (and fun). Biolite makes both a 500- and 250-lumen version of the Alpenglow, and I've been using both quite extensively for the last few months.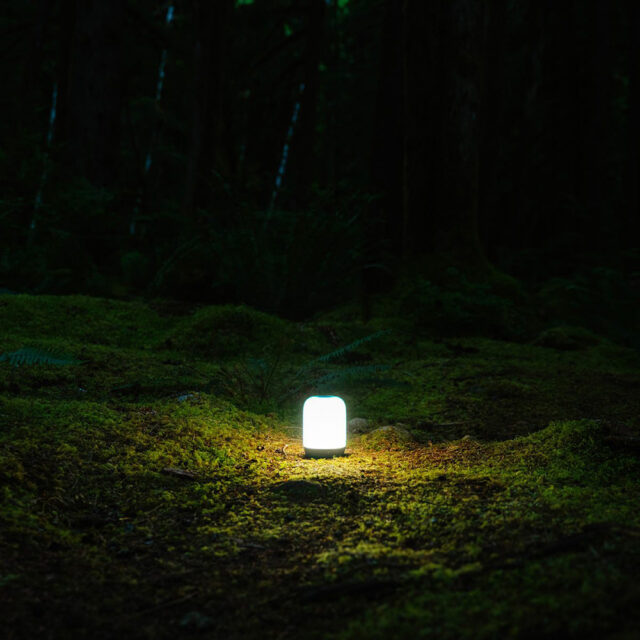 In the functionality category, both lanterns have a 5-hour battery life at maximum brightness and a 200-hour burn time on low (5 lumens). I usually only use the lanterns for an hour or two a day (at least this time of year), so practically, that means that they last plenty long enough for a four or five-night camping trip on one charge. It takes about 3 hours to recharge both the Alpenglow 250 and 500. Another nifty feature of the Alpenglow lanterns is that they have USB ports that can be used to charge phones and other electronics. I've probably used the lanterns for recharging phones and watches almost as much as I have for lighting, and both have enough power to recharge my iPhone 8 multiple times, which definitely comes in handy on longer trips.
MSRP: $140
When it comes to pants, comfort and durability are my main priorities, but I've generally had a hard time finding the right balance. Slimmer skate jeans are comfortable but seem to rip in a few months, while heavier canvas pants tend to live in my dresser because they just don't feel right. Fjällräven's trekking pants have fit my shape (tall and lanky) quite well in the past, so I thought I'd check out one of their more casual options.
The Sörmland Trousers were originally designed with the Scandinavian hunter in mind, tapering at the ankle to easily fit inside longer rubber boots.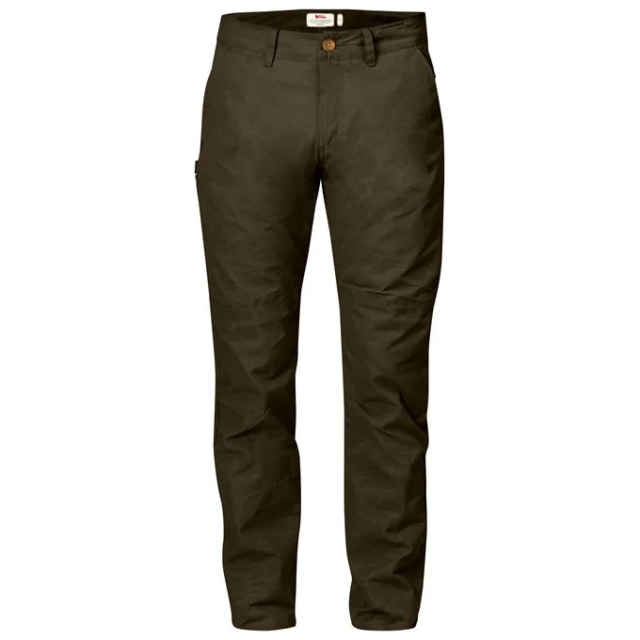 Though I'm neither Swedish nor a hunter (regrets to fellow reviewer Paul Forward), these have quickly become my daily drivers. I've used Fjällräven's standard waxed G-1000 fabric in their heavier hiking pants before, and found it to be excellent for off-trail hiking, hikes in the snow, and other pursuits that reward durability and water resistance (like a trek in the Himalaya a few years ago). While the fabric is incredibly durable and functional in the outdoors, I wouldn't generally use it for day-to-day use in most locales.
I was mildly skeptical that the Sörmland Tapered Trousers, using a modified G-1000 Silent Eco (65% poly, 35% cotton), would be comfortable and maneuverable enough for wearing around the house and the city. As it turns out, the Silent Eco fabric is softer, more breathable, and incredibly comfortable overall. I found myself wearing them nonstop in the house, walks around the block, and even shorter hikes. The fit is slim but not form-fitting, and the tapered leg looks good and doesn't feel constricting at all to me. The pockets are well-placed and deep. The waxed fabric has also repelled the requisite drizzles and mist that come with living in the Northwest. I haven't washed them much for fear of losing some of that water resistance, but if / when it starts to fade, Fjällräven sells their Greenland wax, which can be reapplied to the entire pant or just select zones.
Overall, the Sörmland Tapered Trousers are just awesome pants. They've held up well after 7 months of daily use, are incredibly comfortable, and definitely check all the right boxes for me.
MSRP: $39.95 (4L) / $44.95 (6L) / $49.95 (10L)
The Dromedary Bag is a simple, tough water storage option that consists of a food-grade inner lining, 1000-denier exterior, and 3-in-1 valve. It's been a staple in MSR's line for years and a favorite of many for its dependability. I bought a 6L several years ago and find that it's constantly in use. I pack it for almost all car-camping excursions, throw it in my pack for longer touring days, and even water my plants with it at home (less than ideal, but acceptable).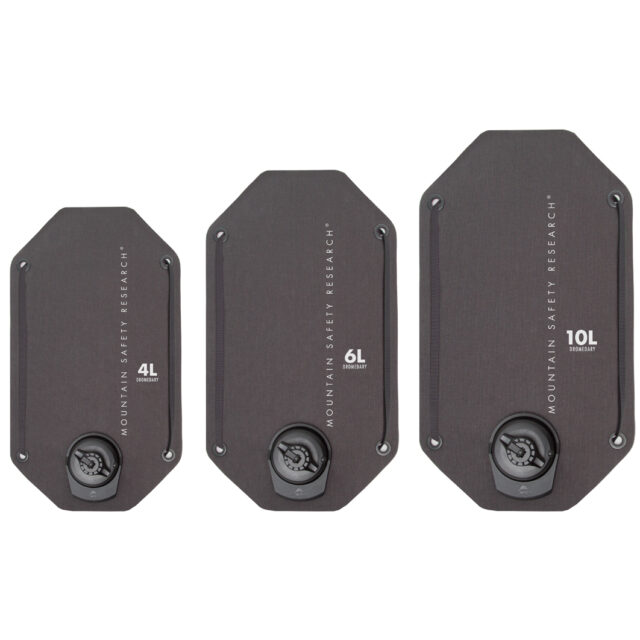 MSR and other brands have released lightweight, more packable options, but I love the durability of the Dromedary for all but the most ultralight missions. I've heard stories of Dromedary bags getting dropped off cliffs or tumbling hundreds of feet down couloirs and emerging unscathed — I haven't inflicted such a test on mine, but it doesn't seem that unreasonable. I fill it to the brim for weekend trips, chuck it unceremoniously into my car, and don't worry about it until I need water. I like the 6L as it's helpful for most weekend base camping as well as long day trips.
MSRP: $199.95 (Regular) / $329.95 (Double)
I constantly depend on my sleeping pads but had always focused on backcountry travel when picking pads in the past, despite spending plenty of nights car camping. My priorities made for some backcountry-quality sleeps in frontcountry-quality locales over the years — less than ideal, especially as I got older and crustier. Sea to Summit's Comfort Deluxe SI line is designed for car camping and integrates memory foam into the 4" mat for maximum comfort and ease of inflation.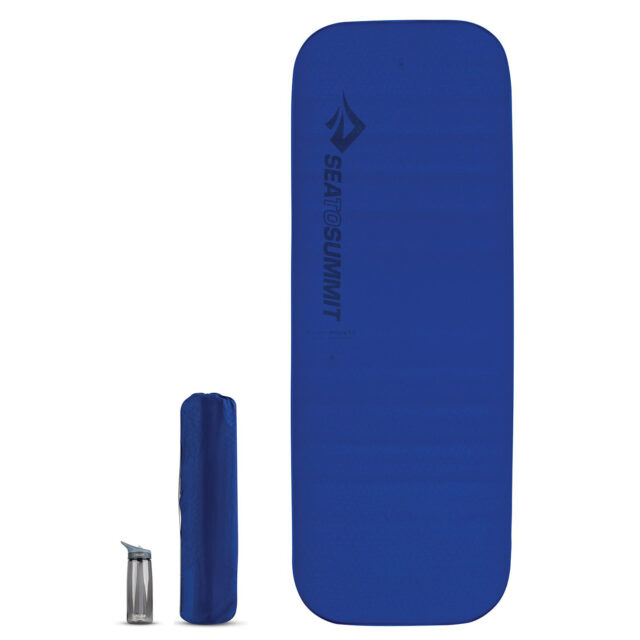 I've quickly fallen in love with mine, which is the 51-inch wide Double version. It barely squeezes inside my MSR Hubba Hubba NX 2-person tent and would probably be better suited for a 3-person space, but I make it work even in a small tent. I generally pull up to a campsite, drop the mat in my tent with the valves open, and wait a few hours before inflating. It usually takes 10-15 breaths to fully inflate the Double size, which is pretty impressive, given its size and thickness.
The sleep quality is excellent — almost as comfortable as a home mattress and much better than the average guest air mattress. It's easy to adjust softness using one of two intuitive push valves. I've started using it for guests at home as well, who have universally agreed that it's an amazing mat. It's quite bulky, about the size of a 60L duffel, and comes in at a higher price point than some other car-camping options, but for those who have a hard time sleeping outdoors, it's well worth the cost in my opinion. Overall, it's by far the most comfortable pad I've ever slept on.