Unit 1 Helmet System
Size Tested: Large
Blister's Measured Weight (size Large):
Helmet: 617 grams
Headphones: 301 grams
Ear Pads: 58 grams
Helmet w/ Ear Pads: 675 grams
Helmet w/ Headphones: 918 grams
Helmet's Stated Features:
Ears & temple protection
QUAD4LOCK / Patented docking system
Rear Fitting frame
Fixed dual ventilation
Removable Goggle Clip
Removable ear pad set
Certifications: ASTM 2040, EN1077B
Headphones' Stated Features:
Dial volume control
Single button track control
Hi-Fi Sound
2 Sound Modes
Sweat&Splash resistant
Built in mic
Backup audio jack
40mm drivers
Lithium-ion battery: 16 hs play time
Bluetooth 4.2 wireless
Charge via 2.5mm jack
MSRP: $249
Test Location: Crested Butte, CO
Days Tested: 10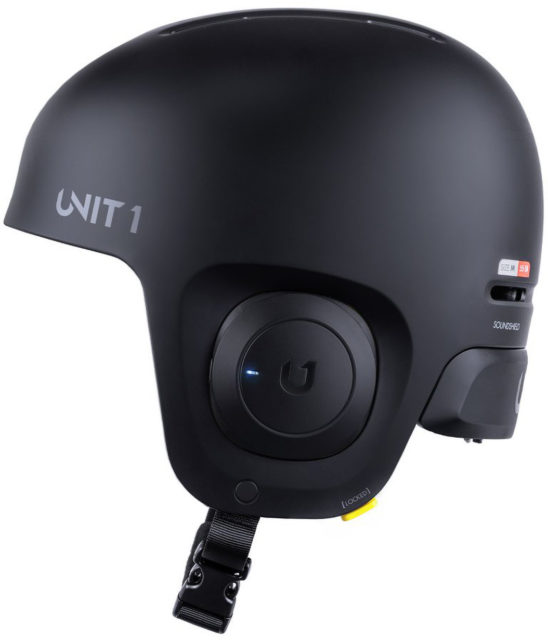 Intro
Unit 1's helmet system certainly stands out — it's a helmet, it's also a pair of headphones, and you can combine the two in order to bring your music with you on the mountain.
As someone who really likes to listen to music while skiing in the resort, the Unit 1 system instantly caught my interest. To be clear — I'm not encouraging anyone to blast music while they're skiing without regard for those around them. That's an easy way to hurt others and yourself.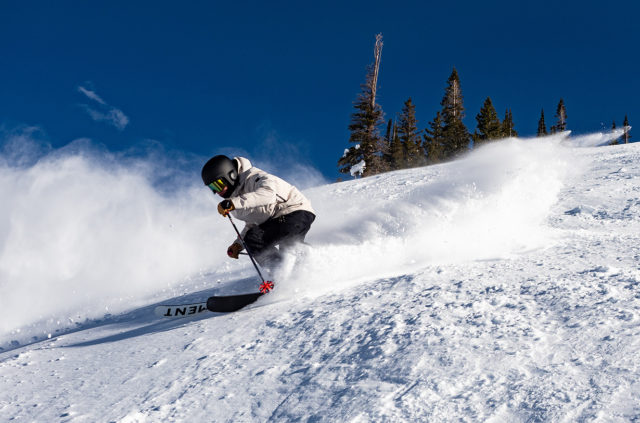 But the thought of an integrated audio system that would (1) let me play music when I wanted to and felt safe doing so, (2) let me quickly turn off any music and hear everything around me while wearing bulky gloves, and (3) that could do all of this in a comfortable package with good audio sounded really appealing to me.
That's basically what Unit 1 is saying about their helmet system, so I've been using it this year at Crested Butte, and here's my take:
Fit & Comfort
Right away, you'll probably notice that the Unit 1 helmet's shell extends over / around the ears. While most modern helmets cover your ears with soft pads, the Unit 1 helmet adds a bit of extra coverage since its ABS plastic shell wraps around the ear area (that extra shell material also doubles as the housing for the headphones). With the headphones in, the Unit 1 helmet also extends pretty far down the back of my head.
The result is what I'd call a very "enveloping" fit — apart from my lower neck and face, the vast majority of my head is covered by the Unit 1 helmet. At first, that made me feel a bit claustrophobic (especially since I rarely use other helmet's ear pads), but I got used to it after a couple runs.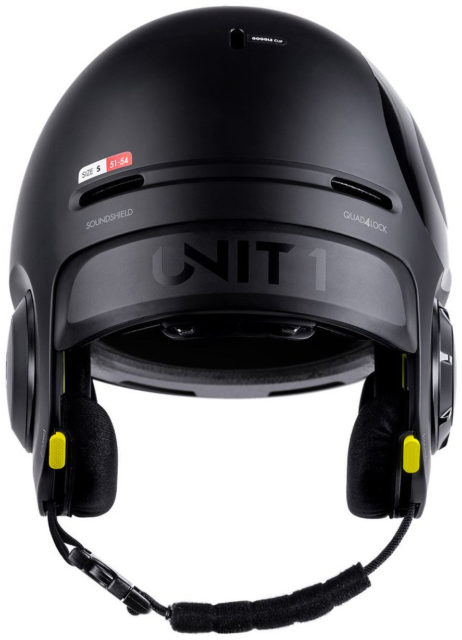 Extra coverage aside, the Unit 1 helmet fits pretty "regularly" compared to most other helmets I've used and the size Large (stated size range of 59-62 cm head circumference) fits my ~60 cm head just about perfectly. There's also a plastic piece on the back that you can use to tighten or loosen the fit in the back. This essentially functions the same as most dial-style systems, though the Unit 1 helmet's adjustment is very difficult to use with gloves. So just adjust it when you're inside, and then forget about it.
Once I got the fit adjusted to my liking, the Unit 1 helmet was very comfortable. At first, I noticed a bit of pressure around my ears, but I didn't really notice it after my first day with the helmet. As always, your mileage may vary depending on the shape of your head.
Goggle Compatibility
The Unit 1 helmet has a pretty flat brim that works great with goggles with flatter upper-edges like the Zipline Hybrid XT, Giro Axis, Giro Method, and Sweet Protection Firewall. Goggles that are more rounded (e.g., Anon Sync & M4, Smith 4D Mag, & Zeal Hatchet) still match pretty well, but with a bit of extra open space near the sides of the goggle.
If you're a normal person who wears their goggles over their helmet, the Unit 1 helmet works about as well as any other helmet I've used. And it comes with a removable goggle clip for the back of the helmet to secure your goggle strap.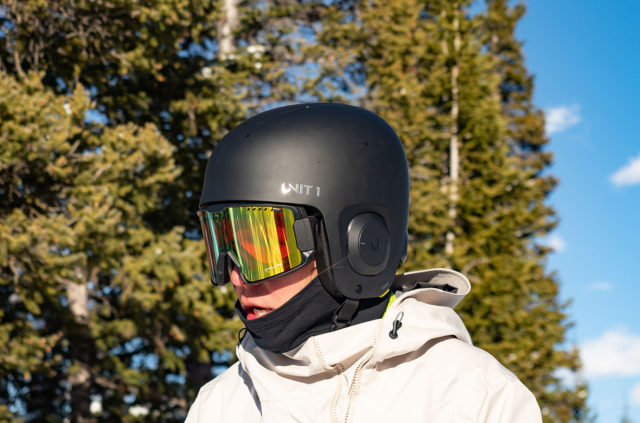 If you're a vain person like me who for some reason prefers the goggles-under-the-helmet look, the Unit 1 is a bit trickier. Some of the goggles I've used work just fine under the Unit 1 helmet — their straps just sit a bit lower due to the Unit 1 helmet's extended at the back. But then some goggles, because of where the adjusters sit on their straps, don't align well with the ear portion of the helmet and headphones. On some, I can get the plastic adjustment pieces on the straps of the goggles to sit in front of or behind the ear pads / headphones on the Unit 1 helmet, but some goggle straps don't work since their plastic clips sit right under the ear pads on the Unit 1 helmet. This depends on the particular goggle and the size of your head (since it'll determine where the adjuster pieces on the goggle straps sit on your head).
Bottom line — either be a normal person and wear your goggle strap over the Unit 1, or expect to do a bit of finagling to get goggles to work under the helmet.
Ventilation
The Unit 1 helmet has four narrow vents on the top and two in the back, all of which are permanently open. If ventilation is one of your big priorities, there are plenty of better helmets out there. But as someone who very rarely complains about their helmet being too hot, I haven't had any issues with the Unit 1 helmet's amount of ventilation. And despite it not having vents directly above the goggles, I haven't had any issues with my goggles fogging up while wearing the Unit 1 helmet.
Headphones — In-Helmet Use
To put the headphones in the Unit 1 helmet, you just slide them from the back of the helmet, line them up in the open spots in the shell around the ears, and use two sliders on each side to lock the headphones into place. All in all, this a pretty painless and quick process. This video from Unit 1 does a good job of summing up the interface:
The Unit 1 helmet system comes with two different pads that you can attach to the headphones. One is low-profile, designed to let in more ambient noise. The other has thicker padding for a more "immersive" audio experience. Swapping the pads takes about 15 seconds — just rotate them to unlock, pop them off, put the others on, and rotate to lock into place.
Having tried both, I ended up preferring the lower-profile pads. With the thicker pads, my music definitely sounded a bit louder and more clear (particularly when skiing fast or in windy conditions), but I also couldn't clearly hear people talking to me — whether I had music playing or not — so I opted for the lower-profile pads.
With the low-profile pads, I could hear just fine with no music playing, I could still hear enough ambient noise with music playing that I wasn't worried about not hearing someone yelling or crashing toward me, and the music audio was good enough in most conditions.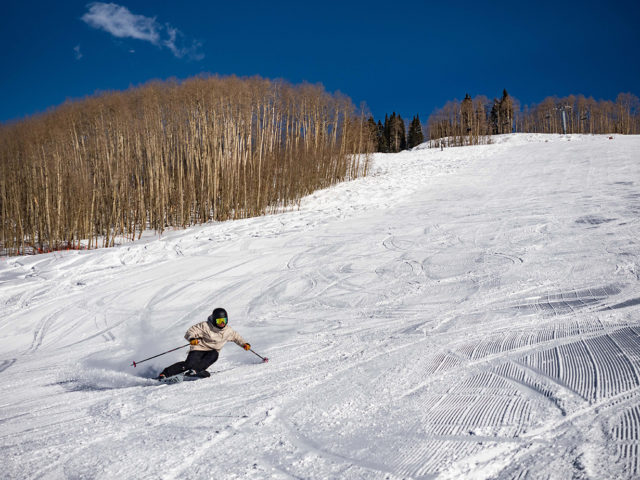 My standard in-helmet music setup is pretty simple — wear a facemask / balaclava, shove my AirPods in my ears, and toss my goggle strap and helmet over them. With AirPods at max volume, my music sounds a bit louder than using the Unit 1 headphones at max volume with the low-profile ear pads. With the thicker ear pads, the max volume sounded pretty similar. There were a few times when I was skiing by myself and really wanted to freaking blast my music and was wishing for a louder max volume, but that was fairly rare.
But the nice thing about the low-profile pads on the Unit 1 headphones is that they (1) are still loud enough that I can clearly hear my music when skiing quite fast and (2) let in more ambient noise than any in-ear headphones I've used (that sound a bit louder at max volume).
As for comparisons to other in-helmet audio options, I've only used Outdoor Tech's Chips & Chips 2.0 audio inserts. I was pretty disappointed by the audio quality on the Chips — it basically sounded like someone was playing a speaker in the general proximity of my ears, but the audio quality was really bad in my opinion.
Compared to the Chips, I think the audio quality of the Unit 1 system is definitely better. I'm no audio expert, but I listen to music a lot and I don't really have any complaints with the Unit 1 system's audio, particularly for an in-helmet audio solution.
Headphones — Controls, Microphone, Etc.
The Unit 1 headphones feature a big button and a dial on the right side that lets you do lots of things, all of which are pretty easy when wearing bulky gloves and mittens.
Depending on how many times you tap the button, you can play / pause tracks, skip or replay tracks, accept / hang-up calls, and initiate Siri if you're an iPhone user. All of these things worked pretty seamlessly during my time with the Unit 1 system.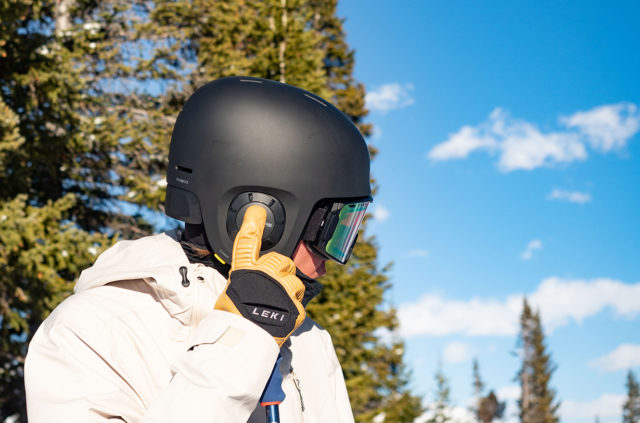 The dial on the headphones lets you adjust the volume, and again, is pretty easy to use with gloves or mittens.
I love the giant button on the Unit 1 headphones — it's easy to find, easy to know you actually pushed it due to its audible "click," and has done its job so far. I can instantly stop my music at a moment's notice with the Unit 1 system.
I've taken several calls while wearing the Unit 1 helmet system and it has worked well. From what the people on the other end of the line have told me, my audio through the mic is fairly clear, though I usually need to stop skiing or ski very slowly for me and the other person to hear each other.
Unfortunately, I haven't been able to test the "walkie talkie" function on the Unit 1 headphones since I don't know anyone else with the helmet, but I'll report back if I'm able to test this function. But since I can tap the Unit 1 headphones and have Siri call someone for me, I haven't seen this as a big deal.
Headphones — Out-of-Helmet Use
Once you're done totally shredding the slopes, you can take the Unit 1 system's headphones out of the helmet and use them like regular headphones. Personally, I'm not a big fan of over-the-ear headphones cause my ears are tiny and I've never found a pair that is comfortable on my tiny ears for extended periods of time.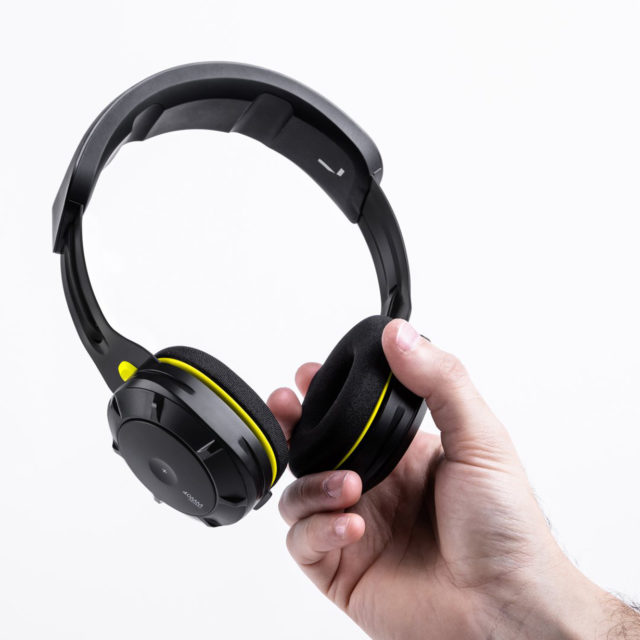 The Unit 1 headphones aren't much different — they hurt my ears after about 45 minutes, but that's par for the course for me and over-the-ear headphones. One thing I've noticed with the Unit 1 headphones is that the geometry of them doesn't let them sit totally flush over my ears. Maybe this is just my combination of a giant head and tiny ears, but they were a bit less comfortable and precise-fitting as some other headphones I've used like the Beats Solo.
And while I think the audio quality of the Unit 1 headphones is great for skiing when they're in the helmet (compared to other options for that use), I think they're not quite as good compared to regular headphones when using them without the helmet. The thicker ear pads definitely help close the gap, but I wouldn't expect the Unit 1 headphones to offer the same audio quality of a $150+ pair of headphones. For a helmet + headphone combo though, I think the Unit 1 headphones are fairly good in terms of audio quality.
Headphones — General Ease of Use
The Unit 1 headphones were very easy to connect via Bluetooth to my phone, they've since automatically connected once I turn on the headphones, and overall I have no complaints with their Bluetooth interface.
The headphones also come with an audio jack & cable so you can use them without Bluetooth.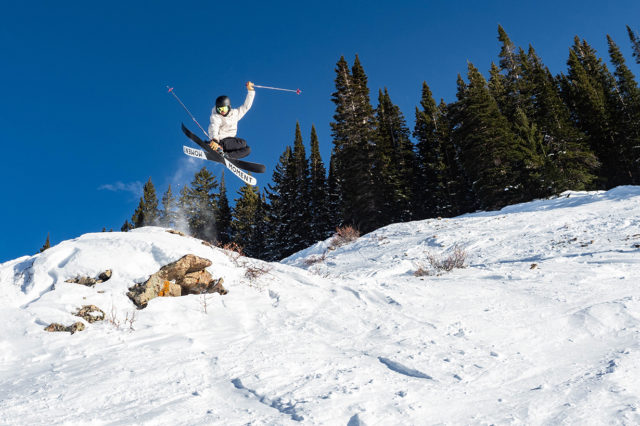 Since the Unit 1 headphones are designed to be used wirelessly, they come with a charging cord that features a standard USB on one end, and a 2.5 mm jack on the other. I'd prefer a more universal cable like a micro-USB just so I can easily charge them if I lose the cord, but this isn't a huge deal in my mind.
Unit 1 claims 16 hours of battery life for the headphones, and that seems pretty accurate in my experience. If I fully charge them, I can use the headphones for a few ski days where I'm out on the mountain for ~4 hours. Unit 1 says they take about 4 hours to fully charge, and again, that seems pretty accurate during my time with them.
Who's It For?
This one is pretty obvious — people who want to listen to music and / or talk on the phone while skiing or snowboarding.
If you never listen to music on the mountain and do not want to, go get a regular helmet (there are a bunch of good options in our 19/20 Winter Buyer's Guide).
But if you've been searching for a streamlined way to bring your tunes with you on the slopes, I think the Unit 1 helmet system is quite good. It's easy to connect to your phone, its controls are easy to use with gloves & mittens, and the audio quality has proven to be better than some of the competition in my experience.
Bottom Line
The Unit 1 helmet system is a great way to both protect your head and listen to your favorite music on the mountain. The helmet has been very comfortable for me, the in-helmet audio is quite good compared to some of the other options out there, and the system is easy to use even when your hands are covered in bulky gloves & mittens.