Vitus Escarpe
Wheel Size: 29''
Travel: 140 mm rear / 150 mm front
Geometry Highlights:
Sizes offered: S, M, L, XL
Headtube angle: 65°
Seat tube angle: 77.5° (Size Large)
Reach: 478 mm (Size Large)
Chainstay length: 440 mm (all sizes)
Material: Carbon Fiber (with aluminum rear triangle on some models)
Price:
Complete bikes: $2,899 – $5,999
Frame w/ Fox Float DPS Factory: $2,199
Size Tested: Large
Blister's Measured Weight: 32 lbs (14.5 kg) without pedals (Escarpe CRS)
Reviewer: 5'9", 165 lbs (175 cm, 74.8 kg)
Test Location: Montana
Test Duration: ~2 months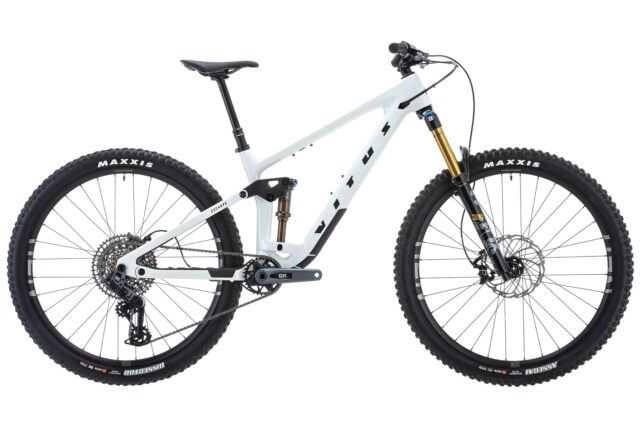 Intro
Vitus (pronounced vee-tus) is a European company that's been around for quite a while, but might not be super familiar to the North American mountain biking audience. Part of that is due to, historically, a limited presence in North America, and part of it is because much of Vitus' history focuses on road bikes.
But Vitus has been making a concerted push into both the mountain bike market and the North American market with a direct-to-consumer approach. They're offering up a full line of mountain bikes and e-bikes, and their prices are certainly competitive. Vitus's brand is also in good company; it's owned by Wiggle, Ltd., which is the parent company for Chain Reaction Cycles and Nukeproof, which is why you'll see quite a few Nukeproof components on Vitus' bikes.
The Escarpe is Vitus' higher-end Trail bike, featuring a full carbon frame. With 140 mm rear travel and 150 mm front travel, it gets a 10 mm longer travel fork than the Mythique, which is Vitus' aluminum model that sits below the Escarpe in the lineup.
The Vitus Escarpe isn't brand new, but it's seen an update to several of the build specs — heavily featuring the new SRAM GX Transmission — and we've recently started spending time on one, so it's a great time to weigh in. On paper, it's a compelling-looking package, with solid-looking all-rounder geometry, 140 mm of rear-wheel travel paired with a 150mm-travel fork, and some exceptionally good value build specs.
The Frame
The Escarpe frame gets 140 mm of rear-wheel travel from a relatively conventional Horst link layout with a vertically-oriented shock in front of the seat tube. It's built around 29'' wheels at both ends and a 150mm-travel fork, and is offered in carbon fiber only, though the base Escarpe CR uses a lower-grade carbon front triangle than the other builds, paired with an aluminum rear end; once you step up to the Escarpe CRS or higher, you get a full carbon frame.
The other features are relatively standard but sensible. Rubber guards are featured on the chainstay, seatstay, and downtube, and clear protective film comes pre-installed on certain high-wear areas. There's a threaded bottom bracket shell, ISCG-05 chainguide tabs, internal cable routing all around, and a SRAM UDH hanger for Transmission compatibility. There's room for a water bottle inside the front triangle on the full size range, plus an extra accessory mount underneath the top tube, and a flip chip to toggle between two different geometry settings (more on those in a minute). There's nothing particularly out of the ordinary going on here, but the Escarpe looks like a nicely-thought-out bike designed to do a bit of everything, especially once you consider the build specs.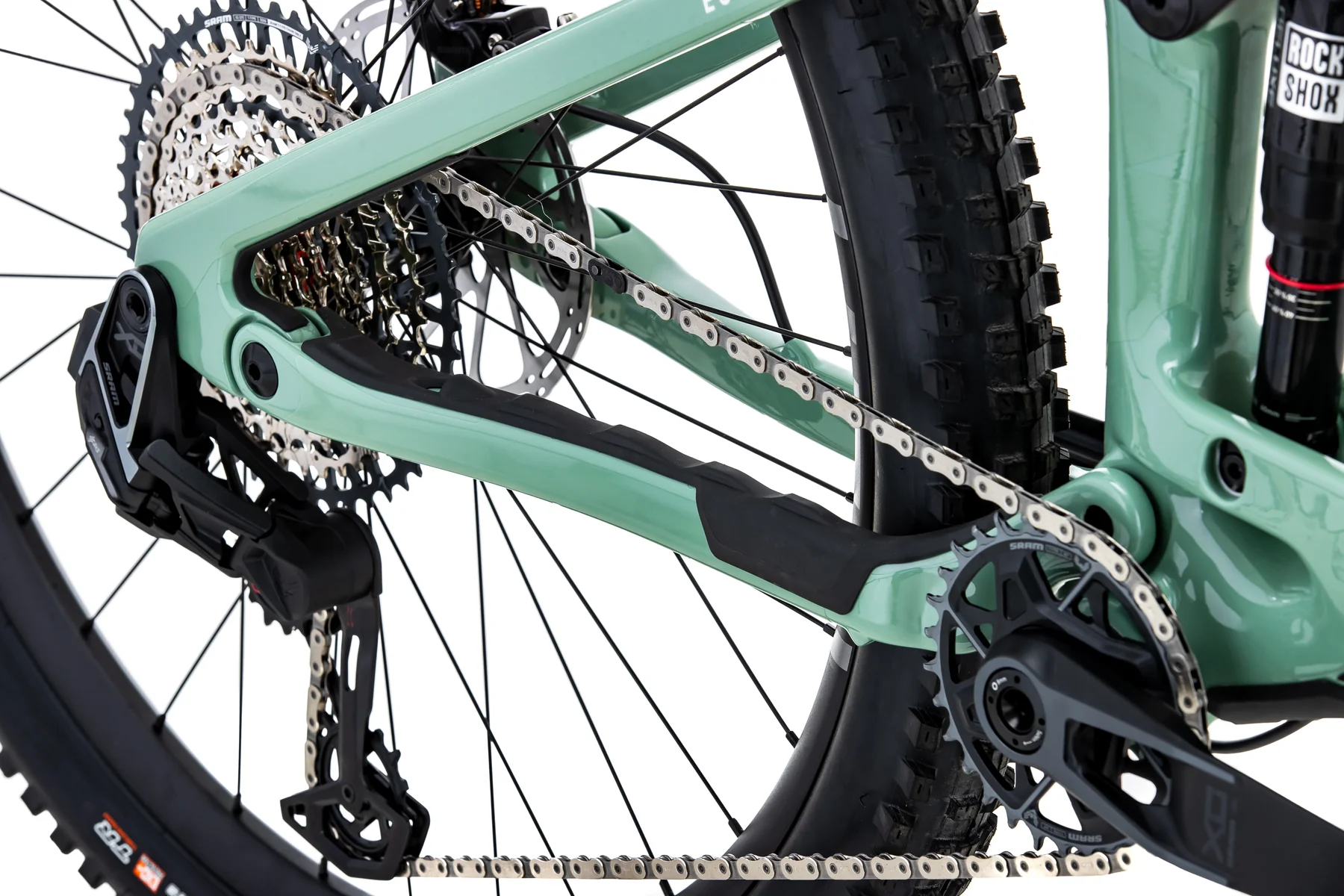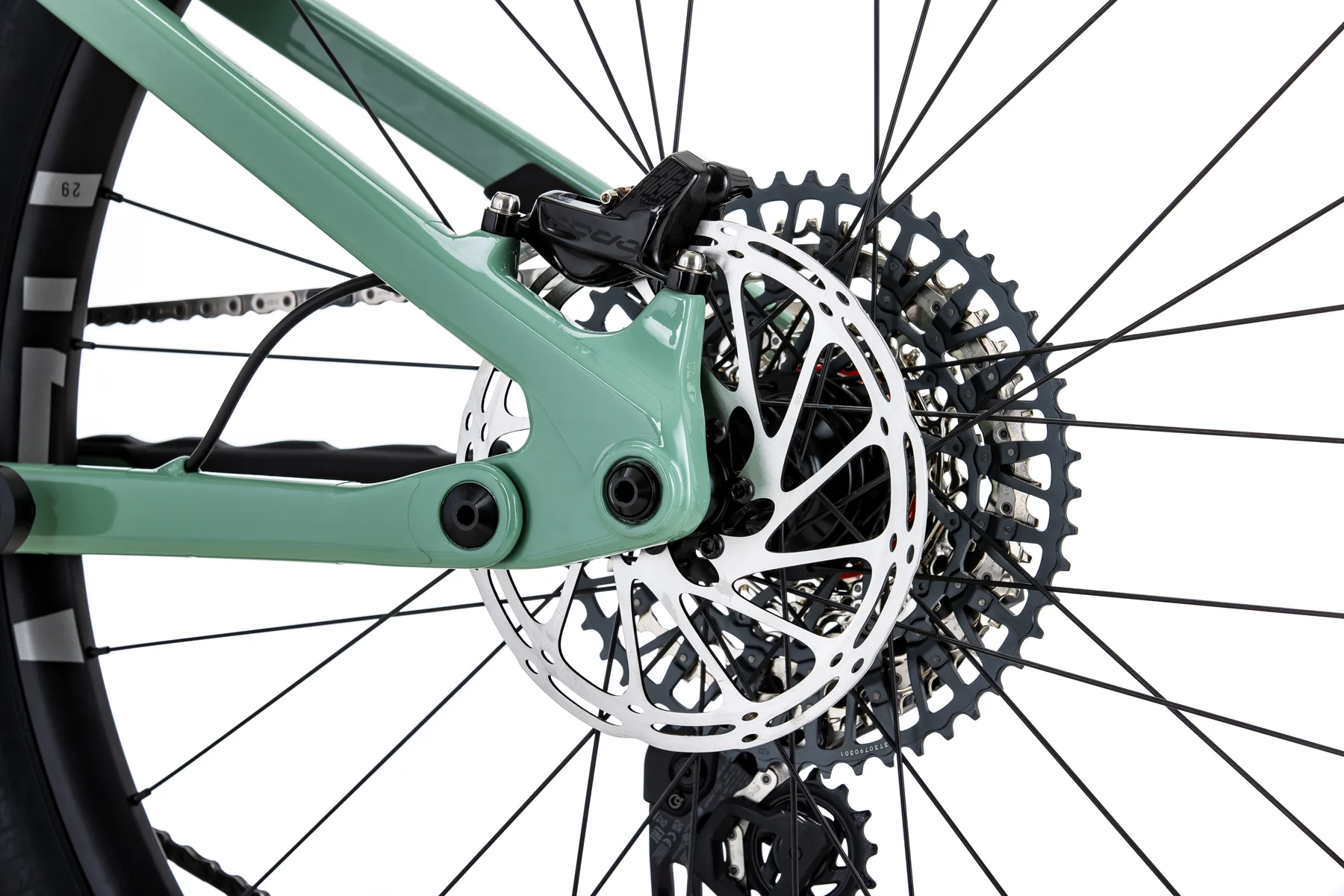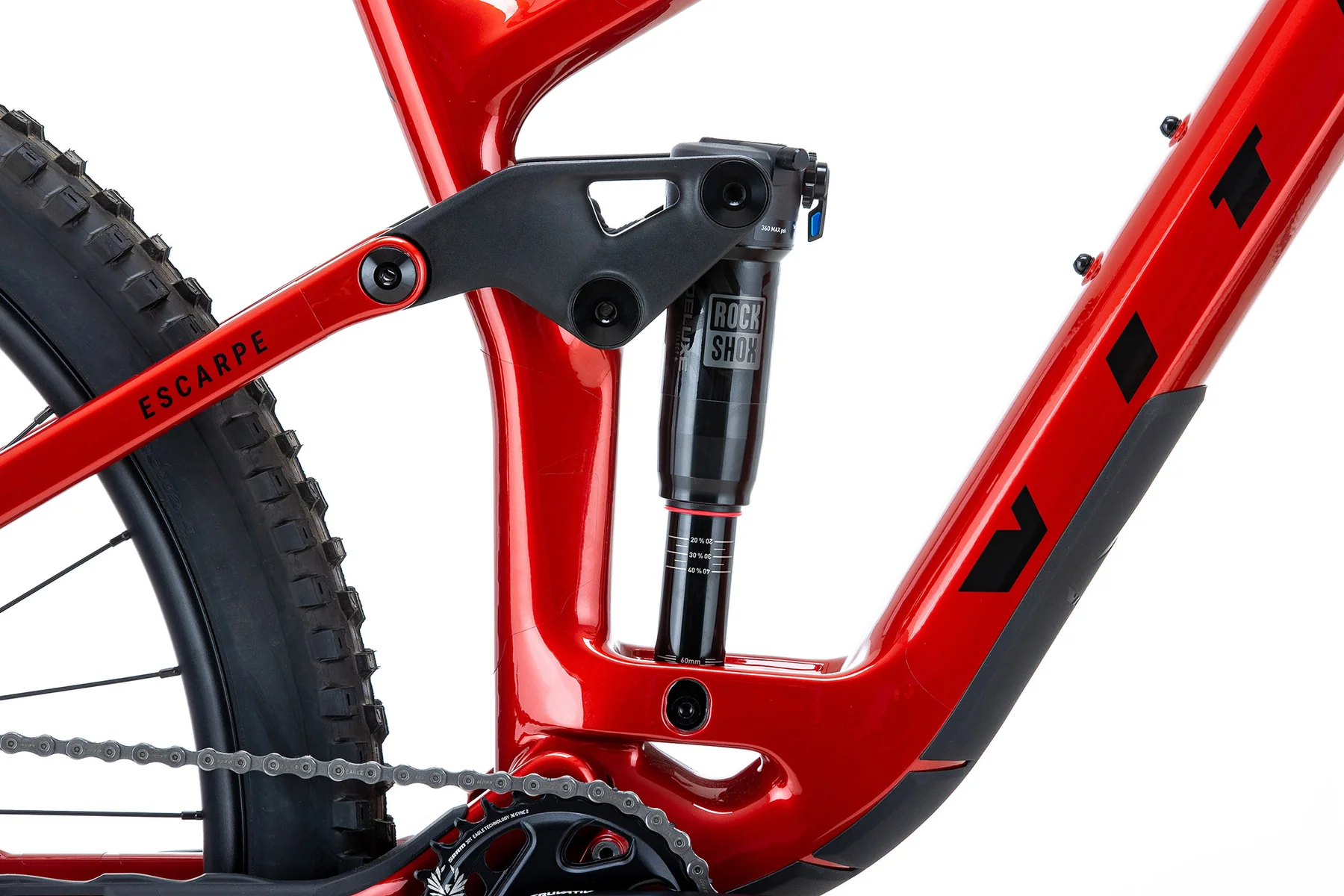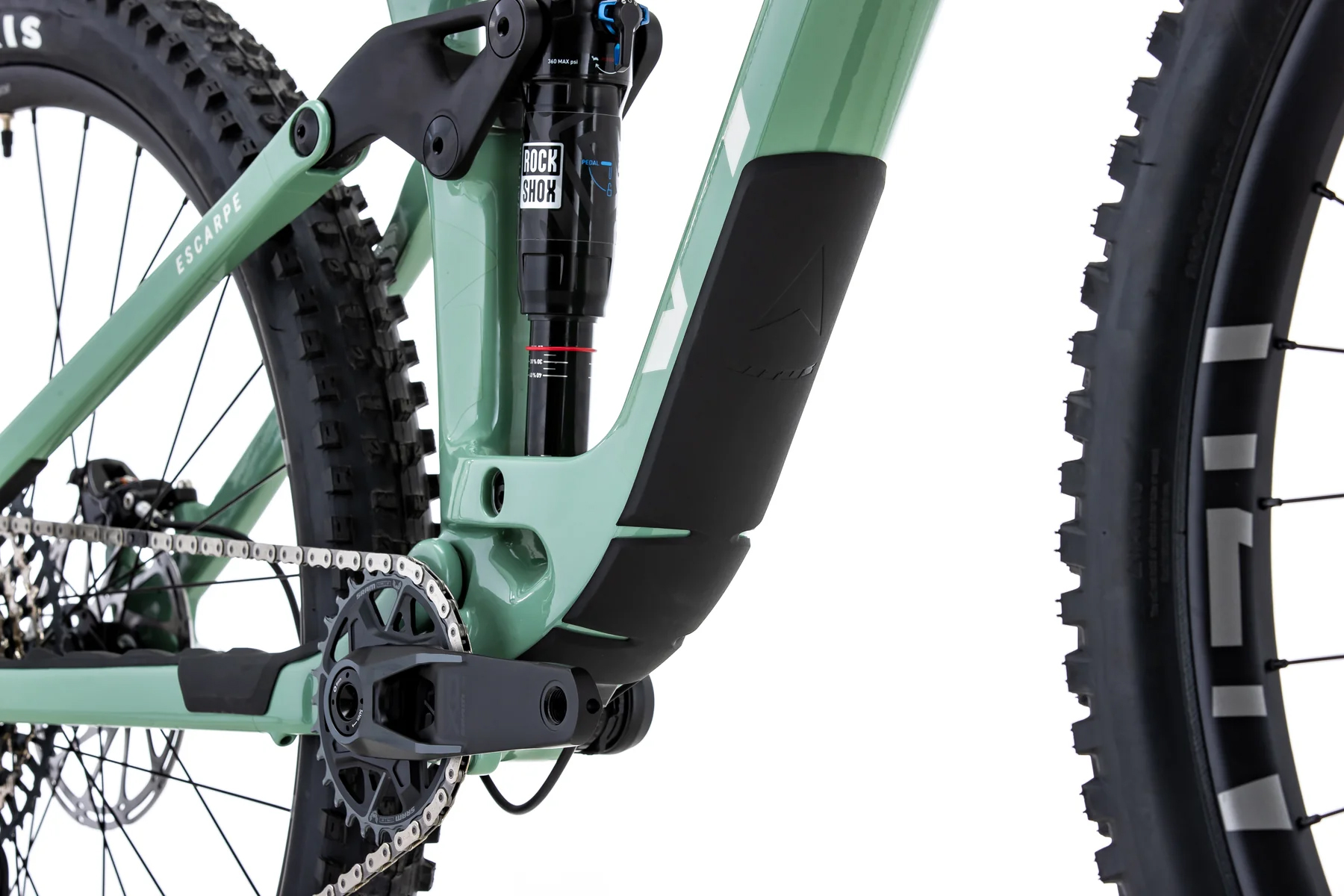 Fit & Geometry
But before we get to the builds, let's do a quick rundown on the Escarpe's geometry. It's offered in four sizes (Small, Medium, Large, and XL) all of which feature a 65° headtube angle and 440 mm chainstays. Reach ranges from 437 mm to 505 mm, with the Medium coming in at 451 mm and the Large at 478 mm; the seat tube angle starts off at 77° (effective) for the Small and Medium and steepens by a half degree in each of the two larger sizes. All that is paired with a 35 mm bottom bracket drop.
Those stated numbers are all with the flip chip in the low position. Flipping it to the high one steepens the angles by 0.5° and raises the bottom bracket by 6 mm. The reach presumably lengthens by a few millimeters as well, but the details aren't stated.
All told, these look like very nicely sorted numbers for a versatile all-rounder Trail bike and are notably similar to the Trek Fuel EX that we reviewed (and really liked) earlier this year. There's maybe an argument to be made that size-specific chainstays would be ideal, but not much stands out as being out of place on the Escarpe's geometry chart, and that brings us to maybe the best thing about the Escarpe: the build specs.
The Builds
Vitus offers four builds for the Escarpe, with prices ranging from $2,899 to $5,999. And while they're all pretty good values for their respective costs, the updated Escarpe CRX and Escarpe AMP — both of which feature SRAM's new Transmission — particularly stand out as some of the most affordable ways into that system that we've seen yet, in addition to being impressive in regard to their other components.
Frankly, the Escarpe CRS that we're currently testing might be the least impressive of the bunch. At $3,999 complete it's still plenty respectable when compared to the market as a whole, but the extra $900 to bump up to the CRX gets you a SRAM GX Transmission, some of the best brakes on the market in Hayes Dominion A4s, and top-tier Fox Factory suspension (over more basic versions of RockShox's Lyric fork and Deluxe shock on the CRS). It's not cheap, exactly, but it packs a ton of really excellent and fairly expensive parts into a sub-$5,000 package. It's impressive.
It's maybe a little unusual that Vitus is spec'ing big brakes and relatively burly forks with inline shocks on the Escarpe, but we'll just have to see if the rear suspension feels up to the task as we get more time on our review bike.
Some Questions / Things We're Curious About
(1) The Escarpe looks great on paper, especially for the money, but how does the whole package actually feel on trail, especially compared to other higher-end models?
(2) And are the frame build quality and other details up to snuff? Vitus's sister brand, Nukeproof, has a good reputation there, and we don't have any particular reason to doubt the Escarpe, but it's our first time on a modern Vitus, and we've been let down by some super-affordable direct-to-consumer frames before, so we'll just have to find out.
FULL REVIEW
I don't think I'm going too far out on a limb when I say the 140-ish mm travel bike is the meat and potatoes of most companies' lineups. Bikes like the Vitus Escarpe are situated to be true Trail bikes that are happy enough to go uphill for long periods of time but still shred descents with competence. That said, there's a huge variety of very good bikes in this ambiguous Trail bike class, some of which can reasonably be called mini-Enduro bikes, and some of which have a much more XC-ish vibe that could annoyingly be called "downcountry."
So where does the Escarpe land? And does it hold up against the bigger, better-known options?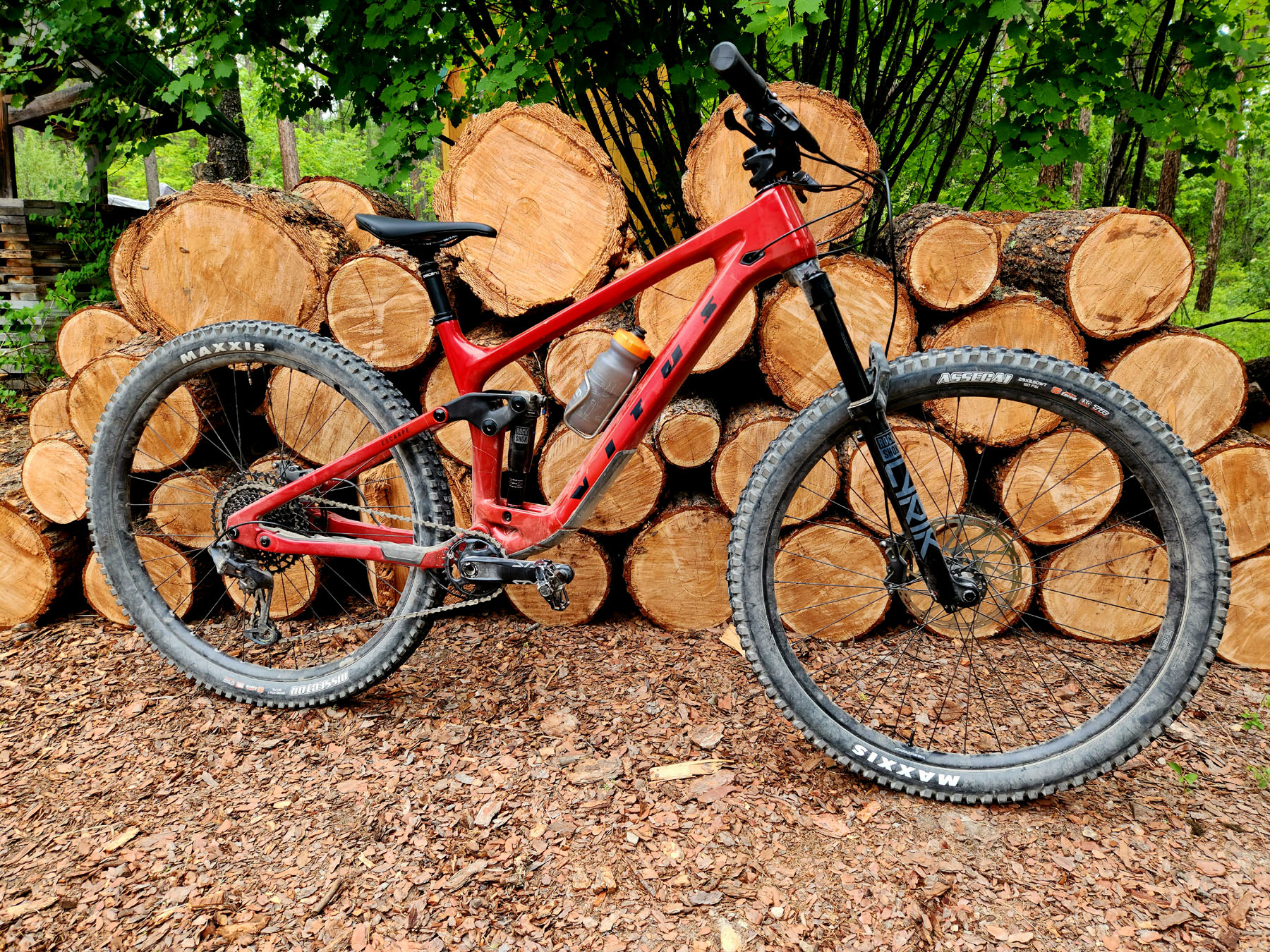 The Frame
The Escarpe is a full carbon frame, meaning the front triangle, chainstays, and seatstays are all made of carbon, but with a metal rocker link. The frame has all of the basic features that I like to see these days; boost 148 axle spacing, a threaded bottom bracket, UDH / universal derailleur hanger, ZS 44 / 56 headtube, 31.6 mm seatpost, and a 205 x 60 trunnion mount rear shock.
In other words, for every area of the frame where Vitus had to make a decision about which "standard" to use, they picked standards that are extremely common and functional. When you need to replace parts on this bike, you should have no problem finding what you need for the foreseeable future.
Cable routing is internal, and somehow manages to not go through the headset (kudos to Vitus for that). The frame doesn't have internal tubes or guides for the cables, but the ports are large enough that feeding cables through shouldn't be too much of a headache, and zip-tie attachments at the ports helped keep cable rattling to a not-particularly-noticeable level. Entry near the headtube is through decent-sized removable plastic ports. From there, the rear derailleur and rear brake lines pop out on the underside of the downtube near the bottom bracket and then re-enter into their respective chainstays.
This is my one major gripe about the Escarpe frame — the cable routing under the bottom bracket results in a dangly bit of cable / brake hose that's very prone to rock strikes. Most bikes with this suspension design (including the Vitus Mythique) route the cables above the bottom bracket on either side of the seat tube, and that's much cleaner and more protected than the Escarpe's routing.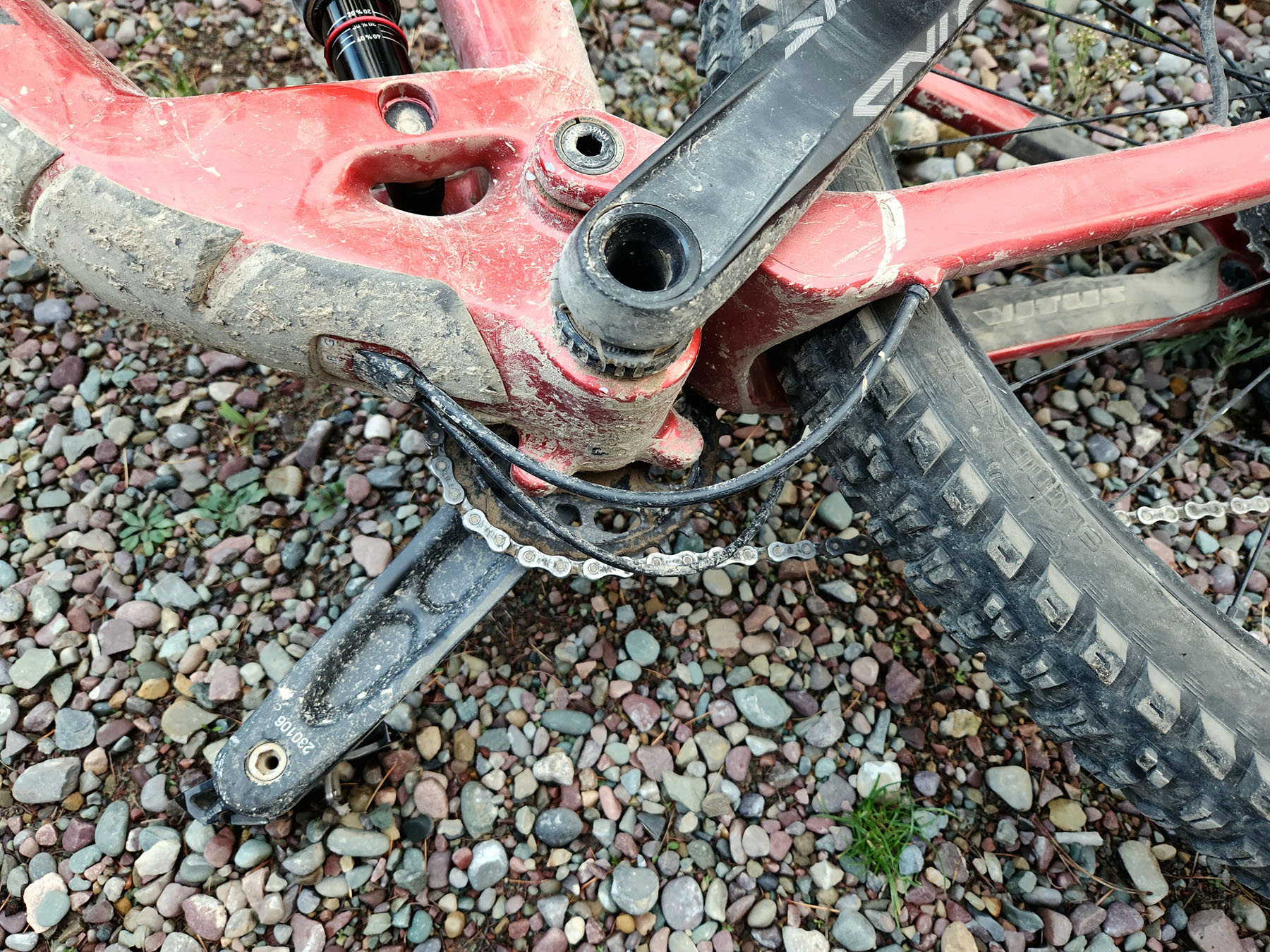 The Escarpe's suspension layout is a common one — it's a 4-bar Horst link / FSR link with a vertically oriented shock. This is similar to quite a few other bikes on the market, including most of Transition's bikes and some from Canyon. Since the dawn of full-suspension mountain bikes, this is probably in the top 3 most common suspension designs, and there's a reason for that — it's simple, and it works pretty damn well.
The vertically oriented shock also means the climb switch is easy to access, and there's tons of room for large water bottles. As is increasingly common these days, the Escarpe also gets a tool mount on the underside of the top tube, although unfortunately there's no in-frame storage.
Geometry and Sizing
As with the frame design, Vitus didn't go too far out on any limbs when it came to the geometry of the Escarpe. The size Large I rode has a 478 mm reach, a 619 mm effective top tube, 440 mm chainstays, a 65° headtube angle, and a 77° effective seat tube angle.
If you took an average of the geometry numbers for all Trail bikes currently on the market, I suspect they'd come out to something very close to the Escarpe's geometry. And just to be clear, that's a good thing — I hopped on, did my usual cockpit and saddle adjustments, and then didn't really think about the fit or the geometry again for the rest of my time on the bike. There was no "I like the bike but I wish such-and-such angle was steeper, or the whatever-measurement was a bit longer." It was just "get on and ride, and don't give it a second thought."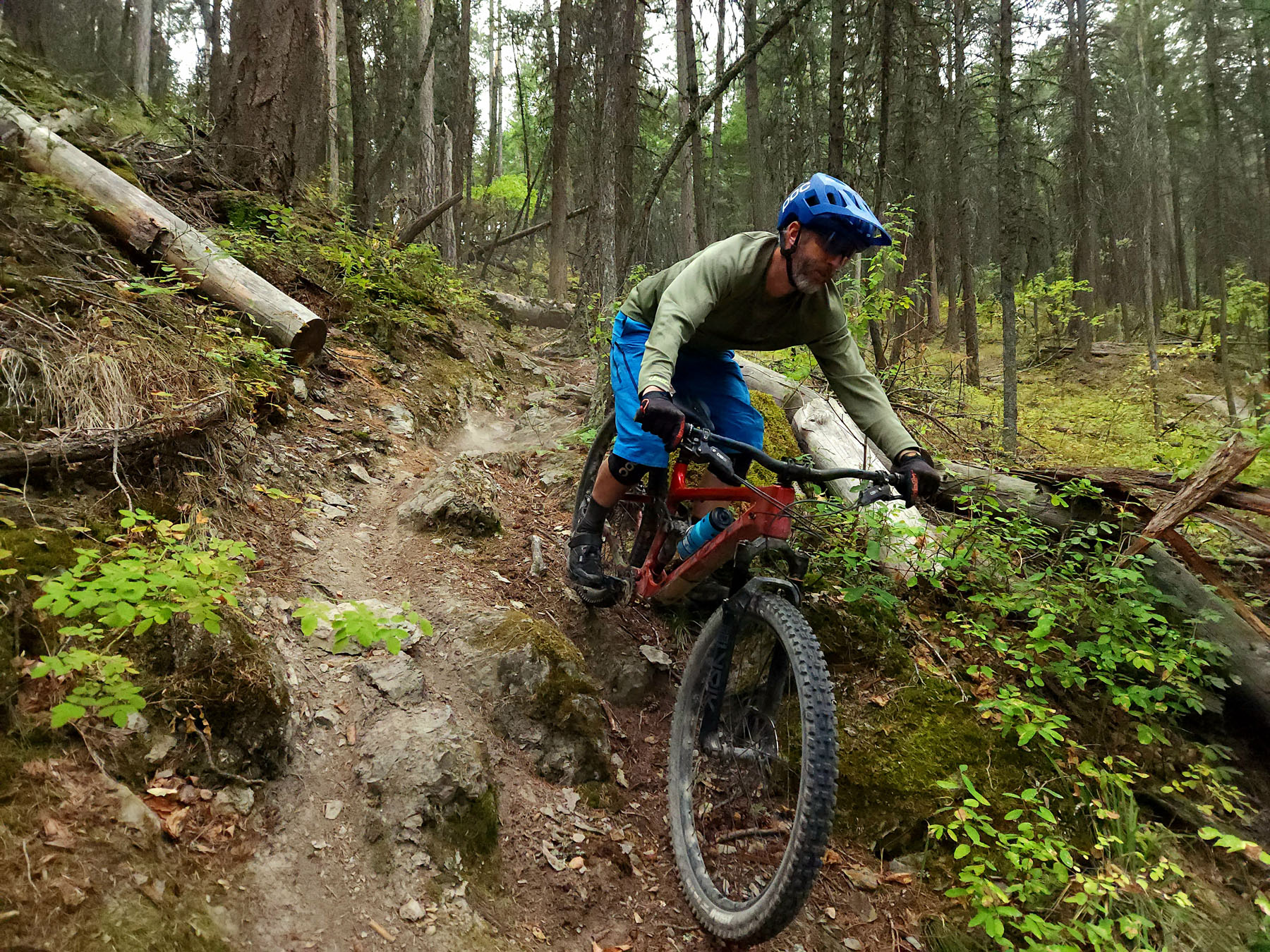 The one note on geometry I will offer, though, is that people shouldn't just go off of the recommended sizing on the Escarpe's geometry chart. Per that chart, people my height (5'9'' / 175 cm) should buy a Medium, and the Large would be too big for me (the chart says 5'10'' is the shortest person that should be on the Large). But Vitus also has a bike fit calculator where you input your height and your leg length. Taking my long legs into account, the calculator suggested a Large frame, which is more in line with what I typically ride, and feels spot on.
The Build
The Escarpe is offered in four build kits as well as a frame-only option. I rode the $3,999 CRS build, which is a bump up from the $2,899 CR build. Higher up the food chain are the $4,899 CRX build and the $5,999 AMP build. As I noted in my First Look on this bike, the AMP build might be the least expensive bike on the market to come with SRAM's new X0 transmission drivetrain.
The Escarpe CRS build is a GX-ish level bike, with a GX Eagle shifter and derailleur, but NX Eagle chain and cassette. Suspension is handled by RockShox, with a Lyrik Select fork and a Deluxe Select+ rear shock. SRAM also handles braking, with their new DB8 stoppers in place.
Vitus' sister company, Nukeproof, supplies the Neutron V2 wheels along with the saddle, stem, and handlebar. The dropper is a Brand-X, which on my size Large is adequately long at 170 mm (Mediums get a 150 mm post, and Smalls get a 125 mm one). The wheels are shod with Maxxis rubber — a Dissector (Exo+ / MaxxTerra) in the rear, and an Assegai (Exo / MaxxTerra) in the front.
I don't have any huge complaints about the build spec; while there are certainly parts I'd look to upgrade, the parts spec is pretty reasonable for the price of the bike. Highlights were a long enough dropper that I didn't feel the need to immediately swap out, a saddle that I found to be pretty comfy (subjective, I know), and a tire combo that was pretty dang fun (although the Exo+ rear didn't hold up to my lack of smoothness).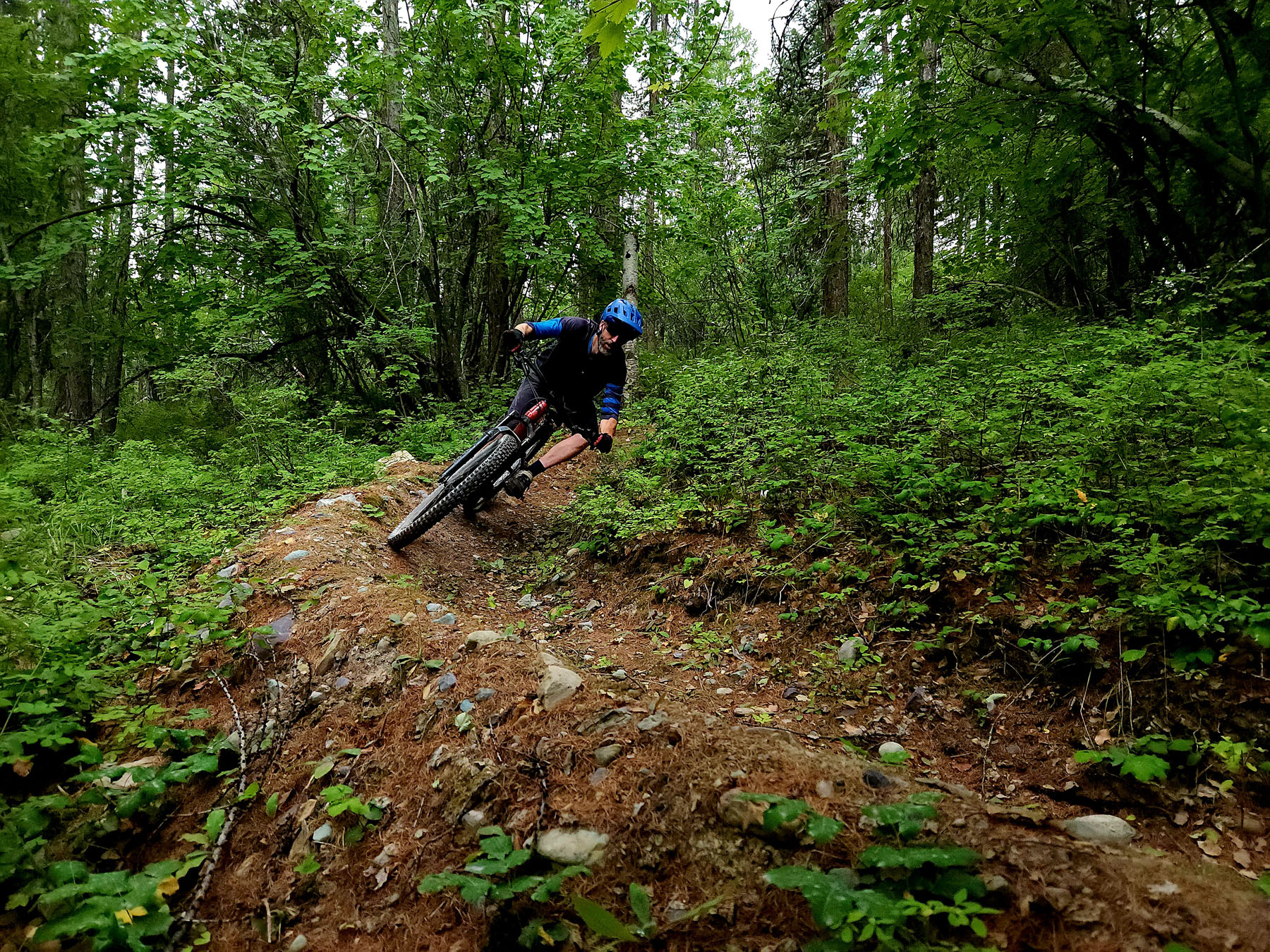 With an eye on future upgrades, my biggest gripe is the NX cassette — it uses a traditional HG hub driver, which means if you want to upgrade to a nicer cassette in the future, you'll have to shell out for not only the cassette but also a new hub driver (since higher-end cassettes use either an XD or Microspline driver). That said, while the NX / GX drivetrain occasionally produced a clunky shift, for the most part, it worked fine.
The SRAM DB8 brakes were also thoroughly underwhelming. While they worked without issue, they're pretty low on power. I'd rate them as roughly comparable to older Sram Guides. I'd like to at least see Vitus bump up from the spec'd 180 mm rear rotor to a 200.
I'll talk more about the suspension below, but I think it'll work nicely for people who aren't charging too hard. The Select-level Lyrik is a solid fork, but it's not particularly supportive, and it can start to feel overwhelmed when pushed hard.
What's In the Box?
Vitus is a direct-to-consumer brand and that means that, once you order your bike, it's going to show up in a large box in a mild state of disassembly. You can certainly take it to a shop and pay them some amount of money to put it together, but Vitus' packaging and directions are quite good, and I think shop assistance is probably unnecessary for anyone who's even mildly mechanically inclined.
Basically, you have to install the wheels, the handlebar, and the pedals, and you have to squirt some sealant into the tires. That's it. The sealant is even included, and has a nice little injector for squirting it into the valve stems.
Vitus' packaging is super clean, and there's a bunch of straps that hold the bike in place in the box that are reusable, which is a nice touch. There are QR codes in the box that take you to videos to assist with installation if you get stuck, but it's pretty straightforward. I spent more time fiddling with cockpit adjustments and suspension setup than I did on actual assembly.
On the Trail
My first couple of rides on the Escarpe mostly involved figuring out the suspension. I spend most of my time on RockShox and Fox's higher-end offerings, and I have my setup for those forks and shocks pretty well figured out. But the Lyrik Select fork and Deluxe Select+ shock on the Escarpe CRS were new to me, and I struggled a little to find settings I was happy with.
To start with, I inflated the Lyrik Select to the recommended pressure, which is about 76 psi for my weight. The rear shock I inflated to equate to 28% sag, which worked out to be about 130 psi. On the first ride, the fork felt like it was using most of its travel far too often. This led to a very plush ride and it motored over smaller trail chunder well, but it was diving in corners and produced some weird handling as the front end of the bike dipped low. I also found that I was bottoming out the rear shock a bit too easily on big impacts.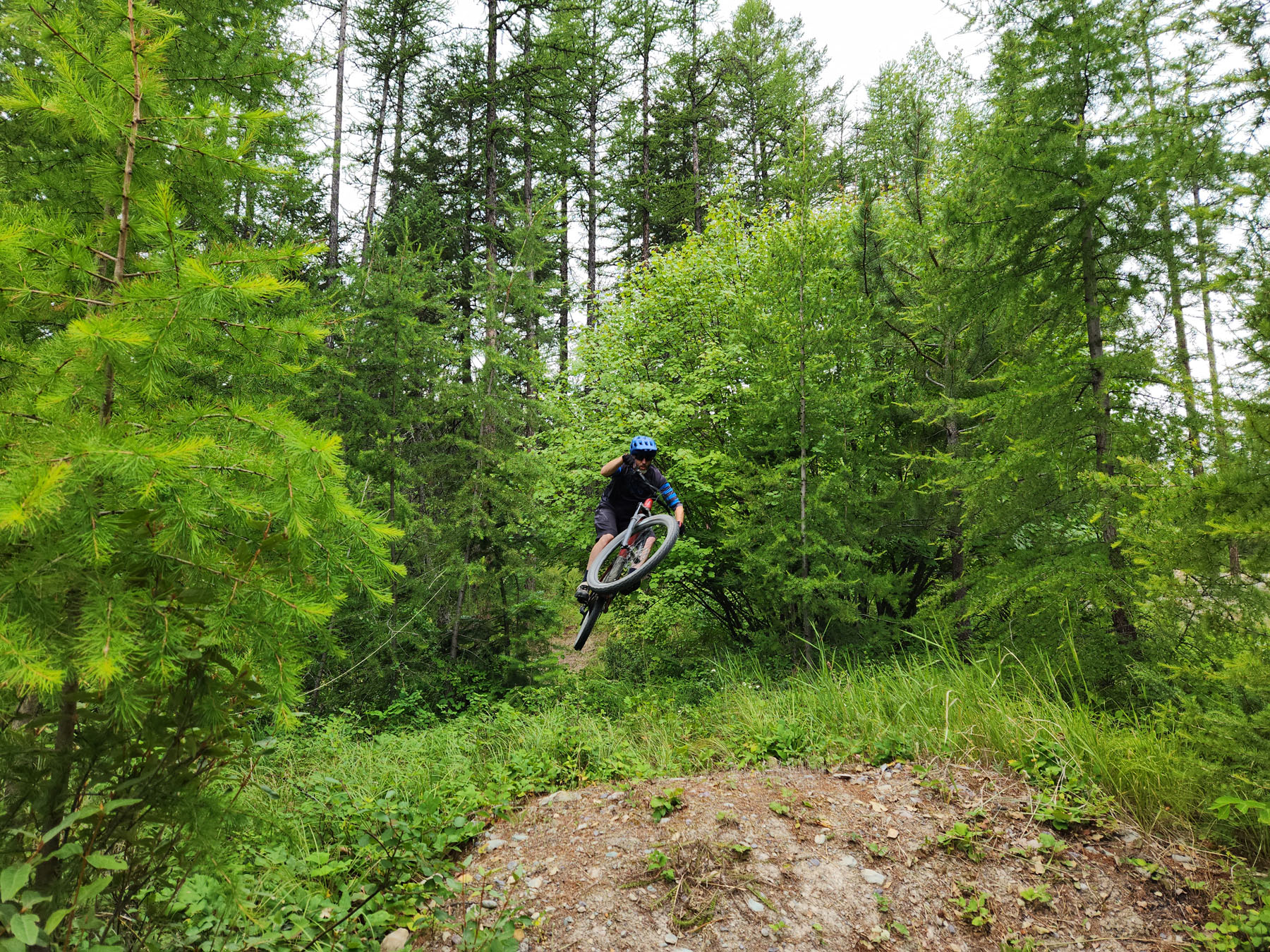 Over the next few rides, I ended up adding about 9 psi to the fork (up to 85 psi), adding two tokens, and running the external compression damper mostly closed. I also added 15 psi to the rear shock (up to 145 psi), which reduced sag to around 24%. These changes helped the bike stay a good bit more composed through bigger impacts, and the suspension still retained most of its sensitivity to smaller bumps.
With the suspension more or less sorted, I took the Escarpe out to my usual spots, which cover the breadth of trail options available in Northwest Montana. I pedaled up some techy single track and plenty of dirt roads. I descended smooth flow, rocky chunk, jumps, berms, and some lift-served trails. It was mid-summer so conditions were mostly dry, and often blown out and dusty. But throughout it all, the Escarpe performed exactly like a well-rounded Trail bike should.
The Trail bike category straddles the line between bikes that are more focused on going uphill and those that have downhill intentions in mind, and I'd place the Escarpe slightly on the descending side of that divide.
To be clear, it climbs just fine. The seat angle is steep enough to be comfortable on steep grinds, but not so steep that it's awkward and uncomfortable on flatter terrain. And the suspension firms up a bit when putting power down, but not so much that the rear end is devoid of traction when you're trying to pick your way up a steep, techy climb.
But compared to the competition (of which there is plenty in this travel segment), I'd say the Escarpe's forte is when things point downhill. It feels composed even when things get steep, it's reasonably comfortable at higher speeds, and the frame feels reassuringly solid.
As is fairly common these days, the Escarpe has a flip chip at the shock mount; this one will steepen the head angle by 0.5° and raise the bottom bracket by about 6 mm. I spent the vast majority of my time on the Escarpe in low mode, but putting it in high mode does exactly what you'd expect: the handling is a touch sharper, and pedal clearance is a little better. If I lived somewhere with relatively flat, chunky trails, I'd probably leave the bike in high mode.
As I mentioned at the outset, I struggled a bit to get the suspension dialed, and that certainly affects the bike's manners while descending (and, for that matter, while climbing). Mostly, I had a hard time getting the suspension (both front and rear) to feel supportive and not dive deep into the travel. So, in the name of science, I threw a Fox Float X2 Factory onto the rear of the Escarpe. This isn't to say the Float X2 is a case study in supportiveness (it's not), but it's the shock I had on hand that fit the Escarpe. Lo and behold, it noticeably improved the Escarpe's handling — it used its travel more judiciously and offered more support in corners, but still absorbed bumps both big and small as well or better than the RockShox Deluxe+.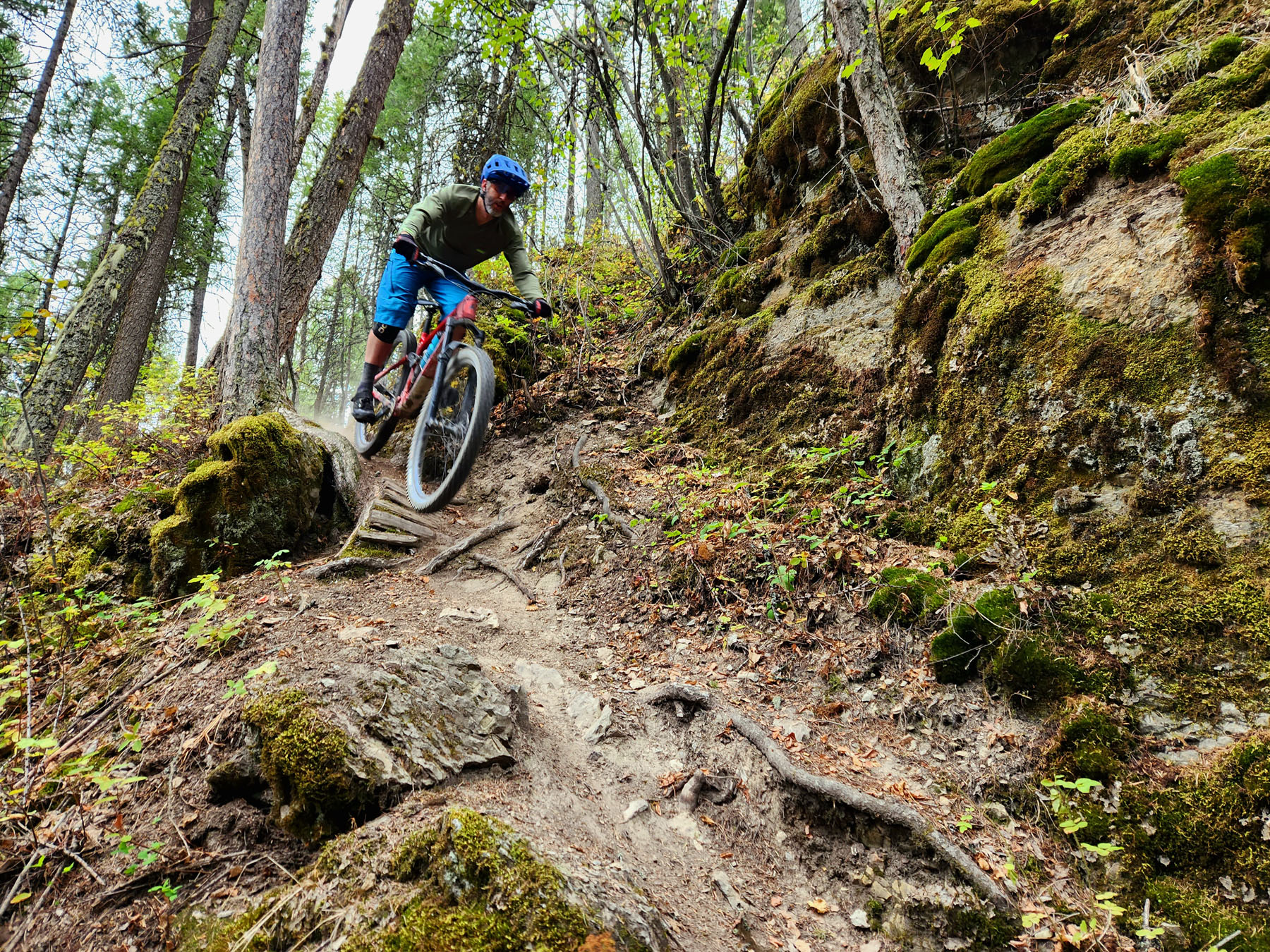 I didn't have a chance to try a different fork on the Escarpe, but I've spent a ton of time on both a Fox 36 Factory and a RockShox Lyrik Ultimate. I'm comfortable saying that either of those forks is much (much) more supportive than the Lyrik Select, and would solve a lot of my quibbles there.
This all leads me to the conclusion that the Escarpe is a really solid platform. I got along well with the bike and pretty much every complaint I have about how the bike rides can be solved with suspension upgrades. That might mean bumping up to the CRX or AMP build kits, or it might just mean buying a Charger damper to upgrade the Lyrik Select that comes on this build. Either way, the issues I ran into on the Escarpe aren't inherent to the bike, they're inherent to the suspension, which is a much more solvable issue.
I should also add that the issues I had with the suspension probably won't be an issue for everyone. The Lyrik Select offers a very compliant ride, and some people will certainly appreciate that. I'd say the Lyrik Select actually does a better job of mowing down small and medium-sized bumps than the higher-end Lyrik Ultimate, at the expense of significantly less support when you push the fork a bit harder. So if a smooth magic carpet ride is what you're after, the Lyrik Select might be up your alley.
Durability and Maintenance
One or two of the Escarpe's linkage bolts came slightly loose after a while — 5 seconds with a wrench resolved that. I put a decent dent in the rear rim and now it likes to burp air, but I think that's just a testament to the fact that I'm not smooth enough to run a lighter-casing tire in the rear. Aside from those two issues, I have nothing else to report.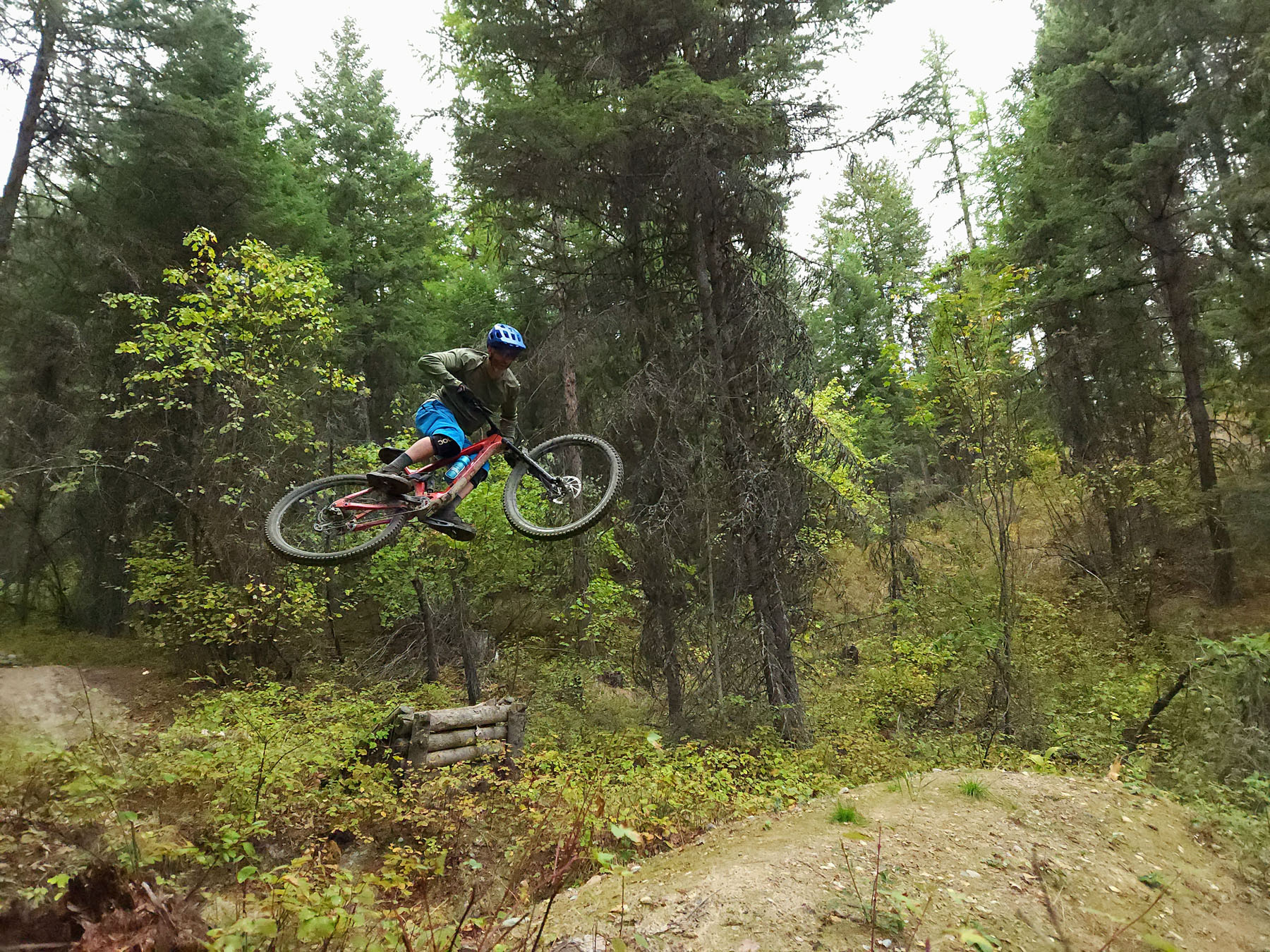 Comparisons
Propain Hugene: This is probably the most direct comparison to the Escarpe; like the Escarpe, the Hugene is a 140/150 mm Trail bike from a European direct-to-consumer brand that's only been available in North America for a few years. I'd rate the Hugene as a somewhat nicer frame than the Escarpe — it's got tube-in-tube cable routing, a carbon upper link, and a more elaborate (but questionably better) suspension linkage. While the Escarpe is slightly on the downhill side of the Trail bike spectrum, the Hugene is more squarely on the uphill side. The Hugene is a little lighter, and definitely more spritely on the climbs. It's also noticeably flexier than the Escarpe. The Hugene pumps and pops a bit better, but the Escarpe holds its line better when things get rough.
Transition Sentinel: The Sentinel has 10 mm more travel than the Escarpe front and rear, but it's otherwise a very similar bike — a carbon, horst-link design with a vertical shock. The Escarpe and the Sentinel climb pretty similarly, with the Escarpe being a little better. And really, they descend pretty similarly too, with the Sentinel taking the edge, partly due to having a little more travel, and partly due to having a slacker, longer geometry. The Sentinel is more of a bike that's blurring the Trail / Enduro categories, while the Escarpe is a little more comfortably situated as a Trail bike (albeit one that goes downhill nicely).
Bottom Line
On paper, the Vitus Escarpe looks like an extremely safe bet. It uses a tried and true suspension design, its geometry is modern without a single measurement or angle that requires explanation, and for any given price point, the parts spec is hard to argue with. So what's the catch?
Honestly, I can't identify a clear one. Yes, the cable routing under the bottom bracket is non-optimal, but at least it doesn't go through the headset. And yes, it's a direct-to-consumer bike, and that comes with some degree of downside in the form of a limited dealer network, but direct-to-consumer bikes are increasingly common these days. And yes, I complained about the suspension, but that's just because I'm spoiled from spending too much time with top-of-the-line forks and shocks on other bikes. Plus, the Escarpe is available with that higher-end suspension at a price point that very few other brands are matching.
The Escarpe feels, to some extent, like the modern culmination of bike design. It's not outlandish. It's not pushing any envelopes. It's neither notably light nor annoyingly heavy. It's not concerningly flexy nor unnecessarily burly. It does not require you to spend 6 months eating beans out of a can to be able to afford it. It's just a regular Trail bike that works well for its intended purpose and goes about its business with minimal fuss.