Boot: 2023-2024 Salomon S/Pro Supra BOA 105 W
Stated Flex: 105
Available Sizes: 22.5-27.5
Stated Last (size 26.5): 100 mm
Stated Forward Lean: 12.5°
Size Tested: 25.5
Stated Boot Sole Length (size 25.5): 294 mm
Blister's Measured Weight (size 25.5):
Shells, no Liners (left & right): 1384 & 1385 g
Liners, no Footbeds: 375 g & 375 g
Shells + Liners = 1771 & 1772 g
Stock Insoles: 23.5 & 23.5 g
Buckles: Aluminum 3D Buckles
Power Strap: 50 mm Velcro
Shell Material:
Cuff: Polyurethane
Lower Shell / Shoe: Polyurethane – Custom Shell HD (heat moldable)
Liner: My Exowrap 4D Performance
Soles: GripWalk, replaceable
Binding Compatibility: GripWalk Stamped Bindings, MN Stamped Bindings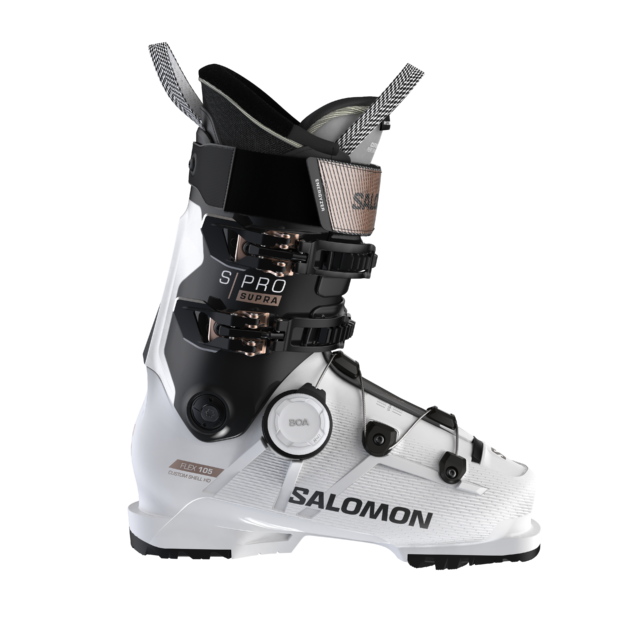 [Editor's Note: In the interest of getting you information sooner on some of the products we're reviewing, we're posting here some of our measured specs and manufacturer details, and will update in the future. Take a look, and let us know in the Comments Section below what questions you'd like us to answer.]
Intro
The Salomon S/Pro has served as the medium-volume boot within the Salomon boot lineup for a few years now, known for its customizable shell and liner, as well as its fairly lightweight overall build.
For the 23/24 season, Salomon is rolling out a completely new line of medium-volume boots, in the form of the S/Pro Supra BOA. All five models are built with a BOA closure mechanism for the lower shell and are based on a new medium-volume last.
There are a few other new features offered in the S/Pro Supra series, including Salomon's "EXOWRAP" liners, which are designed to provide better wrapping / tensioning of the lower foot / heel instep perimeter zone on the exterior of the liner. Salomon utilizes this ExoWrap design in conjunction with their ExoWrap latex foam liner, which is heat moldable, in order to provide a more uniform and snug fit across the top of the foot and around the heel (see photos below).
Other notable features of the S/Pro Supra include the same "Power Spine" design that we saw featured on the 22/23 S/Pro Alpha, which features a screw on the outside of the spine that you can turn a metal bar (that connects the lower shell & upper cuff) to switch between a "Direct" or "Progressive" position. The Direct position orients the piece of metal vertically so that it connects the cuff to the shell across a broader area, whereas the Progressive position orients it horizontally so it's not as directly connecting the shell and cuff.
For those longstanding fans of the S/Pro boots, they will still be available, unchanged apart from the discontinuation of a few of the higher-end models, and come with the same four-buckle closure that they have always had.
What Salomon Says about the S/Pro Supra:
"Salomon, maker of premium winter sports equipment, unveiled today a new alpine boot for fall 2023: S/Pro Supra BOA®. By infusing the brand's best-sellingS/Pro boot with BOA® Technology and a new EXOWRAP fit ecosystem, Salomon introduces the best fitting, most customizable high performance driven medium volume boot ever. A complete range of men's and women's sizes and flexes will be available in fall 2023.
The new S/Pro Supra BOA® combines the fit and performance features that were refined for the award-winning S/Pro Alpha boot such as 3D Instep Shell, Custom Tongue and Custom Shell HD, with the dialed in performance of the BOA® Fit System, a new EXOWRAP construction, and the category leading 100mm last. The result? Best in class fit, customization and performance in a boot laser focused on the most popular boot last in the industry."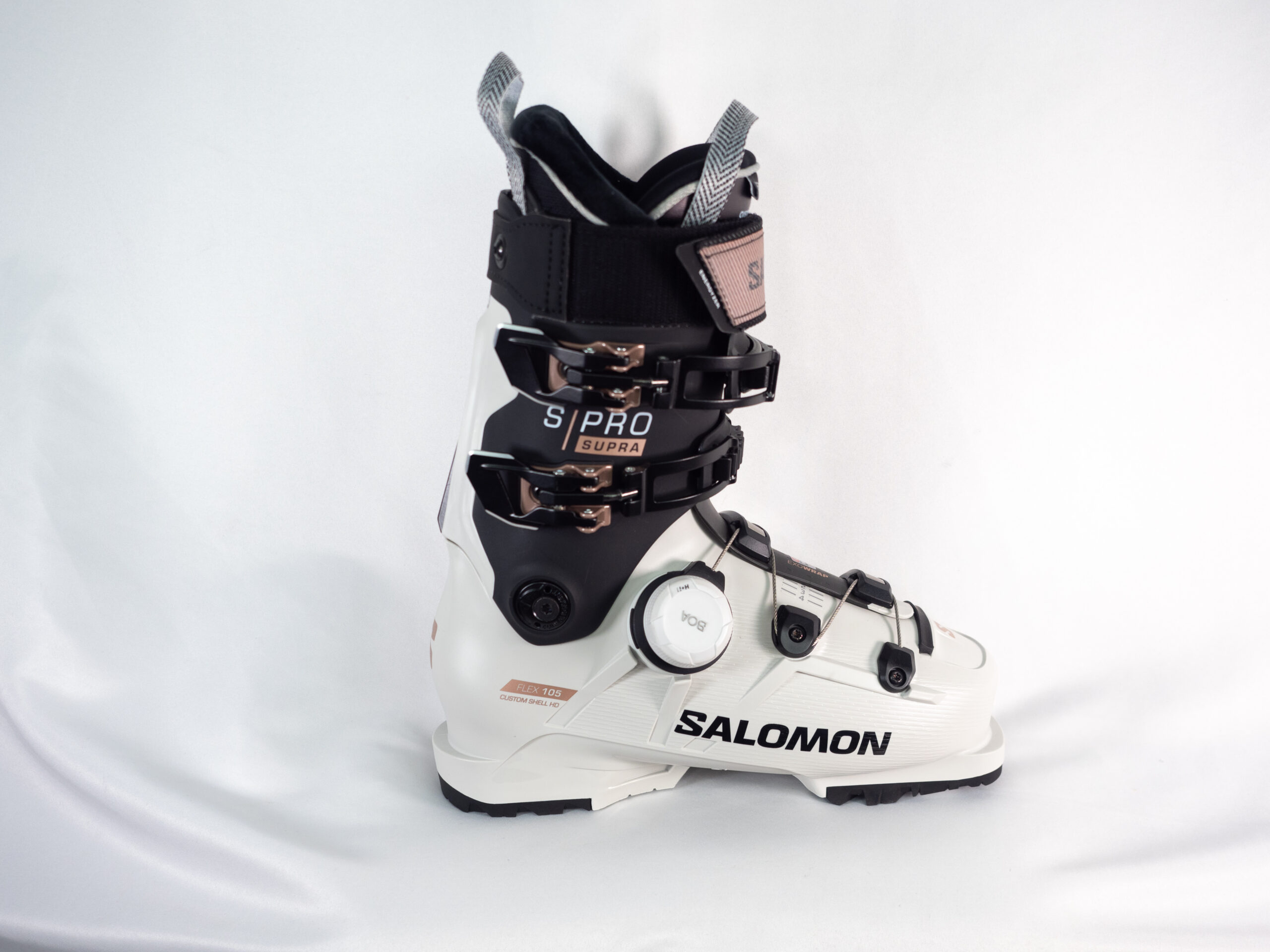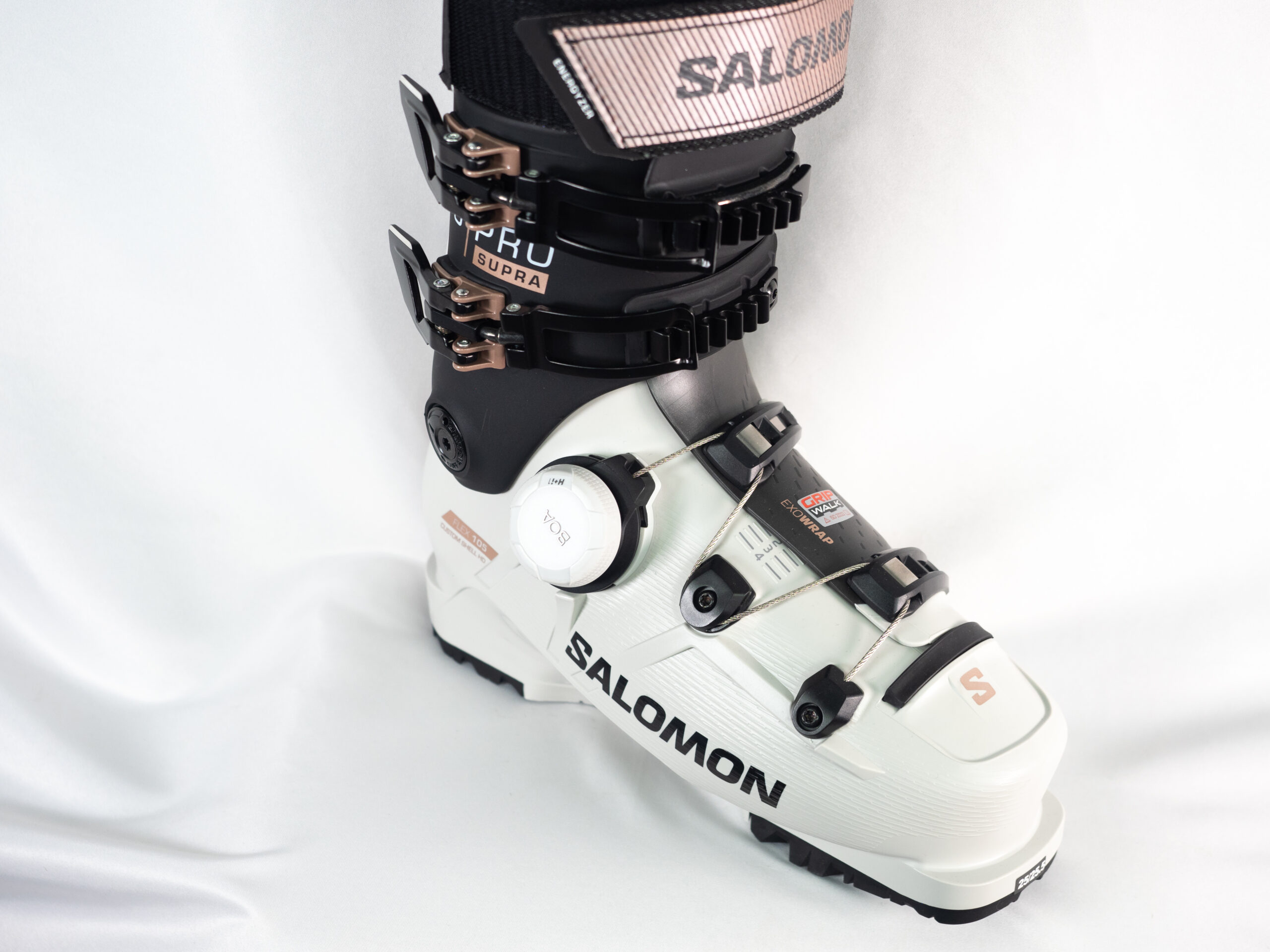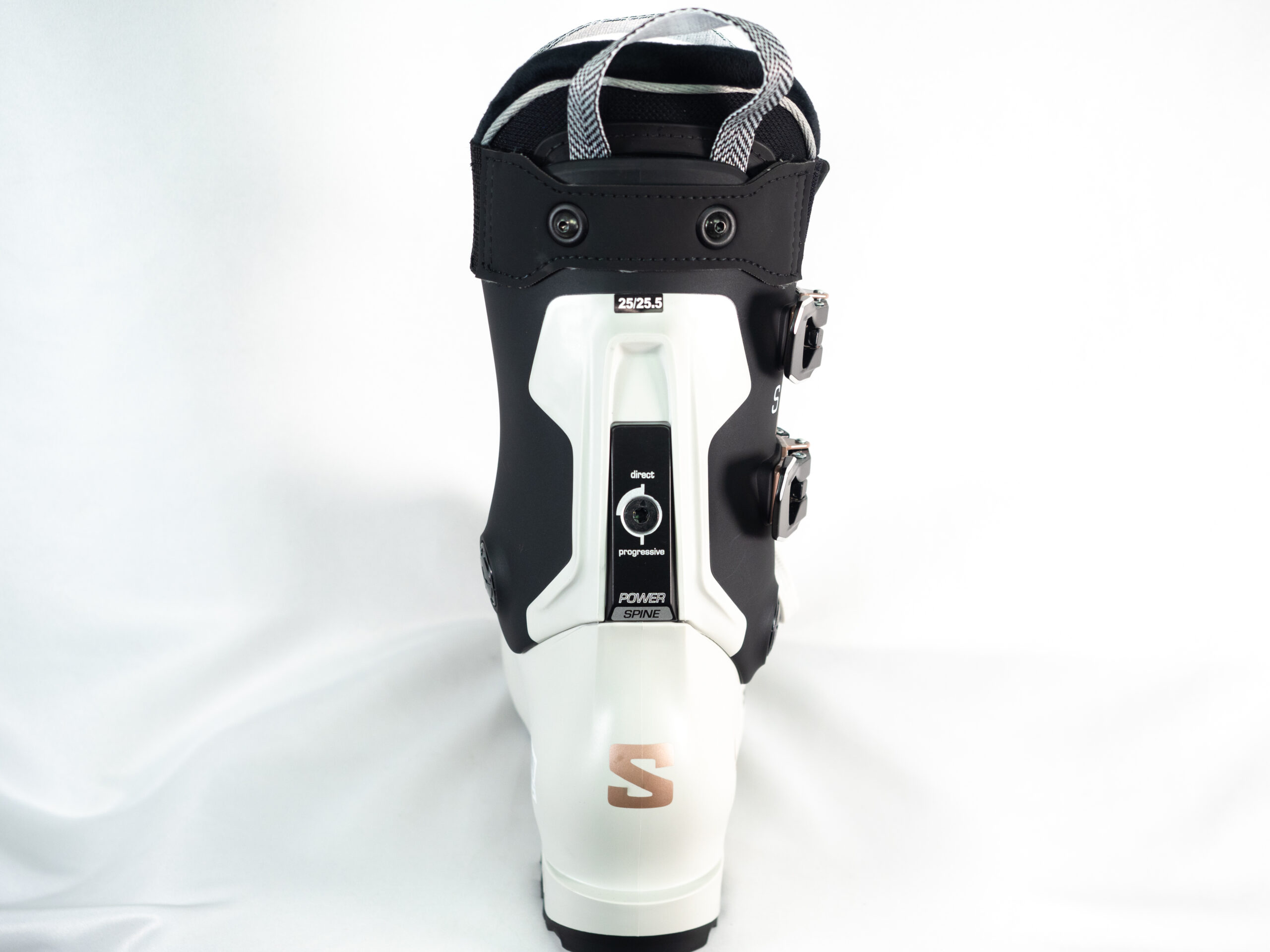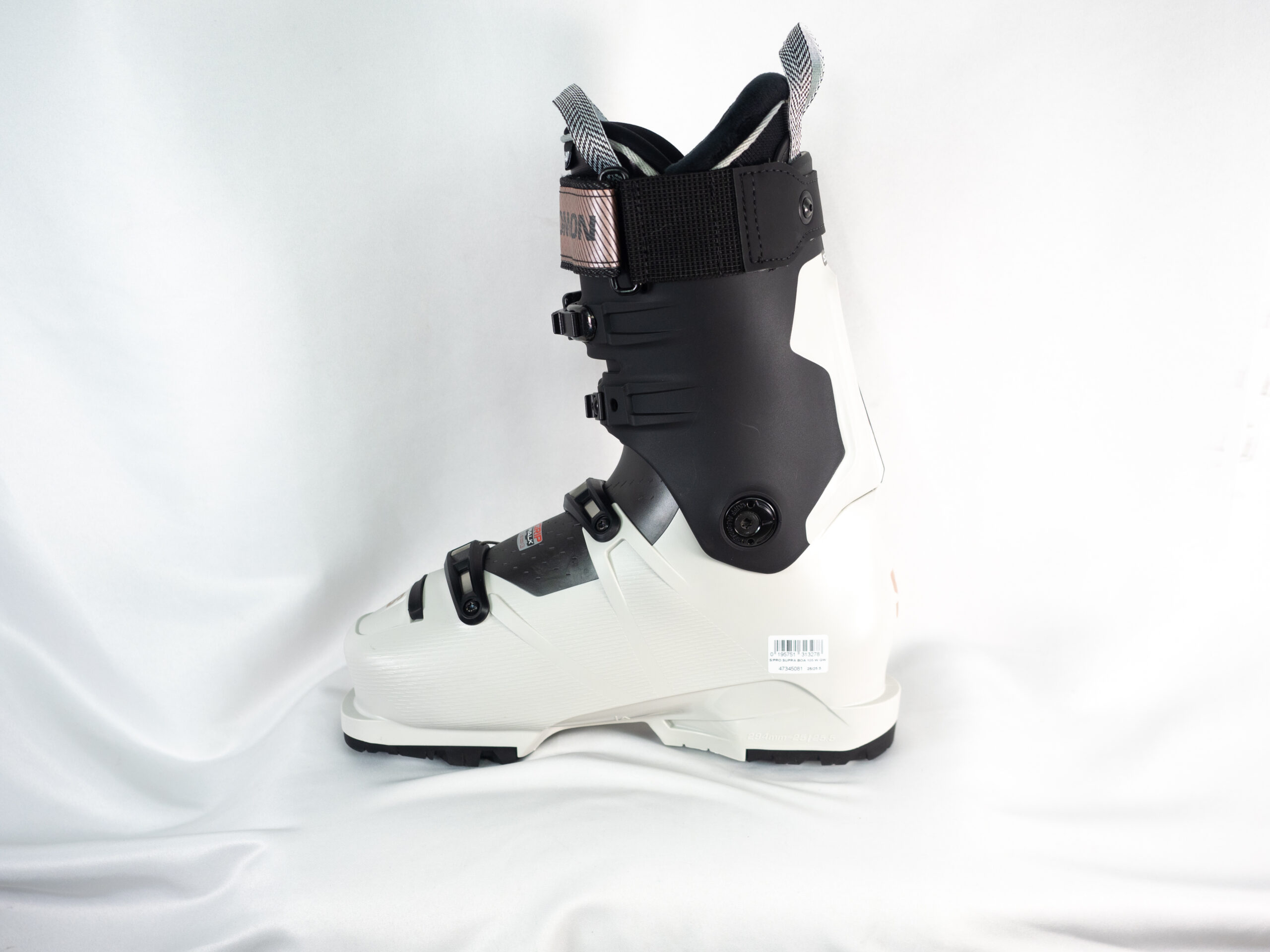 The Salomon S/Pro Supra Series
The S/Pro Supra series is broken down into three men's models and two women's models, all of which are equipped with the BOA closure mechanism and built to the new Supra last.
S/Pro Supra with BOA:
S/Pro Supra BOA 130 GripWalk – $800
S/Pro Supra BOA 120 GripWalk – $750
S/Pro Supra BOA 110 GripWalk – $700
S/Pro Supra BOA 105 Women's GripWalk – $700
S/Pro Supra BOA 95 Women's GripWalk – $600
But most of the standard S/Pro boots are still offered for those who are weary of BOA, and remains unchanged for the 23/24 season, though with slightly fewer models:
S/Pro without BOA:
S/Pro MV 120
S/Pro MV 110
S/Pro MV 100
S/Pro MV 90 CS GW
S/Pro MV 90 W
S/Pro MV 80 W CS GW
Weight & Comparisons
We have the S/Pro Supra BOA 105 W in a 25.5, so it's important to keep that in mind when comparing its weight to most of the 24.5 boots listed below. Given that it is a bigger size, the S/Pro Supra BOA 105 W seems fairly average when it comes to stiffer, women's alpine boots.
For reference, here are a number of manufacturers' stated weights (per boot) and our measured weights for some comparable boots. For our measured weights, we list the weights of each shell + the weights of each liner, then the total weights of the shells + liners.
22/23 Atomic Hawx Ultra 115 W S (24.5) 1621 g (stated weight)
22/23 Tecnica Cochise Pro W (24.5): 1285 & 1289 + 343 & 330 = 1628 & 1619 g
23/24 Fischer RC4 105 MV BOA VAC GW (24.5) 1324 & 1355 + 349 & 364 = 1673 & 1699
22/23 Nordica Speedmachine 3 115 W (24.5) 1700 g (stated weight)
22/23 Rossignol Pure Elite 120 (24.5) 1387 & 1380 + 323 & 324 = 1710 & 1704 g
23/24 Tecnica Mach1 LV 115 W (24.5) 1347 & 1348 + 350 & 352 = 1716 & 1738 g
23/24 Fischer RC4 105 MV GW (24.5) 1408 & 1395 + 358 + 359 = 1766 & 1751
23/24 Lange Shadow 115 LV W (24.5) 1426 & 1428 + 341 & 343 = 1767 & 1771
23/24 S/Pro Supra BOA 105 W (25.5) 1384 & 1385 + 375 & 375 = 1771 & 1772 g
22/23 Head Kore 105 W (24.5): 1372 & 1373 + 407 & 405 = 1779 & 1778 g
23/24 K2 Mindbender 115W BOA (24.5) 1462 & 1456 + 375 & 377 = 1857 & 1857 g
22/23 Nordica Promachine 115 W (26.5) 1860 g (stated weight)
22/23 Lange RX 110 LV (24.5): 1876 g (stated weight)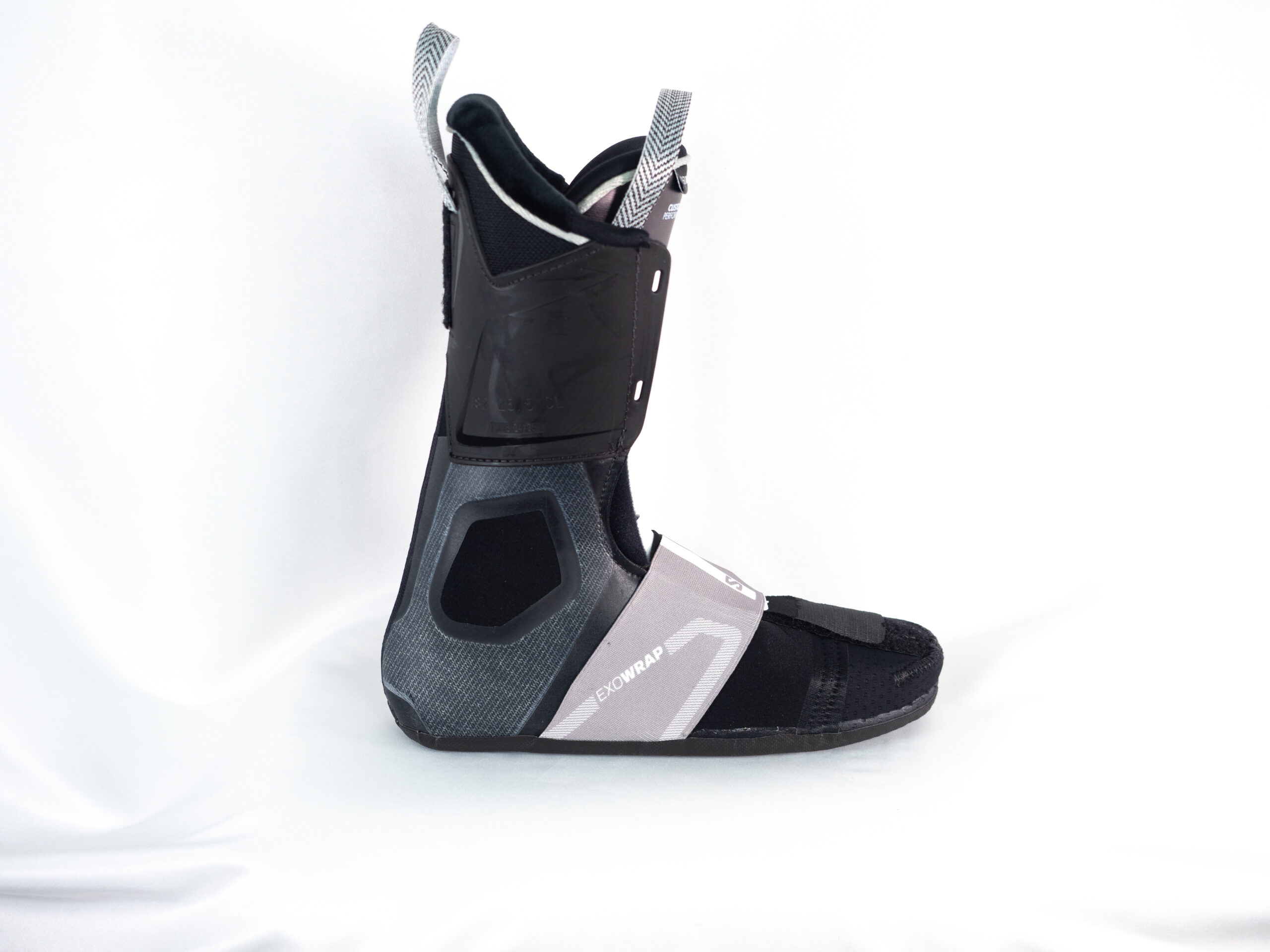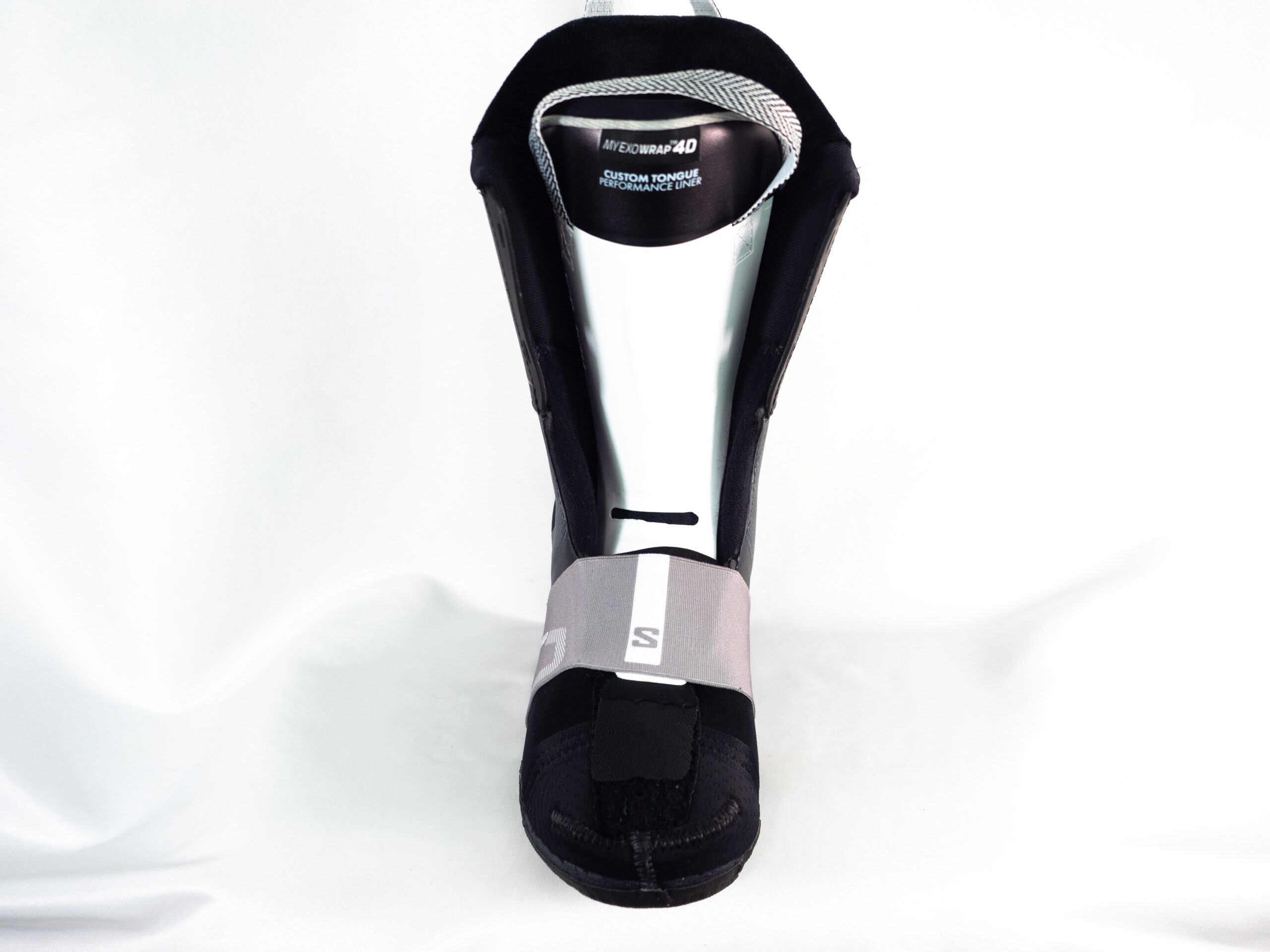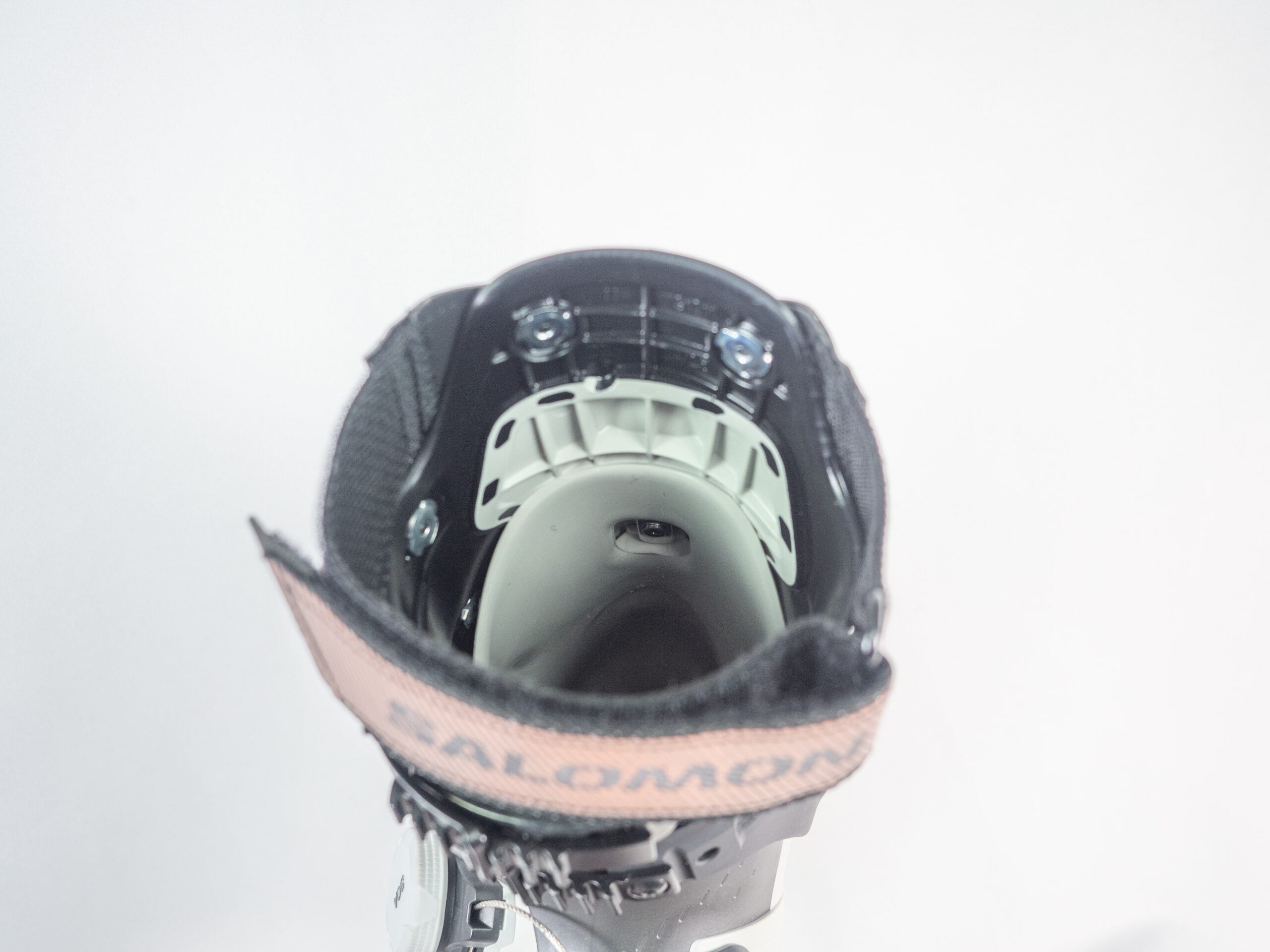 Things We're Curious About
We currently have several 23/24 BOA boots from several brands at BLISTER HQ, so we are looking forward to diving into some good comparisons in the coming months. We are especially curious about:
(1) How does the S/Pro Supra compare with other medium-volume BOA boots on the market, such as the Fischer RC4 MV BOA?
(2) Does the BOA closure mechanism help to secure the lower foot in a way that makes it more reasonable for a broader range of feet? I.e., will people who couldn't get a proper fit in the standard S/PRO boots now be able to get their feet to work with the S/Pro Supra BOA?
(3) How does the flex pattern compare to other top-end women's alpine boots?
Stay Tuned
We have the S/Pro Supra BOA 105 W and the men's S/Pro Supra BOA 120 in for long-term testing, so we will report back next season (and in our upcoming 23/24 Winter Buyer's Guide) with some more thoughts regarding fit and performance.