If you've read any of our reviews of Renoun's skis, you'll know that they are truly unique, and you kind of need to actually ski them to understand exactly how they feel.
Well, the winner of our Gear Giveaway this week will get to do just that, since they'll be able to pick any Renoun ski they want!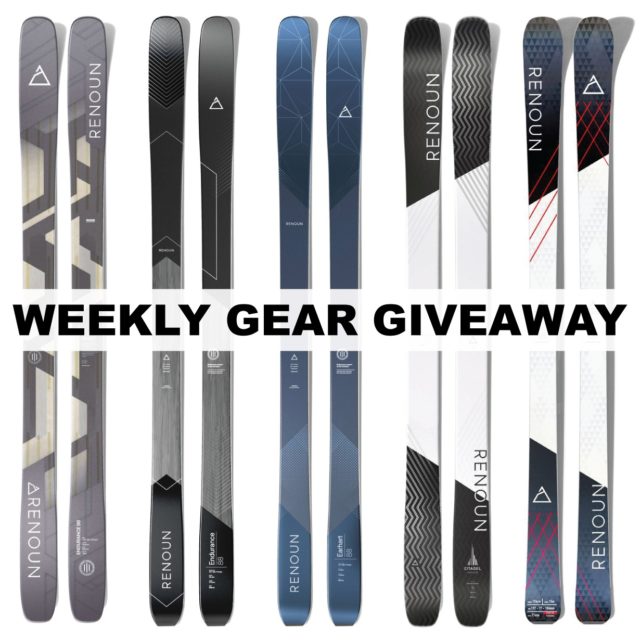 To back up a bit, Renoun's skis feel so different because of the non-Newtonian polymer laminated into their core. Formerly called "HDT" (hyper damping technology) and now dubbed "VibeStop," this construction makes a very noticeable difference in terms of how these skis feel (listen to our Blister Podcast with Renoun founder, Cyrus Schenck for more). Many of them feel quite soft when hand-flexing them or skiing at moderate speeds, but when you pick up speed and start pushing them harder, they feel notably stiffer and more stable. Many of their skis are also very light, yet feel far more stable than anything similarly lightweight.
In terms of models, Renoun now offers everything from dedicated carvers (Atlas 80) to versatile all-mountain skis (Endurance 88 & 98) to lightweight powder-oriented skis (Citadel 106) — and they just added this year the women-specific Earhart 88. While each of those skis excels at different things, they maintain the defining characteristic of Renoun's skis — easy, nimble, and pretty playful at slow speeds, but deceptively stable when pushed hard.
Now's your chance to try them for yourself, so enter before Friday, October 2nd for your chance to win!
(Winners will be chosen at random and announced next Friday in our Blister Newsletter. Must be 18 or older.)
By entering, you'll receive our bi-weekly Blister newsletter, where we'll (a) announce each week the winner of our previous Gear Giveaway, (b) provide a roundup of the news and our highest-profile reviews of the past few days, and (c) offer sneak peeks of the products we're currently reviewing. It's good times for sure, so don't miss out. You'll also be kept up to date on what's new at Renoun.