2019 Pivot Shuttle
Size Tested: Medium
Geometry: (Here)
Build Overview:
Drivetrain: Shimano XT Di2
Motor: Shimano STEPS E8000
Brakes: Shimano XT
Fork: Fox 36 Performance Elite
Rear Shock: Fox DPX2 Performance
Wheels: DT Swiss EB1550
Wheels: 27.5′′
Travel: 140 mm rear / 150 mm front
Blister's Measured Weight: 46 lbs (20.87 kg) without pedals
Reviewer: 5'9", 155 lbs
MSRP: $9,999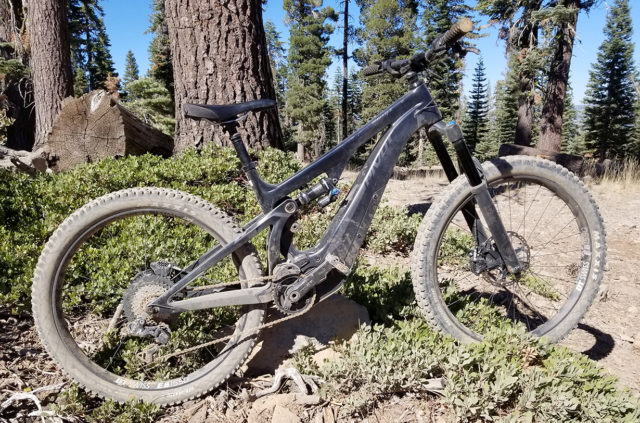 Caveat
I rode the Pivot Shuttle at what we now know to be the last Interbike Outdoor Demo (R.I.P.) this past fall. Which means this mini-review gets our usual Interbike caveat — my time on the Shuttle was relatively short, and it took place at the Northstar Bike Park. Northstar has a bunch of great trails, but still, my ~2 hours on the Shuttle was limited to bike park trails, and therefore this write up has some inherent limitations in that respect.
And this caveat is a bit different than the other bikes I rode at Interbike because, as you probably already know, the Pivot Shuttle is an e-bike. And so this review is a bit weird in that it's based on a relatively short ride. It's also a bit weird because riding an e-bike at a lift-served bike park is a little bit dumb. And it's also limited because I didn't have time to assess a lot of things that you'd probably want to know about an e-bike, like (among other things) battery life. The battery didn't die in my 2 hours on the bike, but I didn't do much pedaling since I was at a lift-served bike park.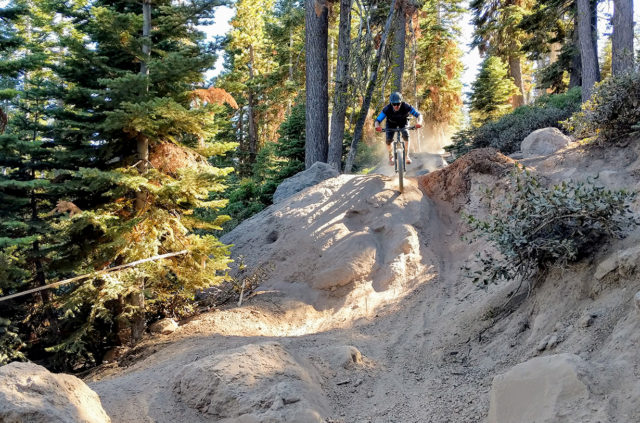 So, more than with Blister's other Interbike coverage, don't take this to be a "full" or conclusive review of the Shuttle.
So why should you bother reading this?
Well, I'll admit to being a bit of an e-bike… skeptic. Hater would be too strong of a word — I don't have any inherent problem with e-bikes. But I'm pretty concerned about the access issues they present in North America, and a lot of the e-bikes just kinda seem like a crappy middle ground for people who aren't strong enough or coordinated enough to ride a dirt bike, but aren't in good enough shape to ride a mountain bike. My overly simplistic take on e-bikes has been that they climb like a crappy dirt bike, descend like a crappy mountain bike, and cost as much as a crappy car. That's admittedly not fair, but as I said, I'm a skeptic.
But the Shuttle is one of the most advanced e-bikes on the market, and it weighs in at 46 lbs — which is quite light for an e-bike. So is this thing sufficiently awesome to squash my skepticism? Would what is undoubtedly one of the best e-bikes in the world change my view? Do these clickbait-y questions make you want to close this tab and go watch .gifs of cats falling over?
Ok, enough of that. First, a bit about the Shuttle.
The Build
Like all of Pivot's full suspension bikes, the Shuttle is based around the DW-link suspension platform. The version I rode was built out with Fox suspension front and rear — a Fox DPX2 Performance rear shock generating 140 mm travel out back, and a Fox 36 Performance Elite fork with 150 mm travel up front. Both are solid performers, and are fairly standard on a bike like this. The addition of a motor and ~15 lbs on a "normal" mountain bike doesn't seem to change the suspension requirements too much.
Shifting was handled by a Shimano XT Di2 drivetrain, which worked great. Shifting was smooth, even under e-boosted power. The motor and battery are also provided by Shimano — a STEPS E8000 system. As I said at the outset, I didn't really have the opportunity to spend a lot of time playing around with the system, but it has three modes that you can toggle through on the handlebar mounted computer — Eco, Trail, and Boost. I'll get into how those played out while riding, but for now, I'll just say that the system is pretty straightforward and intuitive to operate, and apparently there's additional customization that can be done by hooking up the system to a computer.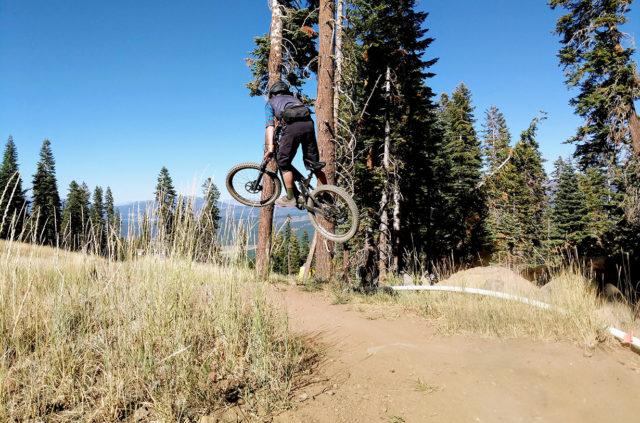 Stopping was also accomplished by Shimano, with XT brakes doing a good job of slowing down the extra mass of the Shuttle.
The wheels on the Shuttle I rode were DT Swiss EB1550's, which are beefed up and designed for e-bike use. They have a wide 40 mm rim that worked well with the Maxxis 2.8 tires that were mounted (a DHF in the front and Rekon in the rear).
Fit And Geometry
Geometry wise, the Shuttle falls into a category that could be called "aggressive Trail" or maybe "light Enduro." In Pivot's lineup, the Shuttle's geometry falls somewhere between the Mach 5.5 and Mach 6. That means a 65.8° head tube angle, and a 445 mm reach on the Medium that I rode.
Notably, the Shuttle has 437 mm chainstays, which are maybe a tad longer than average these days, but still pretty normal. And that's notable because some e-bikes end up with super long chainstays due to the motor hardware down around the bottom bracket.
The Shuttle's seat tube angle is 74.25°, which would have been steep-ish 5 years ago, but by modern standards is on the slack end of things. And, on the Medium, that not-super-steep seat tube combined with the 445 mm reach generates a 620 mm top tube length, which is fairly stretched out for a Medium.
All in all, none of the numbers on the Shuttle stand out as being out of line with a modern Trail bike. There are plenty of e-bikes on the market that have somewhat dated geometry numbers, but the Shuttle isn't one of them. Compared to non e-bikes, it's not the most progressive bike on the market, but for anyone that's comfortable on most of the current crop of Trail bikes, the Shuttle should be easy to get used to (at least in terms of fit and geometry).
For more on geometry numbers and how they can affect the fit and ride of a bike, check out our Bike Fit & Geometry 101 and 201 articles.
The Ride
Ok, here's where this gets interesting.
So first things first. What goes down must first go up. And even though I was at the Northstar bike park that has perfectly good chairlifts that'll take me to the top, I figured I needed to see how this e-bike did on a climb. So I skipped the chairlift and pedaled up.
And yeah, it was really easy. Even in Eco mode, the motor adds considerable power. Theoretically, the more power I applied to the pedals, the more the motor would assist me. In reality, I found that the motor seemed to deliver maximum power even when I wasn't pedaling particularly hard. This also meant that on even moderately steep climbs, if the dirt was even a little bit loose, it'd break traction at the rear wheel as soon as the motor kicked in. And at Northstar, pretty much everything is at least a little bit loose, if not full-blown moon dust. So I had to be cautious in my pedaling to keep the rear wheel from spinning a bit on each pedal stroke.
Toggling between the different modes didn't seem to produce much difference here — the motor added a lot of power, even in Eco mode. I think with a bit more time on the bike, and maybe some adjustment of the motor settings, I could have gotten that dialed in a bit better. And I think on trails with tackier dirt, it wouldn't really be an issue.
While climbing up a loose, gravelly trail was not a perfectly smooth experience, it's tough to ignore the ease of the Shuttle. I maintained close to 15 mph uphill for about 10 minutes. And that was putting in an effort that I'd call semi-casual — I was working just a bit harder than "conversation pace." I'd say, putting in the same effort on a regular mountain bike, it would've taken me 30-40% longer. So yes, as advertised, the Shuttle makes climbing a lot easier.
But I expected the Shuttle to do well on the climbs. That wasn't a huge surprise. The real question for me was how it would do on the descents.
The short answer: pretty damn impressive in some situations, less impressive in others.
On jumpier, flowier trails, the Shuttle was a bunch of fun. I took a lap on Livewire, one of Northstar's jump trails, and the Shuttle was a blast. The trail is mostly tabletops and large berms, with a few bigger jumps and double-able options. It's maybe like a slightly mellower A-Line at Whistler.
I'd ridden the same trail earlier on the Devinci Spartan, and I can't say the Shuttle was notably worse. The Spartan is certainly lighter, and it's easier to whip around off of jumps. But the Shuttle still jumps well, it's not so heavy that it's un-whippable, and the extra mass seems to make it a bit more composed through brake bumps and choppy berms. If I was riding that trail all day, my first choice would probably be a DH bike. But given the choice between a random Trail bike and the Shuttle, it's a tougher call. And without a doubt, if I had to pedal to the top each lap, then yeah. Shuttle. No question.
But I also did a lap on a trail called Sticks and Stones, which is a lot less flowy and has a bunch of steep bits and rock gardens that are decently technical. I'd ridden that trail a few times during the Interbike demo on regular mountain bikes, and that's the kind of trail that I really like. Riding it on the Shuttle was… ok.
The Shuttle handled all of the technical sections more or less ok, meaning that I never had a "holy shit I made a huge mistake" kind of moment. It wouldn't say the bike was massively undergunned for the trail or anything like that, and in fairness to the Shuttle, a DH bike is going to be preferable to any 140 mm bike on that trail, regardless of whether there's a motor attached to the bike.
That said, the weight of the Shuttle was noticeable, and trying to yank the bike through tight corners or do a quick line-change mid rock garden was noticeably more difficult on the Shuttle. Riding that same trail on a bike like the Devinci Spartan or the Mondraker Foxy RR was a lot more enjoyable, mostly because I had a much easier time making those bikes do what I wanted, when I wanted. I also found that the Shuttle was less composed off of drops, and it took a bit more effort to slow it down when coming hot into a corner.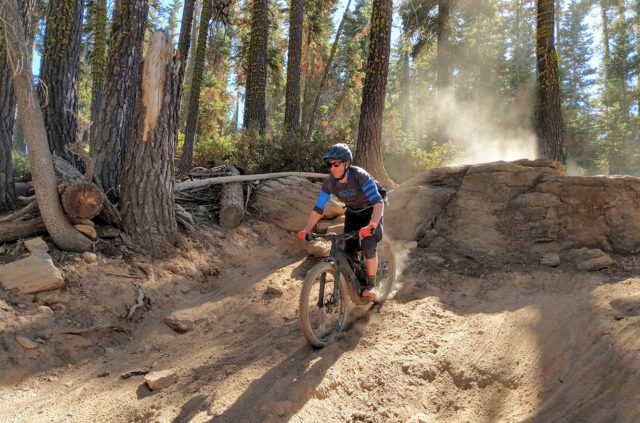 Now, I know someone out there is saying "46 lbs isn't that heavy — we were all riding DH bikes that heavy 20 years ago." And this is true — I had a 47 lb Rocky Mountain RM9. That thing was a heavy pig in 2003 and mild nostalgia aside, I don't miss it. And there's also the fact that the Shuttle has neither DH-bike geometry nor DH-bike travel, so comparisons to bigger DH bikes are a bit lacking. The fact is, while the Shuttle is impressively light for an e-bike, when it comes to tighter, more technical terrain, the weight is noticeable.
I also found that, when descending, I didn't really like using the motor. There are lots of times while descending that I'll give a quick ½ pedal to get the bike back up to speed if I hang up in a hole or when coming out of a corner. But with the motor in the Shuttle, it was a little unpredictable how much "boost" that small pedal kick would give me. In areas where I was putting in multiple pedal strokes, this wasn't really an issue. But for those quick, occasional pedal strokes on the descent, I found that sometimes the motor would give me more juice than I wanted and then I'd over-cook whatever the next obstacle was. And then I'd expect that extra boost the next time I ratcheted the pedals, but it wasn't entirely consistent and sometimes it didn't give me the speed boost I expected. Some of this could likely be dialed in with the settings on the E8000 system, but particularly on techy trails that involve more frequent accelerations and decelerations, I preferred just having the system turned off.
But while the power delivery from the motor has some quirks, most of those issues are things I could either dial in for my preferences or get used to with time. In terms of riding the Shuttle on a trail, the main issue (at least for me) was really just the weight. Yes, it's light by e-bike standards, but it's still 50% heavier than a comparable mountain bike.
Now, it shouldn't be too surprising that the weight is noticeable — the real question is whether it's problematic. And I think the answer to that question really depends on the individual rider, and to some extent what kind of trails they're usually riding. Personally, I can think of a few trails locally that I'd be pretty psyched to have the Shuttle for. There are a bunch of relatively mellow (but super fun) interconnected trails that I hit on a semi-regular basis, but stringing them all together makes for a massive ride that I'm usually not up for. But with an e-bike, I could pretty feasibly bang out that loop in an afternoon.
And there are some other trails that I ride occasionally, but they start with a huge 5,000 foot climb that's steep enough that I end up pushing a bunch of it. With an e-bike, I think I could probably ride up most of it, which would probably mean I'd ride that trail more often. And all of those trails that I'm thinking would be great on the Shuttle are legal for dirt bikes, so there wouldn't be any access issues.
On the other hand, most of the trails that are closest to my house, and the ones that I ride most often, are closed to all motorized uses. Which includes e-bikes. So that means the usefulness of an e-bike, no matter how awesome it is, is somewhat limiting. And then there's the fact that none of the people I ride with have e-bikes, nor do they have $10,000 burning a hole in their pocket to go out and buy one, so any e-bike adventuring I might do is likely to be a solo endeavor.
Bottom Line (For Now)
There's a good reason that a lot of people are attracted to the idea of e-bikes. They make climbing easier, and, as the Shuttle demonstrates, they still do pretty damn well on the way down. The Shuttle is an impressive piece of machinery, and it pretty much works as advertised. Yes, there are noticeable differences between it and a regular mountain bike. And yes, if you're looking for something to rally hard down technical trails, you're probably going to be disappointed if you expect it ride the same as, say, a Pivot Mach 5.5 or Mach 6. But if your expectations are a bit more reasonable, there's a bunch of fun to be had on the Shuttle, particularly on flowier, less technical trails.
So did the Shuttle make me less skeptical of e-bikes? Yes. Sort of. The Shuttle performed better than I expected it to on flowy jump trails. And truth be told, even though it was noticeably less agile than a regular bike, it still did pretty dang well on tighter, techier trails. So in terms of what the bike can do, it's pretty impressive.
The limiting factor, at least for me, has less to do with the bike itself and more to do with the limitations on e-bike access and the cost of entry. While the cost issue is somewhat inherent to having the latest and greatest e-bike tech, I will say that Pivot deserves a bunch of credit on the issue of e-bike access. They're working with Shimano, IMBA, and others to help out with access issues, and they have a couple different resources on the web page for the Shuttle to help people figure out where they can legally ride. There are a lot of people who have spent a lot of time working to secure mountain bike trail access in North America, and e-bikes represent a complication to that work. So I give credit to companies like Pivot that are trying to smooth out those issues and provide e-bike access without muddying up the waters too much for mountain bike advocates.
So, bottom line, would I buy one? Well… [glances at wallet] … no. But if I win the lottery tomorrow, then yes, I would have an e-bike in my quiver. Definitely. On the list of bikes I want, it ranks slightly below a 29er DH bike, but above a fat bike and cyclocross bike. Your ranking may vary.