Boot: 2020-2021 K2 Recon Pro
Stated Flex: 140
Available Sizes: 24.5-30.5
Stated Last: 98 mm (heat moldable)
Stated Forward Lean: 12° (can add 2° via liner spoiler)
Stated Ramp Angle: 4°
Size Tested: 26.5
Stated Boot Sole Length (size 26.5): 304 mm
Stated Weight (size 26.5): 1740 g
Blister's Measured Weight (size 26.5):
Shells, no liners: 1334 & 1328
Liners, no footbeds: 426 & 434
Shells + liners: 1760 & 1762
Power Strap: 45mm-wide cam-style w/ pull-release tab
Liner: Heat moldable, Ultralon Powerfit Pro w/ lace loops
Shell Material:
Cuff: Pebax
Shoe / Clog: TPU
Soles: Replaceable alpine (ISO 5355)
Binding Compatibility: All alpine bindings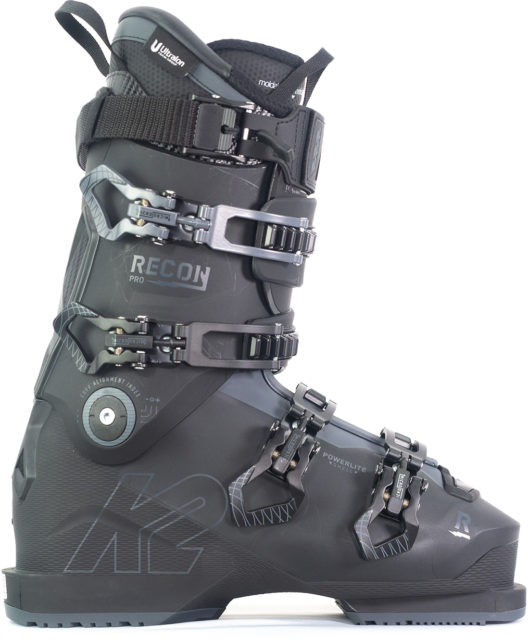 Intro
For the 2020-2021 season, K2 is adding the 140-flex Recon Pro (and 120-flex Women's Anthem Pro) to their existing line of Recon boots. The standout characteristic of the Recon series is that they are very lightweight. In fact, the Recon boots are some of the lightest alpine boots on the market.
And so K2 subsequently adding the stiffer Recon Pro to this series leaves me with a few questions, most notable of which is whether the skiers who want the performance and support of a 140-flex resort boot will also appreciate its relatively low weight? And can you really get a true 140 flex out of a boot this light?
We're planning on posting our full review next season once we can spend more time in it, but in the meantime, we're taking a closer look at this unique boot:
Weight
At an average measured weight of 1761 grams per boot for a size 26.5, the Recon Pro does add a little over 100 grams per boot compared to Recon 130. While notable, my guess is that the weight difference will only be subtly noticeable while skiing, if noticeable at all. And despite the added weight, the Recon Pro is still a very light alpine boot and much, much lighter than other boots in the 140-flex class (most of which are race-oriented boots that are extremely heavy).
Again, this leaves me wondering how supportive the Recon Pro will feel (especially in terms of rearward and torsional flex), particularly for those people seeking a 140-flex boot. While the cuff is Pebax and the "spine" on the back of the cuff is carbon — materials more frequently used in lighter touring boots — the clog is still the ubiquitous PU material of many alpine ski boots. That said, I'm interested to see how the thinned walls of the PU shell react when skiing since they're way thinner than every other 140-flex boot I've seen.
Weight Comparisons
For reference, below are a number of our measured weights for some other notable boots (keep in mind the size differences). Our measured weights show the size of boot, then the weight of each boot + the weight of each liner, then the total weight for shells + liners, listed in grams:
Head Nexo LYT 130 (26.5): 1082 & 1089 + 427 & 436 = 1509 & 1525 g
K2 Recon 130 LV (26.5): 1276 & 1277 + 369 & 374 = 1645 & 1651 g
Atomic Hawx Ultra 130 (26.5): 1270 & 1267 + 425 & 426 = 1695 & 1693 g
Salomon S/Pro 130 (26.5): 1367 & 1368 + 361 & 360 = 1728 & 1728 g
Salomon S/Max 130 Carbon (26.5): 1291 & 1292 + 445 & 446 = 1736 & 1738 g
K2 Recon Pro (26.5): 1334 & 1328 + 426 & 434 = 1760 & 1762 g
K2 Mindbender 130 (26.5): 1428 & 1427 + 346 & 348 = 1774 & 1775 g
Salomon S/Max 130 (26.5): 1389 & 1407 + 433 & 429 = 1822 & 1836 g
Nordica Promachine 130 (26.5): 1428 & 1428 + 444 & 445 = 1890 & 1891 g
Tecnica Mach1 130 LV (26.5): 1492 & 1494 + 472 & 472 = 1964 & 1966 g
Lange RX 130 LV (27.5): ~1702 + ~470 (avg weights) = 2172 g
Head Raptor 140 RS (26.5): 1892 & 1899 + 547 & 548 = 2439 & 2447 g
Shell
Overall, the Recon Pro's shell isn't super out of the ordinary, but there are some unique features. Its cuff is Pebax, the lower is PU, and the whole shell is reportedly heat moldable. It also features 2° of cuff adjustement (in both directions) via the pivot point at the ankle. The feature of the Recon Pro that really stands out as being unique is their "Power Plate," which is an extra, removable layer of plastic sandwiched between the inner and outer cuff overlays. According to K2, simply having the plate in adds 5 stiffness points to the flex rating. With the pre-drilled holes in the cuff, the user has the option of adjusting the plate up or down 20 millimeters, and laterally roughly 10 millimeters. The higher the plate is set, "the more responsive the boot will be … you'll feel like you're engaging into the initial flex of the boot sooner," says K2. And the lateral movability allows for people with varying calf sizes to dial in the fit of the cuff.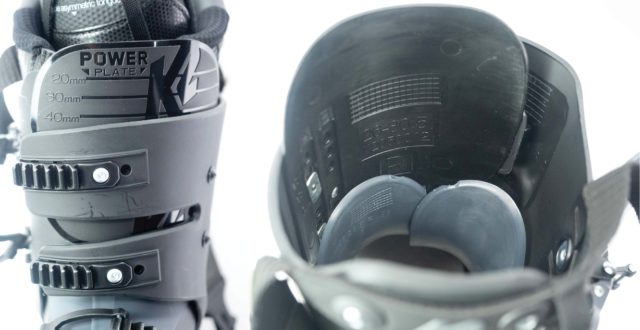 It's also worth noting that the Recon Pro & Anthem Pro will only be available in a 98 mm last, whereas many of the other Recon & Anthem boots are available in both "LV" (98 mm) and "MV" (100 mm) versions.
Liner
While the Recon Pro's shell is very lightweight compared to boots with similarly stiff flex ratings, its liner is not some super light, flimsy piece of foam.

It reportedly uses the same "Powerfit Pro" liner as the Recon 130, which features a very dense, stiff foam around the ankle and heel, a softer foam through the foot, plastic reinforcements around the cuff, eyelets for laces, and a very stiff, heat-moldable plastic piece along the tongue. The whole liner is reportedly heat moldable.
Buckles & Power Strap
The Recon Pro features four low-profile, micro-adjustable buckles with flanges that make opening the buckles while wearing gloves or mittens easier, a thick, 45mm-wide, and slightly elastic power strap secured with a camming device. The power strap also features what K2 calls their "Ripcord" design, which is basically a pull tab that makes it easier to loosen the strap (the same camming device is used on the new K2 Mindbender AT boots).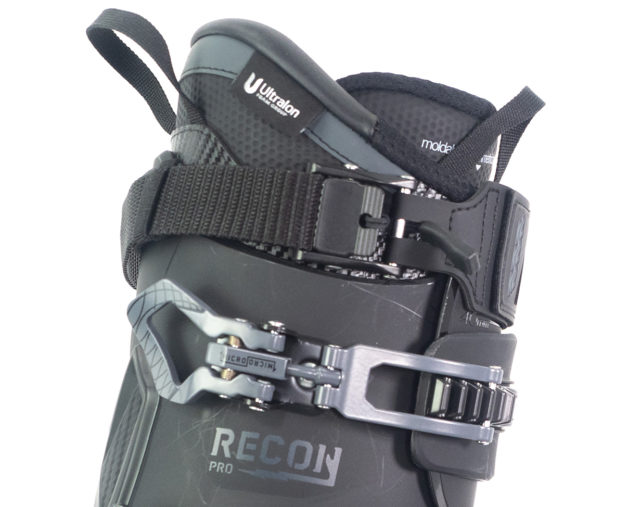 Soles & Binding Compatibility
While the other Recon & women's Anthem boots come standard with GripWalk soles, the Recon Pro & Anthem Pro come with standard alpine soles that are replaceable and will work in any alpine binding.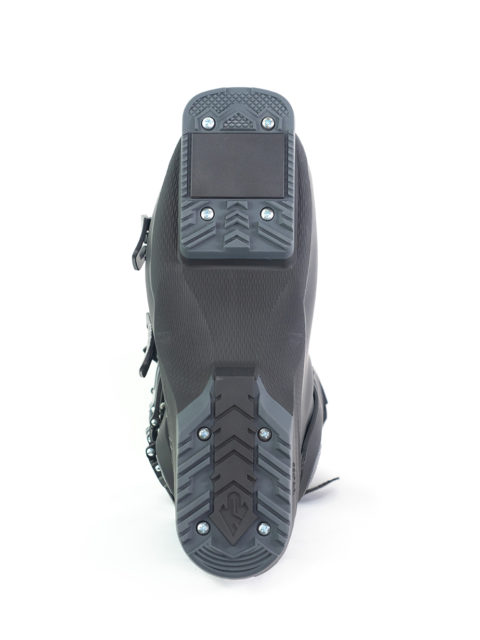 Fit
First and foremost — please go to a bootfitter to see what boot will work best for you. Fit is the most important thing with ski boots, and is where you'll want to start. With that said, here's how the Recon Pro fits my feet.
I grew up racing in plug boots and have continued to use race boots for many years, so I prefer a very tight fit. Common foot issues I have include high insteps (from calcified "surfer's knots"), large aggravated ankle bones, bulbous accessory naviculars, and skinny heels with awkward bone spurs on the backs and sides. Despite all those grotesque trophies from a lifetime of skiing, my feet, ankles, and lower legs are fairly narrow, low-volume, and skinny.
Given all that, I'm accustomed to needing to do, and doing myself — I'm a bootfitter at the Alpineer in Crested Butte — a significant amount of boot fitting work for a size 26.5 boot before I can even ski them. But my reaction when first slipping on the Recon Pro was "wow, I could almost ski this right now." The toe box, while still very snug, felt slightly wider and taller than the usual 98mm-last Nordica Dobermann GP 130 I've skied for the past few years. While I did feel significant pressure on my insteps in the Recon Pro, the heel pocket felt fantastically tight — exactly what I look for in a fit right out of the box.
Given all this, my lingering questions were (1) how much could the heat-molding process of the shell alleviate the unskiable-ness of my awkwardly formed (thanks to years of tiny race boots) feet, and (2) how aggressive of a shell mold should I do?
Heat-Molding Process
Like the other boots in the Recon series, the Recon Pro's shell and liner is heat moldable, which is rare for a 140-flex boot. Most boots in the 140-flex range require grinding to the plastic because punches don't hold as well over time due to the thick and highly elastic PU and PE of those stiffer alpine boots. Punching plastic can be time consuming and imprecise, so the prospect of getting a boot to fit after 15 minutes of work got me very excited. What I was wary of, however, was overdoing it. I still wanted a very tightly fitting ski boot.
I followed all of K2's recommendations but decided to add less foam to my usual problem spots and shorten the cooking time by about 20% to avoid potentially making the boots too roomy. I figured I could attempt a second, more aggressive mold if necessary, but that I also had to account for the liner packing out from skiing. The result of the heat molding process was very impressive — so much so that I worry I may have gone overboard despite my caution. The boot felt almost a whole mondo size bigger. That worry will remain speculation until I can spend more time in the boot, but it's worth noting for people who may be scared off by the stated 98 mm last of the Recon Pro.
Bottom Line
While we've seen a notable increase in the number of lightweight alpine boots over the past few years, that category hadn't really extended into the 140-flex realm until the introduction of the K2 Recon Pro. Many of the recent, lightweight alpine boots are quite good for how light they are, so I will be curious to see whether that progression translates to the K2 Recon Pro, a boot with a flex rating suited for the most aggressive of inbounds skiers.