Ski: 2021-2022 Black Crows Mirus Cor, 178.0 cm
Available Lengths: 168.3, 173.2, 178.0, 184.2 cm
Blister's Measured Tip-to-Tail Length (straight-tape pull): 176.5 cm
Stated Weight per Ski: 1800 grams
Blister's Measured Weight per Ski: 1796 & 1838 grams
Stated Dimensions: 134-87-123 mm
Blister's Measured Dimensions: 133.2-86.7-122.8 mm
Stated Sidecut Radius (all lengths): 13 meters
Measured Tip & Tail Splay (ski decambered): 50 mm / 40 mm
Measured Traditional Camber Underfoot: 2.5 mm
Core: poplar + partial titanal plate + fiberglass laminate
Base: sintered
Factory Recommended Mount Point: -3.85 cm from center; 84.4 cm from tail

Intro
There's nothing "typical" about the Black Crows Mirus Cor.
New for the 2021-2022 season, this 87mm-waisted ski is meant to "change the normal practice and innovate with a boost of creativity." Just looking at the Mirus Cor, that bold statement doesn't actually seem that far off.
We've discussed this ski and the whole 21/22 Black Crows lineup in our Blister Summit Brand Lineup video (around 27:40) and Blister Members can check out our Flash Review for our initial thoughts on it, but today, we're going to dive a bit deeper on the design of this category-bending product.
What Black Crows say about the Mirus COR
"A brand new UFO, the Mirus' Cor is a ski thought for performance and design, to achieve an alliance between two worlds: freestyle and the most angular curves of today. Built with a fairly long rocker and a split tail, it allows short curves for playing, for piste, and for the side of the ski run, it is carving in a black crows approach and/or all terrain freestyle. Accessible, well-built and creative from any point of view.
Carving and freestyle are two things that we rarely see emphasized when discussing a single ski, but as we're about to discuss, the design of the Mirus Cor certainly backs up these claims. The Mirus Cor is supposed to both encourage a playful approach to the mountain, and be able to lay down high-edge-angle carves. It's pretty safe to place it in the growing category of what I'm just calling "fun carvers" (with others like the Line Blade and Armada Stranger), but even compared to those skis, the Mirus Cor is very different.
Construction
This is one of the only things that's not unusual about the Mirus Cor. It's got a poplar wood core, a titanal plate around the binding area, and a fiberglass laminate. Pretty simple, but things quickly get more radical:
Shape / Rocker Profile
Even if you don't focus on its split tail, the shape of the Mirus Cor is pretty striking. It's got very wide, spatula-esque (the utensil, not McConkey's ski) tips and tails. I legitimately couldn't help myself from trying to flip little snow "burgers" when I was waiting in line on the Mirus Cor. And hey, if a ski makes waiting in lift lines more entertaining, I'm all for it.
Those wide ends narrow a whole lot as you move to the middle of the ski, creating a very tight sidecut radius.
Then there's the Mirus Cor's split tail. It's a pretty narrow notch and doesn't have a metal insert like the Line Sakana, but it definitely catches your eye. And talking with Black Crows, that was the main goal with it — aesthetics.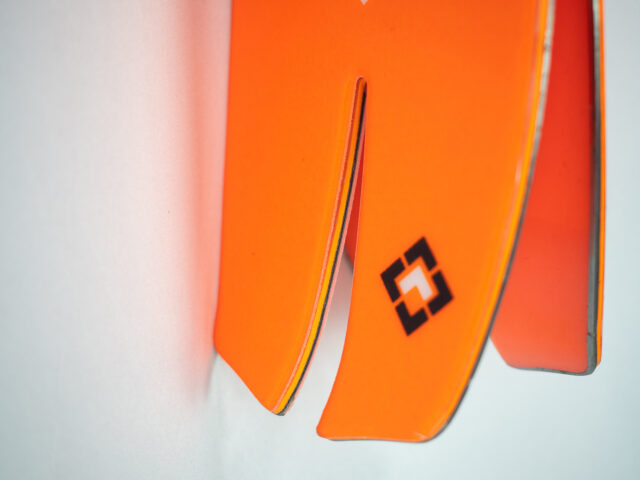 The Mirus Cor's rocker profile is also nothing like the majority of 87mm-wide skis on the market. It has deeper rocker lines than any similarly narrow ski I can think of, and its tip and tail rocker lines are basically symmetrical. And that split tail is also basically a true twin.
So we've got a shape that's roughly reminiscent of a slalom ski, paired with the rocker profile of a much wider all-mountain freestyle ski. Interesting.
Flex Pattern
Here's how we'd characterize the flex pattern of the Mirus Cor:
Tips: 7-6.5
Shovels: 6.5
In Front of Toe Piece: 7-9
Underfoot: 9.5
Behind the Heel Piece: 9-7.5
Tails: 7
The main thing that stands out with the Mirus Cor's flex pattern is that it's relatively soft outside of the binding area. The very ends of its tips and tails aren't actually super soft, but there's a pretty slow, gradual ramp-up in stiffness as you move from those ends to the middle of the ski. I did the flex pattern numbers after my first day on the ski and I was actually surprised it didn't feel softer when flexing it by hand — on snow, it feels very easy to bend the majority of the ski.
Sidecut Radius
As we alluded to above, the Mirus Cor has a very tight sidecut radius — Black Crows say that it's 13 meters across all available lengths of the ski. That's basically on par with the Line Blade, and a bit tighter than the Armada Stranger. From first glance, it's pretty obvious that the Mirus Cor is going to want to carve hard and tight, rather than make big, drawn-out arcs.
Mount Point
Another point of differentiation — the Mirus Cor has a recommended mount point that's only about -3.8 cm from the true center of the ski.
That's a mount point we're more used to seeing on park and all-mountain freestyle skis, not narrow carving skis. But, it does fit with the description from Black Crows.
Weight
Similar to — and likely as a result of — the Mirus Cor's straightforward construction, this ski's weight isn't particularly out of the ordinary. Our pair of the 178 cm Mirus Cor came in at about 1817 grams per ski, which is neither extremely heavy nor extremely light for a ski of its size. It's a bit on the lighter side of things, but it's got plenty of close company, weight-wise.
For reference, here are a number of our measured weights (per ski in grams) for some notable skis. Keep in mind the length differences to try to keep things apples-to-apples.
1728 & 1750 Renoun Atlas 80, 177 cm (19/20–20/21)
1758 & 1758 Head Kore 93, 180 cm (19/20–20/21)
1790 & 1828 Black Crows Orb, 179.1 cm (19/20–21/22)
1796 & 1838 Black Crows Mirus Cor, 178 cm (21/22)
1798 & 1815 DPS Pagoda Piste 94 C2, 178 cm (20/21–21/22)
1801 & 1839 Salomon Stance 90, 176 cm (20/21–21/22)
1810 & 1828 Armada Declivity 92 Ti, 180 cm (20/21–21/22)
1849 & 1887 DPS Pagoda Piste 90 RP, 184 cm (20/21–21/22)
1855 & 1877 Liberty Evolv 90, 186 cm (19/20–20/21)
1863 & 1894 Blizzard Rustler 9, 180 cm (18/19–21/22)
1911 & 1917 K2 Disruption 82Ti, 177 cm (20/21–21/22)
1935 & 1964 DPS Pagoda 100 RP, 184 cm (21/22)
1937 & 1945 Fischer Ranger 94 FR, 184 cm (19/20–21/22)
1947 & 2022 Liberty V92, 186 cm (19/20–20/21)
1952 & 1958 Renoun Endurance 88, 184 cm (21/22)
1990 & 2036 Blizzard Brahma 88, 177 cm (20/21–21/22)
1999 & 2060 Line Blade, 181 cm (20/21–21/22)
2008 & 2015 Folsom Spar 88, 182 cm (18/19–20/21)
2043 & 2089 Volkl M6 Mantra, 177 cm (21/22)
2049 & 2065 Volkl M5 Mantra, 177 cm (18/19–20/21)
2098 & 2105 Nordica Enforcer 88, 179 cm (19/20–21/22)
2131 & 2194 Nordica Enforcer 88, 186 cm (19/20–21/22)
2178 & 2195 Volkl M6 Mantra, 184 cm (21/22)
2235 & 2236* Elan Wingman 86 CTi, 184 cm (19/20–21/22)
*weights include binding mounting plates
Some Questions / Things We're Curious About
(1) With most skis we can form some initial expectations based on their design. But given how different the Mirus Cor is in so many ways, the main question is just "what does this thing actually feel like when you get it on snow?"
(2) With its pretty centered mount point, are directional skiers going to be put off by the type of skiing stance the Mirus Cor encourages? Can you ski it with a more traditional forward stance?
(3) Most ~87mm-wide skis are designed for edge hold and precision on firm snow, so how will the Mirus Cor handle icier sections of snow?
(4) On the flip side, will the Mirus Cor's fat shovels and deep rocker lines make it more versatile in softer conditions and off-piste terrain than other, similarly narrow skis?
(5) This ski's mount point and rocker profile make it seem pretty freestyle-friendly, so how fun will it be in the park, and will any of its carving-oriented traits make it less ideal as a jibby, flippy, spinny ski?
(6) Just how niche is this ski? Do you have to have a big quiver of more versatile skis to justify adding the Mirus Cor to the collection? Or is this strange-looking ski more versatile than we might think?
(7) How does the Mirus Cor compare to the two other skis that share at least a similar design intent, the Line Blade and Armada Stranger?
Bottom Line (For Now)
It's fun to know that we can still be surprised by the ski industry. While most skis share a lot in common, the new Black Crows Mirus Cor is more different than similar when compared to pretty much any other ski on the market. Blister Members can check out our Flash Review below for our initial on-snow impressions, then stay tuned for our full review after we're able to spend a bit more time on it next season.
Flash Review
Blister Members can read our Flash Review of the Mirus Cor for our initial on-snow impressions. Become a Blister member now to check out this and all of our Flash Reviews, plus get exclusive deals and discounts on skis, and personalized gear recommendations from us.