2021 Knolly Tyaughton
Wheel Size: 29''
Travel: Hardtail / 150 – 160 mm front
Material: Steel and Titanium versions available
Price:
Steel frame: $1,099
Titanium frame: $2,999
Complete bikes: $3,599 – $6,999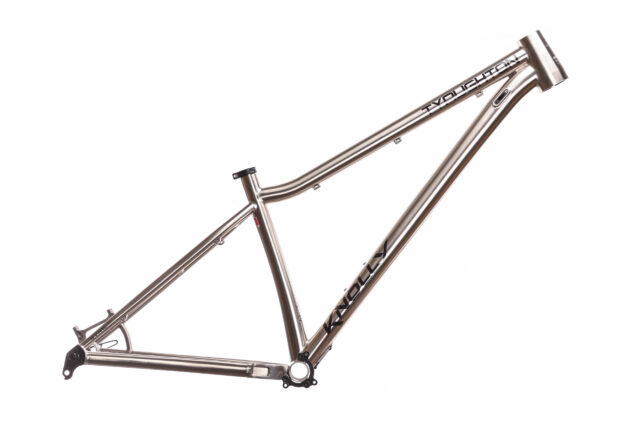 Intro
More aggressive hardtails are popping up all over the place, and we've been talking a lot recently about how much fun they can be. The Tyaughton is Knolly's new contender in the category, and it looks like an interesting one, with both steel and titanium frame options and a bunch of other cool-looking features and design details, too. So let's see what's going on with the Tyaughton and who might be most interested in it.
The Frame
The Tyaughton is available in both steel and titanium, and both versions share the same geometry and most of the same features. Knolly's preferred Super Boost 157 mm rear end is here, along with a threaded bottom bracket, bolt-on ISCG chainguide tabs, and 160 mm post mount brake tabs. The Tyaughton Steel gets fully external cable routing, while the Tyaughton Titanium (really seems like they should have called it the Ti-aughton…) moves the dropper cable internal but keeps the brake line and derailleur cable external. The Ti version also features the head badge etched directly into the headube, and it looks awesome.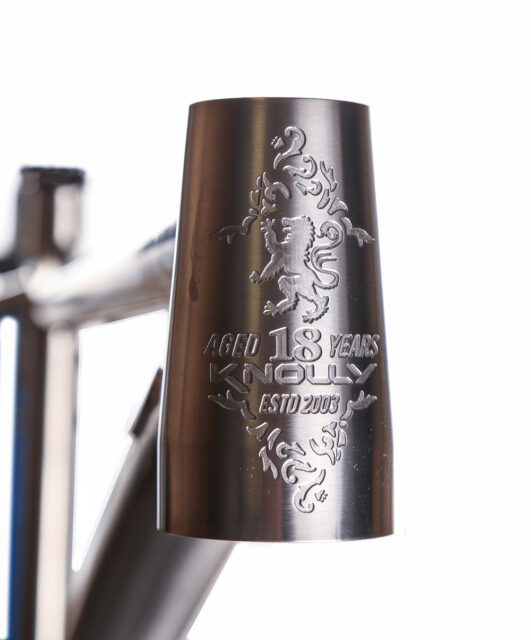 Knolly also notes that both frames get custom tubesets, and that the tubes for the front triangle are size-specific, to alter the ride characteristics for the different frame sizes. The Ti frame comes with a raw finish, while the steel one offers red and green paint options, with an Electrophoretic Deposition (ED) coating — which coats the entirety of the frame, including the insides of the tubes, for corrosion resistance.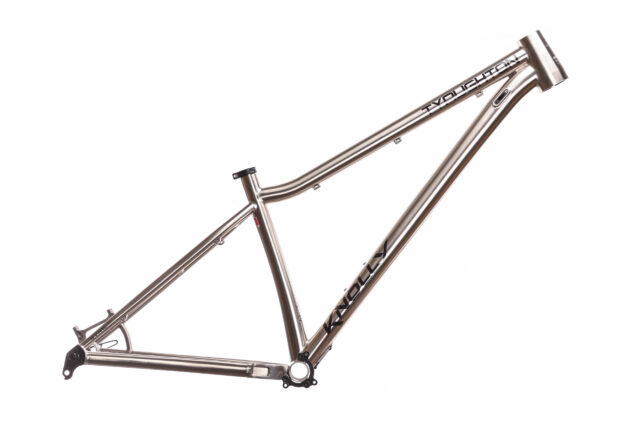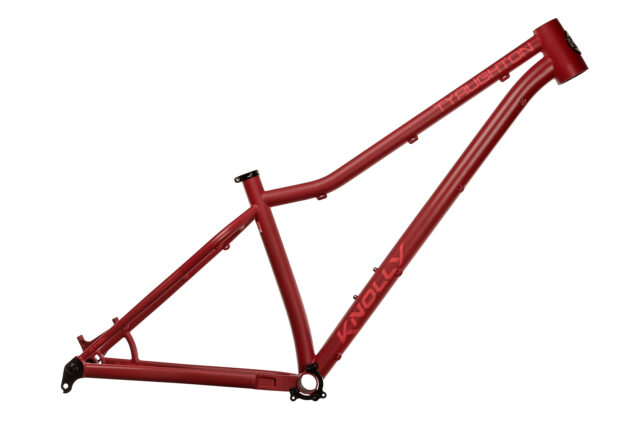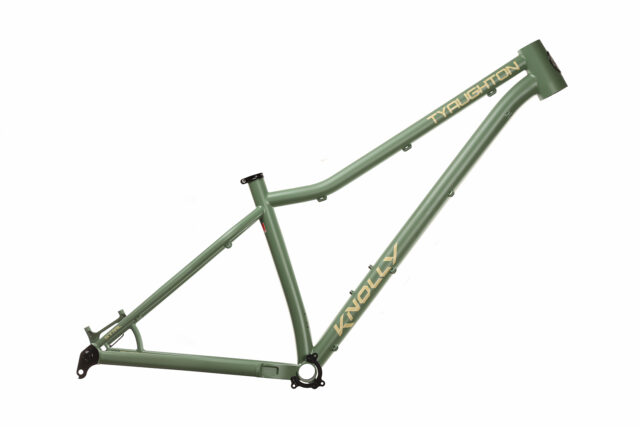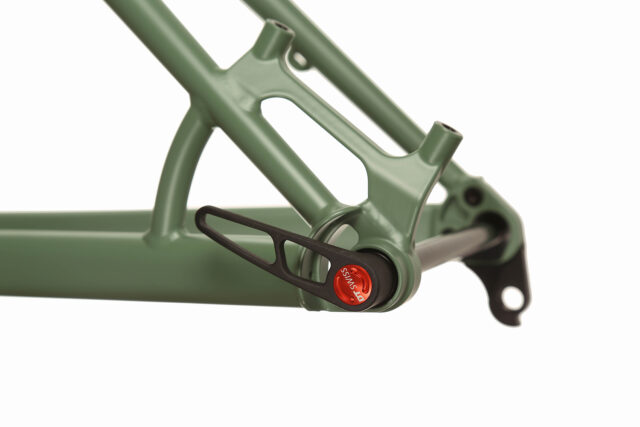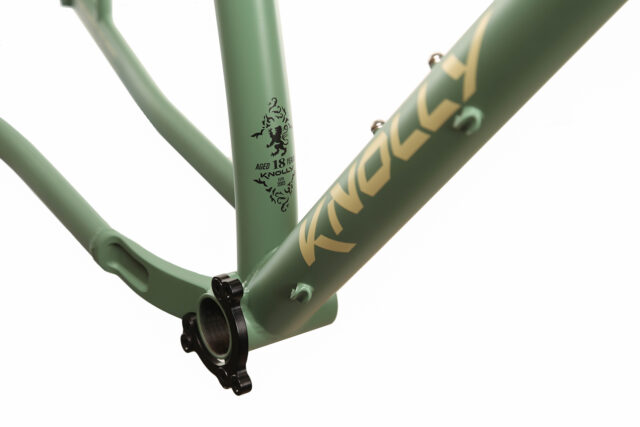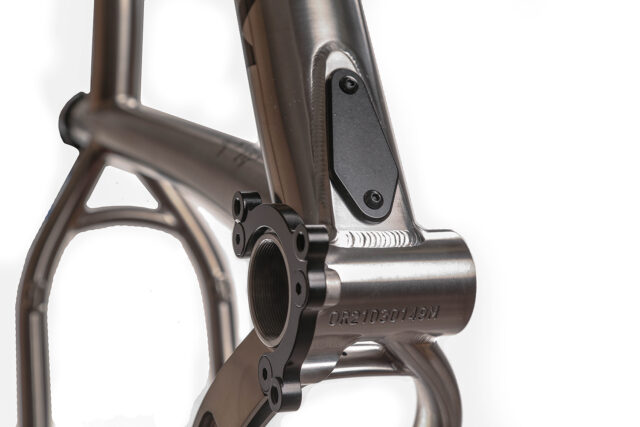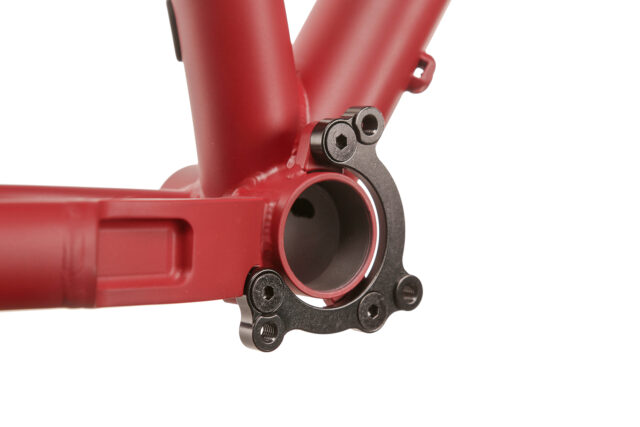 Fit & Geometry
The Tyaughton is offered in four sizes, ranging from Small through XL, which reportedly cover riders from 5'1'' through 6'5'' (155–195 cm). All sizes get a 64.5° headtube angle and 75° effective (73.5° actual) seat tube angle and 427 mm chainstays. Reach ranges from 441 to 522 mm, with 27 mm jumps between sizes, all of which adds up to wheelbases ranging from 1190 to 1281 mm. The stated geometry numbers are with a 150 mm fork, which is how complete bikes will ship, but Knolly says that 140–160 mm forks are the "intended" range, and 130–180 mm ones are compatible if you want to deviate a bit. For reference, the full geometry chart is below:
That's all pretty standard for an aggressive Trail hardtail these days. The Tyaughton isn't as wildly progressive as some of the most out-there options such as the Marin El Roy and Kona Honzo ESD, but should be plenty capable while also keeping a good deal of versatility.
The Builds
Knolly offers both the steel and Ti frames on their own, or in several different complete builds. All three build levels are available on the Tyaughton Steel, while the Tyaughton Ti drops the most basic SRAM NX build, and is only available with the SRAM GX and Shimano XT options. Here are the highlights of the builds:
Drivetrain: SRAM NX
Brakes: SRAM Guide RE
Fork: Marzocchi Z1 Air
Wheels: Spank Oozy Trail 345
Dropper Post: SDG Tellis
Drivetrain: SRAM GX
Brakes: SRAM Code R
Fork: RockShox Lyrik Ultimate
Wheels: Spank Oozy Trail 345
Dropper Post: RockShox Reverb
Drivetrain: Shimano XT
Brakes: Shimano XT 4-Piston
Fork: Fox 36 Factory
Wheels: Industry Nine Enduro-S Hydra
Dropper Post: Fox Transfer Performance Elite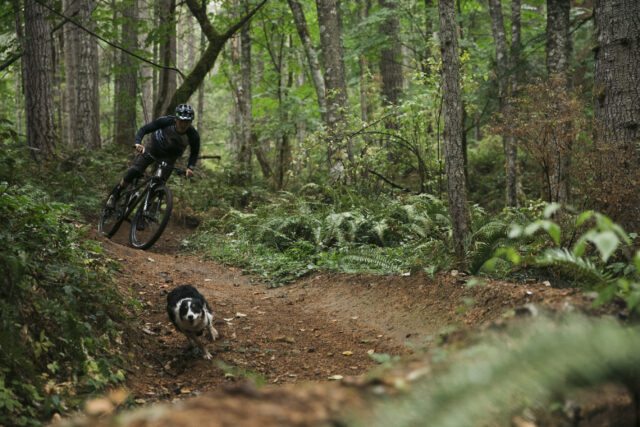 Some Questions / Things We're Curious About
(1) Where does the Tyaughton fall on the spectrum between mellower Trail hardtails and the ultra-aggressive Enduro options on the market?
(2) What sort of riders would be most interested in the Tyaughton, and who should be considering either a full-suspension bike or a different sort of hardtail instead?
Bottom Line (For Now)
The Knolly Tyaughton looks like an interesting contender in the current crop of aggressive Trail hardtails, with both steel and titanium frame options and a solid range of complete builds. We'd expect it to be a highly versatile, fairly agile option, with enough capability to ride most trails under a capable pilot, but we're hoping to be able to get on one to find out more.