2022 Transition Scout Alloy
Wheel Size: 27.5''
Travel: 140 mm rear / 150 mm front
Material: Aluminum
2022 Transition Sentinel Alloy
Wheel Size: 29''
Travel: 150 mm rear / 160 mm front
Material: Aluminum
Price (same builds for both bikes):
Frame only: $2,099
Scout / Sentinel NX: $3,899
Scout / Sentinel GX: $4,999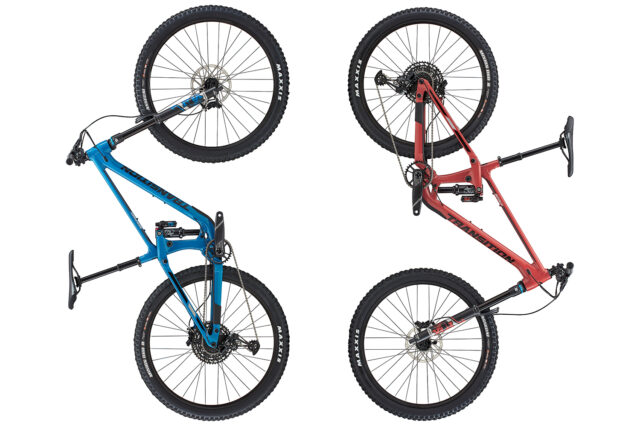 Intro
Transition's current-generation Scout and Sentinel have both been out for a while (by bike-industry standards, at least), but there was something missing — the aluminum versions. That changes today, with the release of both bikes in alloy. We're pretty excited to see the more-affordable aluminum versions back, so let's jump right into the details.
The Frames
The new frames really are the same as the existing carbon models, only made from aluminum. The geometry and suspension design are identical, and things like the threaded bottom bracket, Boost rear end, and space for a water bottle inside the front triangle all carry over, too. The derailleur and dropper post cables route internally, but the brake is left external for easier maintenance. Molded rubber guards are included on the chainstays and downtube, too.
Let's circle back for those who might not be familiar with the existing iterations, though. First, the Scout: it's a 140mm-travel Trail bike designed around a 150 mm fork and 27.5'' wheels. It's meant to be Transition's more playful mid-travel bike — indeed, as we wrote in our First Look of the carbon version, Transition called it "the most fun bike in our lineup" when it was launched. And speaking of that carbon version, it's no more — the Scout will live on in alloy only. Transition has also dropped the XL size, with the Scout now being offered in sizes XS through Large.
The Sentinel bumps up the wheel size to 29'' at both ends, and adds 10 mm of travel as well, for 150 mm in the rear and 160 mm up front. Unlike the Scout, the carbon Sentinel will remain in the lineup, and in the full range of sizes — in this case, S through XXL. It does make some sense to offer the 27.5'' bike in overall smaller sizes, and the 29er in bigger ones. It's a bit like some companies, such as Privateer, offering certain models with different wheel sizes depending on frame size, though of course, the Scout and Sentinel also differ in suspension travel and geometry (as we'll talk about more below). The decisions on frame materials for the Scout and Sentinel kind of echos what Transition did with their new Patrol and Spire, offering the more playful bikes only in aluminum, while the longer-travel 29ers come in both aluminum and carbon.
As you'd expect from Transition, both bikes feature a Horst link suspension layout with a vertically oriented shock — it's the same overall layout and design language as we've been seeing across the board from them for a while now. Both bikes feature about 25% total progression, in a pretty straight line though the whole travel range.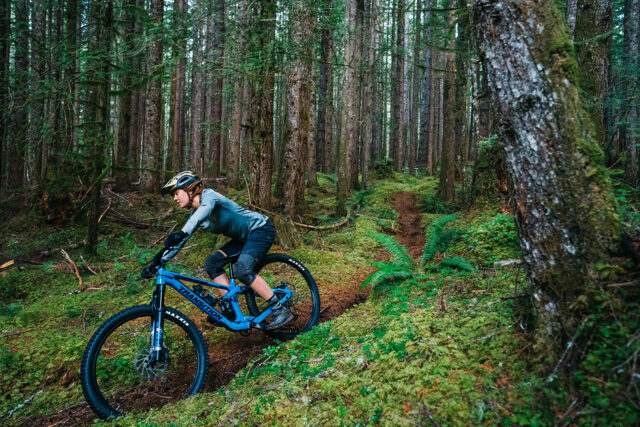 Fit & Geometry
The alloy Scout and Sentinel aren't getting a geometry update from the carbon versions that have been around for about a year and a half, but they're still looking pretty up to date for modern Trail / Enduro bikes.
The Scout gets a 64° headtube angle while the Sentinel is a touch slacker at 63.6°; all sizes of the Scout have 430 mm chainstays, while the Sentinel's measure 440 mm. Reach on the Scout starts at 410 mm on the XS and grows by 25 mm per size, up to 485 mm on the XL. The Small Sentinel has a 420 mm reach which maxes out at a massive 521 mm on the XXL. The jumps are a little more uneven but are on the order of 20–25 mm per size. The seat tube angle ranges from about 78° to around 76° (effective) on both bikes, which is overall pretty steep, though it would be nice to see the larger sizes get steeper than the smaller ones, rather than vice-versa. If anything, taller people have more to gain from steeper seat tubes than shorter folks but it's not like even the biggest Sentinel or Scout is particularly slack. Full geometry charts for both are here:
The Builds
Both bikes are offered in two (nearly) identical builds, as well as a frame-only option. The SRAM NX builds retail for $3,899, while the GX versions will run $4,999.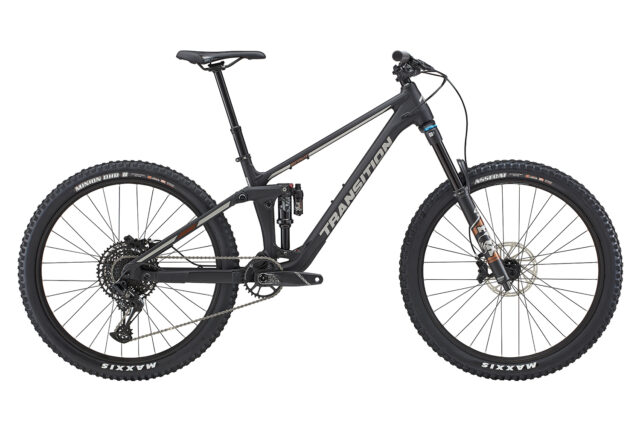 Both builds come with OneUp dropper posts and Maxxis Assegai front / Minion DHR II rear tires, in Exo+ casings and 3C MaxxTerra compounds. The only significant difference between the builds of the Scout and Sentinel is that the Sentinel gets 200 mm brake rotors at both ends, while the Scout comes with 180 mm ones. Both bikes are available as a frame with a Fox Float X Performance shock for $2,099, and here are the highlights of the two full builds:
Drivetrain: SRAM NX
Brakes: SRAM Code R
Fork: Fox 36 Performance
Shock: Fox Float X Performance
Wheels: Stan's Flow D Rims / Novatec Hubs
Dropper Post: OneUp
Drivetrain: SRAM GX
Brakes: SRAM Code RSC
Fork: Fox 36 Performance Elite
Shock: Fox Float X Performance Elite
Wheels: DT Swiss M1900
Dropper Post: OneUp
As you'd probably expect from the alloy-frame version of a bike, there aren't any super blingy builds here. But especially on the GX one, Transition has done a nice job of emphasizing suspension and braking performance, while packaging those with a solid drivetrain and wheels. As we've talked about a bunch at Blister, for bikes that are meant to be oriented toward descending, those are the right parts to put money into first, and a mid-tier drivetrain and wheels will get the job done just fine. These builds make a lot of sense given the intentions of the bikes, and while they're maybe not quite as mindblowing of a deal as a few of the really standout bikes in this class (Commencal Meta TR, Ibis Ripmo AF) they're still a lot of bike per dollar.
Bottom Line (For Now)
It's great to see the more-affordable alloy versions of the Transition Scout and Sentinel back in their lineup, both as frame-only options and in a pair of no-nonsense complete builds. We're hoping to be able to get on one or both to find out more.