Nike Wildhorse 8
Test Location: Marin, CA
Test Duration: 70 miles (so far)
Stated Stack Height (Men's): 35.5 mm (heel) / 27.5 mm (forefoot)
Stated Heel-to-Toe Drop: 8 mm
Stated Features:
A Nike "React" foam midsole
An engineered mesh upper
Outsole made from a combination of high-abrasion and Mitton rubber
Multi-directional lugs
Protective toe overlay
Forefoot rock plate
Saddle design to provide a secure, comfortable fit
Stated Weight per Shoe (US Men's Size 9): 323 g / 11.4 oz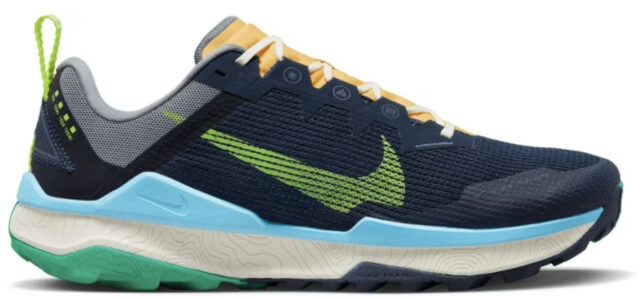 Blister Measured Weight per Shoe (US Men's Size 8.5):
Shoes + Laces: 285 g (left) & 285 g (right)
Insoles: 27 g (left) & 26 g (right)
Total: 312 g (left) & 311 g (right)
Reviewer: 5'9", 150 lbs / 175 cm, 68 kg
MSRP: $130
Intro
The original Nike Wildhorse helped lay the bedrock for the brand's trail line almost a decade ago and has continued to be a staple model in their stable. Like every shoe that's gone through several iterations, it's been shaped by prevailing trends in the running shoe industry, over time developing into its current role as Nike's principle long-distance option. However, the past two versions of the Wildhorse struggled to live up to expectations as a consequence of their clunky design, leaving one of Nike's most important models in a state of disrepute. I picked up a pair of the all-new Wildhorse 8 a few days ago, and after just a few runs I'm left hopeful that the shoe is capable of resuscitating a once well-regarded line that's seemingly missed the mark in recent years. In this first look, I'll detail everything new about the Wildhorse 8, and then follow up with a full-length review down the road.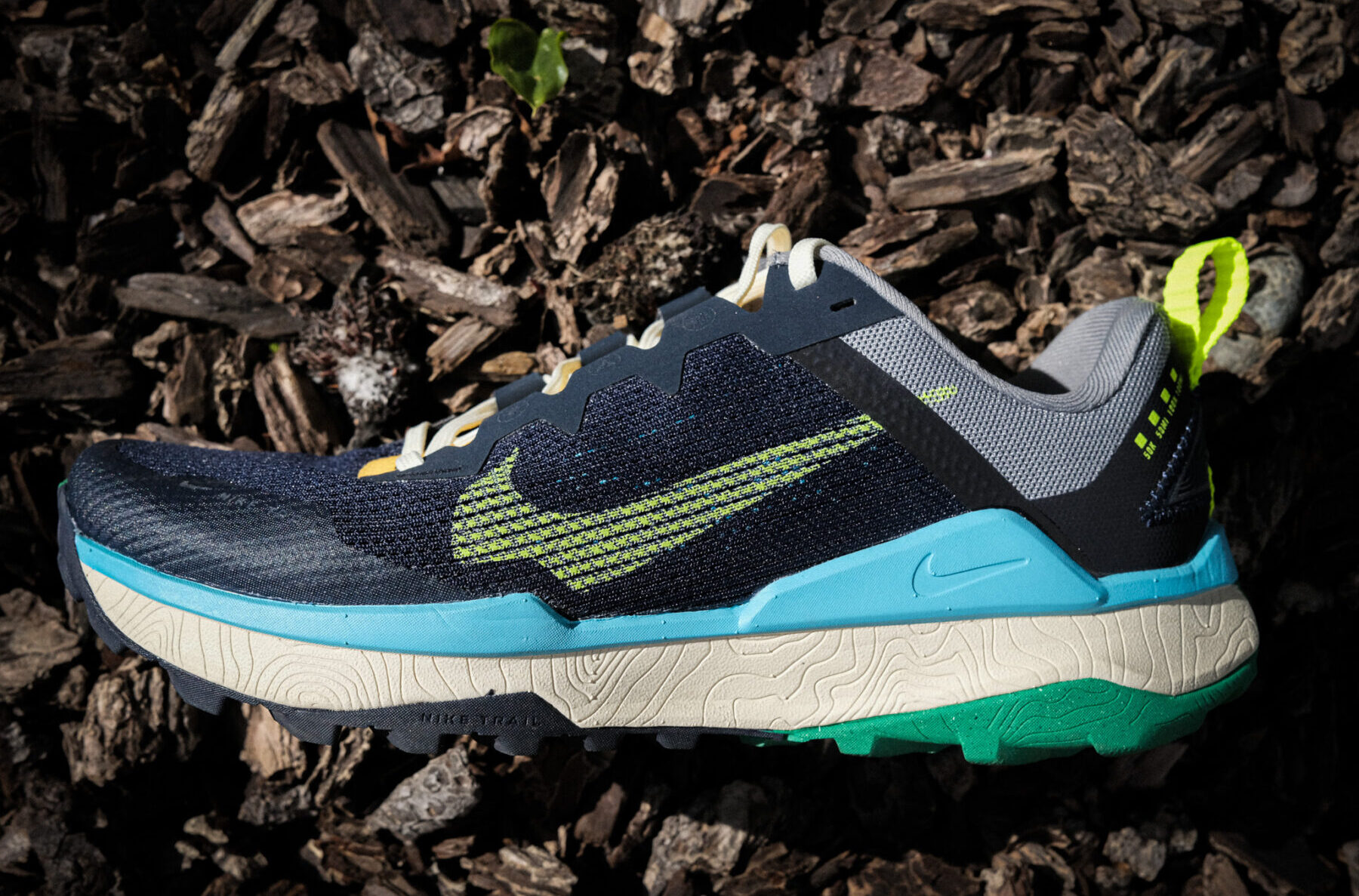 Fit & Features
On the whole, Nike has done a commendable job of recognizing the need for their trail shoes to fit differently than their road counterparts. Where models like the Pegasus and Zoom Fly are slivered into narrow lasts, the Wildhorse and Pegasus Trail — both of which are positioned as long-distance options — splay out into more accommodating shapes to account for swelling and/or toe splay. The Wildhorse 8 continues this trend. Unlike past models that begin with a widened toe box before tapering through the midfoot, the Wildhorse 8 maintains a pretty consistent shape all the way through the arch. There's less of a pronounced rise on the medial side of the shoe than what you'd find on models concerned with controlling over-pronation, yet Nike highlights this area, describing it as a "midfoot saddle [that] helps keep your foot contained and secure for lateral movement and landing." So far, that's translated to a feeling comparable to the Altra Timp 4, though with slightly better foothold coming from the Wildhorse 8's heavily padded (and fully gusseted) tongue.
Another obvious point of departure between the Wildhorse 8 and the Timp 4 is stack height and heel-to-toe drop. The Wildhorse 8 is much more extreme in both regards, featuring a 35.5 mm / 27.5 mm offset compared to the Timp 4's 30 mm / 30 mm. 8 mm of heel-to-toe drop creeps toward the higher end of the spectrum in the context of most trail shoes, but unlike the majority of maximal models on the market these days, the Wildhorse 8 lacks a true rockered sole shape, so its slanted geometry works as a kind of substitute. Both styles encourage heel striking. On trail, I haven't noticed a whole lot of difference in ride between the Wildhorse 8 and a rockered shoe with less drop, like the Hoka Challenger 7.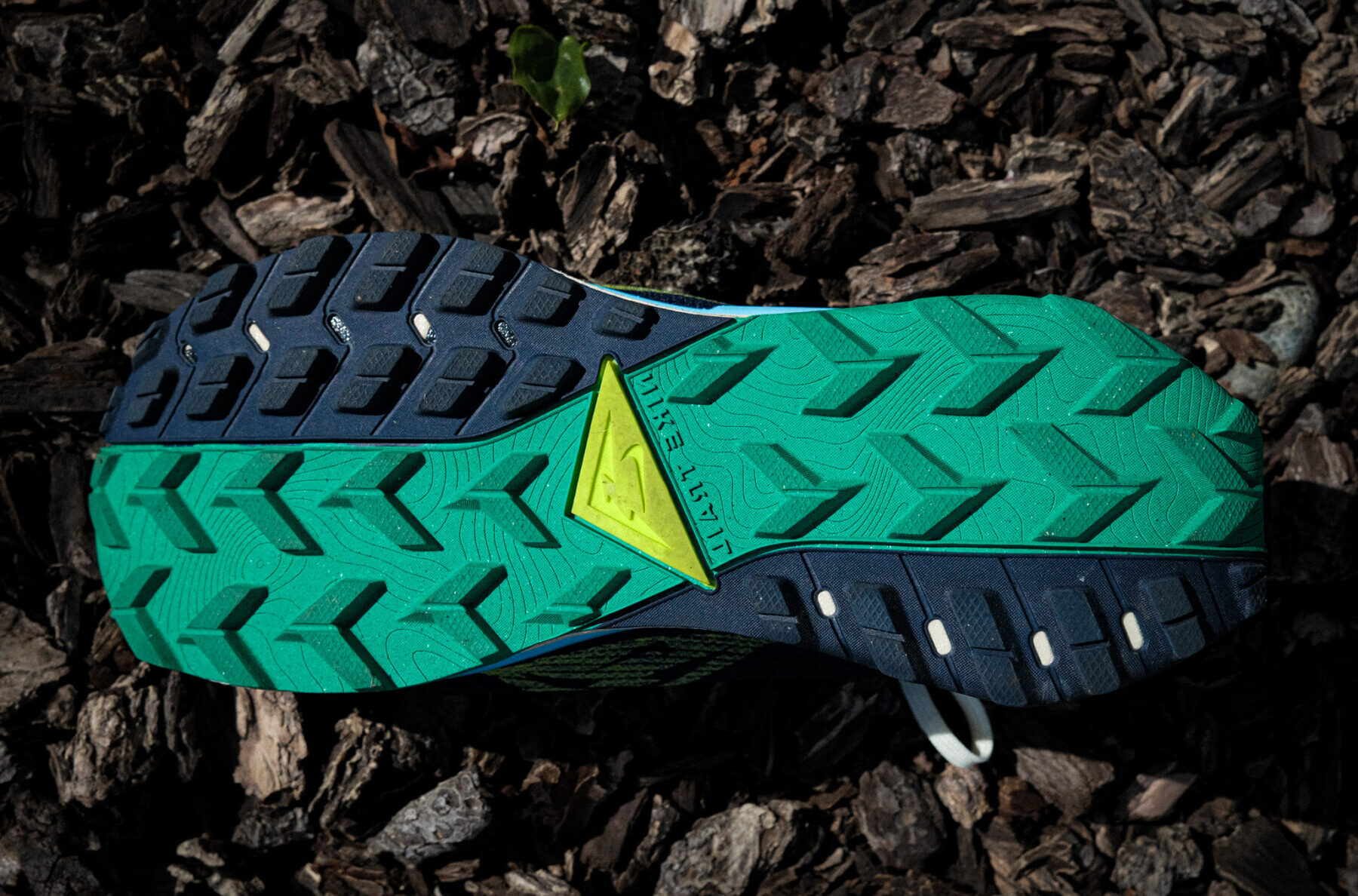 Where those differences did quickly become appreciable is in the type of material Nike uses in the Wildhorse 8's midsole. Nike's "React" foam has been around for a handful of years now and is not new to the Wildhorse line. In my experience, it holds its shape better than lightweight EVA, providing a bit more impact absorption and energy return, albeit in a slightly heavier package. Nike uses quite a lot of it in the Wildhorse 8, and when combined with its forefoot rock plate and a chunky outsole made from a combination of high-abrasion rubber and "mitton rubber," the shoe piles on the grams. For context, here's how the Wildhorse 8's stated weight compares to the stated weights for some other similar models. All weights are based on a US Men's Size 9.
255 g / 9.0 oz — Saucony Endorphin Edge
260 g / 9.2 oz — Salomon Ultra Glide 2
260 g / 9.2 oz — Nnormal Tomir
270 g / 9.5 oz — Salomon Pulsar Trail Pro
289 g / 10.2 oz — Topo Athletic Ultraventure 3
292 g / 10.3 oz — Hoka Speedgoat 5
295 g / 10.4 oz — Hoka Mafate Speed 4
306 g / 10.8 oz — Scarpa Spin Infinity
303 g / 10.9 oz — Altra Timp 4
312 g / 11.0 oz — Brooks Caldera 6
312 g / 11.0 oz — Nike Wildhorse 7
323 g / 11.4 oz — Nike Wildhorse 8
I previously described the changes to the Wildhorse 8 as more of a complete remodel than a series of updates, and nowhere else is that more evident than in the shoe's upper. Nike finally decided to move away from the bootie-like construction that I felt plagued versions 6 and 7 of the Wildhorse. Instead, they streamlined the heel and ankle collar by leaning into a more conventional approach, utilizing a thin layer of padding meant to cradle the Achilles and secure the ankle. The rest of the shoe receives a lightweight engineered mesh fortified by a fine TPU overlay that wraps the toe rand. Though ostensibly less protective than what Nike has previously churned out, I think the Wildhorse 8's burly outsole and relatively high stack height will help shield the shoe from potentially damaging debris.
Some Questions / Things We're Curious About
Inscribed next to the Wildhorse 8's heel pull tab are four distances: 50k, 50mi, 100k, and 100mi. That's a near-impossibly wide range to claim for any shoe, so I'm interested in which one(s) the Wildhorse 8 feels best suited for.
The Wildhorse 8's outsole is considerably more aggressive than past iterations, including more rubber and deeper lugs for likely better traction; however, it also makes the shoe feel quite bottom-heavy. Will that be a tolerable tradeoff for improved grip over the long haul?
The Wildhorse 8's midfoot saddle feels confusing early on in testing (i.e., I'm not entirely sure how it's supposed to do what it claims to do). Will this aspect of the shoe's design affect its fit as I spend more time in it?
Bottom Line (For Now)
Less of an update and more of a complete remodel, the all-new Wildhorse 8 represents a return to form for a once well-regarded trail shoe that's slightly disappointed in recent iterations. While still positioned as Nike's rugged, long-distance option, the Wildhorse 8 is streamlined through simplicity, nixing the previous version's elaborate upper and unconventional outsole in favor of a more functional design that has translated to a comfortable and energetic ride on the trails so far. Keep an eye out for our forthcoming full review soon.
Intro
Now over a decade old, Nike Trail, the off-road offshoot of the "Swoosh," can hardly be viewed as an adolescent in the trail shoe space, readily forgiven for its gaffes because it's "still figuring things out." Many of the brand's staple models are nearing their tenth cycles, and with such a lengthy pedigree, combined with the lofty demands of any product bearing the Nike insignia, expectations are considerable.
Over its eight iterations, the Wildhorse, Nike's founding long-distance trail shoe, has both defied and disappointed. Its evolution has been all but consistently paced, with some updates coming in the form of slight tweaks, while others have been so significant they amount to complete remodels. The latest version of the shoe shakes off the somewhat clunky silhouette shared by the Wildhorse 6 and 7 and takes on a more traditional profile in line with the 3rd and 4th iterations. Since picking up a pair of the all-new Wildhorse 8 a couple of weeks ago, I didn't hesitate before piling on the miles. After plenty of time on foot, I feel that I have a pretty good sense of what the updates to the shoe accomplish and where they might fall a bit short. So, in this review I'll speculate on who I think could benefit from a shoe like the Wildhorse 8 after detailing its reworked design and relaying my own on-trail experience running in it over the past month.
Fit
A consequence of the expansion of Nike's trail offerings has been the increased specialization of each model. The Pegasus Trail 4 no longer has to juggle responsibilities as both a long-distance option and a road-to-trail shoe, nor does the Kiger 9 — a model that's always leaned in the direction of fast, technical running — need to brace for all-day slogs. The latest iteration of the Wildhorse distinguishes itself in this respect by welcoming its role as Nike's dedicated maximal mountain shoe, capable of handling "winding paths, rolling hills, tricky switchbacks and everything in between." Gone is the Wildhorse 7's tapered silhouette, which was an appeal to precision. In its stead is a profile that both feels and looks foot shaped, closely approximating the roominess of something like the Altra Timp 4. The fact that I'm comparing a Nike shoe, generally known for their narrowness, to a model from Altra, should tell you how far the Wildhorse has evolved.
Plenty of trail shoes currently on the market have flared-out toe boxes to facilitate toe splay, and the Wildhorse 8 is one of them. What makes the shoe distinct in my opinion is that, instead of aggressively tapering back through the midfoot, it maintains a pretty consistent shape all the way through the arch. Its forefoot is higher volume than in past models, too, adding to the shoe's overall roomier fit. However, unlike the Timp 4, which can feel a bit sloppy at times because of its relative lack of structure on top of the foot and toward the heel, the Wildhorse 8 suffers no such shortcomings by virtue of its updated upper and padded ankle collar. Together, these two features comfortably embrace (but never suffocate) my foot, allowing it to articulate and flex in a cushioned, controlled fashion. I should also note that the Wildhorse 8 runs (encouragingly) true to size, the first iteration of the model that I've worn to do so. Hopefully this is a sign that Nike has made some effort to standardize their sizing. I know that their inconsistency has been a huge source of frustration for myself and others in the past.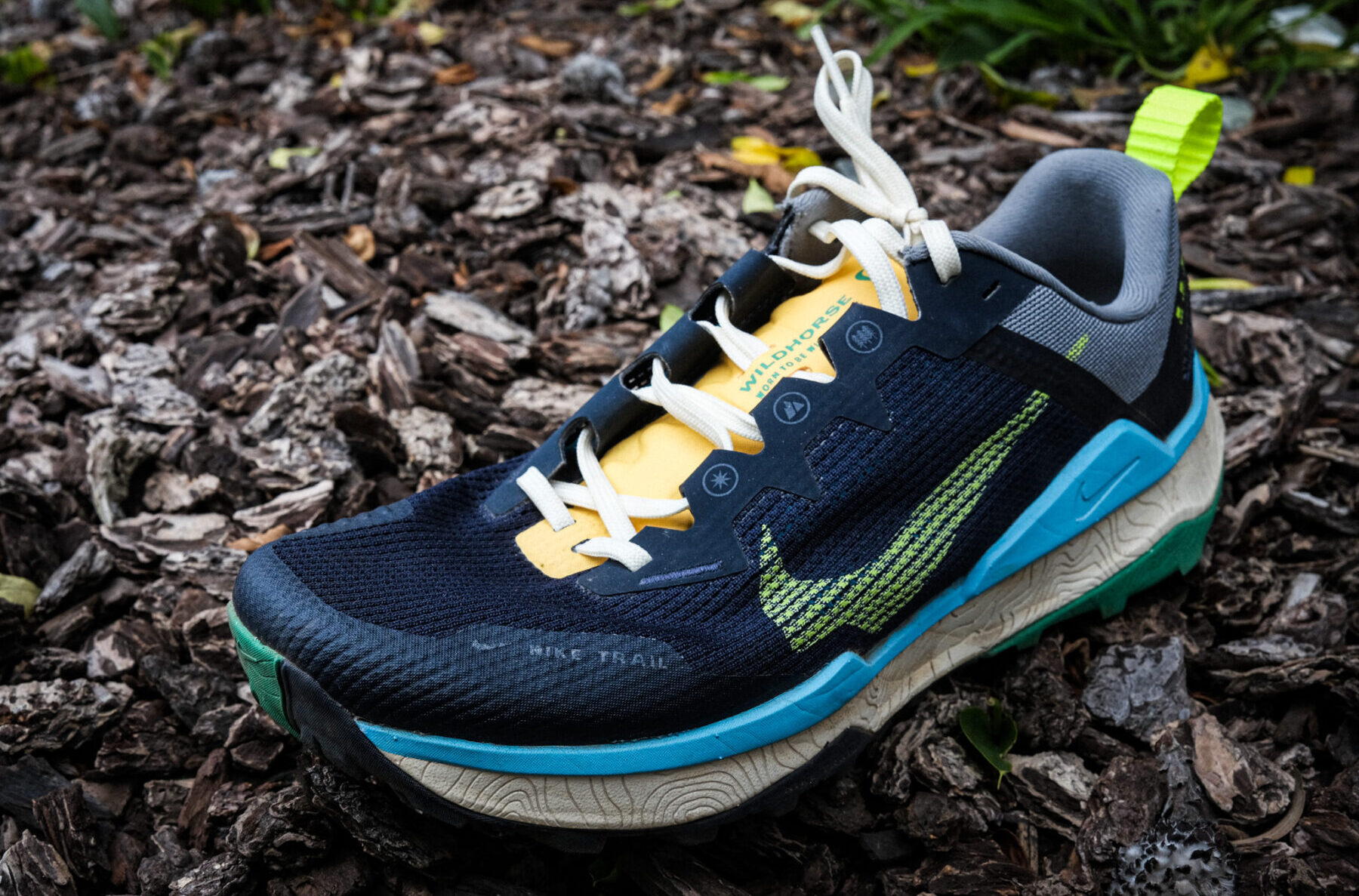 One of the Wildhorse 8's stated features is what Nike calls its "midfoot saddle," created to "help keep your foot contained and secure for lateral movement and landing." Alas, that's all the information they provide — no technical details about what this supposed saddle consists of, or even its exact location. After some pretty thorough testing, I'm fairly confident that Nike's referring to the raised lip of "React" foam on both the medial and lateral sides of the shoe, which is differentiated from the midsole by color. The saddle, when not serving as another witty equestrian pun, does help right the foot, replenishing stability that's potentially been lost by the shoe's wider last, high heel-to-toe drop, and tall stack height. Folks who pronate heavily will likely appreciate its presence, and I don't suspect it'll cause any issues for the rest of us.
Weight
I talked previously about how the updated Wildhorse 8 commits even more of itself to the role of Nike's long-distance mountain shoe, and I think that shift is further evidenced by its increased weight. I'd normally chide a model for not trimming at least a few grams from one version to the next, but considering how the Wildhorse 8 repositions itself in Nike's lineup, I think it's justified. For context, here's how the Wildhorse 8's stated weight compares to the stated weights for some other similar models. All weights are based on a US Men's Size 9.
255 g / 9.0 oz — Saucony Endorphin Edge
260 g / 9.2 oz — Salomon Ultra Glide 2
260 g / 9.2 oz — Nnormal Tomir
270 g / 9.5 oz — Salomon Pulsar Trail Pro
289 g / 10.2 oz — Topo Athletic Ultraventure 3
292 g / 10.3 oz — Hoka Speedgoat 5
295 g / 10.4 oz — Hoka Mafate Speed 4
306 g / 10.8 oz — Scarpa Spin Infinity
303 g / 10.9 oz — Altra Timp 4
312 g / 11.0 oz — Brooks Caldera 6
312 g / 11.0 oz — Nike Wildhorse 7
323 g / 11.4 oz — Nike Wildhorse 8
Where exactly the Wildhorse 8 adds those ~20 grams is pretty easy to discern once on foot. The shoe immediately struck me as bottom-heavy and one quick glance at the refreshed outsole design confirmed that. Nike uses a combination of high-abrasion rubber and "Mitton rubber" to make what I consider one of the chunkiest full-length outsoles on the market (that's not specific to soft ground / wet conditions). Paired with a healthy amount of React foam, far from Nike's lightest compound, the Wildhorse 8's outsole / midsole match can make the shoe feel leaden once your legs fatigue. It is, however, likely going to be incredibly protective on super rough terrain, but even still, I'd probably opt for one of the myriad lighter weight options on the list above.
Upper
If the changes made to the Wildhorse 8 are any indication, Nike may very well be attempting to erase the 6th and 7th iterations of the shoe from their history. The two previous versions of the Wildhorse took on colorfully surrealist designs highlighted by ornate bootie-like constructions, textured overlays, and abstractly shaped midsoles that, in my opinion, failed to really cohere as a successful shoe. Perhaps for that reason, you'll find almost no trace of either model in the Wildhorse 8. With this in mind, I think the best compliment that can be paid to its new upper is to call it conventional, a feature that harkens back to the shoe's early models.
The beating heart of the Wildhorse 8's upper is its prominent, fully-gusseted tongue; in the absence of supportive overlays, it steps in to securely wrap the midfoot and parts of the forefoot. Like almost everything with the shoe, the tongue is also considerably wide, refusing to taper all that much as it works its way down to the base of the laces. Nike calls this design "Dynamic Fit" and so far it's proven to be a pretty successful setup. The tongue also features raised dimples of padding placed strategically beneath where each lace crosses. While a minor detail, it adds precision to the shoe's fit and helps prevent lace bite, all while for the most part staying out of the way.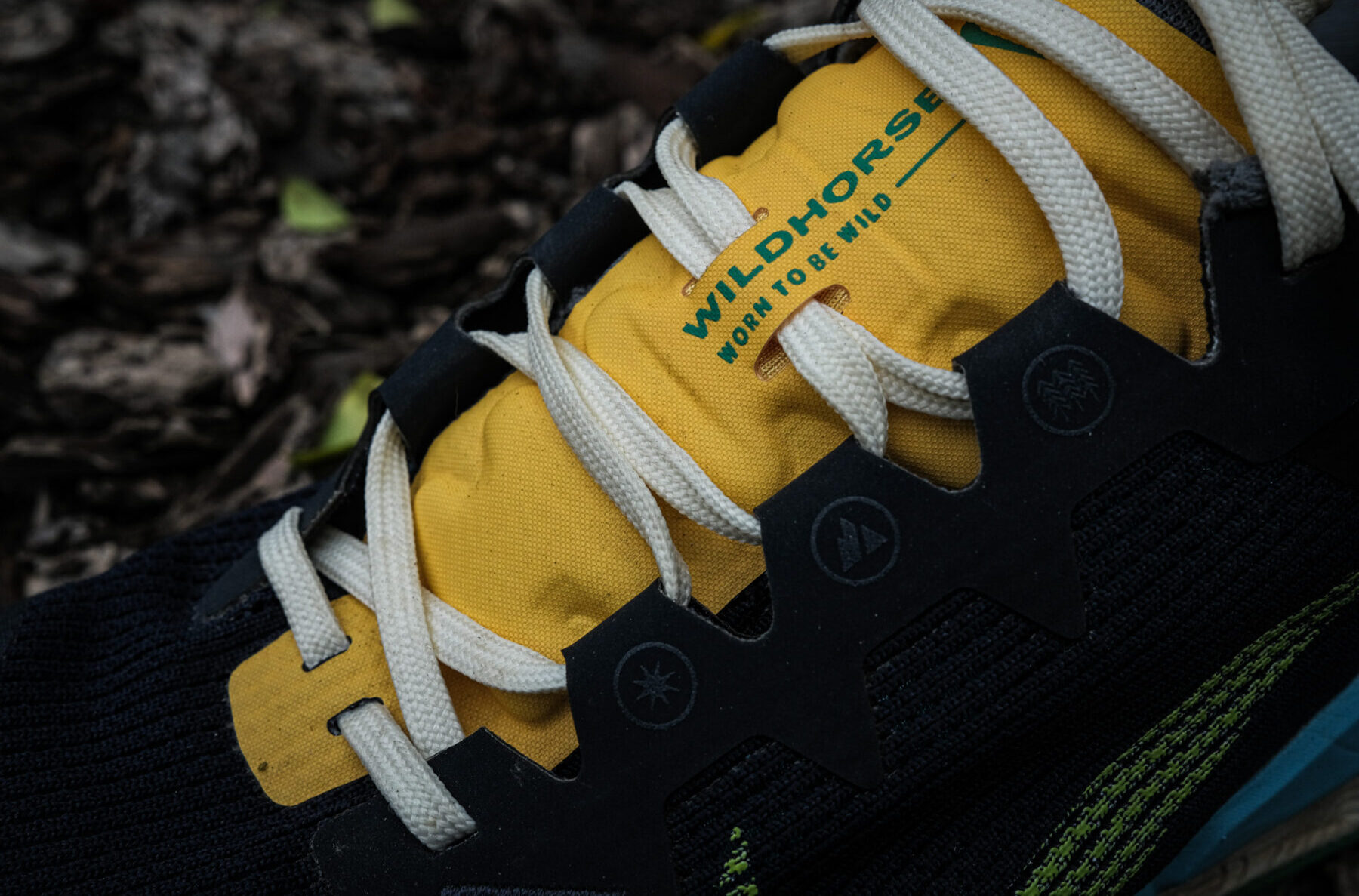 Nike uses a 2-layer system for the rest of the Wildhorse 8's upper that consists of a thin internal liner made from stretch fabric and a thicker outer layer made from loose engineered mesh with a minimal TPU toe rand. Given how far we've come in terms of textile technology, I would have loved to see an upper made from just a single layer of more durable material — doing so generally makes the shoe more breathable while also keeping weight down. However, I think the Wildhorse 8's internal liner does enhance its overall fit by further swaddling the foot, and so far it hasn't affected drainage or breathability.
In replace of the bootie-like construction that haunted the Wildhorse 6 and 7, the Wildhorse 8 features an uncreative heel / ankle collar that I appreciate for its familiarity. An 8 mm heel-to-toe drop helps offloads pressure on the Achilles, so the shoe doesn't need an overly aggressive design in back. Apart from being noticeably stiff in the heel counter, the rest of the Wildhorse 8's heel structure is happily generic (i.e., lightly padded, low rising, and comfortable). Even while climbing / descending the steepest of trails, I've experienced no slippage or shifting in that area, let alone the rest of the shoe. For my preferences, I'm not sure any upper really approaches the BOA / "PerformFit Wrap" system that graces models like the La Sportiva Jackal II BOA and the Speedland SL:PDX, but as far as what a shoe with a conventional upper can do when it comes to comfort and fit, I think the Wildhorse 8's upper is one of the better ones I've used recent memory.
Midsole
The trail running shoe industry is as susceptible to trends as any other outdoor sport domain. Styles emerge, fall out of fashion, and then eventually (and inevitably) reclaim their popularity, forming what often feels like a cyclical process. Rockered midsole designs are one of a number of examples that are currently shaping how trail shoes are being made, especially those that fall into the "maximal" category. It's noteworthy then, that despite the Wildhorse 8's 35.5 mm / 27.5 mm stack height, Nike forgoes a rockered profile, opting instead to accomplish a similar effect by boosting its heel-to-toe offset up to 8 mm. Both formats (i.e., a rockered sole geometry and higher heel-to-toe drop) primarily benefit heel strikers, and while the Wildhorse 8 loses out on some of the supposed energy transfer / stride efficiency claimed by shoes with rockered midsoles, it gains a ton of stability.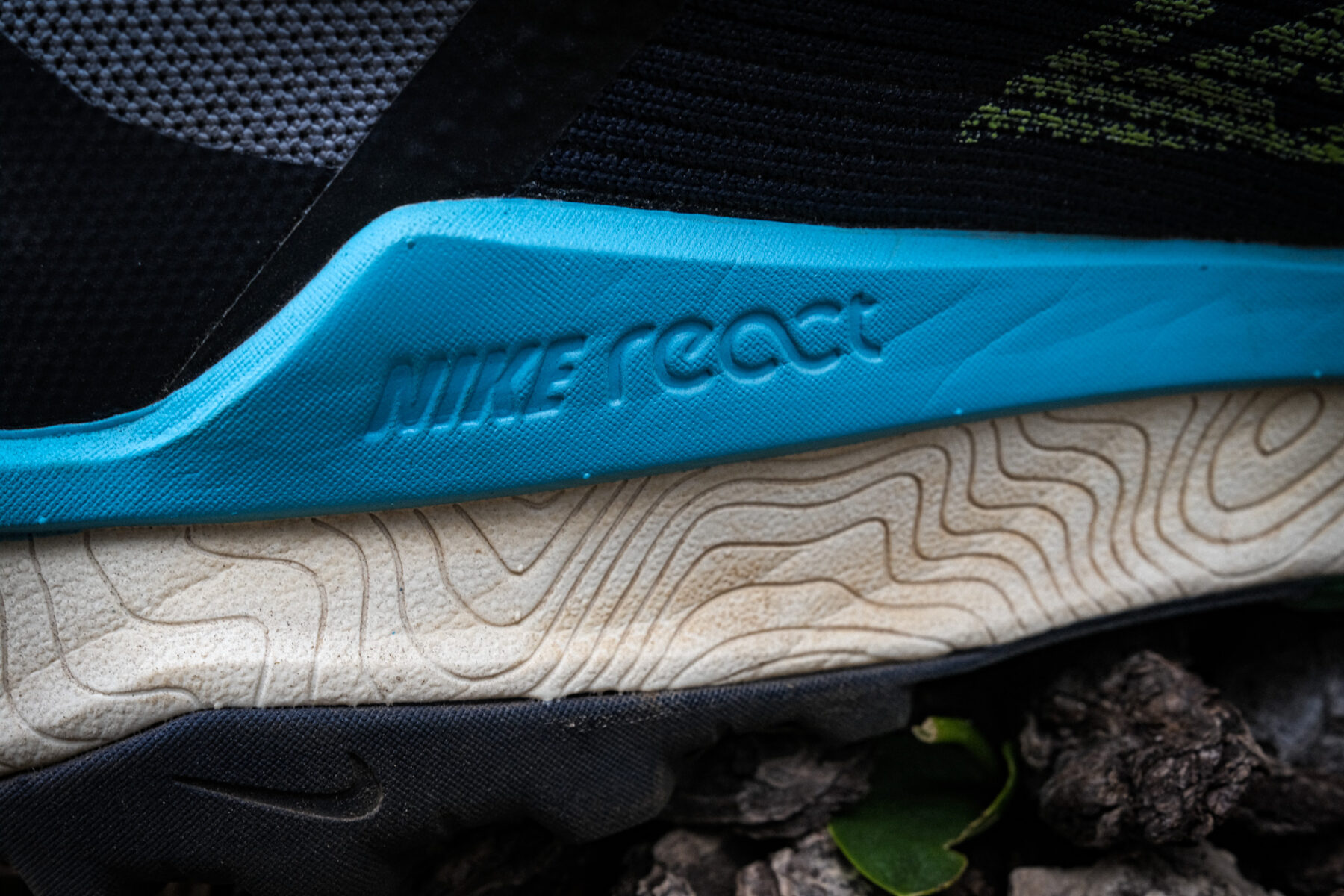 A sense of balance and surefootedness are prized attributes in models intended for gnarly, technical terrain, and the Wildhorse 8 brims over with both. The shoe's midfoot saddle functions as a "guide rail" of sorts to keep the foot in place. I think its inclusion is helpful but perhaps not entirely necessary for most folks, though I do point to it as a smart preventative measure against ankle rolls. React foam is also slower and more forgiving than supercritical EVA, offering better ground feel and controlled energy return on a steady platform. This isn't great for shoes aspiring to go fast, but it's incredibly helpful both when on unsure footing and when out for several hours.
React foam holds its structure well over time, in my experience, and there's less of a precipitous decline when it starts to pack out. However, its weight is an obvious drawback, and for a shoe that already feels bloated at times, I often found myself longing for something like a dual-density midsole with a section of lighter performance foam (e.g., ZoomX) under the forefoot. As it is, the Wildhorse 8 feels a bit pigeonholed to longer efforts at slower paces. Its midsole will likely provide enough softness to keep legs / feet fresh for hours on trail, but don't expect much from it if you find yourself really needing to push the intensity. For that type of running, I'd definitely recommend turning to the Nike Zegama.
Outsole
Generally speaking, a full-length rubber outsole (as opposed to outsoles selectively lined with tread under high-use areas) is a good indication that the shoe in question anticipates a life spent on rough terrain. While the previous version of the Wildhorse was outfitted with an aggressively lugged outsole that spanned heel to toe, it was marred by a rubber compound that I found to offer poor traction, especially on trails with a ton of polished rocks and roots, and its uniform lug layout confused me by climbing the shoe's sidewalls, an area I can't imagine anyone needing grip. The end product was an outsole that reduced the shoe's flexion, added unnecessary weight in favor of aesthetics, and made running on any type of firm surface (including roads) pretty insufferable.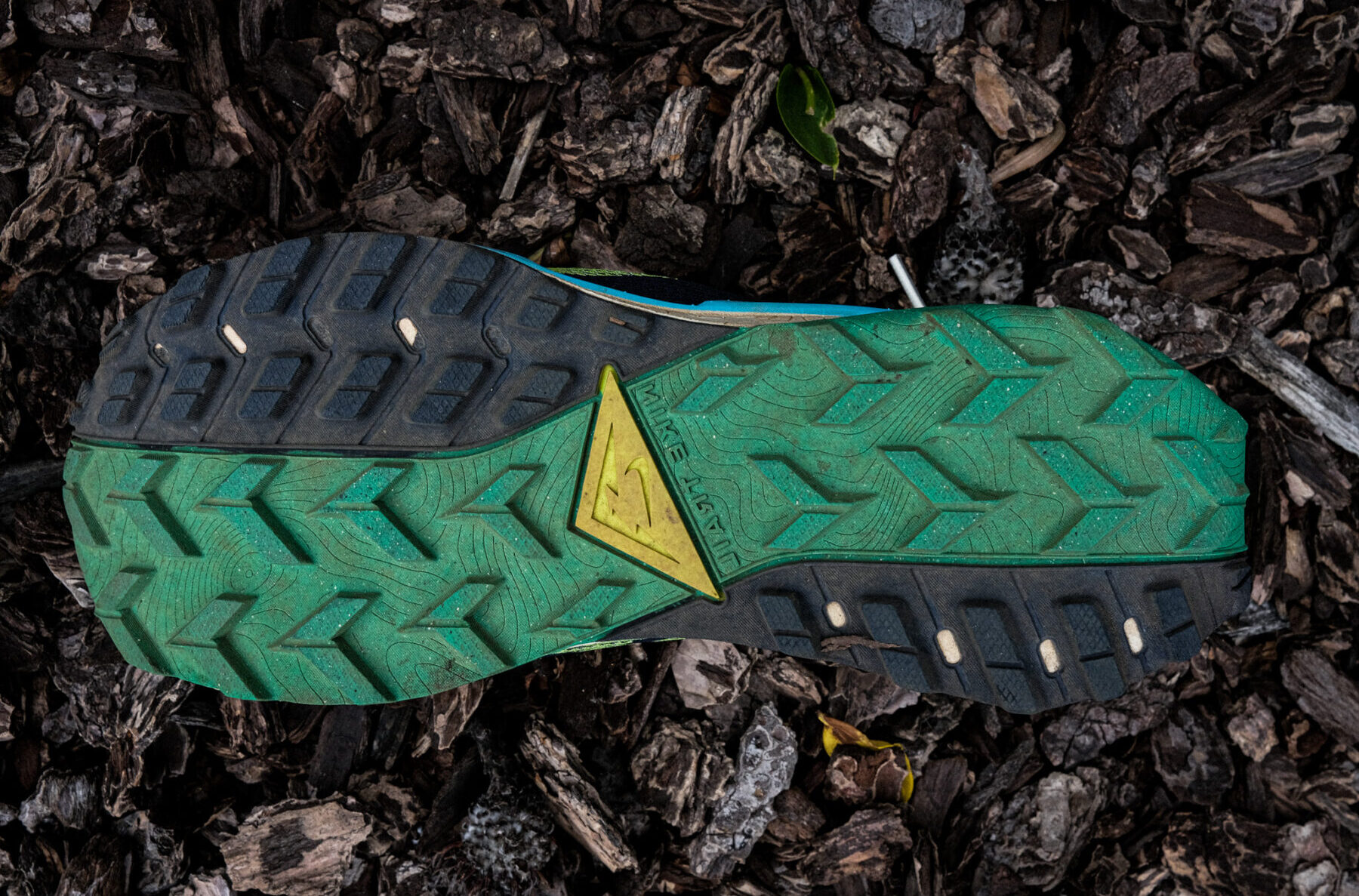 The Wildhorse 8 adopts a more conservative outsole design. It's still full-length and buffeted by a protective rock plate, like the Wildhorse 7's, but instead of being lined with an unvarying layer of toothy, raised lugs, it has a familiar chevron tread pattern similar to what's currently on the Nike Pegasus Trail 4. Nike also updated the material the shoe's outsole is made from, this time using a combination of high-abrasion rubber and "Mitton rubber" that feels stickier than its predecessor. There's also just more of it. After testing, I've been impressed by the potential this new outsole adds to the Wildhorse 8's performance. My feet have felt insulated from rocks and debris; I've yet to skid out while climbing or descending loose / wet sections of singletrack; and the shoe seems to be more pliable than past versions. Placing Nike's new rubber compound on the same echelon as Vibram MegaGrip or any of the materials La Sportiva uses would still in all likelihood be considered a stretch, but I can't envision the Wildhorse 8's outsole being insufficient for most runners who mainly stick to the trail.
On Trail
For nearly every shoe I review, my testing process starts with a week of putting it through my standard training, which this time of year includes 6 days of running a week with one workout (usually some type of hill interval), a collection of social runs, and a lengthier effort between 3 and 5 hours. Long runs in Marin have proven to be probably the most valuable format for assessing a shoe's performance; routes encompass a wide variety of trail types, and they're typically long enough distance-wise to get a good sense of a model's preferred range. I've also started to mix up the paces within these efforts, throwing in a surge here and there for good measure.
It only took a few runs in the Wildhorse 8 for it to become apparent to me that I'd need to really pick my spots in the shoe. Its weight and burly outsole were limiting factors on pretty much anything I'd consider "runnable," by which I mean mixed routes including concrete, and trails that are smooth, flat, and fast. A healthy wedge of React foam and a thick layer of outsole rubber dragged the Wildhorse 8 down on just about everything, but this was much more noticeable when I wanted to pick up the pace. After a few attempts to take the shoe out on trails that consisted of mainly fire roads and failing to find a rhythm in them, the rest of my testing period favored the chunkiest, steepest terrain I could find. In settings like these, I could better leverage the Wildhorse 8's strengths (i.e., its traction, protection, and stability).
In an attempt to season my legs for what's hopefully lining up to be an active season above treeline (if this snow ever decides to melt), I've been focusing a lot of my training time on racking up vertical gain by lapping a few unofficial "trails" that go straight up Mt.Tam. One such route ascends 1,600 ft / 488 m in 1.35 mi / 2.17 k, is nearly all above a 30% grade, and is strewn with loose rocks and exposed roots. I neither have the lungs nor the legs to run this climb, so I'd typically surrender to a hike before jogging back down. At this pace, the Wildhorse 8's heaviness was less of an issue, allowing its other features to shine. The shoe's high drop, grippy outsole, and relative flexibility lent themselves to steep climbing quite well. Once pointed down and descending, its rock plate and React foam midsole kept my feet safe from debris and helped dampen impact. Cornering felt sharp too, something I attribute to the Wildhorse 8's wide platform and midfoot saddle, which kept my foot locked in but didn't compromise my proprioception.
So, while the Wildhorse 8 is far from my first choice for ripping singletrack and most other outings when I plan to be running the entire time, I did end up finding a home for it as a longer-distance mountain shoe for technical trails, a designation that I think reflects its design. For now, though, I'll probably couch my pair and save them for some summer slogging in the Sierra.
Durability
Trail shoes can have attributes that function as both strengths and weaknesses, and the Wildhorse 8's burly build definitely qualifies as one. For how much grief I've given Nike up to this point for how sluggish the Wildhorsze 8 can feel, I do think their updates will make it more durable than its predecessors. For one, React foam tends to hang on to its shape and vitality for quite a while, so I wouldn't anticipate a ton of drop-off in terms of midsole performance over time. The shoe's solid full-length rubber outsole and high stack height should also safeguard against debris coming in contact with its already stout 2-layer mesh upper. If you're like me and plan to use the Wildhorse 8 almost exclusively for longer efforts on punishing trails, I think this shoe should last you quite some time. After roughly 70 miles of wear, my pair still looks practically new. As always, if anything changes down the line I'll be back with updates.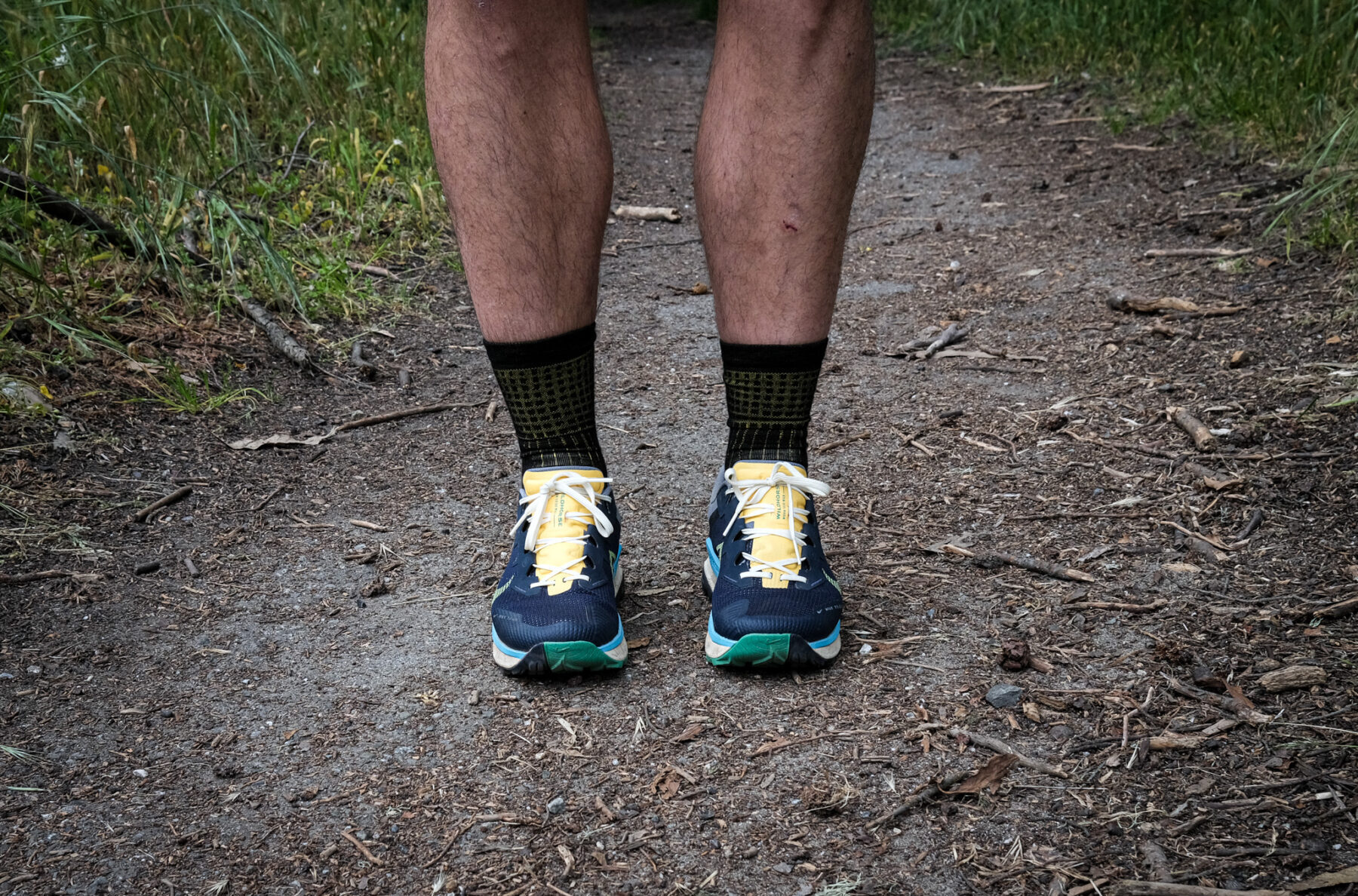 Who's It For?
Nike's stable of trail shoes is one of the more organized and intentional lineups on the market right now. Their models are varied but not exhaustive, with each one clearly designed to serve a certain purpose. The Wildhorse slots in as a dedicated long-distance option for when trails get technical. It's far from a "do-it-all" shoe and, in my opinion, should be used in conjunction with three to four other models for folks who run higher volumes on varied terrain (if you're a Nike loyalist, consider partnering it with the Kiger 9 for faster-paced runs; the Pegasus Trail 4 for mixed, mellower routes of just about any distance; and the Zegama for ultra-distance missions when speed is more of a priority). And at just $130, I'd consider the Wildhorse 8 a worthy budget option considering how durable I think it'll prove to be for most people.
As someone who was scared away from Nike shoes for several years because of their reputation for running extremely narrow, I can attest that the same problems don't apply to most of their current trail models, Wildhorse 8 included. Its last and squared-off toe box should suit folks with wide and average-width feet alike. However, runners who have turned to Nike shoes precisely for their narrowness might find themselves floating around in its midfoot, despite the shoe's excellent Dynamic Fit system. If that's the case, both the Pegasus Trail 4 and Kiger 9 might be better options.
Bottom Line
Less of an update and more of a complete remodel, the all-new Wildhorse 8 represents a return to form for a once well-regarded trail shoe that's slightly disappointed in recent iterations. While still positioned as Nike's rugged, long-distance option, the Wildhorse 8 is streamlined through simplicity, nixing the previous version's elaborate upper and unconventional outsole in favor of a more functional design that has translated to a comfortable and protective ride on the trails. While its sluggish feel is a limiting factor when paces quicken, the model's virtues as a sturdy, supportive option for rough terrain will likely outshine its shortcomings in the right settings. If you're looking for a mountain shoe to carry you through long days in the backcountry this summer, consider checking out the Wildhorse 8.