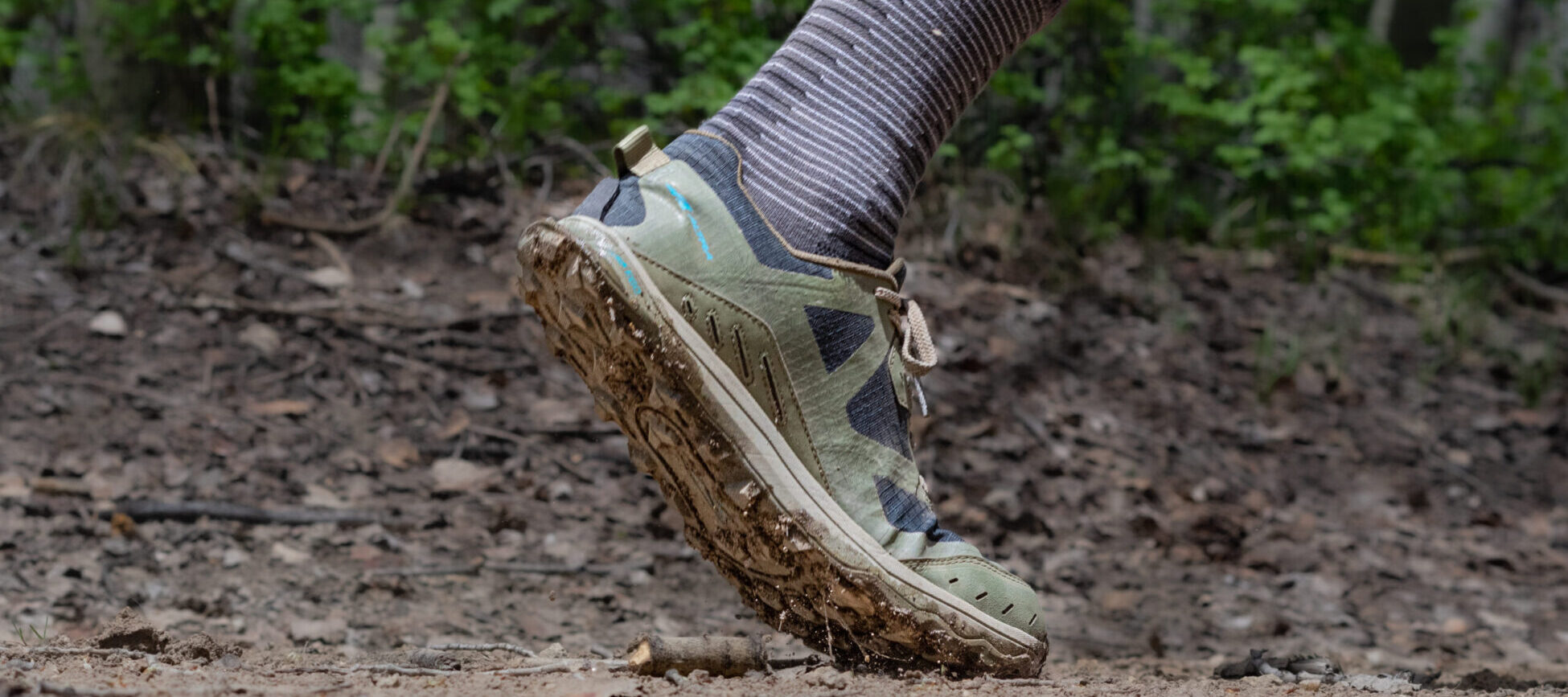 Intro
Running socks are an easily overlooked piece of gear that is often overshadowed by shoe choice. However, finding the right pair of socks for your needs can sometimes mean the difference between enjoying your time out on the trails or hobbling back to your car with a blister or two. As a buffer between your skin and shoes, socks also play a pivotal role in either enhancing or inhibiting how your footwear fits, with certain materials and styles being better suited for particular foot types and activities. When shoes don't quite feel right, it might just be a matter of switching up what you're wearing inside them.
We have been testing several socks over the last few months and have found options that work well for a huge range of runners and conditions, and some that fall short in certain regards. So check out what we've been putting on our feet lately — a little bit of guidance can go a long way in keeping yours happy.
Fabric: 67% Nylon, 28% Olefin, 5% Spandex
MSRP: $18.99
Size Tested: Men's Large
Reviewer Shoe Size: US Men's 8.5
Matt Mitchell: The more I run and the more shoes I test, the more I've come to appreciate the virtues of a simple sock. They've sometimes been marginalized as an odorous afterthought, a throwaway piece of apparel, but when it comes to trail running I'd wager that finding a reliable pair of socks is nearly as important as the quality of shoes they'll spend their lives in. Especially in a rapidly evolving footwear landscape, trusty socks can offer a thread of familiarity to cling onto.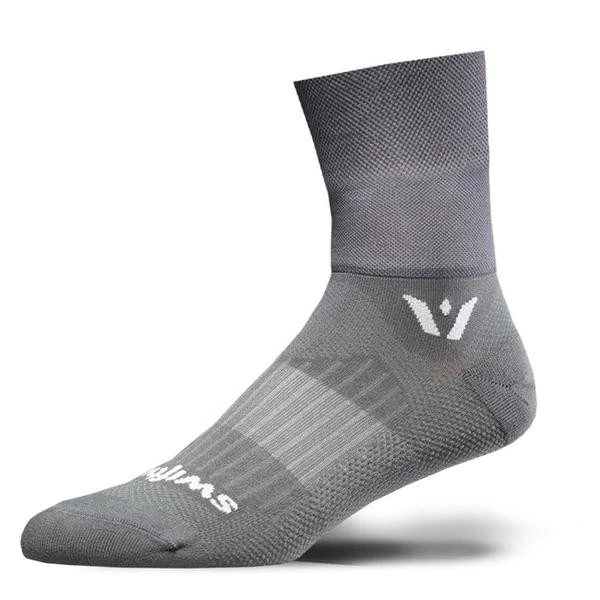 Swiftwick's Aspire 4 has been that for me, at least. It's a versatile model that I buy in packs. This sock provides firm compression across the entire foot in a way that feels supportive, rising a few inches above the ankle just shy of the calf. Its high nylon content and thin profile keep it in place and close to the skin, preventing it from bunching up under stress or when damp. Swiftwick complements the Aspire 4's breathable nylon / olefin blend with a channeled upper and mesh footbed to help with ventilation; a seamless toe box to eliminate friction; and a y-shaped heel and archband support to keep the sock in place. For all the engineering that goes into the Aspire 4, none of it is felt, in the sense that the sock does such a good job establishing fit that I forget it's there.
Despite extended use on demanding fastpacking trips, where my feet routinely fluctuate between levels of dryness and wetness and my shoes inevitably let in bits of the trail, the Aspire 4 have proved to be more resilient than most sock models I've used in the past (which almost always end up as casualties after long trips). With a few (very thorough) cycles through the washing machine, my drawer of Swiftwick Aspire 4s will be ready for another season.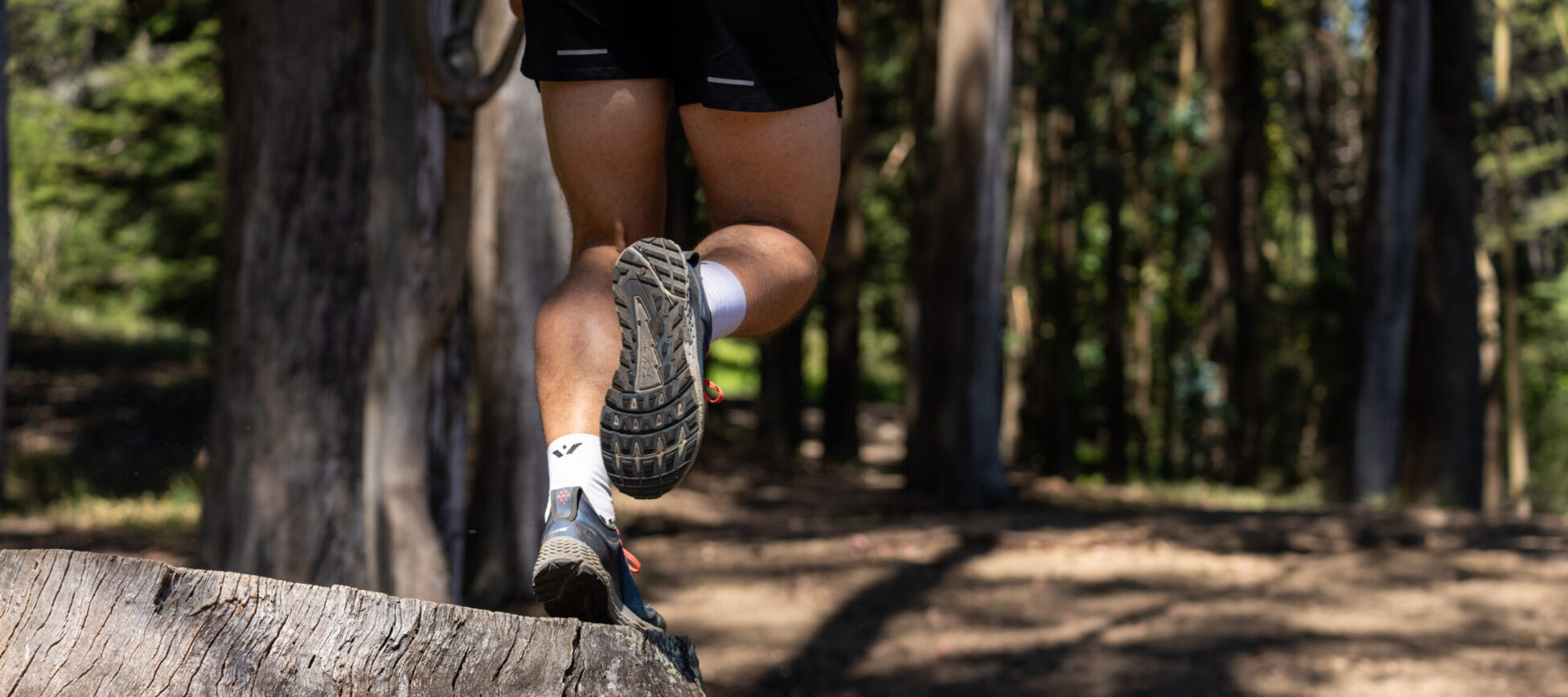 Fabric: 63% Merino wool, 35% Nylon, 2% Spandex
MSRP: $21.99
Size Tested: Men's Large
Reviewer Shoe Size: US Men's 10.5
Drew Kelly: In the past, our reviewer, Gordon Gianniny, found the Pursuit Seven to be a little too warm for summer running. While I would say that they're slightly warmer than many of my other socks, I wouldn't go as far as Gordon in saying not to run in them in the summer. They're not my sock of choice for the hottest of runs, but for higher-elevation running, early mornings, or when anticipating many cold stream crossings, the Pursuit Seven's subtle warmth has served me quite well.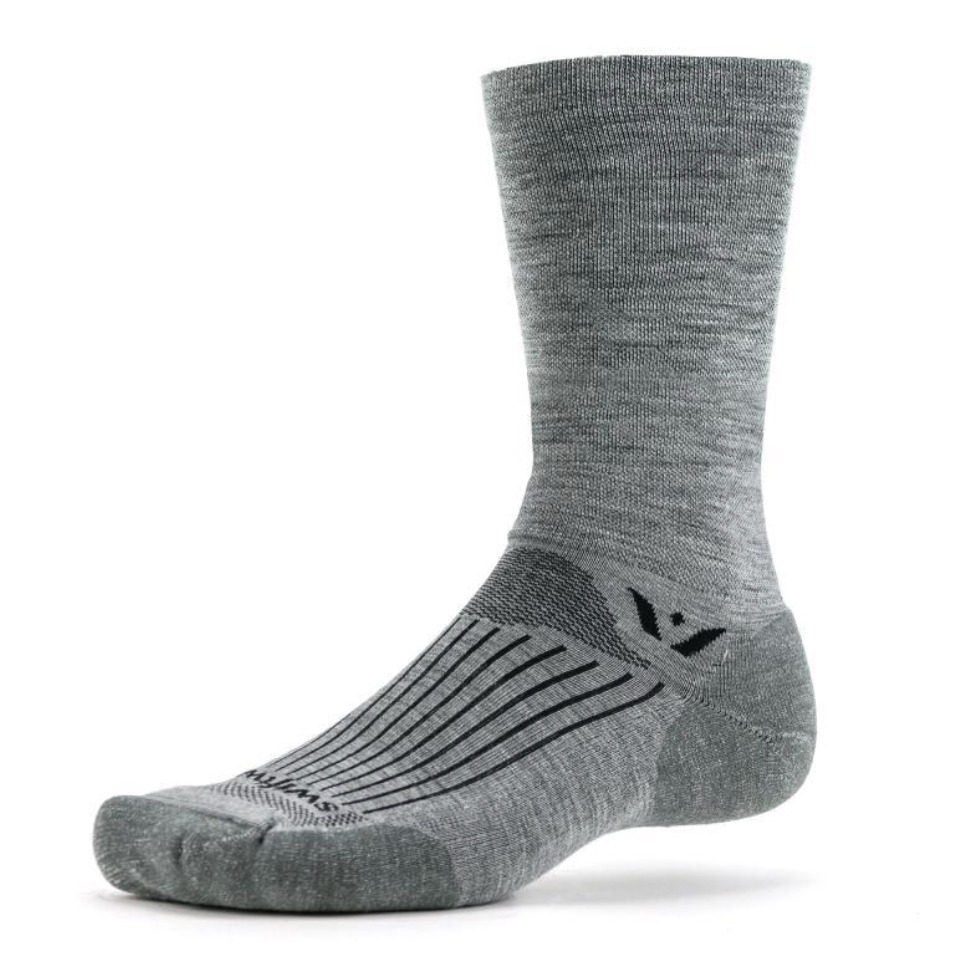 And though high merino wool content often means a sock is less durable than primarily synthetic alternatives, my pair of the Pursuit Seven has sustained moderate use for a full season with little sign of wear. And as a bonus, the high wool content is way less odorous (yes, my feet have a terrific amount of odor associated with them) than mostly synthetic-based socks. Given their more subtle compression and support, the Pursuit Seven could be a good, soft sock for shorter or moderately distanced runs, especially if you're someone who doesn't sweat a lot. For a more breathable, supportive alternative, see the Aspire 4.
Fabric: 28% COOLMAX®, 67% Nylon, 5% Lycra®
MSRP: $16.00
Size Tested: Men's Medium
Reviewer Shoe Size: US Men's 10.5
Drew: I had some reservations about trying the Injinji Run Lightweight Crew sock, having never tried a toe sock before, but it quickly became a favorite option of mine. Initially, there was a learning curve for getting each toe situated correctly, but after about thirty miles, this process has since become quite routine.
The weight of the Run Lightweight Crew seems to balance durability with breathability — it's not the thinnest running sock I own, but it seems to breathe like it. And like its weight, this is a sock that also balances softness with a precise fit well, even through the individuated toes, which have yet to slip off or wrinkle.
"But what's the point of the toe-sock thing anyway?" is the obvious question here. According to Injinji, a toe sock not only reduces the risk of blistering on your toes by isolating each toe and thereby reducing friction, it enables you to use your whole foot when running, as opposed to scrunching everything together in the typically shaped sock. So far, both claimed benefits have proven to be true for me.
My remaining question is how the sock will wear over time, and whether the individualized toes will be weak points. I'll report back if I notice any abnormal durability issues, but so far, so good.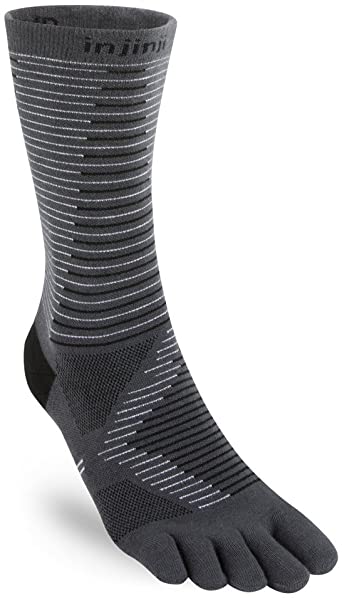 Fabric: 74% Recycled Polyester, 24% Nylon, 2% Lycra
MSRP: $18.00
Size Tested: Men's Large
Reviewer Shoe Size: US Men's 10.5
Drew: Patagonia's softgoods are often among my favorites. So when I needed a new pair of running socks, I figured I'd give Patagonia's a try, regardless of having never heard much about them. But even with the Ultra Lightweight Performance Crew's typical supporting bands of fabric and breathable mesh weaves, I still mostly relegate these to the casual / workday sock pile. The high recycled polyester content, while durable — at the very least these socks are quite durable — makes them pretty smelly, even by my low standards.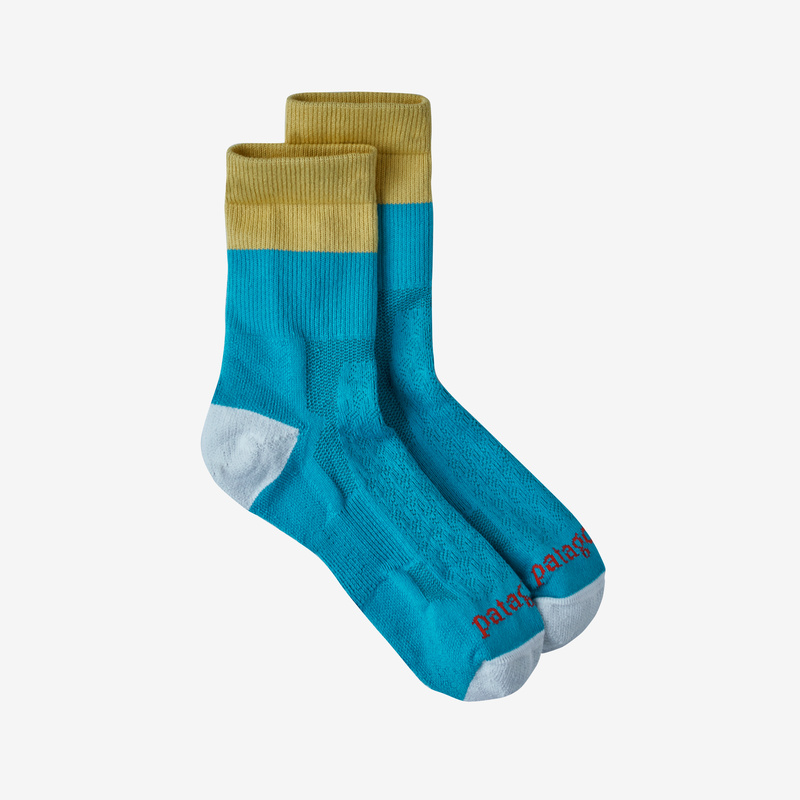 They also seem to feel almost oily, even after just a short run in them. And, the cherry on top: the fit is not very precise at all; twisting and bunching are common for me in the ULW Performance ¾ Crew. By "performance sock" standards, this one is a bit of a letdown for me. But if you're someone who is looking for a fashionable sock to wear around town (me) and whose feet don't sweat (not me), try these out. They'll last a long time. If you want a very snug, precise fit, I'd look to the other options here.
Fabric: 54% Nylon, 43% Merino Wool, 3% Lycra Spandex
MSRP: $22.00
Size Tested: Men's Large
Reviewer Shoe Size: US Men's 8.5
Matt: Back in 2018 I set out to thru-hike the Pacific Crest Trail on a tight budget with the resolve to go as light as possible. I packed exactly two pairs of socks, one to hike in during the day and one to sleep in at night. Going ultralight required me to thoroughly vet each individual piece of gear I chose to load on my back. Shedding weight led me to Darn Tough's Light Hiker Micro Crew Socks, which I had heard mentioned repeatedly in thru-hiking circles as the consensus choice to comfortably get you from Mexico to Canada. That trip lasted 3 months, spanned 2,650 miles, and destroyed 6 pairs of shoes. Yet, threadbare as they were by the end, my humble Darn Toughs survived. If that's not a testament to their durability, I don't know what is.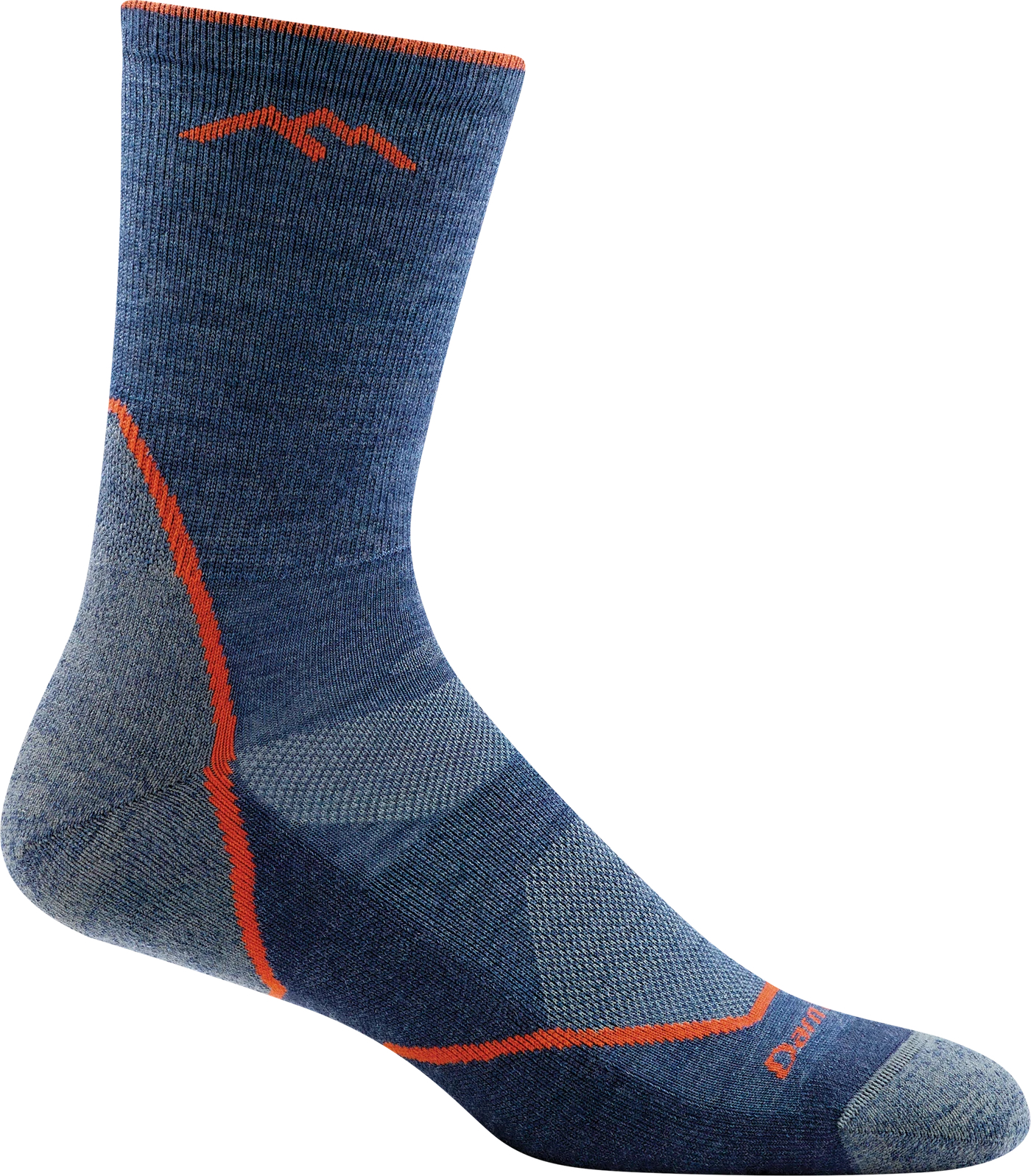 The Light Hiker Micro Crew has a higher nylon content than most merino socks on the market, allowing them to wick moisture and hold well over time without sacrificing too much of the gentle cushioning conferred by the wool. The balance between the two materials, packaged in a thin lightweight construction, translates well to long days out on the trail in warmer weather. They dry fast, they're super breathable, and if one of your toes does manage to poke through Darn Tough's durable wool blend, they'll send you another pair, no questions asked.
I haven't done much thru-hiking as of late, so most of my time spent in Darn Tough's Light Hiker Micro Crew Socks has been during trail runs. Compared to the thinner nylon / olefin blend of the Swiftwick Aspire 4, the Light Hiker Micro Crew offers a bit more cushioning, so I've been pairing them with more minimal footwear for added softness. With the bump-up in intensity from running, I'll be curious to see if Darn Tough's socks still live up to their name after a couple hundred miles.
Fabric: 52% Merino Wool, 44% Nylon, 4% Lycra Spandex
MSRP: $16.00
Size Tested: Men's Large
Reviewer Shoe Size: US Men's 10.5
Drew: Over the past four — yes, four — years, the 1437 No Show Lightweight Athletic Sock has become my go-to for less technical trails or runs when it's pretty warm.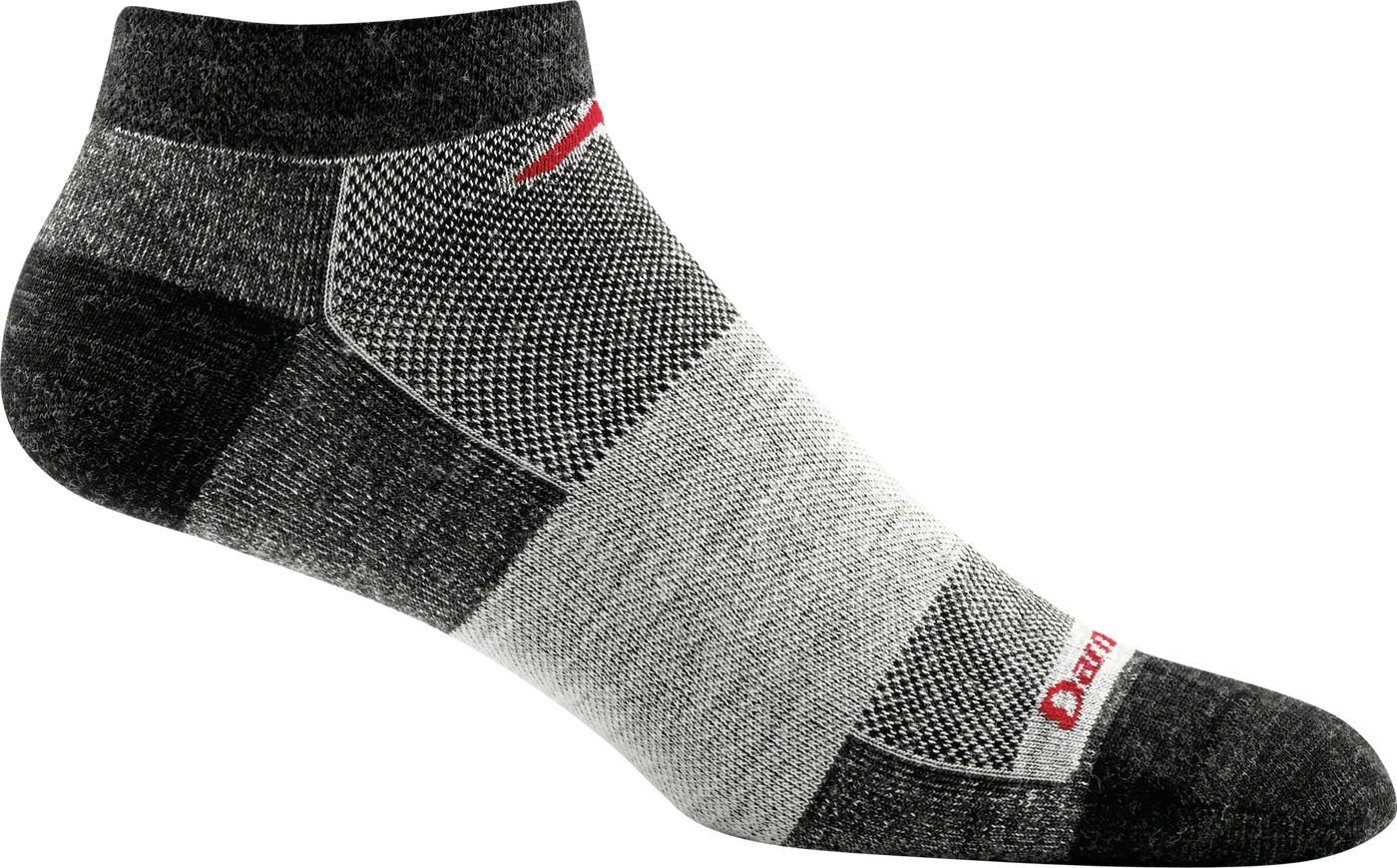 It is a sock that breathes quite well and has a smooth on-skin feel with its thinness and high nylon content. Given this, it never feels sticky, squishy, or like it's detracting from precision during off-camber footstrikes, even when the rest of my body is slick with sweat. After around 1000 miles, the heels and bottoms of the metatarsals are thinning, and there is a negligibly small hole in one of the 1st toes.
But the 1437 No Show Lightweight Athletic Sock has lasted far longer than any other running sock I own, and is one that I anticipate wearing for at least another season. While I'm not often using these on trails with many cold river crossings, the 1437 always feels dry and resistant to stretching, no matter how wet they've become. And as an added bonus they don't seem to stink very much (despite my notoriously noxious feet), which enables me to wear them a few times before washing…
Fabric: 29% CoolMax®, 68% Nylon, 3% Lycra®
MSRP: $19.00
Size Tested: Men's Medium
Reviewer Shoe Size: US Men's 10.5
Drew: Compared to the Injinji Run Lightweight Crew sock, the Ultra Run Crew has a slightly thicker and more supportive feel (Injini's "Ultra Run" series is built with their "midweight" cushioning and extra padding around the toes). The thicker fabric, focused under the metatarsals and talus, provides understated cushioning and makes it more durable, while the tensile bands add some support around the ankle and arch of the foot. The upper portion of the Ultra Run Crew stays in place with vertical ribbing and a near compression-level fit.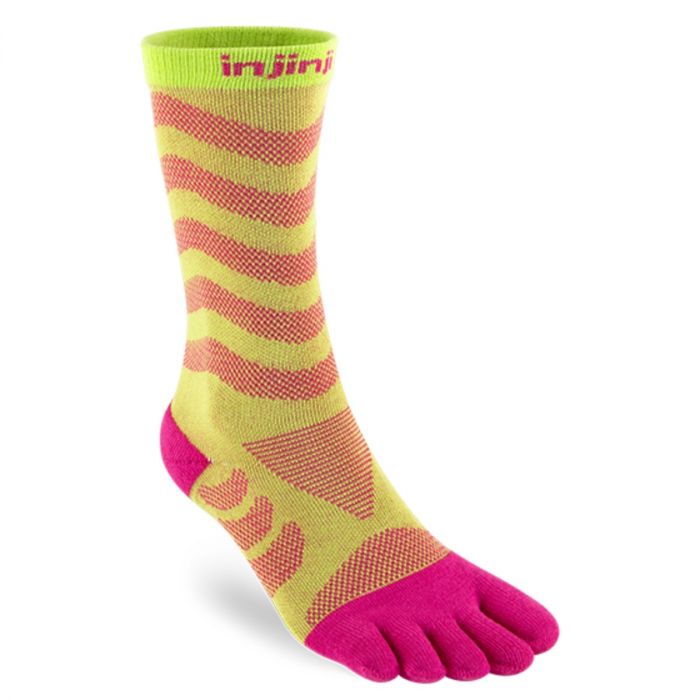 Given that this is a sock designed for longer and more rugged runs, its thickness and support are good things, and in this case not overdone, in my opinion. As a result, this sock has become one of my preferred options for alpine running and scrambling, where I prioritize both a precise, supportive fit and a bit more cushioning for outings that involve lots of vertical change and rough terrain.
Fabric: 55% Merino Wool, 40% Nylon, 2% Recycled Nylon, 3% Elastane
MSRP: $21.00
Size Tested: Men's Large
Reviewer Shoe Size: US Men's 8.5
Matt: Unlike Darn Tough's Light Hiker Micro Crew Socks, which are technically designed for hiking but excel just as easily on faster-paced runs, Smartwool's Run Targeted Cushion Mid Crew Socks have runners' needs in mind (their name implies as much, anyway). They include Smartwool's "4 Degree™ elite fit system" (tightly woven bands of nylon that overlap in an X across the top of the metatarsals to keep the foot in place); a seamless toe; and thicker sections of their "Indestructawool™" blend at the heel and forefoot for increased cushioning.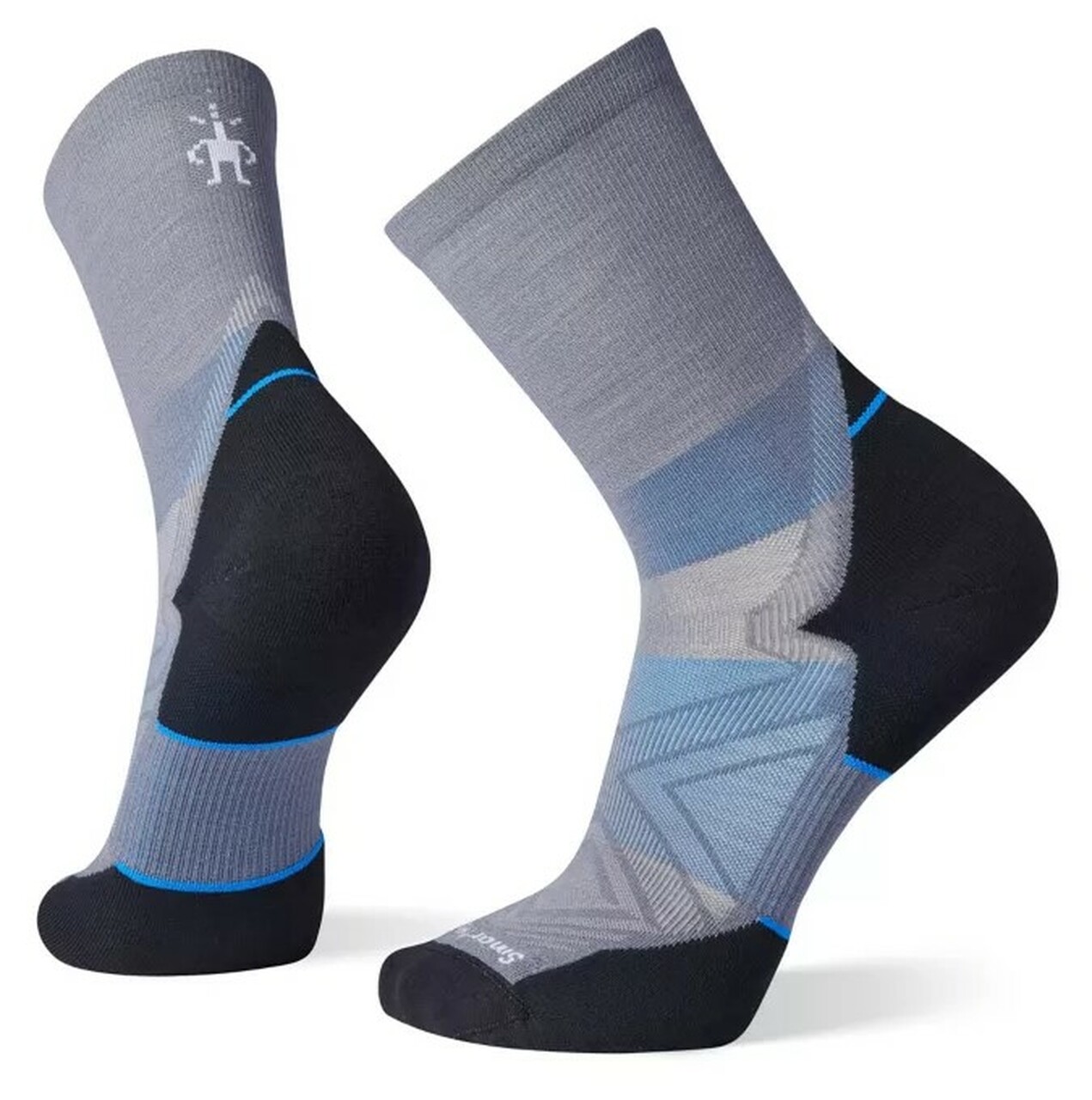 All of these features worked well despite my initial incredulity towards flashy ™'s and technical jargon, which often don't translate to anything tangible in practice. Smartwool's fit system gave my arch notable support and I benefited from the extra few millimeters of padding in the forefoot on runs involving a lot of descending. Like the Darn Toughs, I never felt like durability was much of a concern. However, despite being as comfortable as the Light Hiker Micro Crew Socks, these Smartwool socks don't breathe nearly as well. Now, my feet tend to sweat sitting still, so for runners who don't perspire at alarming rates like I do, I think the Smartwool Run Targeted Cushion Mid Crew Socks could be a good option, especially in colder climates.