Intro
Running is pretty great in that it really doesn't require much in the way of gear — you know, the whole "all you need is a pair of shoes" thing. But while you don't really need anything other than a pair of shoes (and maybe some warm clothes this time of year), there are a whole lot of running accessories, gadgets, and accouterments out there. Some of them are excessive, some are just plain weird, and others are (at least in our opinion) pretty awesome. Running in freezing temperatures and on snowy trails / roads is also a lot more gear-dependent than when it's warm and sunny, so we've picked a few of our favorite pieces of winter-specific running gear to help you sort out which is which. Plus, for the runner in your life, they could also make for great last-minute gifts.
As always, we'd love to hear your thoughts. We've found some of our favorite running accessories through recommendations, so please let us know what pieces of gear make your winter runs more enjoyable!
Finally, for more general advice on winter running and winter running gear, check out episode 29 of our Off The Couch podcast.
A Comfortable, Lightweight Headlamp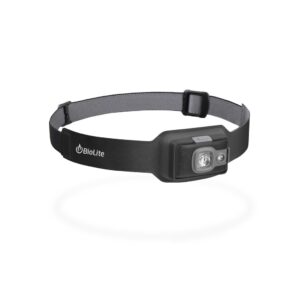 Gordon Gianniny: The days are pretty short right now, which means a whole lot more running in the dark for most people. For me at least, pretty much all of my runs involve at least a few miles either before sunrise or after sunset at the moment. And while any headlamp is better than nothing for nighttime outings, I get fed up with overly bulky, uncomfortable headlamps pretty quickly. Fortunately, lots of brands are offering lighter, more comfortable headlamps that still put out plenty of lumens and make running in the dark way less unpleasant.
My two favorites at the moment are the Biolite Headlamp 200 ($45) and Petzl Bindi ($45). Both put out enough light (200 lumens on their brightest settings) to make me feel confident on both roads and trails in the dark, both are extremely lightweight (50 g stated weight for the Headlamp 200 and 35 g for the Bindi), and both are rechargeable.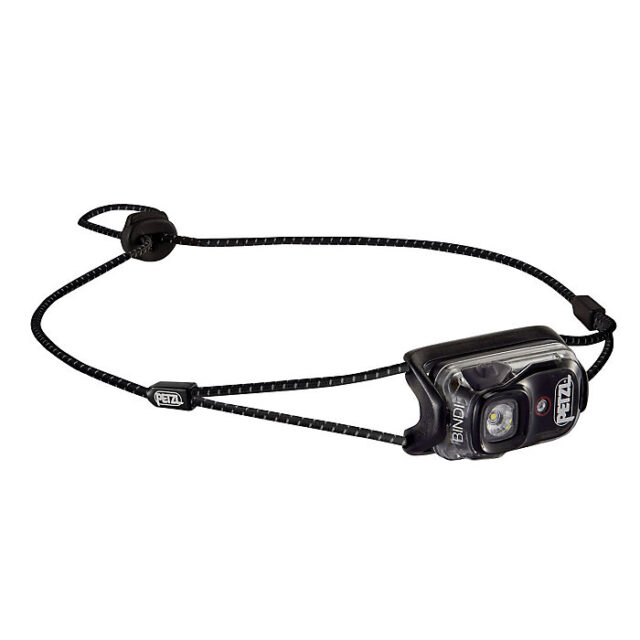 The Headlamp 200 has a unique headband-like construction that makes it extremely comfortable — and totally eliminates the obnoxious bouncing of bulkier / heavier headlamps. It also lasts about 3 hours at max brightness (200 lumens). So while it won't last you all night, the Headlamp 200 lasts plenty long enough for the shorter runs I'm usually doing this time of year.
The Bindi doesn't last quite as long (2 hours at 200 lumens), and has a thinner elastic cord headband that isn't quite as comfortable as the Headlamp 200. But it's also a fair amount lighter than the Headlamp 200, which makes it my go-to for after-work runs where I only anticipate needing a headlamp for the last couple miles. The Bindi is small and light enough to stash in a pocket (or just put on your head) and completely forget about until it gets dark. If you anticipate needing a headlamp for your entire run, I think the Headlamp 200 is slightly more comfortable and reliable — but if you're looking for a "just in case" headlamp that's as light as possible, I think the Bindi is pretty awesome.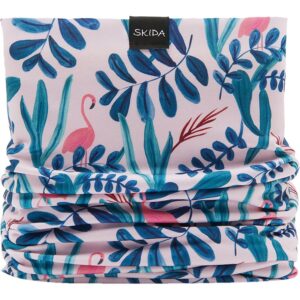 Maddie Hart: In the winter, having a thicker neck gaiter is crucial to keeping your face and neck warm in my experience (they're also handy for doubling as a mask during global pandemics, as it turns out). My personal favorite is the Skida Tour Neckwarmer ($22). It's nice and long — maybe just slightly longer than a traditional Buff — which makes it easy to tuck it into my shirt collar and still be able to pull it up around my face. The fleecy material keeps my face and neck warm in cold, wintery weather — especially if it's windy. At the same time, the Tour neckwarmer is breathable enough that it doesn't get too hot. If you tend to get really cold, Skida also makes the thicker, fleece-lined Alpine Neckwarmer. These neck warmers are great for adding a little extra warmth to your standard winter running kit. Plus, if you do overheat, they're light and compact enough to easily stash in a pocket for the rest of the run.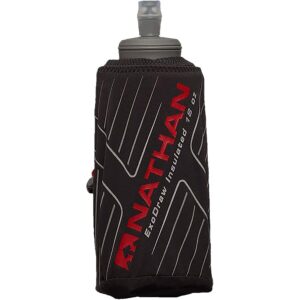 Gordon Gianniny: I actually kind of hate traditional handheld running water bottles — they always feel like they throw off my balance and slosh around a bunch. But this time of year, I usually do lots of runs that aren't really long enough to justify bringing a full-on running vest, but are long enough that I do want to be able to carry a little bit of water and a gel or two. The most obvious answer to that dilemma is a handheld, but my vendetta against the usual running handhelds that use a rigid bottle has kept me away from that solution — that is until I tried out a couple of the handheld soft flasks that have shown up in the last few years. They eliminate the sloshing issues of a traditional rigid bottle, and as a result, feel like they don't interfere with my stride as much.
My favorite handheld soft flask this year has been the Nathan ExoDraw 2.0 Insulated 18 oz ($55). For my preferences, it carries enough water for runs up to 2 hours long (in cold weather, at least). The ExoDraw 2.0 also has a very comfortable, stretchy strap that holds the soft flask securely without feeling overly tight, and the integrated pocket is plenty big enough to hold a few gels. It also fits my iPhone 8 in a Lifeproof case without any trouble. That's all great, but in my opinion, the ExoDraw's best feature (particularly for winter running) is it's extremely adjustable hand strap. I can cinch it down to get a secure fit when I'm not wearing gloves, but it's also stretchy enough that I can fit it over every pair of gloves that I own — including the extremely bulky mittens that I often have to resort to wearing on Gunnison's extremely cold mornings.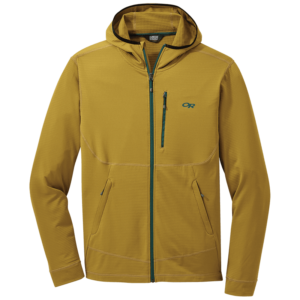 Cosmo Langsfeld: When it comes to winter running, the thing that I spend the most time thinking about and perfecting is my layering system. In my opinion, having the right amount and right type of layers makes all the difference in enjoying a run of any distance when the temperature drops. Too few layers and you'll be cold and miserable. Too many layers and you'll sweat and then you'll get cold and be miserable. But with the right layering system, it doesn't matter what the temperature is outside. With that in mind, my favorite layer in the quiver is my Outdoor Research Men's Vigor Full Zip Hoodie ($99; there's also a women's version for the same price). There are a few features that make this hoodie vital to my layering on cold runs.
First, the hood. I like having it as something I can throw on when I get cold and peel off when I start to get hot. It makes it super easy to constantly make minor adjustments to make sure I'm warm enough without overheating. The same can be said for the full-length zipper. It acts as a vent that can be open and closed, and with the shirt tucked into your pants and a belt cinched down, the inside is a good place to store things that you want to keep warm and dry, like spare gloves. While these features aren't necessarily unique to the Vigor Hoodie, I think the Vigor also strikes an excellent balance between warmth and breathability. It's not a super thick layer, which keeps it highly breathable. But it also provides enough insulation to be plenty warm for runs in temps down into the teens with just a T-Shirt underneath (at least for my preferences).
Finally, the Vigor Full Zip Hoodie's pockets are great for carrying extra layers and / or snacks. The two pockets low down are great for extra gloves, hats, socks, or really whatever else you want to bring along (as long as it's not too heavy). But the pocket I utilize the most is the zippered chest pocket. It is the perfect size and location to carry a spare buff or some gummies and a gel for a little snack on mid-length runs. If you want to carry a running vest for longer runs, you can also try sizing up so that the hoodie easily fits over it.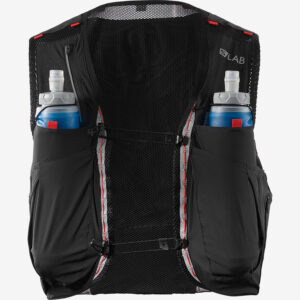 Kevin Geisen: I typically think of running vests as a tool for longer runs and adventures, but I've also found them to be extremely useful in the colder months for storing extra layers on runs of any distance. In the winter, I often find myself shedding layers as I warm up. If I'm wearing a vest, I can easily stash these layers away as I go. Running with a vest has also been a great way to carry extra layers when I'm expecting it to cool down during the course of a run.
With that said, many running packs don't have enough storage space for bulky layers. On the flip side, there are plenty of packs that offer lots of storage space but don't adjust to the size of the load being carried very well, which usually results in lots of obnoxious bouncing. I prefer packs that provide adequate storage while still having the flexibility to conform to a smaller load. With those criteria in mind, I'm a big fan of the Salomon S/LAB Sense Ultra 8 Set running vest ($180). The S/LAB Ultra 8 maintains a low-profile when empty, and the elasticity of the pockets easily allows for ample storage for carrying larger loads (including bulky winter layers). One of my favorite things about the Ultra 8 is how well it distributes weight between the front and the back of the pack, which helps to eliminate bounce and provides a smooth ride — whether you're carrying snacks and water on a long summer outing or extra gloves, hats, and layers in the winter months.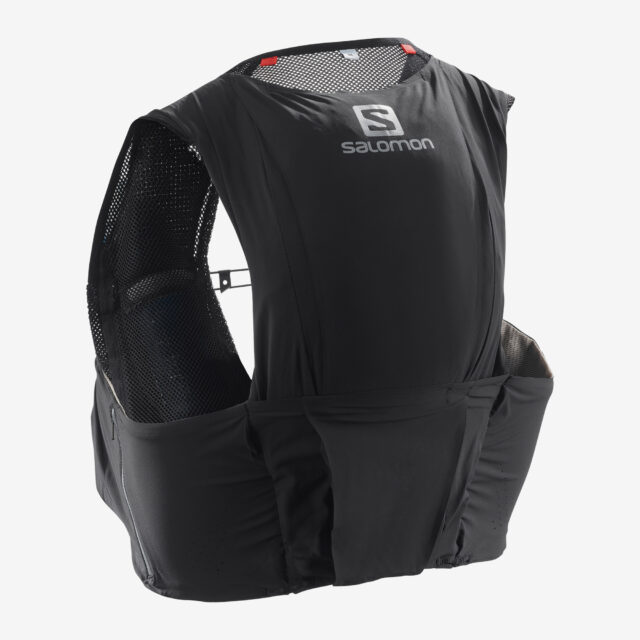 Between the main back compartment and the smaller back pouch, I can easily fit everything that I might need to face the cold, including a lightweight puffy jacket, a pair of gloves, a hat, and an extra pair of running pants. The front pockets include two spaces for Salomon's 500ml soft flasks; two small storage pockets for gels, gloves, or a phone; and two small pockets towards the shoulders for wrappers, salt tablets, or other small items. There are also pockets on both the left and right side that can be great for storing your phone or additional nutrition storage. If the S/Lab Ultra 8's capacity seems like overkill for your needs, the Salomon S/LAB Ultra 5 Set ($160) and Salomon ADV Skin 5 ($145) provide many of the same features with slightly less storage volume. But if you're looking for a lightweight pack that can adapt to a large array of load sizes, the Salomon S/Lab Ultra 8 Set (or one of Salomon's other packs) is certainly worth a try.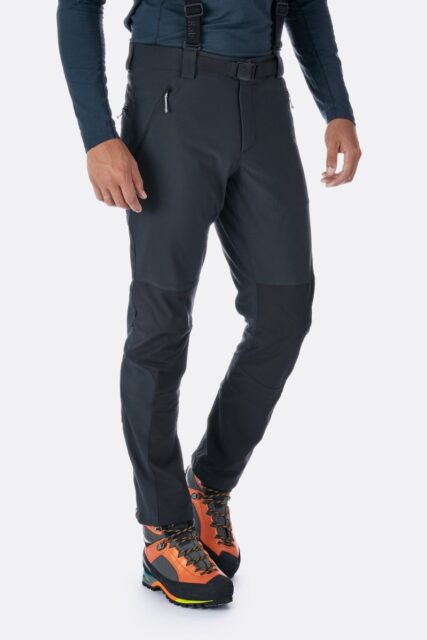 Cosmo Langsfeld: This might be controversial, but I think running in tights is totally overrated. For me, a good, comfortable pair of pants is highly important for enjoying winter running. I like more separation between my skin and the elements, and the added room beneath that outer shell also allows for more versatility in the way of layering. With that in mind, when I look for a good pair of pants for winter running, there are 4 qualities that I focus on: flexibility, breathability, water / wind resistance, and room for layers. The pants that I have found that check all of those boxes aren't actually running specific, but mountain and climbing pants from Rab.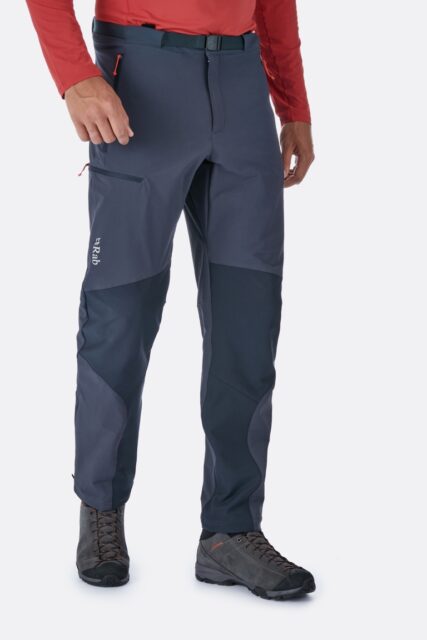 Rab offers a wide range of shell pants that function well in winter conditions. The two that I like the best are the Winter Torque Pants ($200) and the Spire Pants (~$147) (Note: the Spire Pants are currently only available through Rab's UK website). The Torque pants are a little slimmer fitting while the Spire pants provide some extra room for another layer of long underwear on those extra cold or windy days. Because these are climbing pants, the material has a little stretch to it, providing ample range of motion for running.
The material is both water and wind resistant (though not truly waterproof — Rab does have some waterproof pants in the lineup if that's what you're looking for) and does a great job of protecting you from the cold air while still maintaining breathability. The one downside to these pants is the price. They are pretty expensive, but they also last a long time — and they're super versatile outside of winter running. I got a used pair of Rab pants similar to the Spire 5 years ago now and have been using them heavily for running, ski touring, climbing, and mountaineering. I've had to repair a few seams here and there, but other than that the pants are still in great shape.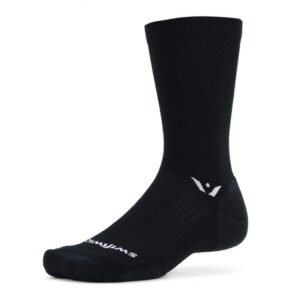 Gordon Gianniny: A good pair of socks is critical to keeping your feet warm and comfortable on any winter run — and they also make great gifts / stocking stuffers. When the temperatures drop, my go-to sock is the Swiftwick Pursuit Seven ($21.99). We did a more in-depth roundup of some of Swiftwick's socks last year, but in short, my conclusion about the Pursuit Seven was that it's pretty great for just about any activity in cold weather. It's warm enough to keep my toes from freezing on chilly winter morning runs, but thin / breathable enough that it doesn't get too hot or feel overly bulky. For the warmer months, Swiftwick's Pursuit Ultralight series provides equally awesome comfort in a thinner, more breathable package. If they're anything like me, most runners are always in need of some new socks — and I think Swiftwick's Pursuit socks are some of the best options around.