Tobe Novo Jacket and Bib
Reviewer: 5'11", 165 lbs
Tobe Novo Jacket
Size Tested: Medium
Blister's Measured Weight (size Medium): 1096 g / 2.41 lb
Fabric: 2-Layer Sympatex w/ Cordura face fabric
Stated Features:
YKK Aquagaurd Zippers
Cordura fabrics
Reinforced and sealed seams
Double stitching
Chest vent zips
Removable Hood
Breathing holes on face placket
Wrist gaiters
Mesh and taffeta lining
Pockets:
1 exterior chest (zippered)
1 exterior arm (zippered)
2 exterior hand (zippered)
1 internal Goggle pocket (drop in)
1 internal chest (zippered)
1 internal functional cell phone pocket (zippered)
Jacket MSRP: $459.95
Tobe Novo Bib
Size Tested: Medium
Blister's Measured Weight (size Medium): 1120 g /2.46 lb
Fabric: 2-Layer Sympatex w/ Cordura face fabric
Stated Features:
YKK Aquagaurd Zippers
Cordura fabrics
Reinforced and sealed seams
Double stitching
Armortex Kevlar knees, inner calf and leg cuff
Adjustable shoulder braces
Adjustable waist
Chest buckle attached to shoulder braces
Leg gaiters
Mesh and taffeta lining
Pockets:
2 exterior hand (zippered)
Bib MSRP: $429.95
Test Locations: Alyeska Resort, Turnagain Pass, Talkeetna Mountains, & Thompson Pass, AK
Days Tested: 50+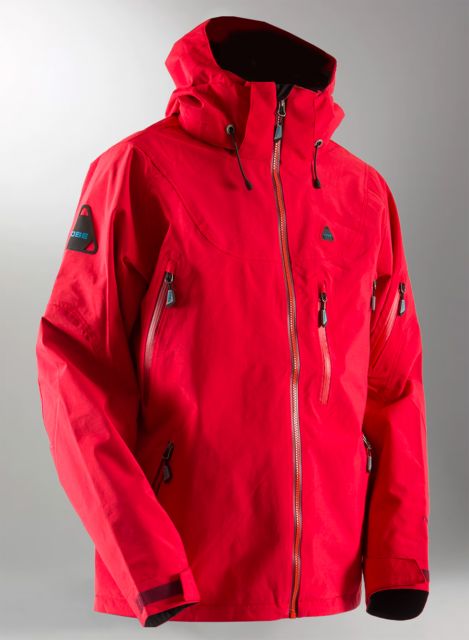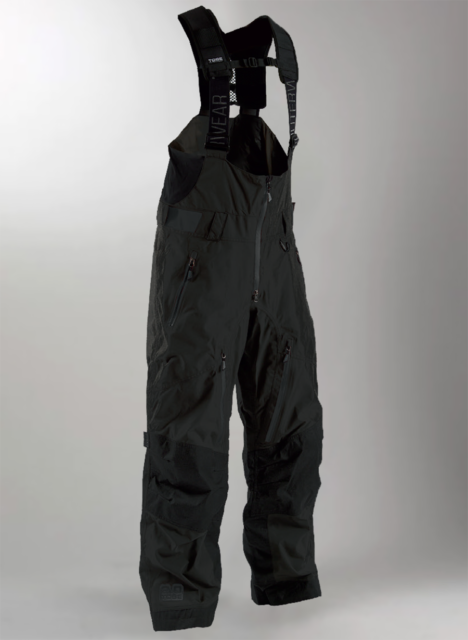 Intro
Tobe has emerged over the last few years primarily as a snowmachine-specific outerwear and gear company, producing burly jackets, pants, boots, helmets, and, perhaps their most iconic piece — the monosuit.
But as their founder, Tomas Berntsson, notes, much of the gear reflects a ski / snowboard style, and Tobe markets their outerwear not only to snowmobile users, but also general skiers and snowboarders. And the cross-marketing of their gear results in a unique end product.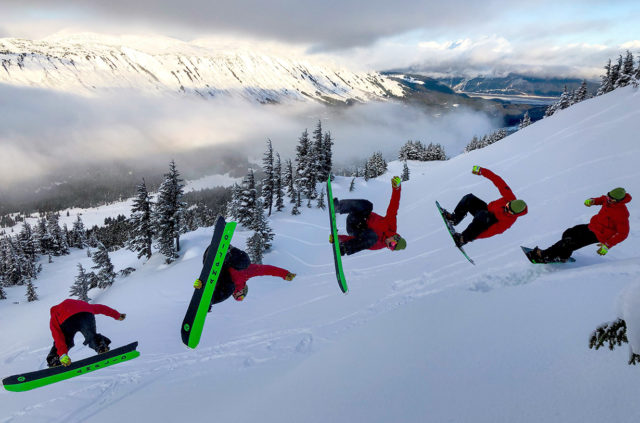 Tobe's gear combines the durable materials necessary to withstand snowmobiles' sharp running boards, handlebars, and other abrasive surfaces with a fit, style, and feature set more akin to ski and snowboard shells. As an emerging sled-skier / snowboarder, I have been looking for more durable outerwear that can withstand the rigors of the sled without getting torn to shreds, yet feels unrestrictive for touring and snowboarding — thus leading me to the Tobe Novo Jacket and Bib.
Fit
First off, we'd like to commend Tobe for their "Size Guide" on their site. Under each piece's product page, you can see different sized models wearing different sizes of each piece to get a better idea of how different sizes would fit you. Trying to get an idea of how a piece fits without trying it on is very difficult, and while we do our best to sum up fit in our reviews, Tobe's size guide is an extremely effective and efficient way to help combat the issue of gauging a fit of a garment. So with that said, here's my experience with the fit of the Novo Jacket & Bib.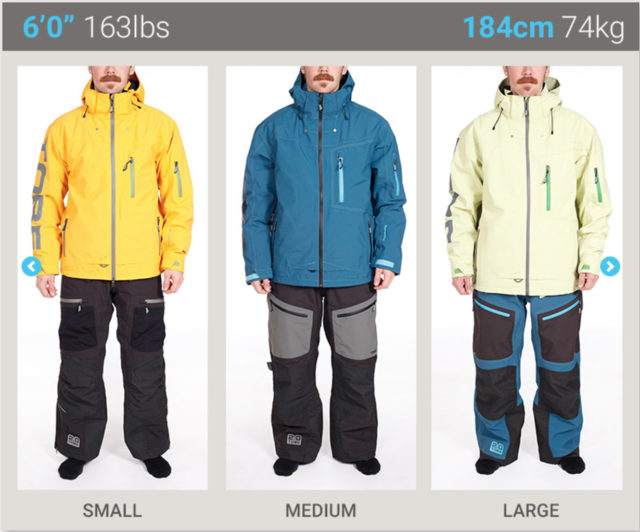 The Novo jacket is not particularly baggy, and I'd say it falls somewhere between slimmer touring shells and bulky "freeride" ski and snowboard shells. According to Tobe's size guide, at 5' 11", 165 lb, I slot perfectly into a size Medium. Although I typically prefer my jackets on the longer / looser side (and typically wear a Medium or Large), the length does not appear to vary greatly between the Medium and Large Novo — mostly expansions in the waist and chest regions. That being said, the Novo does seem to have a slightly shorter torso length then what I am use to, perhaps more common with a technical style.
I am able to wear a light puffy (Patagonia Nano Puff) or knit / base layer (such as the Patagonia R1) without any issue under the Novo Jacket. But with a thicker puffy jacket, the chest and sleeves start to feel a bit bulky and tight. The Novo does feel considerably bulkier and more restrictive than some 3-layer snowsports shells such as the North Face Freethinker and Patagonia Untracked jacket, which lack the lining, abundance of pockets, and thicker fabric of the Novo Jacket.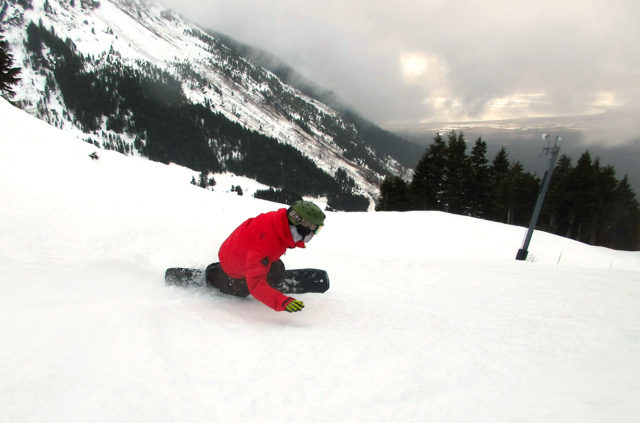 The Novo Bib, compared to the jacket, feels much baggier. I wore the Novo Bib in a size Medium, which was what Tobe's size chart suggested. The bib's fit is adjustable via the shoulder straps and velcro waist, and my only gripe with the shoulder straps is that they could be longer. While I am not at the very upper end of a Medium according to the sizing chart, I have maxed out how long I can get the suspenders. While the suspenders are comfortable, the groin area does feel tight and restrictive while climbing and perhaps another 1-2" of shoulder-strap length could resolve this.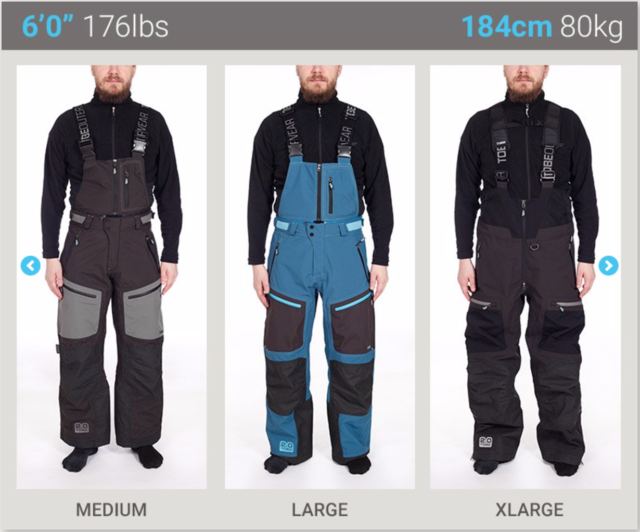 The Novo Bib's inseam and rise feel a tad short (stated 31" inseam on a Medium), slightly limiting movement when kick turning and booting up lines, but otherwise, I am very pleased with the fit. Apart from kick turns and steep bootpacks, the length of the leg is long enough to drape to my boots but not long enough to drag on the ground. The legs feel very loose and non-restrictive and would easily accommodate most types of base layers.
Pockets
The Novo Jacket features 4 external pockets and 3 internal pockets.
The Novo Jacket's exterior chest pocket is relatively small, but large enough for a phone, wallet, or point-and-shoot camera. A small shallow pocket on the left bicep is ideal for a lift ticket or pass, or perhaps some cash and credit cards for après drinks and food.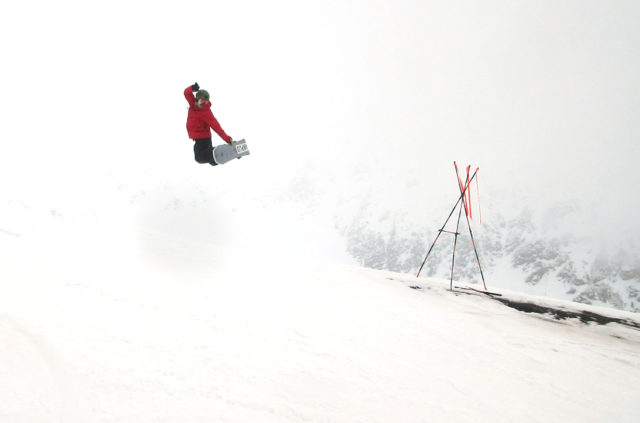 Like the other pockets, the Novo Jacket's two hand pockets are not particularly large, which is one of my few complaints about the jacket's pockets. The relatively short zippers (~16cm) on the hand pockets make it a bit more difficult to get your hand in and out with a thick glove on. And it's worth noting that the hand pockets get covered by many packs' hip belts. However, the smaller pockets and zippers keep the jacket feeling tight and secure.
Inside the Novo Jacket are three pockets: a small zippered chest pocket ideal for keys or a small wallet; a large, stretchy drop-in goggle pocket that can also accommodate a small set of skins or gloves; and a clear zippered phone pocket.
The clear, plastic-film-covered pocket allows the use of a touch screen without having to open the zipper, and has a headphone port at the top. While I typically don't see the necessity of a pocket like this, it has grown on me over time. After all, it always seems a bit sketchy pulling out a phone on the chair lift to change songs, answer a call, etc. This pocket does a great job of keeping the phone relatively weatherproof and secure while still being accessible, and should be large enough to accommodate most modern smartphones.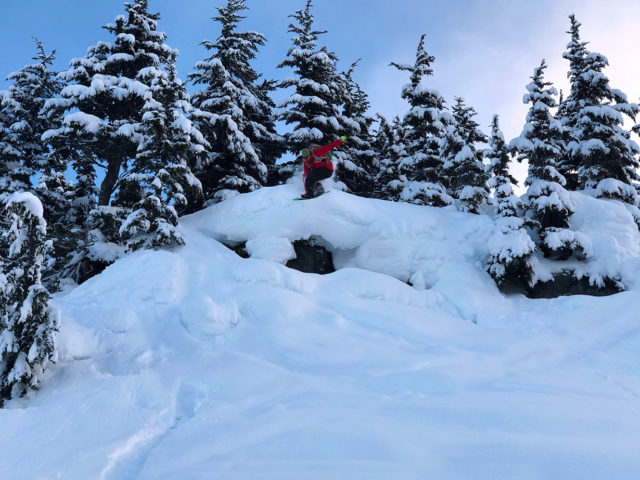 The Novo Bib is much more minimal on pockets, with only two. The bib's pockets have a larger opening than the jacket pockets, but remain sleek and do not feel bulky. At times another pocket would be useful, particularly lower down near the outside of the knee for storing quick-access items such as a small tool, ski strap, etc.
Other Features
The Novo Jacket has tight-fitting, elastic wrist gaiters with thumbholes. The thin, low-profile gaiters easily fit under my gloves, making for a nice weather-resistant seal.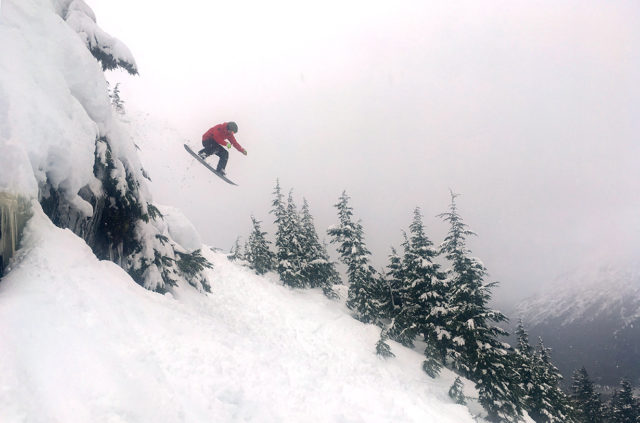 The Novo Jacket vents via two ~20 cm zippered, mesh openings along the side of the chest. Although initially skeptical due to the small zipper and being used to larger pit zips, the Novo's chest vents do a fairly good job of venting, particularly when riding a snowmachine or descending in warm spring weather. The location of the vents means that they catch the wind and funnel it through the torso. That said, the Novo Jacket's vents are not as effective as most under-arm pit zips when touring with the jacket on.
The Novo Jacket's removable hood is on the tighter side when using a ski / snowboard helmet (I used it with a size Medium Smith Quantum), and does not fit with my full-face Troy Lee Designs D3 snowmobile helmet. Although it fits and zips closed with the ski helmet, the Novo Jacket's hood does feel slightly restrictive. The hood / face area of the hood can be slightly expanded with an ~8 cm face placket with breathing holes, which is secured by a snap. This makes the hood feel a bit less restrictive with it over a helmet, and the breathing holes are a bit of an improvement over a solid placket when it comes to breathability.
Inside of the Novo Jacket is a removable powder skirt with four fastening points to merge with the Novo Bib or other Tobe bibs. In general, the powder skirt is pretty comfortable due to its elasticity and stays in place. There is also an adjustable cinch at the waist of the jacket, which can be tightened down to help further keep out the elements.
At the base of the Novo Jacket near the main zipper is a well-secured metal D-ring. This is designed to clip to a snowmachine tether / kill switch, and it seems like it would work quite well for traditional metal-gate lift tickets.
On the Novo Bib, I think the most notable feature is the Armortex reinforced knees, inner calf, and cuff. This is especially great for those who ride snowmachines or work in the mountains and tend to shred their pants.
While Snowmachining and sled-skiing, it's somewhat typical to wear a light knee pad to protect your knees from sharp objects and hard cowlings, especially when riding double. I have shredded numerous snowpants (while saving my knees) due to the abrasion from the knee pads and sharp running boards. But the Novo Bib's reinforcements have held up better than any 3-layer snowsports shell I've used, with very minimal abrasion after 50+ days of use (more on durability later). The Novo Bib's cuff reinforcement also does an excellent job of protecting from crampons and ski edges, though it's baggier fit doesn't make it ideal for lots of technical climbing with crampons.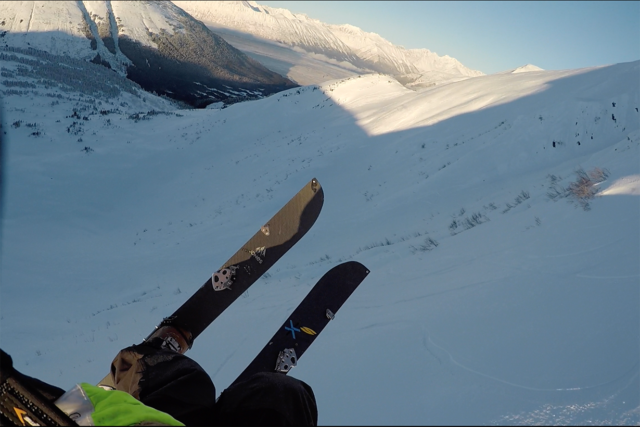 The Novo Bib also features ~7.5cm-wide shoulder straps with a chest buckle to keep them from falling down. While originally skeptical of the overbuilt shoulder straps and suspender system, I have grown to love them. They feel much more secure (although a bit bulkier) than the bib straps on the Patagonia Powslayer and Rab Latok DV bibs.
The vents on the inner thigh of the Novo Bib are only 27 cm in length. Similar to the vents on the Novo Jacket, when descending or moving quickly (e.g., riding down, snowmachining, etc.), the vents do a good job of circulating air. But I don't think they do a good enough job of venting for long tours or high-output activities. Especially since I seem to run warmer than most, I feel that the Novo Bibs could benefit from much larger vents in order to make them more versatile when it comes to uphill travel.
Lastly, the Novo Bib's gaiters seem well built and effectively keep the snow out, even on the deepest boot packs.
Weight
The Novo Jacket and Bib are clearly designed with durability in mind, and not low weight. That shows — they're some of the heaviest pieces of outerwear we've ever tested.
The Novo Jacket comes in at 1096 grams / 2.4 pounds for a size Medium. There are tons of lighter and more packable options for those looking to shave grams and take a minimalist approach to the mountains. Of any gear I regularly bring into the backcountry, the Novo Jacket definitely takes up the most space in my pack.
Much like the jacket, the Novo Bib is quite heavy and bulky due to its burly construction. Weighing it at 1120 grams/ 2.46 lbs for a size Medium, it's one of the heavier bibs I have used.
For reference, here are a number of our measured weights for some notable jackets and pants in this category. Note the size differences to keep things apples-to-apples.
Jackets:
364 g Black Diamond Helio Active Shell, size Medium
518 g Flylow Cooper Jacket, size Medium
544 g Outdoor Research Hemispheres Jacket, size Medium
563 g Rab Sharp Edge Jacket, size Medium
590 g Flylow Higgins Coat 2.1, size Large
593 g Patagonia PowSlayer Jacket, size Large
605 g Patagonia Descensionist Jacket, size Medium
610 g Strafe Cham Jacket, size Large
825 g The North Face Ceptor Jacket, size Medium
841 g Strafe Pyramid Jacket, size Large
848 g Open Wear Open One 3L Shell Jacket, size Medium
1096 g Tobe Novo Jacket, size Medium
Pants / Bibs:
441 g Norrona Lyngen Windstopper Hybrid Pants, size Large
485 g Strafe Cham Pants, size Large
494 g Patagonia Descensionist Pants, size Medium
539 g Arc'teryx Rush LT Pant, size Medium
555 g Open Wear Open One 3L Shell Pants, size Medium
603 g Patagonia PowSlayer Bibs, size Large
608 g Patagonia SnowDrifter Bibs, size Medium
618 g Rab Sharp Edge Pants, size Medium
620 g Arc'teryx Sabre Pants, size Large
896 g Flylow Baker Bib, size Small
1120 g Tobe Novo Bibs, size Medium
Materials
The Novo Jacket and Bib use a 2-layer Cordura fabric with a Sympatex membrane. As mentioned above, the Novo Bib features Armortex Kevlar reinforcements on the knees, inner calf, and cuff, making them quite resilient to abuse.
The inside of the Novo Jacket is lined with mesh over the torso region and taffeta along the arms, shoulders, and waist.
The Novo Bib interior is lined with taffeta from the waist down, with some mesh along the base of the shoulder straps.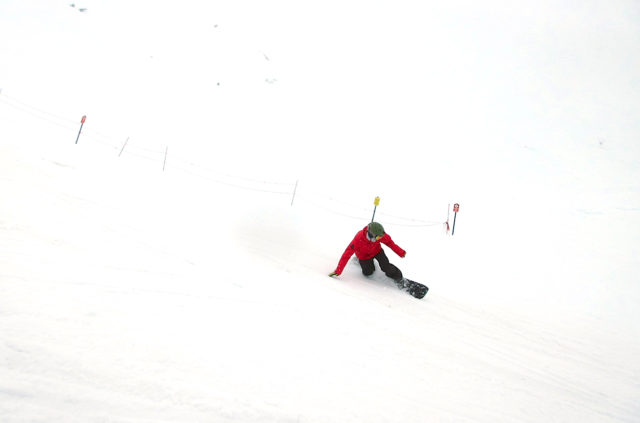 The materials and overall feel of the jacket and bib seems considerably bulkier than most of the other 2-layer and 3-layer Gore-Tex fabrics I've used on more snowsports-specific shells. Overall, the Novo's fabric is fairly stiff, though not wildly stiffer or less comfortable than most 2-layer waterproof fabrics.
In general, the feel and fit of the Novo Jacket seem very similar to the old North Face Gonzo jacket. For touring, the Novo's added bulk is most noticeable when cramming the Novo Jacket in a backpack for uphill travel. Not only does it take considerably more space than most other shells, but it is also considerably heavier.
Weather Resistance
So far the Novo Jacket and Bib seem to be pretty waterproof. I spend a lot of my time snowboarding and snow machining in a maritime snowpack and close to sea level. This means that, for me, waterproofing is one of the most essential aspects of any jacket or pant.
More often than not, I get rain (or experience extremely wet snow) at the base of the mountain or trailhead. While the Novo kit has done a great job keeping airborne moisture and snow from penetrating my inner layers, I have found myself feeling slightly damp to genuinely wet from either (a) getting pelted with rain and wet flakes while snowmachining at high speeds or (b) sitting and laying against standing water on chairlifts and benches.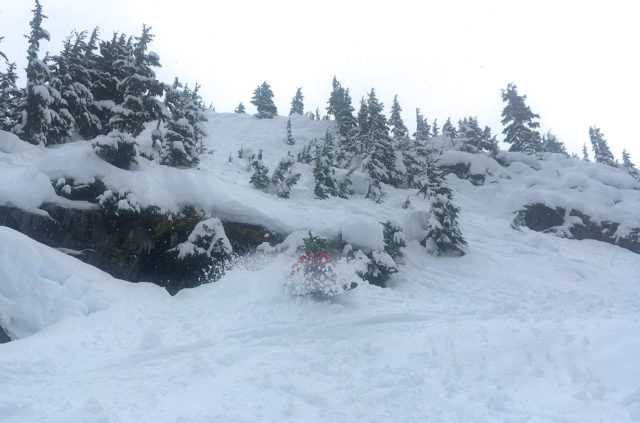 I am not terribly impressed with the waterproofing properties of the Sympatex fabric, though admittedly, many of my "waterproof" layers end up leaving me wet in the aforementioned scenarios, at least after a season of use. That said, the 3-layer Gore-Tex and Gore-Tex Pro layers I've used have been more water resistant than the Novo kit. This will likely not present as much of an issue if you spend most of your time in colder, drier areas, as our reviewers in those areas haven't had any issues with the weather resistance of other pieces that use the same Sympatex membrane as the Novo kit.
Breathability
The Novo Jacket and Bib seem to be pretty average when it comes to breathability, if not slightly on the more breathable end of the spectrum. The Novo kit seems to breathe a bit better than the 3-layer Gore-Tex Patagonia Untracked kit, which as a brushed flannel backer, and the Novo kit feels similar to the eVent and Hyvent fabrics I've used when it comes to breathability.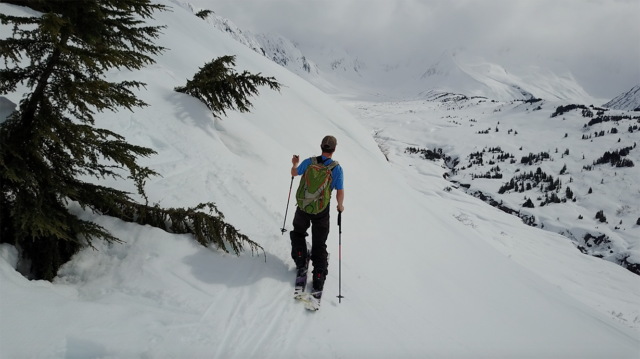 For a heavy jacket and bib, the Novo kit's materials do an effective job breathing and venting — though not as well as the more breathable membranes out there like Polartec NoeShell, Gore-Tex Active, and the fabrics on the Strafe Cham and Patagonia Descensionist. As mentioned above, the Novo Jacket or Bib would not be my first choice for long tours due to their limited venting options. But for sled-skiing / snowboarding and general resort riding, the fabric and smaller vents do an adequate job of keeping the jacket and bib feeling cool and dry.
Warmth
The Novo Jacket and Bib are uninsulated shells, yet still feels quite warm compared to other uninsulated shells. While I typically opt for a thin technical shell with no internal lining, the mesh and taffeta of the Novo Jacket and Bib seem to aid in retaining heat, particularly along the arms and legs. I have found myself unexpectedly warm in the Novo kit on several occasions, given that it's an uninsulated kit.
Durability
This is probably the defining feature of the Novo kit. While not the lightest nor the most weather resistant, the Novo Jacket and Bib basically seems bulletproof — a great feeling when riding snow machines where there's plenty of gear-shredding surfaces. After a season of sled-skiing in Gore-Tex jackets and pants (e.g., The North Face Freethinker, Patagonia Untracked Jackets, and Patagonia Patagonia Powslayer Bib), I often end up finding those pieces riddled with holes and patches.
But after spending a full season in the Tobe Novo kit, it's still free of tears and holes. That's impressive, and is arguably the most notable feature of the Novo kit. If you want a super burly outerwear kit, the Novo is worth a look.
Who's It For?
The Tobe Novo series is a great option for those looking for an extremely tough, feature-packed outerwear kit. If you value low weight, look elsewhere. And if you'll be using this kit primarily for earning your turns via a skin track or bootpack, check out lighter and more breathable options.
But the Novo kit has a functional fit, assortment of storage options, and it is made to last. Specifically, the Novo kit seems like an excellent candidate for those who like to mix in snowmachines / snowmobiles with a day spent skiing or snowboarding in the mountains, or who simply ride the resort and tend to shred their outerwear before the season's even over.
Bottom Line
The Tobe Novo Jacket and Bib are great options for those looking for an extremely burly jacket and bib. While the Novo kit doesn't seem ideal for really wet conditions (e.g., Alaska and the U.S. Pacific Northwest), it seems like it would be an excellent kit for a colder, drier continental snowpack. Coming from a company that previously specialized in snowmachining apparel, it makes sense that the Novo series seems built to withstand abuse, and keep you comfortable in the process.