Not too long ago, it seemed like the only options for snow boots were super bulky or a cheapo pair that looked good but left you with cold and wet feet. Fortunately, the options are now seemingly endless and there's no reason you need to choose between fashion or function. We've picked out a few of our favorites for women that should see you (and your feet) happily through the coldest and wettest winter days, and then Luke Koppa has added his thoughts on a couple of men's options.
Lowa Alba II GTX Ws
Upper: split leather, buffalo leather, synthetic woven
Lining & Insulation: GORE-TEX Partelana
Outsole: LOWA AL-S III full rubber
Size Reviewed: US Women's 9
Blister Measured Weight per Boot: 535 & 537g
MSRP: $275
Best For: cold days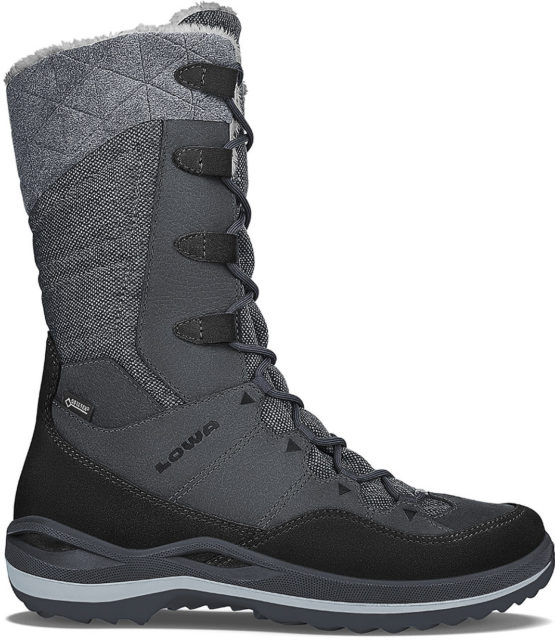 Kristin Sinnott: With a lineup that includes many technical and fashionable boots, it was hard to decide which Lowa boots to test. The combination of faux-fur trim, split-leather exterior, and a Gore-Tex lining make the Alba GTX Ws a boot that can be worn all winter, whether you're wandering around town or tromping through the mountains.
The 11-inch-tall boots feature a hidden (waterproof) zipper that makes them exceptionally easy to slip on and off — critical when dealing with an energetic toddler or when you're running late. The laces on the front are functional and could be a bit much if I had to adjust them every time I wore them, but thankfully, that's not the case thanks to the zipper. Once the laces are dialed in for your preferred fit, you only need to adjust them if you add extra (or remove) layers that extend into the boot. I've worn the Alba under ski pants and over ankle-length jeans and they look and feel great either way. I sized up a size to a 9 but should probably have ordered an 8.5 as the size 9 is roomy. My foot measures between a 7.5 and 8 but I typically wear an 8 or 8.5 in snow boots to accommodate thick socks. But since the laces on the Alba can be used to get a more snug fit, the sizing hasn't been a problem for me.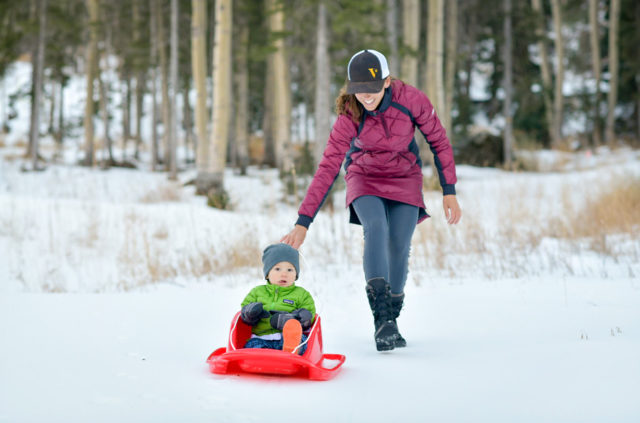 The interior fabric is soft and durable and I have worn them many times comfortably without socks. I do prefer to wear something over my calf since the interface between the two interior fabrics can rub a little if against bare skin. I've tested the Alba II GTX W's in snowmelt puddles (my son's favorite spot), heavy wet snow, and on cold wintery walks and my feet have stayed dry and warm (I've found it to be warmer than the Bionica Dalton and the Mammut Falera).
The Alba's soles provide good grip on almost all surfaces (better traction than the Mammut Falera), though icy spots are still a little tricky. Combined with the Alba's supportive insole, that means I can comfortably wear them all day. If you're looking for a do-anything, go-anywhere winter boot, the Alba II GTX should be on your radar.
Bionica Dalton
Upper: waterproof leather
Insulation: none
Outsole: full rubber
Size Reviewed: US Women's 8.5
Blister Measured Weight per Boot: 464 & 465 g
MSRP: $159.95
Best For: light activity or around town in non-frigid weather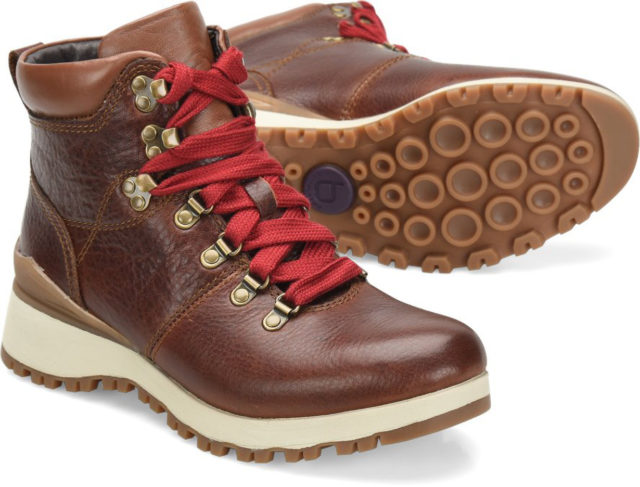 Kristin: The smooth (waterproof) leather exterior, contrasting wide laces, and narrow fit give the Dalton boot a classic look. By far the narrowest fit of the boots I tried, the Dalton isn't insulated, but it somehow still manages to keep my feet warm while out hiking in fairly cold temperatures. I haven't worn them on super cold days (below 20°F / -7°C) and these wouldn't be my first choice for standing around in really cold weather, but they're great for cool temps or colder temps when you're staying active (e.g., hiking).
The stiff leather and narrow heel of the Dalton mean it takes time to break in the boot. And when breaking them in, don't assume walking around on flat surfaces will translate to a hike with a lot of elevation gain. I made this mistake and after a 5-mile snowshoe, my feet were warm and dry but my heels were a mess.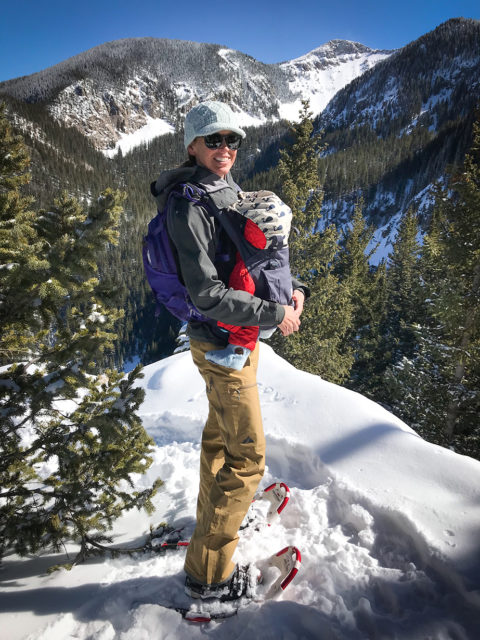 So I'd definitely recommend spending several days breaking them in before committing to longer hikes in them. That said, I was impressed that the boots worked well with snowshoes and they stayed dry even when traipsing through powder. The laces stayed nice and tight and at the end of the day, I could get out of them easily thanks to the two levels of easily detachable lace hooks on the upper boot. They've also held up well — no scratches or rubbing is visible on the leather.
From fall to spring, I reach for these boots when the temps are cool and I'm headed out for the evening (friend's house, bar, etc) or I'm going for a stroll with my son. Thanks to the grippy, circular treads and waterproof leather, the boots gripped well in snow, slush, and ice.
Mammut Falera High
Upper: elastic 3D knitted sock construction w/ waterproof lining
Insulation: Absolute Aluminia® Thermal Insulation
Outsole: Michelin® Winter Grip
Size Reviewed: US Women's 7.5
Blister Measured Weight per Boot: 394 & 400 g
MSRP: $199
Best For: travel & everyday wear for cool but not exceptionally cold days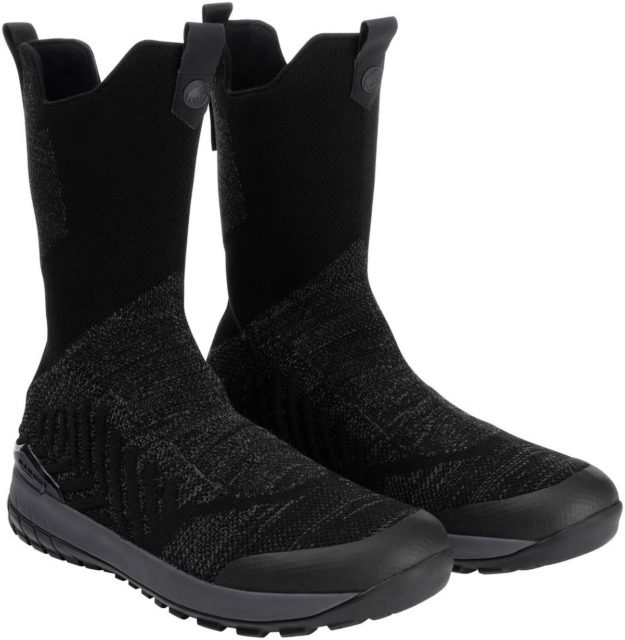 Kristin: At first glance, the Falera High boots do not look like winter boots and after picking them up, I still had my doubts since they're so light and lack a traditional woven or leather upper. But I spent the last week wearing them on cold, snowy days and my feet stayed warm and dry. The boot has a very non-traditional design with a skinny calf that easily fits under pants — even skinny-leg pants. But the skinny design can make them a bit challenging to get on and off, especially the first few times. The slight elasticity of the fabric helps but the tabs on the front and back are what makes the process manageable since you can easily grab and pull on them. Finding a good seat also makes this task a lot easier. While the fit is somewhat form-fitting, my ankles have been described as "voluminous" (no they aren't cankles) and I had no issues with them being too snug.
On an 8°F (-13°C) day I wore them for a short walk without socks and was surprised that my feet stayed warm. If I had planned to stay out longer, I would have chosen the Lowa Alba GTX Ws since they offer superior warmth, but because I was just running errands in town (and wasn't just standing around in the cold) it was nice to throw the Falera Highs on under my jeans. There is a lightweight and soft micro-fleece fabric lining in the Falera that kept my feet comfortable while barefoot. The Michelin® Winter Grip provides great traction and I spent a lot of time walking on snow-covered sidewalks around town and to / from the ski area without any slippage.
These aren't the warmest boots on our list but if you're looking for a versatile boot that will provide warmth but not look too cumbersome, these are worth a look. Given how lightweight the Falera High is and the fact that the top half can be folded down for packing, these also make for a great travel boot.
Lowa Renegade Ice GTX Ws
Upper: nubuck & full-grain leather
Lining & Insulation: Gore-Tex Partelana
Outsole: VIBRAM Arctic Grip Trac
Size Reviewed: US Women's 9
Blister Measured Weight per Boot: 570 g
MSRP: $300
Best For: long & cold hikes, icy surfaces, & everyday use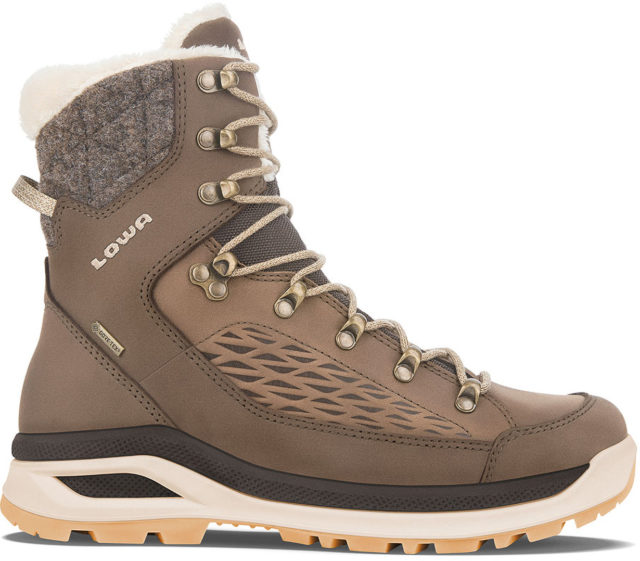 Kara Williard: As a decade-long ski bootfitter, I tend to overanalyze the fit of all footwear, but second to my ski boots comes that of my hiking and mountaineering footwear. I know that my narrow foot does well with Lowa boots after putting hundreds of miles in the Renegade GTX (multiple pairs over the last 5 years), so I was excited to try the warmer, burlier, and more winter-oriented Renegade Evo Ice GTX Ws. After a full-force winter in Taos last winter, tromping around Japan and Alaska, and hikes all over the winter-NM mountains, I was so happy about the fit, performance, and comfort of this boot.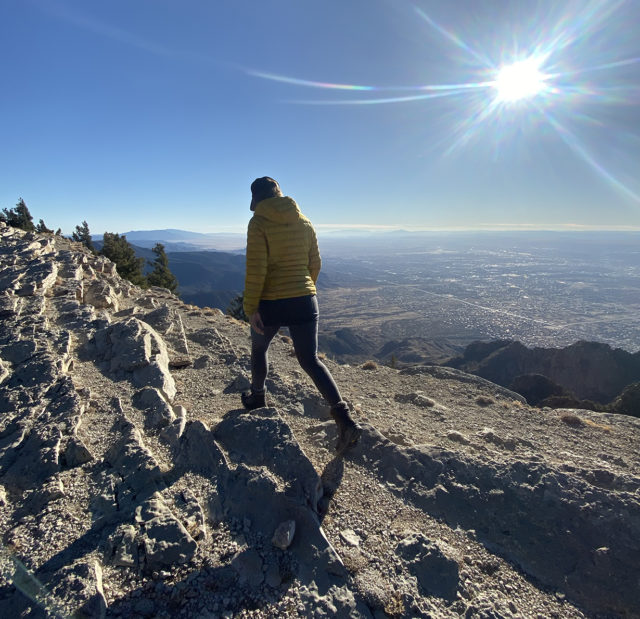 The Renegade Ice GTX offers a taller cuff than the standard Renegade for better snow protection, which was supportive and snug around the ankle. The traction was immensely impressive after getting into some icy and technical hikes after a freeze-thaw cycle. Between slick ice, snow, and everything in between, I felt confident exploring steep trails and difficult conditions with the grip that the Vibram Arctic Grip soles provide. I appreciated the adjustability of the fit offered through the 2-zone lacing system, which allowed me to dial in the fit through the heel and instep to get the right level of security, without causing pressure over the top of the foot. The Renegade Ice GTX was one of the warmer boots I have ventured out in, though I haven't tried a ton of insulated or winter-oriented hiking boots. The Lowa Alba is likely a bit warmer, but the more supportive midsole and grippier outsole of the Renegade Evo Ice GTX makes it a better option for extended hikes or sketchy trail conditions.
The Renegade Evo Ice GTX is my definition of a capable winter boot, and if it fits your feet as well as it fits mine, it's an excellent choice. I am glad to have a winter version of my go-to Lowa Renegade hiking boot so I can have a supportive, comfortable, and solid boot year round.
Bogs Amanda Plush Slip On
Upper: rubber
Lining: fleece
Outsole: full rubber w/ shank for support
Size Reviewed: US Women's 9
Blister Measured Weight per Boot: 531 g
MSRP: $90
Best For: après ski boots, quick trips in wet and fairly cold weather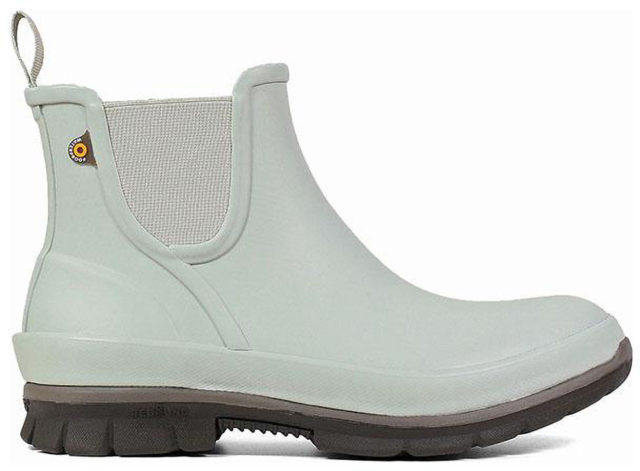 Kara: The Bogs Amanda Plush Slip On is a cute and simple design with simple slip-on access. Upon sliding them on, they are definitely a roomy and comfy fit, but not in a way that causes any heel slippage or excessive movement for me. I spent several long days in them exploring early-winter mud, snow, and slush and was stoked on the comfort of them, even when walking several miles. They offer insulation that is rated to -13°F (-25°C), but I found that these boots were not always capable of keeping my feet warm on 20°F days with considerable windchill, even with my wool socks. This was found while walking through snow on a bitter and windy day, and I could feel air coming through the rubber. However, they are the warmest rubber boots I've ever tried, as I've found my feet get cold in rubber boots quite easily. And it's worth noting here to always be skeptical of boots' temperature ratings — those numbers are often very generous compared to real-world scenarios, and you should rarely expect a boot that's, say, rated to -20°F to keep your feet totally comfortable at -20°F for an extended period of time.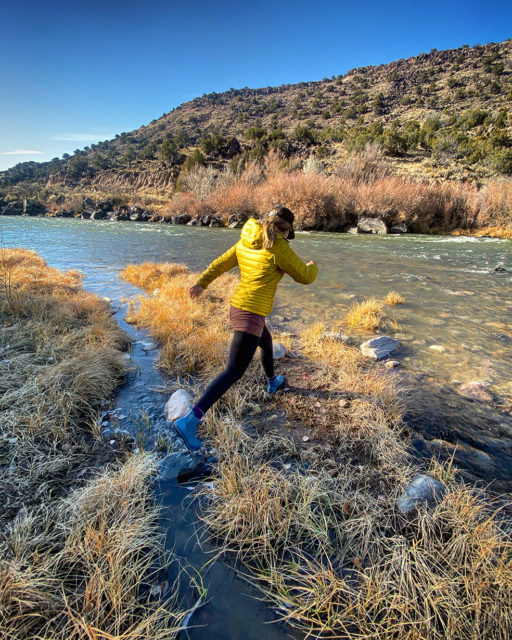 I was surprised by the tread of the Amanda Plush Slip On because it seemed to grip onto anything, including slick ice. While this boot is not the most supportive around the foot or ankle (especially compared to the Lowa Renegade Evo Ice GTX), I was impressed by how active I could be in it. But for me, the Amanda Plush Slip On really stands out when it comes to quick trips, when I just want to easily slip something on / off, or when heading to town on a rainy or wet day. And for a fully waterproof, rubber boot, they definitely maintain a low-profile and sleek look. Because they are an ankle boot, they are ideal for shallower snow and rain but not for very deep days.
If you want a boot for wet shoulder-season days, cool winter days, and you prioritize easy on and off, the Bogs Amanda Plush Slip On is a great option.
Chaco Women Borealis Tall Waterproof Boot
Upper: full-grain waterproof & salt-repellent Snowplow leather
Insulation: fleece made from coffee beans
Outsole: non-marking ChacoGrip™ rubber
Blister Measured Weight per Boot: 390 g
MSRP: $190
Best For: everyday casual use in cool to fairly cold weather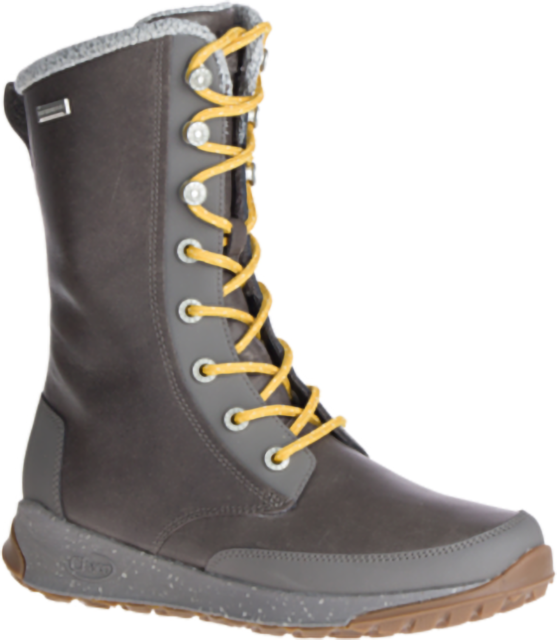 Sascha Anastas: The Borealis Tall Waterproof boot is a great option that doesn't look like a traditional, bulky winter boot but that's still warm, waterproof, and grippy. The leather upper is reportedly salt-resistant and the boot itself is fully waterproof. Out of the box, the leather was quite stiff but was quick to form to my lower leg and foot. Considering that the outer material is leather, the boot itself is relatively light making it a boot I could keep on my feet all day long. While I did not trek through any large streams, I did wear this boot tromping around wet / slushy snow and found that my feet stayed totally dry.
The main aesthetic feature of the boot is lace-up system (featured in a contrasting fun mustard color) that allows for as snug a fit as desired. The three upper "hooks" make it easy to quickly loosen the boot when taking them off, but then they do a good job of uniformly securing both the upper and lower portions of the boot. I have wider calves and found that the lace-up system was ideal for maximizing the comfort of both my calves and feet. I could also get the cuff of the boot as tight around my calf as I wanted to ensure that snow didn't sneak in through the top.
The Borealis's insulation consists of a fleece that's made from recycled coffee beans, which is an interesting and potentially more sustainable alternative to traditional fleece. The insulation initially seemed quite thin and I was quite skeptical that the material would provide any warmth. Chaco claims that the insulation not only "releases heat back to the body but provides natural anti-odor / anti-microbial properties." While the boot was able to hold more heat than I had anticipated, if the temperature was really cold, my toes tend to chill slightly. I'd say my feet started to get cold in the Borealis when temps dropped below 10°F (-12°C).
The Borealis's arch support, as with most Chaco footwear, is exceptional and made for an incredibly comfortable fit, even right out of the box. The midsole is narrow, sleek, and form fitting, which made it feel like I was wearing a really tall high-top shoe, rather than an insulated snow boot. I had no problem scrambling around town in these boots doing errands or chasing after my 2-year-old. The outsole on the Borealis consists of a 3 mm rubber grid pattern which was fairly grippy but I'd say it falls on the less grippy end of the spectrum when it comes to ice and snow.
Since receiving these boots this fall, I have yet to have a day go by where I have not worn them and consider them some of the best everyday winter boots for moderately cold temperatures.
Sorel Cheyanne II Lace Boot
Upper: full-grain waterproof leather
Insulation: 200-g synthetic
Outsole: vulcanized rubber
Size Reviewed: US Men's 10
Blister Measured Weight per Boot: 680 & 682 g
MSRP: $155
Best For: everyday casual use in cool to quite cold weather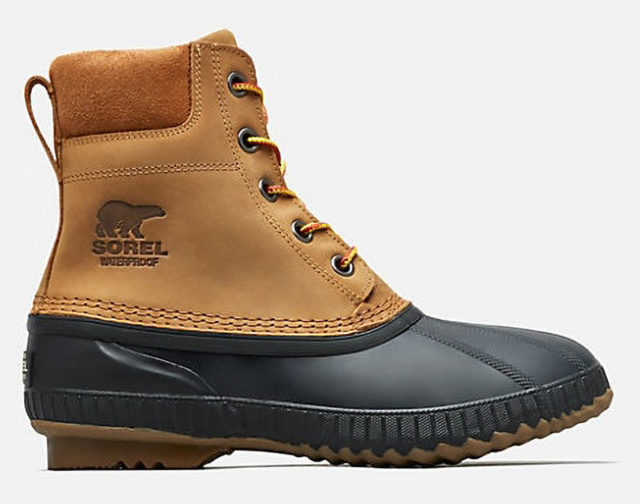 Luke Koppa: Growing up in Wisconsin, I sampled tons of winter boots over the years. It seemed like as soon as your feet stopped growing, every child in Wisconsin automatically received a pair of Sorel Caribou boots. While the Caribou is great for super cold weather, it's very bulky and I was never able to get a very secure fit in a pair.
That led me to the Cheyanne II, which isn't quite as warm as the Caribou but I've found that it fits my feet much more securely, and it doesn't look or feel as ridiculous when I need to wear my winter boots all day (including indoors). The ~7" / ~18 cm cuff height is sufficient for most days, though a very tall boot like the Caribou is better for when it truly dumps a ton of snow here in Crested Butte. That said, the Cheyanne II's shorter, lower-volume cuff fits much better under most of my pants.
In terms of fit, I'd say the Cheyanne II is pretty average through the ankle and high-volume (it's slightly lower-volume overall than the Caribou). I have a fairly wide midfoot and the size 10 Cheyanne II leaves me plenty of room around that area, even when worn with my thickest socks. If you're not planning on using super thick socks and / or have a fairly narrow foot, it'd be worth trying a half-size down. I can get a pretty secure fit in the size 10 (I'm usually a 9.5 or 10), though the generous midfoot means that I'd opt for something like the Lowa Renegade Ice if I was going to be hiking for a while. Since I mostly use the Cheyanne II around town, I'll usually just leave the laces loose so I can slip in and out of them in seconds.
I've found that the Cheyanne II can keep my feet warm while standing around for a few hours in temps down to around 20°F (-7°C). If I'm walking around or just not outside for longer than half an hour, I can comfortably wear the Cheyanne II in temps well below zero Fahrenheit, but I'd opt for a boot with much more insulation if I was planning on just standing still in subzero Fahrenheit temperatures (e.g., ice fishing).
One of my only gripes with the Cheyanne II is its outsole — it grips well on snow, but it's not nearly as secure as some of the newer, ice-specific outsoles like Vibram Arctic Grip when walking on slick ice. All in all, the Cheyanne II has remained my go-to winter boot because of its warmth, less-bulky look, and comfortable fit.
Native Fitzsimmons Citylite
Upper: EVA foam
Liner: neoprene
Outsole: TPR (synthetic rubber)
Size Tested: US Men's 11
Blister Measured Weight per Boot: 585 & 594 g
MSRP: $90
Best For: lightweight comfort in cool to moderately cold temperatures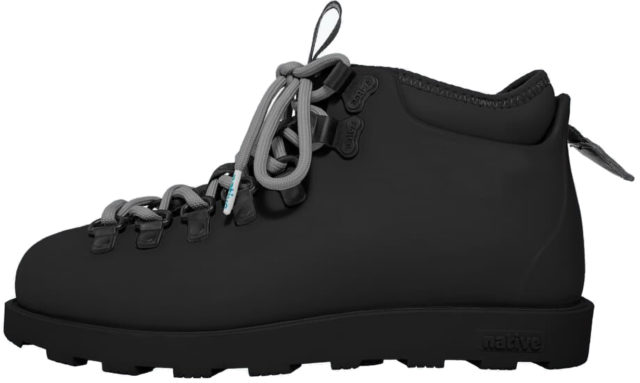 Luke: I included the Fitzsimmons Citylite in our Casual Boot Roundup, and I'm also including it here because I think it works really well for quick trips to town during the winter, or when it's not cold enough to justify a super bulky, insulated boot and you want something more casual.
The Fitzsimmons Citylite isn't technically insulated, but its two-piece construction consisting of an EVA-foam "shell" and neoprene inner booty makes it notably warmer than most traditional, one-piece casual boots (i.e., the vast majority of uninsulated leather boots). I wouldn't pick it if I was standing still in the cold for extended periods of time, but it's been warm enough for running errands, quick outdoor photoshoots, and short hikes in temps down to around 20°F (-7°C).
The main highlights for me with this boot are how light and comfortable it is, and how good I think it looks. The neoprene bootie and EVA shell very quickly conformed to my feet (basically no break-in time), despite not having it in the right size due to a miscommunication. And while its mid-height silhouette makes it one of the worst options here for super deep snow, it also makes it look nothing like a "winter boot."
In terms of grip, I've been surprised by the Fitzsimmons's synthetic rubber outsole. It's not as good on ice as dedicated winter rubber compounds, but it's on par with, if not a bit better than the vulcanized rubber sole on the Cheyenne II.
If you want a casual-looking boot that can still keep you warm on fairly cold days and that you can still use when it's not that cold, the Fitzsimmons Citylite is definitely worth a try.
Share this post:
Share on facebook
Share on twitter
Share on pinterest
Share on reddit
Share on email