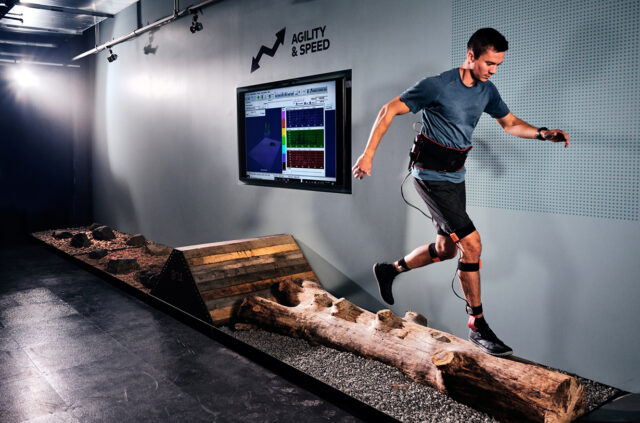 Most of you are familiar with the BOA fit system — you know, that dial thingie that you sometimes see on various shoes and snowboard boots instead of good old fashioned shoe laces. But how many of you are up to speed on what BOA is up to today? And how many of you have seen those BOA dials and thought, What's wrong with regular old shoe laces? (And I'll admit that I've pretty much been in this camp.)
I headed to the BOA technology headquarters located in Denver, Colorado, to check out the BOA Performance Fit Lab and sit down with a couple of scientists, Dan Feeney and Kate Harrison, have them fill me in on what BOA is up to today, and see if maybe I'd have a change of heart.
Dan Feeney is BOA's Biomechanics Research Engineer. He has a Ph.D. in Neuromechanics from the University of Colorado Boulder and he has a background as a former professional triathlete and D1 runner. Kate Harrison ran for West Virginia University and Team Canada, and did her Ph.D. studying the biomechanics of injury in runners.
TOPICS & TIMES:
BOA's background & the Performance Fit Lab (2:29)
Dan Feeney & Kate Harrison's backgrounds (6:20)
BOA vs traditional shoe laces (8:20)
3rd-Party Testing (14:28)
BOA's biggest categories & emerging categories (16:15)
Trail running benefits of BOA (21:50)
Lateral Stability & BOA (23:50)
Working with companies for optimization (25:55)
Different foot shapes & BOA (28:37)
Data collecting with athletes (30:10)
Current BOA products to try on (32:55)