Many of us are still spending much more time than usual within our own homes, and in turn, likely spending a lot more time in front of screens. Boredom is setting in (or has been for weeks…) for most of us, so we're back with a collection of videos that have been helping to keep us sane, entertained, and looking forward to when we can get back to enjoying the outdoors as usual.
We'll be updating this roundup throughout the month but to kick it off, we've got a few classic videos and films, some crazy steep lines both new & old, several more light-hearted shorts, and a few mind-boggling videos filmed during isolation. As always, if you've got any videos that have either recently caught your attention or that you always go back to, let us know in the comments.
And if you need even more to watch, check out our previous "What We're Watching" roundups.
Fabio Wibmer – "Home Office"
David Golay: Tons of athletes have put out "working from home" videos, but few (if any?) are as impressive as Fabio Widmer's "Home Office." The level of riding is exceptional, as is the creativity on display to put together a wide range of cool features within the confines of his house and small yard. And speaking of the house, as Luke put it, "can we address the fact that it seems like every single European action sports athlete — even the small-time ones — lives in an absolutely immaculate, beautiful, seemingly extremely expensive home? Meanwhile, all the Americans are shacked up in what look like dorm rooms." … it's a sweet house.
Luke Koppa: Yeah, all of Fabio Wibmer's videos are awesome, but even without considering that he filmed this solely in and around his home, I think this is my favorite. Everyone needs to watch this.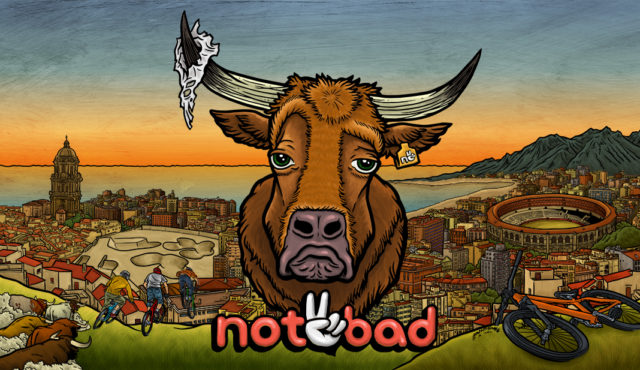 David: Speaking of Casey Brown, her "Forward" short film just came out, and it's well worth a watch. The film starts with her impressive showing as the lone woman at Red Bull Proving Grounds, in an effort to qualify for Rampage, which unfortunately ended with a crash that resulted in a broken collarbone, AC and SC joint separations, and some liver damage. From there, it picks up with her getting back on the bike with some gorgeously shot riding footage, and ends with Casey's ruminations on progression and what it takes to move forward.
Luke: Everyone's favorite (ok, maybe mostly my favorite) Tahoe skier just dropped a POV edit from this past spring. As with all of Tyler's skiing, there's plenty of backflips, spins, and just generally reckless skiing down steep lines. Oh, and you get a sneak peek at some of Moment's 20/21 top sheets. If you want to hear about how Tyler started making skis for Moment at the age of twelve, his case for only wearing black, and more, check out episode 112 of our Blister Podcast.
Andreas Fransson & Bjarne Salén — "Reaching My Limit Episode 2"
Luke: Bjarne Salén recently posted about an absolutely insane line that the late Andreas Fransson skied in Patagonia back in 2012. Alpine climber, Colin Haley, had pointed out the Whillans ramp of Aguja Poincenot to Andreas and called it "one of the hardest, and most beautiful possible ski lines" he'd seen. The line is usually "just" a 60° ice climbing route, but it had some snow on it so Andreas went for the first descent and Bjarne filmed from across the way. Thanks to Bjarne for filming and reminding us of all the amazing lines Andreas pioneered, and to Andreas, we all miss you very much.
Eivind Aanensen & Krister Kopala — "First Descent of Ukkonen - A new line in The Lyngen Alps"
Luke: Speaking of steep… Eivind Aanensen & Krister Kopala snagged a first descent earlier this spring up in the Lyngen Alps. I stumbled upon Eivind's Instagram a couple years ago and it's always entertaining — not only is he skiing super steep lines all the time, but he also skis a lot of them really fast and sometimes in the middle of the night. His YouTube channel is equally entertaining, and this most recent episode has a bit of everything: steep, fast skiing & riding, steep, techy skiing & riding, and Eivind & Krister laughing their way through some extremely sketchy downclimbing.
Danny Hart — 2011 Champery Winning DH Run
Luke: This is only a minute long, but it's one of those videos I could watch over and over and over and still be both amazed by, and laugh the whole way through. Danny Hart's 2011 Champery run is one of the best DH runs of all time, and it's only complemented by Rob Warner and Nigel Page absolutely losing their minds while trying to announce it. "How does Danny Hart sit down, with balls that big?"
[David: Seconded. This is probably my favorite DH race run, ever.]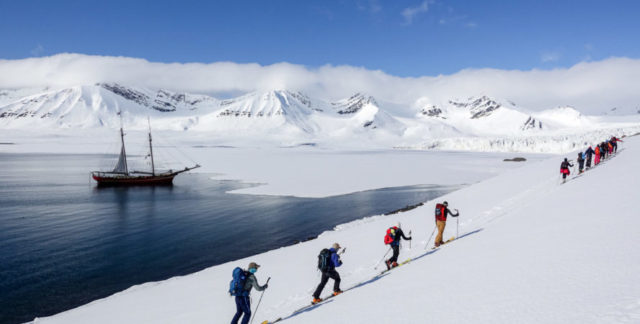 Luke: 57hours, the company behind the app that connects you with guides around the world, is launching a live webinar series where they're having some of their guides take us through some of their most epic adventures. IFMGA Guide Rob Coppolillo is kicking it off today, May 7th at 1 pm by discussing his trip to Svalbard, Norway where he and fellow guide Tom Wolfe have blended sailing with backcountry skiing. Personally, this kind of trip where you sail through the fjords and just pull up to whichever line you want to ski has been on my bucket list forever, so I'm excited to hear what they have to say. Sign up here to see this one, and don't worry if you didn't catch this one — 57hours will be doing more of these over the coming weeks. (Oh, and if you want to see a video about our trip with 57hours, you can check that out here).
Cody Townsend / The Fifty Project — Ep. 27 Mt. Moran
Luke: In the latest episode of Cody's attempt to ski all the 50 lines in the book, "The 50 Classic Ski Descents of North America," he, Bjarne Salén, Hadley Hammer, & Ming Poon set out to ski the Skillet Glacier on Mt. Moran in the Tetons. Not to give too much away, but unlike many of the lines they've skied so far, they actually managed to get some really good skiing in which made for a really fun episode.
SLVSH — Russ Henshaw vs. Evan McEachran
This is arguably the best SLVSH game of all time. I typically re-watch it every month or so, and as the video is getting started I begin to worry "oh, I guess this might not be as insane as I remember." But then I keep watching, and keep watching, and keep watching as Russ & Evan manage to somehow keep landing bigger and bigger and bigger tricks. It's absolutely nuts. It's one of those games where both skiers are just completely on their A-game and matching each other trick for trick, and the result is pure entertainment.
Misspent Summers — Merseyside Section from Tea & Biscuits
David mentioned the full Tea & Biscuits films in one of our previous video roundups, but in case you don't have 45 minutes to spare, you should at least watch this section. I think it's best described as, how the kids say, "loose but lit." Just absolutely reckless riding among friends on everything from hand-me-down hardtails to old DH bikes to an e-bike.
Hedvig Wessel & Katie Burrell — Bromance
If you've seen our previous roundups, you may know Katie Burrell and her comedic approach to "outdoor" videos. She tagged along with FWT skier, Hedvig Wessel, during the tour this year and "Bromance" is a really funny short video showcasing the hilarious contrast between the two. Katie followed the tour around much of this past season, so I'm very excited to see what else she, Hedvig, and whichever other FWT athletes she convinced to go on camera came up with. (Oh, and you should head to her Instagram to see her funny quarantine video "Me Solo.")
This one isn't new but during these times, I find myself being drawn toward the simpler, lighter-hearted videos that remind me of why I love the outdoors, rather than portraying some death-defying feat that I can't relate to whatsoever. Strictly Business is the former — while all the athletes are very talented, the filming & editing is excellent, and the overall production quality is great, it still very much feels like a ski film that was shot by, of, and for a group of friends, rather than some big production company. And if you like Strictly Business, you should definitely watch Strictly's most recent film, Welcome.
Ferienregion Lenzerheide, Anthill Films, & Thomas Genon — The Legend of Tommy G
This is one of the best bike videos I've seen recently. It's hilarious, well shot, and Thomas Genon's riding is incredible. Plus, all the cameos from celebrities of the mountain bike world and over-the-top special effects just add to the fun.
Best of Kimbo Sessions 2014-2019
To the dismay of skiers all around the world, Kimbo Sessions did not happen this year due to, well, you know. But Armada recently compiled footage and edits from 6 years of the now legendary park event into a 40-minute video that's full of amazing shots from start to finish. If you're not familiar, Kim Boberg's Kimbo Sessions event somehow always manages to lead to some of the craziest tricks and the coolest style in park skiing each year, and brings together some of the best athletes from the comp, urban, and backcountry scenes. It's one of the strongest contenders for "best event in freestyle skiing" right now.
Speaking of Armada, they've been rolling out live "premieres" of a bunch of their classic films under their "Homeschool" series. Next up is Tanner Hall's Ring The Alarm, which will be going live at 6 pm MST on Friday, March 14th. Following the film, Tanner will be doing a Q&A, and they'll be doing more "Homeschool" events in the future, so stay tuned.
This one is an outlier in that it's filmed in a city and has basically no people in it. But blastr, the drone pilot whose videos we've posted in the past, took the current lockdown as an opportunity to go out and get some incredible footage in a seemingly deserted downtown Denver. He's a wizard with a drone and the precise piloting / filming is crazy, though even just seeing the big blue bear outside the Colorado Convention Center (where Outdoor Retailer is held) gave me a bit of trade-show anxiety…
Faction — Henry Sildaru chasing Candide Thovex
Faction just released one of the individual segments from their film, This is Home, which features one of the most talented groms following, well, arguably the most talented veteran. A then 12-ish-year-old Henry Sildaru (brother of Kelly Sildaru) does an extremely admirable job of keeping up with Candide at Candide's home resort of Balme, airing off everything in sight and skiing really, really fast. I remember seeing this segment in the film for the first time and I got butterflies when I saw Candide absolutely launch on screen. It's a feel-good segment for sure, well, except for the fact that it will definitely not make you feel good about your own skiing level, after watching Henry shred the heck out of the mountain.
Matchstick Productions — Fade to Winter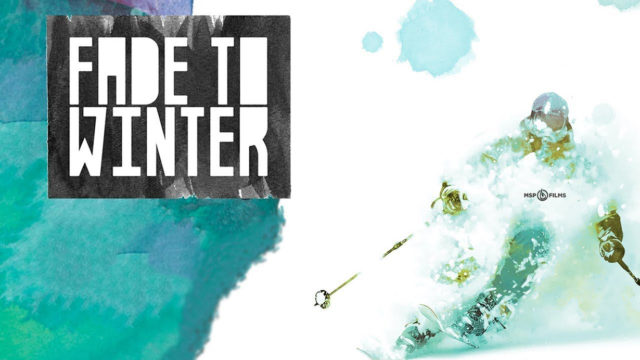 Same as Anthill Films, Matchstick has also been making some of their previous, full-length films available during this strange time, and they just added their 2015 movie, Fade to Winter. It features the likes of Markus Eder, Bobby Brown, Michelle Parker, Mark Abma, Tanner Rainville, Aaron Blunck, James Heim, Sean Jordan, PK Hunder, Alex Schlopy, and more, and as with every MSP film, it's well worth a watch, which you can do on MSP's website.
John Richardson – RAW Paradise
David: I already highlighted John Richardson's video showing off the new Transition Scout in an earlier roundup, but can't help but throw this one out here too. RAW Paradise features some great riding from John, some very impressive drone piloting for the camera work, and a ton of great PNW scenery (not to mention some truly epic dirt). There's no soundtrack or commentary, just the sounds of John's bike ripping through the forest, which works perfectly to capture the feeling of just being along for the ride.