Ski: 2021-2022 K2 Mindbender 106c Alliance, 175 cm
Available Lengths: 159, 167, 175 cm
Blister's Measured Tip-to-Tail Length: 175.5 cm
Blister's Measured Weight per Ski: 1735 & 1740 grams
Stated Dimensions: 139-106-124 mm
Blister's Measured Dimensions: 138.5-105.5-122.9 mm
Stated Sidecut Radius (167 cm): 15 meters
Measured Tip & Tail Splay (ski decambered): 53 mm / 22 mm
Measured Traditional Camber Underfoot: ~3 mm
Core: Aspen + Carbon Spectral Braid + Fiberglass Laminate
Base: Sintered
Factory Recommended Mount Point: -9.75 cm from center; 78.0 cm from tail
Boots / Bindings: Lange XT 130 Freetour LV; Nordica Promachine 115 W / Marker Jester
Test Location: Taos Ski Valley, NM
Days Skied: 15
[Note: Our review was conducted on the 19/20 Mindbender 106c Alliance, which was not changed for 20/21 or 21/22, apart from graphics.]

Intro
If you've been checking out our GEAR:30 podcast and our reviews recently, you're probably aware that K2 overhauled their freeride line. The brand-new Mindbender series had a limited release this winter, and will be fully launched for the 19/20 season with 12 new skis — 6 men's and 6 women's specific.
All of the women's-specific "Mindbender Alliance" skis are reportedly built and designed specifically for women, rather than simply having different top sheets than the men's skis. We've been spending time on a few of the new Mindbender Alliance skis, including the Mindbender 106c Alliance.
You can listen to our conversation with K2's head ski designer for more info on the Mindbender line and the tech it incorporates, but the quick story with the Mindbender 106c Alliance is that it's designed to be a versatile, light, and stable wider all-mountain ski.
While K2 does incorporate metal into some of the narrower Mindbenders, I was excited to get on a ski that didn't have metal, but that might potentially hold up to aggressive skiing. I found most of K2's old freeride skis (Gottaluvit 105Ti & Fulluvit 95Ti) to be a bit less stable than I tend to prefer for skiing steeper, techier chutes, so I was eager to see how the new Mindbender 106c compared.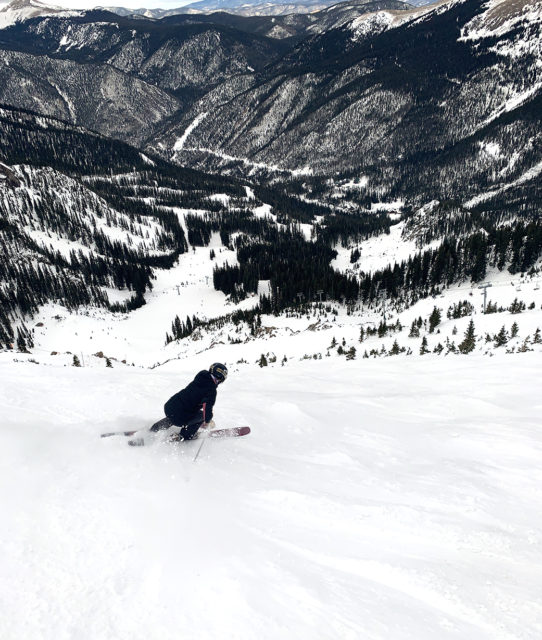 And after about 15 days on it across a broad range of conditions, temperatures, and applications, the Mindbender 106c Alliance has become one of my favorite skis, and one of the most versatile 100mm+ skis I've used.
Shape / Rocker Profile
The Mindbender 106c effectively replaces the K2 Gottaluvit 105Ti, but the two skis have some very significant differences when it comes to their shapes.
The Mindbender 106c (like all of the Mindbenders) has notably less taper than the Gottaluvit 105Ti. The Gottaluvit's tips taper early and come to a pretty sharp point, while the Mindbender 106c's tips don't taper as early and the tip shape is more "blocky" than pointed. As I'll touch on below, I think this has a significant impact on how the two skis feel on snow.
The Mindbender 106c also has significantly shallower rocker lines compared to the Gottaluvit 105Ti. Overall, the Mindbender 106c's rocker profile looks pretty similar to the Line Pandora 104's, and is pretty average by today's standards for a ~105mm-wide ski.
Flex Pattern
Here's how we'd characterize the flex pattern of the Mindbender 106c Alliance:
Tips: 5.5
Shovels: 5.5-6
In Front of Toe Piece: 7-9
Underfoot: 9.5
Behind the Heel piece: 9-8
Tails: 6.5-7
The Mindbender 106c has a pretty moderate flex pattern. It has soft tips and shovels and then slowly but smoothly ramps up to a strong section around the bindings. It finishes with a fairly soft tail.
Overall, the Mindbender 106c's flex pattern is fairly similar to the Blizzard Sheeva 10's, with the Sheeva 10 having stiffer tips and tails. The Mindbender 106c's flex pattern is almost identical to the Mindbender 98Ti's, with the Mindbender 98Ti stiffening a bit quicker in the shovel. Compared to the Nordica Santa Ana 100 and 110, the Mindbender 106c is softer throughout, most notably in the tail.
Weight
The Mindbender 106c is fairly light for its size, though it doesn't sit on the extreme end of the spectrum. The 175 cm Mindbender 106c is a bit heavier than the 172 cm Blizzard Sheeva 10 and the old 170 cm Gottaluvit 105Ti, but not nearly as heavy as the 177 cm Nordica Santa Ana 100 or 110.
For reference, here are a number of our measured weights (per ski in grams) for some notable skis. Keep in mind the length and width differences to keep things more apples-to-apples.
1533 & 1537 Armada Trace 98, 172 cm (17/18–19/20)
1543 & 1567 Icelantic Maiden 101, 169 cm (19/20)
1556 & 1575 Liberty Genesis 96, 165 cm (18/19–19/20)
1557 & 1607 Fischer My Ranger 98, 172 cm (16/17–18/19)
1626 & 1631 K2 Fulluvit 95Ti, 170 cm (18/19)
1626 & 1645 Line Pandora 104, 165 cm (18/19–19/20)
1635 & 1646 Blizzard Black Pearl 98, 166 cm (17/18–19/20)
1651 & 1669 Moment Sierra, 172 cm (17/18–19/20)
1702 & 1721 K2 Gottaluvit 105Ti, 170 cm (18/19)
1709 & 1710 Blizzard Sheeva 10, 172 cm (17/18–19/20)
1711 & 1772 DPS Zelda A106 C2, 171 cm (19/20)
1735 & 1740 K2 Mindbender 106C Alliance, 175 cm (19/20)
1750 & 1769 Armada Victa 97 Ti, 171 cm (17/18–19/20)
1762 & 1801 K2 Mindbender 98Ti Alliance, 168 cm (19/20)
1764 & 1778 Rossignol Soul 7 HD W, 172 cm (17/18–19/20)
1806 & 1821 Blizzard Sheeva 11, 172 cm (17/18–19/20)
1812 & 1813 Head Great Joy, 168 cm (17/18–18/19)
1821 & 1824 Liberty Genesis 106, 171 cm (16/17–18/19)
1882 & 1901 Icelantic Maiden 111, 177 cm (17/18–18/19)
1983 & 1999 Nordica Santa Ana 100, 177 cm (17/18–19/20)
2076 & 2078 Nordica Santa Ana 110, 177 cm (17/18–19/20)
FULL REVIEW
Groomers
For how wide it is, I was really impressed by the Mindbender 106c on groomers. It felt similarly easy and intuitive as the old GottaLuvIt 105 Ti, but the Mindbender 106c felt more solid on edge, and more stable overall. The Mindbender 106c is a lively, playful ski that can make a variety of turn shapes at a variety of speeds, but it's also surprisingly damp and stable for how light it is.
I think the biggest difference between the Mindbender 106c and the GottaLuvIt 105Ti comes down to stability, especially through the shovel. I felt much more confident going fast on the Mindbender 106c, without feeling the need to scrub speed due to the ski getting twitchy / knocked off track. And I think much of this comes down to the skis' differences in shape.
On the Mindbender skis, the widest points in the tip and tail are closer to the very ends of the ski (i.e., they have less taper), making the skis' effective edge feel longer than the GottaLuvIt 105Ti and FulLuvIt 95Ti (which felt a bit short). Similar to what our guys said about the Mindbender 108Ti, the women's Mindbenders easily initiate turns through the tips, whereas the Pinnacle / Luv skis were pretty vague when it came to turn initiation. Beyond turn initiation, the Mindbender 106c's decreased taper also seems to aid in its stability and lack of "twitchiness" at speed.
There are skis that are more stable and composed at speed on groomers (e.g., Nordica Santa Ana 100). But the Mindbender 106c was one of my favorite 100mm+ skis on groomers, even compared to the very good Nordica Santa Ana 110 and Blizzard Sheeva 11. The Mindbender 106c is not as quick edge-to-edge as narrower skis like the Nordica Santa Ana 100 and Blizzard Sheeva 10, but I never thought the Mindbender 106c felt overly sluggish on firm-snow days.
Moguls
For a wider ski, I loved the Mindbender 106c in bumps. The middle of the ski feels snappy and supportive, while the tail is fairly forgiving without feeling insubstantial. This let me move through firm moguls with power and precision, while the ski was not very punishing if and when I did get a bit too far into the backseat.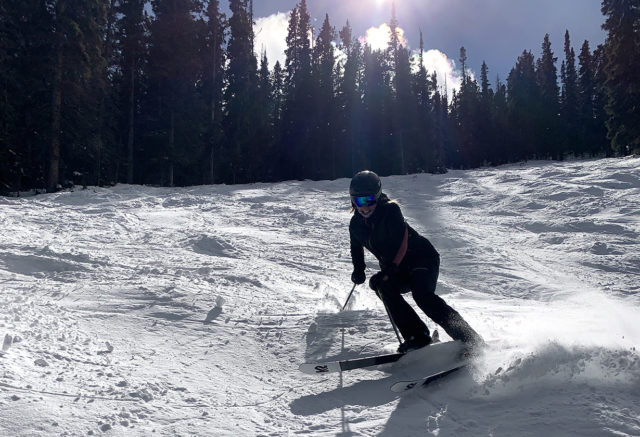 Through small and soft bumps, the Mindbender 106c felt playful and intuitive — I could pop it around without excessive effort. It feels soft enough to push around quickly and easily, yet it's also supportive enough for aggressive skiing — a combo that's useful as the bumps get larger and more oddly shaped. If you like to ski bumps with a very neutral / centered stance, there are better options (Blizzard Sheeva 10). The Mindbender 106c prefers a more aggressive forward-pressured stance, and while its tail isn't super stiff and punishing, skiers who stay over the front of their skis will get the most out of this ski.
Compared to the 172 cm Blizzard Sheeva 10 and 11, the 175 cm Mindbender 106c is definitely a bit "more" ski to move around in the bumps, but the Mindbender 106c feels a bit more confident on edge. Compared to the 177 cm Nordica Santa Ana 100 and 110, the 175 cm Mindbender 106c felt quicker in tight spots, though both the Santa Ana 100 and 110 feel a bit smoother and more damp on rough snow.
Powder / Soft Chop
As I expected and was pleased to confirm, the Mindbender 106c is a blast in soft snow. As a week of storms rolled through Taos, I spent every day on the Mindbender 106c. As things went from firm to really deep, I enjoyed the ski the entire time.
On 12"+ of fresh snow, the Mindbender 106c's shovel was capable of floating and ripping on top of the snow, even when that snow was pretty dense. The ski's fairly strong and energetic flex pattern made it really fun to ski through pow with poppy, quick turns, though it could just as easily make big, long turns. I never felt like the Mindbender 106c was getting bogging down in the pow I got it in and didn't feel the need to lean back to keep it afloat. Like the Mindbender 108Ti, the Mindbender 106c seems to punch above its width when it comes to float. And for really deep days or a more pow-oriented ski, I have come to love the Mindbender 115c (review coming soon).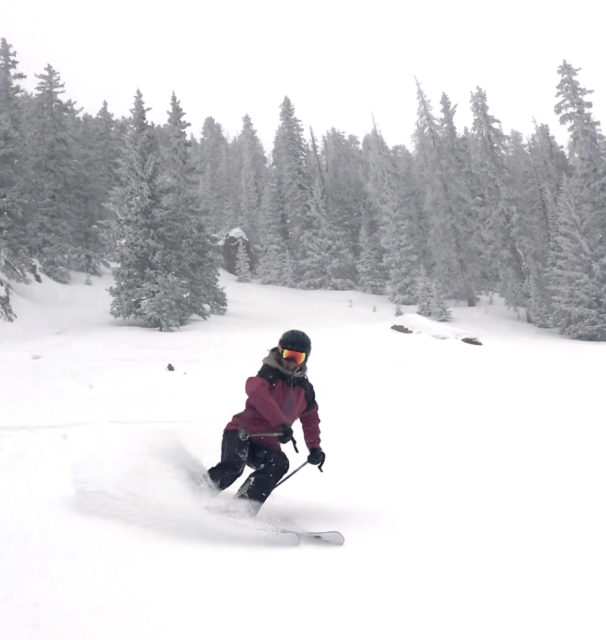 Once the pow gets cut up a bit, the Mindbender 106c feels stiff enough to ski hard on in soft chop, yet it also feels playful and nimble when making quick hop turns. Compared to the Nordica Santa Ana 110, the Mindbender 106c feels slightly easier to pivot and more playful, at the cost of some high-speed stability. The Santa Ana 110 is heavier and has a stiffer tail that I appreciate in most conditions. But in the soft steeps of West Basin at Taos Ski Valley, I felt a bit more confident on the Mindbender 106c, which was more maneuverable in tight spaces (and a bit less stable when skiing really fast through chop). In this way, the Mindbender 106c reminded me of the Blizzard Sheeva 11, though the Sheeva 11 offers a bit more float.
Firm Chop
When the snow got rougher and firmer, the Mindbender 106c again proved its versatility, with a good balance of forgiveness and stability. While there are skis that remain more composed at high speeds on rough snow (e.g., the heavier Nordica Santa Ana 110), the Mindbender 106c is still forgiving and predictable when conditions are not ideal and / or the terrain gets tricky.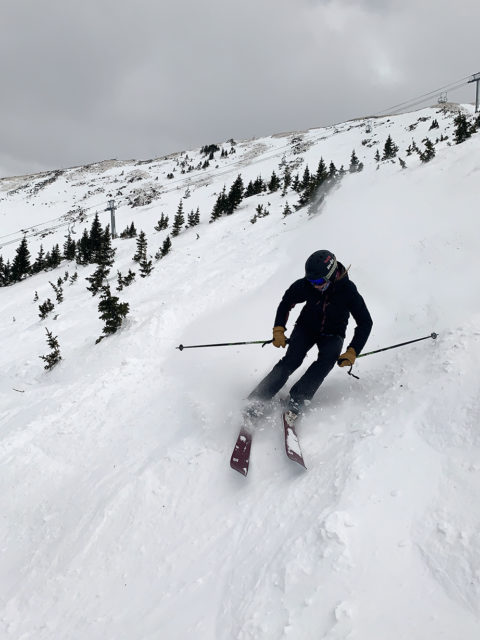 Despite not being very heavy, the Mindbender 106c felt pretty damp, and I maintained better confidence at high speeds on it vs. the K2 GottaLuvit 105Ti. The Mindbender 106c was easy to command and shut down when conditions were variable, and it allowed me to quickly switch up speed and turn size.
Who's It For?
I think the Mindbender 106c could serve well as a 1-ski quiver at higher-snow areas, or as the wider ski in a 2- or 3-ski quiver for lower-snow areas. While a narrower ski would be better for truly firm days, I was still happy taking out the Mindbender 106c when it had not snowed in a while.
If you have skied the old K2 GottaLuvIt 105Ti and wanted something a bit more stable and suitable for aggressive skiing, the new Mindbender 106c is worth a good look. I think the Mindbender 106c is still accessible to intermediate skiers, but I think aggressive advanced to expert skiers will most appreciate it.
For those who loved the forgiving feel of the K2 Pinnacle and Luv series, the Mindbender 106c requires a bit more effort to flick around, but the Mindbender 106c is significantly stronger on edge and at speed. If you don't need the bump up in stability and prioritize maneuverability and forgiveness, I would check out the Blizzard Sheeva 10. But for the intermediate woman seeking progression, the Mindbender 106c is a fairly accessible ski with a lot of potential for growth.
For a woman needing a powder-oriented ski and who lives in a place that receives lighter or lower snow totals, I think the Mindbender 106c is an excellent choice. It floats very well for its width, yet it also performs well when the snow isn't deep. If you want maximum stability at speed and a damp feel, the Nordica Santa Ana 100 or 110 make more sense. But if you like to ski with a dynamic style and appreciate a ski that's poppy and easy to flick around, the Mindbender is a good alternative that's still pretty stable.
The Mindbender 115c has proven to be a lot of fun on really deep days, and is a good choice if you're looking for more of a dedicated powder ski. But for a versatile wider ski that can handle the deep and shallow days, the Mindbender 106c is an excellent choice.
Bottom Line
I've been thoroughly impressed with the K2 Mindbender 106c Alliance. It has become my go-to ski when conditions aren't super firm (where a narrower, stiffer ski would work better) or super deep (where something wider like the Mindbender 115c would make more sense). In other words, the Mindbender 106c has proven to be a great ski for a good number of days on the mountain, and I think its blend of stability, forgiveness, and maneuverability will make it a good choice for a wide range of skiers.