Boot: 2021-2022 Tecnica Cochise 130
Stated Flex: 130
Available Sizes: 22.5-30.5
Stated Last Width (size 26.5): 99 mm
Stated Range of Motion: 50°
Stated Forward Lean: 13°
Size Tested: 26.5
Stated Boot Sole Length: 305 mm
Blister's Measured Weight (size 26.5):
Shells, no Liners: 1398 & 1405 g
Liners, no Footbeds: 422 & 419 g
Shells + Liners (no footbeds, no spoilers) = 1820 & 1824 g
Stock Insoles: 23 & 23 g
Removable Spoilers: 18 & 18 g
Buckles: 4 micro-adjustable
Power Strap: 45 mm cam-style
Shell Material:
Cuff: polypropylene (PP)
Shoe / Clog: polyurethane (PU)
Soles: Grip Walk (swappable with Alpine)
Tech Fittings: Dynafit Certified
Binding Compatibility: GripWalk, Tech / Pin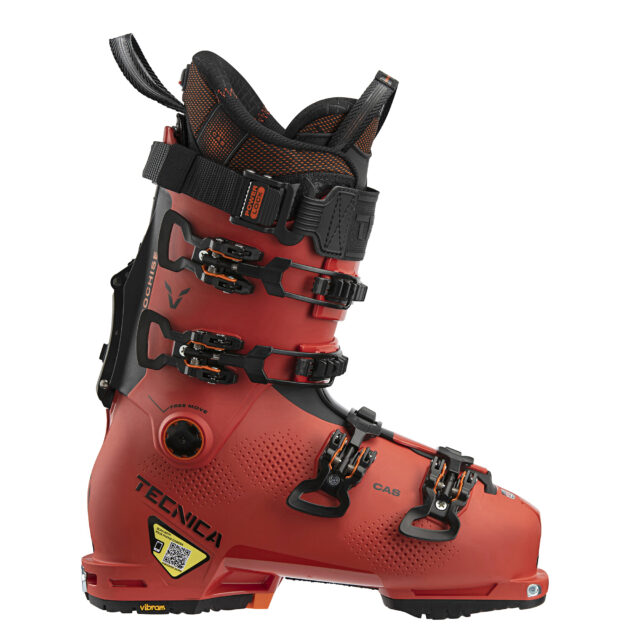 Intro
About a decade ago, Tecnica arguably created a new category when they introduced their first Cochise boot. It was supposed to ski like an alpine boot, but it also had a walk mechanism and tech inserts that would let you travel (relatively) efficiently in the backcountry without the use of chair lifts. There were other boots made around the same time that were advertised with similar claims, but the Cochise was one of the most impressive executions of this idea at the time.
Since then, the Cochise has remained a reference point in the category of "50/50" boots that are designed to perform very similarly to rigid-cuff alpine boots on the descent, but that are more efficient and comfortable when ski touring and walking uphill.
But it had been a few years since Tecnica last updated the Cochise boot. That is, until the 21/22 season, when they'll be offering an overhauled line of these boots.
I recently spent a (very surprising) day skiing the new Cochise 130 boot at Mt. Crested Butte, and Blister Members can read my Flash Review for my initial thoughts. But while we spend more time in the new boot (as well as the new women's Cochise Pro W), let's dive into what Tecnica has changed for 21/22.
2021-2022 Tecnica Cochise Lineup
The 21/22 Cochise lineup will include three unisex boots and four women-specific models.
There are many boot lines where only the stiffest models have the high-end features, but it's worth noting that every Cochise boot has a polypropylene (PP) cuff with Tecnica's "carbon co-injected T-Ride" spine and a polyurethane (PU) lower shell. I.e., those who need a softer boot won't be getting a boot with a drastically different shell construction compared to the stiffer models.
The top-of-the-line Cochise 130 and Cochise Pro W do get you brand-name Vibram rubber soles, a cam-style power strap, and Tecnica's "High Performance C.A.S. Liner," though all the others apart from the Cochise 85 W do still come with their "Performance C.A.S. Liner," which looks fairly similar.
Also of note is that the Cochise 130 and Cochise 120 are available in sizes ranging from 22.5 to 30.5, meaning that those with smaller feet who want a stiff boot should be able to find one in the Cochise series. And the Cochise Pro W is noteworthy in itself, as a women-specific boot (available from size 22.5–27.5) with a flex rating of 120. Our reviewer Kara Williard will be reviewing the Cochise Pro W and we're very eager to hear what she thinks.
For reference, here are all of the 21/22 Cochise models:
Cochise 130
Cochise 120
Cochise 110
Cochise Pro W (120 flex)
Cochise 105 W
Cochise 95 W
Cochise 85 W
Shell Construction
As we just touched on, all of the new Cochise boots have a PU lower shell and a PP upper cuff that has Tecnica's "carbon co-injected T-Ride" spine reinforcement. The boots' shell walls are designed asymmetrically, with more material used on the medial side, in order to theoretically transfer power better to the inside edges. This is something Tecnica first introduced in their rigid-cuff alpine boots, as well as their "Quick Instep" construction, which consists of a softer plastic over the instep to make it easier to get in and out of the boot. The 21/22 Cochise boots also get the Quick Instep construction.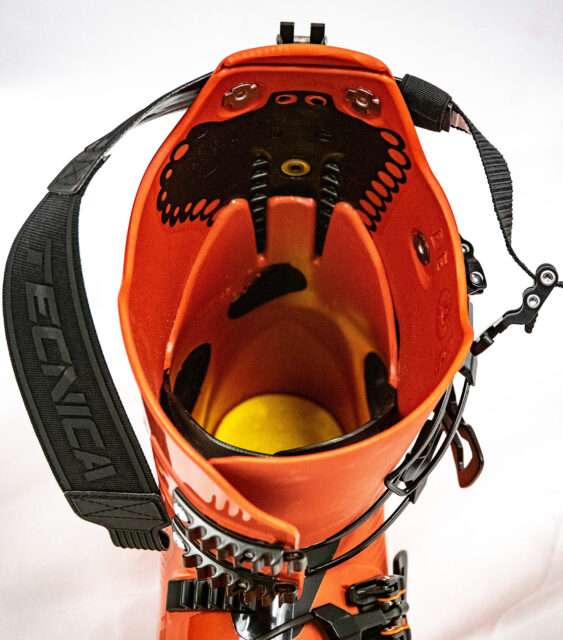 The new Cochise also has Tecnica's "C.A.S." shell design ("Custom Adaptive Shape"), which basically means that Tecnica says they designed it with a more anatomical shape and included dimpled sections in the plastic that make punching, stretching, grinding, etc. easier during the bootfitting process.
PU is generally known to be a more durable plastic and typically provides a more progressive flex, but it's also generally heavier than PP and PA (polyamide). As a result, PU is typically what we see in many alpine and race boots. PP is generally lighter and less expensive than PU, though it tends to not create as progressive of a flex and is a bit more difficult to work with when bootfitting, hence why it's often used in the cuffs of boots like the Cochise. For a much more in-depth and insightful conversation about ski boot plastics, check out episode #54 of our GEAR:30 podcast.
The previous Cochise boots used similar plastics to the 21/22 models, but Tecnica says that they tweaked the lower shell and found a way to use less material while making the last more anatomical, which is reportedly the main way that they shaved the overall weight by 10–15% compared to the previous models.
So overall, the new Cochise boots' still-pretty-burly shell construction seems to suggest that they're still focusing on downhill performance, rather than minimal weight. And that makes sense, given that Tecnica already makes the very light (and very good) Zero G series for backcountry outings where weight and uphill efficiency are bigger priorities.
Liner
The Cochise 130 comes with Tecnica's "High Performance C.A.S." liner, and it's pretty beefy. It's also beautiful. It has substantial fiberglass reinforcements around the top of the cuff, a moldable, "punchable," and "grindable" material around the ankle, an adjustable tongue, and a flexible area around the Achilles tendon.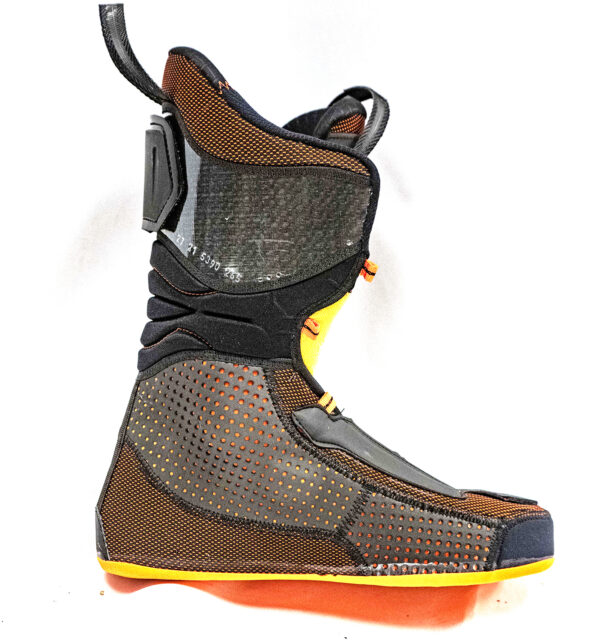 Particularly compared to the minimal liners in lighter boots like the Tecnica Zero G Tour Pro and Scarpa Maestrale RS, the Cochise 130's liner feels much more substantial. Apart from the flex zone (which is still heavily reinforced with foam), the Cochise 130's liner feels pretty similar to the liners in alpine boots like the Tecnica Mach1 130 MV.
Walk Mechanism
This is one big change for 21/22. The older (pre-21/22) Cochise boots used an internal walk mechanism that provided a stated 42° of range of motion, though we found that its usable range of motion felt a bit more limited than that.
The 21/22 Cochise boot all feature Tecnica's new "T-Ride" walk mechanism. It's pretty similar to the walk mechanism on the Zero G boots (which we love), but with a few tweaks.
First and foremost, the T-Ride system on the Cochise boots features a dial that lets you "lock" the lever when in ski mode. This essentially consists of turning a dial that, in turn, twists a metal disk that can either prevent or allow the metal latch to release into walk mode. Basically, it's an extra level of security that's also supposed to make for a walk mechanism with even less "play" when in ski mode.
Now, we've never had the Zero G's walk mechanism accidentally release into walk mode, nor have we noticed significant play in that system when it's been in ski mode. But the Cochise's walk mechanism seems to provide further peace of mind (particularly during hard compressions) and potentially an even more solid connection, which would make sense for a boot that would be used for very aggressive skiing and / or frequent inbounds use.
The new system also reportedly offers slightly more range of motion, with the 21/22 Cochise's stated range of motion being 50°. Combined with the new boot's lower weight, that's supposed to make it feel more comfortable on the uphill, reportedly without any loss in downhill performance.
Buckles
Pretty par for the course here — the new Cochise boots use four micro-adjustable aluminum buckles, and the upper two buckles on the cuff have an extra latch to potentially use while touring.
Power Strap
The Cochise 130 and Cochise Pro W both come with a 45mm-wide, cam-style power strap that has a hook on the end to make it easier to latch / unlatch.
The Cochise 120, Cochise 110, and Cochise 105 W all come with a 45mm-wide power strap, but with a more traditional hook-and-loop closure.
The Cochise 95 W and Cochise 85 W come with a 35mm-wide, hook-and-loop power strap.
Soles
All 21/22 Cochise boots come standard with Grip Walk soles and a rubber patch under the instep to make the boots grippier on rocks, snowmobile running boards, etc.
The Cochise 130 and Cochise Pro W have Vibram-branded rubber soles, while the other Cochise boots' soles use a proprietary rubber.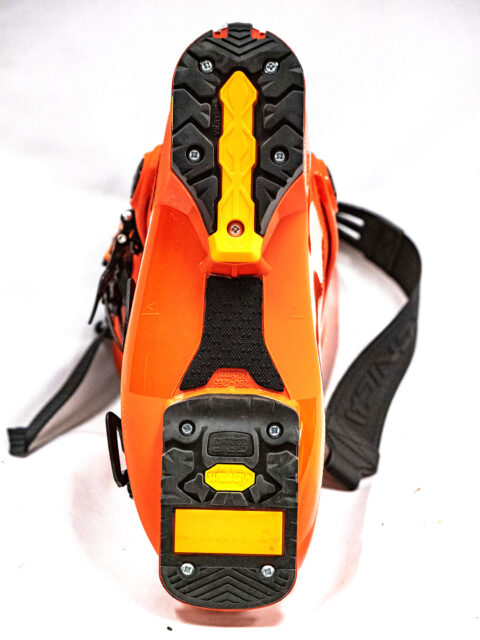 All Cochise boots come standard with tech inserts for use with tech / pin bindings, and all will work with bindings that are designed for Grip Walk soles. The soles are replaceable, and Alpine soles will reportedly be available for purchase for us in non-Grip-Walk-compatible bindings.
Weight
As we touched on, the Cochise boots get a bit lighter for 21/22. Our pair of the previous Cochise 130 in a size 25.5 weighed about 1935 grams per boot. Our pair of the size 26.5 21/22 Cochise 130 is coming in more than 100 grams lighter per boot, at about 1822 grams. While that's not a massive difference, it's still noteworthy, especially since the older, heavier Cochise 130 we had was a size smaller than the 21/22 model we have.
That weight still makes the 21/22 Cochise 130 significantly heavier than dedicated touring boots like the Tecnica Zero G Tour Pro, Scarpa Maestrale RS, and Atomic Hawx Ultra XTD 130. But compared to similar "50/50" boots like the Nordica Strider 130, K2 Mindbender 130, and Lange XT3 130, the new Cochise 130's weight isn't far off and now looks more competitive on paper, compared to its predecessor.
Weight Comparisons
For reference, below are a number of our measured weights for some other notable boots (keep in mind the size differences). Our measured weights show the size of boot, then the weight of each boot + the weight of each liner, then the total weight for shells + liners, listed in grams:
Scarpa Maestrale RS (24.5 / 25.0): 1053 & 1057 + 244 & 245 = 1297 & 1302 g
Tecnica Zero G Tour Pro (26.5): 1099 & 1100 + 210 & 211 = 1309 & 1311 g
Dynafit Hoji Pro Tour (26.5): 1169 & 1174 + 214 & 215 = 1383 & 1389 g
Salomon MTN Explore (26.5): 1126 & 1135 + 281 & 281 = 1407 & 1416 g
Scarpa Maestrale XT (26.5 / 27.0): 1258 & 1258 + 247 & 252 = 1505 & 1510 g
Head Kore 1 (26.5): 1132 & 1136 + 392 & 393 = 1524 & 1527 g
Salomon S/Lab MTN (26.5): 1257 & 1246 + 288 & 303 = 1545 & 1549 g
Atomic Hawx Ultra XTD 130, 20/21 (26.5): 1147 & 1150 + 403 & 404 = 1550 & 1554 g
Fischer Ranger Free 130 (26.5): 1204 & 1204 + 348 & 351 = 1552 & 1555 g
Roxa R3 130 T.I. (27.5): 1319 & 1320 + 263 & 263 = 1582 & 1583 g
Dynafit Hoji Free (27.5): 1317 & 1332 + 331 & 325 = 1648 & 1657 g
Atomic Hawx Prime XTD 130 (26.5): 1242 & 1249 + 408 & 410 = 1650 & 1659 g
K2 Mindbender 130 (26.5): 1428 & 1427 + 346 & 348 = 1774 & 1775 g
Lange XT3 130 LV (26.5): 1407 & 1410 + 368 & 368 = 1775 & 1778 g
Nordica Strider Pro 130 DYN (27.5): 1445 & 1440 + 363 & 373 = 1808 & 1813 g
Tecnica Cochise 130 (26.5): 1398 & 1405 + 422 & 419 = 1820 & 1824 g
Lange XT Free 130 LV (19/20) (27.5): 1472 & 1473 + 376 & 376 = 1848 & 1849 g
Dalbello Lupo Pro HD w/o Tongues (26.5): 1589 & 1596 + 266 & 267 = 1855 & 1863 g
Full Tilt Ascendant SC w/o Tongues (26.5): 1577 & 1576 + 286 & 288 = 1863 & 1864 g
Tecnica Cochise 130 DYN (20/21) (25.5): 1493 & 1496 + 440 & 441 = 1933 & 1937 g
Dalbello Lupo Pro HD w/ Tongues (26.5): 1747 & 1754 + 266 & 267 = 2013 & 2021 g
Full Tilt Ascendant SC w/ Tongues: 1740 & 1739 + 286 & 288 = 2026 & 2027 g
Fit
First and foremost — please go to a bootfitter to see what boot will work best for you. Fit is the most important thing with ski boots, and is where you'll want to start. A boot with slightly better performance traits will often not make it worth opting for that over the one that fits your feet better.
With that said, this weekend, I'll say more about how the Cochise 130 fits my feet. (Sorry, folks, busy as hell here working on the Blister Summit.) I'll be back skiing the boot again tomorrow, and will offer a few fit notes here.
While the 21/22 Cochise boots reportedly have the same last width (99 mm) as the previous models, Tecnica says that the new boots have a more anatomical shape for a better out-of-the-box fit. (And what I will say for now is that I personally do really like its out-of-the-box fit.)
Fit: Update
I've skied two more days in this boot now (you can check out my updated Flash Review, too), and in terms of fit, I'd call the Cochise quite "middle-of-the-road" in terms of its fit compared to other low-volume or "LV" boots. With respect to the Tecnica Mach 1 LV, the biggest thing I notice is that there is a lot more height in the toe box of the Cochise. In fact, there's a lot more height than I need, but I don't mind this at all since my foot feels really nicely locked down across the instep of the Cochise. For my particular heels, the heel pocket currently feels quite goldilocks — there is neither too much room nor too little. I'm getting no heel lift at all, but not because my heel feels like it's in some vice of a heel pocket, but again, because my foot feels supported and locked down across the instep of the boot. (So those with extremely high insteps or extremely low insteps / flat feet may feel differently about this.)
In terms of dedicated alpine boots (and to try to offer a few more potentially helpful comparisons), there is more volume overall in the Cochise than a boot like the Salomon S/Max Carbon. I'm tempted to call the fit of the Cochise a bit similar to the Lange RX LV, which I would also describe as a more "middle-of-the-road" or even "generous" LV fit.
Bottom line for now: I'm very comfortable in this boot, right out of the box. And in our next fit update, we'll compare this boot to some AT boots like the Hawx Ultra XTD 130, the Lange XT3, and the Zero G Tour Pro.
Bottom Line (For Now)
With the 21/22 Cochise series, Tecnica has updated their classic "50/50" boot and the changes seem to make sense. The new boots are lighter and reportedly walk better, but their shell materials, liners, and walk mechanism all seem to be designed with downhill performance as the priority.
Flash Review
Blister Members can read our Flash Review of the Cochise 130 for our initial on-snow impressions. Become a Blister Member now to check out this and all of our Flash Reviews, plus get exclusive deals and discounts on skis, and personalized gear recommendations from us.