Boot: 2022-2023 Fischer Transalp Pro
Test Location: Crested Butte, Colorado
Days Skied: ~15
Stated Flex: none given
Available Sizes: 22.5–30.5
Stated Last (size 26.5): 100 mm
Stated Range of Motion: 80°
Stated Forward Lean: 13-14°, adjustable to 16-17°
Size Tested: 26.5
Stated Boot Sole Length: 294 mm
Blister's Measured Weight (size 26.5):
Shells, no Liners: 1053 g (L) & 1053 g (R)
Liners, no Footbeds: 262 g (L) & 263 g (R)
Shells + Liners = 1315 g (L) & 1316 g (R)
Buckles: 1 cuff, 1 lower
Powerstrap: 55 mm cam-style
Shell Material:
Cuff: Pebax Rnew
Shoe / Clog: Pebax Rnew
Soles: fixed, full-rubber, non-replaceable (ISO 9523)
Binding Compatibility: tech / pin bindings, MNC bindings
Tech Fittings: yes
[Note: Our review was conducted on the 21/22 Transalp Pro, which returns unchanged for 22/23.]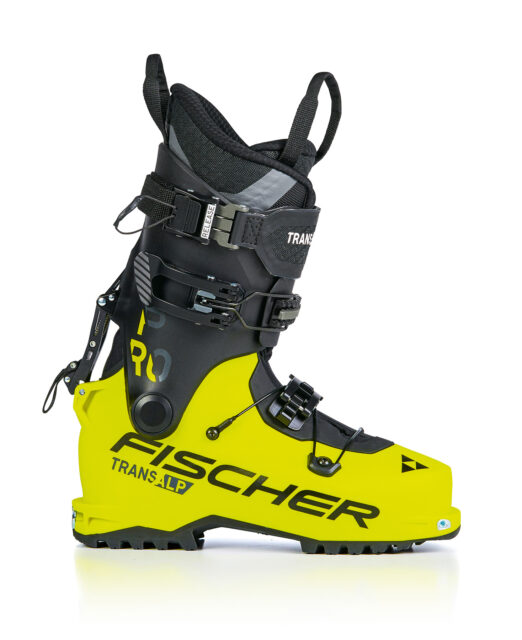 Intro
This past season, Fischer introduced a new line of touring boots, and while they share a similar name to Fischer boots of the past, the latest Transalp boots are completely different.
In short, the Transalp boots are designed to blend the extensive range of motion and low weight of Fischer's Travers series with the more substantial downhill performance of their Ranger boots.
I spent most of last spring in the stiffest and lightest model, the Transalp Pro, and then also skied it throughout the winter and early spring this season in Crested Butte's backcountry. It's a really interesting boot that blurs the lines of previously established categories, so let's dive in.
Fischer Transalp Collection
The Transalp collection spans four boots, with the most expensive ($850) Transalp Pro being the stiffest and lightest, the Transalp Tour & Tour WS being a bit heavier and less expensive ($750), and the Transalp TS being the heaviest, least expensive ($650) option. The Transalp Pro features a Pebax Rnew cuff and shell, the Tour versions use a mix of Pebax Rnew and TPU, and the TS is full TPU.
Shell
As I just mentioned, the Transalp Pro features a Pebax Rnew shell and cuff, which is a bio-based version of the lightweight Pebax polyamide plastic, made using castor bean oil.
The Transalp design uses a pretty traditional overlap cuff, but then pairs it with a lower shell that's a single piece, with a fabric gaiter covering the gap over the middle of the foot and shin. As I alluded to above, the Transalp design isn't quite as minimal as boots like the Fischer Travers, Scarpa F1 LT, Atomic Backland, etc., but it's not as burly as full-overlap designs like the Fischer Ranger, Atomic Hawx XTD, Lange XT3, etc.
Liner
The Transalp Pro's liner is neither super minimal nor super substantial, with soft foam used throughout most of it, though it does feature a bit of reinforcement around the upper cuff and at the front of the tongue. There's a sizeable flex bellows behind the Achilles.
Walk Mechanism
The Transalp Pro's external walk mechanism is very similar to the Fischer Travers (albeit a bit beefier overall) and many other touring boots, consisting of a big bar that connects the cuff to the lower shell. It also features an additional latch that closes the interface for added security. Like the similar walk mechanisms I've used on many other boots, it's really easy to use and I've had no issues with it during my time with the boot.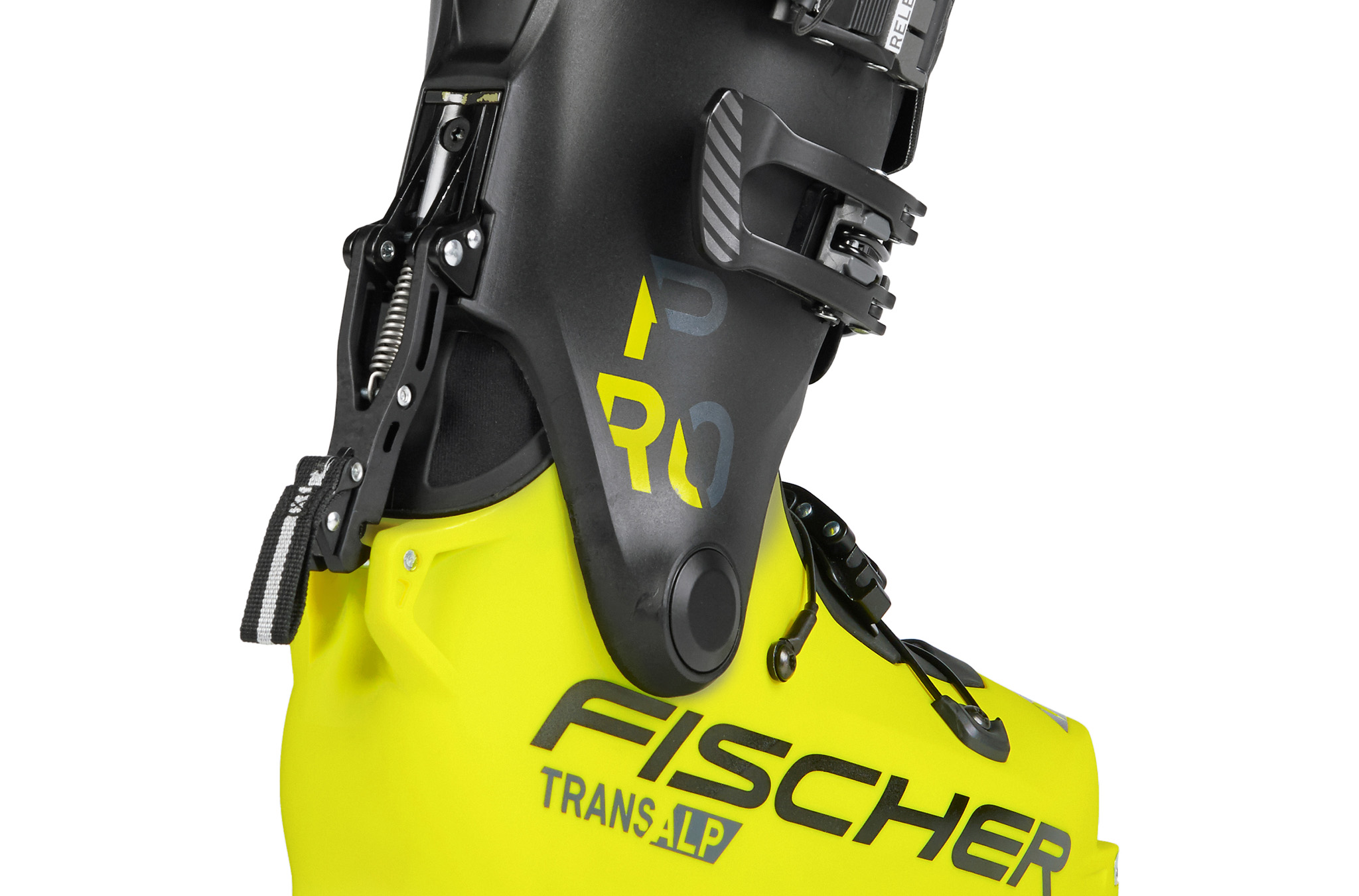 Adjustable Forward Lean
The Transalp comes stock with what Fischer calls 16-17° of forward lean, though you can flip the piece where the walk mechanism attaches to the cuff to drop that to 13-14°. Fischer also includes an optional spoiler for more tweaking of the forward lean.
Buckles
The Transalp boots have two actual buckles: one pretty traditional one about halfway up the cuff, and a less traditional one over the instep that tightens a cable that zig-zags across the top of the foot.
Power Strap
The Transalp Pro features a 55mm-wide strap made of a thin material that's closed via a cam-style closure. The closure can come fully apart via a small latch, and overall I've really liked this stock strap — it's easy to tighten, easy to loosen, and does a good job of spreading pressure over a large area without being bulky.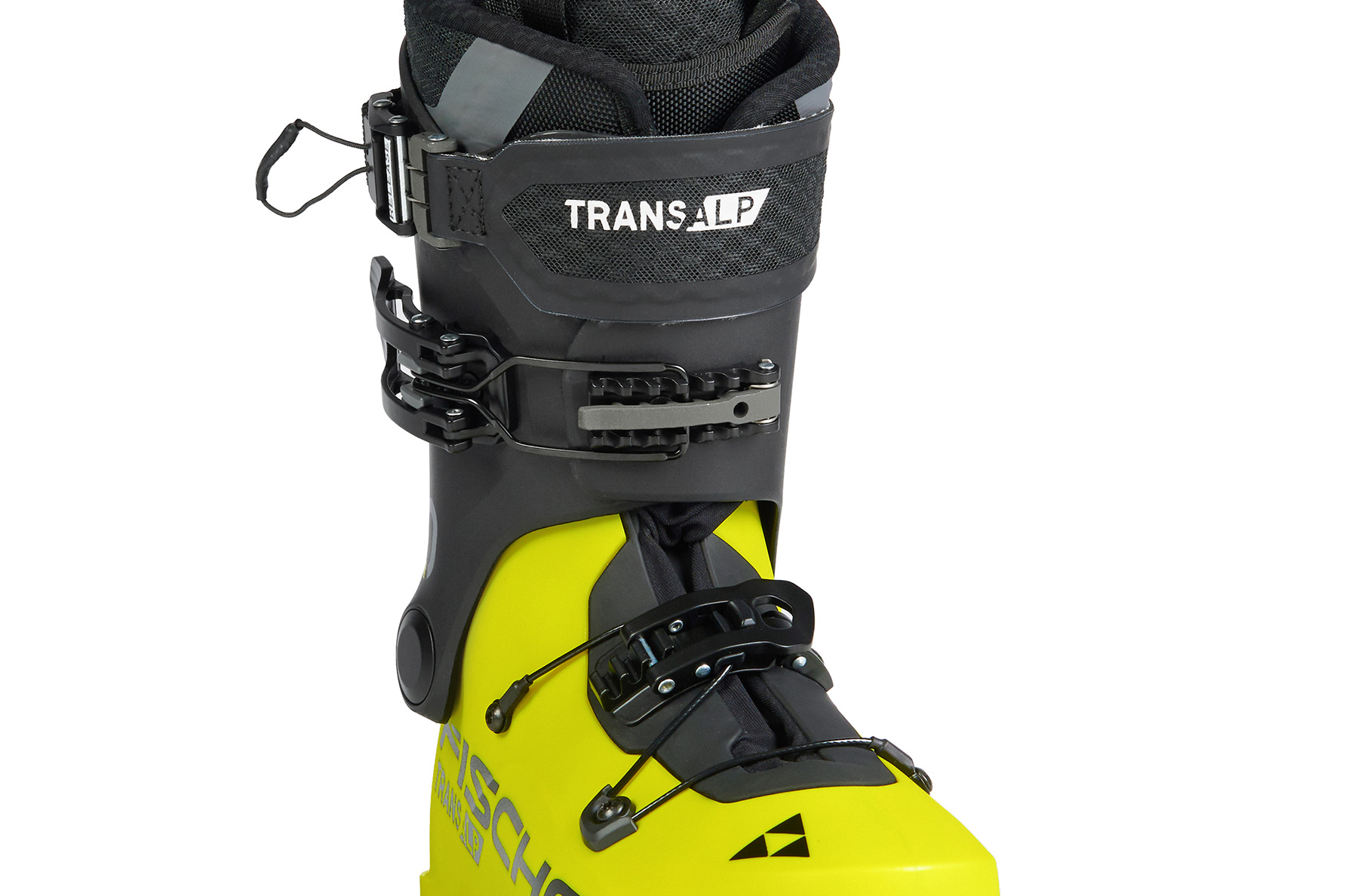 Weight & Comparisons
For reference, here are our measured weights (per boot, in grams) of several relevant boots in roughly the same class as the Transalp Pro. We've also added the weight of the burlier Tecnica Zero G Tour Pro, Scarpa Maestrale XT, and Atomic Hawx Ultra XTD 130 to give an idea of the weight differences.
988 & 991 Scarpa Alien RS, 28.0 (18/19–19/20)
1014 & 1023 Dynafit TLT Speedfit, 26.5 (18/19–19/20)
1064 & 1070 Fischer Travers Carbon, 27.5 (16/17–18/19)
1065 & 1069 Dynafit TLT 7 Performance, 28.5 (17/18–18/19)
1106 & 1101 Scarpa F1 LT, 28.0 (20/21–22/23)
1110 & 1114 Atomic Backland Carbon, 27.5 (19/20–21/22)
1178 & 1187 Salomon S/Lab MTN Summit, 27.5 (22/23)
1232 & 1232 Salomon S/Lab X-Alp, 27.5 (17/18–19/20)
1288 & 1286 Arc'teryx Procline Carbon Support, 27.5 (16/17–19/20)
~1310 (avg. weight) Scarpa F1, 28.0 (17/18–19/20)
1309 & 1311 Tecnica Zero G Tour Pro, 26.5 (18/19–22/23)
1315 & 1316 Fischer Transalp Pro, 26.5 (21/22–22/23)
1505 & 1510 Scarpa Maestrale XT, 27.0 (19/20–22/23)
1557 & 1564 Atomic Hawx Ultra XTD 130, 26.5 (20/21–21/22)
Fit
As always, our "Fit" sections will never replace the usefulness of the advice of an experienced bootfitter, nor are they designed to do so. The fit of any boot is the deciding factor and everyone's feet are different, so we highly, highly recommend visiting a bootfitter before settling on a boot. With that said, here are some things I've noticed when wearing the Transalp Pro on my feet.
At a stated last width of 100 mm for a size 26.5, the Transalp has what I'd call a fairly middle-of-the-road "medium volume" fit through the midfoot, with one notable exception (at least on my feet) — it feels noticeably shorter than most 26.5 boots I've used. The Scott Cosmos III is the only boot I've used that felt similarly short in my standard size of 26.5, with the Lange XT3 Tour Pro being close in that regard as well. For reference, both my feet measure just about exactly 265 mm long at my big toe, but I've almost never had an issue with a 26.5 toe box feeling too short or cramped (my toes taper a lot from my second toe to my pinky). The Transalp Pro's toe box feels, to me, lower volume than the Atomic Hawx Prime XTD and similar to the Tecnica Zero G.
Length aside, I've been pretty happy with the amount of room I have around my fairly wide midfoot (a common issue for me in other boots), while the ankle, heel, and instep all feel pretty a bit roomy around my low-volume ankle and instep. The Transalp feels a bit roomier to me through the midfoot than the Atomic Hawx Prime XTD, and it's got a notably lower-volume toe box than the Salomon S/LAB MTN Summit. The Scott Cosmos III feels roomier just about everywhere. Overall, the Transalp feels a bit lower-volume through the ankle than most 100mm-last boots.
FULL REVIEW
Uphill Performance
I've spent most of my time in boots that are "slightly" to "a lot" heavier than the Transalp Pro, though I've also spent a handful of days in the Salomon S/Lab MTN Summit and the old S/Lab X-Alp. With the Transalp Pro, I skied skis ranging from 178–188 cm long and 92–110 mm underfoot and bindings ranging from pretty light options like the Marker Alpinist and ATK Raider 12 to burly hybrid bindings like the Salomon Shift and Marker Duke PT.
With that in mind, I absolutely love how the Transalp Pro goes uphill. I don't know if it actually offers 80° of usable range of motion, but I do know that this boot offers as much or more range of motion than my ankles (I have slightly lower than average dorsiflexion). It does feel like most of the Transalp's range of motion is in the forward direction, though I rarely find myself hitting its limit of rearward range of motion.
The cuff pivot of the Transalp Pro feels nearly frictionless, and while I wouldn't say it's as hiking-boot-like as lighter alternatives, I think that mostly comes down to the Transalp Pro's longer sole and heavier weight, at least for my feet. I've never found myself wishing for more range of motion in the Transalp Pro, and it still feels noticeably light when I'm switching from some 1500+ g freeride boots.
The Transalp Pro also walks very well without skis on — again, not quite at the same level of <1200-g boots, but notably better than the 1500+ g ones, especially those with bulky, plastic-laden GripWalk soles.
The Transalp Pro's buckle layout, walk mechanism, and power strap have all been easy to use, too. It doesn't offer the 1-motion transition of some lighter boots or the Dynafit Hoji / Radical Pro series, but it's still pretty quick to transition. I like that Fischer used a sliding buckle for the cuff, which lets me keep that buckle on the notch I use for the descent and just leave the buckle fully loosened / flipped open, rather than needing to back it off or fully undo it. I also haven't had any issues with icing during my time in this boot.
Downhill Performance
Fischer doesn't provide a stated flex rating for the Transalp Pro, but compared to other boots I've used, I'd call the Transalp Pro something between 110-120 — 115 seems like a pretty fair number. I.e., you're definitely not going to mistake its forward flex for that of an overlap 130-flex boot, but it's also definitely not like you're leaning into nothing.
More importantly for me, though, is the progression of the Transalp Pro's flex pattern. I hate wall-like flex patterns, especially in lightweight boots, where they feel really stiff off the top. With that sort of flex pattern, I struggle to feel comfortable or confident since I'm either barely flexing the boot or would sometimes find myself blowing all the way through it. This is especially jarring when I'm coming from my stiff, heavy alpine boots, making for a big adjustment period each time I'm out touring.
Not so with the Transalp Pro — it's easy to get into the flex of the boot when just pressuring it a bit, and then it ramps up nicely the harder I flex into it. Again, it's not a super stiff boot overall, meaning I spend more time in the middle of its flex pattern than, say, my Tecnica Mach1 MV 130 alpine boots (where I'm rarely flexing them super deeply). But because the progression of the Transalp Pro's flex pattern is similar to some heavier boots, it requires less adjustment on my end to get used to and start skiing pretty confidently.
I haven't had any instances where I felt like I was really flexing the Transalp Pro to its limit, though I do ski more conservatively in the backcountry than at the resort. This wouldn't be the boot I'd pick if I wanted to huck lots of 15+ foot cliffs or make huge, high-speed turns down big mountain faces. But for all the touring I've done in it, its forward support has been good enough for me.
As I've mentioned in other reviews, I'm not someone who often complains about lack of lateral support, but the Transalp Pro is a boot where I was left wishing for more rigidity in that regard. This was most noticeable when I was skinning laps at Mt. Crested Butte and carving groomers. It was still lots of fun doing that in this boot, but I noticed a lack of precision and power transfer when really trying to lay down high-edge-angle carves (which I realize isn't what many people are concerned about with their lightweight touring boots).
In terms of rearward support, the Transalp Pro feels quite good for its weight, though not quite as solid as burlier overlap boots like the Tecnica Zero G Tour Pro or Atomic Hawx Prime XTD 130.
Another thing worth noting is that, with its thin, soft liner, the Transalp Pro doesn't do as good of a job of muting out harsh snow (or even just certain points of its shell) as boots with more substantial liners. Particularly when driving it hard on firm snow, I found myself not feeling totally confident because of how much I could feel the shell on my feet and legs, just outside of the center of my shin (the tongue is substantial, the outer cuff less so). This was a nonissue in soft snow, but something to keep in mind for those coming from heavier, more substantial boots.
Overall, though, I think the Transalp Pro skis really well for how well it walks. It's doesn't match heavier alternatives when it comes to outright stiffness, but its flex pattern is both more progressive and stiffer than many of the lighter options I've used in the past. The only boot that walks as well that feels as stiff or stiffer is the new Salomon S/Lab MTN Summit, though it's not a big difference.
Getting In / Out
One of the main downsides of the Transalp Pro's design is that it can be pretty frustrating to get in and out of. This is partly because of its soft, flexible liner, and because of the shell's gaiter. The gaiter has velcro at the top, which is great for keeping it stuck high on the liner and keeping out water. But it makes getting the liner in and out of the boot trickier. Even if I'm not taking the liner fully out, it can be a bit frustrating to try to remove my foot, especially when my feet / the liner are sweaty (which is pretty much every time I skin). A plastic boot horn (like the one that comes with ZipFit liners) helps a lot when getting the liners into the boot, but it can't really help when trying to yank them out.
Who's It For?
Like every boot, this mostly depends on whether the Transalp Pro fits your feet. That aside, its ideal demographic is a bit more nuanced than most boots.
If weight is your most important factor, there are plenty of boots that come in a few hundred grams lighter than the Transalp Pro, including the Fischer Travers. Boots like the Scarpa F1 LT let you drop a few hundred grams, get you even more usable range of motion, and still ski pretty well. However, the Transalp Pro is both stiffer and has a more progressive flex pattern than many of the lighter alternatives.
On the other hand, if downhill performance is your priority, there are loads of other boots that are stiffer in the forward, rearward, and/or lateral directions. The most obvious alternative for folks in that camp is the Tecnica Zero G Tour Pro, which is about the same weight as the ​​Transalp Pro, but is notably stiffer. However, even the amazingly light (for how well it skis) Zero G Tour Pro offers notably less usable range of motion and (in my experience) a notably less pleasant walking experience than the Transalp Pro.
So I think the Transalp Pro is ideal for those who want a bit better downhill performance than the lighter alternatives, but a noticeably better walking experience than the heavier options. The Salomon S/Lab MTN Summit is really the only boot I've used that feels similar, and both are really cool options for people in this group. The Salomon is notably lighter and maybe a hair stiffer, though it's not quite as progressive and has a very different fit, so that's what will likely be the deciding factor between the two.
In sum: if you want great range of motion, a lower weight than nearly all stiffer alternatives, and a progressive, ~115 flex, go try on the Transalp Pro.
Bottom Line
It's always exciting to me when I try a product and can't neatly place it into any existing category, and the Fischer Transalp Pro is an example of that. It offers nearly the same range of motion as much lighter alternatives, but with a progressive, moderately stiff flex pattern that you can typically only find in heavier boots. Its moderate (neither super light nor super heavy) weight will be a dealbreaker for some, while its moderate (neither super stiff nor super soft) flex pattern will be a dealbreaker for others. But for those who want a boot that walks really well, is quite light overall, and still offers a nice, progressive flex pattern, it's a cool option.